This One Pot Creamy Chicken and Noodle is a childhood favorite. Full of tender noodles, chicken and veggies in a creamy sauce and cooked in one pan for easy clean-up, this recipe is a weeknight dream.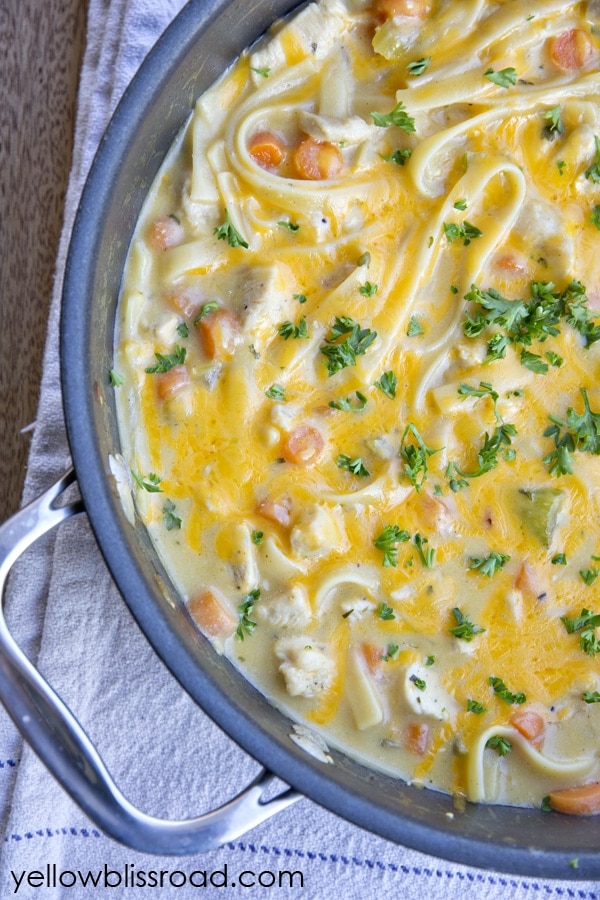 One Pot Meals have become a staple in our home. I love them for the ease of cooking and clean up. My kids love them because they taste really good! Cooking the pasta IN the sauce creates a delicious, rich flavor that you just can't get when cooking in water. I'm working on a post on how I create these recipes and tips for making them work, so keep your eyes peeled for that!
When I was a young girl I used to visit my aunt and grandmother often. My aunt used to make the best chicken and noodles! So rich and creamy and delicious that you couldn't help but ask for seconds. I was wanting to recreate her recipe, but in a one pot version, so I got to work creating this dish.
HOW TO MAKE MY ONE PAN CHICKEN AND NOODLES RECIPE
This is the kind of comfort food dreams are made of. Seriously, so many yummy flavors melting together to create a rich, savory meal that the whole family will love.
Here are the ingredients you need:
Chicken breast
Onions
Carrots
Celery
Cream of Chicken Soup
Milk
Fettuccine Noodles
Cheddar Cheese
Herbs & Spices (thyme, parsley, garlic)
Chicken and Noodles is easy to make too, in just a few steps:
Saute the vegetables and chicken with salt and pepper until the chicken is almost cooked through. A little pink is ok; it will continue cooking later.
Add the liquids, dry pasta and seasonings.
Bring it all to a boil and cook for about 20 minutes until pasta is tender.
Optional – Sprinkle with cheese and cover for 5 minutes to melt. Garnish with fresh parsley.
See? Four super easy and simple steps!
What tools do you need to make One Pot Chicken and Noodles?
A lot of people ask what pan I use. I use my Simply Calphalon Nonstick 5-qt. Sauté Pan. It's a great non-stick pan, it's held up fabulously for years, and clean up is a snap! I recently purchased a Calphalon Tri-Ply Stainless Steel 12″ Everyday Pan
 and that one is just as fabulous. Both are perfect for my one pot meals.
I hope that your family will enjoy this recipe as much as my family did!
For more one post meals, check out these popular recipes: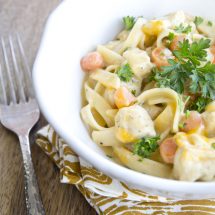 Ingredients
2 pounds boneless, skinless chicken breasts cut into 1-inch pieces
2 Tbsp olive oil
2/3 cup chopped onion
2/3 cup chopped carrots
2/3 cup chopped celery
1 Tbsp minced garlic
Salt & Pepper to taste
1 10-ounce can cream of chicken soup + 1 can milk empty the soup can and fill it with milk
2 cups low sodium chicken broth
1 tablespoon dried parsley
1/2 teaspoon dried thyme
1 teaspoon garlic powder
8 ounces dry fettuccine pasta 1/2 of a regular box
1 1/2 cups shredded sharp cheddar cheese divided
Instructions
Heat olive oil in a 4-5 quart pot.

Add chopped vegetables and minced garlic. Saute over medium-high heat for about five minutes, or until vegetables are just becoming tender.

Add chicken and season with a couple pinches of salt and a pinch of pepper. Continue to saute over medium heat until chicken is no longer pink. It does not have to be cooked through since it will continue to cook in the sauce.

Add cream of chicken soup, milk (fill the chicken soup can), chicken broth, pasta and dry seasonings. Stir.

Bring to a boil and turn heat down to low. Simmer for 20-25 minutes or until pasta is tender, stirring every five minutes to keep pasta from sticking together.

Once pasta is cooked to your liking, remove from heat and stir in 1 cup of cheddar cheese. Sprinkle with remaining cheese. Cover pot and let rest for 5-10 minutes to thicken the sauce.

Sprinkle with fresh chopped parsley for garnish.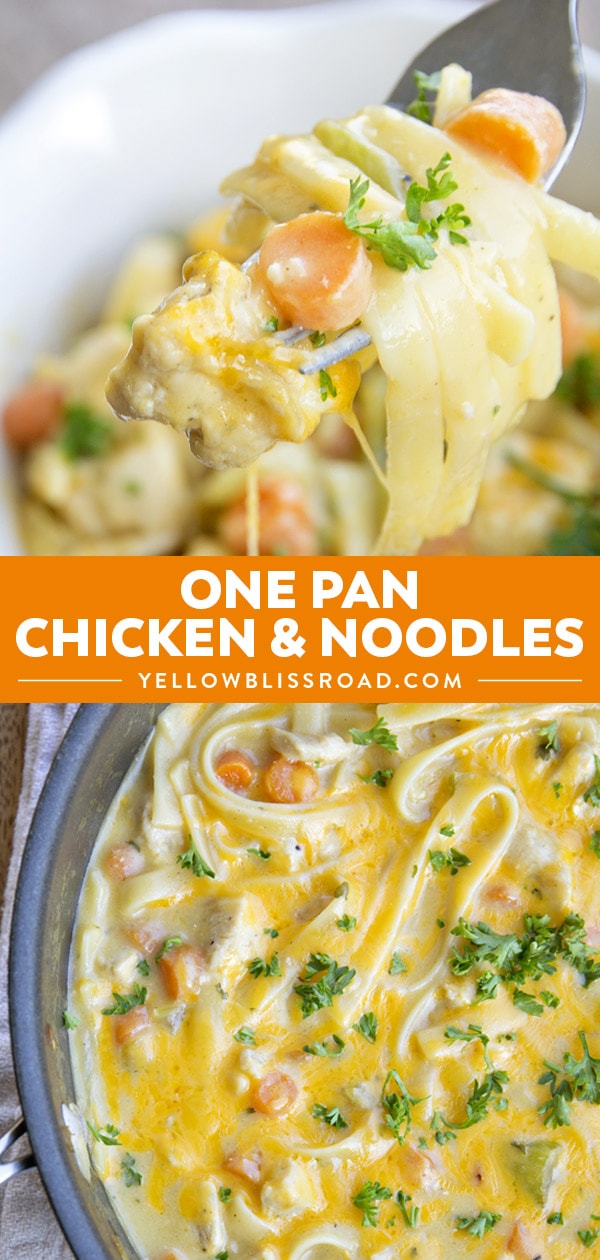 Hi! I'm Kristin, the creative mind behind Yellow Bliss Road where you will be inspired by tons of easy to follow recipes, lots of free printables, and a little sprinkling of life thrown in for good measure.