Sauteed asparagus is a fast, healthy side dish that takes just minutes to make. Cook it crisp or tender with simple flavors like lemon and garlic for a healthy veggie that goes from stovetop to tabletop in just 10 minutes.
We eat a lot of salads and roasted broccoli, but when I'm looking to switch it up, I always turn to asparagus. My family loves it and it's available all spring long, and I can often find it throughout the summer.
I do like Oven Roasted Asparagus, but when my oven is otherwise occupied, sauteed asparagus is a simple solution. With just 5 minutes to prepare and 5 minutes to cook, this quick 10-minute side dish is a true lifesaver.
Is sauteed asparagus healthy?
Asparagus is an incredibly healthy vegetable that's rich in potassium, fiber, folic acid, and vitamin B6. It's low in calories and has other health benefits like improved digestion and lowering blood pressure.
Sauteed asparagus is healthier than a lot of other options and has about 100 calories per serving. Lower that to around 50 calories by using a tablespoon of olive oil instead.
How to trim asparagus
Asparagus is a bright green vegetable that resembles a spear. The pointy end is tender and the bottom end is woody and tough and not easily edible. Before you can cook it, you have to trim it. There are 2 ways you can trim asparagus: cut or snap.
Snap. Grab the top and bottom of the spear and bend it until the end snaps off. It will snap where the woody end becomes tender, removing the inedible part.
Cut. Lay out the asparagus on a cutting board and cut the ends where the white starts to turn green.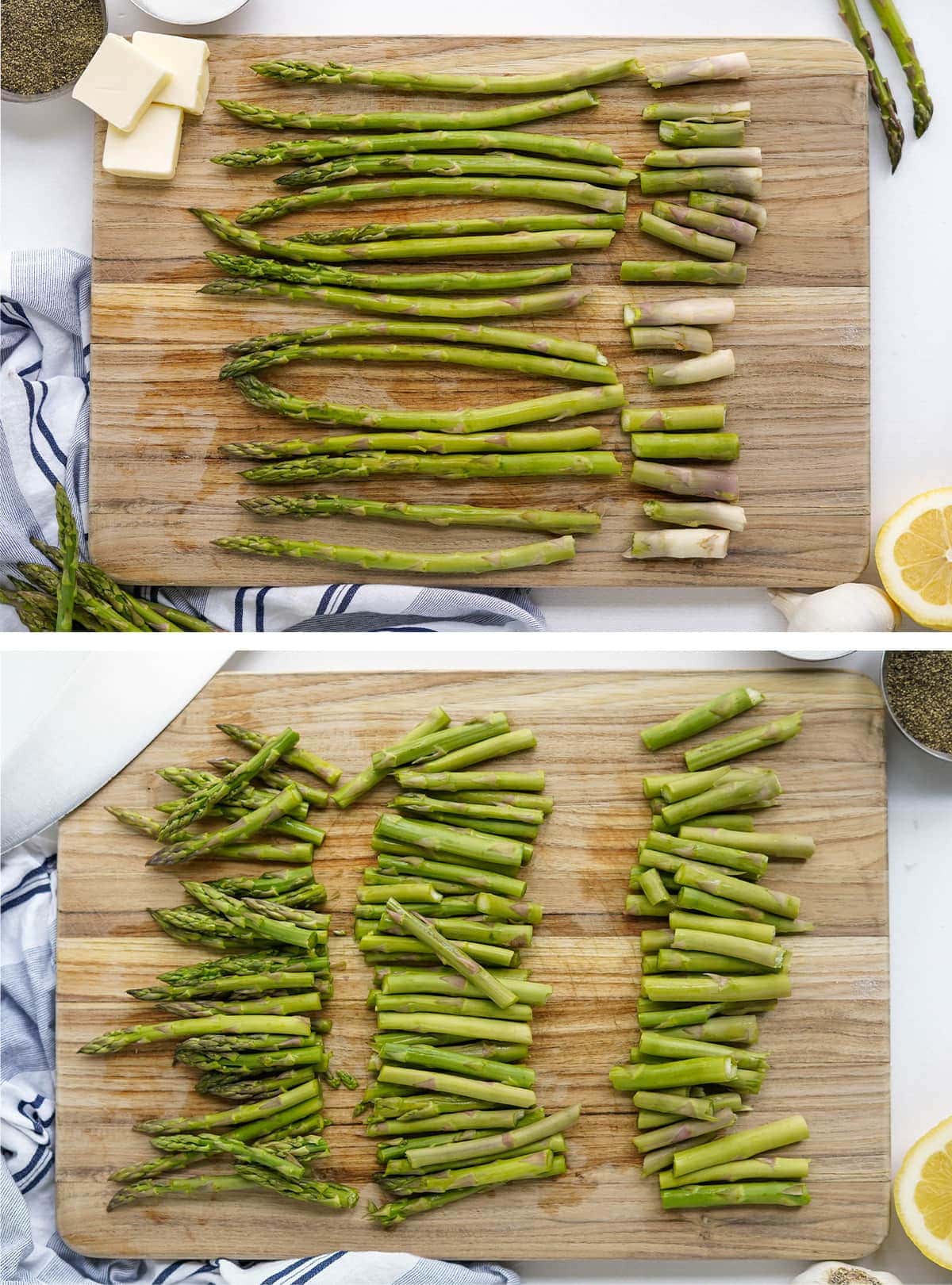 Either way will work. Then you can keep the spears long or cut them into pieces for sauteing.
How to make Sauteed Asparagus
Prep. Rinse asparagus under cold water, then pat them dry. I think the easiest way to ensure your trimming the asparagus in the right place is to snap off the stalky ends. Once they're trimmed, you can cut the remaining part of the stalk into two inch pieces.
Make garlic butter. Melt butter in a large skillet over medium heat. Add garlic to the skillet and saute for 30 seconds to a minute, watching carefully and stirring constantly so it doesn't burn.
Saute asparagus. Add the asparagus to the butter and saute for several minutes, or until asparagus are tender. Season with salt and pepper and a squeeze of lemon juice.
How do you know when asparagus is done?
Sauteed asparagus are done cooking when they are as tender as you want them to be. I like them to still have a bit of crunch to them, my husband prefers them softer. It takes about 3-5 minutes to cook sauteed asparagus.
Flavor variations
My favorite way to season asparagus is with a little bit of salt and pepper and a squeeze of lemon juice just like the recipe says. You could also add bacon, parmesan cheese, or some toasted breadcrumbs.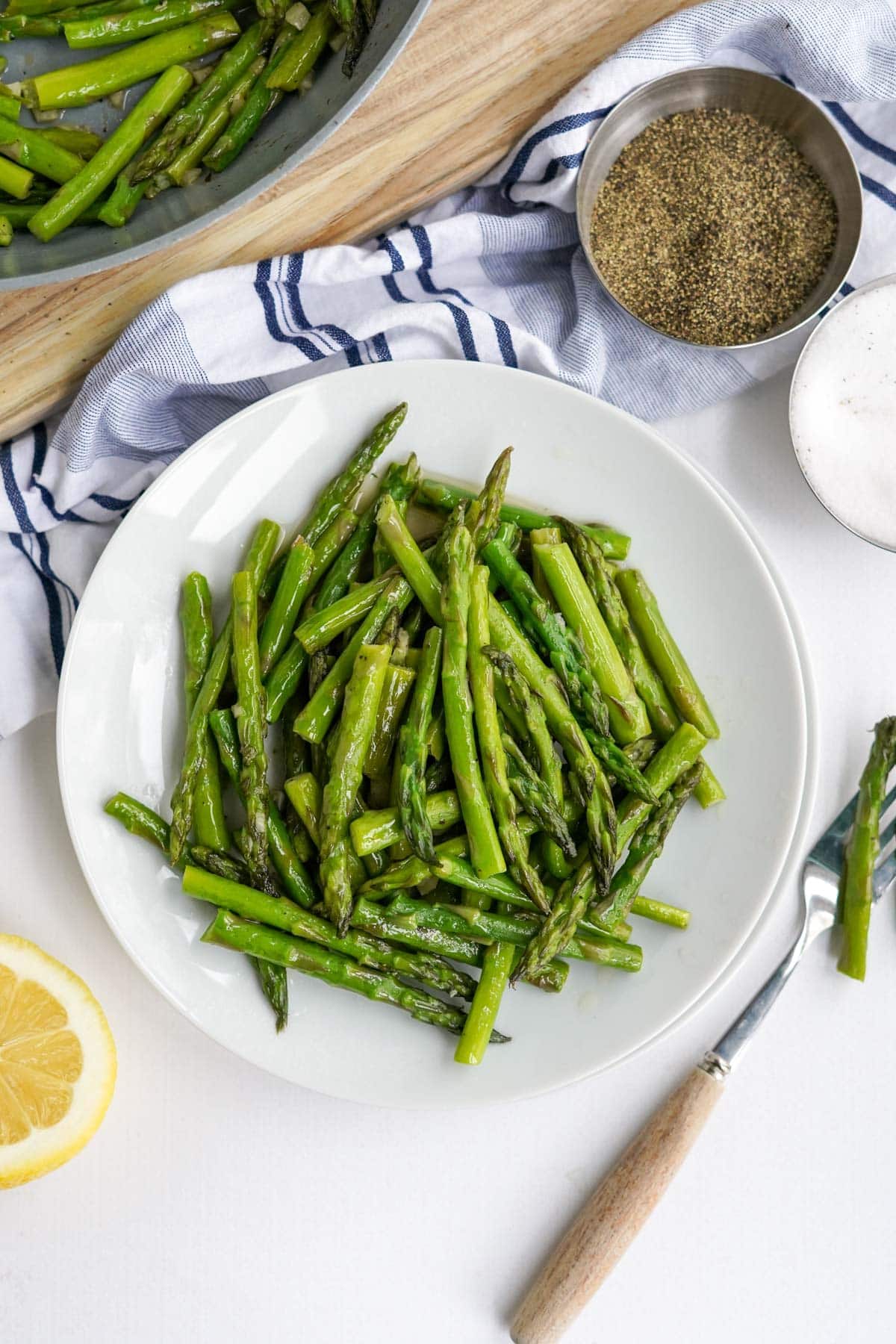 Sauteed Asparagus Recipe Tips and FAQs
Go for the skinnier spears. In my experience, the medium to thin asparagus stalks are more tender and less woody than their thicker counterparts. They also cook much quicker. Asparagus is sold by the bundle, which is usually about a pound the stalks are generally around the same thickness.
Choose spears that are firm and straight. If they are floppy or soft, they are not fresh.
For thicker asparagus, you can peel the skin off the bottom of the stalks after trimming to make them more tender and easier to eat.
Feel free to use butter or olive oil for this recipe.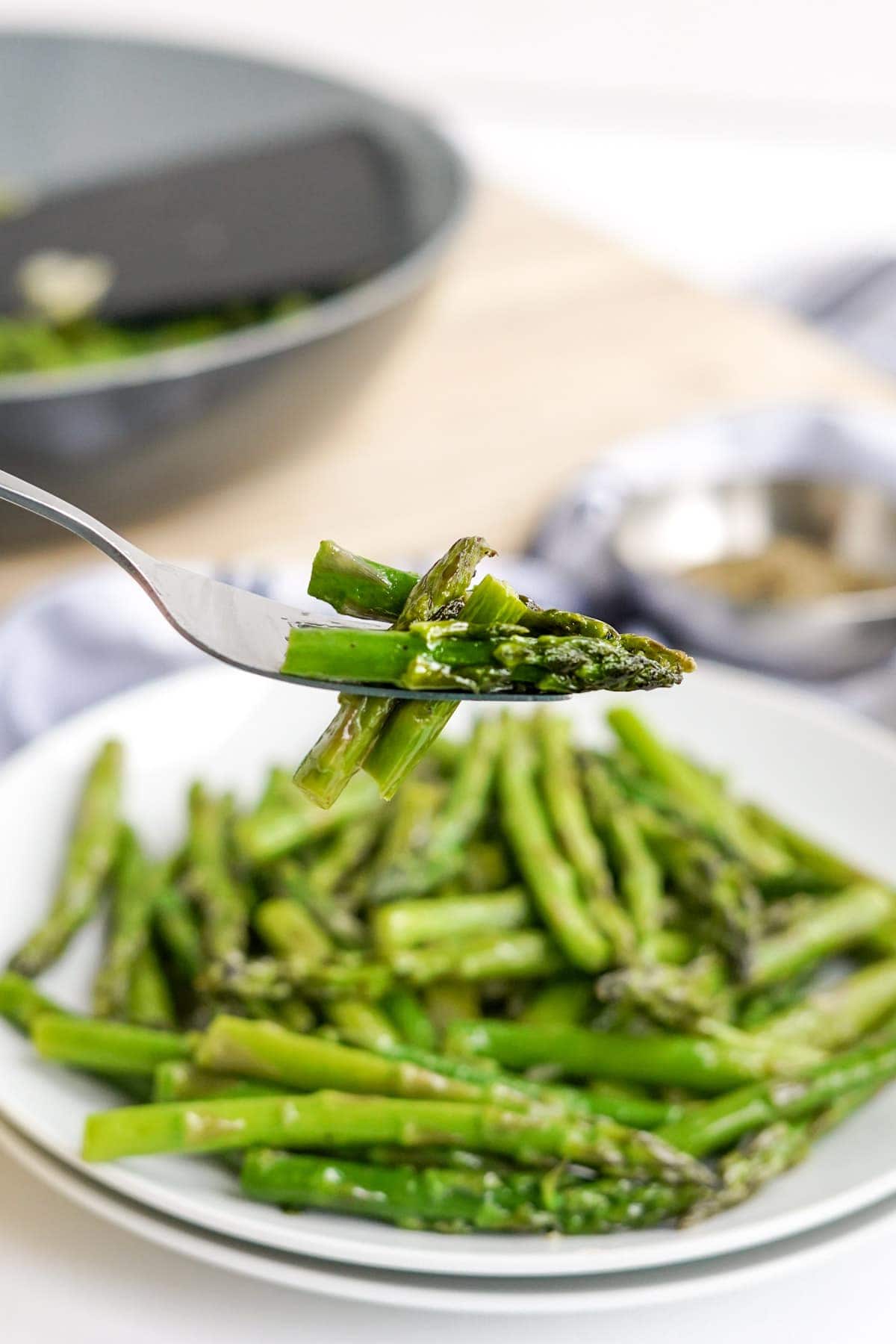 More ways to cook asparagus
Recipe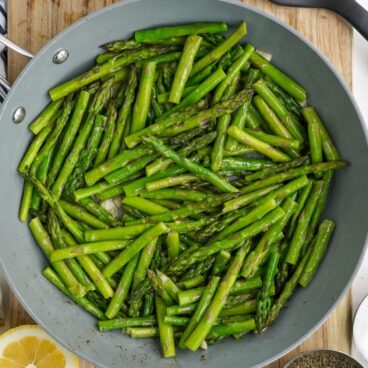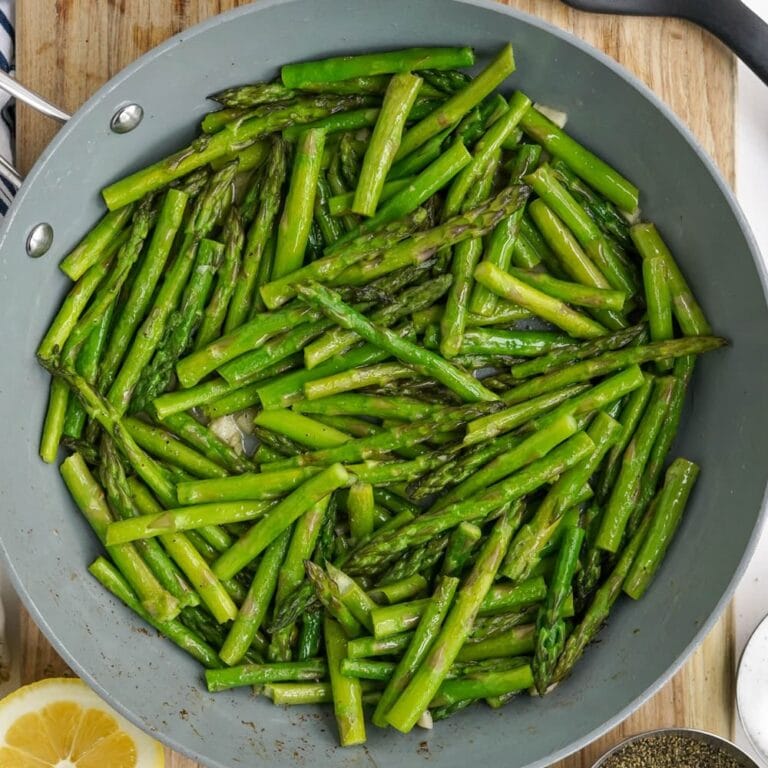 Sauteed Asparagus
Learn how to make the best Sauteed asparagus! This fast, healthy side dish has simple flavors and goes from stove to table in just 10 minutes.
Ingredients
1

pound

asparagus spears

3

tablespoons

unsalted butter

2

teaspoons

minced garlic

about 2 cloves

½

teaspoon

salt

¼

teaspoon

pepper

Optional: fresh lemon juice
Instructions
Prepare your asparagus by rinsing thoroughly and patting dry.

Snap off the stalky ends, about ½ inch each stalk.

Cut the remaining part of the stalk into two inch pieces.

Melt butter in a large skillet over medium heat.

Add the garlic and cook for one minute or until fragrant.

Add the asparagus and toss in the garlic butter until coated. Sautee for 3-5 minutes or until the desired level of doneness is achieved.

Add the salt and pepper and toss before serving.

Optional: Serve with lemon slices or a splash of fresh lemon juice.
Notes
Tip: Choose medium sized stalks that are evenly sized.
Nutrition
Calories:
101
kcal
Carbohydrates:
5
g
Protein:
3
g
Fat:
9
g
Saturated Fat:
5
g
Trans Fat:
1
g
Cholesterol:
23
mg
Sodium:
294
mg
Potassium:
239
mg
Fiber:
2
g
Sugar:
2
g
Vitamin A:
1121
IU
Vitamin C:
7
mg
Calcium:
33
mg
Iron:
2
mg