These Honey Roasted Carrots are the perfect Thanksgiving Side Dish! They are super tender with a sweet honey butter glaze.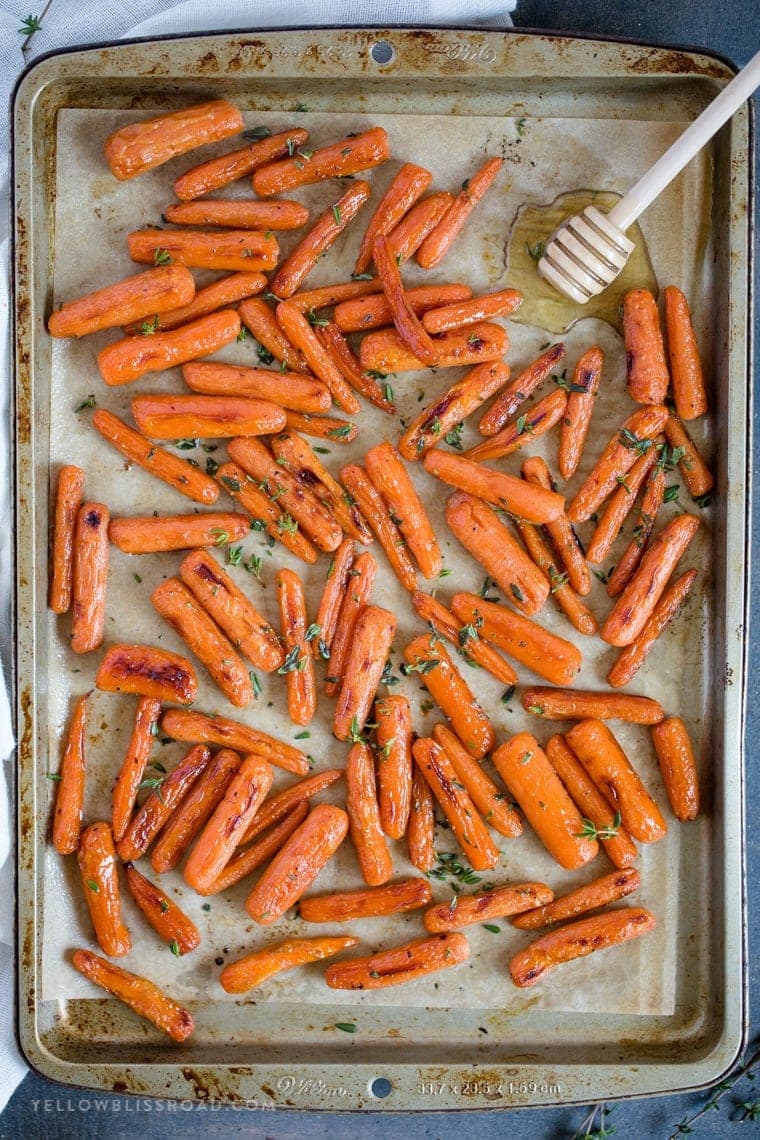 Roasted Carrots are a pretty traditional side dish for holidays like Thanksgiving or Christmas because they pretty much go with anything. They add a nice light sweetness to all of the heavy, savory dishes like potatoes or stuffing. Of course carrots are sweet on their own, but add a little honey butter and oh man they are over the top delicious!
How to make Honey Roasted Carrots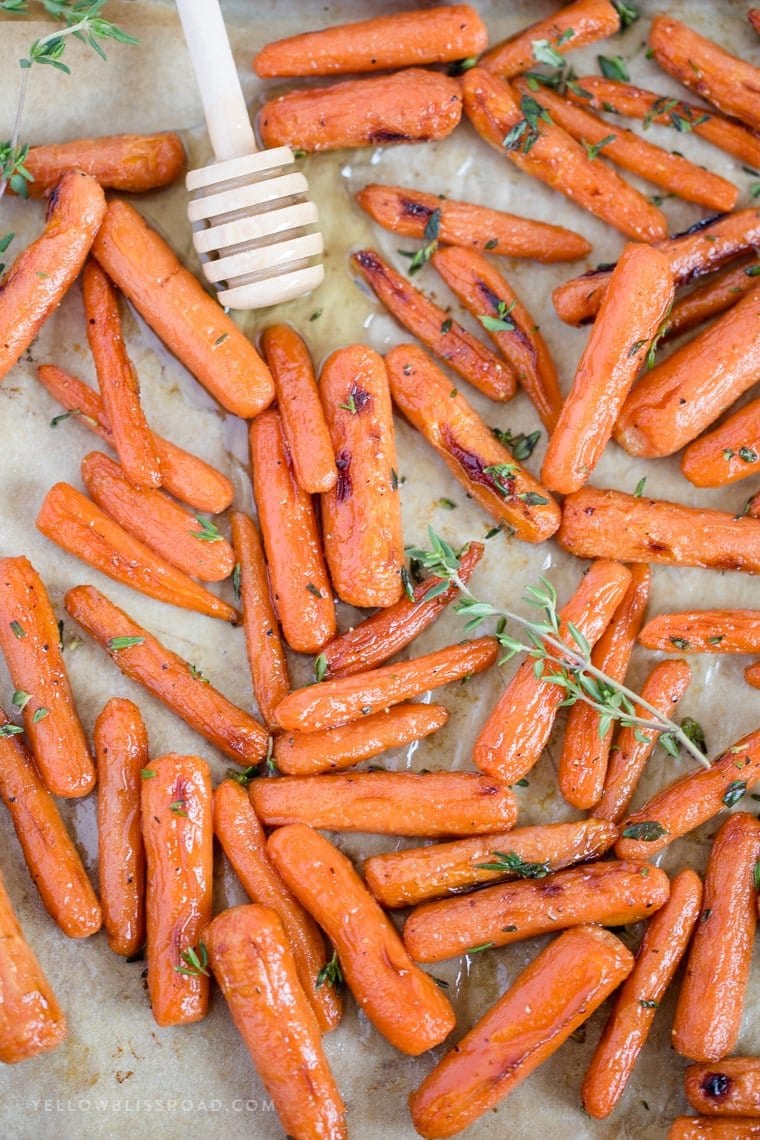 We roast the carrots at 425 degrees for 30-40 minutes – this helps to caramelize the roasted carrots and create a nice, sticky sweet glaze around each piece. They not only look beautiful, but they taste pretty darn amazing.
I like to use baby carrots for roasting because they are generally pretty uniform in size, and that's important when roasting vegetables. You want them to cook evenly – there's nothing worse than biting into a hard, crunchy carrot in the midst of all those tender soft ones. So if you do plan to use large carrots, make sure to peel and slice them as evenly as possible.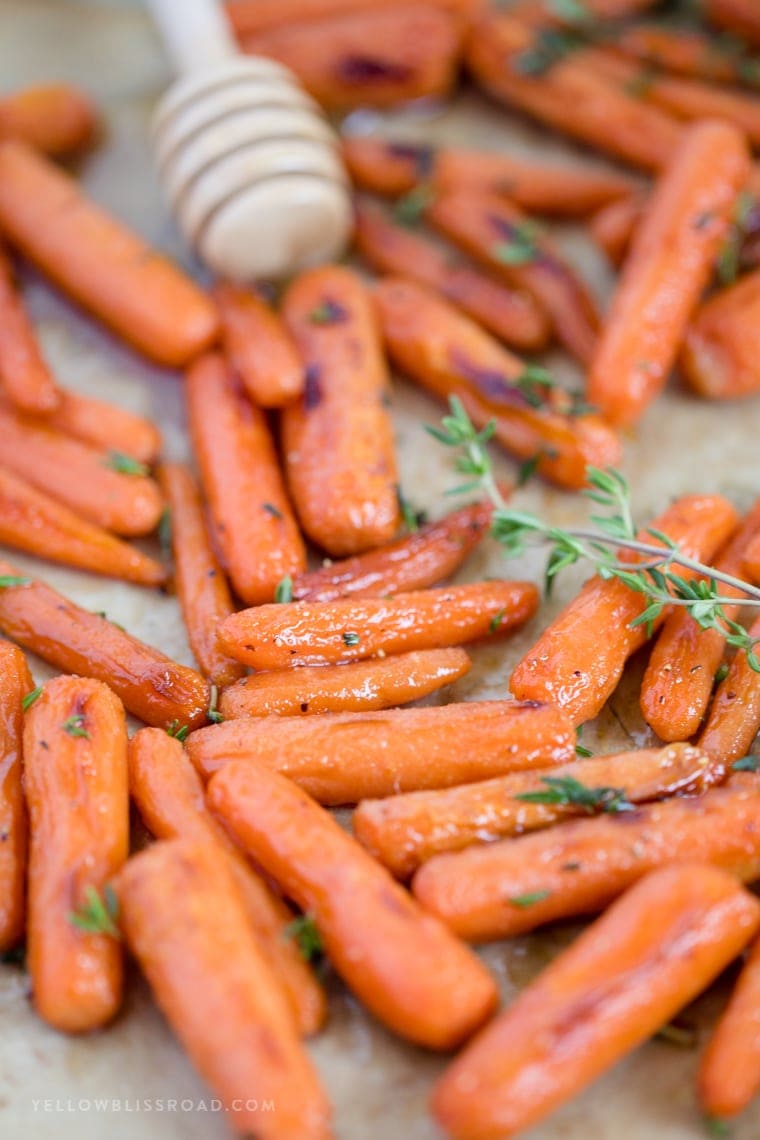 The honey butter is pretty straight-forward. A sweet combination of honey and butter with a little brown sugar is mixed together then coats the carrots. As the carrots are roasting this honey butter creates a delicious glaze that you'll wish you could just lap up with a spoon.
These Honey Roasted Carrots are gorgeous on their own, but if you'd like to add some color, try garnishing with some fresh chopped thyme or parsley. The herbs add a lovely contrast in color, as well as some earthy freshness.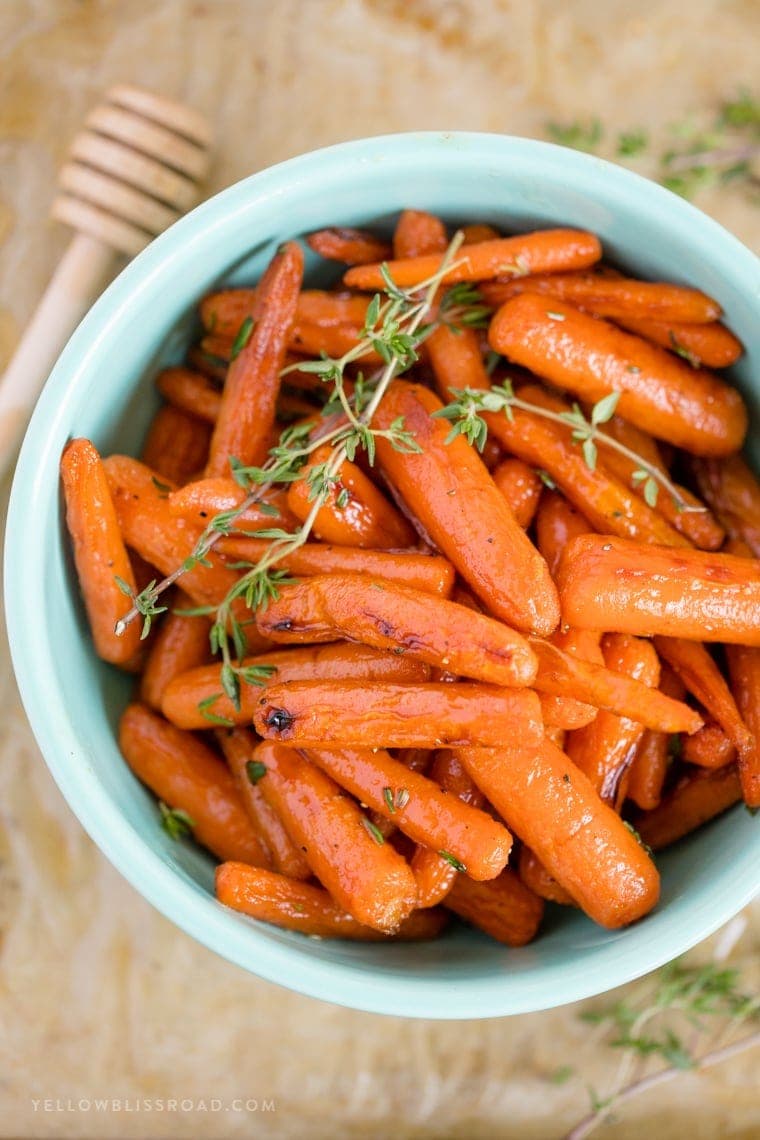 Here are some more delicious Thanksgiving side dishes we love:
Tools used to make these Honey Roasted Carrots:
Sheet Pan with Sides: Also known as a Jelly Roll Pan, this is a staple in my kitchen and I use it nearly every day. The sides keep food from sliding off onto the bottom of your oven.
Parchment paper – I prefer parchment to foil; it's just easier to work with and is just as nonstick. Plus it just looks prettier!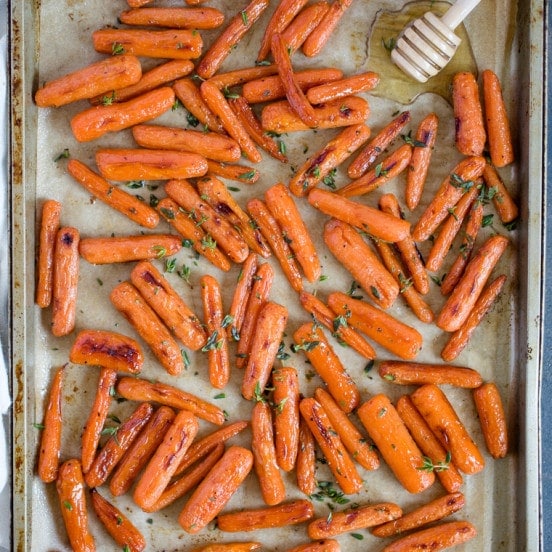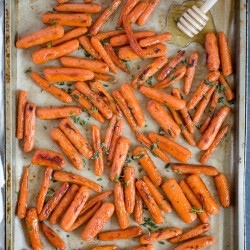 Honey Butter Roasted Carrots
These Honey Butter Roasted Carrots are the perfect Thanksgiving Side Dish! They are super tender with a sweet honey butter glaze.
Ingredients
2 pound baby carrots
2 tablespoons butter
3 tablespoons honey
1 tablespoon brown sugar
Salt and pepper to taste
Instructions
Preheat oven to 425 degrees. Line a rimmed baking sheet with foil.

Place carrots in a large bowl.

Melt the honey, brown sugar and butter together in the microwave for about 15 seconds. Stir to combine. Pour over carrots and toss to coat.

Arrange carrots on the baking sheet and season with salt and pepper.

Roast in the preheated oven for about 20 minutes. Remove the sheet from the oven and turn the carrots over. Return to the oven and roast for another 10-20 minutes or until tender and caramelized.
Notes
This recipe will also work with regular carrots. Just peel and cut them into equal sized pieces.
If your carrots are too tender before they caramelize, you can stick them under the broiler on low for a few minutes. Just be sure to watch carefully to avoid burning.
I highly recommend completely covering your baking sheet with foil. The sugars in the sauce can burn easily, making clean-up difficult.