These cajun spiced skillet pork chops with gravy are so juicy and full of flavor – no more dry and flavorless chops! The meat cooks in minutes and you can use the juices from the pan to make a creamy gravy. It's an easy 30 minute meal that tastes like you slaved for hours!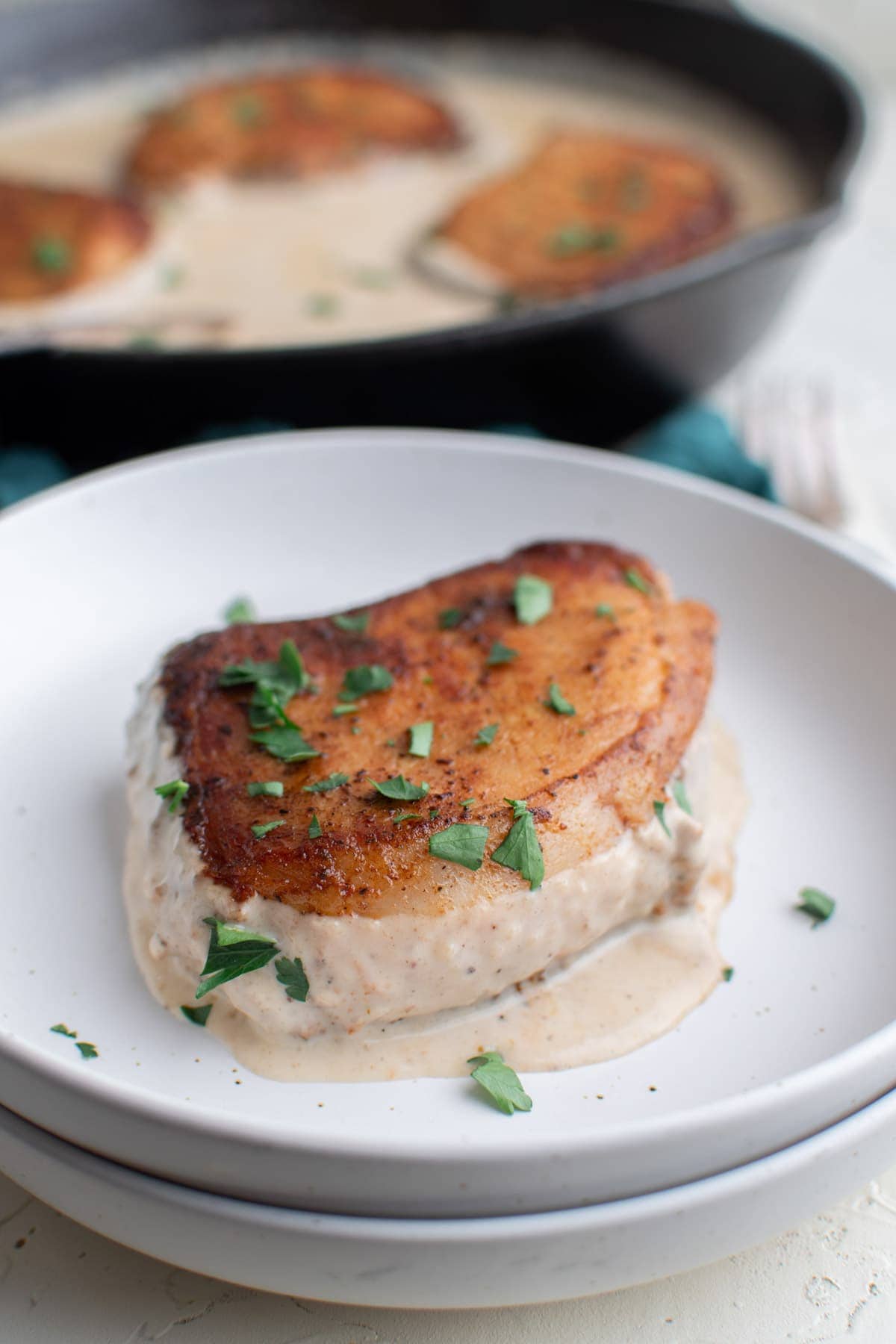 Serve these skillet pork chops with gravy and some fluffy make ahead mashed potatoes. Then try some of our other comfort food favorites, like Beef Tips, Chicken and Rice Bake, Chicken Schnitzel, and the Best Tamale Pie.
Easy Skillet Pork Chops with Gravy
Pork Chops don't have the best reputation. My husband cringes when I say that we're having skillet pork chops for dinner because he remembers the frisbee-like chops his mom used to make. They were tough and chewy and definitely not delicious. I used to have that problem too so I didn't make them for the longest time. Until I learned how to properly cook pork chops without drying them out! With just a few simple techniques that I actually use with my stove top chicken breasts, too, my skillet pork chops come out juicy and flavorful and definitely not dry.
What Cut of Pork is Best?
This easy recipe works with all kinds of chops. Bone-in will cook more evenly and likely be a little juicier although they typically take a little longer. Boneless center cut chops are great too, you can fit more in your skillet when you don't have to fuss with the bone. Keep in mind that the thinner they are, the quicker they cook, so adjust your cooking time accordingly.

How do you cook pork chops without drying them out?
There are a few techniques I've got in my back pocket for keeping skillet pork chops super juicy and tender.
Use butter and olive oil. Butter adds lots of flavor but it can quickly burn when left alone in a skillet. Adding an equal amount of olive oil helps to avoid that. Melt them both together in a large skillet, preferable cast iron.
Sear and don't touch. Place the seasoned chops in the skillet, pressing down to make sure that the entire surface is touching the skillet. Then leave it alone. This will help the meat cook evenly and give the chops a nice crust.
Flip and watch the temp. Once you flip the pork chops over in the skillet, press down gently again to make sure the surface is touching the skillet. After a couple of minutes, check the internal temperature with a digital meat thermometer. When the internal temp reaches 140 degrees, transfer pork chops to a plate and cover with foil while you make the gravy. While they are resting, the temp will rise to 145 which is optimal for food safety.
How to Make Pork Chops with Gravy from Scratch
Making Pork Chops with Gravy is another technique I use to ensure they are juicy and flavorful. Adding a gravy helps to cover up any imperfections if you've cooked your chops just a little over.
Using the fat and flavor already in the skillet, add some butter and flour and whisk it good, letting it cook until golden. Then add chicken broth, garlic, heavy cream and a little more butter. Bring it to a boil, then lower the heat and simmer for several minutes or until the gravy is nice and thick. You can season with salt and pepper but be sure to taste it first – it probably doesn't need it.
Nestle the chops in the gravy, spooning a little over the top, and simmer for a couple of minutes or until your skillet pork chops with gravy are warmed through.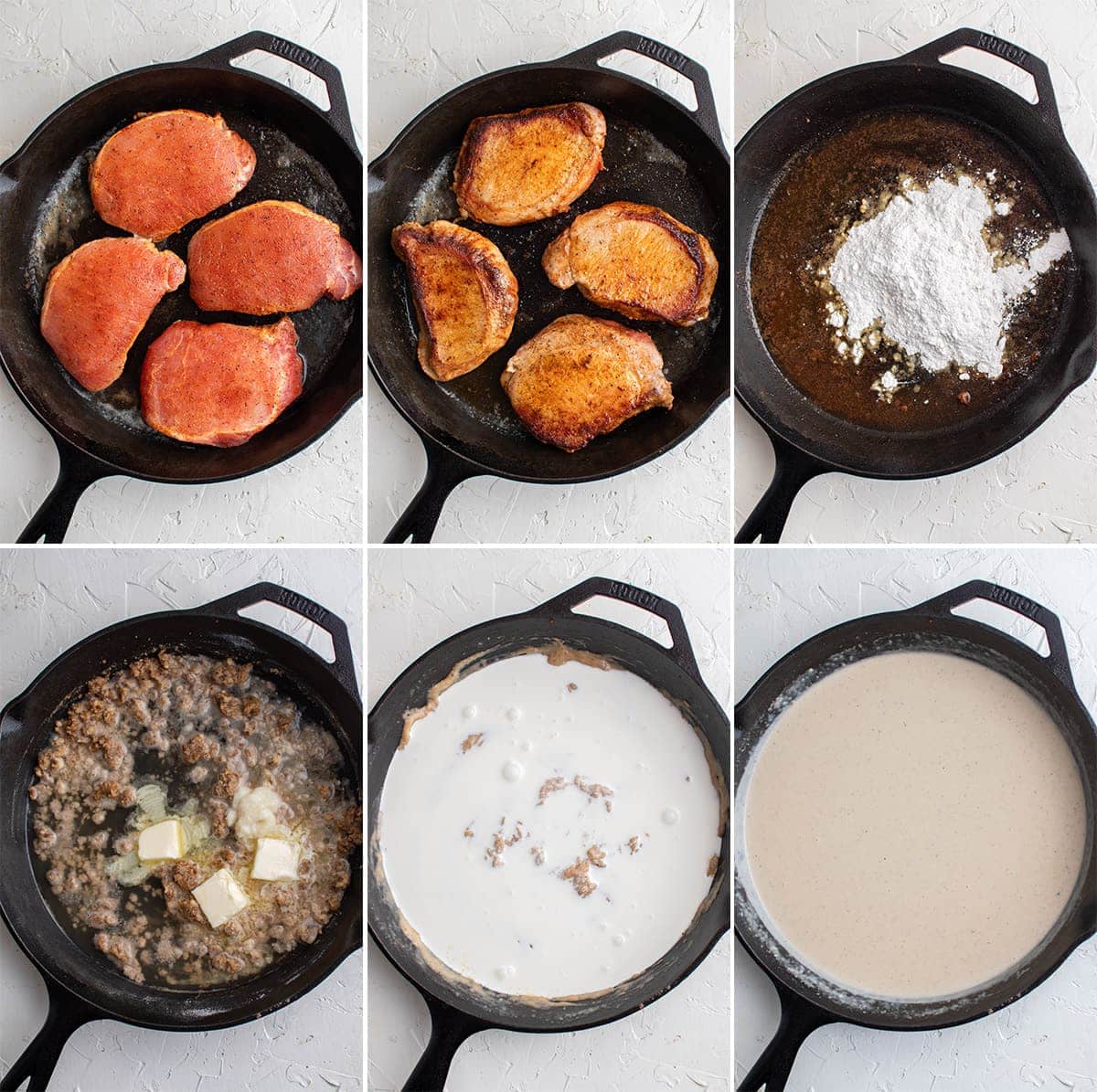 Skillet Pork Chops Recipe Tips and FAQs
Seasoning: I use a cajun seasoning for this recipe. It's got a little heat and a ton of flavor. You can use any seasoning you like, just keep in mind that whatever you use will be flavoring your gravy as well.
How do you know when pork chops are done? When the juices from the chops are no longer pink and the internal temp is 140-145, they are done cooking.
Storing Leftovers: Keep leftover pork chops in a sealed container in the fridge for up to 3-4 days, or in the freezer for 3-4 months. Whenever I have a lot leftover (at least 2 cups, chopped) I use it in my Egg Fried Rice.
Reheating: Use your microwave at 50% power to keep pork from drying out. Or, reheat in a little melted butter on the stove top.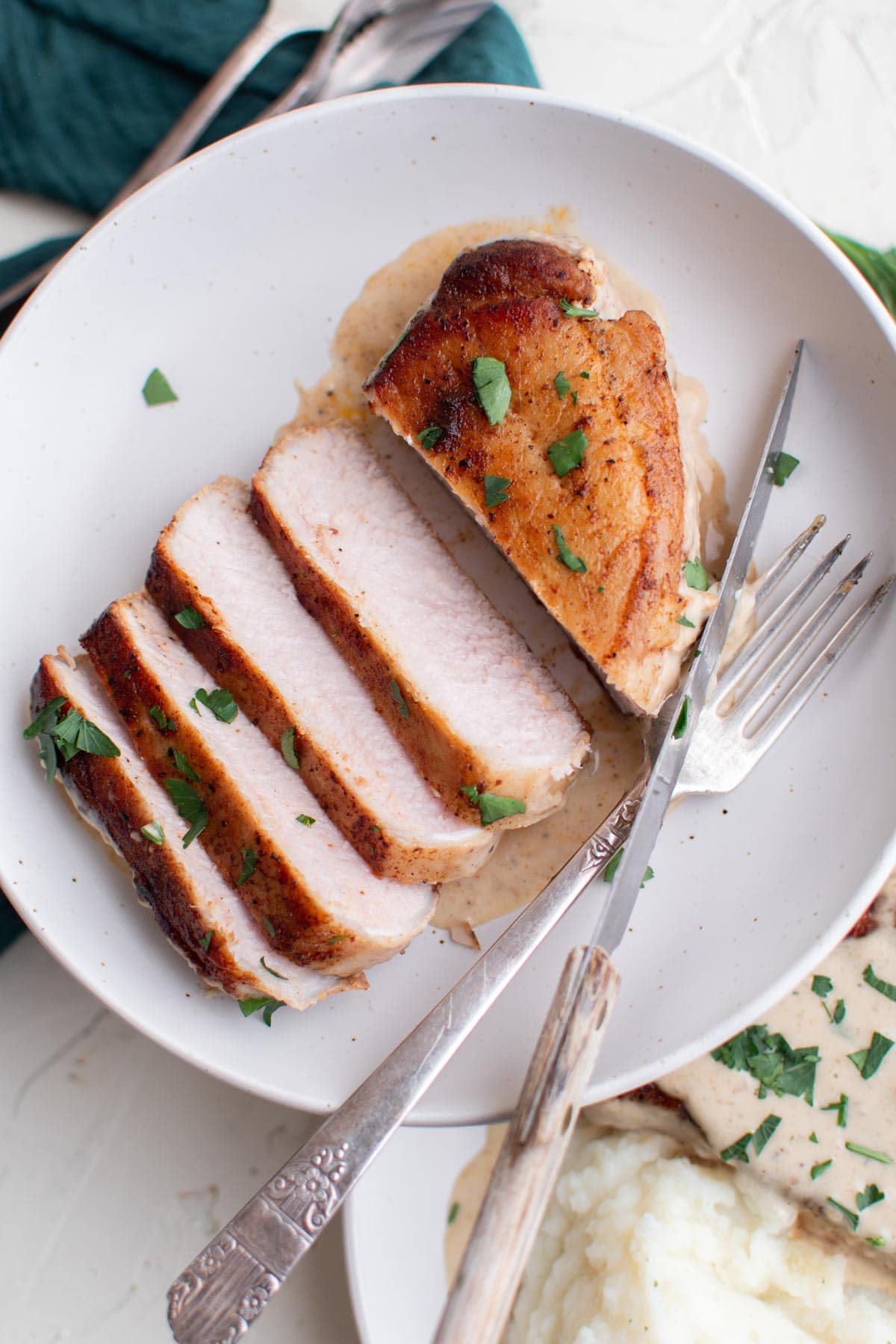 More Easy Pork Recipes
Recipe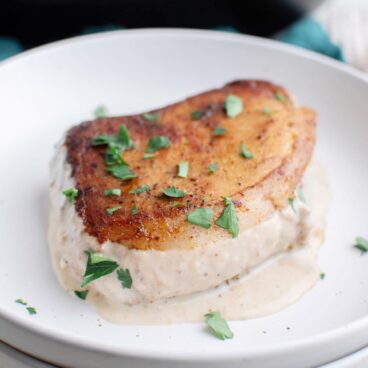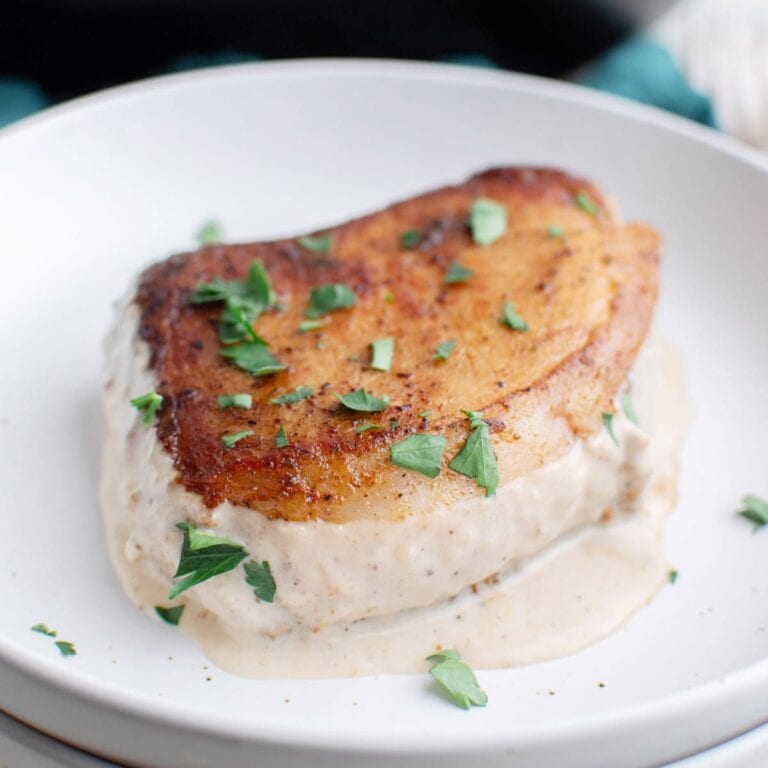 Cajun Skillet Pork Chops with Gravy
Skillet pork chops with gravy are so juicy and full of flavor! The meat cooks in minutes and the juices from the pan make a killer gravy.
Ingredients
1

tablespoon

butter

1

tablespoon

olive oil

4

boneless pork chops

about 2-3 pounds

½

teaspoon

salt

¼

teaspoon

black pepper

2

teaspoons

Cajun seasoning
Gravy
5

tablespoons

butter

divided

½

cup

flour

1

cup

chicken broth

2

cloves

garlic

1 ½

cups

heavy cream
Instructions
Skillet Pork Chops
In a small bowl, combine salt, pepper and cajun seasoning. Pat pork chops dry with paper towels and rub all over with seasoning.

Heat a large skillet over medium-high heat and melt butter and olive oil. Place pork chops in the skillet, pressing down gently to sear. Cook for 5-6 minutes, without moving the chops. Flip over and sear the other side. Cook until golden. Internal temperature should register at least 140 degrees F on a digital meat thermometer. Transfer to a plate and cover with foil to keep warm.
Gravy
To the same skillet, add 2 tablespoons butter. Melt, scraping up any pan dripping and browned bits on the bottom of the skillet as you go. Add flour and whisk together, cooking until golden; about 2 minutes.

Add to the skillet chicken broth, garlic, heavy cream and 3 tablespoons of butter. Bring to a simmer over medium heat and continue to simmer for a few minutes or until thickened.

Nestle pork chops in the pan with the gravy and simmer for a minute to warm up the chops if needed. Serve porks chops with gravy and garnish with fresh minced parsley.
Notes
Depending on the size of your pork chops (and how hungry you are), this recipe could feed 4-6 people. 
Nutrition
Calories:
508
kcal
Carbohydrates:
11
g
Protein:
22
g
Fat:
42
g
Saturated Fat:
23
g
Cholesterol:
171
mg
Sodium:
503
mg
Potassium:
436
mg
Fiber:
1
g
Sugar:
1
g
Vitamin A:
1553
IU
Vitamin C:
3
mg
Calcium:
52
mg
Iron:
1
mg