Stove Top Chicken Breast (BEST Chicken Recipes)
This Stove Top Chicken Breast is so incredibly tender and juicy and takes only 25 minutes from start to finish. It's one of the best chicken recipes there is when you want a fresh, home cooked meal on a busy weeknight!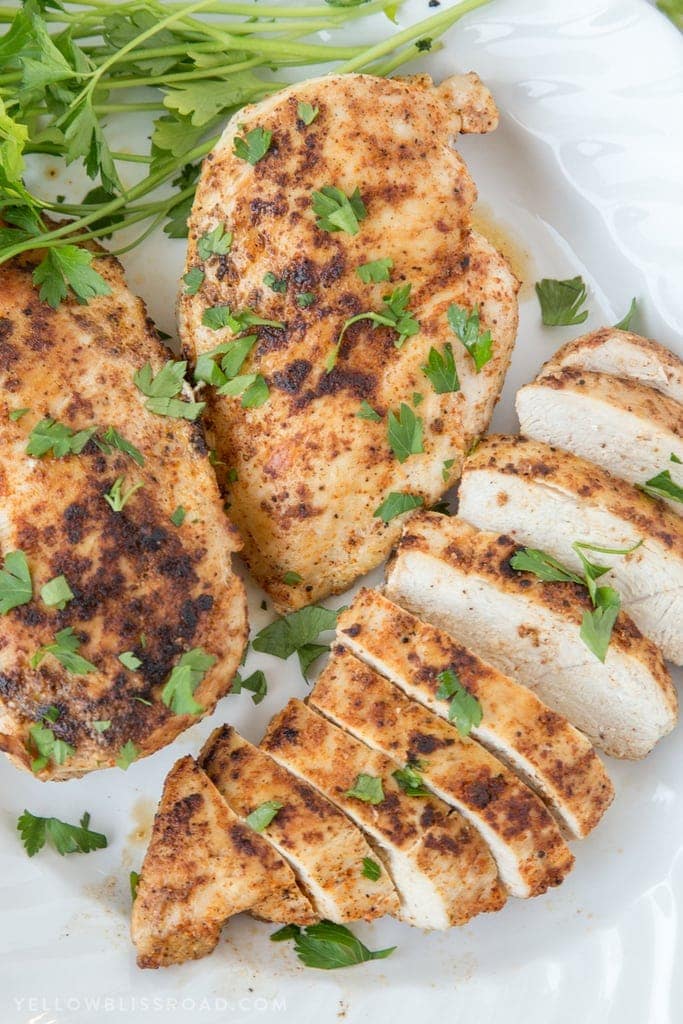 Chicken breasts are a staple in most households because they are quick and easy to cook and they can take on a variety of flavors. Our household is no different! The flavors of this chicken are similar to my Baked Chicken Breasts recipe, but you don't have to turn on the oven, which frees it up for fresh baked bread, veggies, or even dessert!
How to Make Stove Top Chicken Breasts
I use my favorite seasoning blend of spices that really give this stovetop chicken it's incredible flavor. The best part is you probably already have them in your pantry, and it works for all kinds of chicken recipes!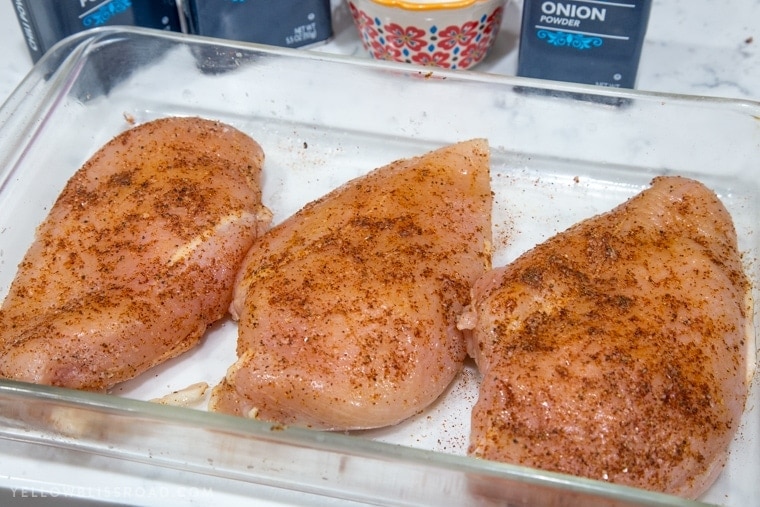 One of the keys to cooking boneless chicken breasts is to get them to a more even thickness. If you look at the breast you can see that it's really thick at one end, and of course that takes longer to cook. The other end is very thin which cooks much faster. The problem with this is that you end up with one end that's dry and the opposite end that could even be a little underdone, which is why a lot of chicken recipes get a bad rap. So to rectify that, pound that chicken! Use a mallet or even a small skillet to pound out the thicker end of the chicken and make it more uniform.
This cooking process is simple but does require a little patience. After you put the chicken in a hot pan (listen to that sizzle!), whatever you do, don't touch it! Let it sit for 4 minutes to get a nice sear, then flip it over. After about 2 minutes, turn the heat to low, add a pat of butter (totally optional, but adds additional flavor) and cover the skillet. This gives the chicken time to cook fully without burning.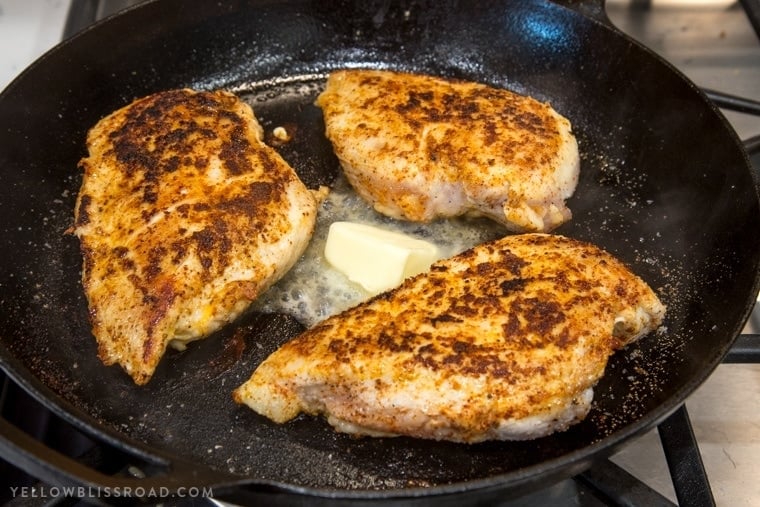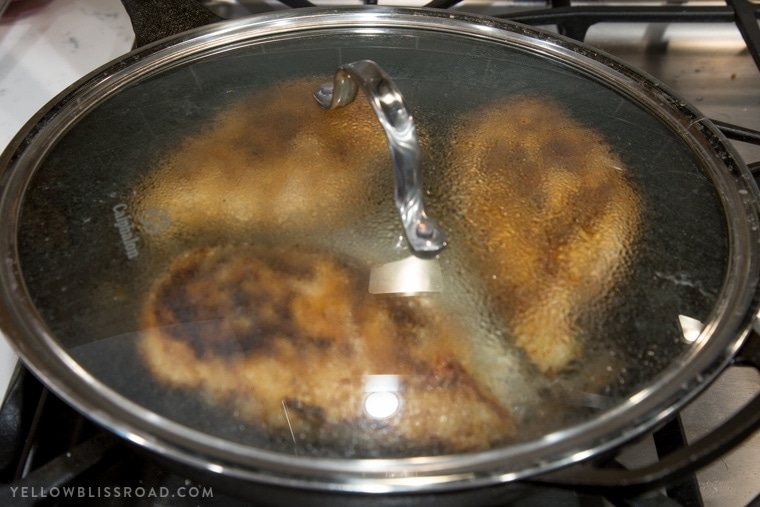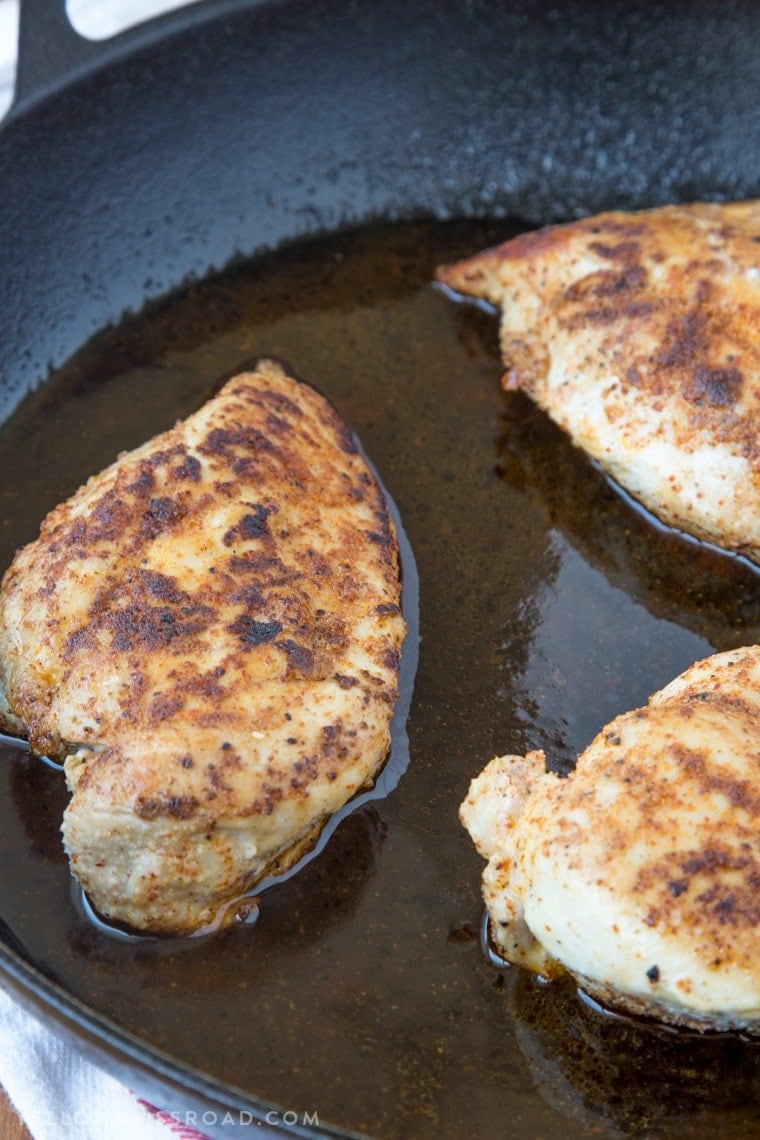 Finally after about 10 minutes remove the skillet from the heat and let it sit, still covered (again, don't touch it!) for another 10 minutes. This time allows the juices to redistribute ("rest") so they don't run all over the cutting board leaving you with a dry, lifeless chicken breast.
This is one of the best chicken recipes ever!!
There you have it – perfectly tender and juicy chicken breasts on the stovetop in just about 25 minutes!
Here's a little tip for you – See all that juice in the pan? Don't throw it out! You can do one of two things:
Drizzle it over as is.
Make a gravy by adding the juices to some melted butter and flour in a small pot.
Either way you are making one of the best chicken recipes ever, even better!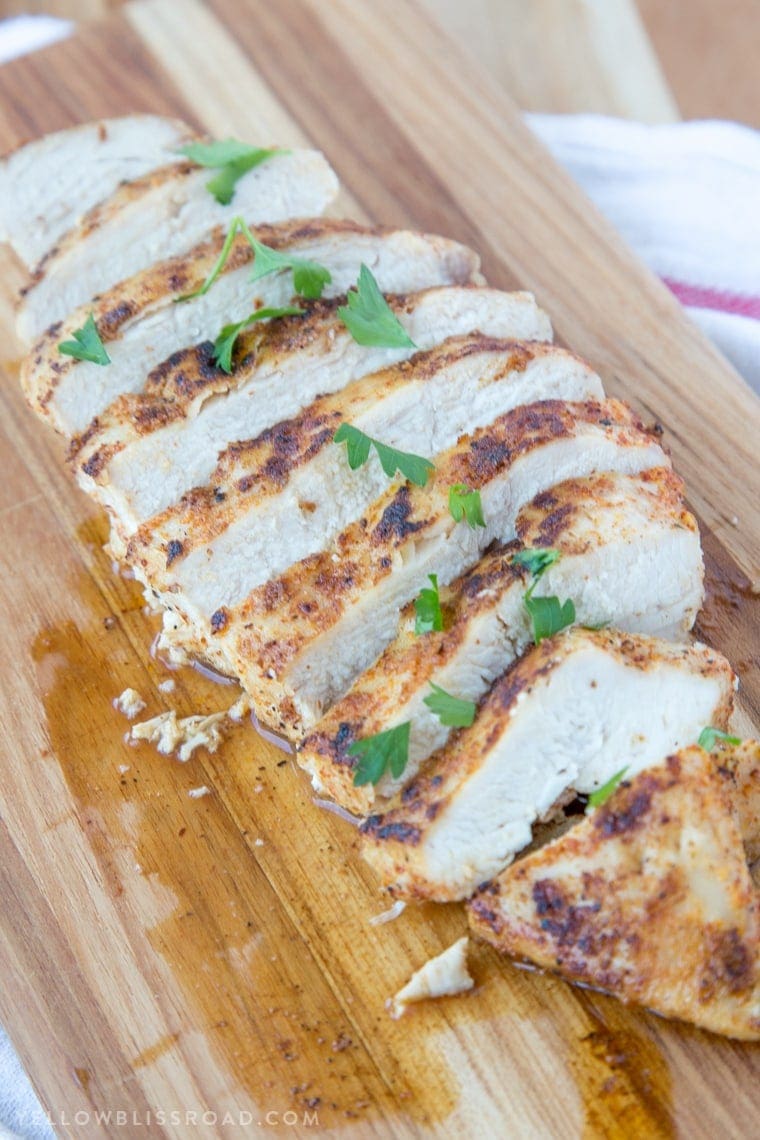 Want more of the best chicken recipes?
If you've made this recipe, please come back and leave us a star rating or a comment below. Or, tag us on social media @yellowblissroad or #yellowblissroad for a chance to be featured.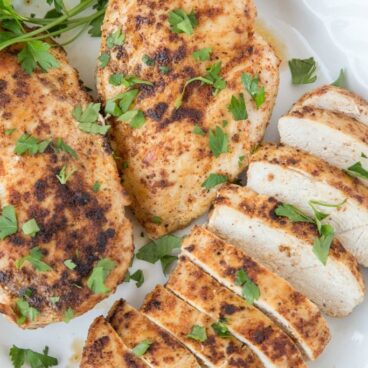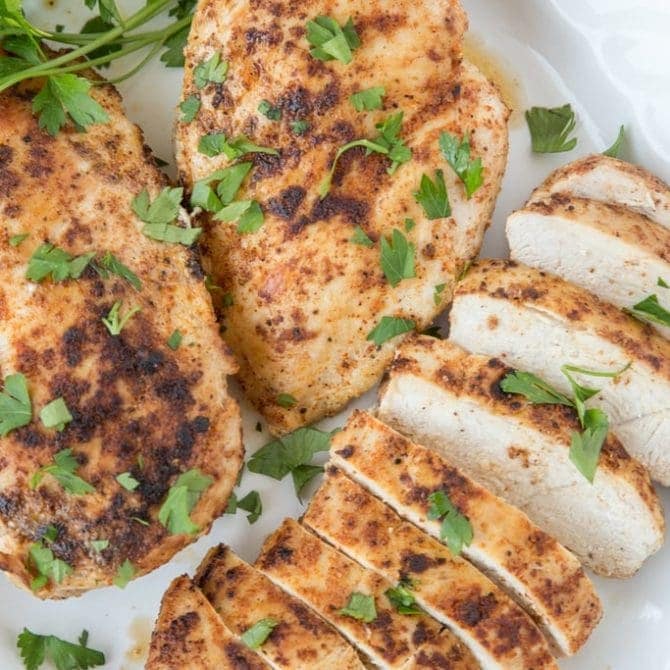 The BEST Stovetop Chicken Breast
Ingredients
4

boneless

skinless chicken breasts (about 2 pounds)

1

tablespoon

olive oil

1

teaspoon

kosher salt

1/2

teaspoon

black pepper

1/2

teaspoon

chili powder

1/2

teaspoon

garlic powder

1/2

teaspoon

onion powder

1

tablespoon

butter
Instructions
In a small bowl, whisk together salt, pepper, garlic powder, onion powder and chili powder. Place the chicken in a baking dish and sprinkle the seasoning mixture over both sides of the chicken and rub it in with your hands.

Heat olive oil in a large skillet (with a tight fitting lid) over medium-high heat. Add chicken and leave it alone to sear and cook for 4 minutes on the first side. Flip the chicken and add the butter to the skillet, swirling it around the pan as it melts. Cook for 2 minutes, then cover the skillet with a tight fitting lid. Turn heat down to low for 10 minutes. Remove the skillet from heat and rest, covered, for another 5-10 minutes.

Serve immediately with parsley garnish, if desired.