Air Fryer Chicken Wings are crispy on the outside and so incredibly juicy on the inside. With a simple homemade seasoning and about 20 minutes in your air fryer, this simple crispy chicken wings recipe will be your new go-to.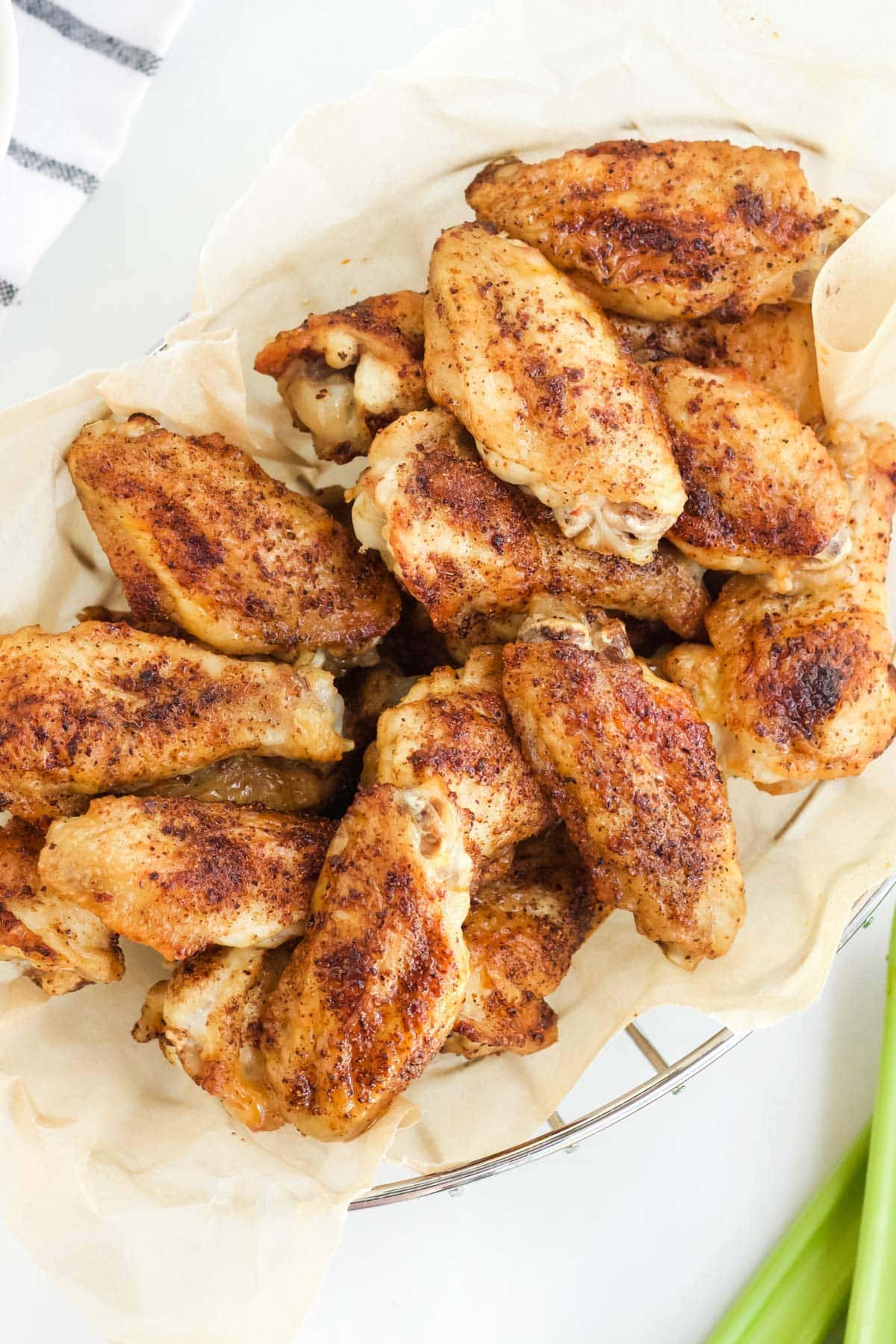 If you're in love with your air fryer like I am, you should probably try all of our air fryer recipes, starting with Air Fryer Chicken Tenders and Air Fryer Chicken Breast. Air Fryer Egg Rolls are one of my favorite recipes ever!
Crispy Air Fryer Chicken Wings
I have been baking my chicken wings in the oven for as long as I can remember. Using a coating of flour and baking powder, I always get nice, crispy chicken wings. But this method requires heating the oven and when we're in the middle of a heat wave that's the last thing I want to do. Well, I'm about to rock your world and share my new go-to method for the crispiest, best chicken wings ever…Air Fryer Chicken Wings! If you have been on the fence about purchasing an air fryer, this is the recipe that will change your mind.
Making chicken wings in the air fryer is healthier, faster and easier than frying or baking and it doesn't compromise flavor or texture. Very little oil is used; in fact you only need a little spray in the basket and the air fryer does its magic. Easy recipes are totally a thing around here and this one fits the bill perfectly.
I use my favorite seasoning blend, the same one I use for my most popular Oven Baked Chicken Breasts. You just need chili powder, garlic powder, onion powder, salt and black pepper. This combination is the best I've found, and it's made up of super simple spices that everyone has in their kitchen. If you don't then you should because this rub is out of this world.
How to Make Chicken Wings in the Air Fryer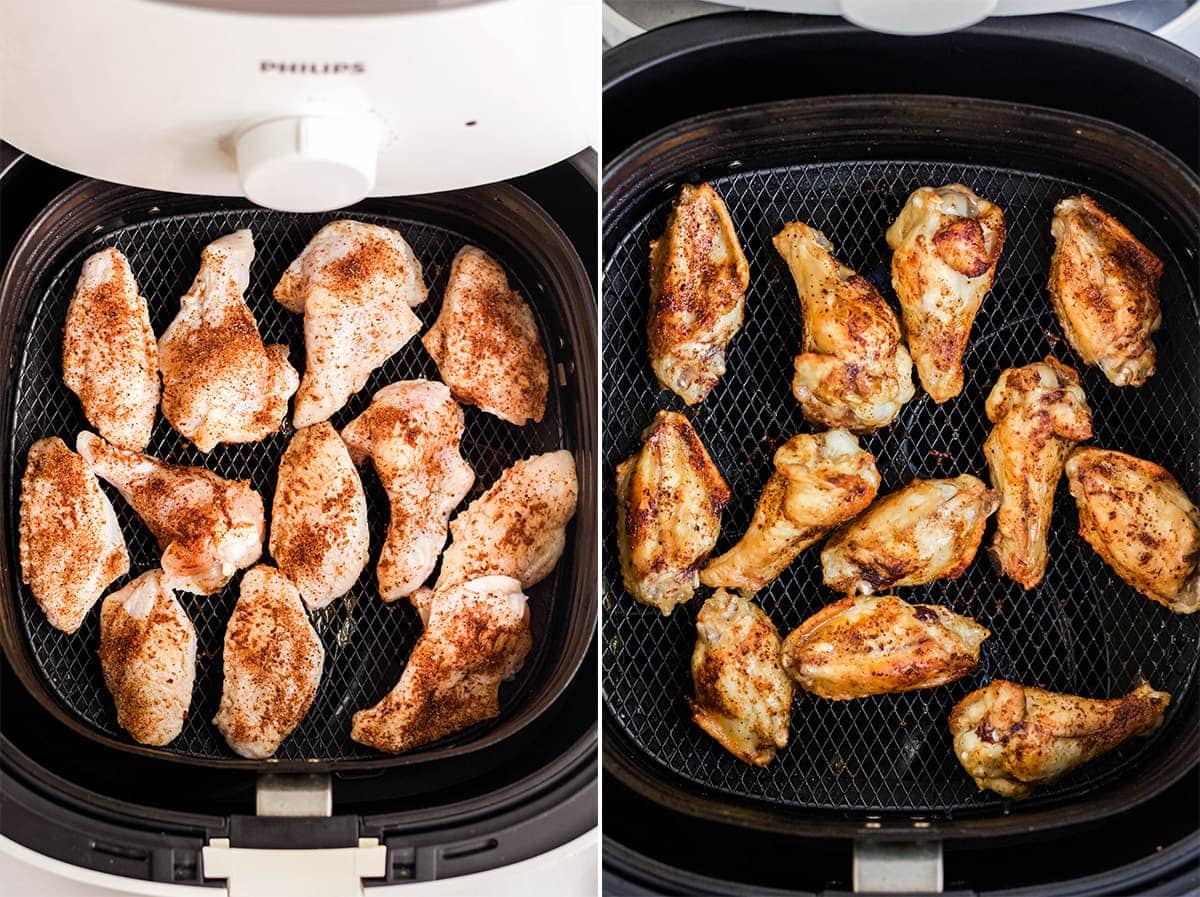 The Wings. There are a few ways you can go with the chicken wings. You can buy them whole and break them down yourself, or you can buy them already cut into drumettes and wingettes. It totally depends on your comfort lever and time, but I prefer to just buy them already cut to keep things simple. You can also buy them frozen. Either way you want to leave the skin on because that's where the crispiness comes from, and make sure to pat them dry really well.
Spice rub. I use a combination of chili powder, garlic powder, onion powder, salt and black pepper. This blend has been my go-to for years and I sometimes swap out the chili for paprika. You can use a premixed spice blend if you like for a different flavor. Cajun and taco seasonings as well as lemon pepper are all delicious. Rub the seasoning all over the wings.
Air Fry. Preheat the air fryer for best results. The instructions for your unit may say 350 degrees for chicken, but I've found that air fryer chicken wings are perfect at 375 degrees. Cook them for 10 minutes, then flip them over and cook another 10 minutes. With an extra large air fryer you can fit about a dozen pieces (4 appetizer sized servings), so you may need to run a couple of batches if you're serving a lot of people or want this to be your main course.
Air Fryer Frozen Chicken Wings
You can even cook air fryer chicken from frozen if you forgot to defrost them! I won't say they are quite as crispy, but they are still super delicious.
How long do you cook frozen wings in the air fryer?
Set your air fryer to 400 degrees and cook seasoned chicken wings for about 30-40 minutes, flipping a few times throughout the cooking time. You may also need to drain any liquid from the bottom of the air fryer.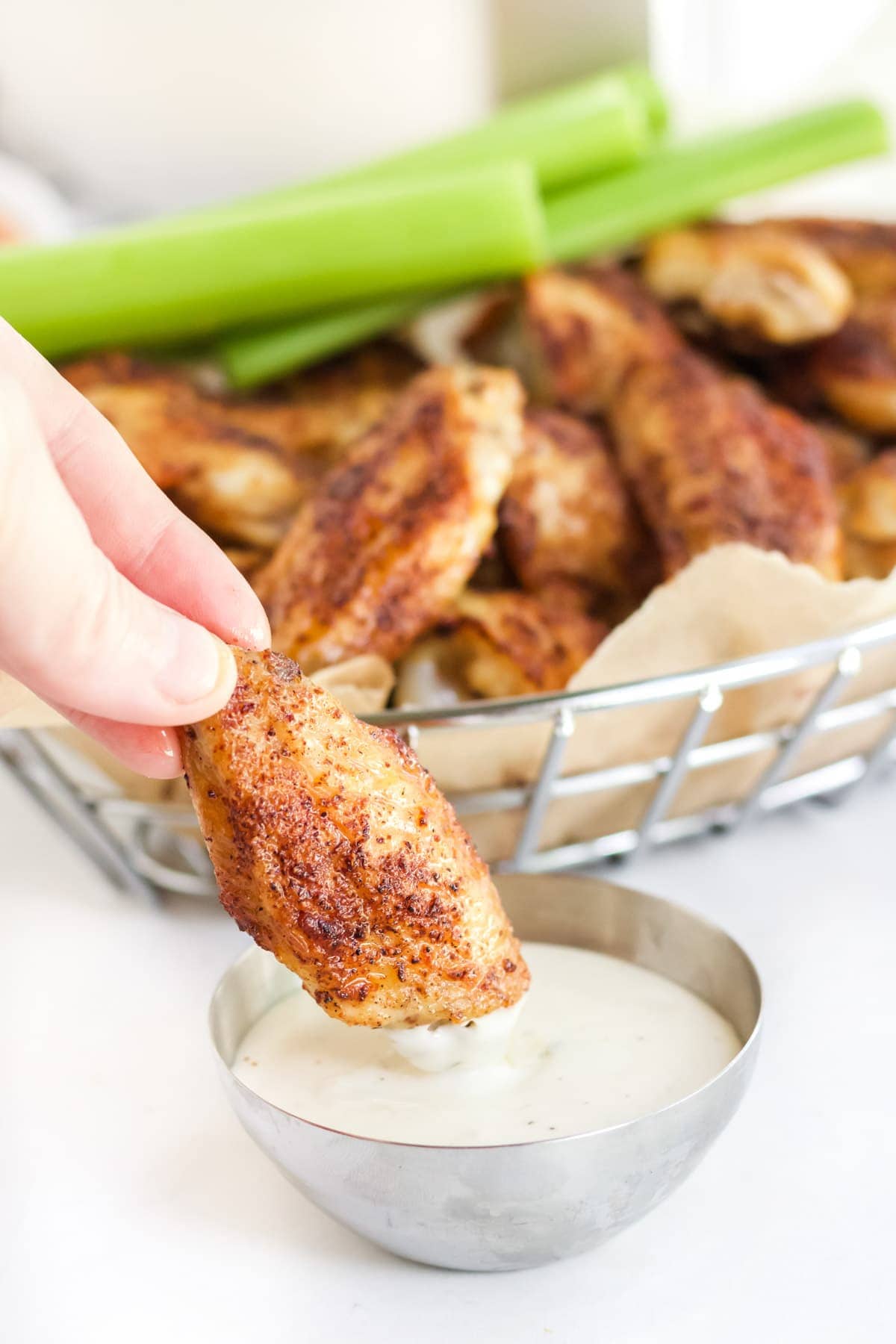 Recipe Notes and Tips
I prefer to buy my chicken wings already separated, but if you want to buy fresh, whole wings, here's how to break them down. Snip off the pointy tip of the wing, then pull apart at the joint. Use a sharp knife of kitchen shears to cut the wing at the joint, separating it into two pieces – the wingette and the drumette.
Speaking of drumettes, you can buy just this portion of the wing if you want. It's usually everybody favorite part and it's easier to eat, like a mini drumstick.
If you're feeling spicy, toss your wings in some buffalo wing sauce. Serve them with ranch or blue cheese. Serve plain wings with honey mustard, or coat them in bbq or teriyaki sauce. The possibilities with are endless!
If your air fryer wings aren't quite crispy enough once they're fully cooked, turn the air fryer to the highest temperature setting and cook for a few more minutes.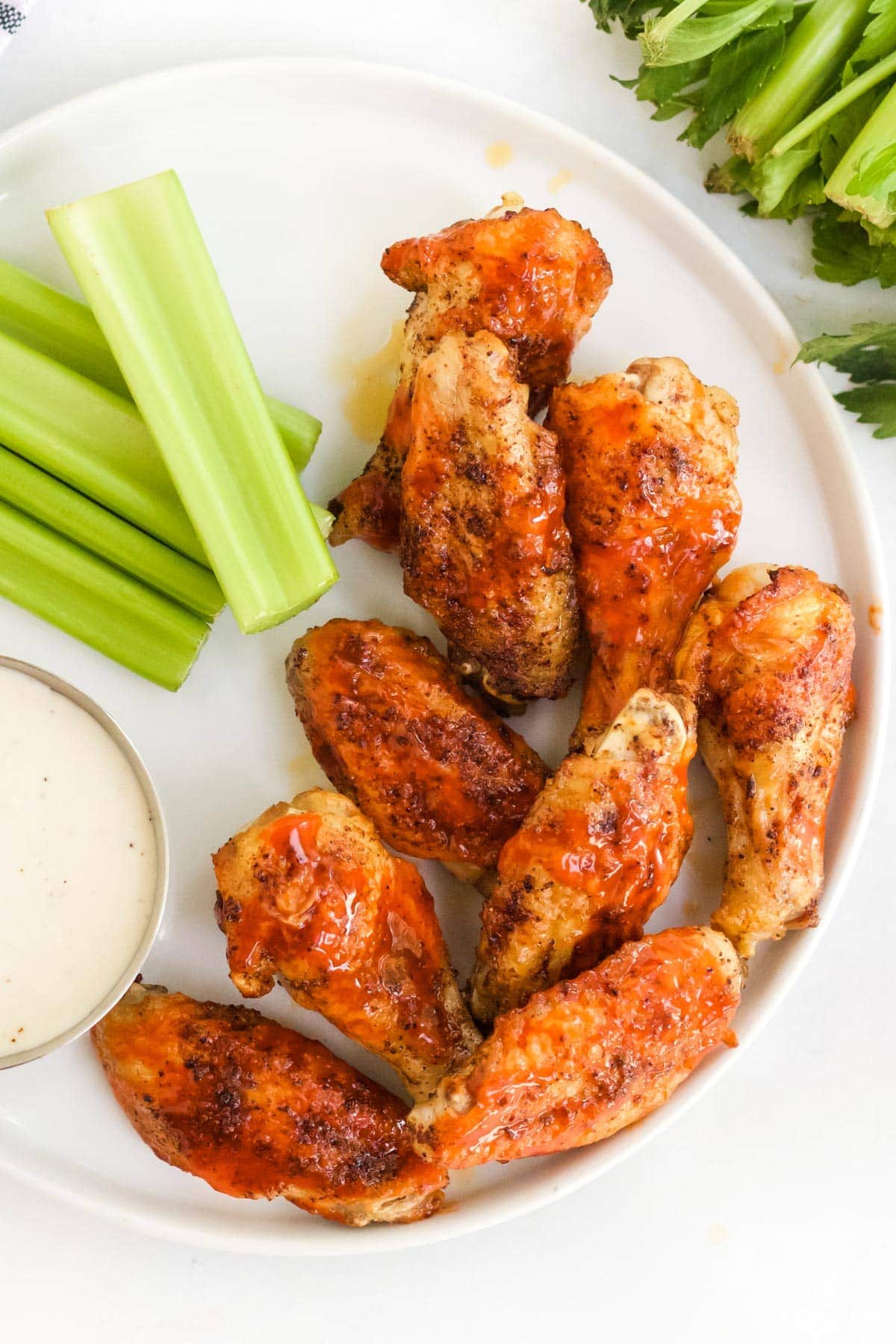 More Chicken Recipes
Recipe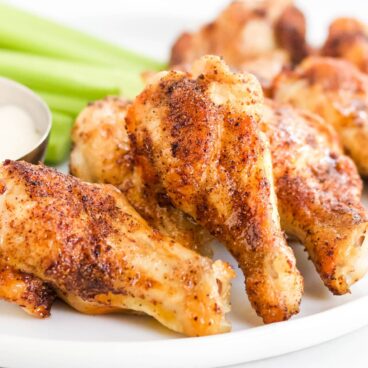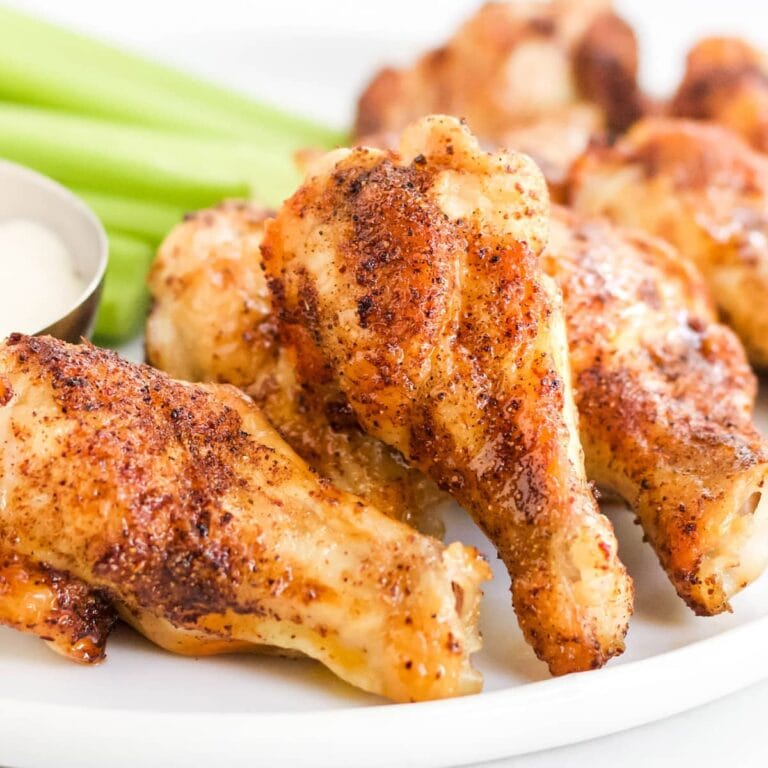 Air Fryer Chicken Wings
Air Fryer Chicken Wings make it easy to get crispy wings that are healthier and faster to make without compromising flavor or texture.
Ingredients
3

pounds

chicken wings

skin on

2

teaspoons

chili powder

1

teaspoon

garlic powder

1

teaspoon

salt

¼

teaspoon

pepper

Optional: Buffalo Wing Sauce or other sauces for dipping.
Instructions
In a small bowl, whisk together the chili powder, garlic powder, salt and pepper. Set aside.

Prepare the wings for air frying by removing the wing tip, and separating the wings from the drumettes. Sometimes the frozen packages you get at the store have already done this step for you.

Sprinkle the prepared seasoning over both sides of the wings.

Prepare the air fryer by spraying a light coating of cooking spray into the air fryer basket. Place the chicken wings evenly apart in the basket.

Cook at 375 degrees for 10 minutes, then flip the wings and cook for an additional 10 minutes or until the wings are crispy and cooked through.

If desired, toss with sauce and serve immediately.
Notes
Nutritional values are approximate and may vary.
Dipping sauce options: Ranch dressing, Blue cheese, honey mustard, bbq sauce, buffalo sauce. 
Nutrition
Calories:
413
kcal
Carbohydrates:
1
g
Protein:
34
g
Fat:
29
g
Saturated Fat:
8
g
Cholesterol:
141
mg
Sodium:
732
mg
Potassium:
315
mg
Fiber:
1
g
Sugar:
1
g
Vitamin A:
567
IU
Vitamin C:
1
mg
Calcium:
25
mg
Iron:
2
mg