Lemon Pepper Wings are easy to make and so much better for you because they are baked instead of fried! Coated in flour, spices and my secret ingredient, these baked chicken wings are crispy on the outside and tender and juicy on the inside. Serve with my lemon yogurt dip for a truly zest bite.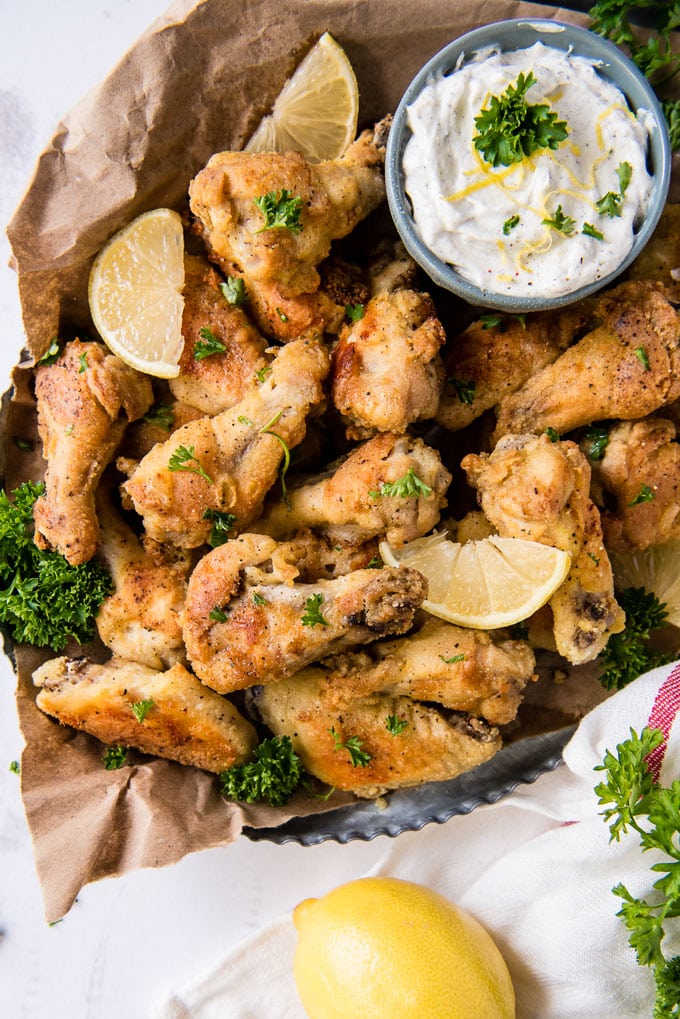 BAKED LEMON PEPPER CHICKEN WINGS
Baked Chicken Wings are a simple party favorite or easy weeknight dinner. They are easy to make with just a few ingredients, and practically guilt free because you bake them in the oven instead of deep frying.
I made baked chicken wings for the first time about 10 years ago after I read about the secret ingredient and how it was life changing. I was a bit skeptical so of course I had to try it out for myself. Since sharing those Crispy Baked Chicken Wings with my readers four years ago, they have become one of the most popular recipes on the site, and for good reason. This method is foolproof and the results are super crispy, deliciously juicy and addicting!
YOU NEED THESE WINGS IN YOUR LIFE
I have made these wings with a lot of different flavors like buffalo, Garlic Parmesan, Honey Glazed and Barbecue. But my favorite is these Lemon Pepper Wings.
The tangy lemon pepper spice blend coupled with lemon zest in the coating has just enough bite to make them interesting and the flavors blend together to create this magical, zesty flavor that you just can't resist.
Baked Chicken Wings are much better for you than fried.
They are super easy to make with just a few simple pantry ingredients and a baking sheet with a rack.
THE SECRET TO CRISPY BAKED CHICKEN WINGS
The secret is in the powder! Baking powder (not to be confused with baking soda) is really what makes all the difference. It is a mixture of sodium bicarbonate, cream of tartar and cornstarch that, when mixed with salt and tossed to coat the chicken, dries out the skin leaving it crispy and crunchy when baked.
There's a bunch of sciencey explanation behind this reaction, but basically it's because the baking powder raises the pH level in the chicken which dries the skin and makes it crispy.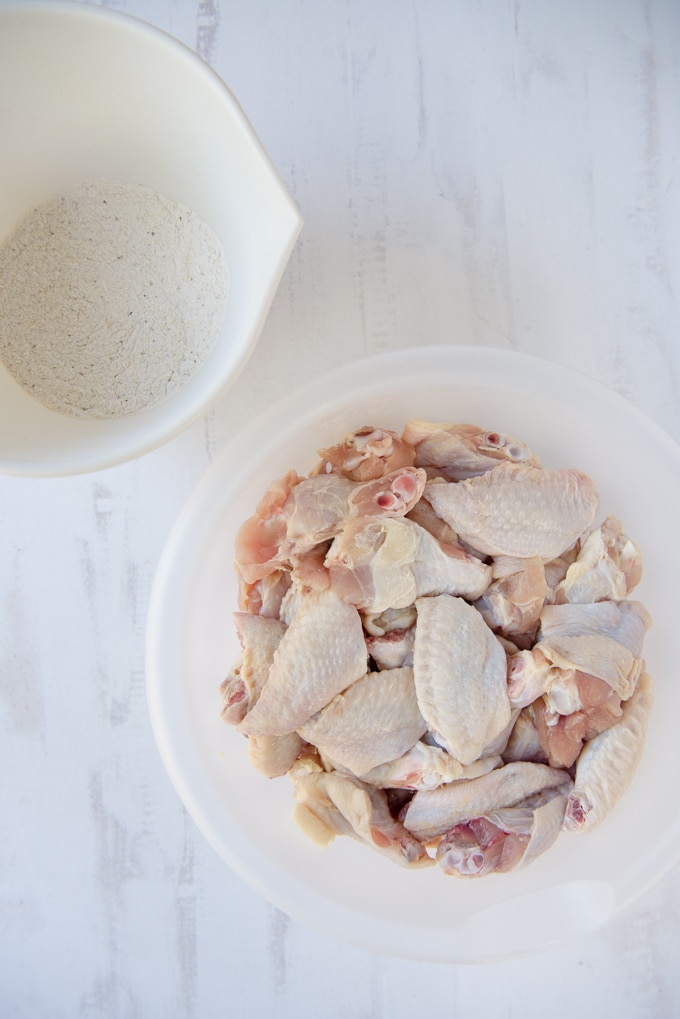 HOW TO MAKE LEMON PEPPER WINGS
First you will mix up the coating. This isn't a breading; it's just a mix of flour, baking powder (<—secret ingredient!) and lemon pepper seasoning and lemon zest that will make the skin crispy when baked. Whisk the ingredients together to ensure that the mix is well blended.
Pat chicken wings dry with paper towels so the coating will stick well. Don't rinse the chicken – doing so can spread harmful bacteria around your kitchen. Just pat the wings dry and place them into a large mixing bowl.
Sprinkle the flour mixture over the chicken wings, and stir to coat the wings completely. Once the lemon pepper wings are coated in this mixture, you'll want to shake the wings a little to remove any excess powder before placing them on the baking rack.
Bake the wings in a 450 degree oven for about 30-35 minutes, turning once to promote even cooking. Once baked, let them cool for several minutes before enjoying.
These Lemon Pepper Wings are crispy and juicy, but if you like your wings saucy, you can toss them with lemon pepper butter. Melt 4 tablespoons of butter and pour over the wings, tossing to coat. Sprinkle with a half teaspoon (or more) of lemon pepper seasoning and toss again.
Lemon Pepper seasoning is cracked black pepper infused with granulated lemon zest. The spice blend is readily available at your local grocery store or29 you can make your own.
HOW MANY LEMON PEPPER WINGS PER PERSON?
The amount of wings per person depends on how you are serving them. The recipe below calls for 3 pounds of chicken wings. This can be whole wings that have been split or you can use all drumettes. When I serve these as an appetizer I'll use both pieces of the wing, but as a main course I stick to the drumettes because they are bigger.
If lemon pepper wings are your main course or main appetizer, plan on ¾ of a pound per person. This can be anywhere from 6 to 12 pieces depending on size. If you are serving wings as part of your appetizer spread, plan for about half of that.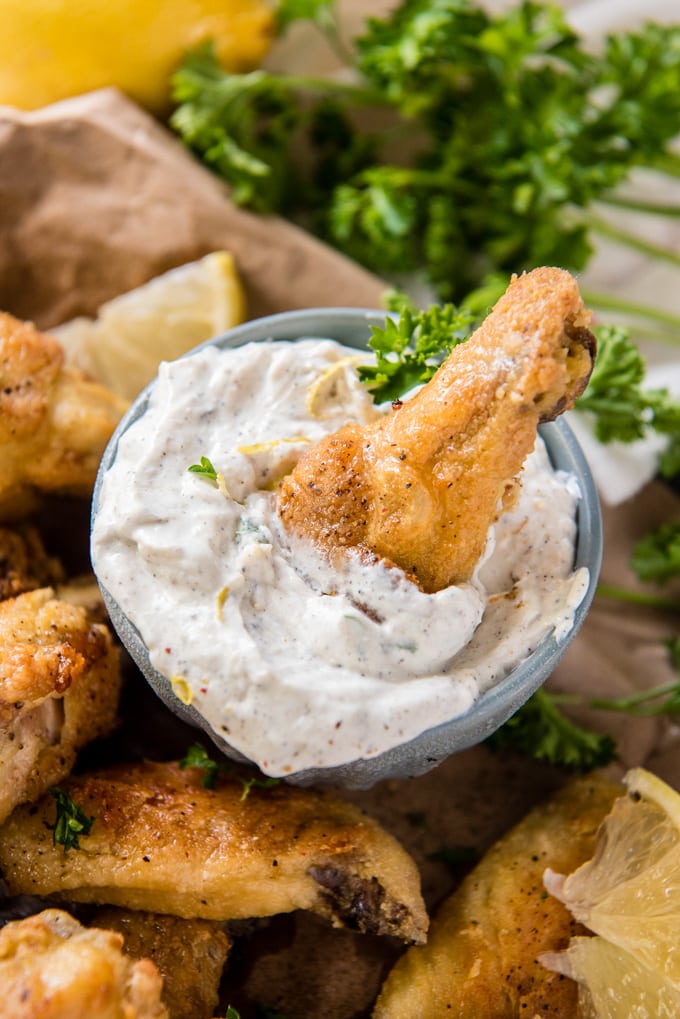 SERVING SUGGESTIONS
When I serve lemon pepper wings as a main course, I usually keep the rest of the meal simple so the flavor of the wings can shine. Serving with a copycat Olive Garden Salad and garlic bread Is usually plenty, but sometimes I'll whip up some Easy Baked Potato Wedges and swap out the seasoning for lemon pepper to keep the flavor going.
When served as an appetizer, these wings go great alongside other zesty finger foods like Lemon Pepper Shrimp, Creamy Jalapeno Artichoke Dip and Greek Salad Pinwheels.
No matter how I serve lemon pepper wings, I always whip up a zesty lemon yogurt dip to go with them. It's a simple blend of creamy plain yogurt, lemon juice and zest and black pepper. If you want to spice it up you can add hot sauce to your liking.
WHAT TO DO WITH LEFTOVERS
Refrigerate leftover wings in a sealed container within two hour of cooking and for up to 4 days. Enjoy cold or reheat in the oven or microwave. Keep in mind that reheated wings will not retain the same crispiness as fresh.
You can freeze baked chicken wings, too! Place cooled wings in a freezer bag or container and seal out as much air as possible. Thaw in the fridge overnight, and reheat same as above.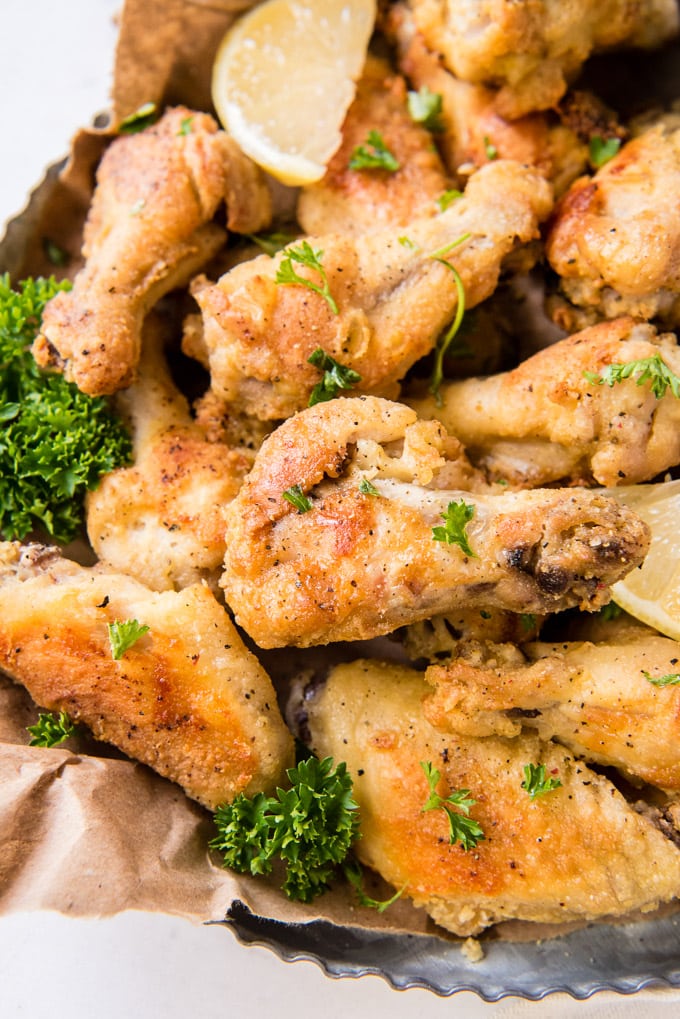 More baked chicken recipes
Recipe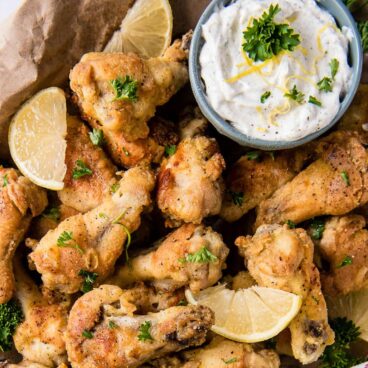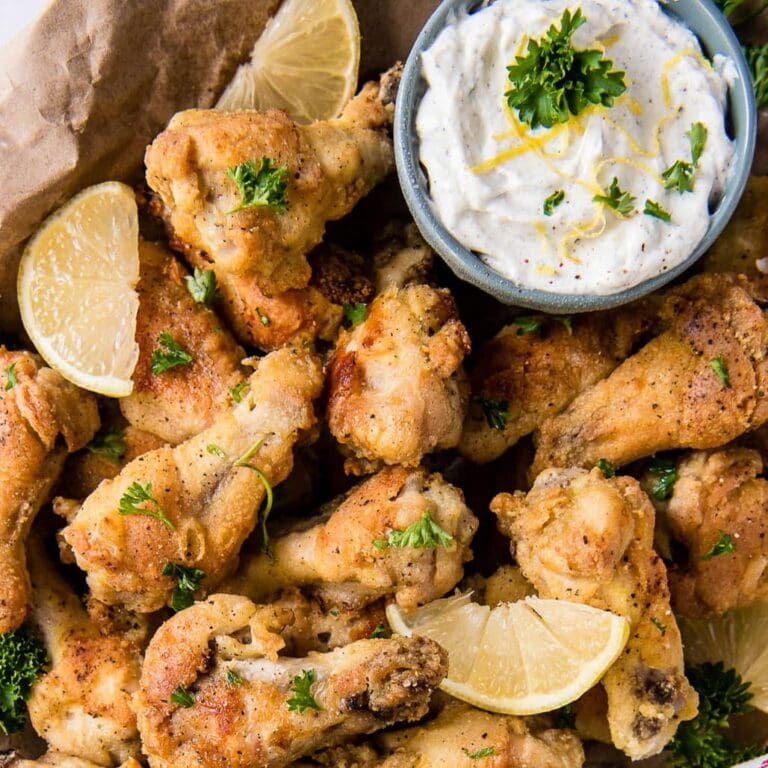 Lemon Pepper Chicken Wings
Lemon Pepper Wings are the perfect party food! Coated in flour, spices and my secret ingredient, these baked chicken wings are crispy, flavorful and juicy.
Ingredients
3

pounds

chicken wings or drumettes thawed or fresh

about 3 dozen pieces

1/2

cup

flour

2

tablespoons

baking powder

2

tablespoons

lemon pepper seasoning

Zest of 1 lemon

1

teaspoon

garlic powder

1/2

teaspoon

salt
Zesty Lemon Yogurt Dip
1

cup

plain yogurt

1

tablespoon

lemon zest

2

teaspoons

lemon juice

1

teaspoon

black pepper

Pinch

of salt

½

teaspoon

granulated garlic

Hot sauce

to taste
Instructions
Preheat oven to 450 degrees.

Rinse chicken wings and trim any excess skin. Do not remove the skin or you will lose the crispiness. Pat chicken dry.

In a large bowl, whisk together flour and seasonings. Add chicken and coat with the flour mixture.

Prepare a large cookie sheet by covering with foil and spraying with cooking spray. Top with a baking rack if you have one; otherwise just the foil is fine.

Arrange chicken on the cookie/baking sheet, at least an inch apart.

Bake for 30-35 minutes, turning once after about 20 minutes.

Meanwhile combine yogurt dip ingredients in a small bowl. Cover and. Store in the fridge until ready to see. Garnish with lemon zest and black pepper.

Serve with celery and carrot sticks and a side of Zesty Lemon Yogurt Dip or ranch dressing for dipping.
Notes
If you want more saucy wings, you can mix 4 tablespoons of melted butter with a couple teaspoons of lemon pepper seasoning and toss the cooked wings in the mixture.
Make sure you are using baking POWDER and not soda as this makes a huge difference in taste and texture.
Nutrition
Calories:
348
kcal
Carbohydrates:
14
g
Protein:
25
g
Fat:
21
g
Saturated Fat:
6
g
Cholesterol:
100
mg
Sodium:
307
mg
Potassium:
702
mg
Fiber:
1
g
Sugar:
2
g
Vitamin A:
231
IU
Vitamin C:
3
mg
Calcium:
246
mg
Iron:
2
mg