Crispy Baked Garlic Parmesan Chicken Wings
My Crispy Baked Garlic Parmesan Chicken Wings are crispy on the outside and tender and juicy on the inside. Coated with a delicious garlic Parmesan sauce, everyone loves these baked chicken wings!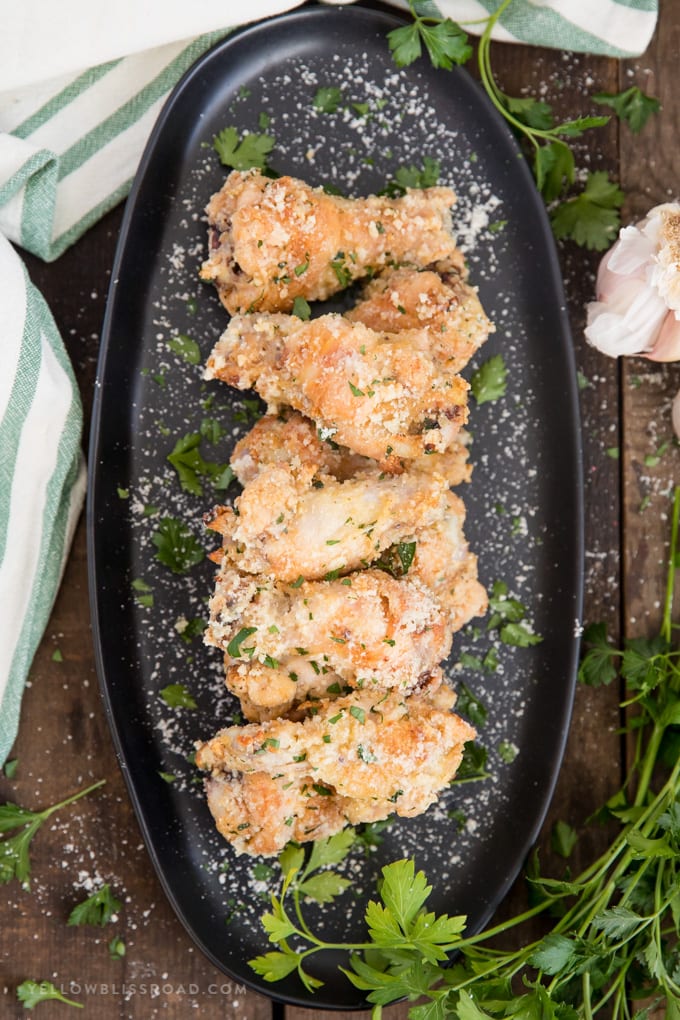 Chicken Wings always seem to be the life of the party, and there are a ton of variations. We recently tried Garlic Parmesan Chicken Wings at our favorite restaurant and I was floored by how good they were…and that I'd never tried them before!
I knew of course that I had to recreate them at home using my standard method for getting crispy baked chicken wings.
How to Make Crispy Baked Garlic Parmesan Chicken Wings
For the best results, start with fresh chicken wings. You can use the double wings cut in half or use drumettes. I prefer the drumettes but keep in mind they may need longer to cook.
Snip the skin around the edges where there is excess. Do not remove too much of the skin or you'll lose that crispiness.
Coat the wings in a flour, baking powder and seasoning mixture.
Bake the wings in a super hot (450 degrees) oven, on a foil covered baking sheet. For even better results, top the baking sheet with a wire baking rack. (aff) Turn them once so both side have a chance to get nice and crisp.
Coat them in the sauce of your choice, in this case a creamy garlic parmesan sauce.
Why baking powder?
Baking powder is typically used as a leavening agent in baking, but in this application it actually dries out the skin, leaving it nice and crispy. Don't confuse this with baking soda, which is NOT going to work and will leave a nasty aftertaste.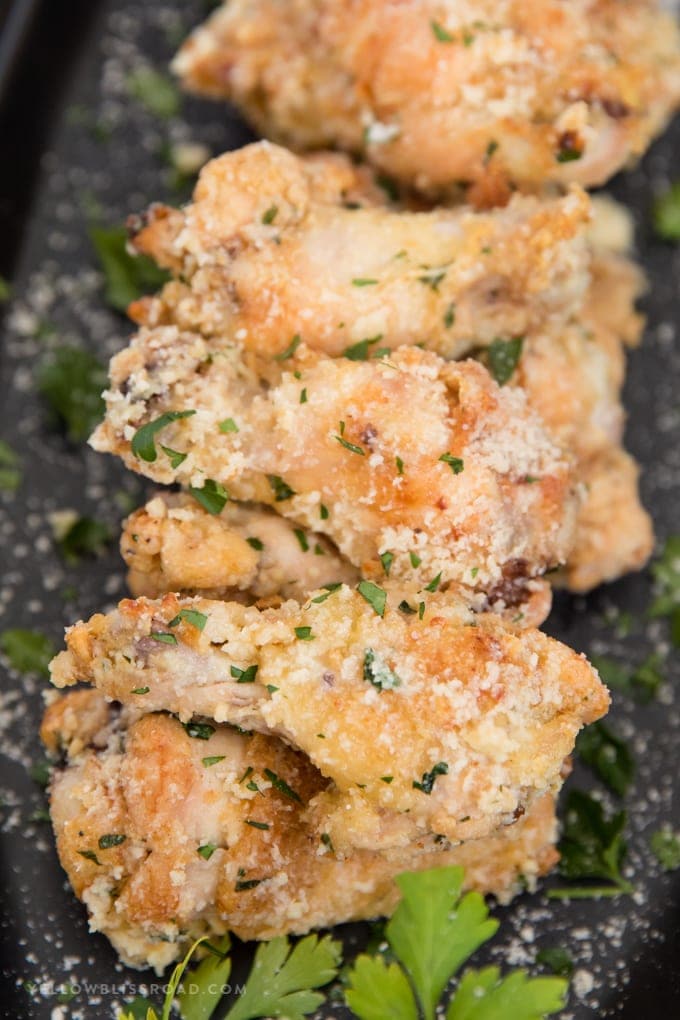 How to Make Garlic Parmesan Sauce
This is a super simple butter sauce that we are going to use to coat our crispy chicken wings. Our Garlic Parmesan Wing Sauce is made up of butter, olive oil, garlic, parsley, salt and Parmesan cheese.
Melt the butter and olive oil, then stir in the minced garlic. Usually I'm totally fine with using jarred minced garlic, but in this case using fresh garlic is going to give you the best flavor. Let that cook in the melted butter to get all that rich flavor infused, then stir in salt and fresh minced parsley. Again, don't skimp by using dried, use fresh!
You can make the garlic parmesan sauce at any time, and just heat it up when you're ready to serve the chicken wings. Pour the sauce over the wings (preferebly in a large bowl), and toss to coat completely. Sprinkle on the Parmesan cheese (this is where I use the grated can stuff because it doesn't tend to melt).
These Crispy Baked Garlic Parmesan Chicken Wings are delicious dipped in Ranch dressing of course, of just on their own. We like to serve our wings with other finger foods like cut up veggies and cheesy garlic bread.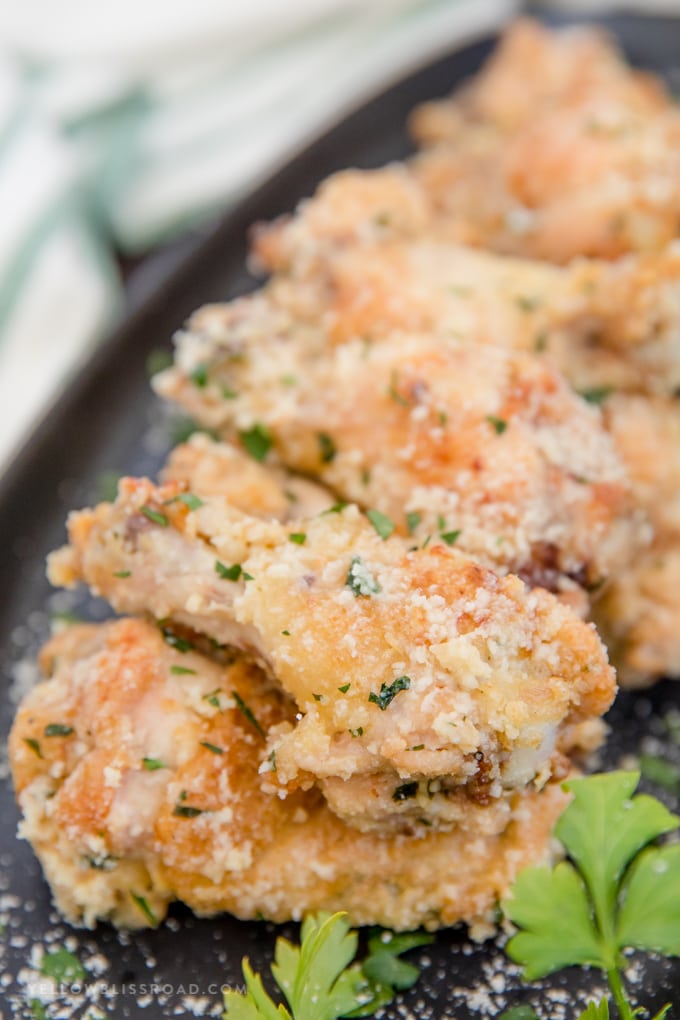 Want more delicious chicken wings recipes? Try these:
Peach Glazed Chicken Wings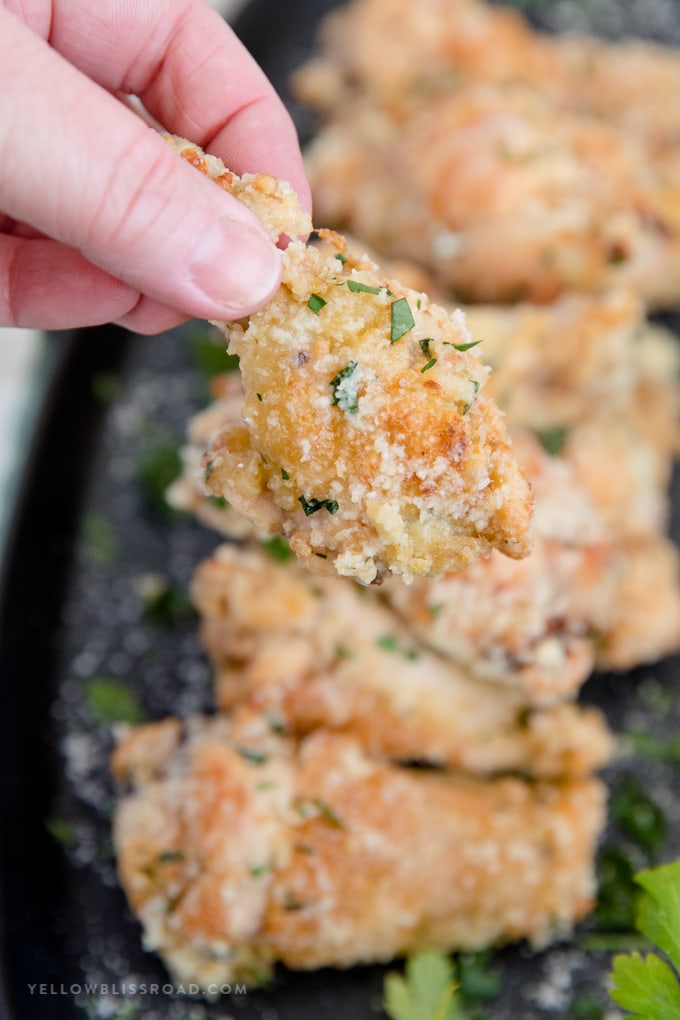 If you've made this recipe, please come back and leave us a star rating or a comment below. Or, tag us on social media @yellowblissroad or #yellowblissroad for a chance to be featured.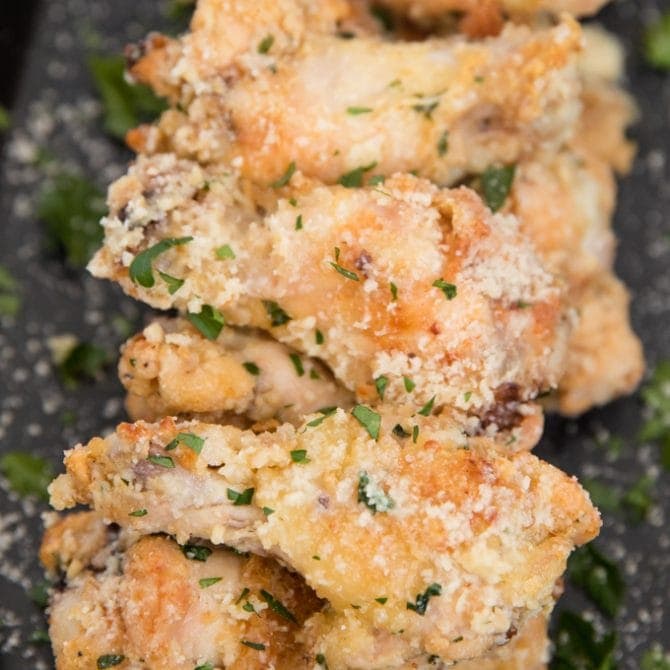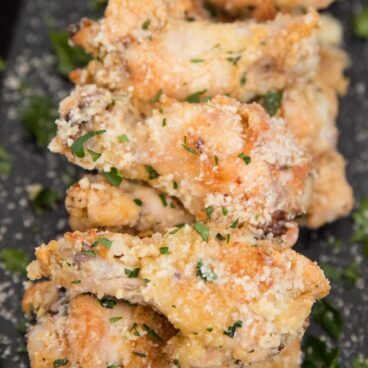 Baked Garlic Parmesan Chicken Wings
Ingredients
Chicken Wings

3

pounds

chicken wings or drumettes

1/4

cup

flour

1

teaspoon

salt

1

teaspoon

garlic powder

1/2

teaspoon

pepper

2

tablespoons

baking powder

Garlic Parmesan Sauce

4

tablespoons

olive oil

4

tablespoons

of butter

2

heaping tablespoons of garlic

8-10 cloves, minced

3

heaping tablespoons of minced parsley

½

teaspoon

salt

½

cup

of grated Parmesan cheese
Instructions
Preheat oven to 450 degrees.

Rinse chicken wings and trim any excess skin. Do not remove the skin or you will lose the crispiness. Pat chicken dry.

In a large bowl, whisk together flour and seasonings. Add chicken and coat with the flour mixture. (You could also shake to coat in a large ziploc bag).

Prepare a large cookie sheet by covering with foil and spraying with cooking spray. *For even better results, use a wire baking rack on top of the baking sheet.

Arrange chicken on the cookie sheet or rack, at least an inch apart. 

Bake for 30-35 minutes, turning once after about 20 minutes. (If using the baking rack, flipping is not required). *If using only drumettes, they may take a little longer to cooker since they are bigger than traditional wings.

While the chicken is has about 8-10 minutes left, begin to make the sauce. In a medium saucepan, heat the butter and olive oil over medium heat. Once butter is melted add the minced garlic. Cook for about 3 minutes, then remove from heat. Stir in salt and chopped parsley.

Transfer the chicken to a large bowl. Pour the sauce over the chicken and toss to coat. Sprinkle with grated parmesan and serve immediately.