Christmas Cookie Pinwheels are a festive holiday treat that'll be the star of your Christmas cookie plate!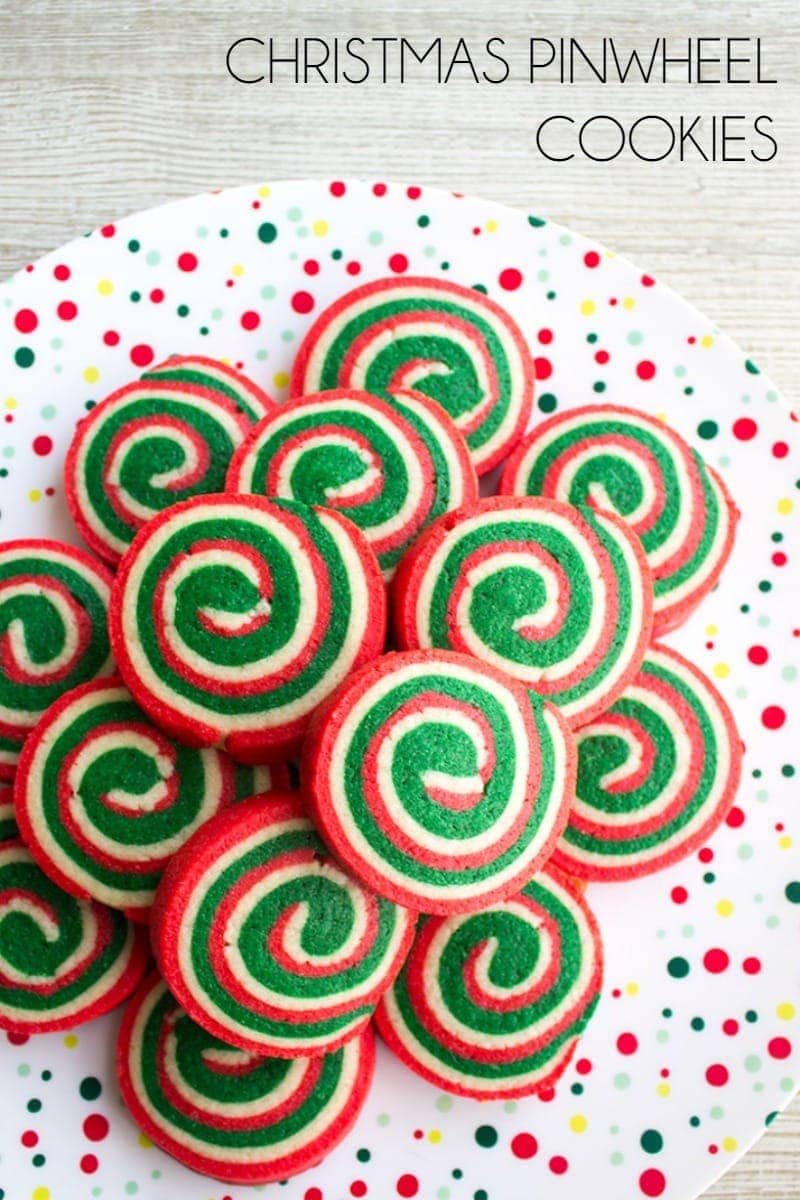 Christmas baking is seriously my favorite time of year. All the fun holiday cookies call my name and I get a twitterpated. Better yet, my boys love to bake with me. We love spending time in the kitchen together. They learn to follow a recipe, practice counting, and their favorite part…taste testing. It's a holiday tradition in my house and my favorite part of Christmas.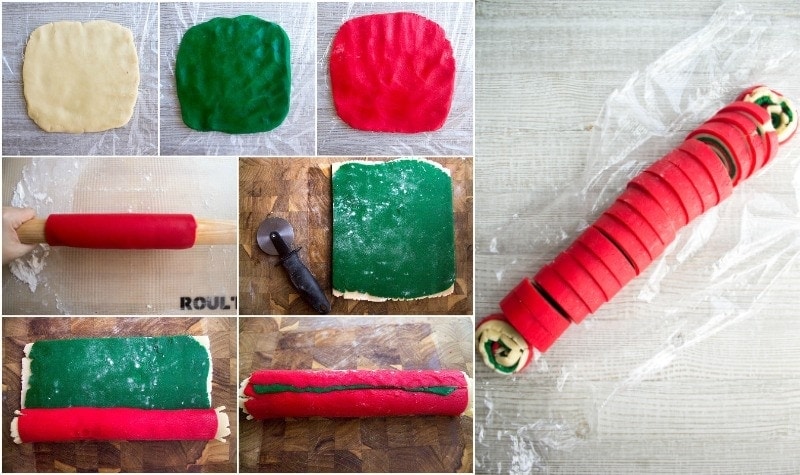 MY LATEST VIDEOS
I'm not going to lie, these Christmas Cookie Pinwheels take a little time and some love, but what good Christmas cookie doesn't? While you don't have to cut out shapes and frost these cookies, like traditional sugar cookies, you do have to do some rolling and practice your ninja baker skills while rolling up the dough. But you've totally got this. If I can do it, so can you! Just be careful not to roll the dough too thin and remember to flour everything and often so the dough doesn't stick to a.n.y.t.h.i.n.g. but itself.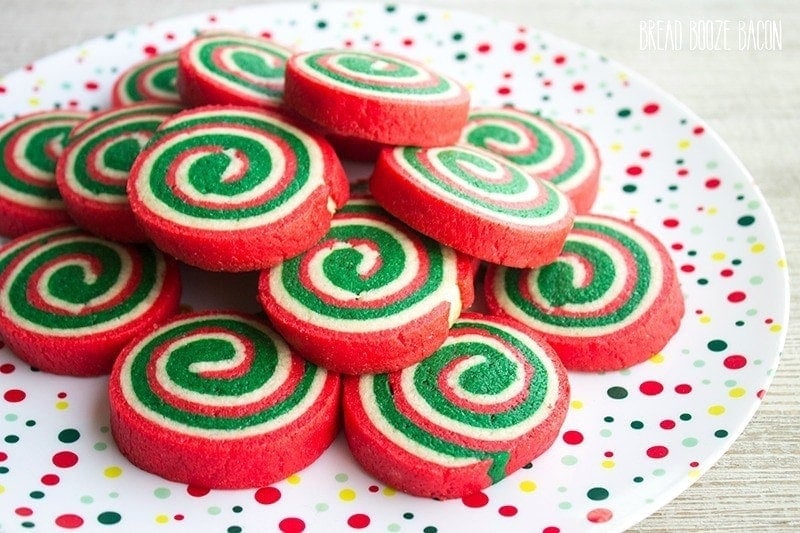 I like to make these cookies in vanilla flavor since my husband isn't big into peppermint cookies, but if you are, change things up! Add 1 teaspoon of peppermint extract along with the vanilla extract for a burst of fresh minty flavor. These cookies are so fun and colorful and will make you look like a genius in the kitchen for pulling off such a cool design.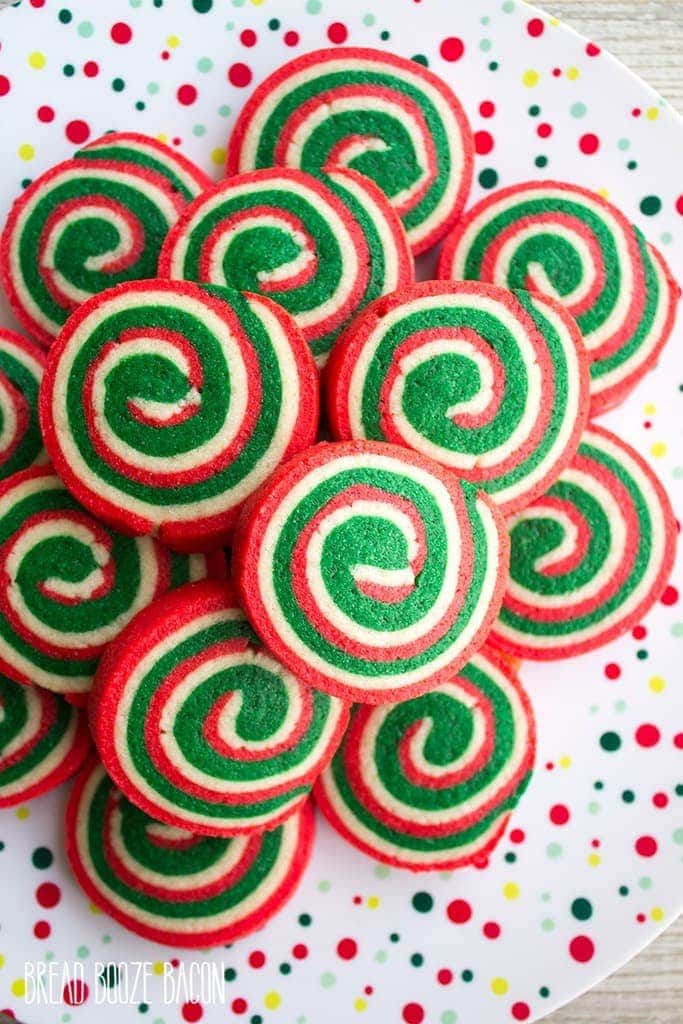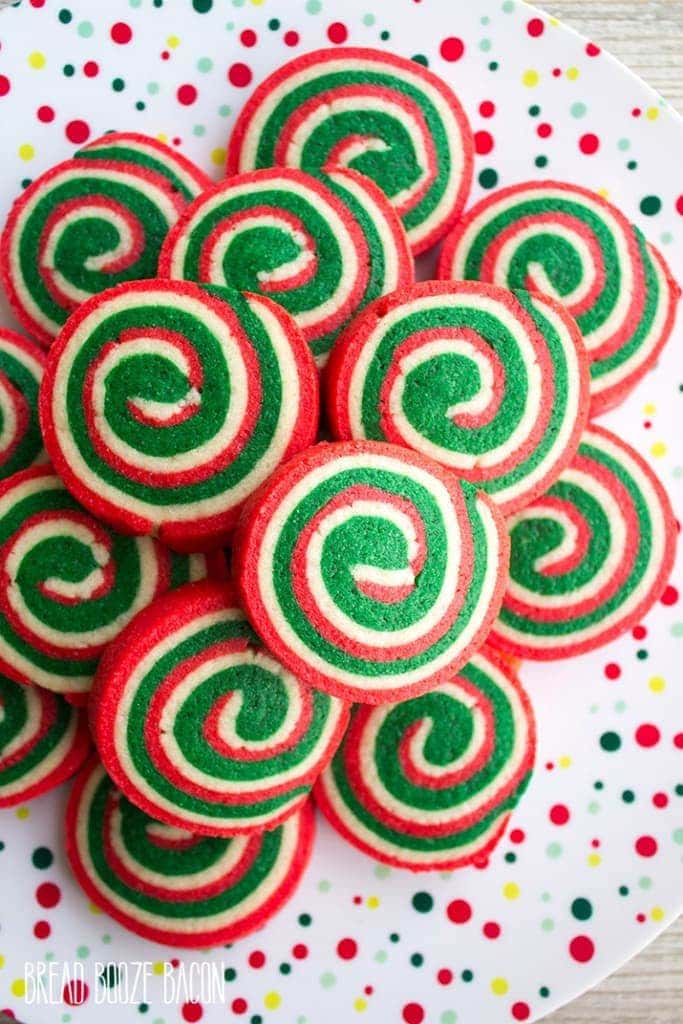 Hungry for More?

Christmas Crinkle Cool Whip Cookies | Christmas Cookie Tree | Red Velvet Shortbread Cookies
Christmas Cookie Pinwheels
Christmas Cookie Pinwheels are a festive holiday treat that'll be the star of your Christmas cookie plate!
Ingredients
2 cup all-purpose flour, plus more for dusting
1/2 teaspoon baking powder
1/4 teaspoon salt
12 tablespoons unsalted butter, at room temperature
3/4 cup sugar
1 egg
1 teaspoon vanilla extract
1 teaspoon liquid red food coloring
1 teaspoon liquid green food coloring
Instructions
In a medium mixing bowl, mix together the flour, baking powder, and salt, Set aside.
In a large mixing bowl, beat together the butter and sugar for 1-2 minutes, or until pale and fluffy.
Add the egg and vanilla to the butter mixture and beat until combined, scraping the sides of the bowl as needed.
Add the dry ingredients to the wet ingredients in two additions, mixing until just combined after each addition. Scrape the sides od the bowl as needed.
Divide the dough into 3 equal pieces and roll into a ball. (A kitchen scale really helps with this. If you want to eyeball it you can, but the scale will make sure the pieces are all the same.)
To one piece of dough, add the red food coloring. Beat with your mixer until the color is completely incorporated.(If you go heavy on the food coloring, be sure to use a bowl that won't stain.) Clean you mixer paddle or hand mixer blades.
To the second piece of dough, add the green food coloring. Beat with your mixer until the color is completely incorporated.
Leave the third pieces as is.
Press each piece of dough into a flat square and wrap in plastic wrap. Refrigerate the dough for 1 hour or until firm.
Remove the dough squares from the fridge. Place the red dough on a lightly floured surface. Sprinkle the dough with some more flour and flour your rolling pin. We don't want anything sticking.
Roll the dough into a 10-inch by 10-inch square. Transfer the dough to a lightly floured surface.(I like to use a silicone mat or parchment paper because they're flexible). Next, roll the plain (uncolored) dough into a 10-inch square and then lay it on top of the red dough so the edges are all lined up.
Repeat with the green dough, laying it on top of the plain dough. If needed, use a pizza cutter to trim two of the edges so they are even. (Don't worry about the other 2 sides.)
Very carefully, starting with one of the straightened sides, roll the dough into a long shape until you reach the other trimmed dough edge. If the red dough starts to pull apart, gently pinch it together. Once the dough log is complete, gently pinch the seam closed.
Wrap the dough log in plastic wrap and refrigerate for 1 hour or until firm.
Preheat your oven to 350 degrees F. Line a baking sheet with a silicone mat or parchment paper.
Use a sharp knife to cut the dough log into 1/4-inch thick slices. (Discard the ends since they don't make a nice pinwheel design.) Place the cookies on your prepared baking sheets and bake for 12 to 15 minutes, or until the cookies are set.
Carefully remove from the oven and let cool for 5 minutes on the baking sheet before transferring to a wire rack to cool completely.
Serve immediately or store in an airtight container until ready to serve.
Notes
I wanted very vibrant colors so I used a lot of food coloring. You can start with 1/4 teaspoon for each color and add 1/4 teaspoon more at a time until your desired color is obtained.If you are using gel food coloring, you will not need nearly as much. Start with a few drops, mix, and then add more color as needed.
For more cookie recipes, try these (click on the image):
For all cookie recipe go HERE, for all desserts go HERE and for the recipe index go HERE.
Food nerd + cocktail enthusiast bringing you damn good food + my three favorite indulgences – bread, booze and bacon!