Orange Cranberry White Chocolate Chip Cookies
These delicious Orange Cranberry White Chocolate Cookies combine tangy orange and cranberry with smooth white chocolate for a wonderful holiday cookie!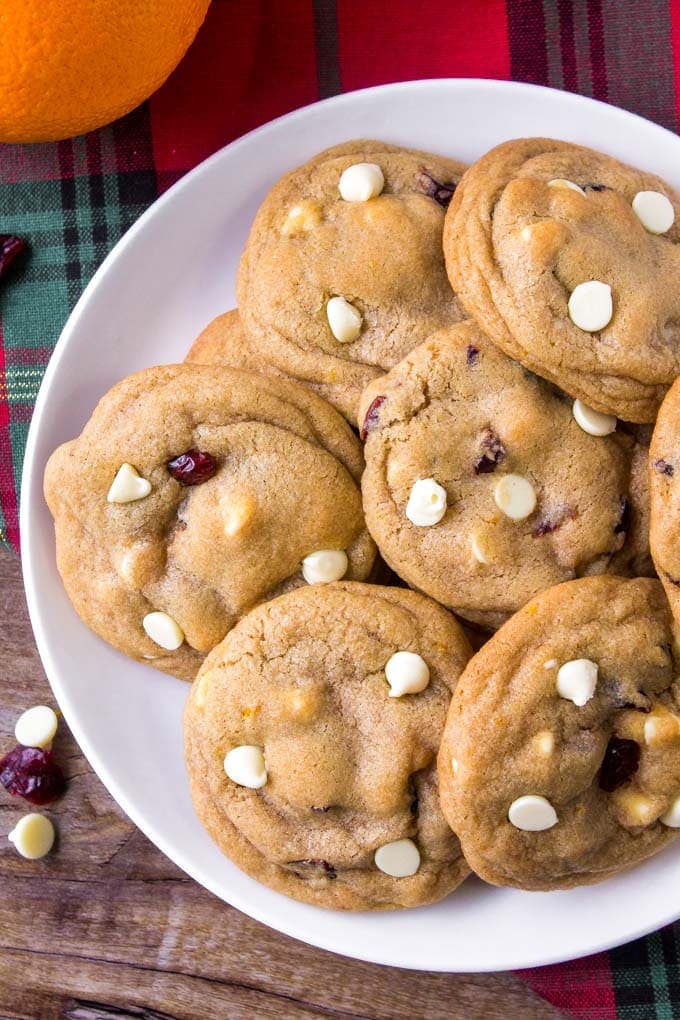 Hello! Melissa here from Ice Cream and Inspiration sharing with you an amazing holiday cookie. These cookies combine the tart flavors of orange and cranberry with smooth, sweet white chocolate to create the perfect combination. I'm also going to show you the "tower" method of cookie-baking so that you can get lovely crispy edges, and soft, chewy centers.
How to Make Orange White Chocolate Chip Cookies
First, let's talk about how to get our orange flavor in these cookies. I used freshly grated orange zest along with some orange extract for a bright orange flavor.
For the cranberries, I used dried cranberries (commonly known as "Craisins"). I don't suggest using fresh cranberries, because they will bleed and taste pretty sour. (Although if you try using fresh cranberries and like it, please let me know!).
Next, you are going to bake these cookies at a lower temperature than usual–325 degrees. This causes them to bake slowly and makes it so that the centers bake evenly. If you watch these in the oven, you'll see that a little "pool" forms around the base of the cookie as it first starts baking. This will turn into your crispy edge. Then the centers slowly sink down, leaving the middle of your cookie thick and chewy. It's magic. (Well, it's actually science, but let's not get technical here).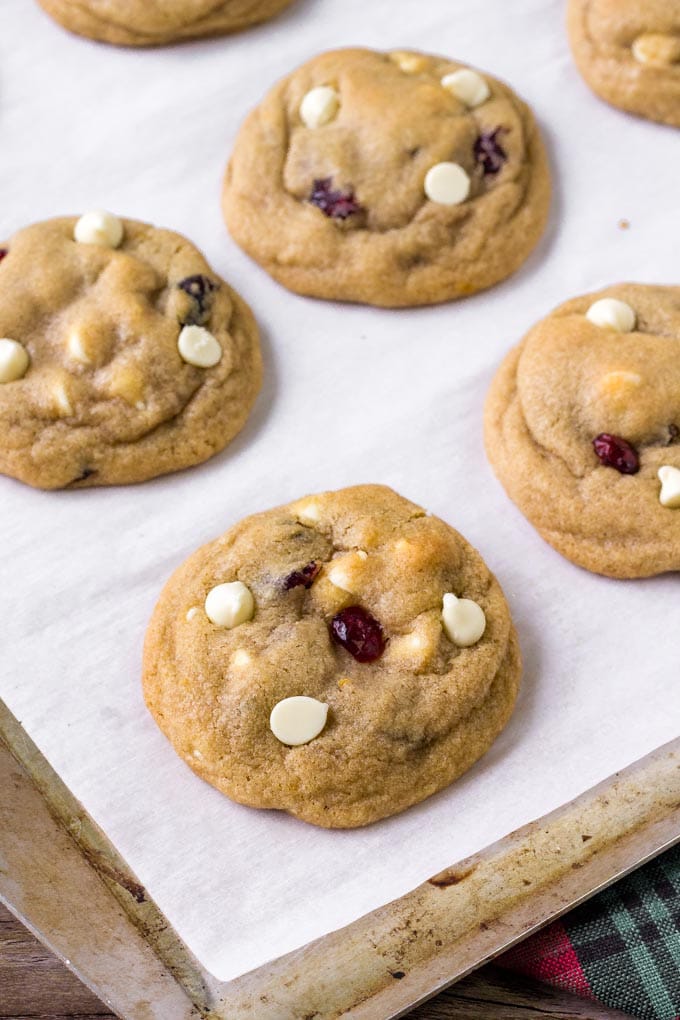 After I take these out of the oven, I immediately press a few more white chocolate chips onto the top, just to make them look pretty. If you break a cookie open, you can see that it is dense and soft in the middle.
The texture of these cookies is just perfect, and the flavors meld spectacularly. Give these cookies a try the next time you are looking for a little something different. And good luck not eating the whole batch!
THE "TOWER METHOD" FOR BAKING COOKIES
Now, here is the tower method of cookie baking. This just works with dough that is pretty solid. Your dough for these cookies should be cohesive and not stick to your fingers when you pinch it. (If you need to add a little more flour than the recipe says to get the consistency right, go ahead).
Then you use a large cookie scoop, place the dough on a baking sheet lined with a silicone mat, and use your fingers to squish the dough so that it gets tall, like a tower. (You can also use a small cookie scoop and place one scoop on top of the other and then squish them together).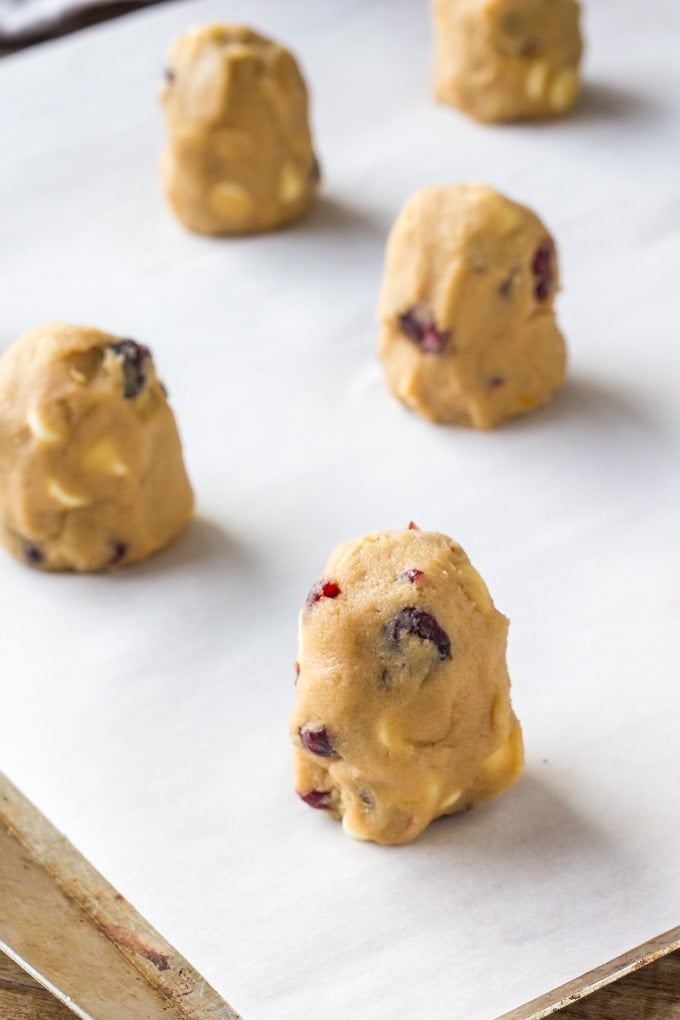 HOW TO STORE CRANBERRY WHITE CHOCOLATE COOKIES
These cookies are perfect for freezing! Cookies should be stored in an airtight container or a large ziploc bag. At room temperature they should be enjoyed within 3-4 days for best quality and in the fridge, 1-2 weeks. Freeze cookies for up to 6 months for optimal freshness.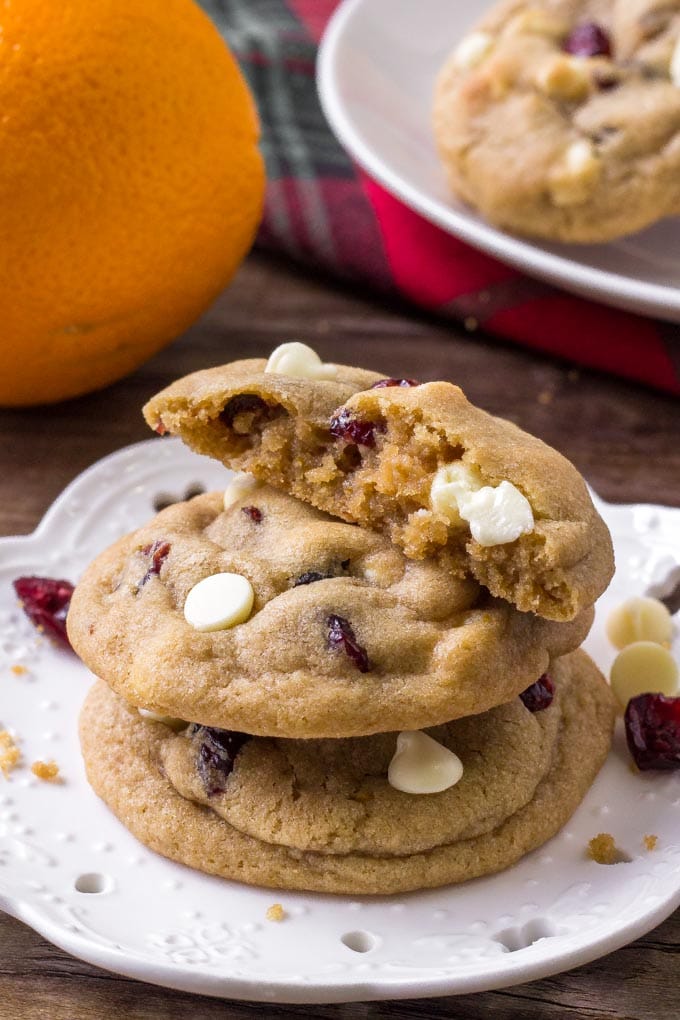 WANT MORE CHRISTMAS COOKIES? TRY THESE:
If you've made this recipe, please come back and leave us a star rating or a comment below. Or, tag us on social media @yellowblissroad or #yellowblissroad for a chance to be featured.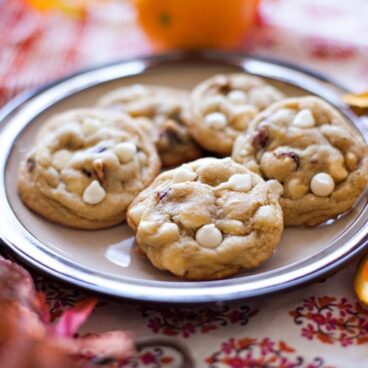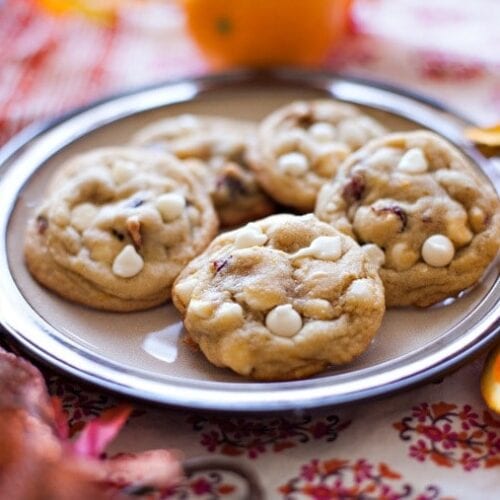 Orange Cranberry White Chocolate Cookies
Ingredients
1/2

cup

butter

room temperature

1/2

cup

brown sugar

packed

1/3

cup

granulated sugar

1

large egg

1

teaspoon

pure vanilla extract

1

teaspoon

orange extract

1

tablespoon

freshly grated orange zest

1 3/4

cups

flour

plus more if necessary

1/2

teaspoon

baking soda

1/4

teaspoon

salt

3/4

cup

white chocolate chips

1/2

cup

dried cranberries
Instructions
Preheat your oven to 325 degrees F. Line baking sheets with silicone mats or parchment paper.

Beat butter and sugars until fluffy. Add egg, vanilla, orange extract and orange zest, and mix well.

Add one cup of the flour along with the baking soda and salt and mix well. Add remaining ¾ cups flour and mix until incorporated. Pinch the dough. If it doesn't stick to your fingers, it is ready. If it does, add more flour (start with 2  tablespoons) until dough does not stick to your fingers.

Add the white chocolate chips and dried cranberries and mix until evenly distributed.

Using a large cookie scoop, place the dough two inches apart on your baking sheets. Re-shape the dough so that it is taller than it is wide. The dough should look like small pillars.

Bake for 12 minutes, just until the edges start to brown. Remove from the oven and let continue baking on the hot cookie sheet for ten minutes before transferring to a wire rack to cool.