Perfect Slow Cooker Pot Roast
Learn how to make a tender, flavorful pot roast in your slow cooker! Follow this easy step-by-step guide to make the perfect Crock Pot Roast.
My Crock Pot Roast recipe is the best you'll ever taste – a super tender, fall-apart slow cooker pot roast with incredible flavor that's cooked all day in the slow cooker. Served with a simple brown gravy, carrots and potatoes, it's a homey and delicious Sunday supper or weeknight dinner. This pot roast in the crockpot is simply perfection.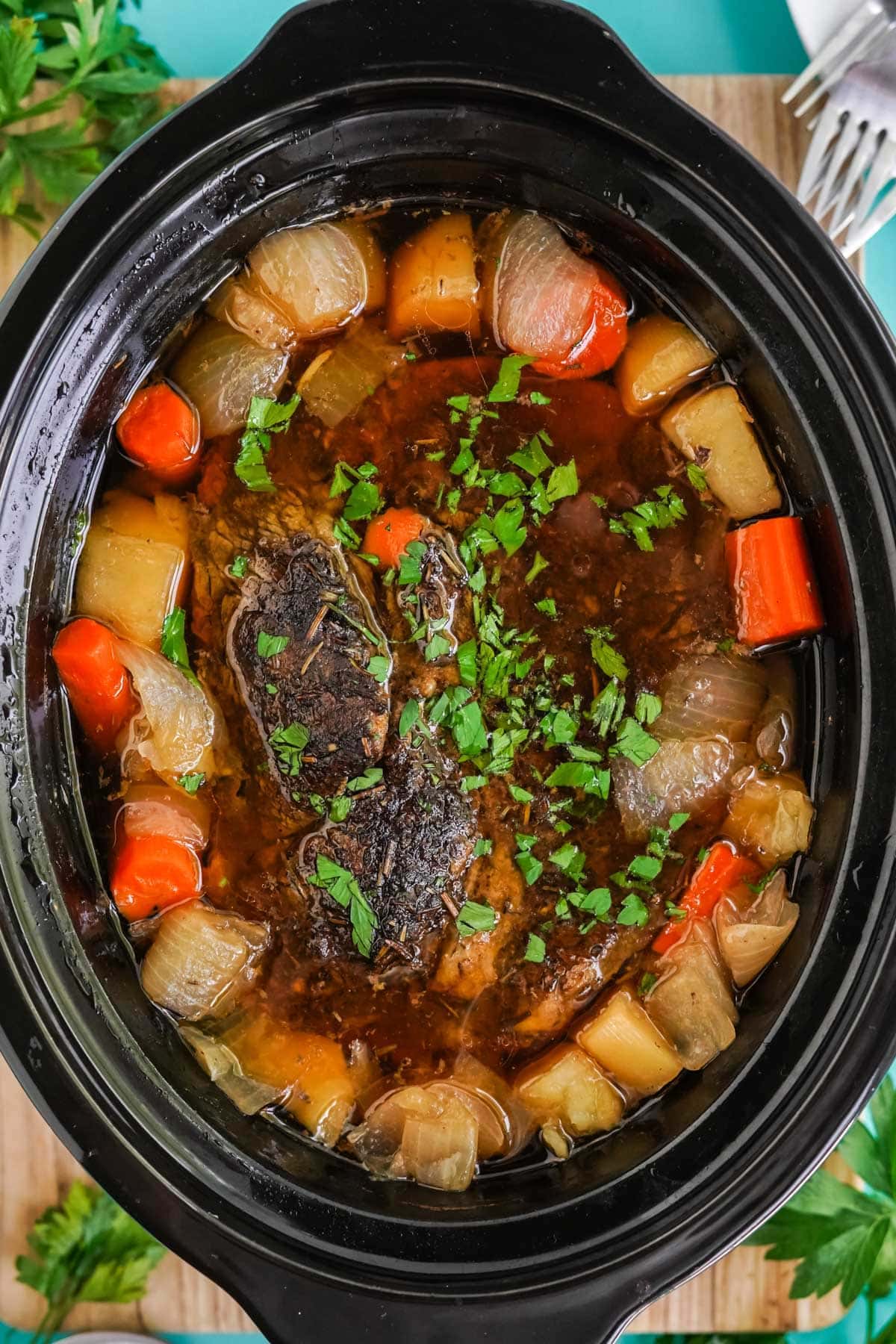 There's no better comfort food than a hearty crock pot roast. The veggies cook with the meat, so we just serve it up with some Homemade Dinner Rolls or Garlic Cheese Biscuits and a crisp green salad.
A slow cooked chuck roast really feels like a classy, elegant home cooked meal making it perfect for Sunday supper or serving company. It's also total comfort food, the kind that takes you back to your childhood dinner table.
This slow cooker pot roast is fall-apart, melt-in-your-mouth tender. The smell will greet you at the door when you come home after a long day and that creamy gravy will send everything soaring over the top.
For more comfort food favorites, try our Crock Pot Pork Roast and Chicken Fried Steak Recipe with Homemade Gravy.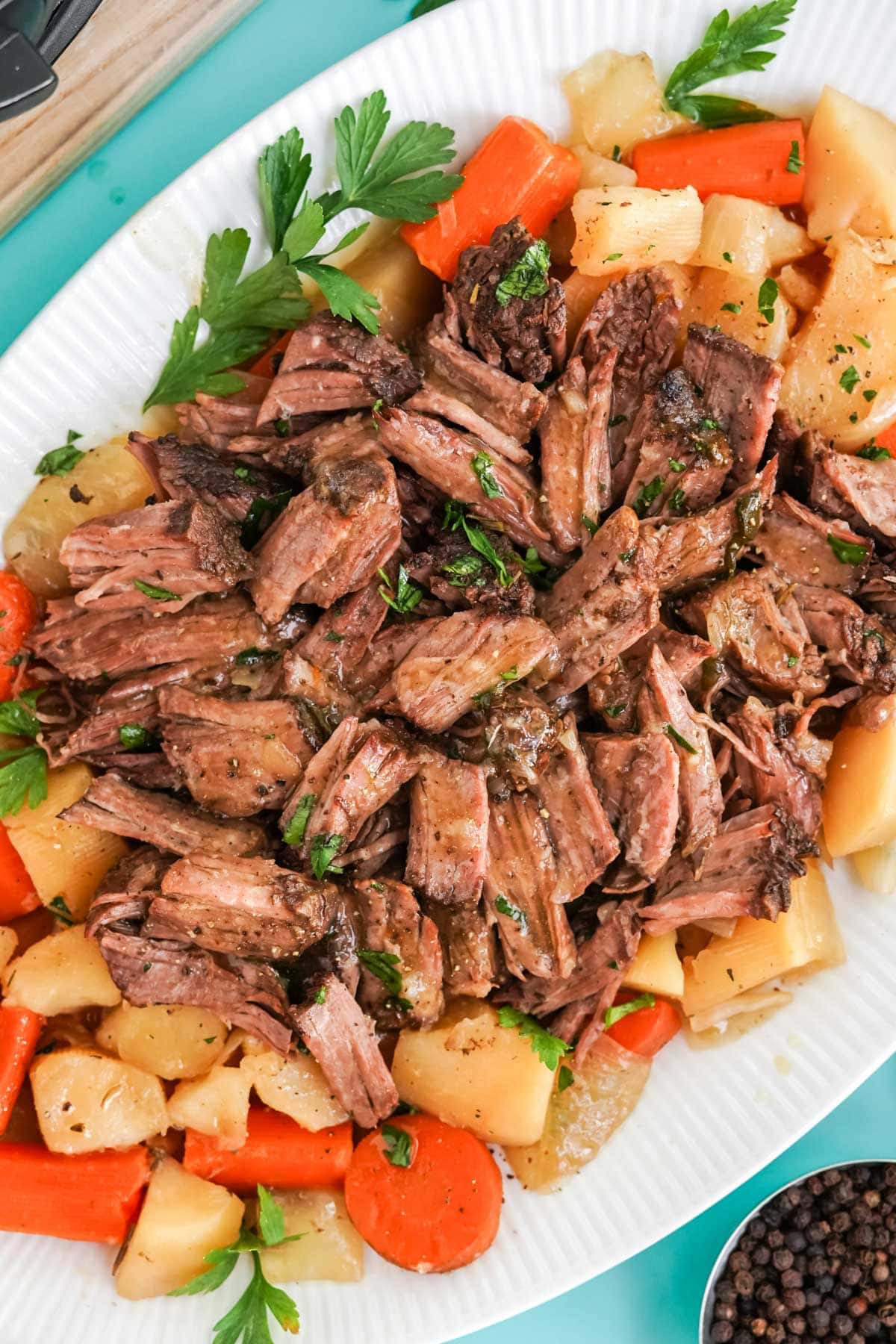 Why Cook a Pot Roast in the Crock Pot?
It's way easier than cooking it in the oven. Just set it and forget it!
It makes its own gravy.
It's absolutely, incredibly fall apart tender.
The beef roast and vegetables cook together in the slow cooker, for an easy one pan meal.
It doesn't heat up your house like an oven does so you can enjoy it year round.
Step by Step Instructions
Cooking a pot roast in your crockpot is probably one of the easiest slow cooker dinners there is, and it's pure comfort food!
Prepare the roast. You'll want to start with a nice big chuck roast; trim any large chunks of fat before adding the seasoning. I season my roast with salt, black pepper, garlic powder, paprika, dried thyme and rosemary, then brown it in my cast iron skillet on all sides. This means holding it up with the tongs while the shorter sides are seared.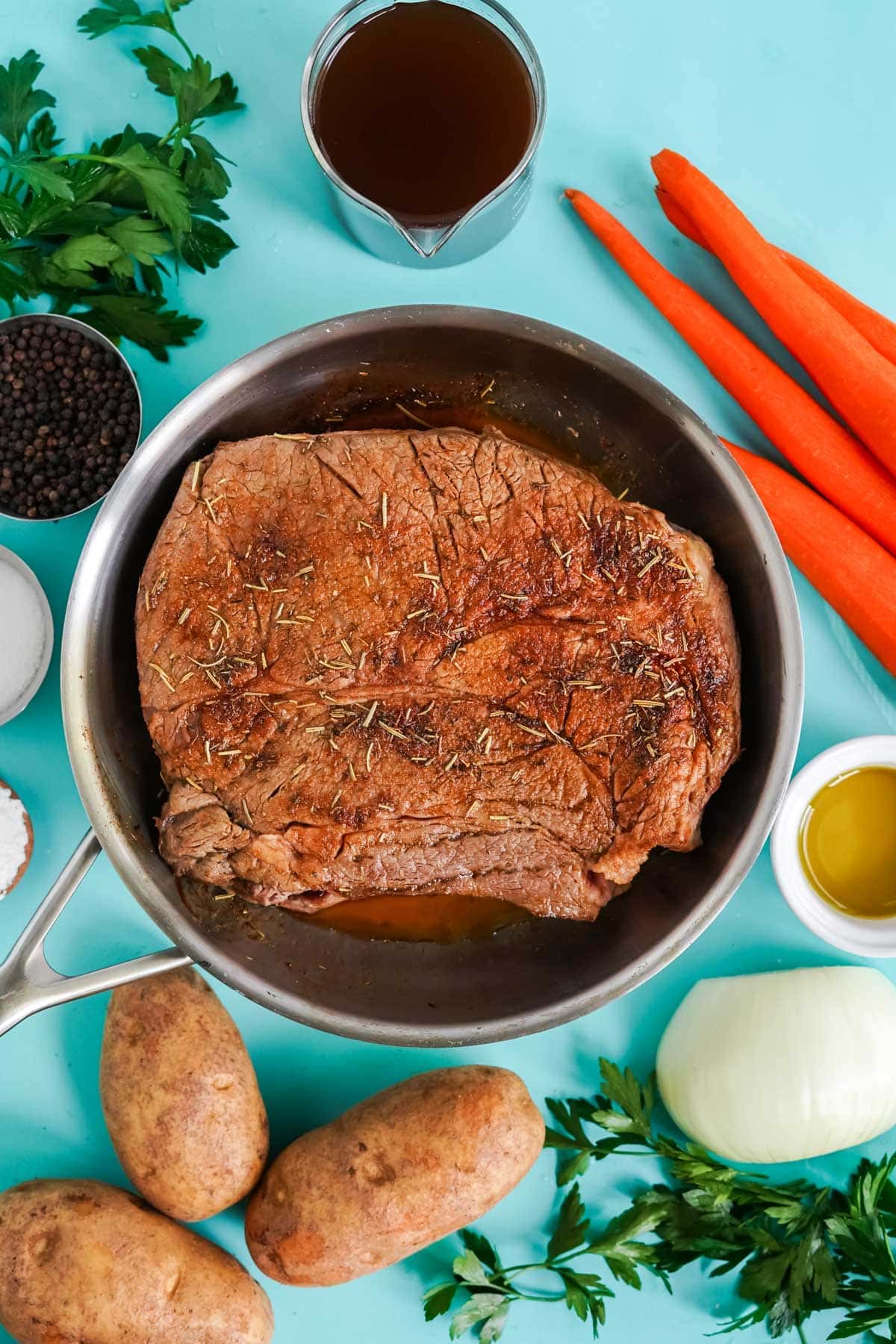 Add everything to the slow cooker. Carrots, onions, garlic and potatoes are placed into the crockpot with the roast is nestled on top. While you don't necessarily need to add liquid, for this beef roast I add some beef broth to that I will have enough liquid to help the gravy at the end.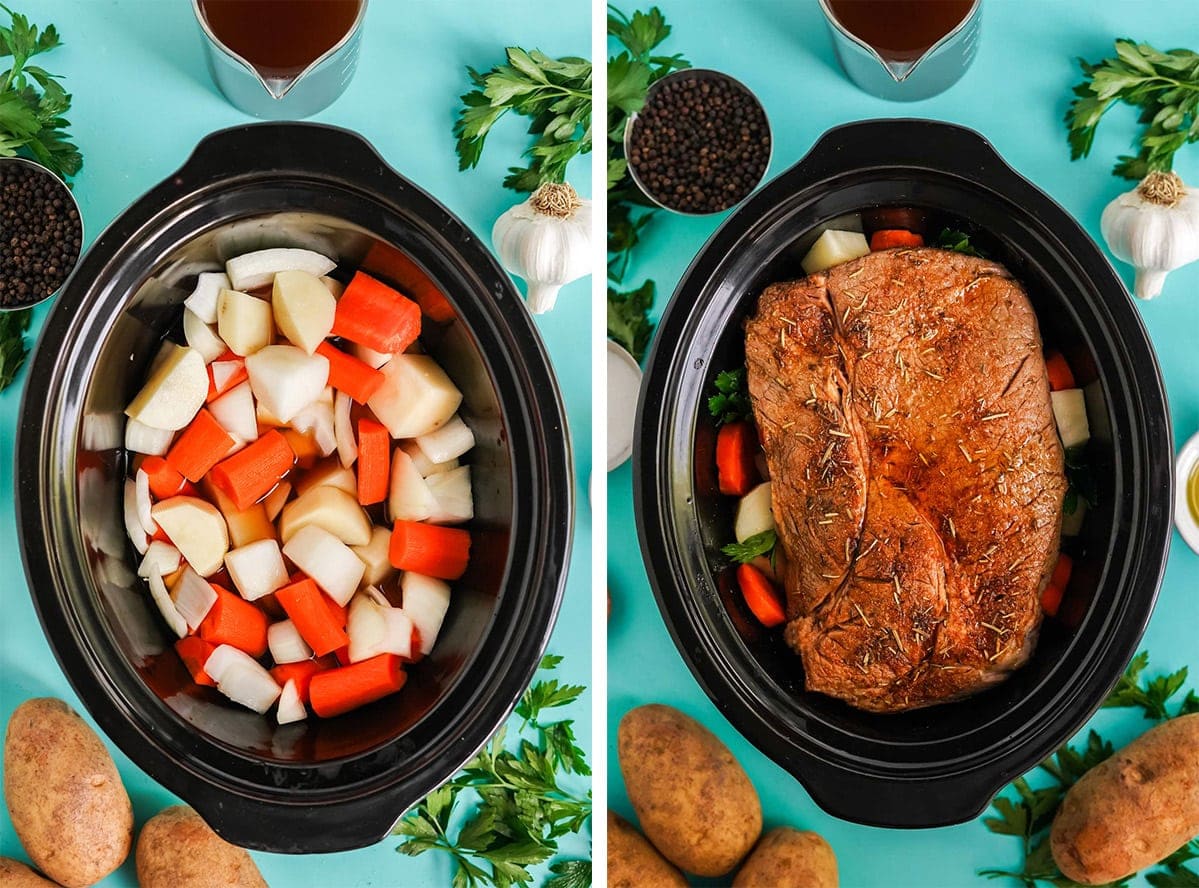 Arrange for serving. Once the meat is fully cooked and the veggies are nice and tender, remove them from the slow cooker to a serving platter and garnish with fresh herbs.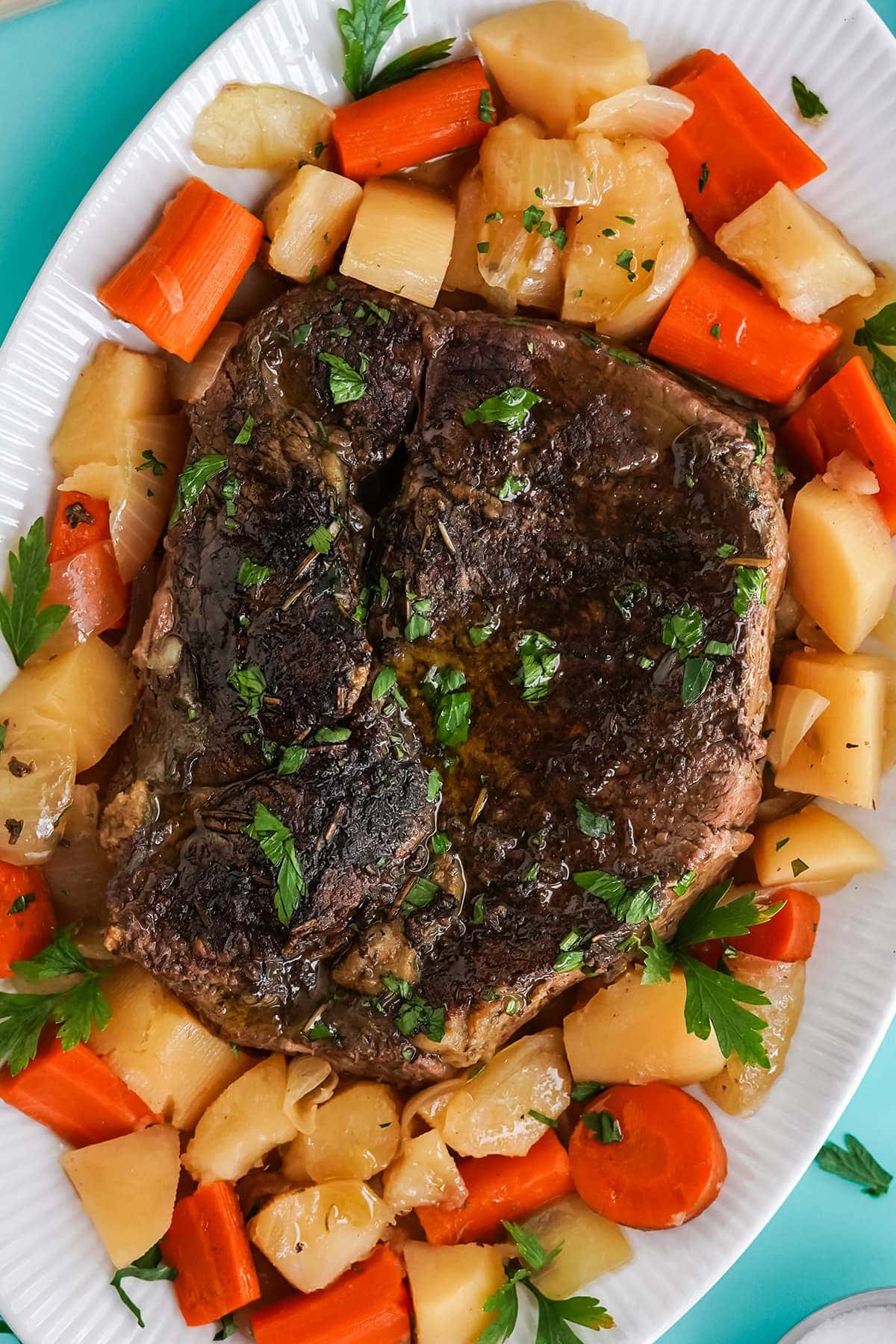 Make the gravy. Combine a couple of tablespoons of liquid from the crock pot with an equal amount of cornstarch in a small bowl. Whisk until it's nice and smooth (just a fork works great for this), then stir it with the liquid in the slow cooker (you can turn it up to high to help speed up the process. It should thicken in just a few minutes, then you can spoon it over the pot roast, or put the pot roast back into the slow cooker if you like.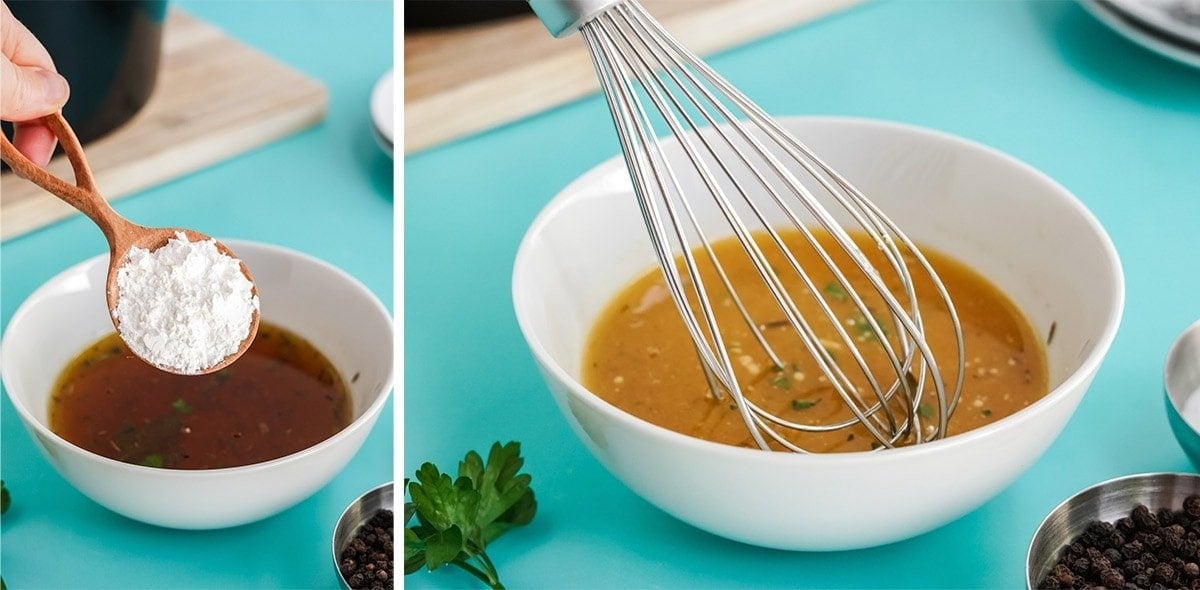 Serving Suggestions
The best way to serve this roast is simply with the potatoes and carrots and the homemade gravy.
If you opt to leave out the vegetables, you'll want to add a couple of sides, like Honey Roasted Carrots, Garlic Green Beans, Cheesy Mashed Potatoes or Twice Baked Potato Casserole.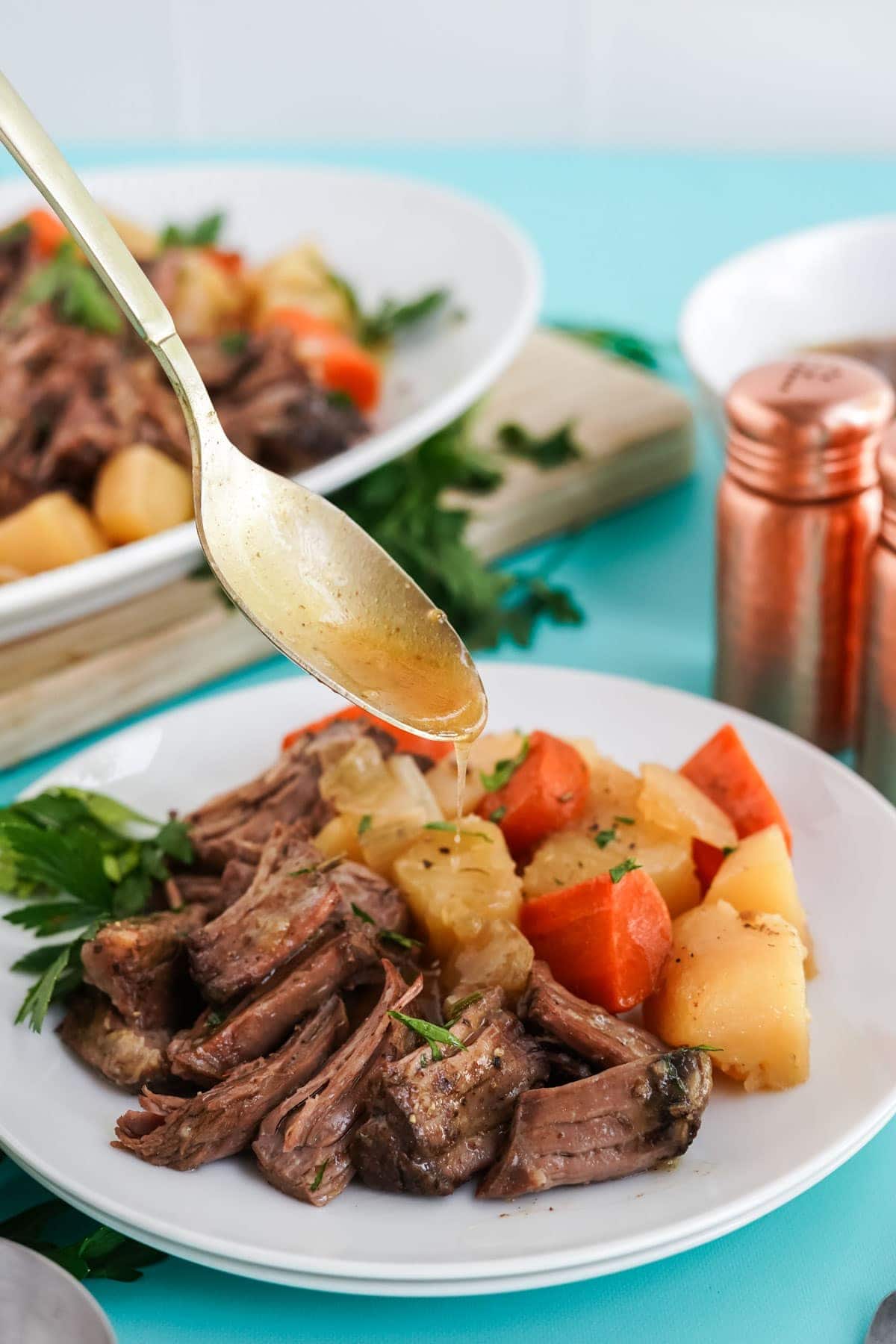 Storage and Reheating
Depending on the size of your roast, you may have some leftover. If you're not planning to use it for another meal, the leftover meat is great for shredded roast beef sandwiches!
Fridge: Store leftovers in an airtight container in the fridge for up to 3-4 days. Reheat in the microwave.
Freezer: To freeze leftovers, cool completely and freeze meat and veggies in a freezer container for up to 3 months. Freeze the gravy separately in a freezer bag. Thaw everything in the fridge overnight. The gravy should be reheated in a small saucepan on the stove while the meat and vegetables can be reheated in the microwave.
Make Ahead Instructions
If you want to a prep this recipe the day before, you can certainly do so. It will save you from rushing to get it done in the morning!
Season and sear the meat and chop all the vegetables. Layer everything in the crock pot as directed, cover and refrigerate. In the morning, you can just place the pot right into the unit and set it to cook all day. You will need to add 15-30 minutes to the cook time since you're starting from cold.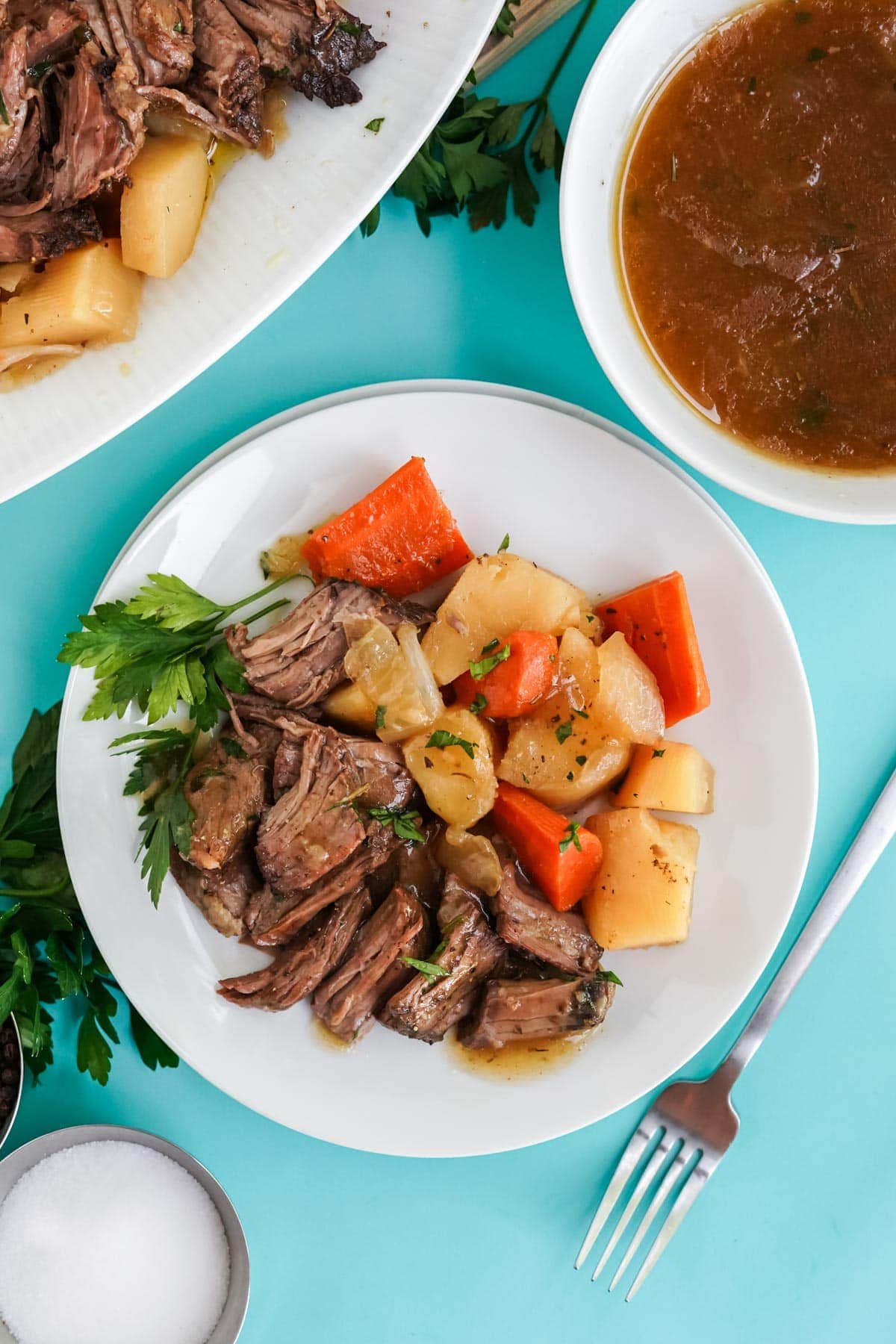 Frequently Asked Questions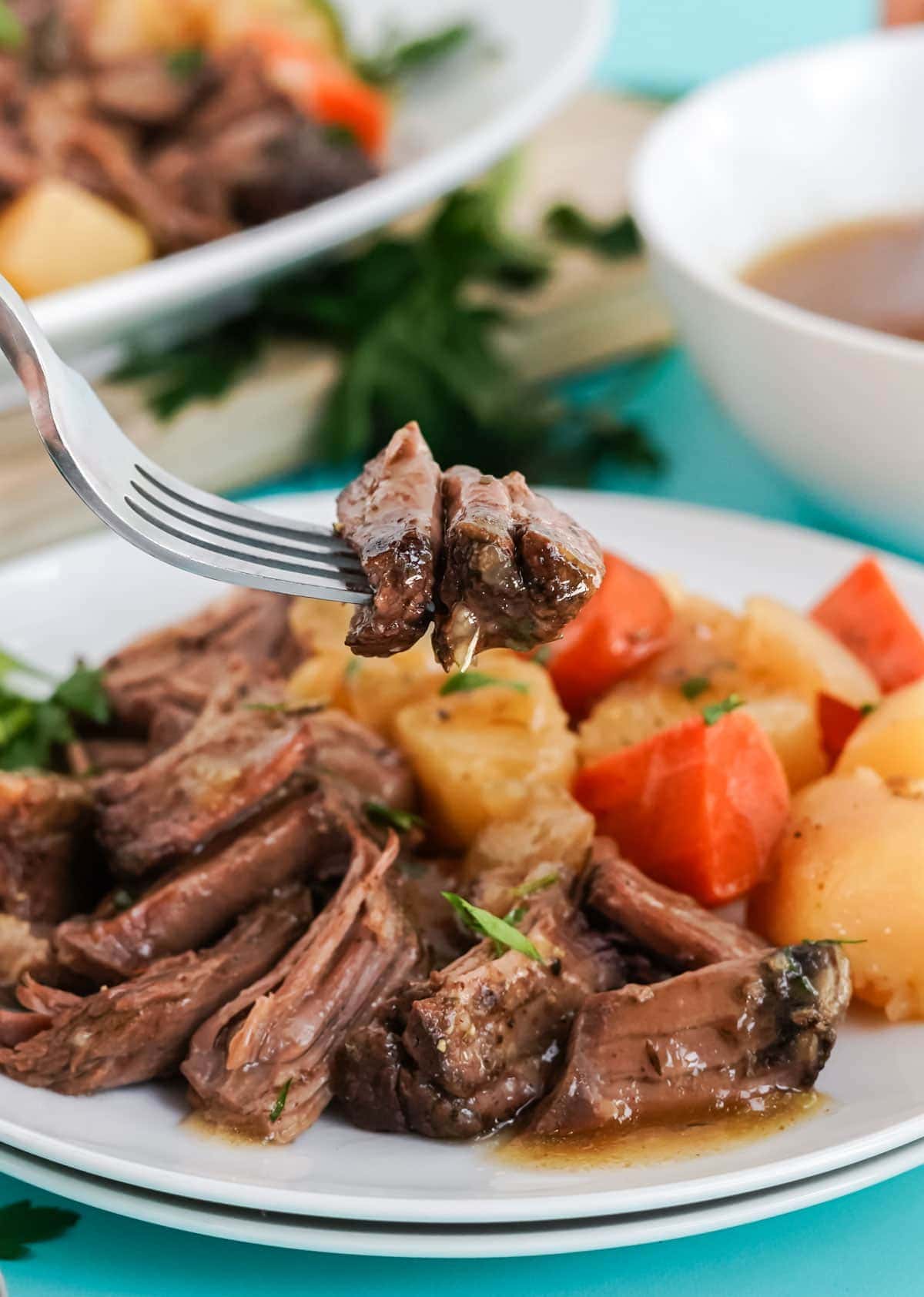 More Delicious Slow Cooker Recipes to Love