My Crock Pot Roast is the best you'll ever taste – a super tender, fall-apart slow cooker pot roast with incredible flavor that's cooked all day in the slow cooker. Served with a simple brown gravy, carrots and potatoes, it's a homey and delicious Sunday supper or weeknight dinner. This pot roast in the crockpot is simply perfection.
Comfort food is my weakness and there's no better comfort food than a hearty slow cooker pot roast. The veggies cook with the meat, so we just serve it up with some Homemade Dinner Rolls and a crisp green salad.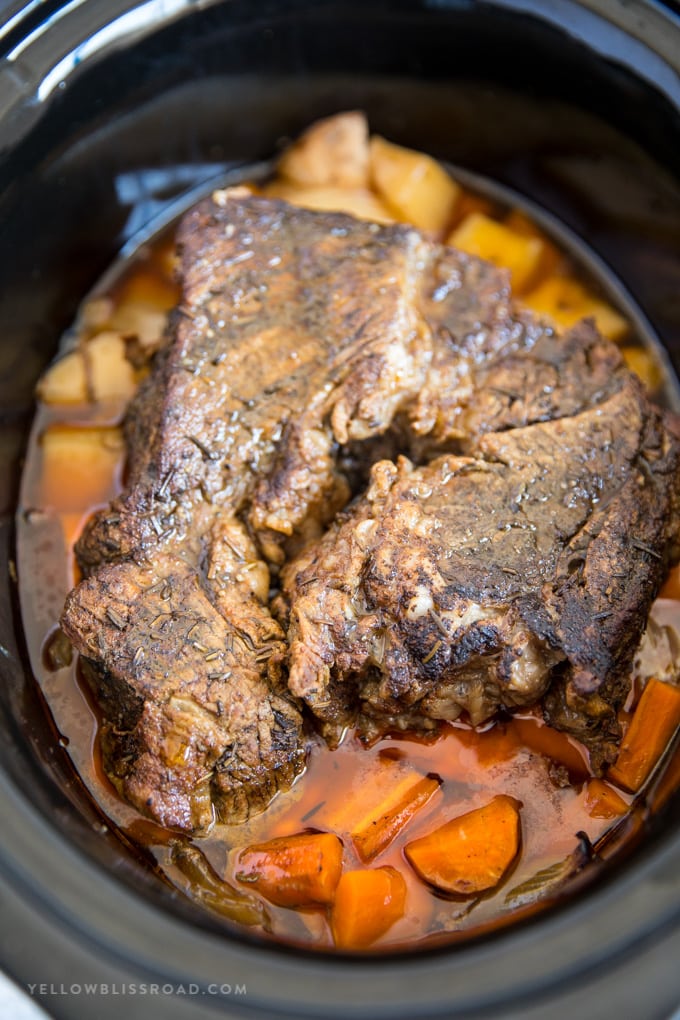 Crock Pot Roast Recipe
Crock Pot roast was always one of my dad's specialties. He'd use Porterhouse seasoning, toss in some carrots, celery, onions and potatoes and cook that chuck roast all day long. A slow cooked roast really feels like a classy, elegant home cooked meal making it perfect for Sunday supper or serving company. It's also total comfort food, the kind that takes you back to your childhood dinner table.
This slow cooker pot roast is fall-apart, melt-in-your-mouth tender. The smell will greet you at the door when you come home after a long day and that creamy gravy will send everything soaring over the top.
If you love comfort food, you should try our Crock Pot Pork Roast and Chicken Fried Steak Recipe with Homemade Gravy.
What is pot roast?
A pot roast is a large, tough cut of meat that's slow cooked in water, wine, stock or broth to make it incredibly juicy and pull apart tender. Herbs and other seasonings can be added. Often the juices are reserved to make a gravy.
Why Cook a Pot Roast in the Crockpot?
It's way easier than cooking it in the oven.
It makes its own gravy.
It's absolutely, incredibly fall apart tender.
The roast and vegetables cook together in the slow cooker, for an easy one pan meal.
How to Cook a Crock Pot Roast
Cooking a pot roast in your crockpot is probably one of the easiest slow cooker dinners there is, and it's pure comfort food!
You'll want to start with a nice big chuck roast; trim any large chunks of fat before adding the seasoning. I season my roast with salt, black pepper, garlic powder, paprika, dried thyme and rosemary, then brown it in my cast iron skillet on all sides. This means holding it up with the tongs while the shorter sides are seared.
Carrots, onions, garlic and potatoes are placed into the crockpot with the roast nestled on top. While you don't necessarily need to add liquid, for this crock pot roast I add some beef broth to that I will have enough liquid to help the gravy at the end.
Once the crock pot roast is fully cooked and the veggies are nice and tender, remove them from the slow cooker to a serving platter.
To make the gravy, combine a couple of tablespoons of liquid from the crock pot with an equal amount of cornstarch in a small bowl. Whisk until it's nice and smooth (just a fork works great for this), then stir it with the liquid in the slow cooker. It should thicken in just a few minutes, then you can spoon it over the pot roast, or put the pot roast back into the slow cooker if you like.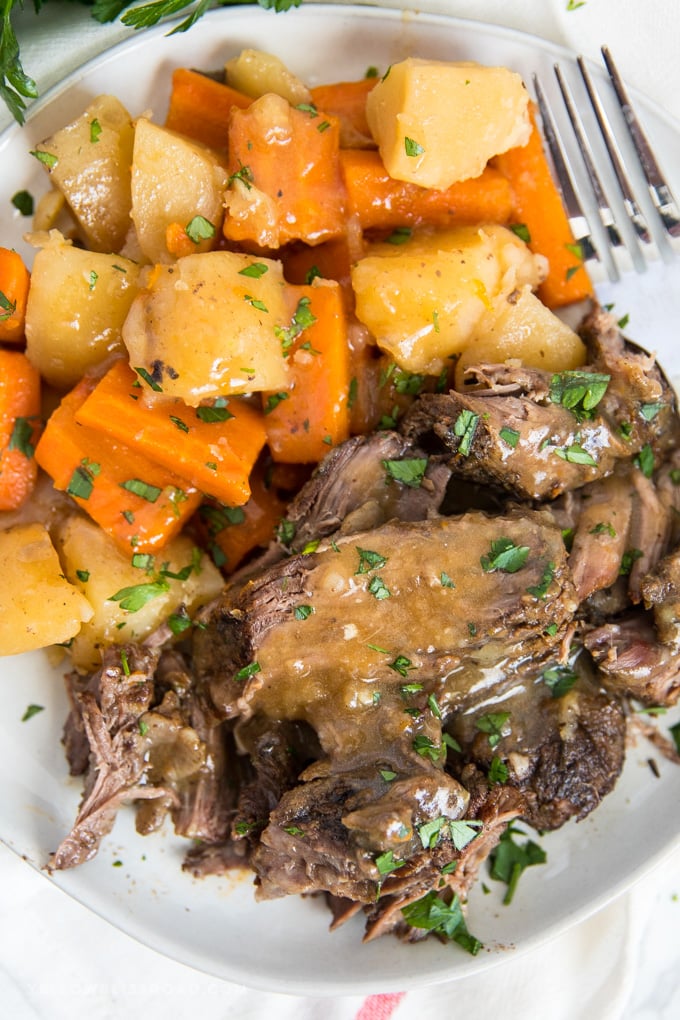 Tips for Making the Perfect Slow Cooker Pot Roast
Brown the roast. Don't skip this step – it seals in the flavor and creates that lovely golden sear.
Customize the herbs and vegetables. Swap out the potatoes for your favorites, like sweet potatoes, turnips or other root vegetables. Sometimes I'll add onions or celery. I also love to use fresh herbs placed right in the slow cooker.
If you prefer the vegetables more firm, add them during the last half of the cooking time.
If you don't have cornstarch but still want that delicious brown gravy, you can make a gravy with a roux. Strain the juices from the crockpot into a large glass measuring cup using a mesh strainer, then follow the directions in the notes of the recipe below.
How long do you keep a roast in a crock pot?
The great thing about this slow cooker pot roast recipe, is that you have a flexible time frame. Chuck roast is a tender cut of beef that is hard to ruin unless it's severely over or under cooked.
Cook the roast and vegetables for 8-10 hours on low or 6-7 hours on high. I recommend low and slow if you can; the slow cooking at a lower temperature will provide the most tender and juicy meat.
What beef is good for slow cooking?
Tougher cuts of meat actually make the best pot roast. In lean cuts of meat the high amounts of collagen break down and turn into gelatin which then tenderizes the meat, creating that melt in your mouth succulence. The juices thicken and create a rich, delicious sauce to spoon over the meat.
Chuck, Brisket and Round roasts make the best slow cooker pot roast. I also like using tri-tip because I love the flavor.
Do You Have to Brown the Roast First?
You don't have to brown a roast before cooking it in the crock pot. However doing so will create a more rich and complex flavor profile in the meat by caramelizing the meat and toasting the seasonings. In my experience, it also holds the meat together a little better so you can remove it from the slow cooker for serving if you wish.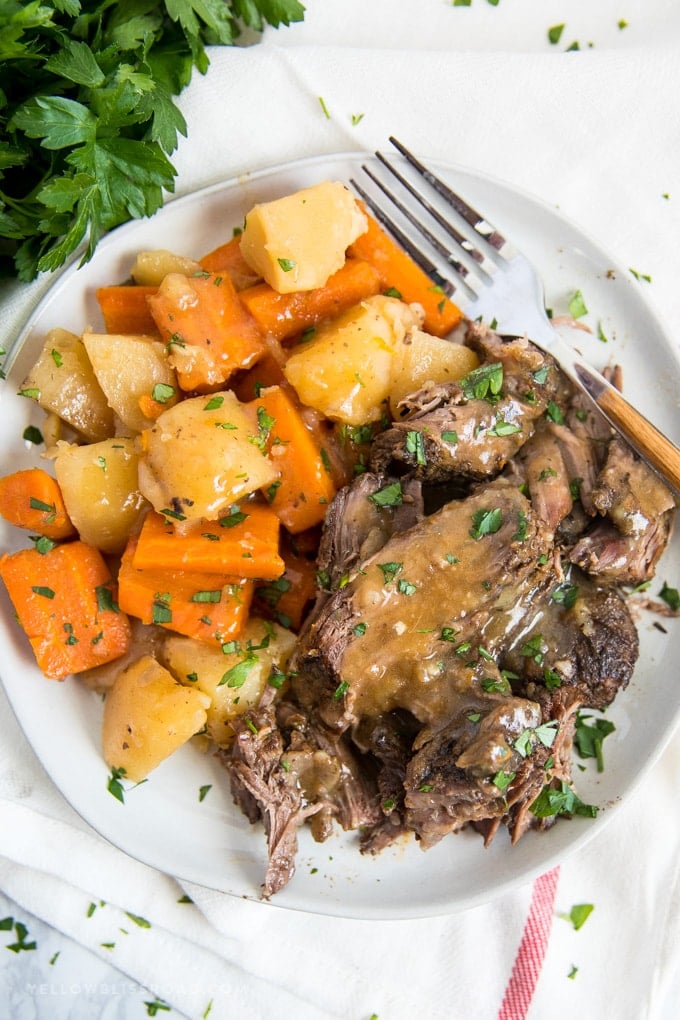 Here are a few more delicious slow cooker recipes to try:
Want another classic beef roast recipe? Try Beef Braciole from Sip and Feast!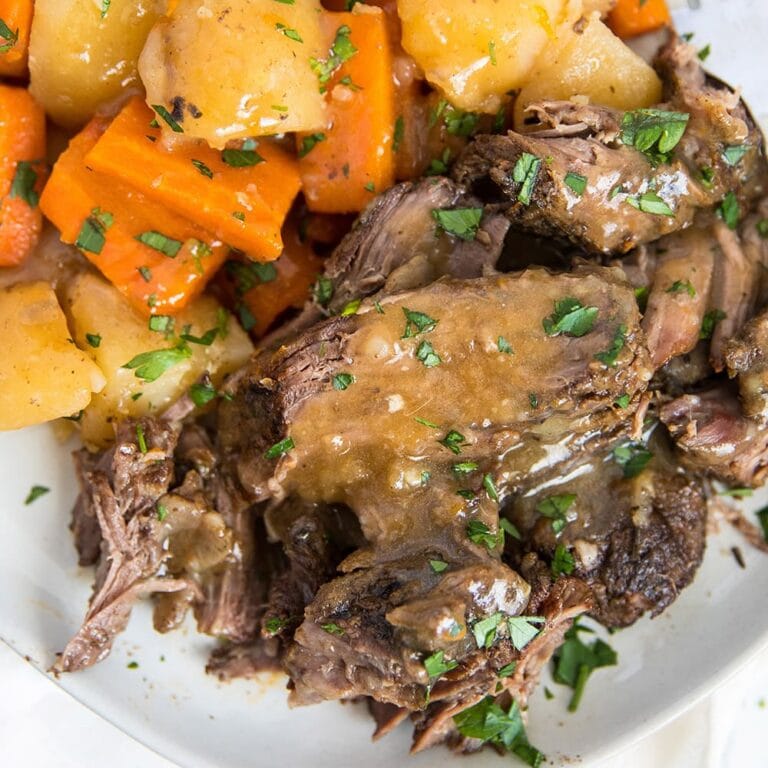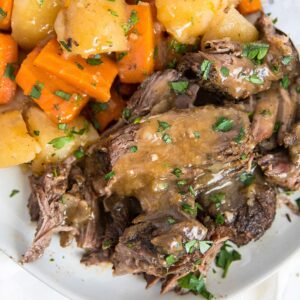 Crock Pot Roast
My Crock Pot Roast is the best you'll ever taste - a super tender, fall-apart slow cooker pot roast with incredible flavor that's cooked all day in the slow cooker. Served with a simple brown gravy, carrots and potatoes, it's a homey and delicious Sunday supper or weeknight dinner.
Ingredients
2-3 pound chuck roast
1 1/2 teaspoons salt
1/2 teaspoon black pepper
1 teaspoon garlic powder
1 teaspoon paprika
1/2 teaspoon dried thyme
1 teaspoon dried rosemary
2 tablespoons olive oil
1 large yellow onion cut into large pieces
2 pounds russet potatoes peeled and cut into 2-inch chunks
1 pound carrots peeled and cut into 2-inch pieces
2 cloves garlic minced
2 cups beef broth or stock
2 tablespoons cornstarch
2 tablespoons water
Fresh minced parsley
Instructions
Rinse the roast and pat it dry. Mix salt, pepper, garlic powder, paprika, thyme and rosemary and rub into the roast on all sides.

Heat olive oil in a large skillet over medium heat. Brown roast on all sides; about 3-4 minutes per side.

Place carrots, onion, garlic and potatoes into the slow cooker. Pour in beef broth, then set the browned chuck roast on top.

Cover and cook on low 8-10 hours or on high for 5-6 hours.

Transfer the meat and vegetables to a serving dish. Combine water and cornstarch in a small bowl then pour into the slow cooker. Whisk together to combine. Cover and cook on high for 5 minutes, just enough to thicken the gravy.

Serve meat and vegetables smothered in gravy, with minced parsley for garnish if desired.
Notes
To make a gravy without cornstarch:
Melt 3 tablespoons of butter (preferably unsalted) in a medium saucepan, then whisk in 3 tablespoons of flour and cook for 2-3 minutes or until it's golden in color. Pour in the beef juices from the crockpot (strain them first so you'll have a smooth gravy) and whisk to combine. Bring the gravy to a simmer and let it bubble for about 5-7 minutes or until it's thickened. Taste the gravy before adding any seasonings. 
Please note the nutrition facts do not include this roux gravy.
Nutrition
Calories: 491kcalCarbohydrates: 39gProtein: 34gFat: 22gSaturated Fat: 8gCholesterol: 104mgSodium: 1063mgPotassium: 1457mgFiber: 4gSugar: 5gVitamin A: 12815IUVitamin C: 14.8mgCalcium: 81mgIron: 5mg