Slow Cooker Shredded Chicken makes a ton and is perfect for portioning out and freezing. When your recipe calls for cooked chicken breast, you'll already have some on hand – Everyone loves this easy crockpot chicken meal prep idea!
Crockpot Chicken is great to have on hand for so many recipes, from Chicken Taquitos to Chicken Salad Sandwiches. It freezes well and is great for weekly meal prep.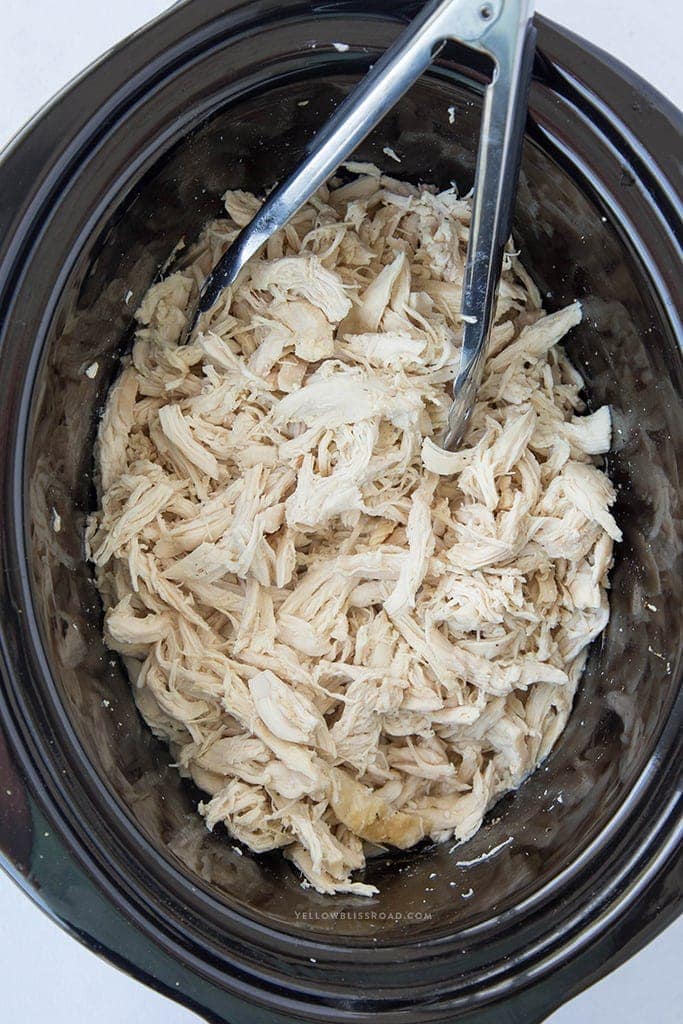 Crockpot Shredded Chicken
Making shredded chicken in the crockpot is a real time saver. Toss it in soups, casseroles, on tacos or in burritos. Any time your recipe calls for cooked chicken breast, all you have to do is pull the amount you need out of the freezer and it's ready to go.
This crockpot chicken method works for fresh or frozen chicken breasts, making it perfect for when you forget to thaw chicken for dinner. Frozen chicken breasts take just 4 hours in the crockpot, and fresh takes about 3 hours.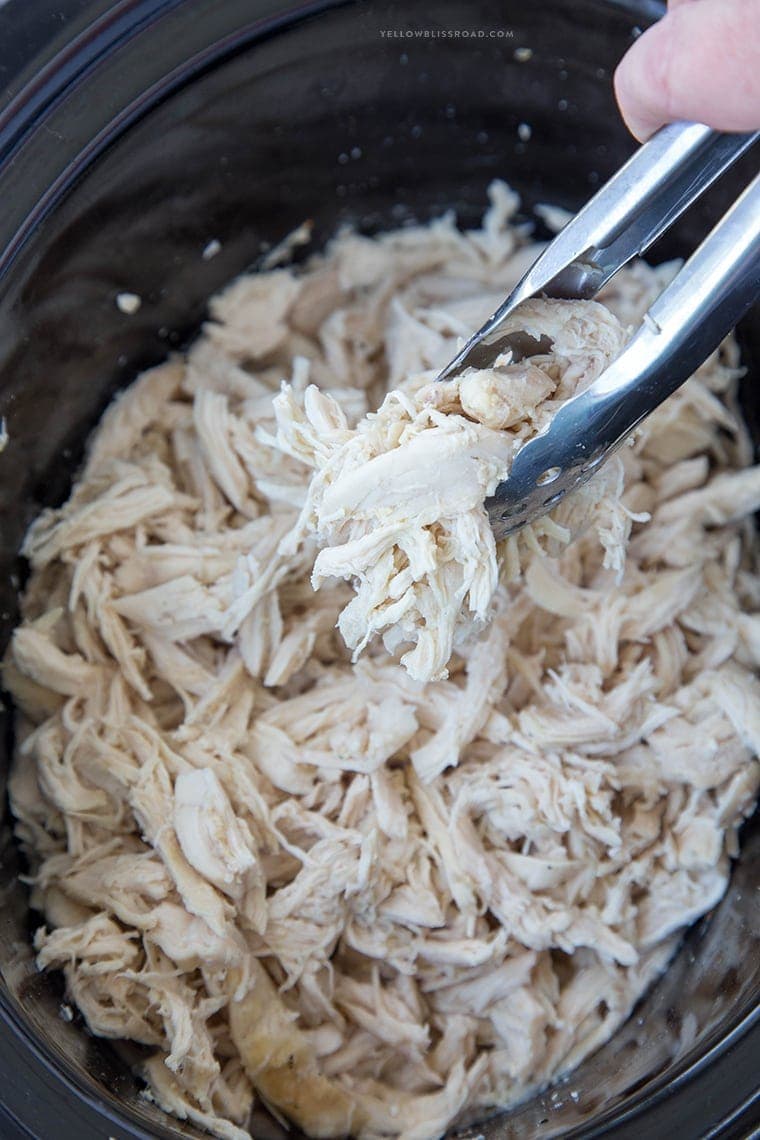 How to Make Slow Cooker Shredded Chicken
It really couldn't be easier, and it's almost completely hands off if you want it to be! Slow Cookers are great for fix it and forget it type meals anyway – just dump in the ingredients, turn it on, and go. For this recipe, you just place the chicken in the slow cooker with some seasonings and a little chicken broth for flavor and moisture.
Place 3 pounds frozen or fresh, boneless, skinless chicken breasts in your slow cooker. This will yield about 6 cups of shredded chicken.
Add a half cup of chicken broth and season the chicken with garlic powder, salt and pepper.
Cover and cook on high for 3.5 to 5 hours.
Shred chicken and use as needed.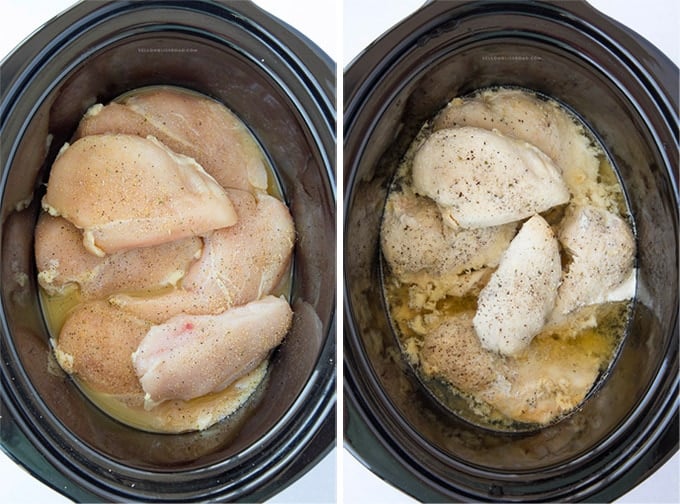 Cooking Chicken in your Crockpot
Timing is everything when you're making chicken in the slow cooker. Too short and it can be tough, and too long and it can be dry. In my slow cooker it takes about 3 ½ hours on high to get perfect shredded chicken that's tender and juicy. Depending on your appliance (this is the one I use – aff link), it could take a little more or a little less time although I'd recommend not exceeding 4 hours on high. However, if it goes a little too long,  you can always shred the meat and place it back into the slow cooker with the juices and cook on low for another half hour. This is a good step to follow anyway; once the meat is shredded it loses valuable juices, and letting the shredded meat cook a little more in the juices and broth lets each piece soak up that moisture.
How to Shred the Chicken Breast:
I use a whole package (usually about 3 pounds) of fresh or frozen chicken (with frozen, you won't need to add the chicken broth). I like to use salt, pepper and garlic powder for flavor, but you could leave out the garlic if you prefer, or add your favorites. Once cooked the meat is really easy to shred. There are three methods you can use when shredding chicken:
Use two forks and shred it right in the slow cooker (carefully, as the liquid is very hot).
Shred it using two forks or your hands on a cutting board or into a bowl. If you want to shred with your hands (this gets the most even sized chunks), be sure to let it cool for 20 minutes or so first.
Shred the meat right in your stand mixer, a method that's much easier on the hands but does shred the chicken a little more than I like!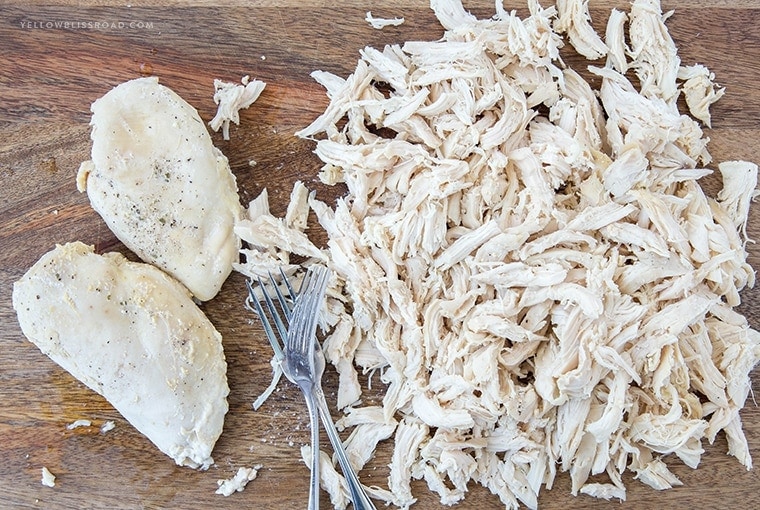 How to freeze shredded chicken breast
My 3 pound packages usually give me around 7 cups of cooked, shredded chicken. I divide the meat into freezer bags in 1 or 2 cup portions and freeze until I'm ready to use it. It will keep for up to 4 months, but mine is usually long gone by then! Either way this method for making slow cooker shredded chicken is great for weekly meal prep or dinner prep.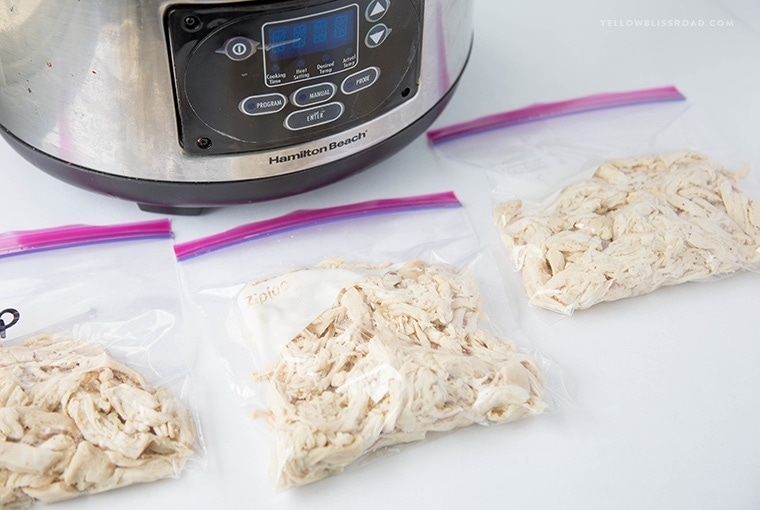 Here are some delicious recipes that call for precooked shredded chicken:
And for more slow cooker recipes, try these:
Recipe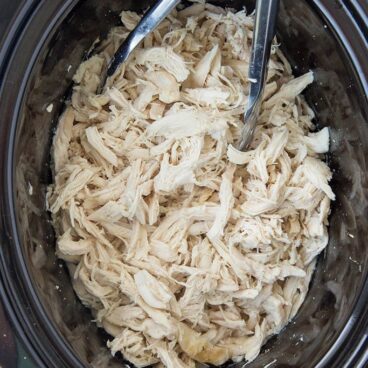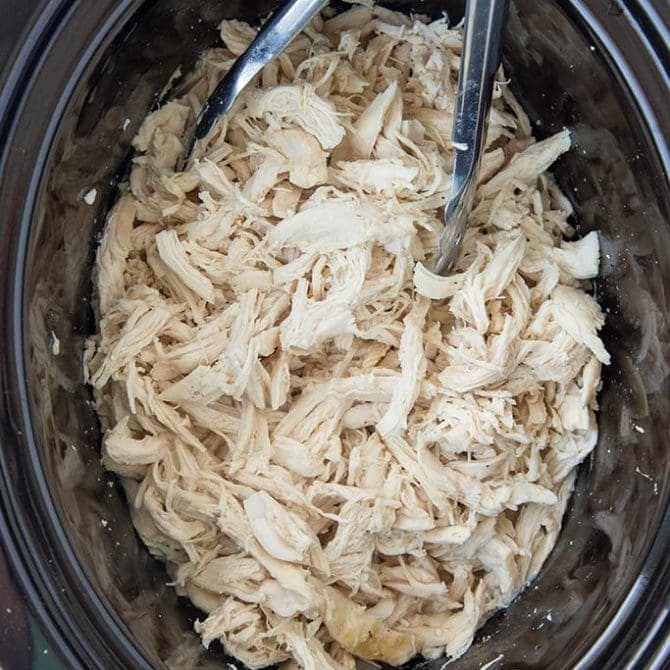 Easy, All-Purpose, Slow Cooker Shredded Chicken
Easy and All-Purpose Shredded Chicken made in the slow cooker. Freeze in portions to use in all your favorite recipes! Flavorful, tender and juicy every time.

Cook Time
3

hours
30

minutes
Total Time
3

hours
35

minutes
Ingredients
3

pounds

boneless skinless chicken breasts

(fresh or frozen*)

1

teaspoon

kosher salt

1/2

teaspoon

black pepper

1/2

teaspoon

garlic powder

1/2

cup

low sodium chicken broth
Instructions
Pour chicken broth into the slow cooker. Place chicken in the slow cooker and sprinkle with salt, pepper and garlic powder. *If using frozen chicken, you do not need the chicken broth.

Cook on high for 3 1/2-4 hours or on low for 5 hours. Shred chicken with two forks.

Return shredded chicken to the slow cooker and cook for an additional 30 minutes on low. This step helps to keep the chicken moist and tender and adds a little more flavor.

Divide chicken into 2 cup (or more/less, depending on your needs) portions and place into freezer bags and store in the freezer for up to 4 months. Add chicken to sandwiches, soups, tacos and casseroles!
Notes
Nutritional information is based on 1 cup portions. Depending on the recipe this will feed 2-3 people.
Nutrition
Calories:
303
kcal
Protein:
51
g
Fat:
9
g
Saturated Fat:
2
g
Cholesterol:
142
mg
Sodium:
504
mg
Potassium:
865
mg
Calcium:
11
mg
Iron:
1.3
mg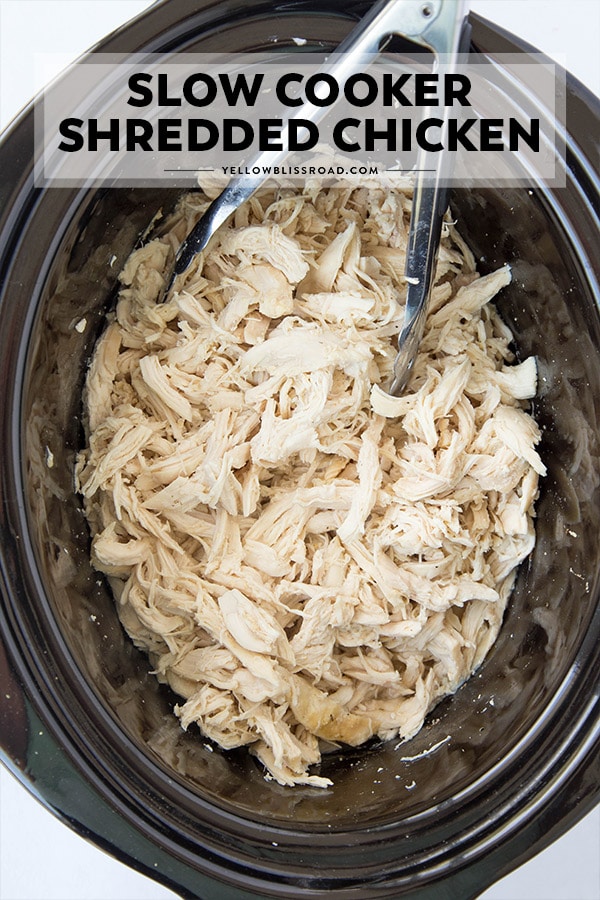 Disclosure – this post contains affiliate links.