Chicken Enchilada Casserole
This Green Chile Chicken Enchilada Casserole is creamy, cheesy and flavorful. It's an easy recipe that's perfect for feeding your family on busy weeknights.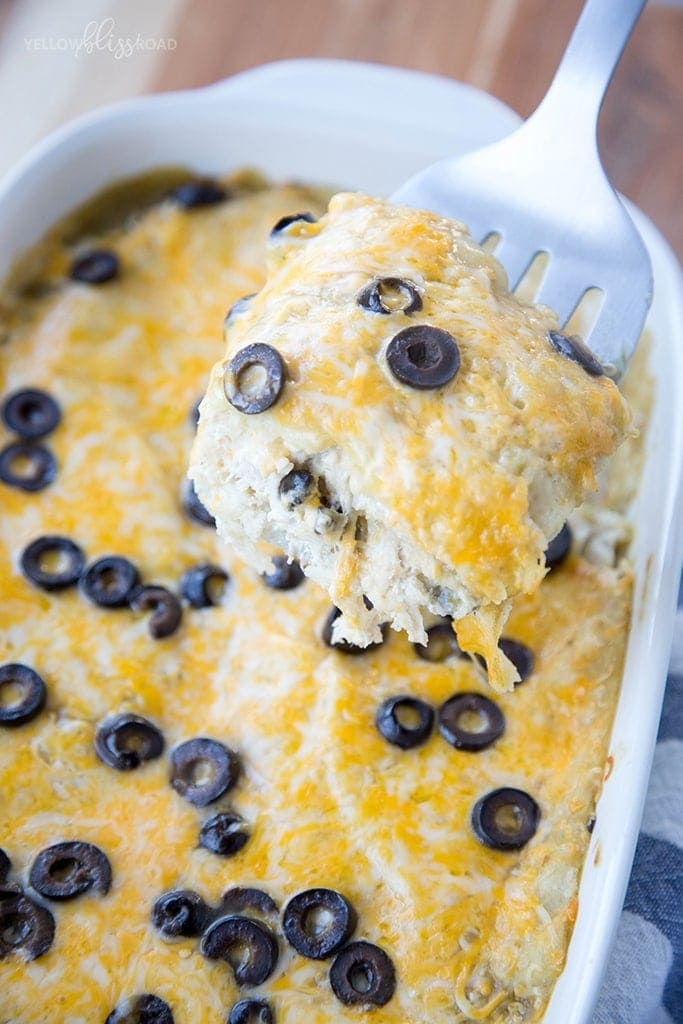 Green Chile Chicken Enchiladas are one of my all-time favorite recipes. Funny thing is, I've shared two different versions on the blog, One Pan Green Chile Chicken Enchilada Pasta and Green Chile Chicken Enchilada Nachos, but never the actual casserole! My cousin was visiting last week and was able to help me crank out 4 batches of this delicious casserole (this is her recipe after all). It's an easy make-ahead dish, and it also freezes beautifully. We put one in the fridge to bake the next day, and put the rest in the freezer.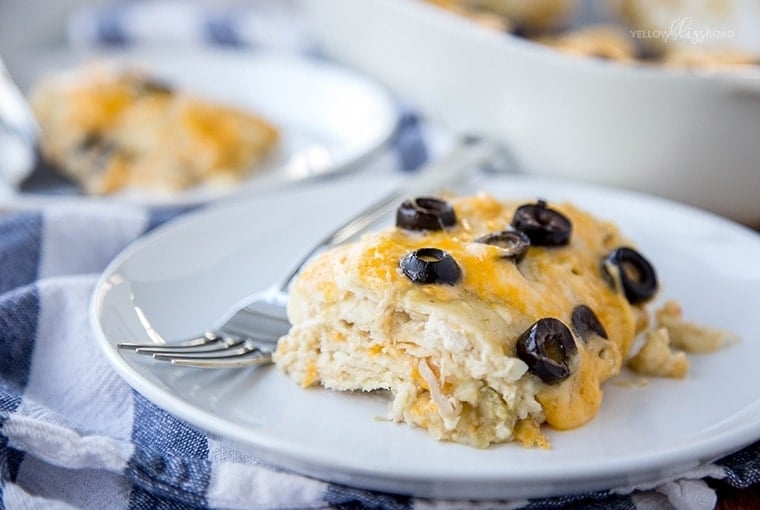 While we were putting the casseroles together, she shared her shortcut tips for making it a little quicker.
1. Use store-bought Rotisserie Chicken. Not only is it more flavorful, it's a huge time saver.
2. Use a mixer to not only shred the chicken, but to blend with the sour cream, cream cheese and green chiles.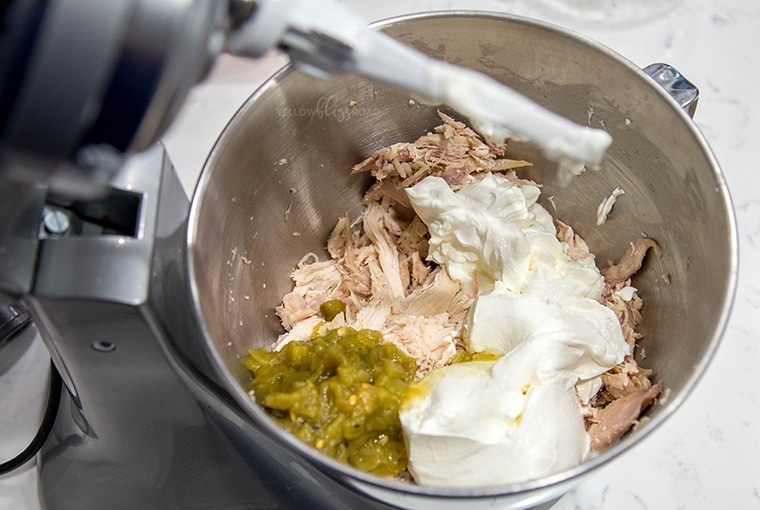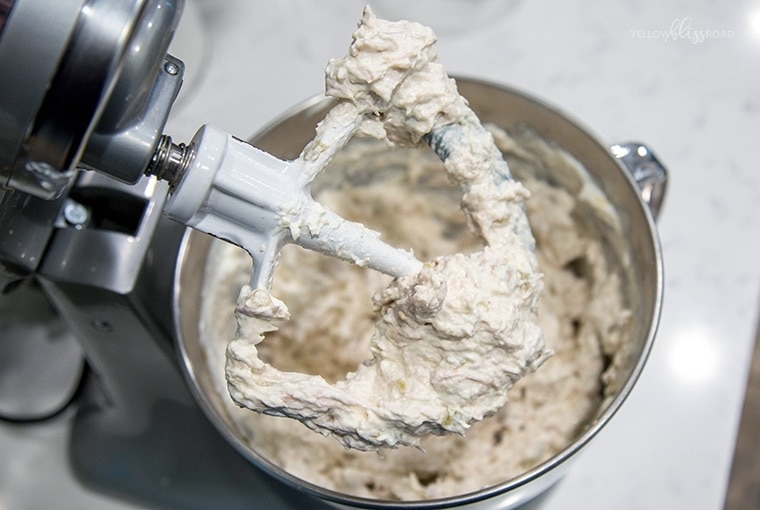 3. Use whipped cream cheese instead of the block. Not a money saver, but will save the step of having to bring the cream cheese to room temperature.
4. When layering the ingredients, don't worry about spreading the chicken mixture. Just plop several spoonfuls down and let the next layer of tortillas spread the mixture as you press down.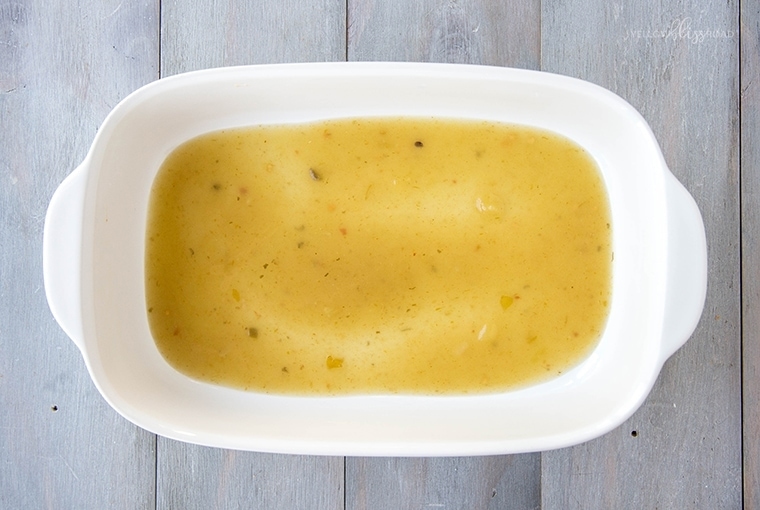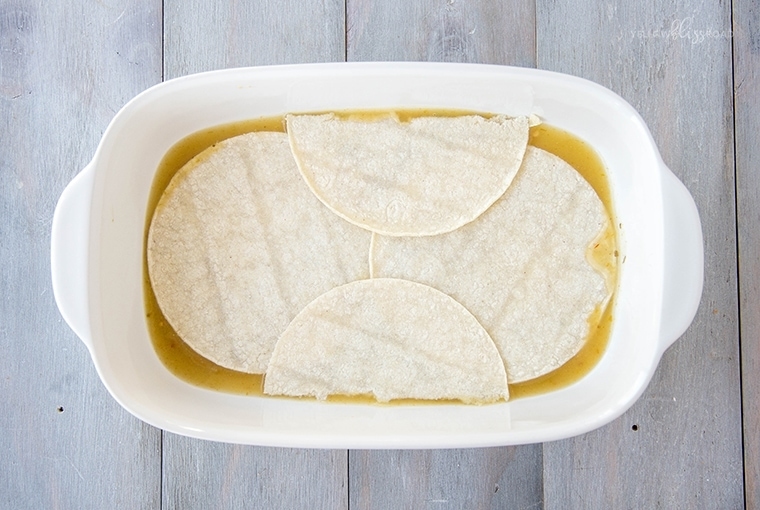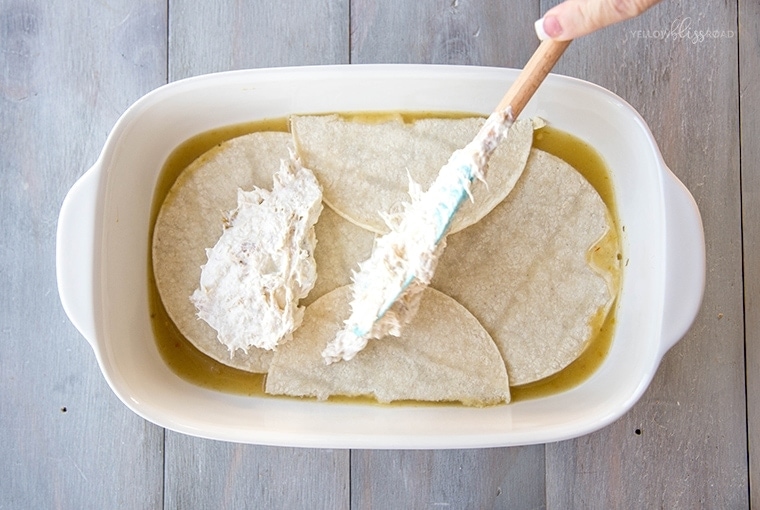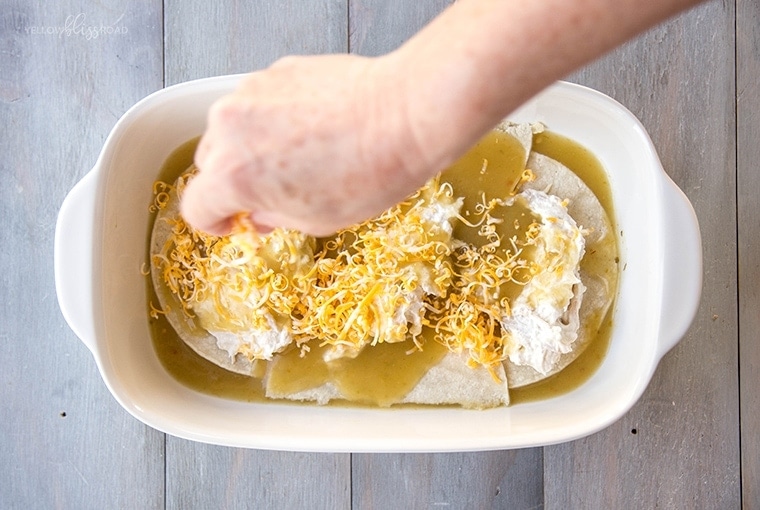 5. For a cheesier casserole, add a layer of just cheese and sauce. Top with more tortillas and then repeat the meat mixture.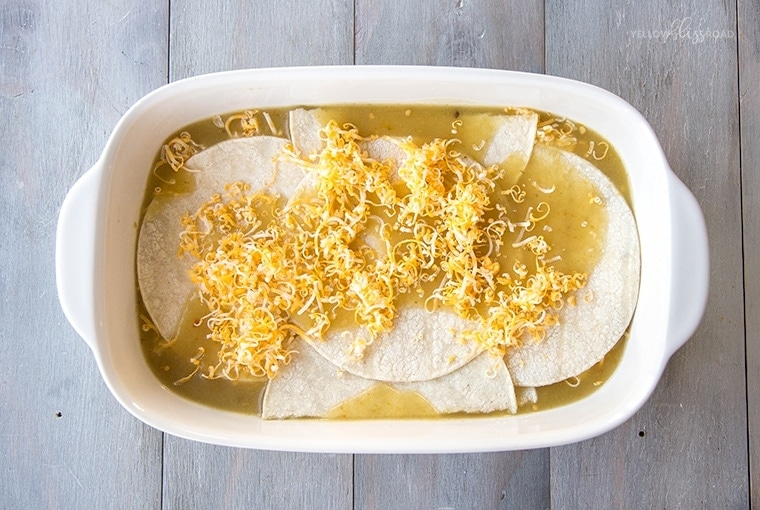 6. Don't forget the olives. Now, you can definitely make this casserole without them if you like, but they do add a nice saltiness and texture to this already amazing Chicken Enchilada Casserole.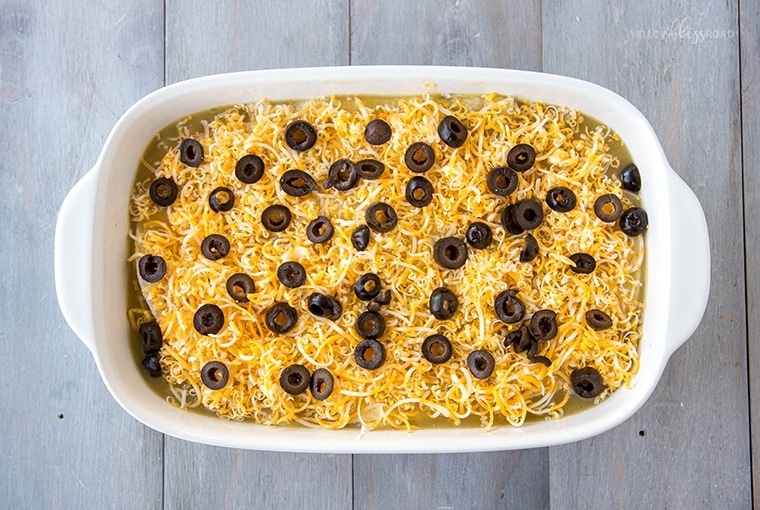 7. Finally, don't get too hung up on the ingredients. This is actually something that I often practice in my kitchen. Some recipes, especially in baking, it's important to follow a recipe to a "T." Things like casseroles however, it's not as critical. For instance, if you like saucier enchiladas, add more sauce, or less if you prefer it more dry. Experiment with different kinds of cheeses. We used Colby Jack in the photos because that's what I had in the fridge. But it's also good with Cheddar Jack, or just Jack. There are different kinds of enchilada sauce, too, from mild to hot. Don't be afraid to play around with the recipe!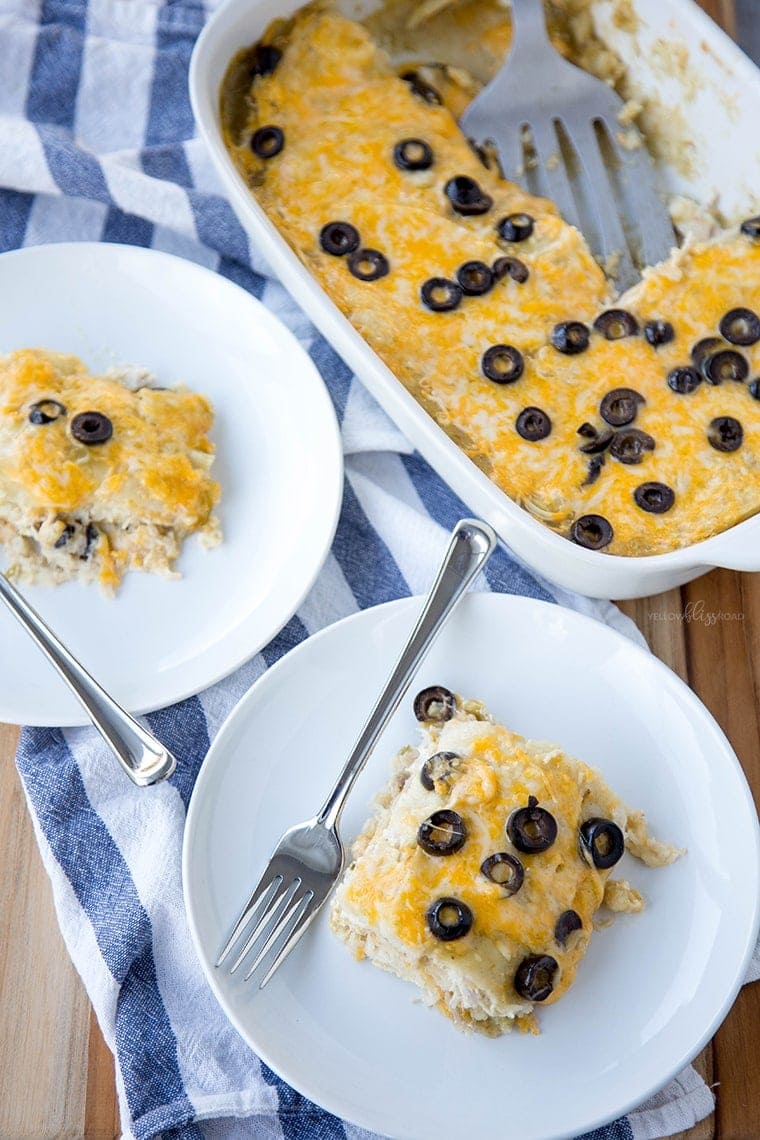 If you've made this recipe, please come back and leave us a star rating or a comment below. Or, tag us on social media @yellowblissroad or #yellowblissroad for a chance to be featured.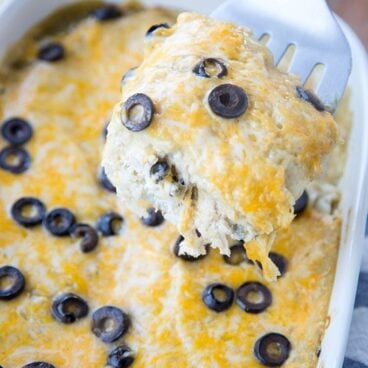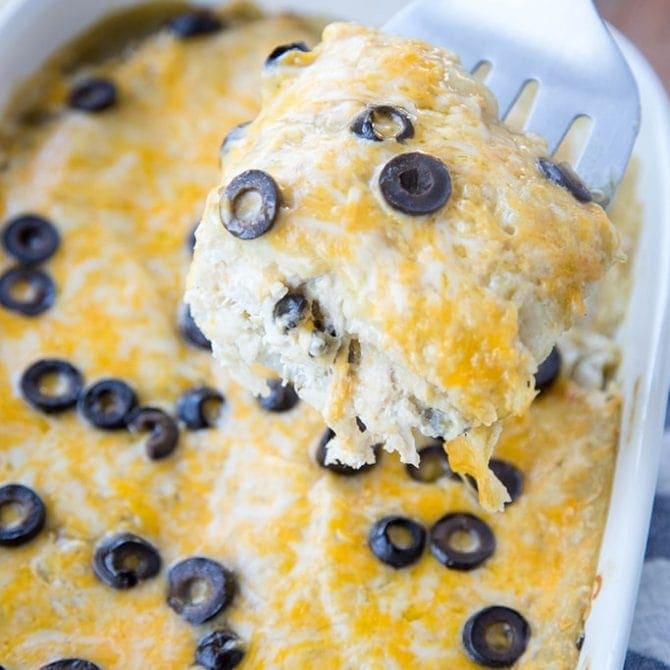 Chicken Enchilada Casserole
Ingredients
12-16

Corn Tortillas

1 28-

ounce

Green Chile Enchilada Sauce

2-3

cups

shredded chicken

Rotisserie works well

8-

ounces

Cheddar/Jack Cheese

shredded

4-

ounces

softened cream cheese

8-

ounces

sour cream

4-

ounces

green chiles

4

ounces

sliced olives

optional
Instructions
Preheat oven to 350 degrees F.

In a large cowl, or the bowl of a stand mixer, combine chicken, sour cream, cream cheese and green chiles.

In an 11"x7" or 13"x9" baking dish, pour a thin layer of the enchilada sauce. Layer with tortillas, breaking to fit as necessary to form a single layer. Spoon a third of the chicken mixture over the tortillas, then a third of the shredded cheese and a third of the remaining enchilada sauce. Repeat with two more layers, finishing with a layer of tortillas, then sauce, then cheese. Top with sliced olives, if desired.

Cover baking dish with nonstick foil. If you don't have nonstick foil, stick several toothpicks into the casserole to keep the foil from touching the cheese. Bake, covered, for about 40 minutes at 350 degrees. Remove foil and bake 10 minutes more, or until cheese is completely melted.
For more delicious Mexican recipes, try these: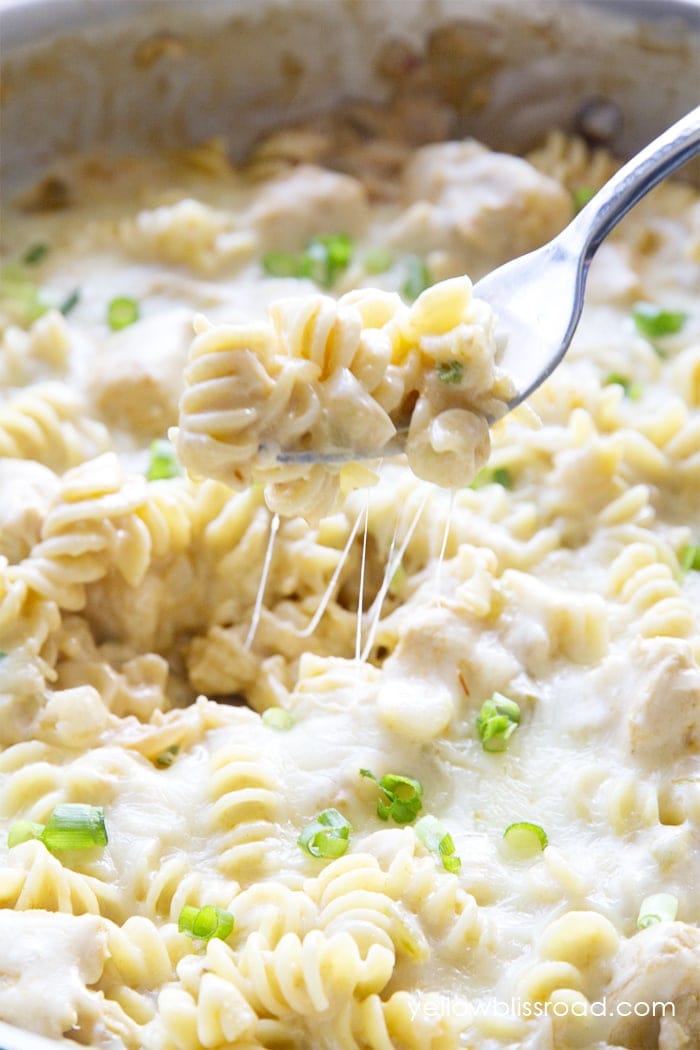 One Pan Green Chile Chicken Enchilada Pasta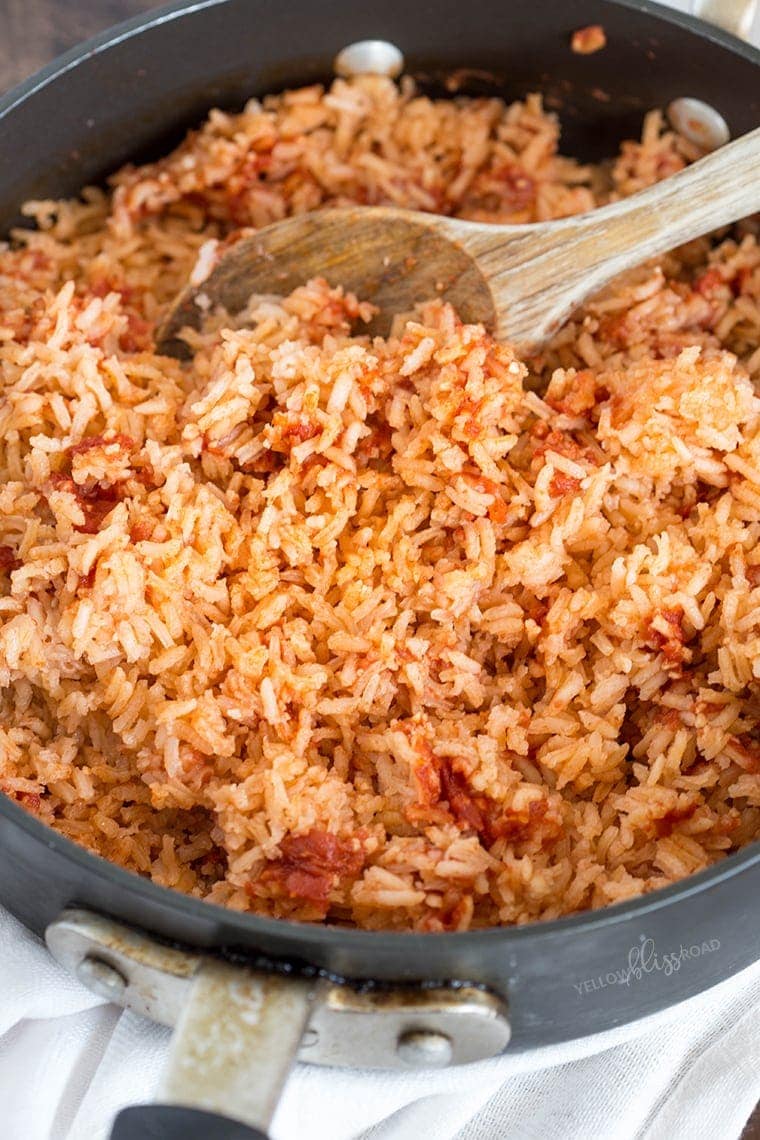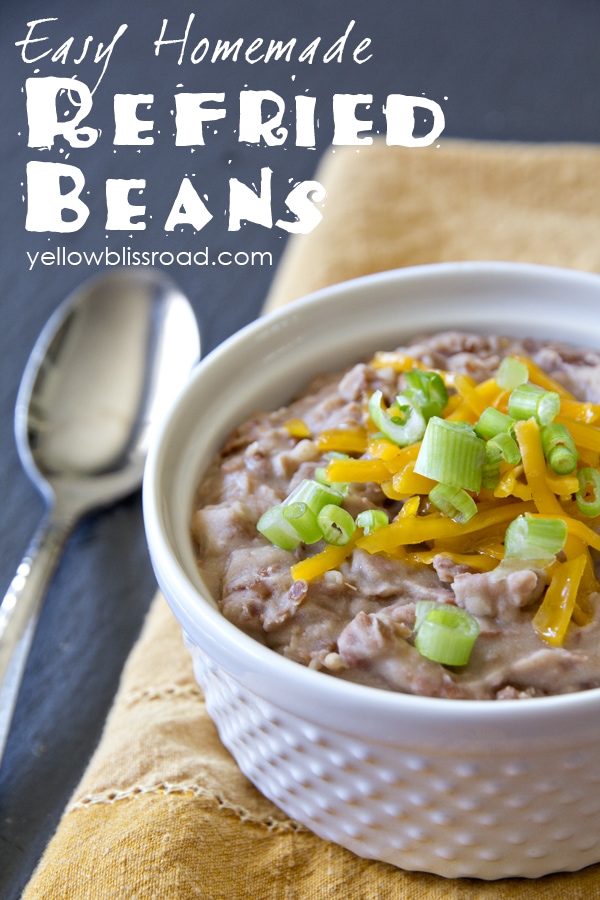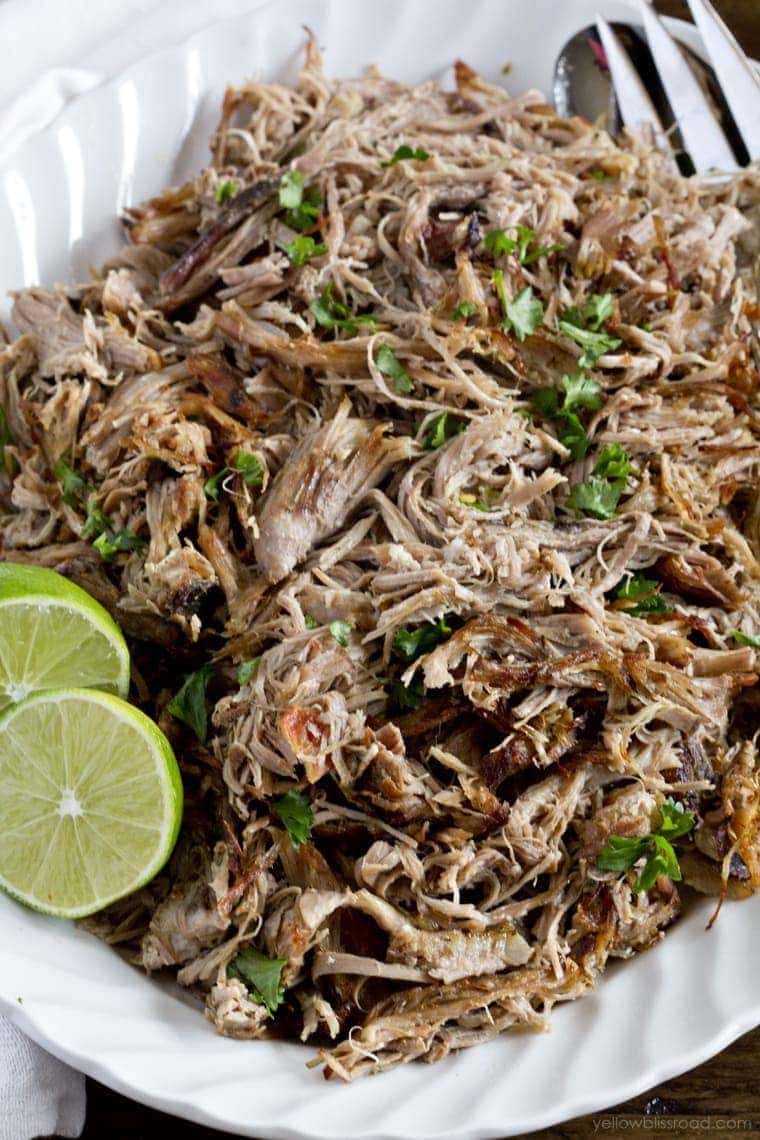 For all main course recipes go HERE and for all recipes go HERE.