Learn how to make Authentic Mexican Rice! It's a simple recipe, requires just a few ingredients and takes less than 30 minutes to make. Add it to your menu for Taco Tuesday or anytime Mexican food is on the menu.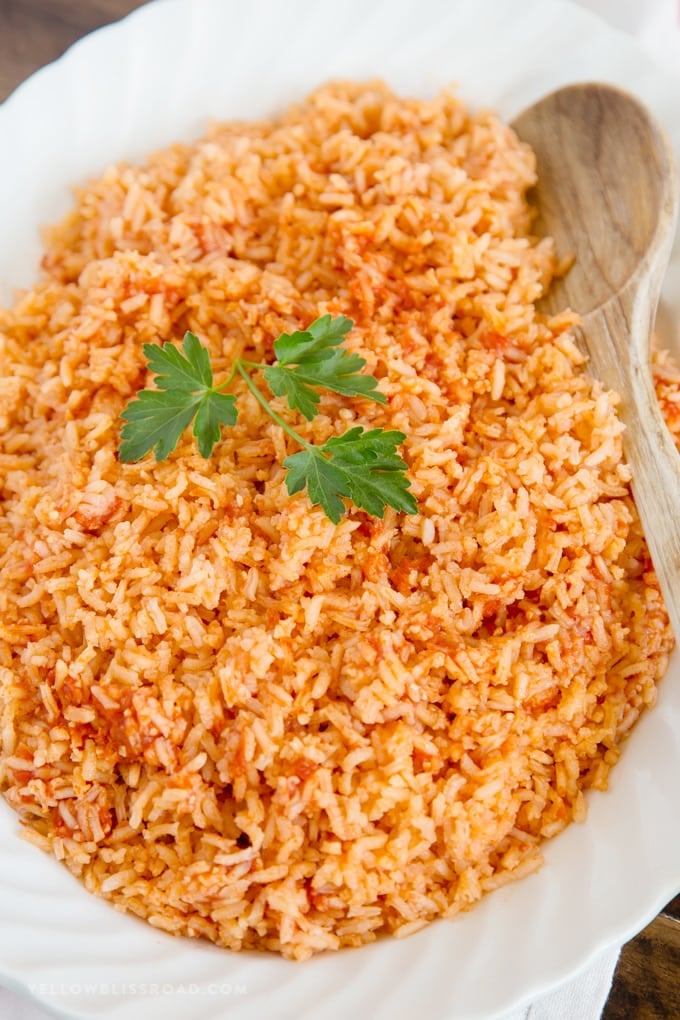 This is the best Mexican Rice recipe that is so good and so easy, it is our go-to side dish for any Mexican dinner. We serve this rice dish alongside Refried Beans or Slow Cooker Mexican Beans and with our favorite meals, like Ground Beef Enchiladas, Chicken Tacos and Carne Asada.
Pin this recipe for later!
The Best Easy Mexican Rice Recipe
By far, this is one of my favorite and most requested recipes to cook. We make it for any Mexican dish from taquitos, to tacos to burritos. It's truly an authentic Mexican Rice recipe. You want to know why? Because it comes from an authentic Mexican kitchen that just so happens to belong to my cousin's mother-in-law!
My cousin shared this recipe with me years ago and I've been making it almost weekly ever since. This authentic family recipe was passed down from her mother-in-law who had learned the recipe from her mother and grandmother. The ingredients are pretty simple – white rice, tomato sauce, garlic, chili powder, and Caldo de Tomate.
Ingredients
Oil – I have used vegetable, canola, corn or olive oil. Other oils that you prefer can be used as long as they have a high smoke point.
Long grain white rice – I have used Jasmine rice without issues, but don't recommend a short grain because it can be too starchy. Brown rice works – see the FAQs section for tips.
Tomato sauce – Depending on how saucy you like your rice, use anywhere from 4-8 ounces.
Caldo de Tomate – This is a tomato bouillon that can be found in the Mexican aisle or with the dry soup mixes. If you can't find it or don't want to purchase it, you can omit or use chicken bouillon instead.
Water – Substitute chicken broth if you prefer, especially if you omit the caldo de tomate.
How to Make Mexican Rice
See recipe card below for ingredient quantities and full instructions.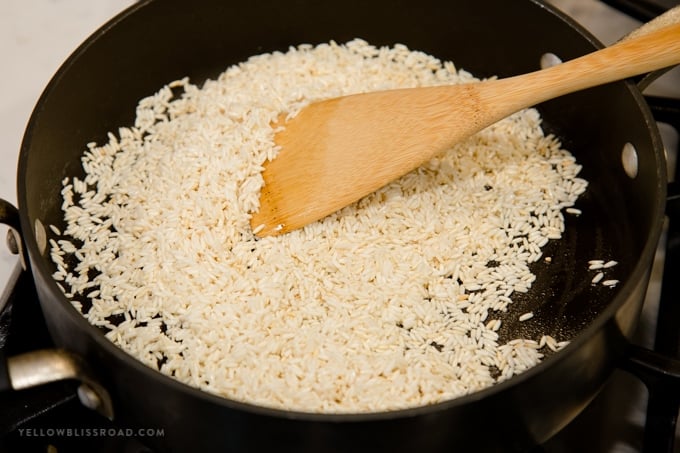 The first step is to brown the rice by cooking it with some vegetable oil over a fairly high heat. When the rice starts to turn bright white and then golden, you're ready for the next step, which is basically just adding the rest of the ingredients – water, tomato sauce, tomato bouillon, garlic and chili powder.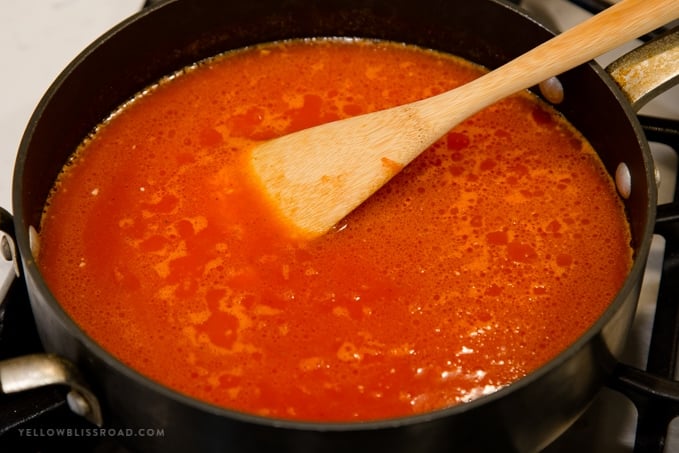 Once it all comes to a boil, cover it up and turn down the heat. A clear lid is helpful here so you can see when the rice is done, but really 20 minutes is about all it takes. If after 20 minutes there's still some liquid in the pan, just let it continue to cook until you can no longer see liquid bubbling to the top.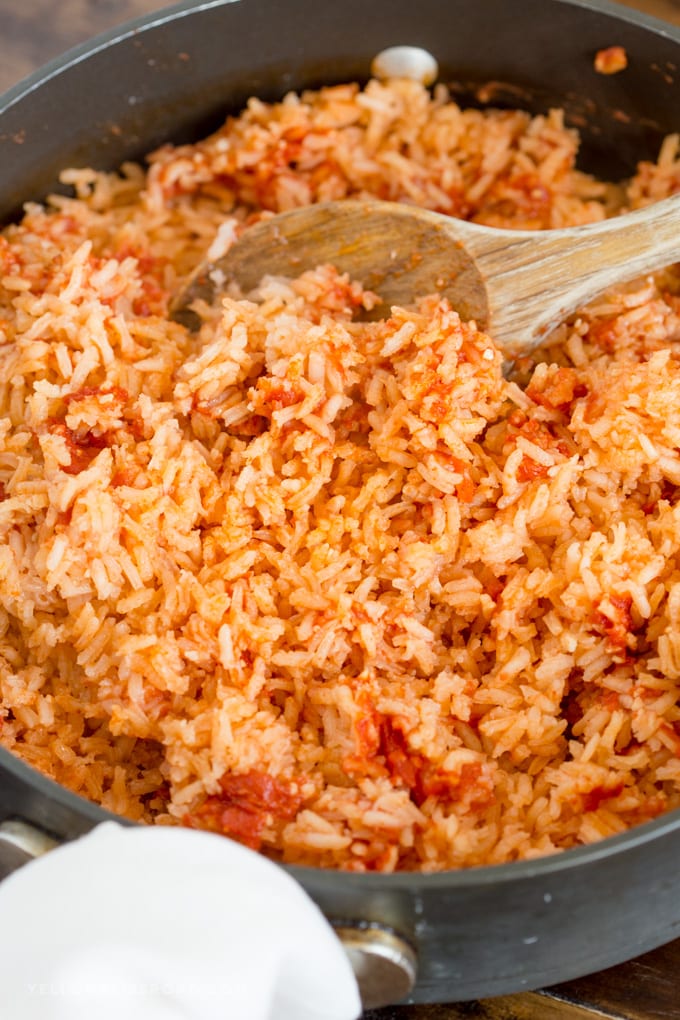 Let it rest, covered, for several minutes, then fluff it up in the pan using a fork or wooden spoon, and you're ready to serve. Sometimes I'll add some frozen vegetables, like peas and carrots, or even chicken, like in my One Pot Mexican Chicken & Rice.
Frequently Asked Questions
What is the Difference Between Mexican Rice and Spanish Rice?
Some people call this Spanish Rice, but Mexican Rice and Spanish Rice are actually not the same thing. While they do use some of the same ingredients, Traditional Spanish Rice uses saffron threads and has more of a yellow color.

Whether you call it Mexican Rice or Spanish Rice, you'll always call it delicious!
What Spices should be added to rice?
White rice on its own has a pretty neutral flavor, so adding spices is key to adding big flavor. Add garlic, tomato bouillon and chili powder for restaurant-style Mexican rice; chicken broth, onion and garlic for rice pilaf; and saffron for Spanish Rice.
What can I use as a substitute for the Caldo de Tomate?
I have been asked this many times so I thought it was important to address. Chicken bouillon would be a fine substitution, although it wouldn't have the same tomato taste. You could also simply use chicken stock instead of water and leave the bouillon out completely. I definitely recommend Caldo de Tomate if you can easily get it because it will give the best, most authentic flavor to your restaurant-style Mexican Rice recipe.
My rice didn't cook all the way through in the 20 minutes. What happened?
Since each kitchen and stove is different, it's hard to say what could have gone wrong. However, typically it's just that the heat wasn't high enough and the rice didn't come to a full boil. Let it cook a little longer to absorb more of the liquid. Or, remove the lid, turn up the heat to medium and let any remaining liquid boil off. One of these solutions should work for most problems.
Is this really authentic?
Each kitchen, family, and family tradition is different. Just like in the US there are about 18 different types of barbecue sauce depending on what part of the country you live in, the same goes for Mexico and authentic Mexican Rice recipes. Just because it isn't the same as what your family cooks, doesn't make it wrong or bad.
What kind of rice is best for Mexican Rice?
This recipe calls for long-grain white rice, which is the best for an Authentic Mexican Rice recipe. However, I have used Jasmine Rice in its place and it comes out fine. Brown rice can be used, but will require an additional ⅓ cup of water and about 10-20 minutes more cook time.
Can you double this recipe?
Yes! You can definitely double the recipe. You want to make sure that your pot is plenty big – A 5-quart should be fine. Double the ingredients, prepared the same way, but do not double the time. Your rice should still be ready in about 20 minutes.
Storage
Can you freeze Mexican Rice? Absolutely! Store leftover cooked rice in an airtight container in the fridge for 5-6 days or the freezer for up to 6 months.
Refrigerating – Let the rice cool completely before storing. Transfer to an airtight container and store in the fridge for up to 3-4 days.
Reheating – Thaw first, then Reheat in the microwave or on the stovetop, adding a splash of water or chicken stock to rehydrate if needed.
Top Tips and Tricks
Use a good quality nonstick saute pan for cooking your Mexican Rice. The rice never sticks, and it has higher sides so there's no chance or and of the rice going overboard while stirring! Do not use stainless steel pans for cooking rice.
Resist the urge to lift the lid! Rice needs steam to cook and as it steams, the grains absorb the liquid which makes them plump and fluffy. Lifting the lid releases essential steam that is necessary to cooking rice perfectly.
About the tomato sauce – This recipe was recently updated to use a little less tomato sauce. The original calls for an 8-ounce can, but a lot of people commented that their rice was a little too saucy. This can be a personal preference and often depends on the cook, but you can use half of the can (4 ounces) and still have delicious, tomato-y

restaurant-style

Mexican Rice. Freeze the remainder of the sauce for using the next time you make this recipe.
Add a chopped up Roma tomato for more color and freshness.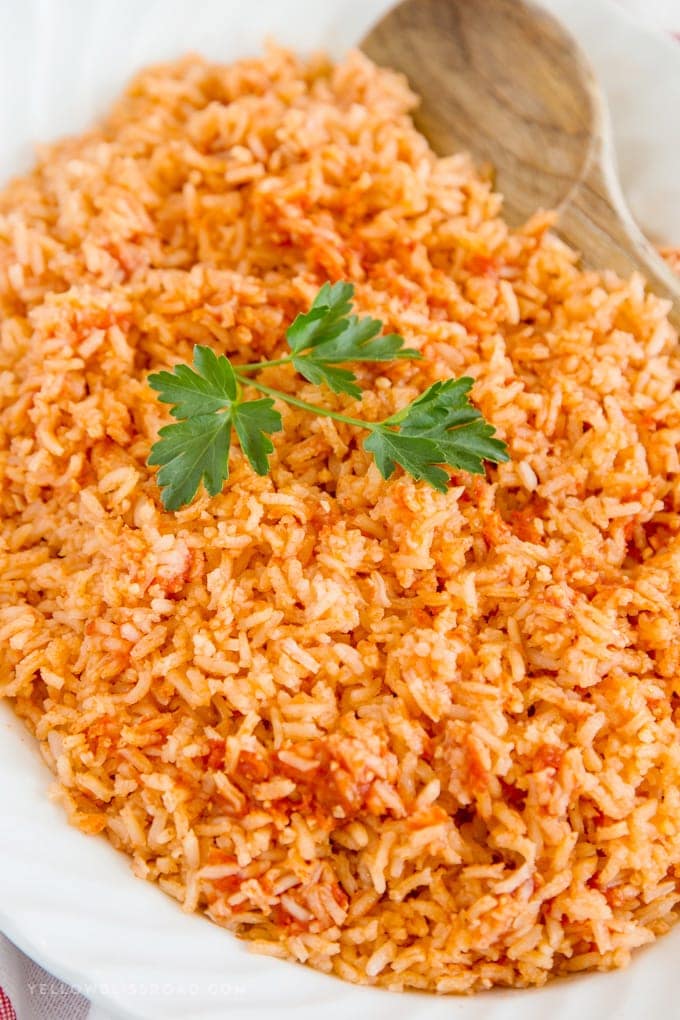 Recipes that use Mexican Rice
Even though it's usually used as a side dish, Mexican Rice can be incorporated into a lot of different main dishes.
More Mexican Recipes
Planning a fiesta of your own? Mexican food is what we live for around here and if you want some delicious authentic and Mexican recipes, you've got to try our Crock Pot Chicken Tacos, Crock Pot Carnitas, Baked Salsa Chicken, and my famous homemade Guacamole!
Or dip your chips in some sweet Mango Salsa. My husband swears by my Shrimp Ceviche and my kids rave about my Mexican Sopes. Don't forget the Margaritas!
Want Mexican food for breakfast? Try this amazing Chilaquiles recipe!
Recipe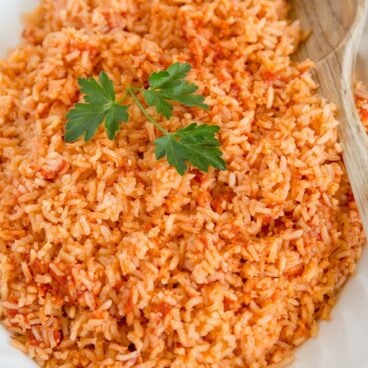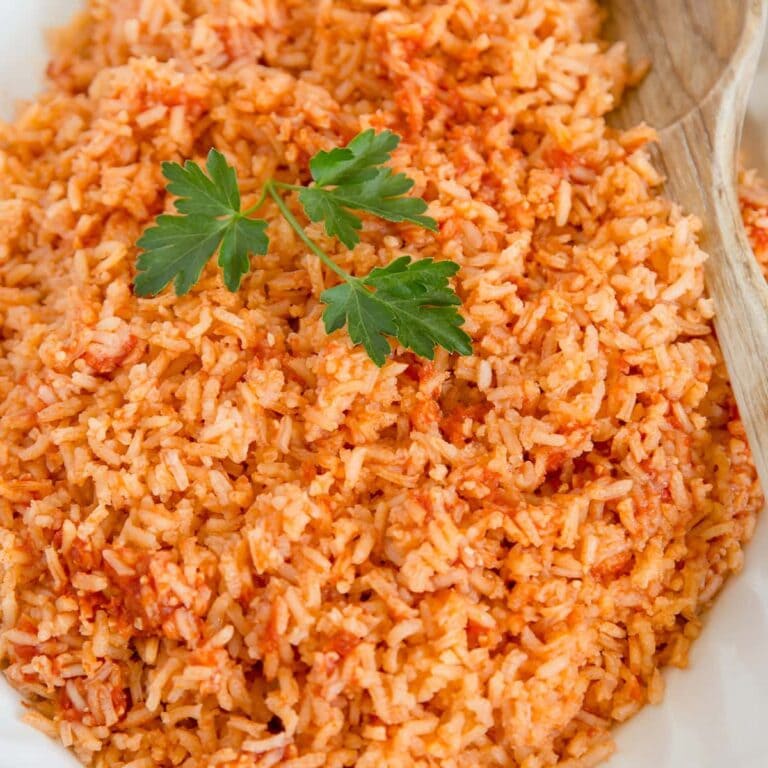 Authentic Mexican Rice Recipe
The best Mexican rice that is fluffy and rich in flavor!
Ingredients
2

tablespoons

vegetable or canola oil

1

cup

dry long-grain white rice

(4-8)

ounces

canned tomato sauce

Use at least 4 or up to 8 ounces of tomato sauce

2

cups

warm water

1

teaspoon

chili powder

2

teaspoons

Caldo de Tomate

tomato bouillon

1

teaspoon

minced garlic

about 2 cloves
Instructions
Heat oil in a 5 quart saute pan over medium-high heat. Add rice. Cook rice, stirring constantly, for several minutes, until rice begins to turn a golden color.

Reduce heat to low to avoid spattering. Gently pour in warm water, then tomato sauce and stir. Stir in chili powder, Caldo de Tomate and minced garlic. Turn heat back up to medium-high, bring to a boil, then reduce to low and cover. Simmer for 20 minutes, or until all water has been absorbed.

Turn off heat, fluff rice then let sit, covered, for 5-10 minutes before serving.
Notes
Several people felt that the rice was a little too saucy for them. We have always used a full can (8-ounces) of tomato sauce but I have recently tested this recipe with just just half of a can (4-ounces). It still tastes amazing, just not as saucy (but still moist and fluffy). You can freeze the remainder of the sauce and use it the next time you make Mexican rice.
Nutrition
Calories:
160
kcal
Carbohydrates:
26
g
Protein:
3
g
Fat:
5
g
Saturated Fat:
4
g
Cholesterol:
1
mg
Sodium:
283
mg
Potassium:
105
mg
Fiber:
1
g
Sugar:
1
g
Vitamin A:
181
IU
Vitamin C:
1
mg
Calcium:
13
mg
Iron:
1
mg