This Mexican Rice recipe is so good and so easy, you'll forget that you're not eating at an authentic Mexican restaurant. It take just minutes to prepare and is the perfect side dish for any Mexican entree.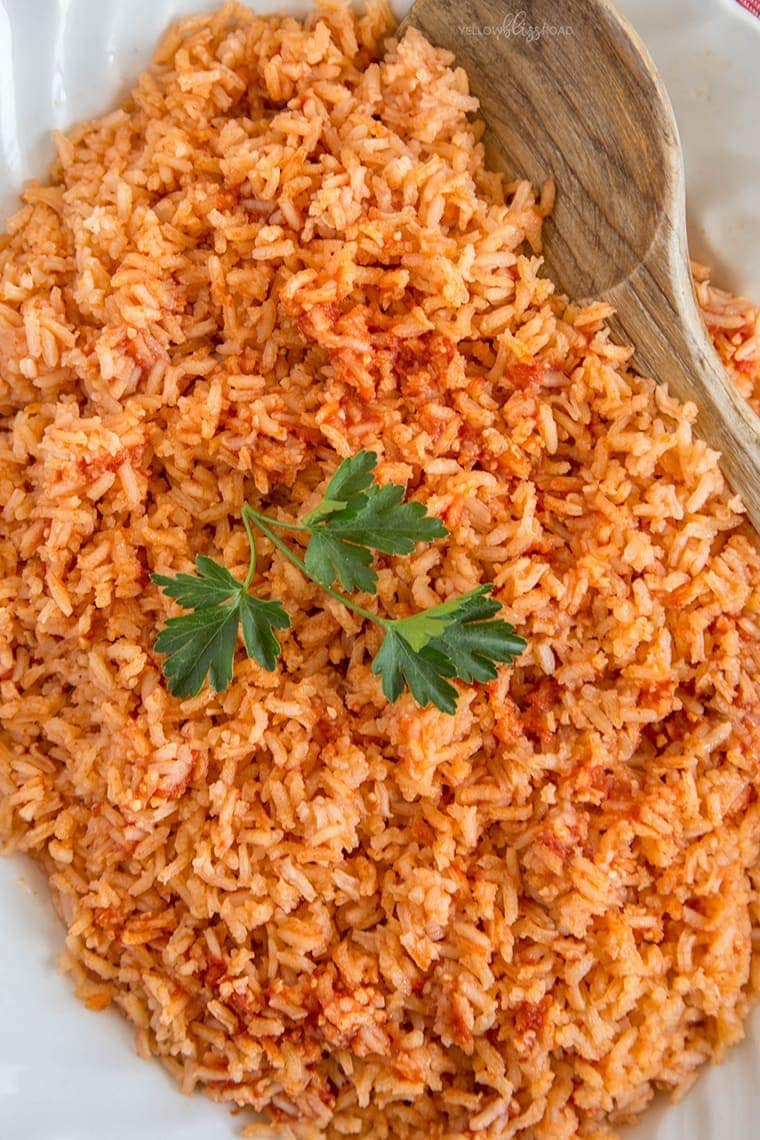 If you search for authentic Mexican Rice, you'll be bogged down with page after page after page of recipes. So what makes this recipe so special? This stuff. It's Knorr Caldo de Tomate and it's a type of tomato bouillon. I find it in the soup section of my local grocery store. You could use regular chicken bouillon, but I really think that true authentic flavor comes from the Caldo de Tomate (affiliate link).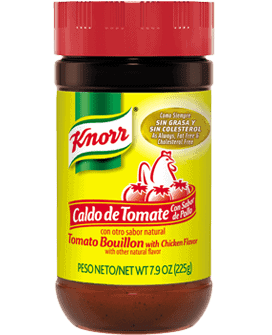 My cousin shared this recipe with me years ago. She was taught by her mother-in-law, who is from Mexico. The ingredients are pretty simple – white rice, tomato sauce, garlic, chili powder and Calde de Tomato. I realized a few months ago when I was looking for this recipe on my site to share it with someone, that I'd never shared it!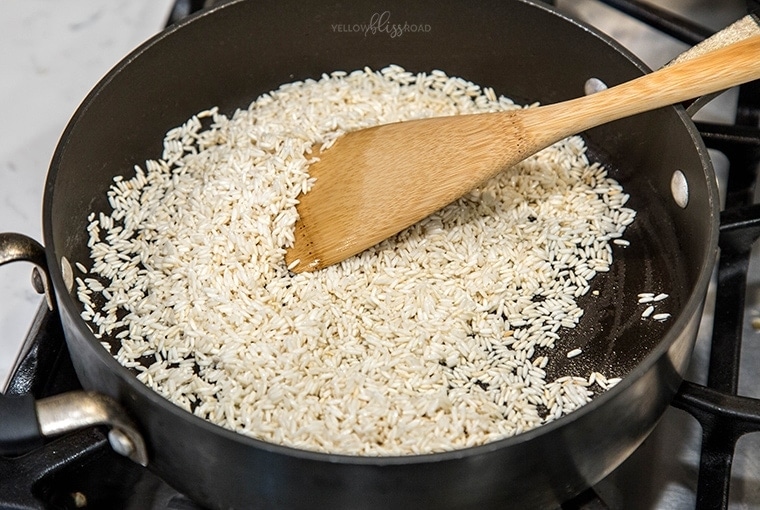 The first step is to brown the rice by cooking it with some vegetable oil over a fairly high heat. When the rice starts to turn white and golden, you're ready for next step, which is basically just adding the rest of the ingredients.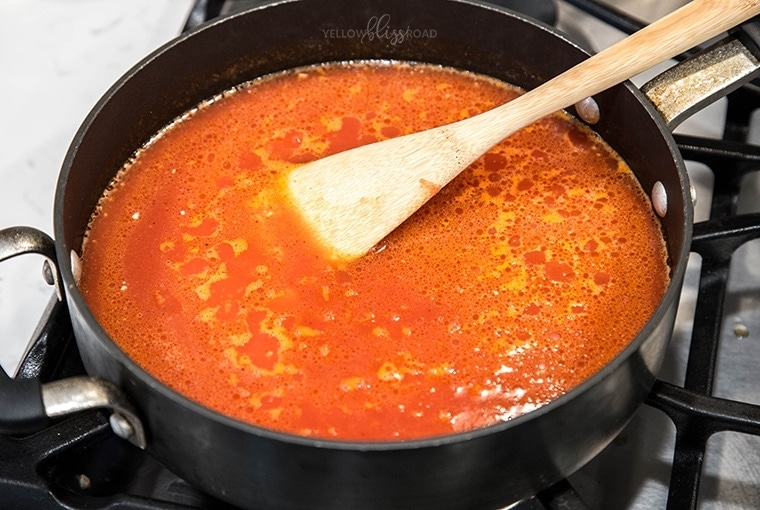 Once it all comes to a boil, cover it up and turn down the heat. A clear lid is helpful here so you can see when the rice is done, but really 20 minutes is about all it takes. If after 20 minutes there's still some liquid in the pan, just let it continue to cook until all of the water is absorbed and you can no longer see it bubbling to the top. Fluff it up in the pan and let it rest for a few minutes, and you're ready to serve. Sometimes I'll add some frozen vegetables, like peas and carrots, or even chicken like in my One Pot Mexican Chicken & Rice.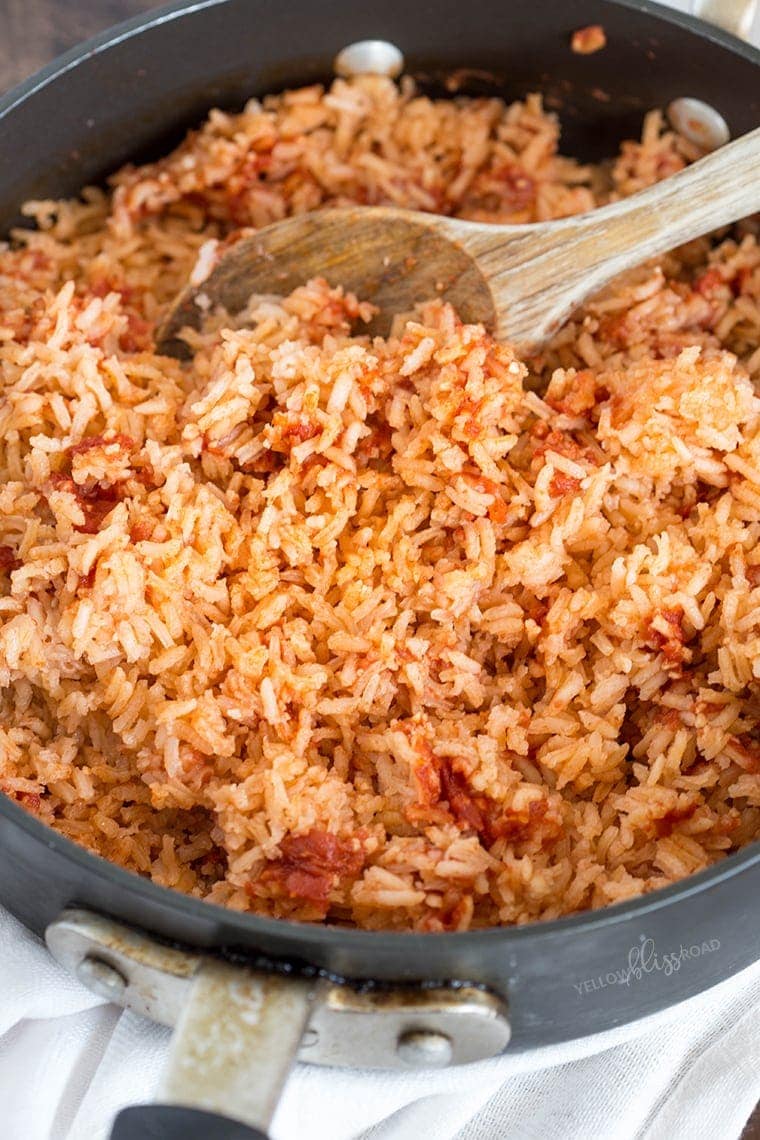 *Tip – I use THIS nonstick pan for cooking Mexican Rice. The rice never sticks, and it has higher sides so there's no chance or and of the rice going overboard while stirring!
Authentic Mexican Rice
Ingredients
2 tablespoons Vegetable or Canola Oil
1 cup dry long-grain white rice
1 8-ounce can tomato sauce
16 ounces warm water
1 teaspoon chili powder
2 teaspoons Calde de Tomate (tomato bouillon)
2 teaspoons minced garlic (about 2 cloves)
Instructions
Heat oil in a 5 quart saute pan over medium-high heat. Add rice. Cook rice, stirring constantly, for several minutes, until rice begins to turn a golden color.
Reduce heat to low to avoid spattering. Gently pour in warm water, then tomato sauce and stir. Stir in chili powder, Calde de Tomate and minced garlic. Turn heat back up to medium-high, bring to a boil, then reduce to low and cover. Simmer for 20 minutes, or until all water has been absorbed.
Turn off heat, fluff rice then let sit, covered, for 5-10 minutes before serving.
For more Mexican recipes, try these: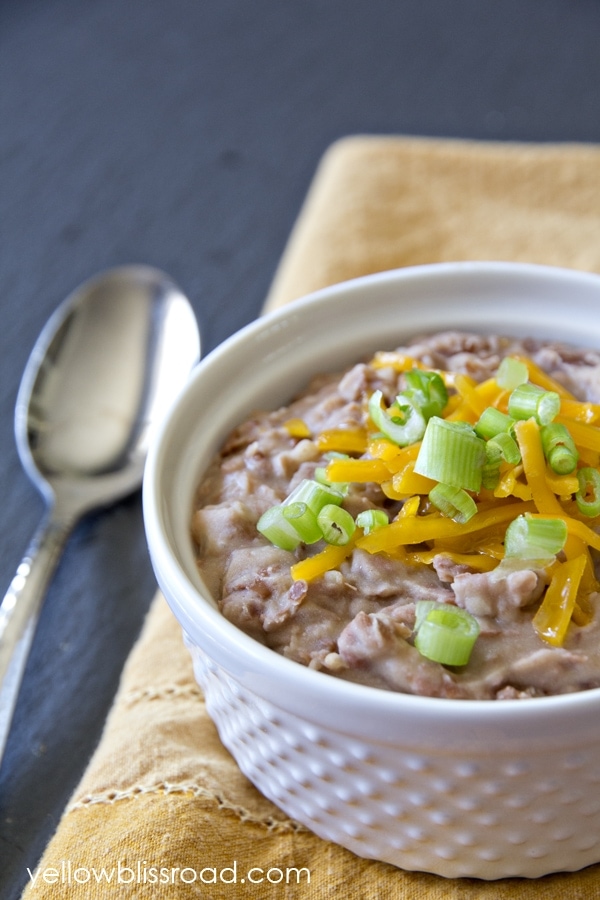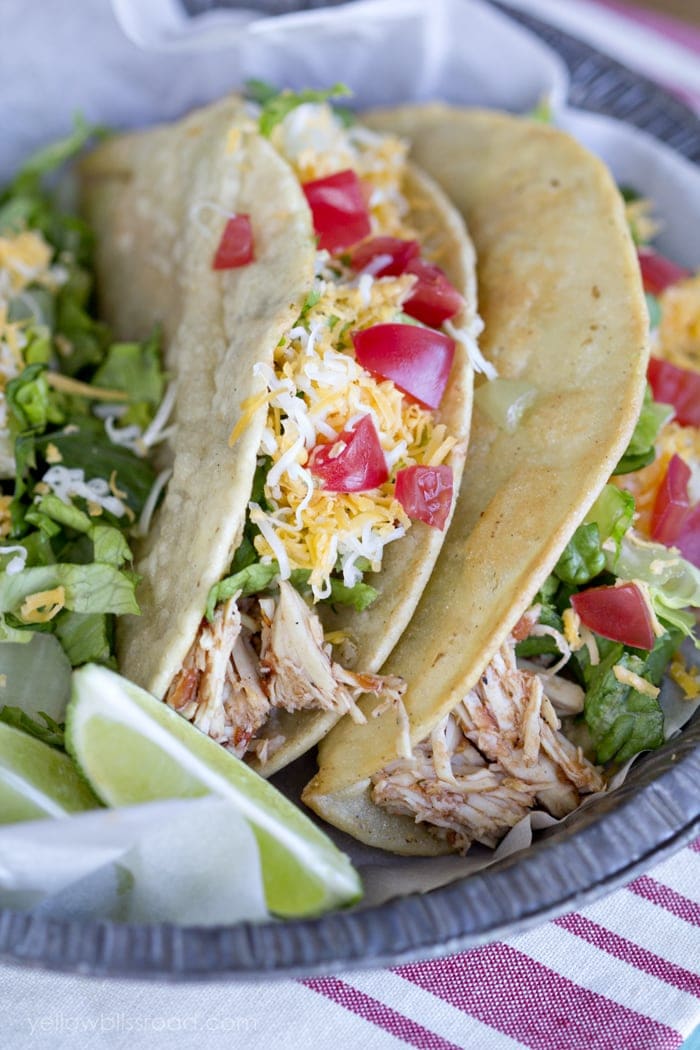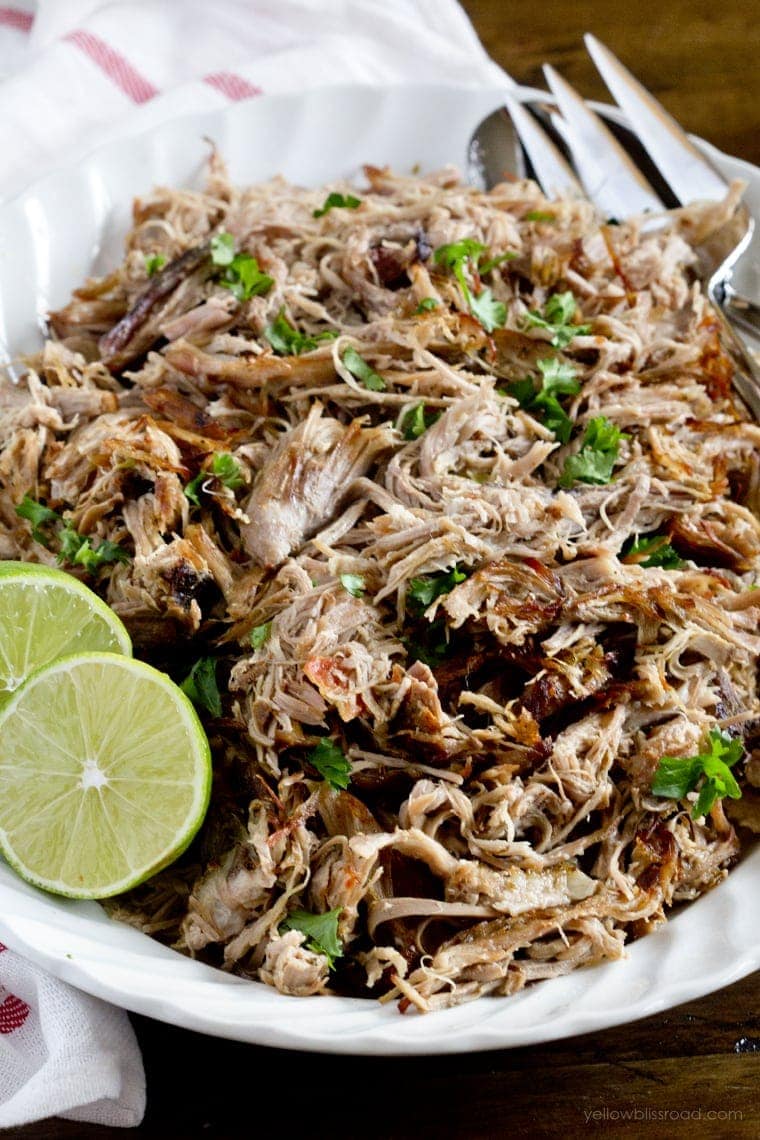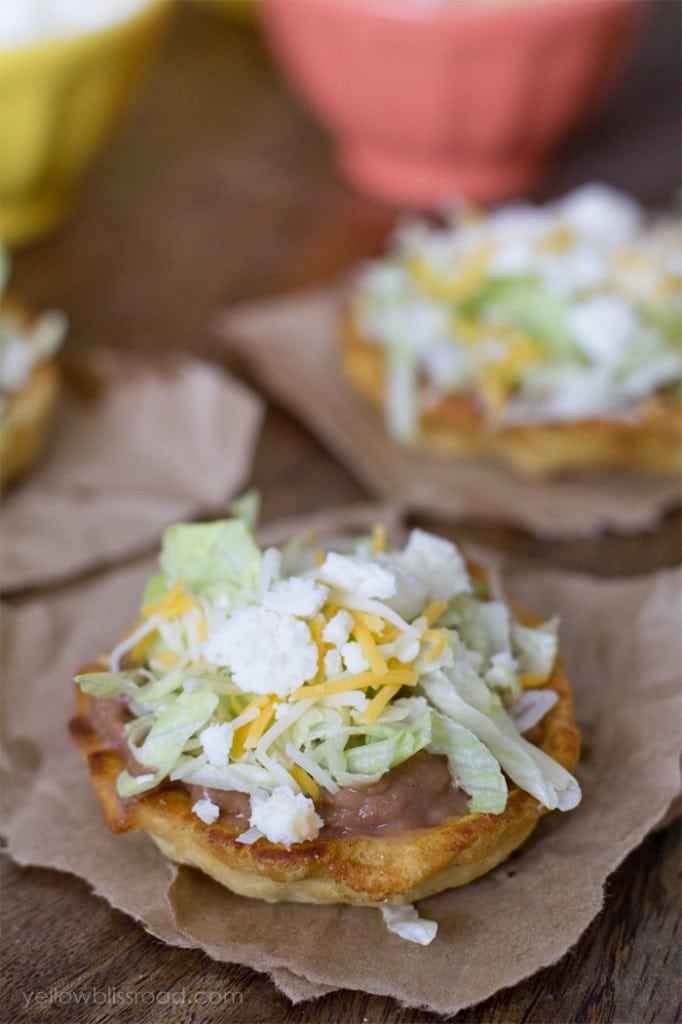 For all side dishes go HERE and for all recipes go HERE.