Hot Mexican Corn Dip has all the flavors of Mexican Street Corn in a deliciously dippable format. It's creamy and cheesy with sweet pops of roasted corn and just a touch of heat.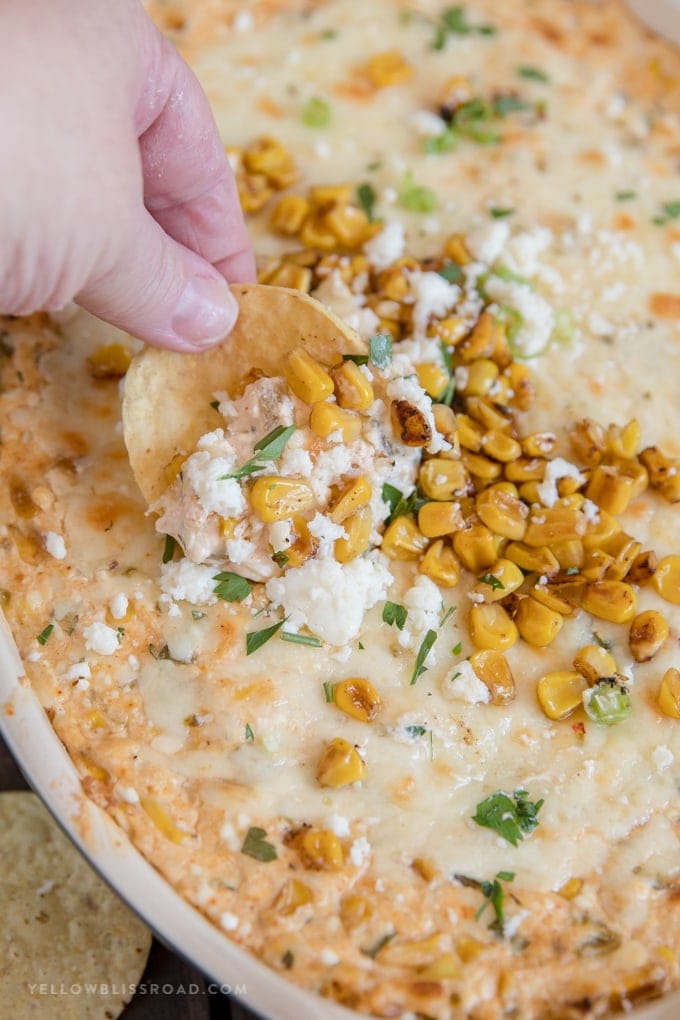 Mexican Corn Dip is going to be your new party dip go-to. It's got all the things a winning party appetizer should have! It's got creamy cheeses, sweet roasted corn, spicy peppers and a hint of lime. Just add some tortilla chips for dipping and this gorgeous, tasty dip is ready to make her debut!
HOW TO MAKE MEXICAN CORN DIP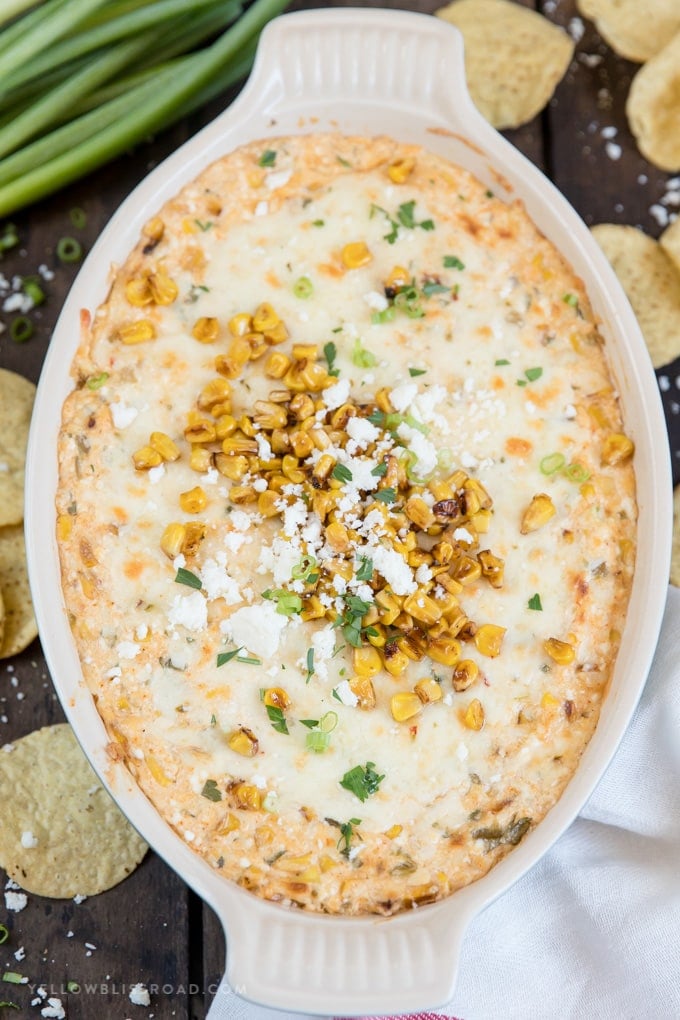 This Mexican Corn Dip is super easy to make, starting with a base of cream cheese, sour cream and a touch of mayo. Chili powder and garlic add flavor while the pepper jack cheese and diced green chiles add a slight kick of heat. Lime juice rounds out this delicious flavor profile.
The corn really gets to shine in this dip! The recipe calls for two cans of corn, but you could use 3 cups of fresh or frozen that have been cooked. The fun part is when you roast the corn on your stovetop! Now if you have a grill and you want to get really fancy with it you could roast corn cobs on your outdoor grill, but for simplicity we're just roasting in a cast iron skillet. Don't have a cast iron skillet? Pour the corn onto a sheet pan and roast in the oven! Either way you're going to love the sweet and slightly smoky flavor you get from the charred corn. It takes this Mexican Corn Dip up about 27 notches!
HOW LONG CAN DIP SIT OUT?
It is recommended that you do not leave any dairy based dip siting out more than two hours. After two hours you'll want to either heat it again or put it away in the fridge.
HOW TO STORE LEFTOVER MEXICAN CORN DIP
If you have leftovers, this dip can be stored, tightly covered, in the refrigerator for 3-4 days.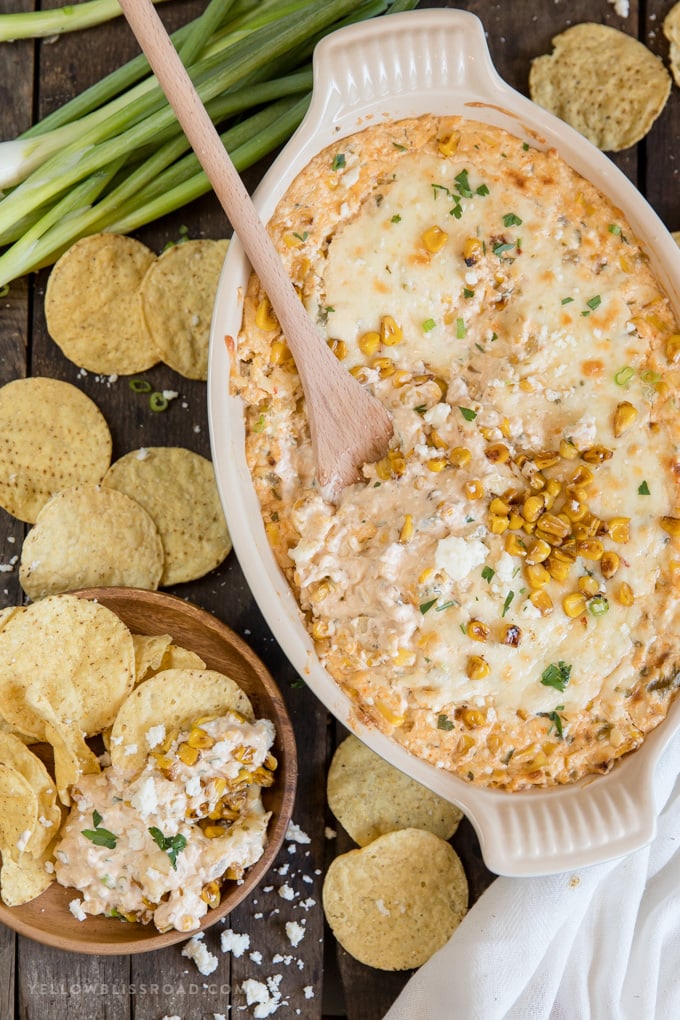 For more delicious dips, try these:
Tools Used in this Mexican Corn Dip Recipe:
Cast Iron Skillet – With a multitude of uses, a cast iron skillet is a great addition to your kitchen. It bakes and cooks evenly and requires minimal effort for upkeep. It also lasts forever!
Petite Oval Baking Dish – the perfect size for dips. An 8-inch square works as well, but I prefer this shape with no deep corners.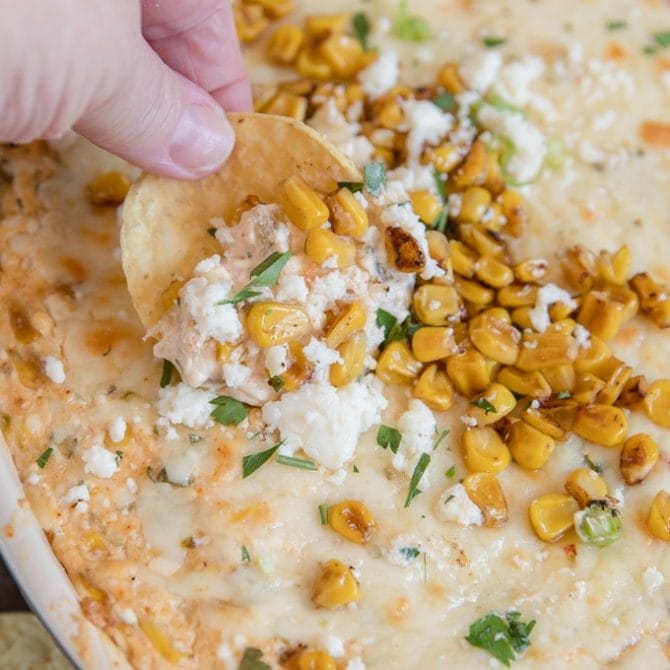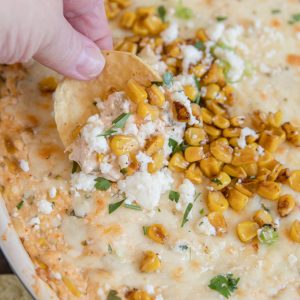 Mexican Corn Dip
Ingredients
2 15-ounce cans of sweet corn, drained
12 ounces cream cheese softened
1/3 cup mayonnaise
1 cup sour cream
1/2 teaspoon garlic powder
1 teaspoon chili powder
Juice from 1 lime
1 1/2 cups Pepper Jack cheese divided
1 4- ounce can green chiles drained slightly
¼ cup cilantro leaves finely chopped, plus some leaves for garnish (parsley is fine)
3 green onions thinly sliced (1 tablespoon reserved for garnish)
½ cup cotija cheese for garnish if desired
Hot sauce a few dashes for heat if desired
Instructions
Preheat oven to 350 degrees F. Spray an 8-inch square or oval baking dish with nonstick cooking spray.

In a large skillet, melt 1 tablespoon of butter over medium-high heat. Add drained corn and cook, stirring occasionally, for several minutes or until most of the corn develops a char. (A cast iron skillet works best for this). Set aside until ready to use. (You may need to do this in two batches, or just with half of the corn - your choice).

In a large mixing bowl, combine cream cheese, mayo, sour cream, lime juice, garlic powder and chili powder. Gently mix in charred corn, green chiles, 1 cup of Pepper Jack cheese, green onions and cilantro. Sprinkle remaining Pepper Jack cheese on top.

Bake in the preheated oven for 15-20 minutes or until golden and bubbly. If you want a more golden top, add a few minutes under the broiler.

Garnish with reserved cilantro leaves, corn and cotija cheese. Serve hot with tortilla chips.