What is the best way to cook corn? I use several different methods for grilled corn or microwave corn on the cob, and I'm about to share with you my favorite way to get perfectly tender and crisp corn on the cob every time!
Whether it's grilled, microwaved, boiled or baked, corn on the cob is a summer staple. We love to grill it and add it to our Chicken Taco Salad or serve it with a perfectly Grilled Steak.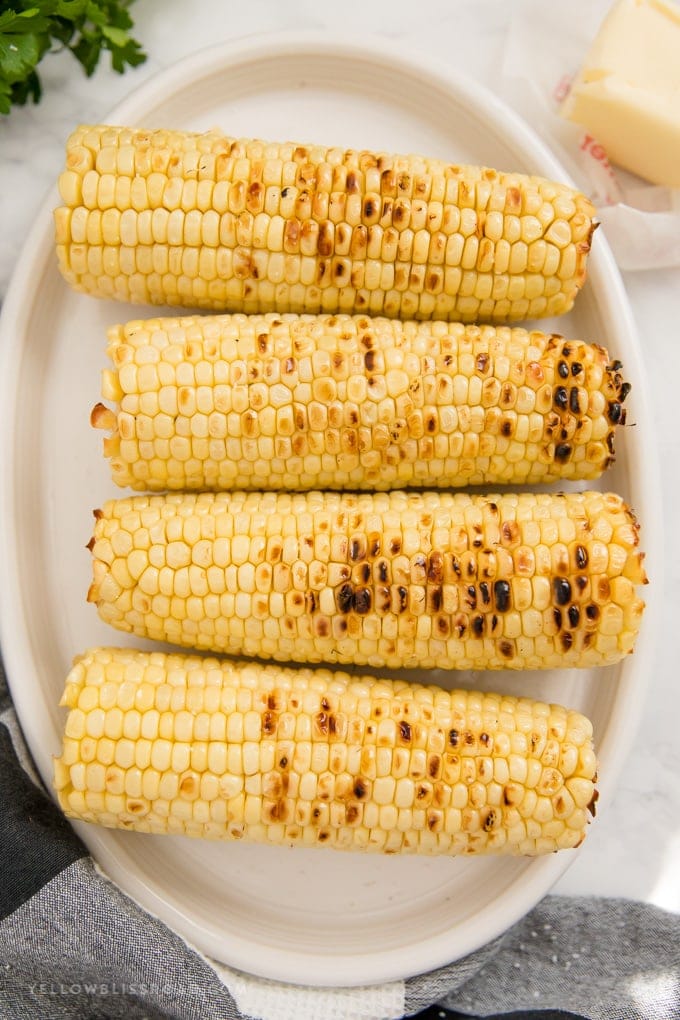 HOW TO COOK CORN ON THE COB
I remember backyard barbecues at my sister's house always included her husband's "famous" corn on the cob. He would soak the corn in the husks for hours, then cook it on the grill for about an hour. Now, while this is an absolutely delicious way to get smokey, sweet grilled corn on the cob, I just don't have time for all of that! My busy family expects a meal on the table in 30 minutes, whether it's a crazy weeknight dinner or a relaxing weekend meal.
Several years ago I learned an easy method for cooking corn in the microwave and I've been using it ever since. But in the summer, we love to grill pretty much everything, so I was on the hunt for an easy way to get that smoked, grilled corn flavor that was simple enough to be done in 20 minutes and didn't require a lot of time peeling the silk off of the corn.
3 Ways to cook corn on the cob
There are three different ways to cook corn that I use on a regular basis. Sometimes I combine methods depending on the time that I have (this is just when I want to end up grilling the corn and want to use a shortcut).
Boil it – This method requires a large pot of boiling water on the stove and takes about 15 minutes.
Microwave it – With this simple method of cooking corn, you can leave the husks in tact. The corn steams inside to cook. Also takes about 15 minutes.
Grill it – You can grill corn in a variety of ways, with or without the husks. Can take anywhere from 10 minutes to 1 hour.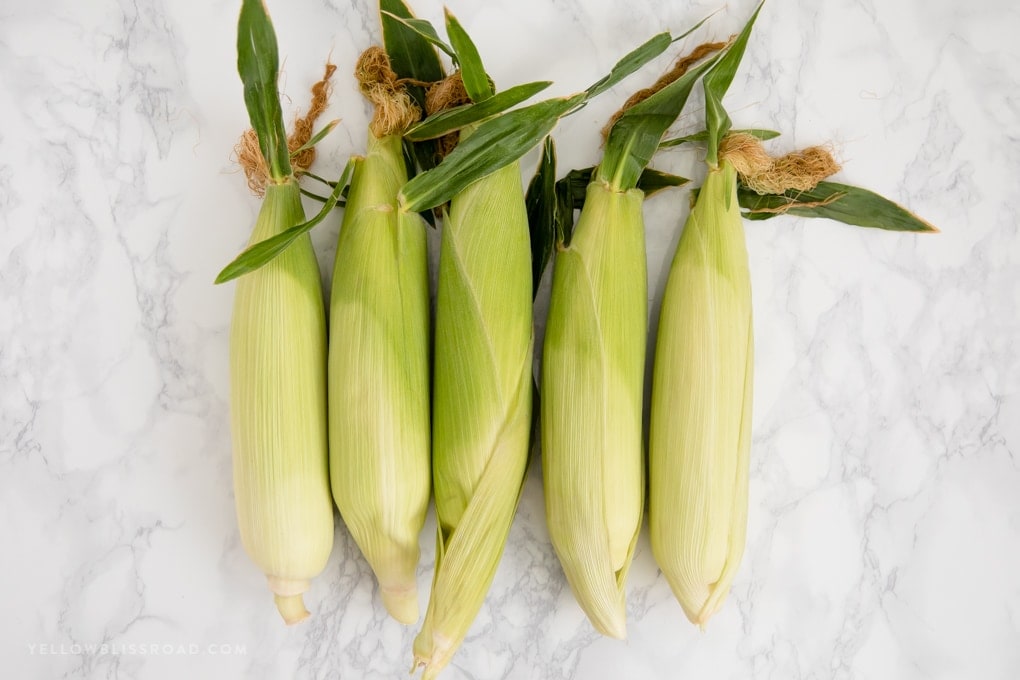 THE BEST WAY TO COOK CORN ON THE COB
My preferred way actually uses 2 different methods when cooking corn on the cob; the microwave and the grill.
This 2-step method serves a few purposes:
Microwaving in the husk allows the corn to get most of the cooking out of the way and makes the husk and silk easy to remove.
While the corn is in the microwave I can prep other parts of the meal for the grill.
Finishing it off by grilling the corn gives a smoky flavor and charred kernels in just a few minutes.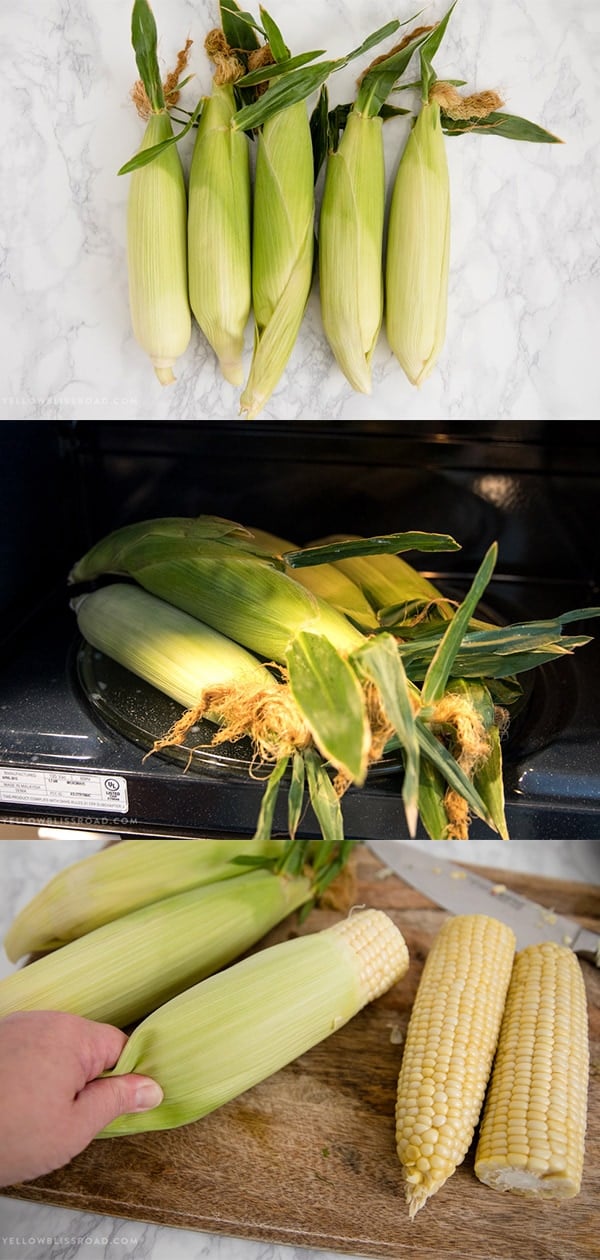 HOW TO MICROWAVE CORN ON THE COB
Here's how to microwave corn on the cob in just a few easy steps. If you're using the grilled corn method, you will follow these steps, but cut the microwave time by a few minutes.
Rinse the corn, removing any dirt.
Place the corn, husks completely sealed. This method works because the corn steams itself inside the husk. If the silk at the top is especially long or slimy, you can trim it.
Microwave corn on the cob for 3 minutes per ear. If grilling the corn, microwave for 2 minutes per ear.
Remove the corn from the microwave, using a pot-holder, towel or an Ove Glove (aff). Careful, it's very hot.
Cut off the end of the with a sharp knife, then pinch the silk end and squeeze gently. The corn should slide out of the husk fairly easily. Discard the husk.
If grilling, butter and salt the corn, then toss it on a high heat grill for 5-6 minutes, turning a couple of times to char all sides.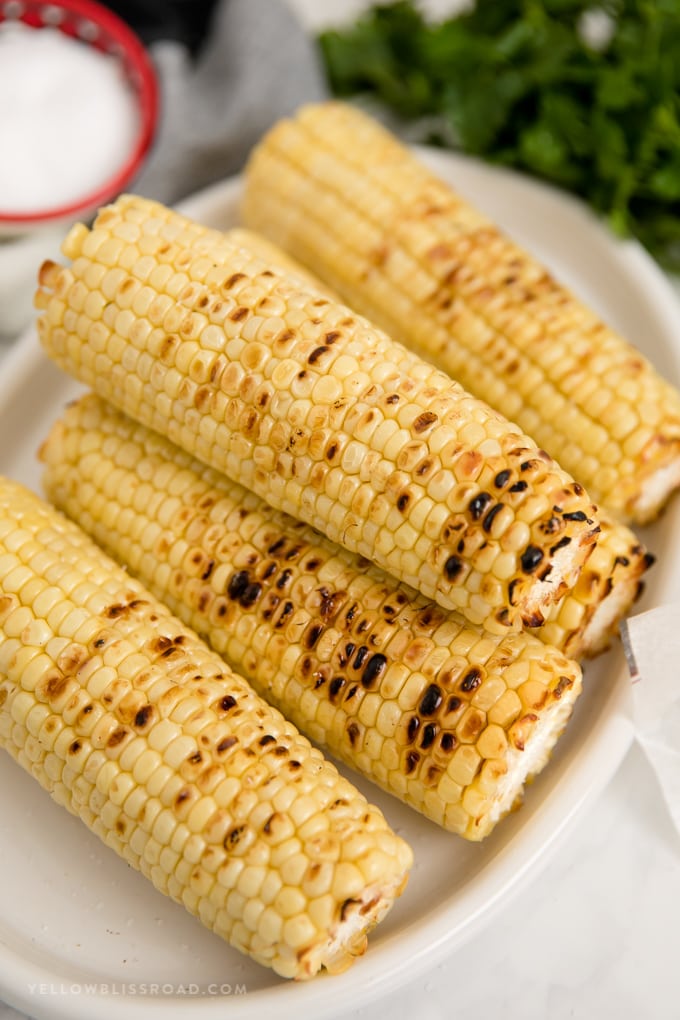 PERFECT GRILLED CORN!
I love this method because it tastes delicious, and it's super easy. I can prep a salad or gather up other meal elements for the grill while the corn is cooking in the microwave, then take it out with everything else I'm grilling. I get a quick cook method that still has that smoky charred flavor we love.
How to boil corn
Fill a large stock pot with water, bring it to a boil and add a generous amount of salt. husk the corn and remove all of the silk. Drop the ears in the boiling water, cover the pot and bring it up to a boil again. Turn off the heat and remove the ears for serving. Any corn left can sit in the hot water for up to ten minutes i case anyone wants seconds.
Serving Suggestions
Corn on the cob is delicious with just a little butter and salt. But there are a few other ways to dress up your cobs.
Mexican Street Corn (Elote) – Slather corn with mayonnaise and sprinkle with chili powder, cotija cheese and cilantro. Serve with lime wedges.
Garlic Butter and Parmesan cheese
Greek yogurt, fresh mince parsley and crumbled Feta cheese
Bacon wrapped corn on the cob – Wrap a slice of bacon around an ear of corn, then wrap that in foil. Grill for 20-25 minutes.
Make it sweet and spicy with a spread of hot pepper jelly.
What to do with leftovers
If you have leftover corn on the cob, I recommend cutting the kernels off of the ear and reserving them in an airtight container or bag. They will stay fresh for several days and you can serve as a side dish, or toss in a salad or soup. You can also freeze corn kernels in a freezer bag for up to 6 months. Use this handy Corn Peeler for removing the kernels from the ears of corn.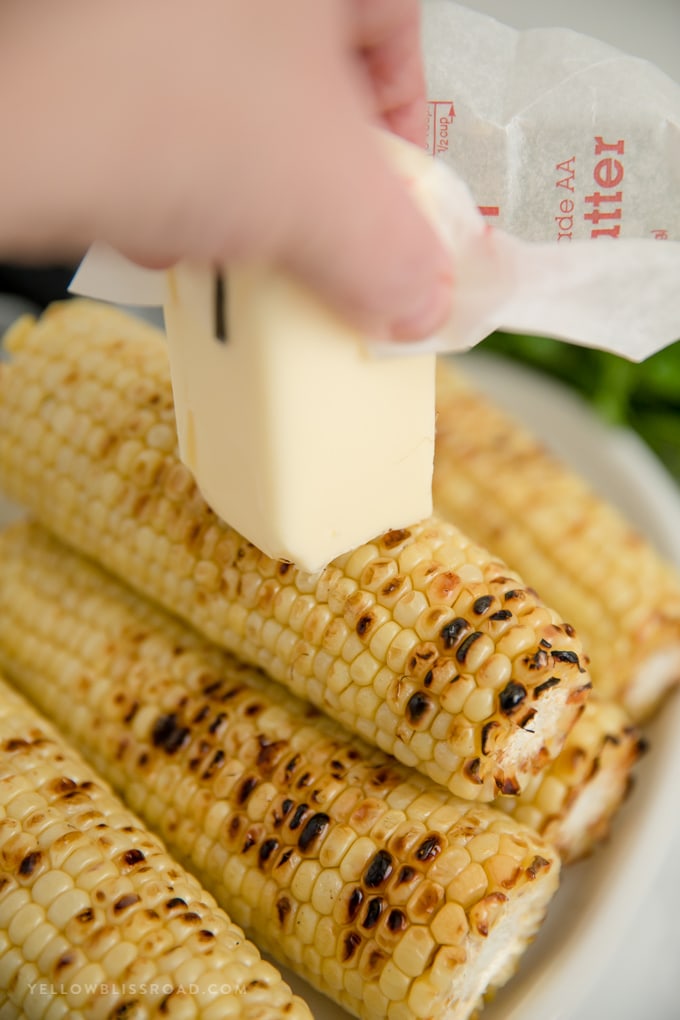 Love grilling as much as we do? Try these other grilled recipes: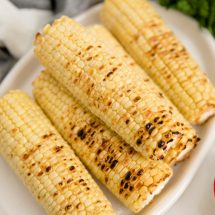 How to Cook Corn on the Cob (Microwaved and Grilled)
Perfectly cooked corn on the cob using a two-step microwaved and grilled method. 
Print
Pin
Rate
Prep Time: 5 minutes
Cook Time: 20 minutes
Total Time: 25 minutes
Servings: 6 servings
Calories: 77kcal
Ingredients
6 ears Unshucked corn on the cob (husks and silk still in tact)
Butter
Salt
Instructions
With the husks still fully sealed, rinse the corn to remove any dirt. Trim excess silk from the top with kitchen shears.

Place corn, still in the husks, in the microwave. Make sure the turntable can still spin. I can usually get up to 6 ears in my microwave, but size and space will vary. You may need to do this in batches.

Microwave on high for 3 minutes per ear, or 2 1/2 minutes per ear if you plan to grill. 

Carefully remove corn from the microwave and transfer to a cutting board. It will be very hot.

Slice the bottom ends off with a sharp or serrated knife, and gently squeeze the silk end. The corn should easily slide out. If it doesn't, check to make sure you have completely sliced off the husk at the end. 

Serve hot, with butter and salt for flavor. 
To Grill:
Butter and salt the corn, then place microwaved corn with the husks removed on a hot grill (set to medium-high temperature). Grill for about 5-7 minutes, turning a few times to ensure even charring.

Serve hot and with additional butter and salt if desired.
Nutrition
Calories: 77kcal | Carbohydrates: 17g | Protein: 3g | Fat: 1g | Saturated Fat: 1g | Sodium: 14mg | Potassium: 243mg | Fiber: 2g | Sugar: 6g | Vitamin A: 168IU | Vitamin C: 6mg | Calcium: 2mg | Iron: 1mg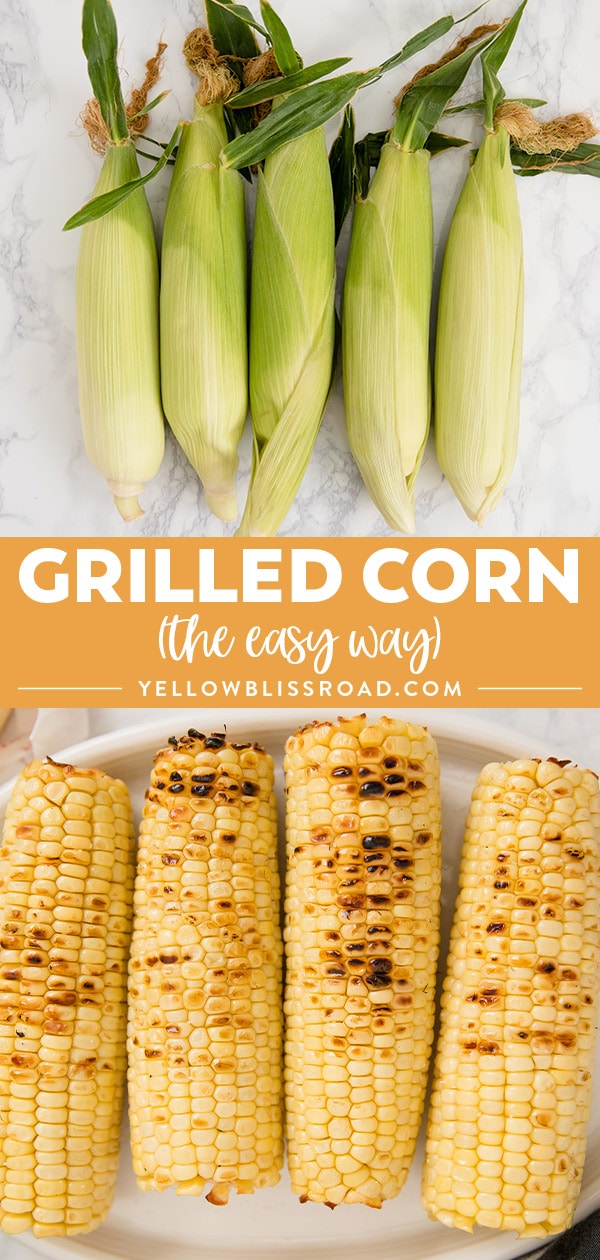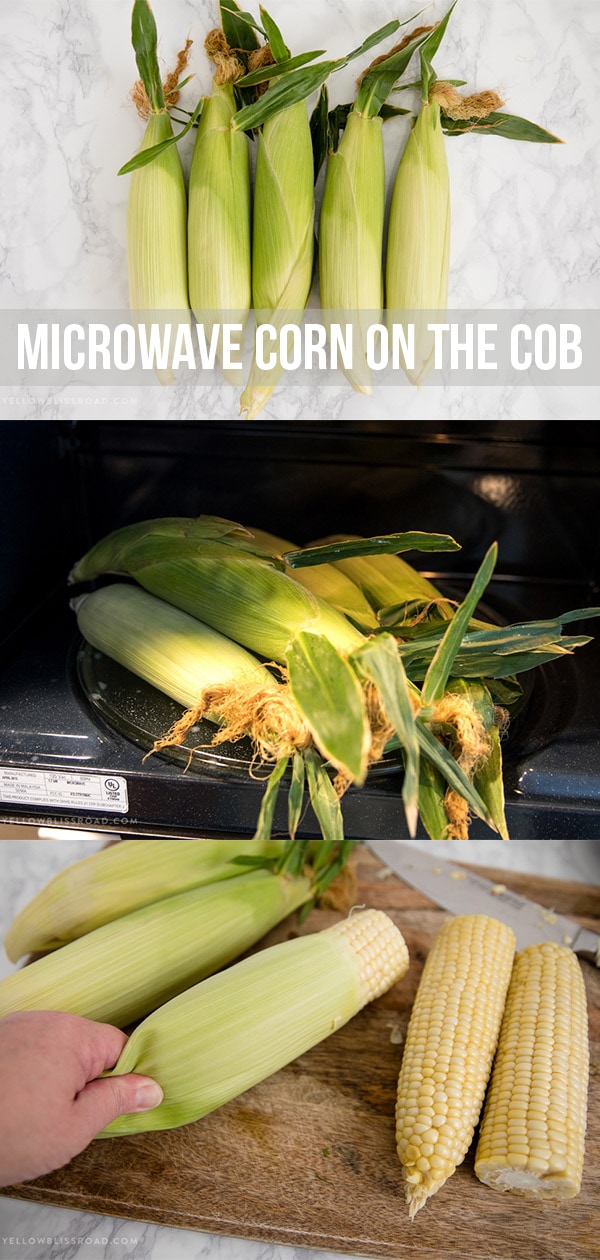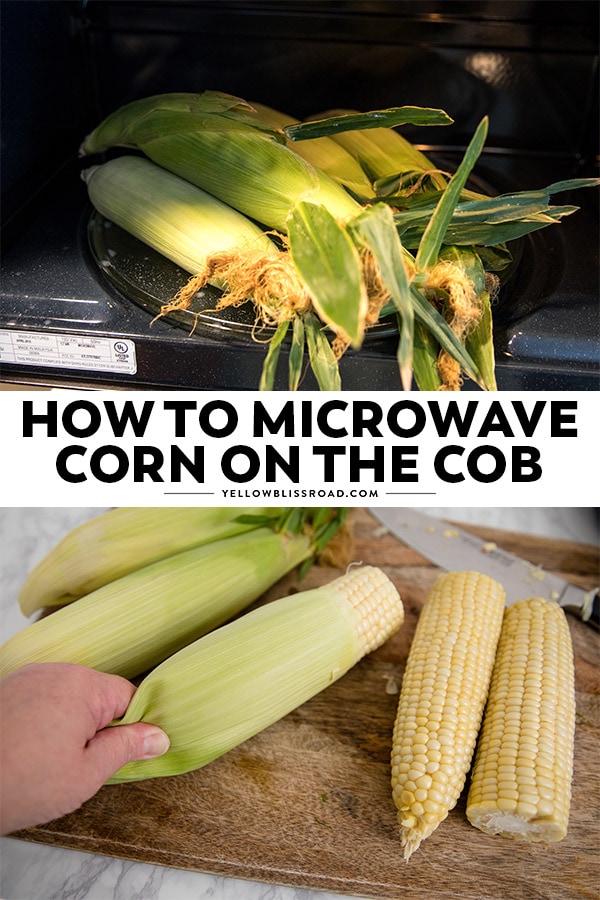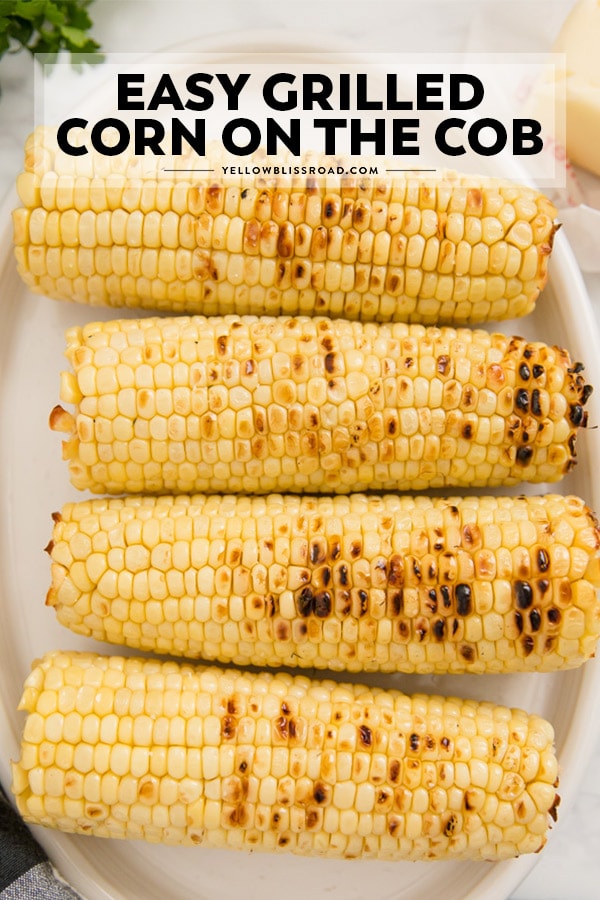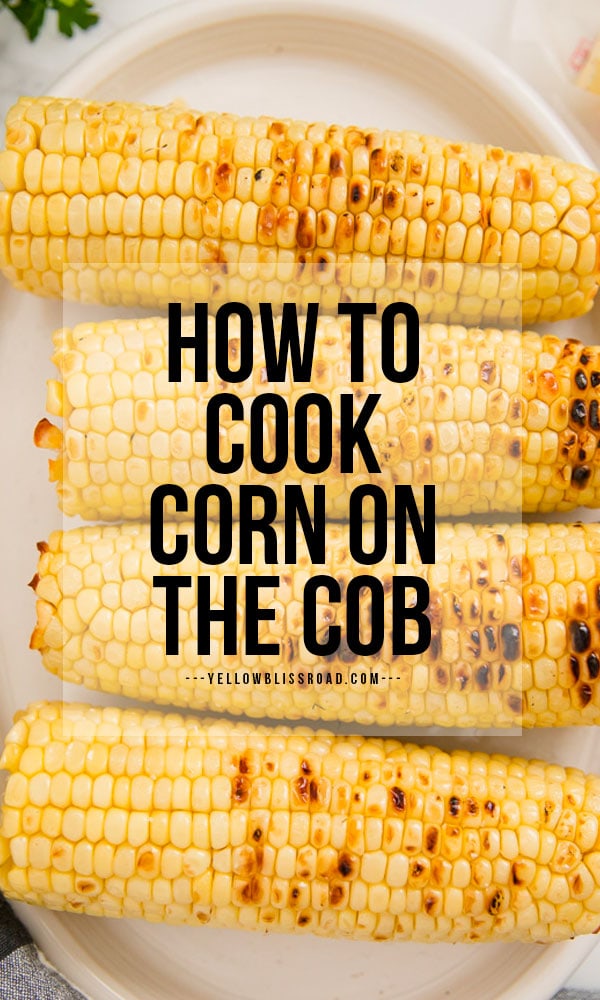 Hi! I'm Kristin, the creative mind behind Yellow Bliss Road where you will be inspired by tons of easy to follow recipes, lots of free printables, and a little sprinkling of life thrown in for good measure.