Elote is the most delicious way to eat corn on the cob – grilled and smothered with creamy mayo and topped with chili powder, Cotija cheese, cilantro, and lime. This Mexican Corn recipe is super simple and a real crowd pleasing side dish for BBQs, parties, and picnics.
Mexican-inspired recipes make their way onto our menu weekly. Elotes make an amazingly simple side dish, but we have some equally delicious main courses to serve it with, like Chicken and Rice Stuffed Peppers, Mexican Sopes, and Carne Asada Street Tacos.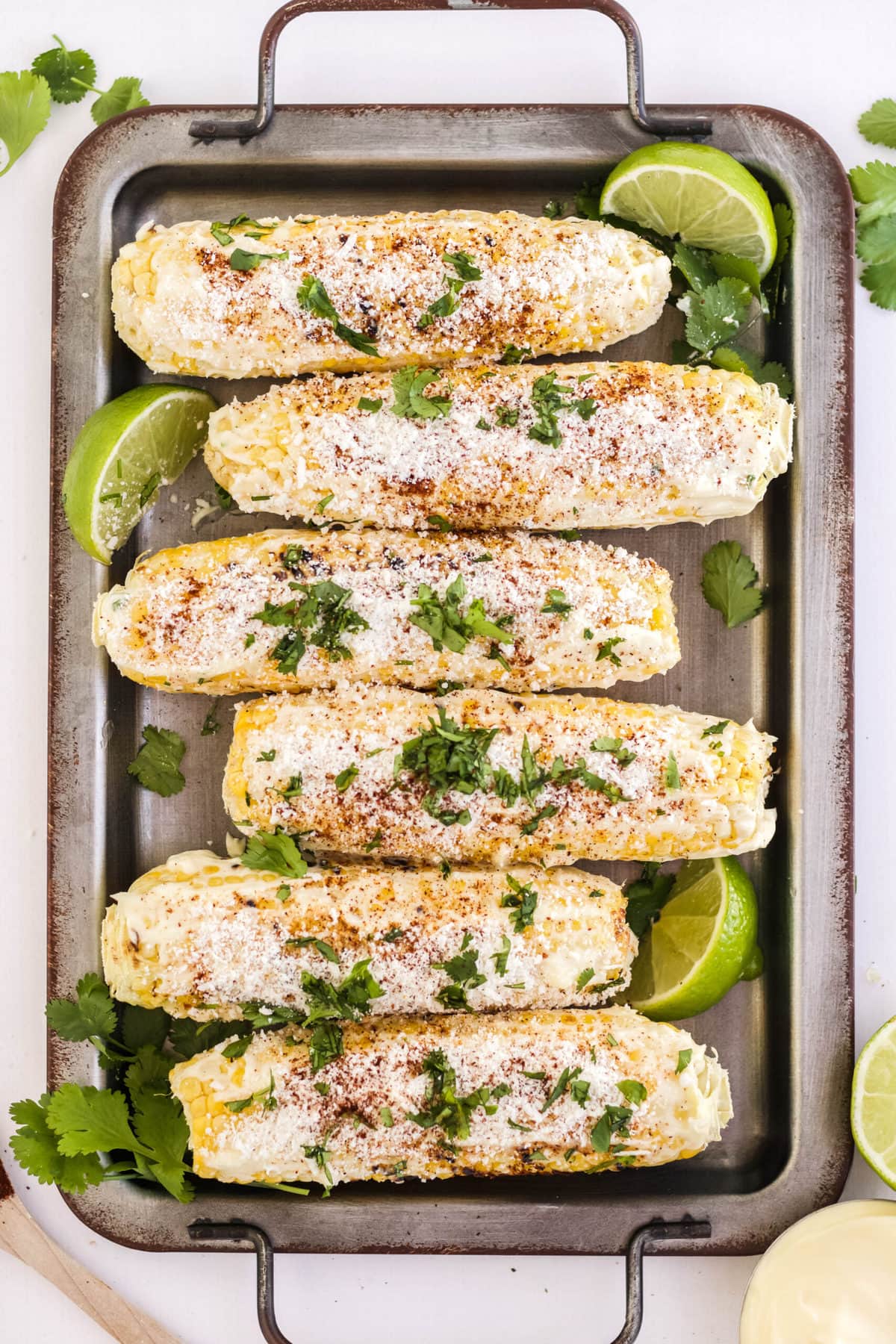 The first time I tasted those crunchy golden kernels with that spicy, creamy spread, was from a booth at our annual street fair. It was so good that I ate my 1 ear and went back for 2 more. I couldn't get enough.
I know that mayonnaise spread on corn doesn't exactly sound like the best but I promise you it totally is! And all you have to do is follow this recipe and you'll be transported to the streets of Baja, spending your pesos on a juicy, mayo drenched ear of corn and your life will never be the same!
What is Elote?
Elote means "corn cob" in Spanish. This Mexican Corn recipe is a delicious handheld snack commonly found at Mexican street markets. Ears of corn are grilled then spread with tangy mayo and topped with chili powder, cotija cheese, and fresh cilantro.
How to Make Mexican Corn
Choose your corn. If you can get your corn from a farmer's market that's where it will be the freshest. But choosing fresh cobs at the grocery store isn't difficult. Look for a bright green husk that's wrapped tightly around the corn and slightly damp. Yellow or dry husks are a no-go.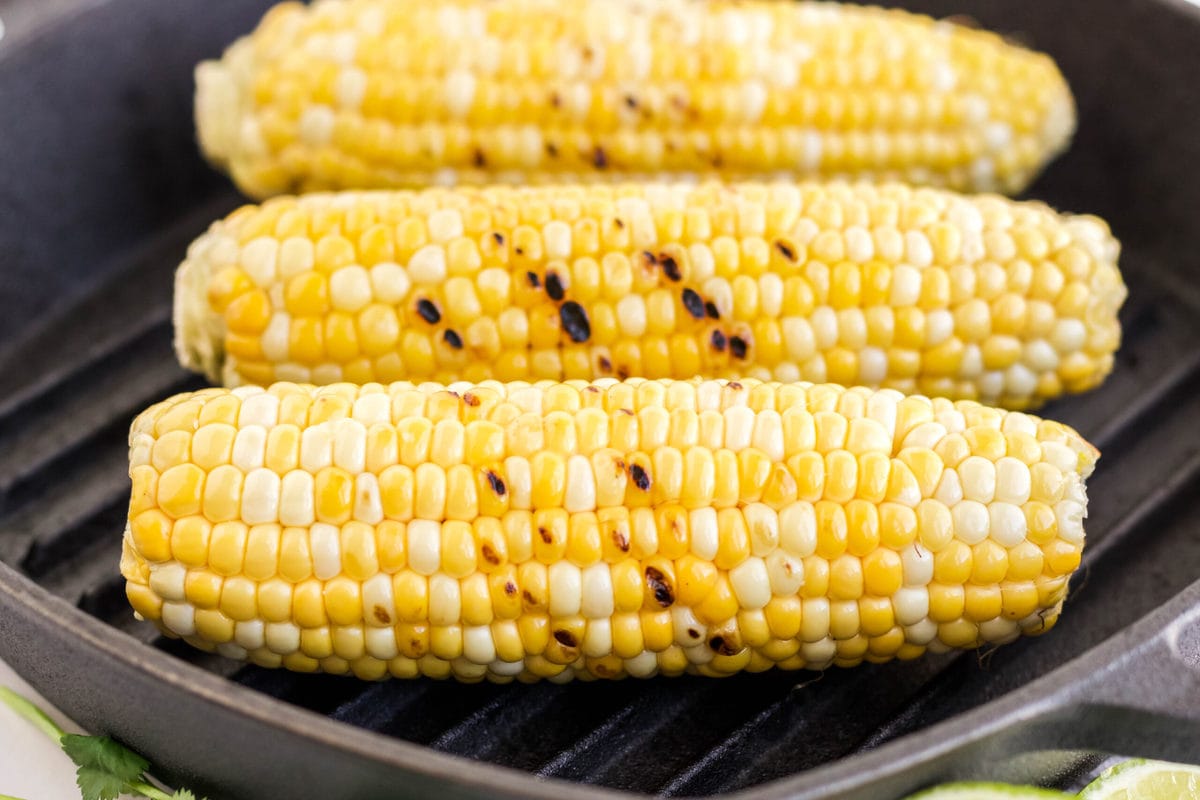 Preheat your grill. If you're one of the lucky ones to live in a warm climate year-round, you can do your grilling outdoors. But an indoor grill will give the same smoky char and that's the most important. Grill the corn for about 10 minutes, constantly rotating to get an even char.
If you don't have a grill, you can microwave or boil your corn in a pinch.
Sauce 'em up. Spread mayo all over the corn, sprinkle with chili powder, cotija cheese, and cilantro and serve.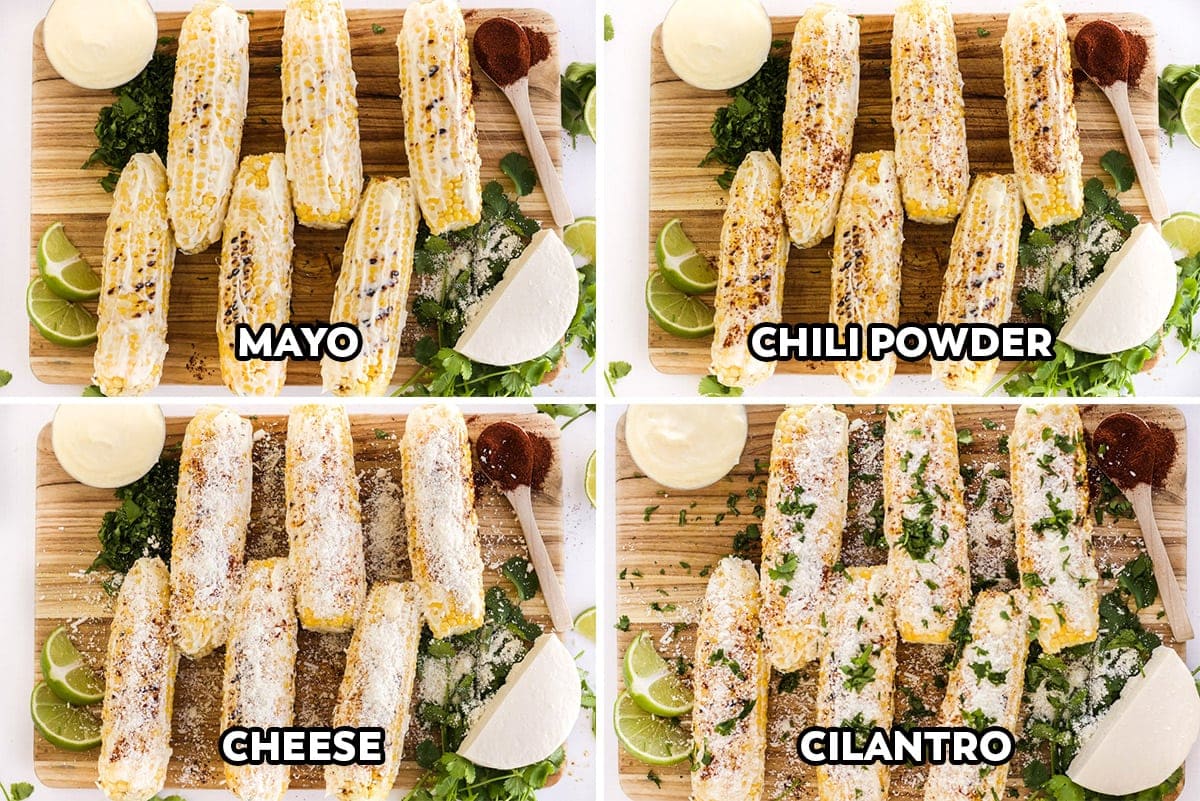 Make Ahead and Storage instructions/tips
Make Ahead: If you plan on serving Mexican Elote for a party or BBQ, you can grill the corn ahead of time up to a day. Then have the toppings ready to go when it's time to serve.
Storage: Elote is best eaten fresh. The corn with the spread won't hold up well in refrigerated storage.
Substitutions and Variations
Cotija cheese – Cotija is a crumbled Mexican cheese that's very mild in flavor and most closely tastes like feta, which could be used as a substitution if you can't find cotija.
Cilantro – I am one of the 50% of people who can't stand the stuff. It's not a make-it-or-break-it ingredient, so you can omit it or use fresh parsley for freshness and color.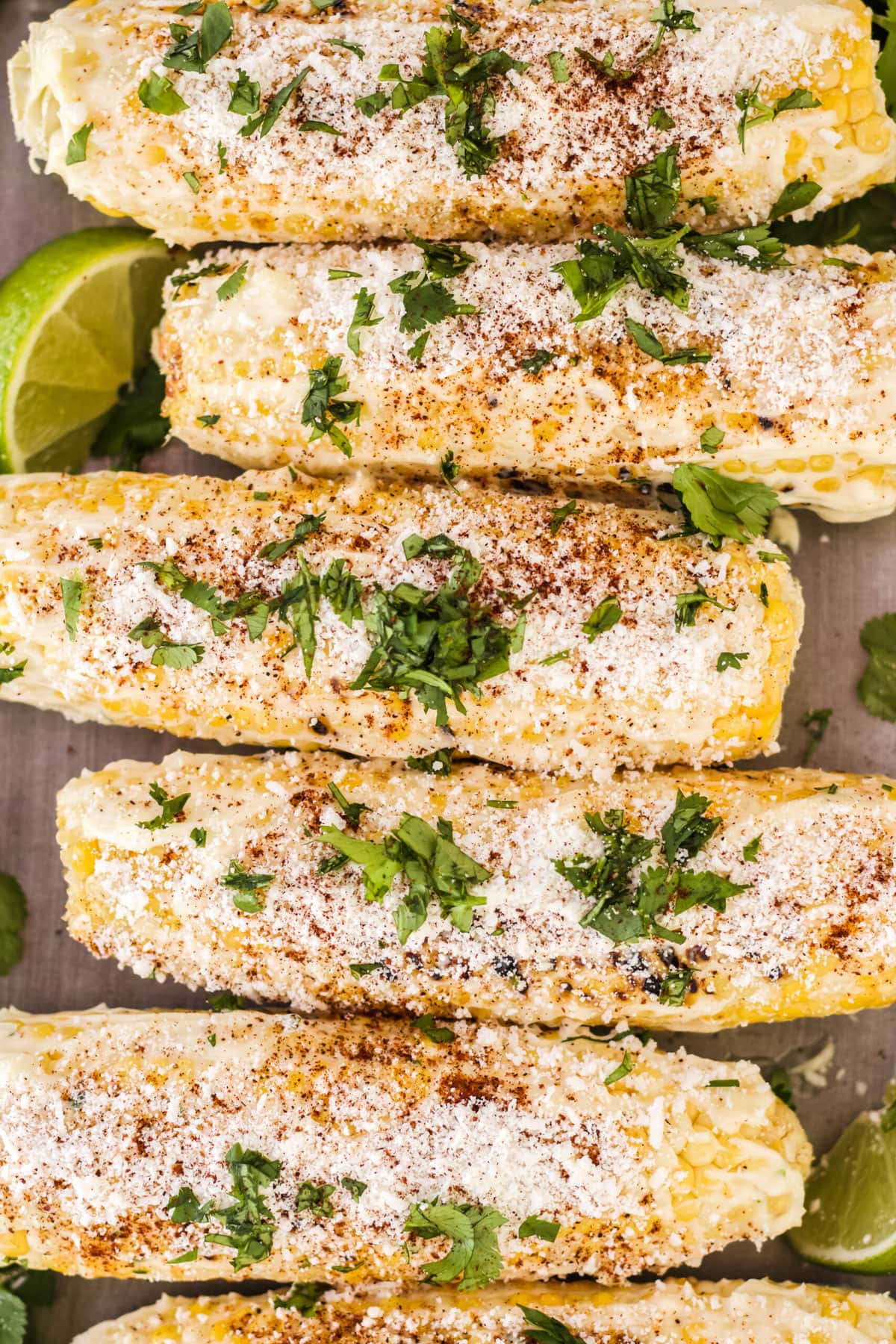 Try making a Mexican Corn Toppings bar! Include the traditional toppings – cilantro, cotija cheese, mayo, and chili powder, but add things like:
bacon
garlic
red onions
green onions
jalapenos
jack cheese
sour cream
hot sauce
Serving Suggestions
Mexican Street Corn is a fantastic side dish that really adds some great fun and flavor to your meal. It pairs well with Ground Beef Enchiladas, Homemade Taquitos, or just a simple Baked Chicken Breasts. Serve it as an additional side along with your traditional Mexican Rice and Refried Beans.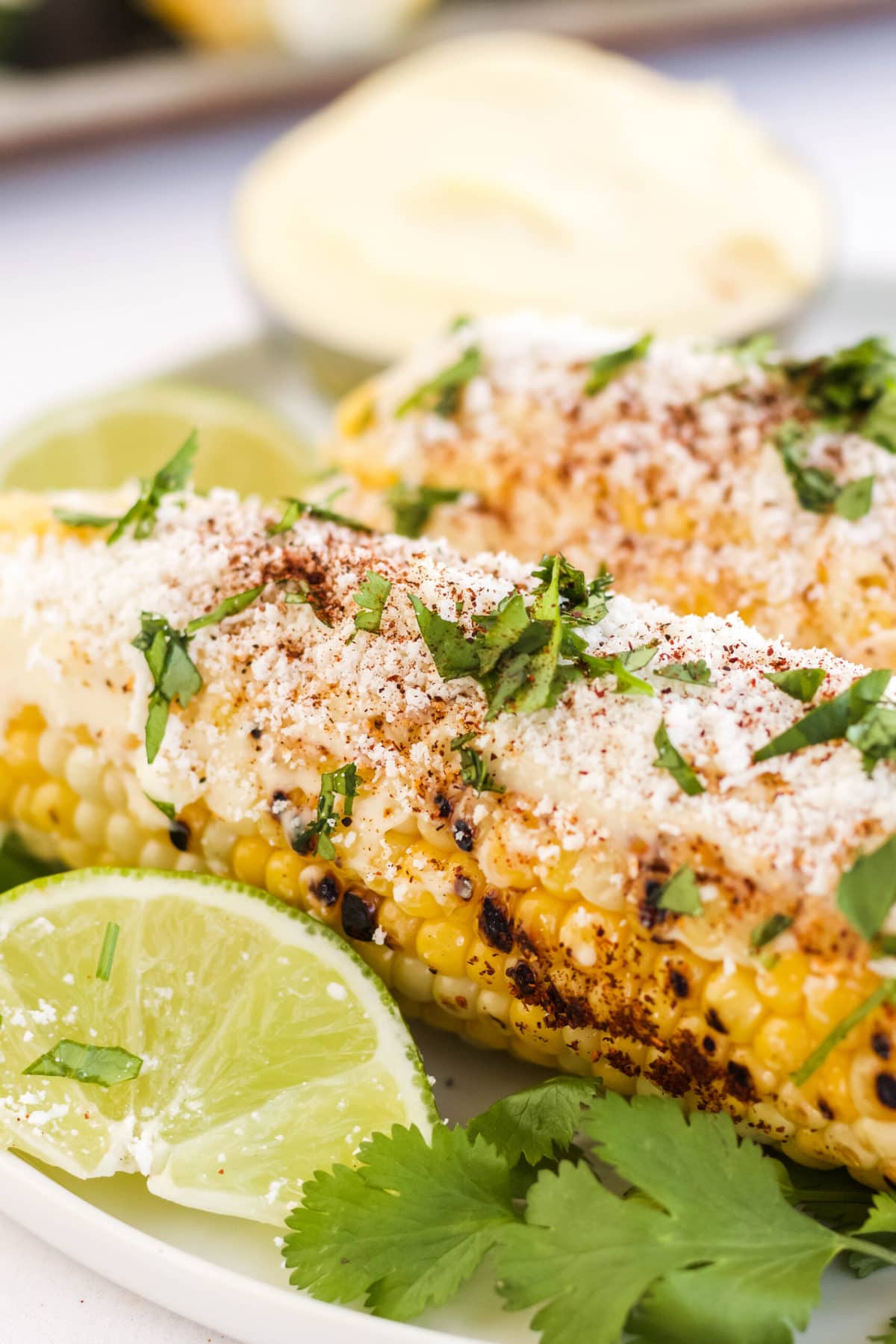 More Mexican Inspired Favorites
Recipe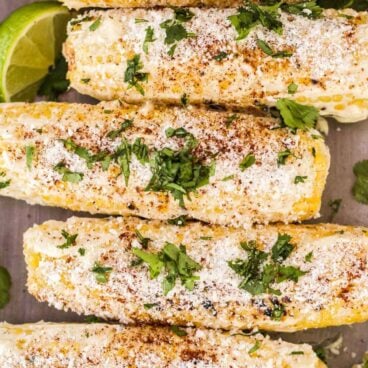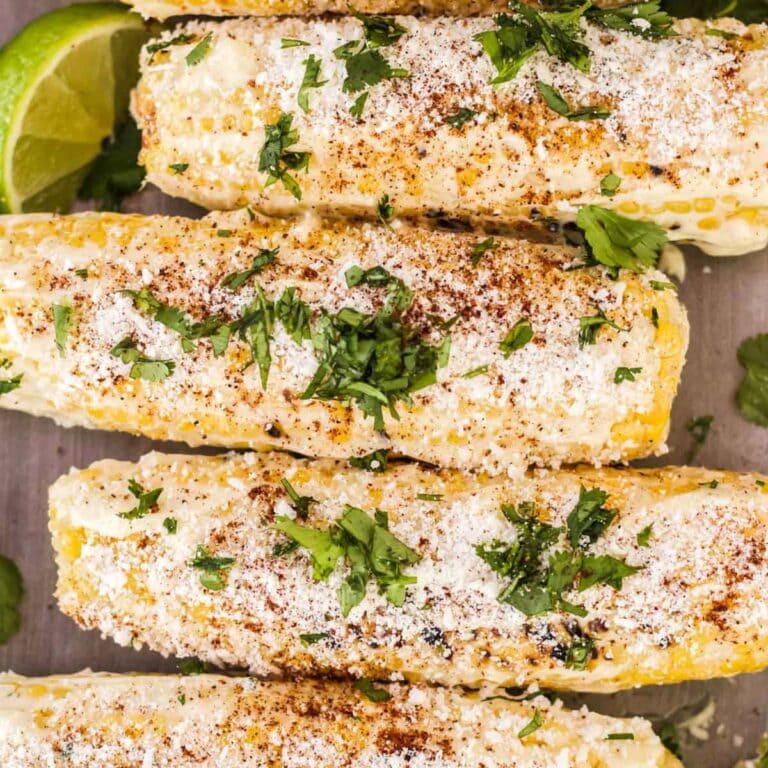 How to Make Elote
Mexican Corn (Elote) is the most delicious way to eat corn on the cob - grilled and topped with mayo chili powder, cheese, cilantro and lime.
Ingredients
6

ears of corn, husks and silks removed

½

cup

mayonnaise

1 ½

teaspoons

chili powder

1

cup

Cotija cheese, crumbled

¼

cup

fresh cilantro, chopped

2

limes, cut into 6 wedges
Instructions
Preheat your grill for indirect grilling on medium high heat. You can also use an indoor grill pan on direct medium high heat.

Place corn on a preheated grilling surface and cook for about 10 minutes, rotating often to char on all sides, until the desired level of doneness is achieved.

Remove from the grill and coat each ear with mayonnaise, about 1 tablespoon per ear.

Sprinkle about ¼ teaspoon of chili powder on each ear.

Top each ear with about 2 tablespoons of cotija cheese.

Top the ears with equal amounts of chopped cilantro.

Serve with 2 lime wedges per ear.
Notes
Traditional toppings for Elote are cilantro, cotija cheese, mayo and chili powder, but you could try adding things like: bacon, garlic, red onions, green onions, jalapenos, Jack cheese, sour cream and hot sauce.
Nutrition
Calories:
279
kcal
Carbohydrates:
21
g
Protein:
7
g
Fat:
21
g
Saturated Fat:
6
g
Trans Fat:
1
g
Cholesterol:
30
mg
Sodium:
420
mg
Potassium:
298
mg
Fiber:
3
g
Sugar:
7
g
Vitamin A:
490
IU
Vitamin C:
13
mg
Calcium:
136
mg
Iron:
1
mg