Looking for an authentic, traditional Mexican dish to serve on Cinco de Mayo? These Mexican Sopes would be perfect! As a bonus, they are gluten free and vegetarian!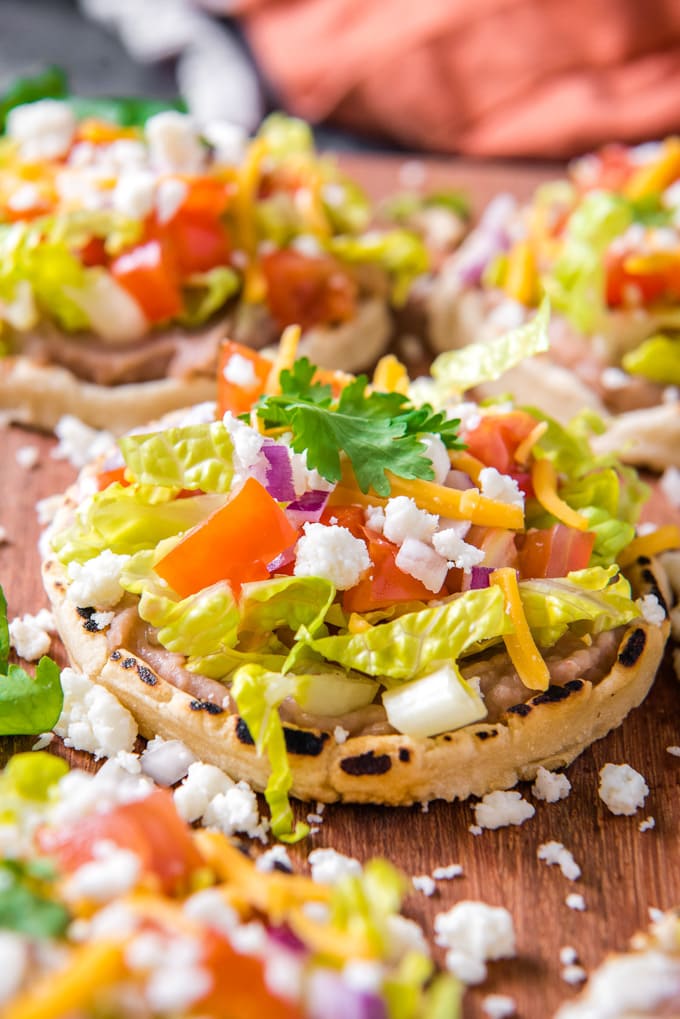 Authentic Mexican Sopes
I've mentioned before that my cousin loves to cook traditional Mexican meals, and she's quite good at it. In fact, my One Pan Mexican Chicken and Rice dish is based off of her recipe, and my super popular Authentic Mexican Rice and Slow Cooker Mexican Beans are hers as well. She lives in southern Arizona, about twenty minutes form the Mexico border, so you can get good Mexican food all over town. However, the very best dishes come straight from her kitchen!
The last time we visited, she made a meal that I hadn't had before – Sopes. Sort of like a thick corn tortillas. Only way better.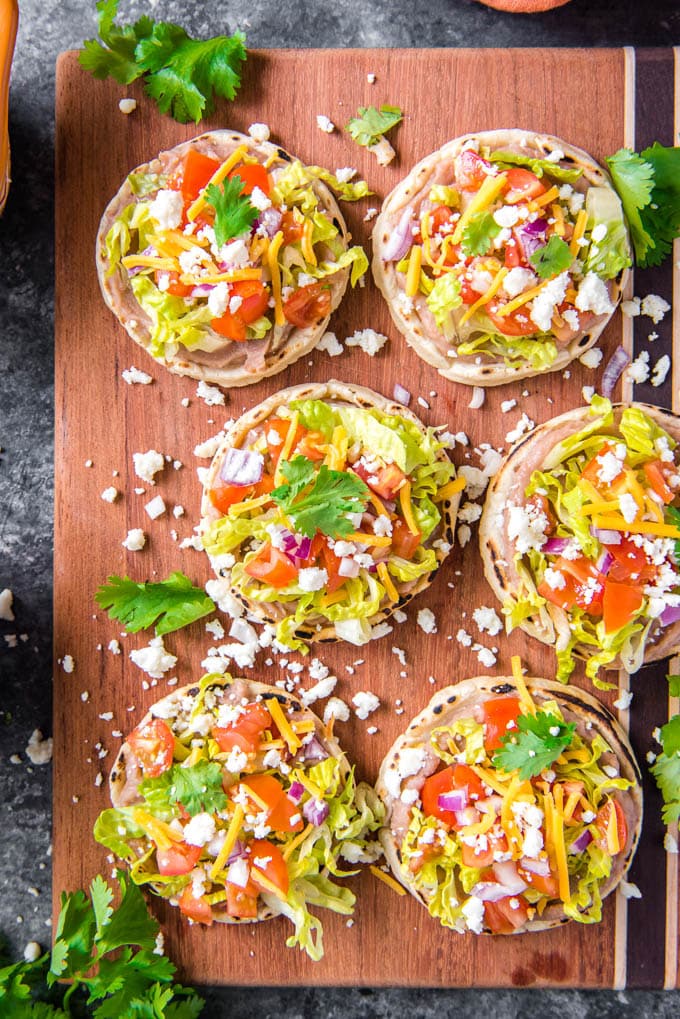 How to make Mexican Sopes
Masa and water are mixed together to form a dough, then the dough is divided into golf ball sized portions and pressed into 1/4-1/2 thick inch discs with raised sides, like a shallow cup.
The discs are then fried to perfection and topped with refried beans, meat, lettuce, cheese, and/or salsas. Traditionally a creme is added as well.
I have made these little bites of heaven a few times now and it's about as easy as it gets. 
What are Sopes made of?
Traditional sopes are made from masa and water. Masa is a corn flour that thickens when water is added. The dough is used to make tortillas, tostadas, tamales, pupusas and more.
Masa can be found in the Hispanic section of your grocery store.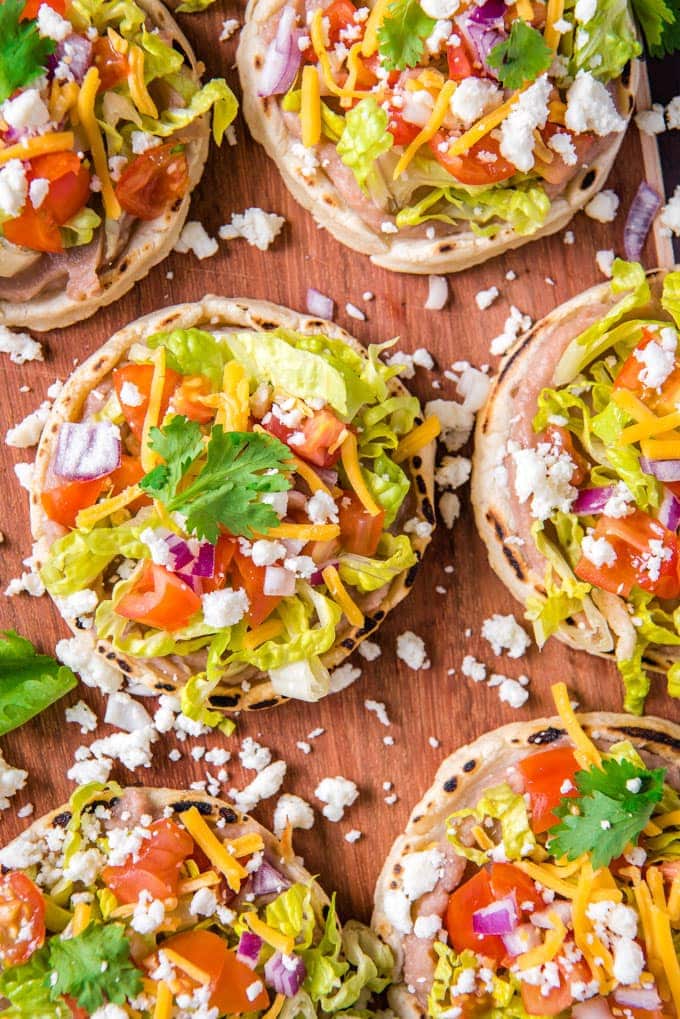 How do you serve Sopes?
Sopes are similar to a tostada, served filled with meat and vegetables. I can totally eat these thick, crunchy bowls on their own, but here are some of our favorite toppings:
Refried beans
Shredded chicken
Lettuce
Sour cream
Homemade salsa
Cotija cheese
How long do they last in the refrigerator?
Sopes will last about a week in the fridge if properly stored in an airtight container. You can freeze them for up to a month.
To reheat, place thawed sopes in a single layer on a baking sheet and bake for 10-15 minutes or until crisp.
Do Sopes have gluten?
Sopes are made from Masa, which is corn, and they are completely gluten free! Of course you'll want to take caution with the oil you use for frying and the topping you select.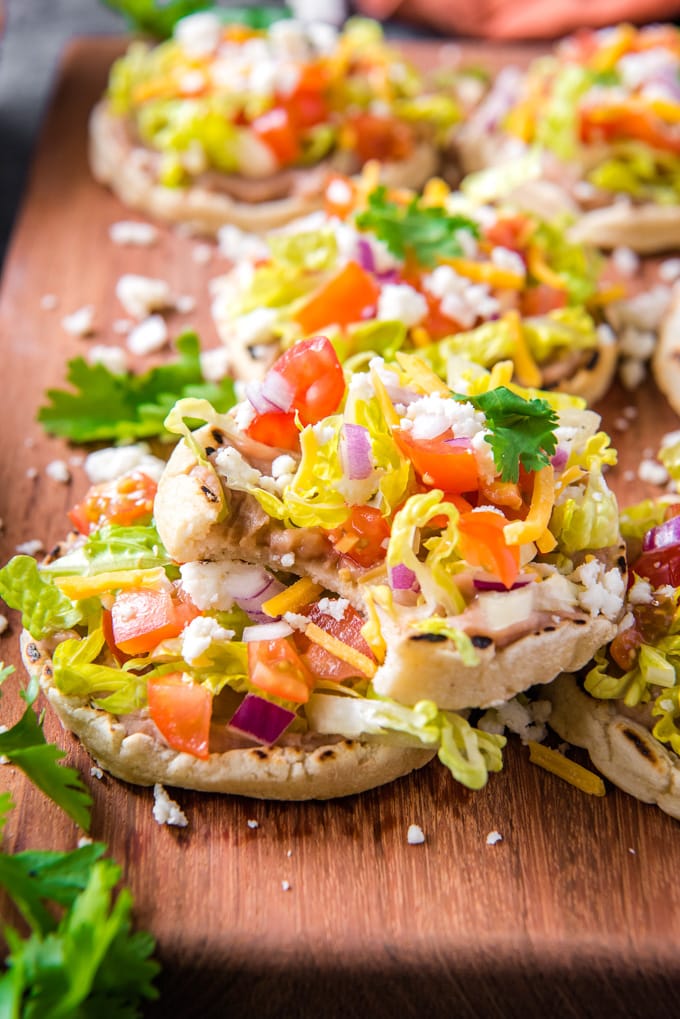 You might also enjoy these delicious meals
For all Mexican recipe, go here. For all dinner recipes, go here.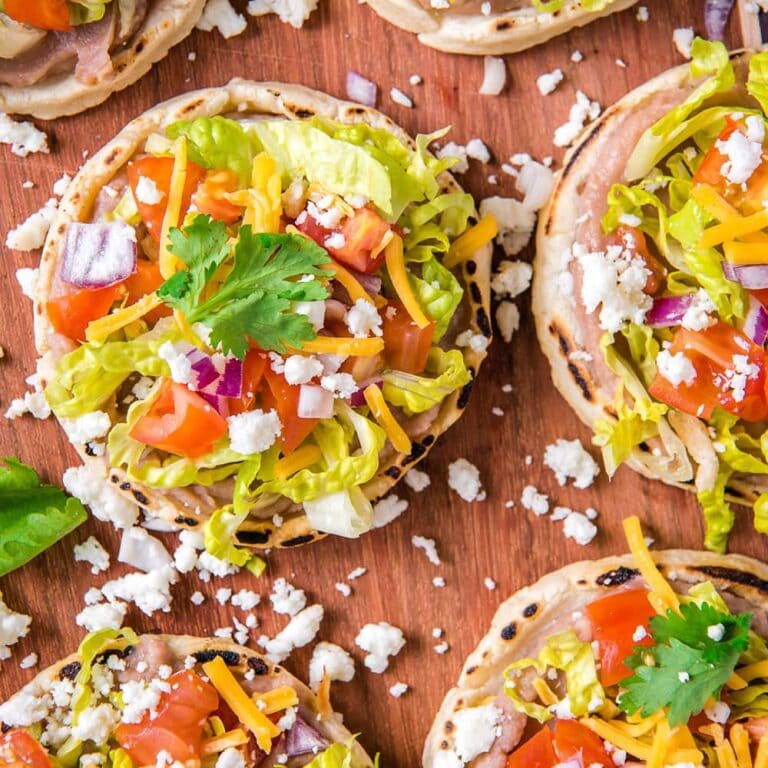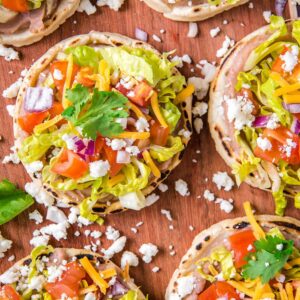 Mexican Sopes
Authentic Sopes are a traditional Mexican dish that's perfect for Cinco de Mayo! Top them with beans, meat and vegetables for a delicious snack or meal.
Ingredients
1 1/2 cup masa
1 cup warm water
1/2 tsp salt optional
Cooking Oil
Toppings: refried beans shredded lettuce, cheese, salsa, etc.
Instructions
Stir the masa, salt and water together until a dough forms. With lightly floured hands, knead the dough for a few minutes.

Divide the dough into golf ball sized portions and roll unto a ball shape.

Press each ball lightly between your hands and then use your fingers to flatten into a 3-inch disc. The dough should be between 1/4 to 1/2 inch thick. Pinch the edges all around the outer edge of the disc to create a raised edge. Keep extra dough in the bowl covered with a wet paper towel to keep the dough from drying out.

Heat about 1/2 to an inch of oil in a skillet over medium heat. (You will know it's ready when a drop of water sizzles in the pan).

Place masa discs into the hot oil and cook until lightly browned, turning once. The edges should be nice and crispy and the center soft.

Remove from oil and place on a paper towel lined plate.

Add toppings and serve immediately.
Nutrition
Serving: 2pieces