Homemade Pico de Gallo is a super fresh and flavorful 5-ingredient tomato salsa. Serve it as a dip with tortilla chips or as a condiment for a variety of Mexican dishes, from enchiladas to tacos and more.
Pico de gallo, also known as salsa fresca or salsa cruda, is the perfect condiment for all kinds of Mexican food. It's made with just 5 fresh ingredients: chopped tomatoes, onions, cilantro, jalapenos and lime juice.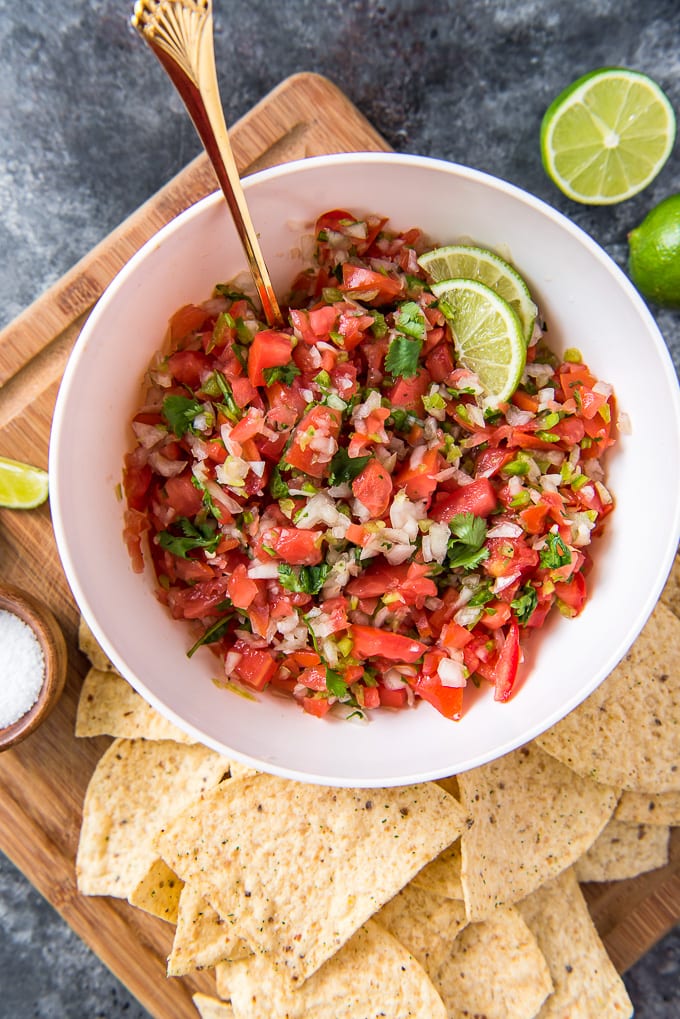 Authentic Pico de Gallo Recipe
We are Mexican food lovers in our house! We make Tacos, Authentic Mexican Rice, Guacamole and of course, pico de gallo on a regular basis.
Sometimes the best recipes really are the simplest, and that's certainly tru for this pico. No fancy ingredients, no fancy choppers, just chop, mix and serve!
What are the best tomatoes for Pico de Gallo?
I only use Roma tomatoes for my salsa recipes. They are nice and meaty with very few seeds so you don't have to do a lot of prep work. Other good options are heirloom tomatoes. Cherry or grape tomatoes are great for a sweeter, chunkier salsa and make for a really tasty pico.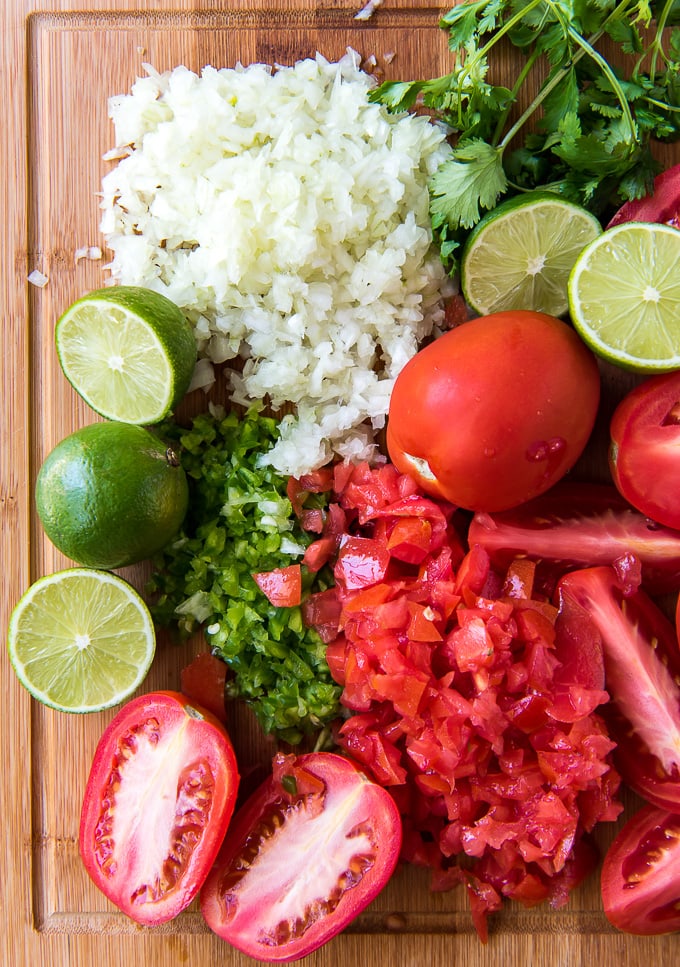 WHAT IS THE DIFFERENCE BETWEEN SALSA AND PICO DE GALLO?
Pico de gallo, also referred to as salsa freco, is a fresh, chunky Mexican condiment made with tomatoes, onions, cilantro, jalapenos, lime juice and salt. Each of the ingredients are clearly visible. Traditional salsa includes the same ingredients, but is a thinner consistency with more liquid.
how to make pico de gallo
There are not many variations on a traditional pico recipe, however you can adjust the amounts to your liking. You will need: Roma tomatoes, white onion, cilantro, jalapenos, limes and salt.
Slice the tomatoes in half and remove the seeds. Dice into small chunks. You'll get the best cuts using a small, serrated knife.
Chop the onions into small pieces, similar in size to the tomatoes.
Mince the cilantro.
Seed and dice the jalapeno into small pieces. I tend to keep the jalapeno smaller than the onion and tomato because I don't want to accidentally take a big bite of pepper.
Combine all of the ingredients in a bowl. Sprinkle with a generous amount of salt (a couple pinches to start) and squeeze fresh lime juice over the salsa, Mix again and taste. Add more salt and lime as you desire.
tips and tricks
Use ripe, red tomatoes. The fresher the tomato, the better the taste.
Don't worry about making every chop and dice perfectly the same size. This salsa is a little rustic and imperfect in all its glory.
If your salsa is too spicy, add more tomato and lime. For more heat, add another jalapeno. We prefer ours with lots of salt and lime.
Feel free to changes things up a bit and alter the flavor by adding a little garlic, some cumin or chili powder.
how to store leftovers
Pico De Gallo is best eaten the same day it is made but it can be stored in an airtight container in the fridge for up to 3 days. The longer it sits, the more mellow the acidity will become so you may want to add a fresh squeeze of lime juice to taste.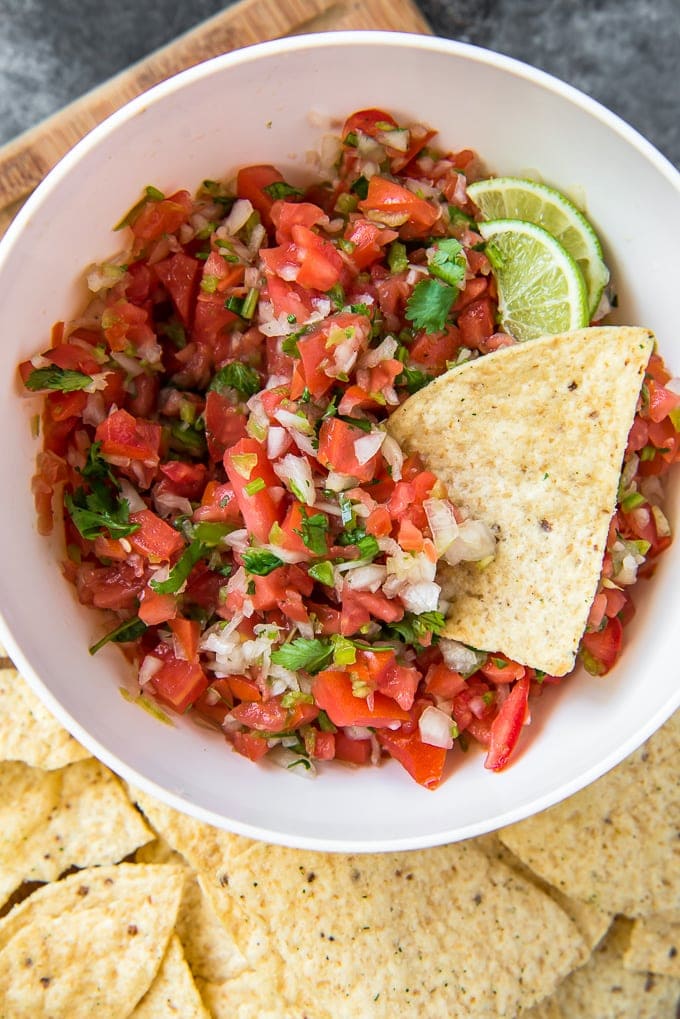 More Mexican food you'll love!
Recipe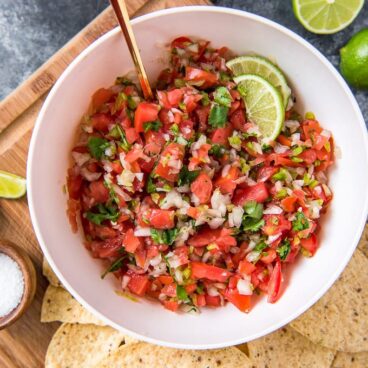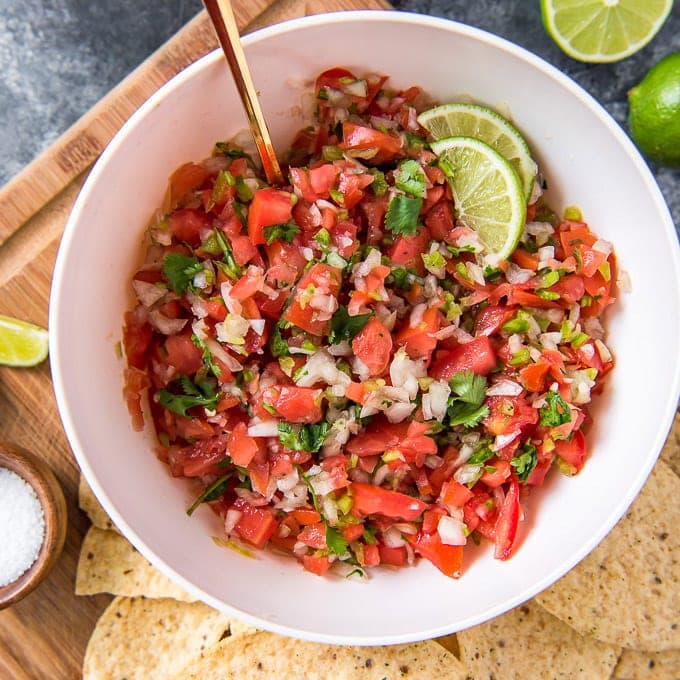 Pico de Gallo
Homemade Pico de Gallo is a super fresh and flavorful 5-ingredient tomato salsa made from chopped tomatoes, onions, jalapenos, cilantro and lime juice. Goes perfectly with all kinds of Mexican food.
Ingredients
2

pounds

of Roma tomatoes

seeded and diced

1

large white onion

finely chopped

2

medium jalapenos

seeded and membranes removed, finely chopped (use more or less for desired heat level; keep some of the membranes in tact for more heat)

1

bunch cilantro leaves

chopped

2-3

limes

½

teaspoon

salt
Instructions
Combine tomatoes, onions, jalapenos, cilantro and salt in a large bowl.

Slice limes in half and squeeze juice into the bowl. Stir to combine.

Taste and add more salt or lime as desired.

Let sit for at least 15 minutes to marinate before serving.

Serve with tortilla chips for dipping or with your favorite Mexican dishes.
Notes
This recipe should serve 6-8 people, depending on how much they eat. Nutritional information is per recipe, not per serving.
Nutrition
Calories:
42.68
kcal
Carbohydrates:
10.26
g
Protein:
1.74
g
Fat:
0.38
g
Saturated Fat:
0.06
g
Sodium:
202.82
mg
Potassium:
419.46
mg
Fiber:
2.88
g
Sugar:
5.32
g
Vitamin A:
1343.44
IU
Vitamin C:
34.1
mg
Calcium:
26.71
mg
Iron:
0.58
mg