If you've been searching for the best ever guacamole recipe, look no further! This is hands down the best recipe for fresh, healthy guacamole!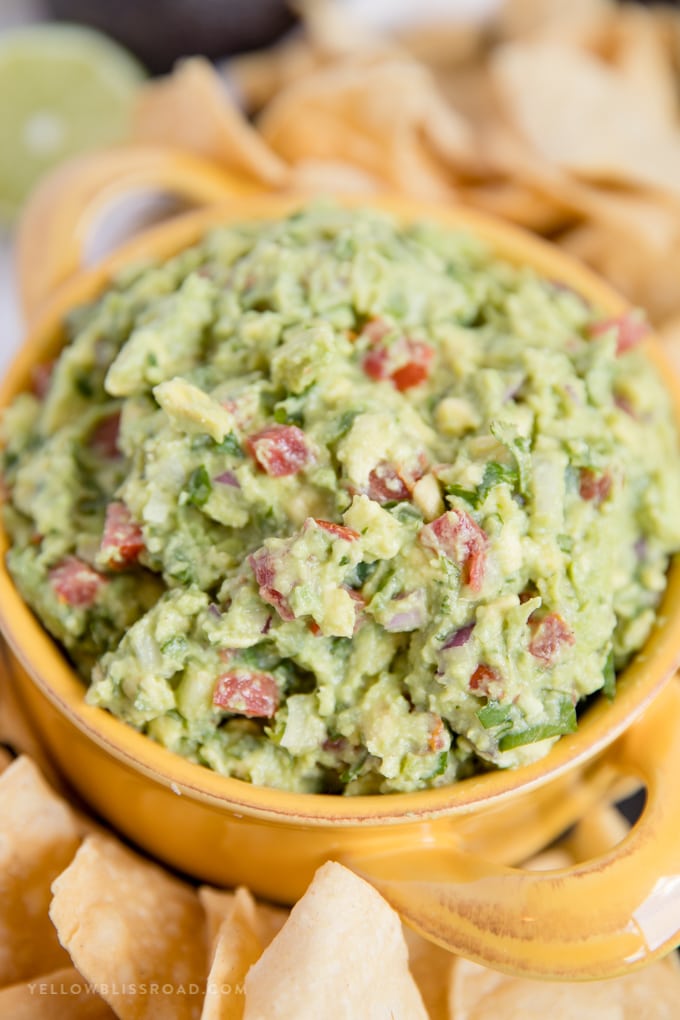 My sister used to throw the best parties – super simple with just good friends and good food. Her husband was often the cook for the event, the grill king and the guacamole master. I always hated guac until I tried his. It was love at first bite and I would watch him every time so that I could perfect my own at home.
It's been years since I've attended one of their parties, and therefore way too many years since I've tasted that guacamole. But the longing for the perfect guac recipe still lingered, and I've finally come up with THE BEST guac recipe around. I won't even eat the guac at Mexican restaurants anymore because I am completely addicted to the fresh homemade stuff. Add some homemade tortilla chips and it's pure heaven.
This recipe for guacamole is super simple, requires minimal ingredients, but the ratios here are very important for getting just the right flavor.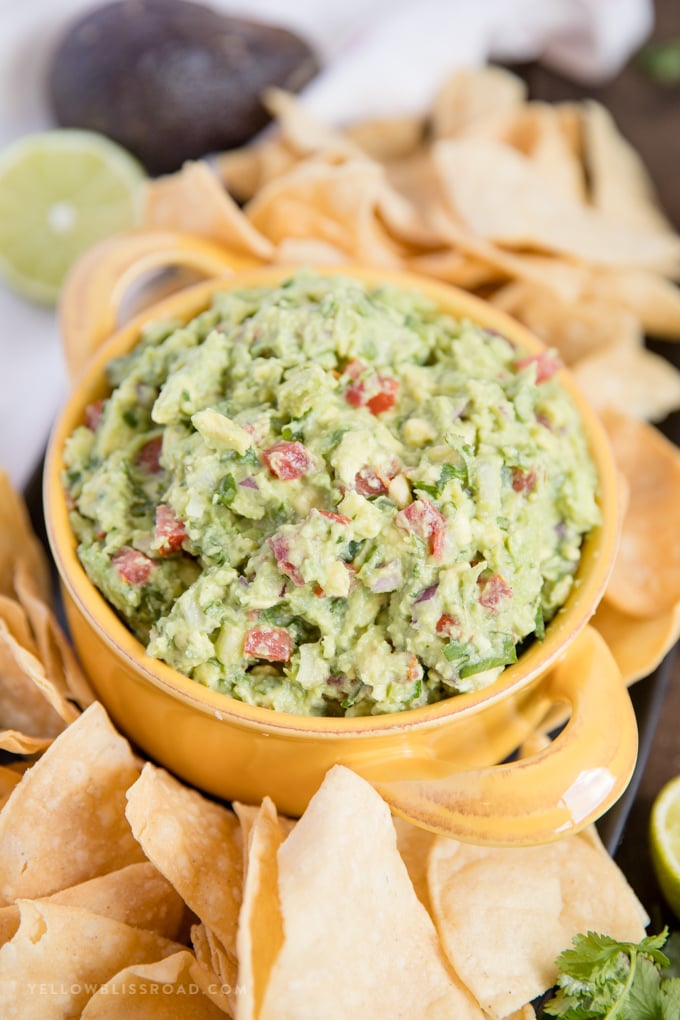 Guacamole Tips:
Know your avocados. You want Haas avocados that are nice and ripe, but not over ripe. In the store, give the avocados a little gentle squeeze in the palm of your hand (using your finger can bruise the flesh). You want the avocado to have some give to it, but still be slightly firm and not at all mushy. If all that is available are hard avocados, take those and place them in a paper bag for several days to speed up the ripening process.
Texture is important. Slice the avocados in half, remove the pit and scoop the flesh into a large bowl. You can slice it in the skin if you want, but your hands get pretty slippery and it just tends to make more of a mess than it's worth. Mash the avocado gently with a pastry cutter, potato masher or a large fork until your guac is just slightly chunky. Those chunks give your guac texture so you want them there. Make sure to finely dice the onion, cilantro and jalapenos so they will mix well with the avocado.
If you want to be a true avocado aficionado, grab yourself an avocado slicer – this is my favorite kitchen gadget! It will slice the avocado open, remove the pit and slice the flesh, all in one cute little gadget. It's totally worth the $10!

To tomato or not to tomato. My guac has chunks of sweet, ripe tomato in it and I wouldn't have it any other way. It heightens the flavor, provides an additional burst of acid and just looks pretty! There are definitely different opinions out there on this topic, so if you're not a tomato lover or you can't find ripe tomatoes, just leave them out.
Lime it up to prevent browning. Squeeze fresh lime juice over the freshly cut avocados will prevent initial browning while you add the remaining ingredients. The acid is a necessary element in your guac to compliment the creaminess of the avocado. Make sure to get your lime to avocado ratio just right – this can take some testing, but who minds that?!
Keep your guac fresh and prevent browning. Like an apple, avocados will begin to brown almost immediately as they oxidize when they are exposed to air. There are a few different ways to store your guacamole dip to keep it from browning on top. My favorite method is simple placing some plastic wrap on top and pressing it tightly on top of the guacamole, making sure all of the guac is touching the plastic wrap. You can also pour a little water on top of the plastic to keep it from lifting. To keep your guac bright green while serving, insert an avocado pit or a chunk of onion into the guac.
Is it safe to eat guacamole after it turns brown? Yes! It's safe to eat for up to three days after preparing your guacamole. Just scrape the brown layer off and enjoy!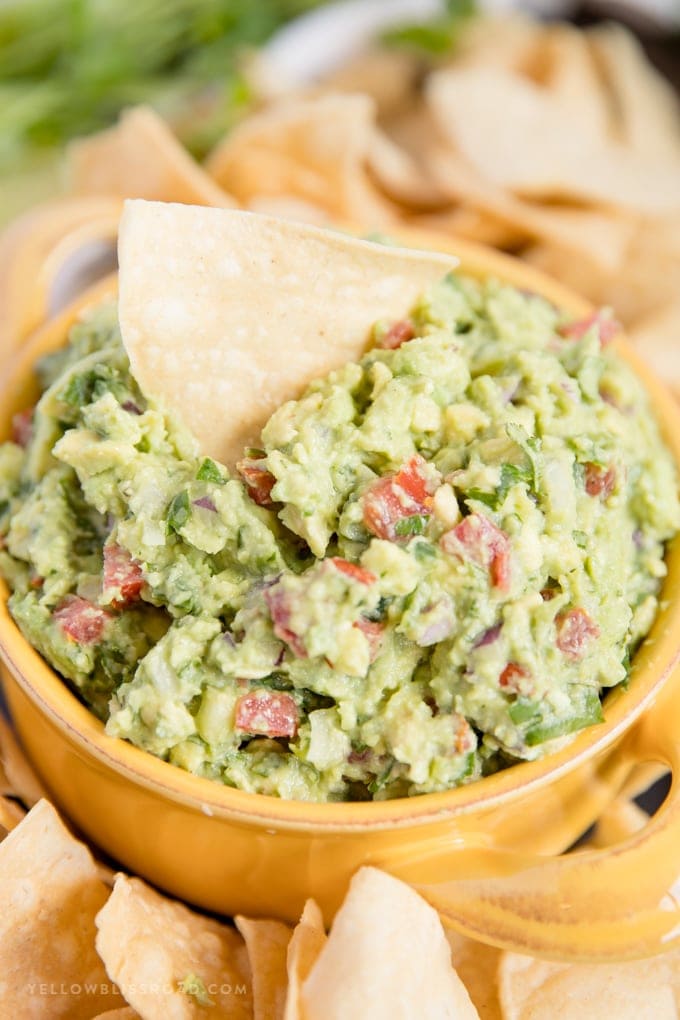 Wondering what to top with this delicious fresh guacamole? Try these great Mexican recipes: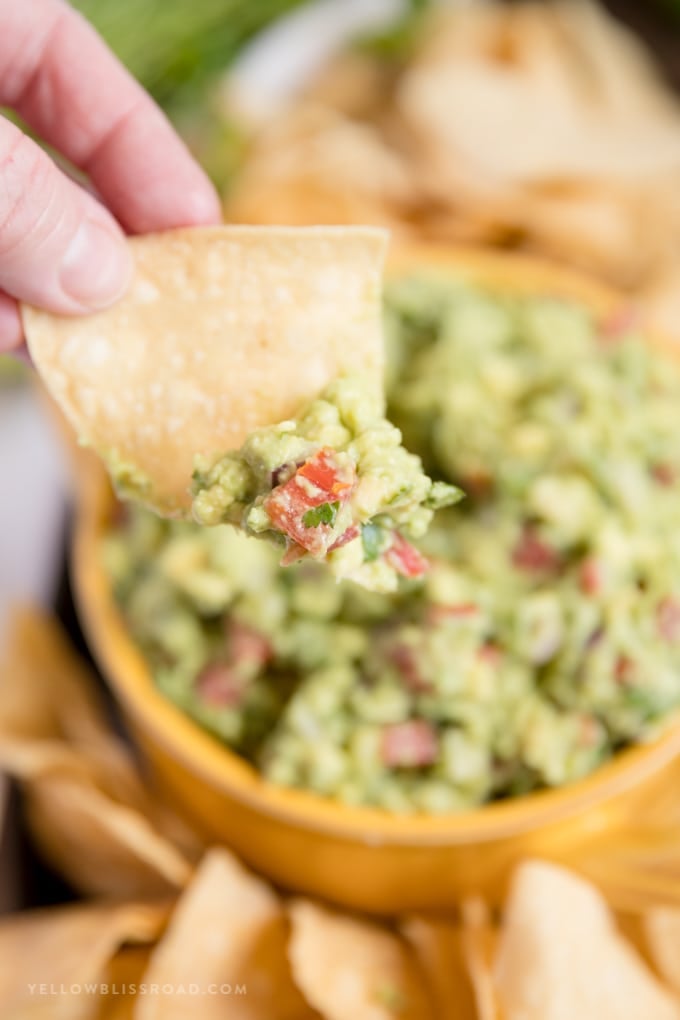 Watch this video to see how quickly this Easy Guacamole Recipe comes together!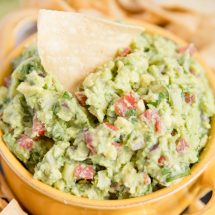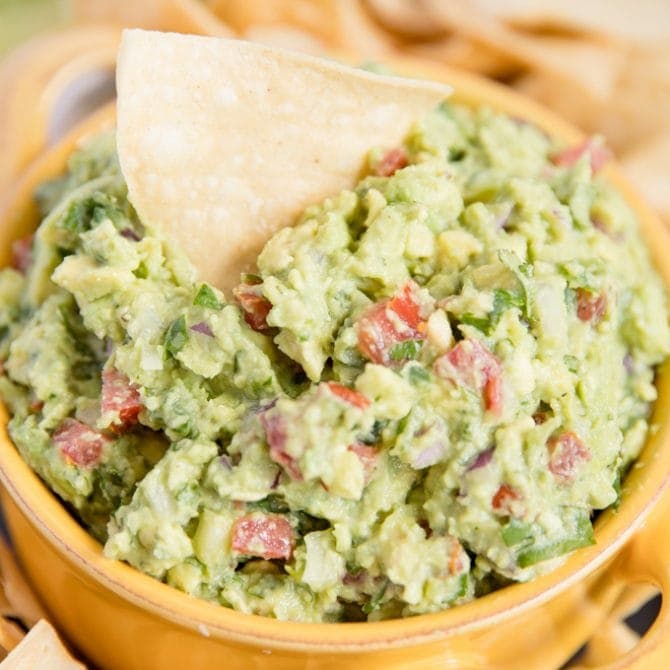 Ingredients
8 large ripe Avocados diced* (see notes)
1 lime
½ of a lemon
2 Roma tomatoes
1 small bunch cilantro minced (about ½ cup)
2 jalapenos seeds removed
½ cup diced red onion
Kosher salt
Fresh cracked black pepper
Instructions
Place diced avocados into a large bowl. Squeeze juice from half of a lime over the avocados to prevent them from browning.

Slice the tomatoes in half lengthwise and scoop out the seeds and juices, so just the firmer flesh remains.

Dice tomatoes and add them to the bowl, along with the finely minced cilantro, jalapenos and onions. Season with 1/2 teaspoon of salt and 1/4 teaspoon of black pepper and stir to combine well.

Add lemon juice, more lime juice, and salt and pepper to taste.

Serve with tortilla chips, tacos, burritos and more.

Hi! I'm Kristin, the creative mind behind Yellow Bliss Road where you will be inspired by tons of easy to follow recipes, lots of free printables, and a little sprinkling of life thrown in for good measure.