Ten Minute Oven Baked Tostadas
These crunchy Ten Minute Oven Baked Tostadas take just minutes to make and are so much better for you than frying. Add any of your favorite toppings and you've got a delicious, family friendly meal in a flash!
Having dinner on the table in under twenty minutes is always a goal for me. There are so many different simple recipes to make. Oven Baked Tostadas are one of our favorites and are on the menu at least twice a month. We usually serve them with Authentic Mexican Rice, Refried Beans Recipe or Mexican Street Corn Salad on the side.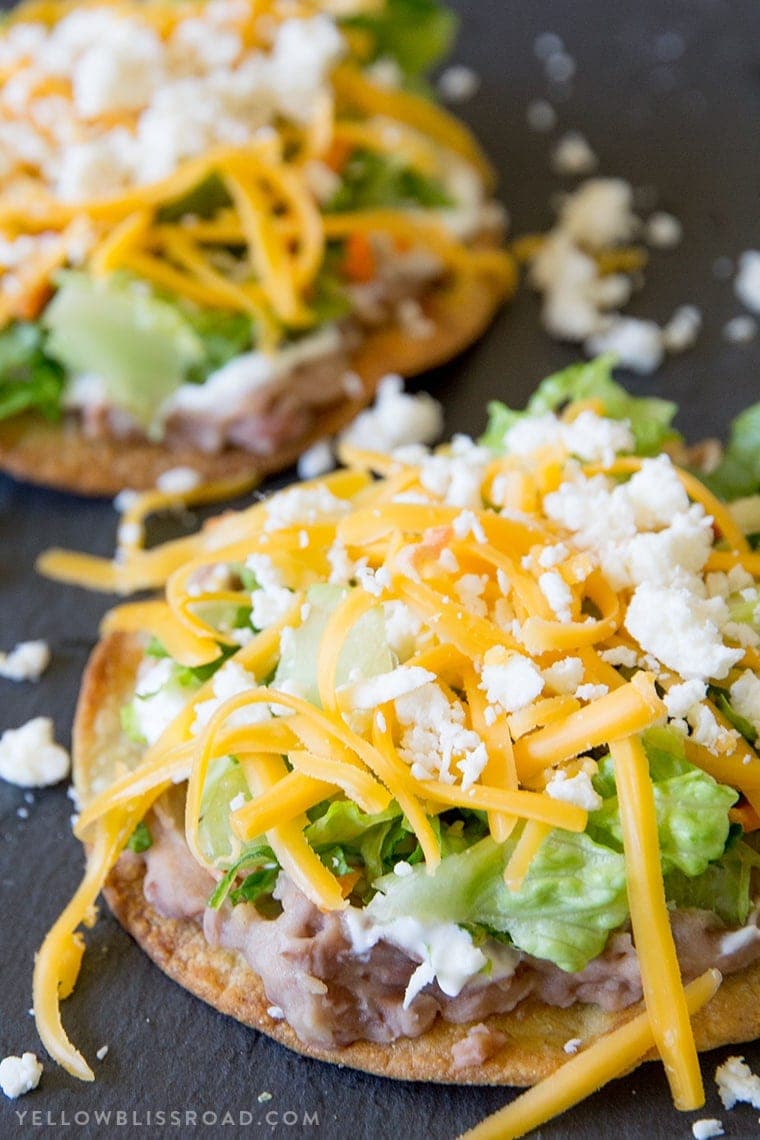 This post has been updated from 2013.
HOMEMADE TOSTADA RECIPE
Tostadas are super simple to make with homemade tostada shells or for simplicity you can buy them pre-made at the store. But since they only take a few minutes in the oven, homemade shells are the way to go!
The tostada shells can be topped with anything your heart desires – if you'd put it in a taco, you can put it on a tostada!
Best Tostada Toppings
Some of our favorite toppings for tostadas are:
Beans – make your own or grab a can of your favorite.
Shredded cheese – you can stay traditional or try something a little more adventurous like Pepper Jack or Queso Fresco.
Shredded lettuce
Diced tomatoes
Guacamole – If you love homemade, ine is amazing. Just saying.
Pico de Gallo – Simple to make and with just 5 ingredients.
Fresh corn kernels
Jalapenos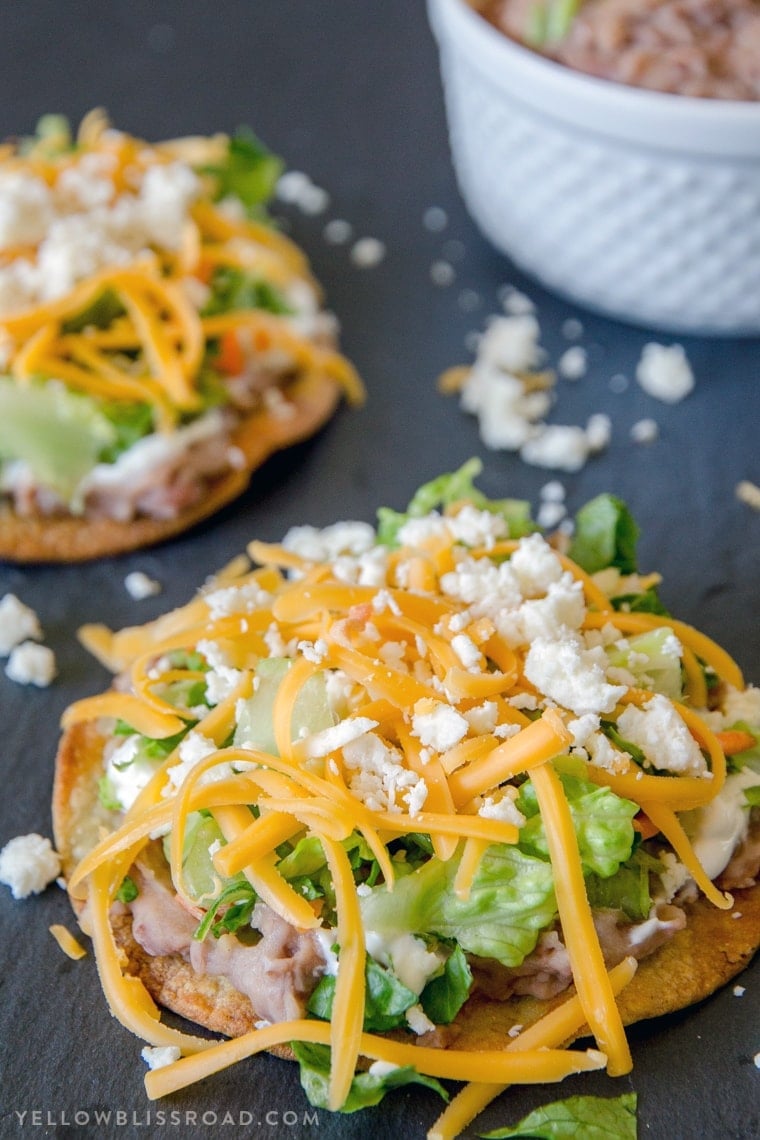 HOW TO MAKE TOSTADAS
Once the homemade tostada shells are baked and crispy, now comes the fun part! Some ideas for tostada toppings include:
Spread refried beans (try my recipe for homemade refried beans – so yummy and so much better for you!), and cheese and your favorite toppings – lettuce, tomatoes, salsa, sour cream, olives, onions…the list goes on!
For protein, we like to add slow cooker chicken, slow cooker beef, or slow cooker carnitas.
For the tostadas pictured, I used my own chopped house salad mix with romaine lettuce and shredded carrots, and both cheddar and cotija cheeses. But you can totally mix it up with the cheeses too! I mean, that's the best part – These Ten Minute Oven Baked Tostadas are completely customized to suit your tastes and your family.
HOW TO MAKE HOMEMADE TOSTADA SHELLS
Start with corn tortillas, spread out on a foil lined cookie sheet. Brush lightly with oil and sprinkle with salt (optional). I actually just drizzle with oil and then rub it all over with my hands.
Bake the tortillas in a preheated 400 degree oven for approximately four minutes per side, or until they are crispy and golden on each side. Remember that they will continue to crisp as they cool. Beautiful, right? Brown food tastes good!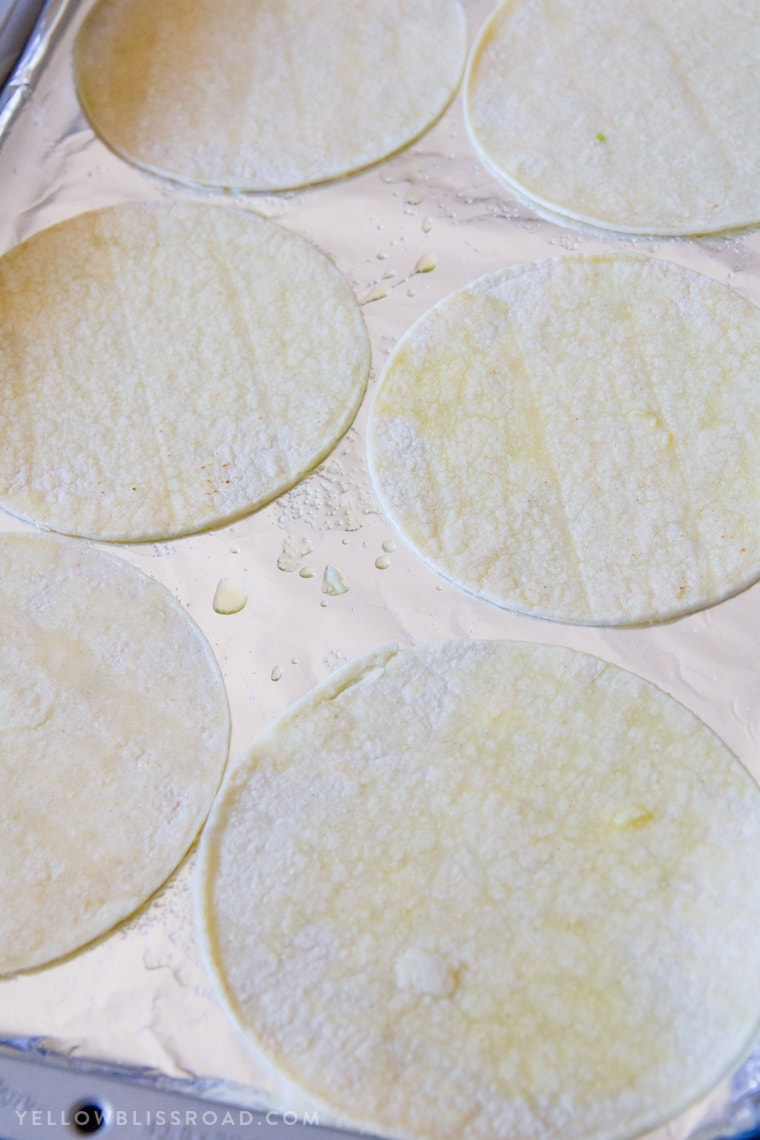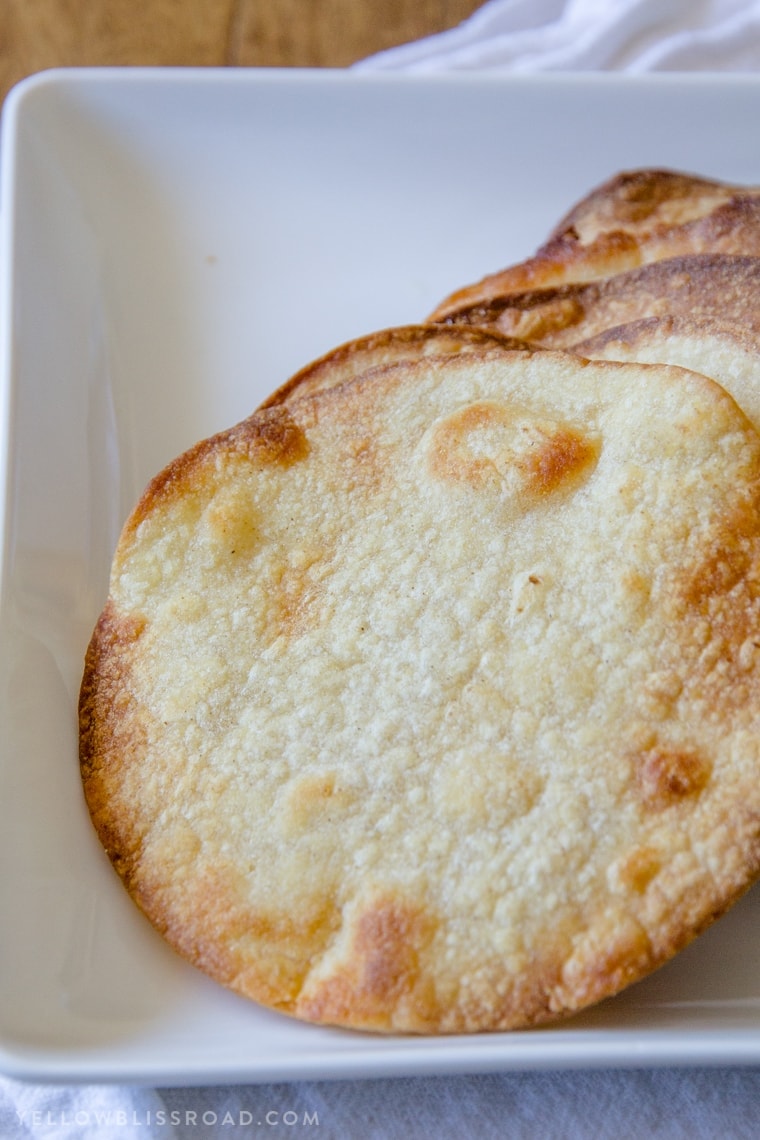 How to eat a Tostada
If you are my kids, you eat a tostada with a fork picking off all of the toppings before eating the crispy shell. However, as long as you don't pile it too high with toppings, it's very easy to simply pick up the tostada and  take a bite. Start with a small bite to avoid breaking the whole shell and collapsing the whole thing.
What to do with leftovers
When I bake up my tostada shells, I almost always bake up a few extra so I can use them later in the week. Break them up into small pieces and add them to salads or on top of a bowl of refried beans. Or break them into larger pieces for chips and salsa or nachos.
Store leftover tostada shells in a sealed airtight container at room temperature for up to a week.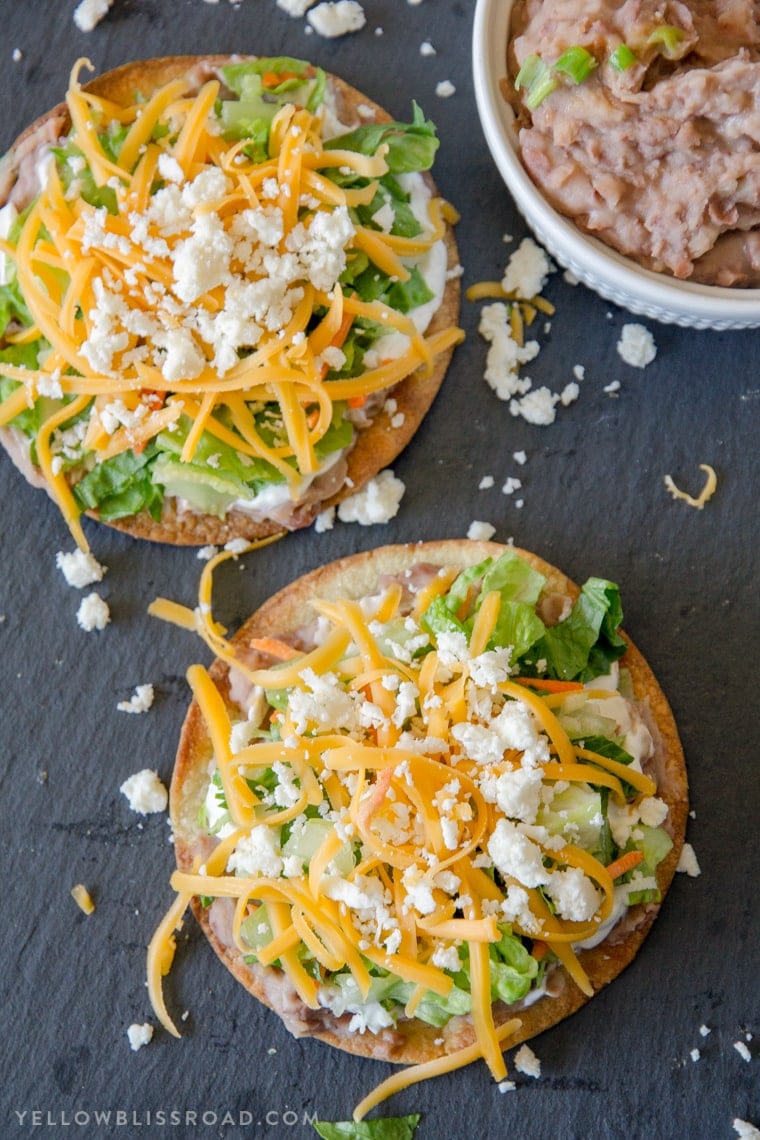 For more delicious Mexican inspired recipes, try these:
If you've made this recipe, please come back and leave us a star rating or a comment below. Or, tag us on social media @yellowblissroad or #yellowblissroad for a chance to be featured.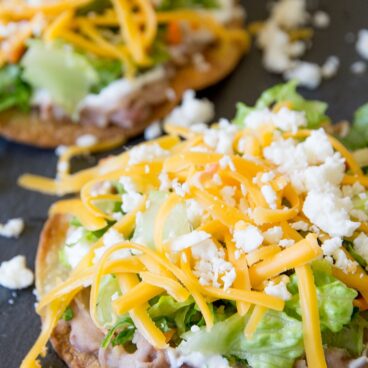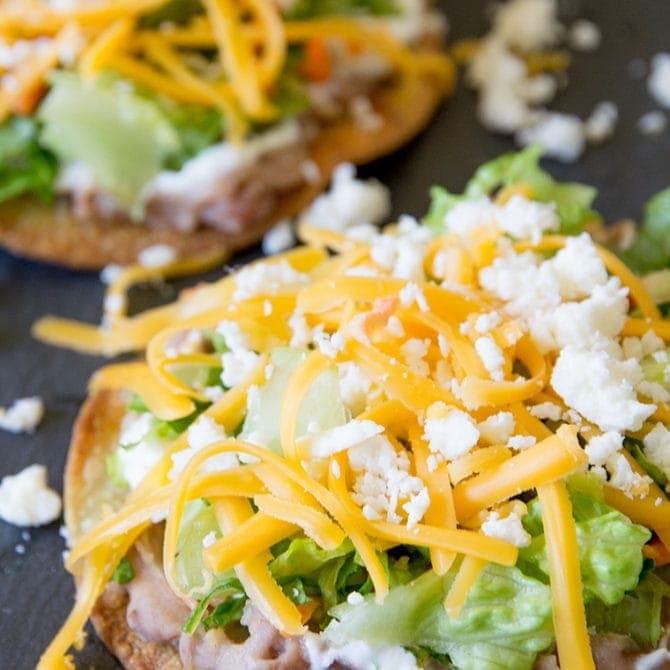 Ten Minute Oven Baked Tostadas
Oven Baked Tostada Shells are ready in minutes then topped with your favorite toppings, making these tostadas the perfect weeknight meal.
Ingredients
Corn tortillas

Vegetable oil

Salt

Your favorite tostada toppings

beans, chicken, beef, lettuce, cheese, etc.
Instructions
Preheat the oven to 400 degrees F.

Line a rimmed baking sheet with foil. Arrange as many tortillas as will fit on the baking sheet without overlapping. (I can get 6 on mine - if you need more than that, bake in batches or bake two sheets at a time, rotating halfway through).

Brush both sides of the tortillas lightly with oil and sprinkle with salt.

Bake for about 8 minutes, turning over after 4 minutes.

Remove from the oven and transfer to a paper towel lined tray to cool. *It's ok if they're slightly soft as long as they're browned. They will crisp up even more as they cool.

Serve immediately with your favorite toppings, or cool completely and store in a tightly sealed contained for 3-4 days.
For all Mexican recipes go HERE, for all dinner recipes go HERE and for the Recipe Index go HERE.