My Quick and Easy Chicken Pozole Rojo Soup is full of traditional flavors with a few shortcuts to save on cooking time. Full of tender chicken, hominy and a red chile broth and topped with crunchy cabbage, radishes and a squeeze of lime, this is a traditional Mexican recipe you'll want be adding into your weeknight dinner rotation.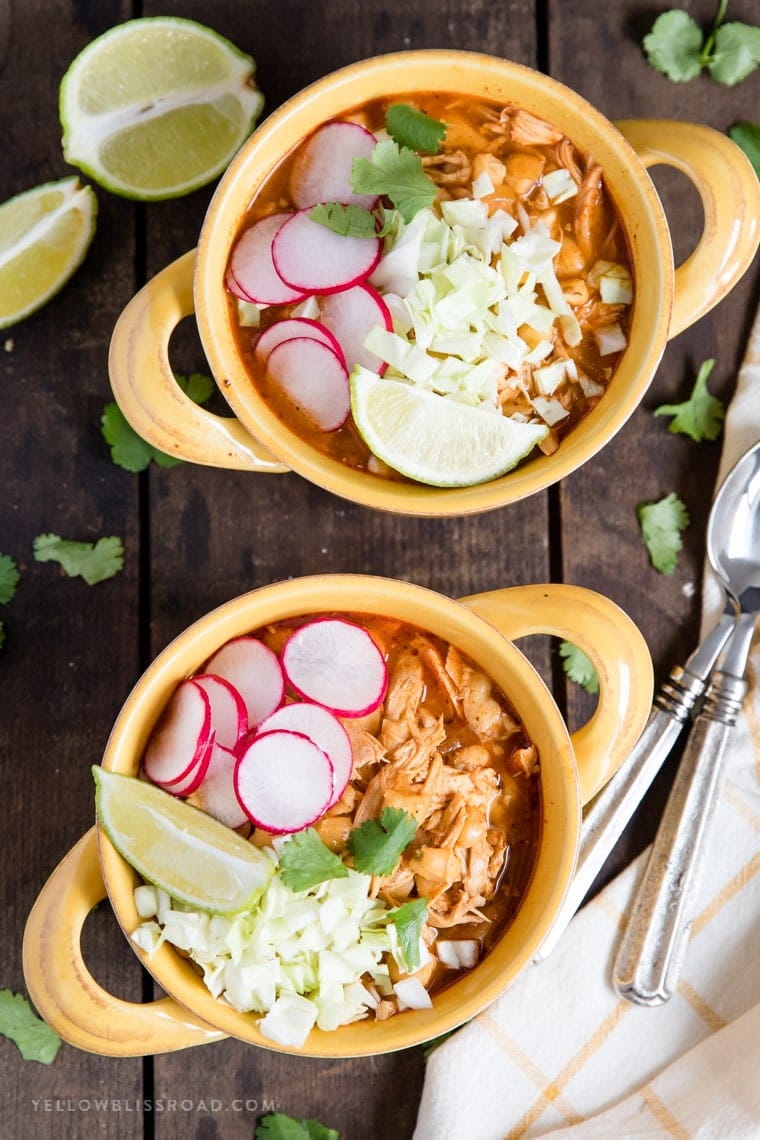 Pozole Soup is a staple dish in many Mexican families. It's often made with pork, although there are a lot of chicken variations out there. This is the kind of soup that Mexican households will have simmering on the stove all day long, cooking the hominy and meat until it's nice and tender.
Pozole Versions
White Pozole is basically hominy cooked in a clear broth and topped with various garnishes like cabbage and radishes.
Green Pozole (Verde) is the white pozole soup with green elements added, like tomatillos, jalapenos or cilantro.
Pozole Rojo, which is the variation that my family makes, includes some type of red sauce, often from steeping chiles all day long.
Traditional Pozole is served at celebrations such as Christmas, New Year's and Mexican Independence Day.
Shortcut Chicken Pozole Rojo
This is another of my cousin's Mexican recipes that my entire family begs for. The only thing I do different is start with some onion cooking in a little olive oil. It's super simple, and surprisingly under 200 calories a bowl!
For our shortcut version of pozole, we use a canned enchilada sauce along with lots onion and garlic and other seasonings. I'll also use a whole rotisserie chicken from the grocery store deli. Again, we're going for simple, quick and easy. If you want to cook the chicken on your own, try my slow cooker method or boil chicken in the broth you plan to use for your soup.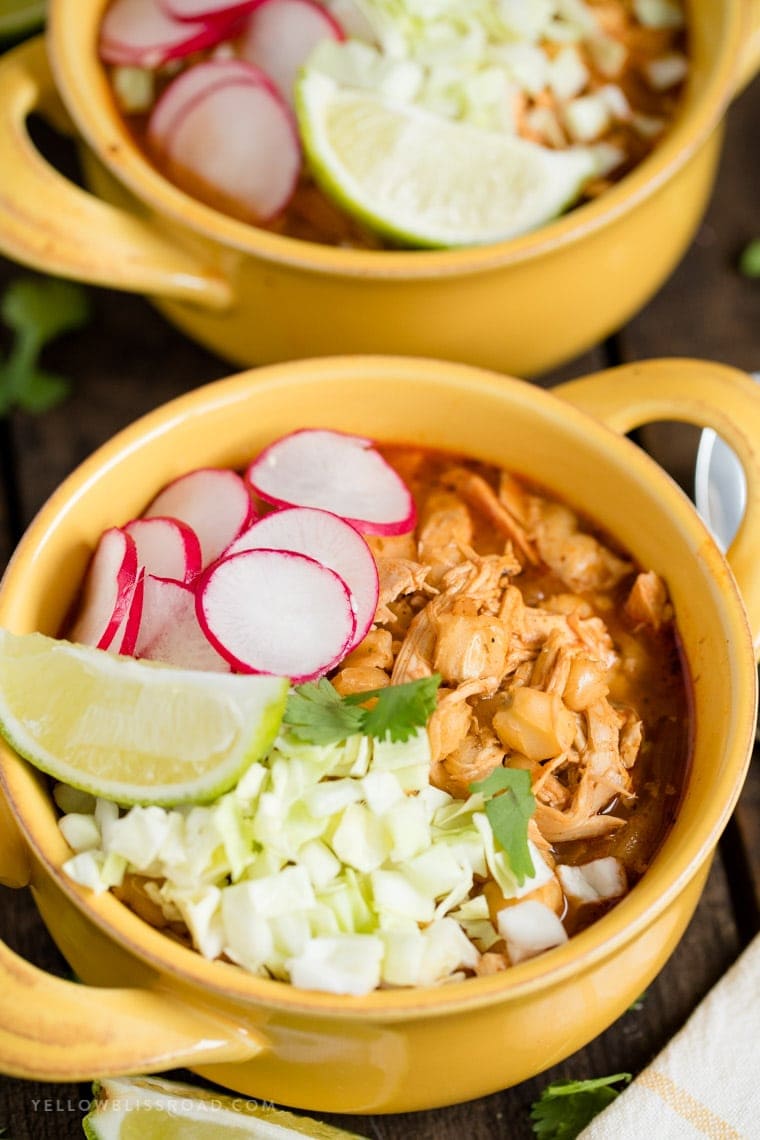 Main ingredients for Pozole
Our shortcut version of pozole uses a canned enchilada sauce to keep it simple and easy (and fast!).
Chicken Broth – I always use low sodium so I can control the salt level.
Hominy – Found in the canned vegetable or Hispanic aisle of your market. hominy is corn that's been soaked in lime juice to soften them.
Shredded Chicken – use a rotisserie chicken or make our Instant Pot Shredded Chicken.
Enchilada Sauce (or some other tomato base) – I prefer Hatch brand but any brand will work. My family prefers their pozole on the mild side, but a medium or hot enchilada sauce will spice things up.
Garlic – fresh or jarred.
How to Make Pozole
Prep. Shred some chicken, chop an onion and mince some garlic. Open all of your cans and drain the hominy.
Cook. Saute onion and garlic in a large soup pot. Once the onion and garlic are softened and that amazing smell is floating through your kitchen, add the chicken, hominy and other seasonings. Stir it all around and let the flavors blend together. Stir in chicken broth, enchilada sauce and a little Caldo de Tomat.
Simmer. Once everything is stirred and blended together bring that whole pot of deliciousness to a boil, then cover the pot, reduce the heat to low and simmer on the stove for at least half an hour. The longer you can leave this soup to simmer, the better it's going to be, but 20-30 minutes will suffice. I like to leave it simmering for 45 minutes to an hour, ideally.
Garnish. While the soup is simmering, chop the garnishes. We like sliced radishes, green cabbage, lots of lime juice, and tortilla chips on the side. Some people love cilantro but I'm not one of those people. Feel free to add it as a garnish if you are.
And that's it! Yes, it does take some time, but while your soup is simmering on the stove you've got plenty of time to do some laundry, catch up on your favorite show or even take a nap. And when you're ready, my Quick and Easy Chicken Pozole Rojo Soup will be waiting for you.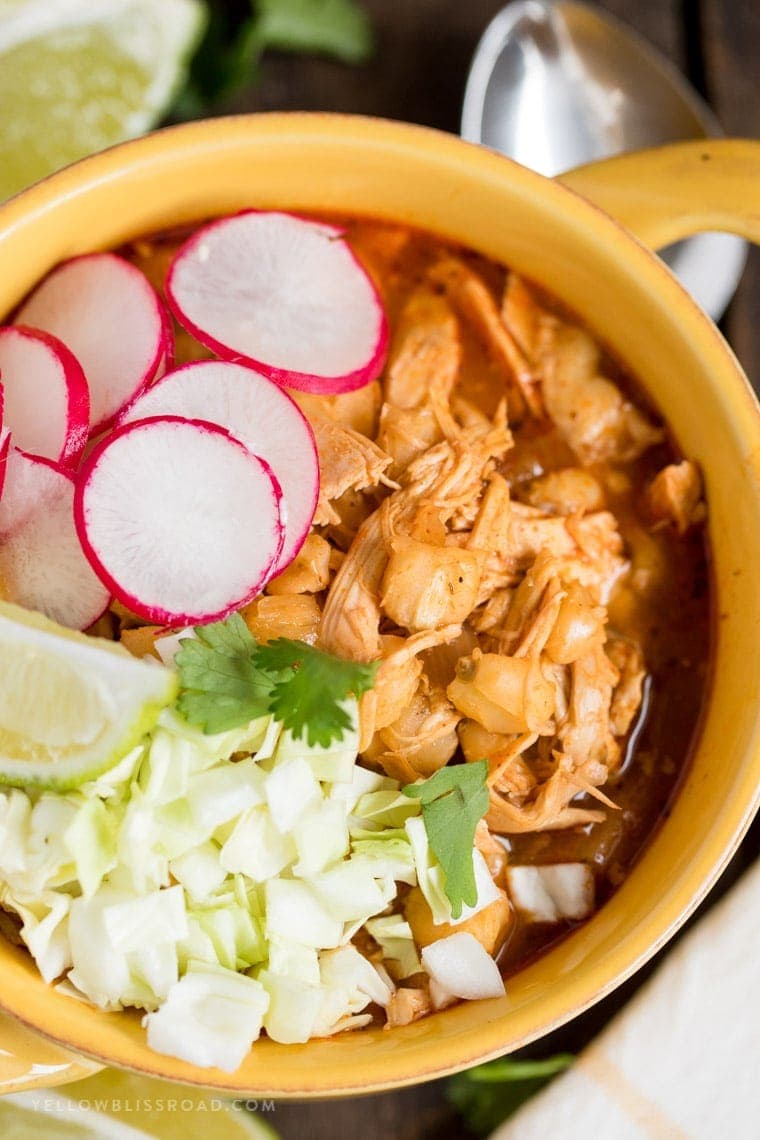 If you loved this Pozole recipe, you'll crave these other traditional Mexican recipes: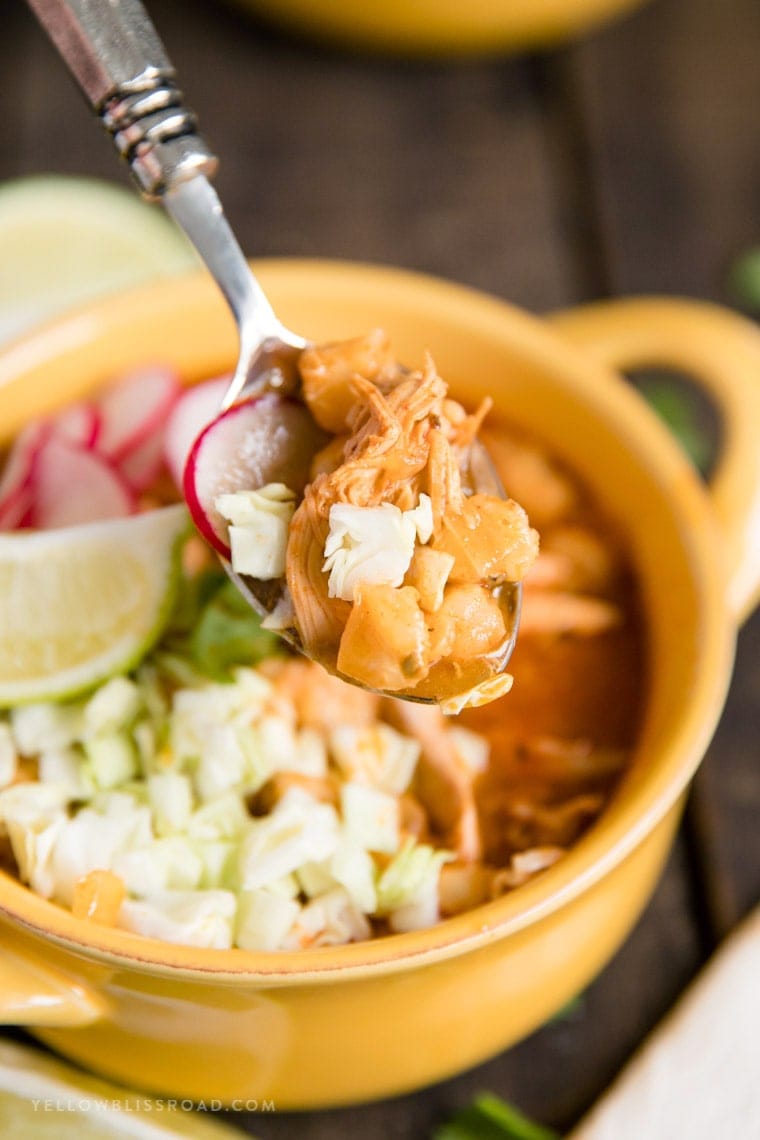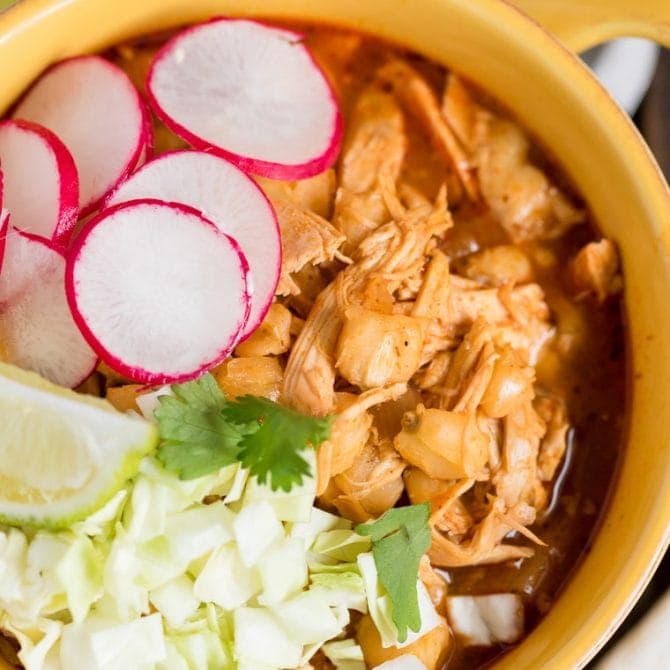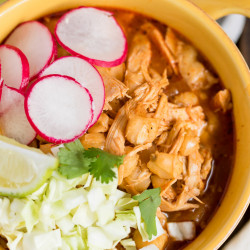 Chicken Pozole Soup
My Quick and Easy Chicken Pozole Soup is full of traditional flavors with a few shortcuts to save you time. Full of tender chicken, hominy and a red chile sauce and topped with crunchy cabbage, radishes and a squeeze of lime, this is a traditional Mexican recipe you'll want be adding into your weeknight dinner rotation. 
Ingredients
Olive oil
1 medium onion diced
1 tablespoon minced garlic about 5-6 cloves
4 cups shredded cooked chicken like from a rotisserie
2 25- ounce cans hominy drained
64 ounces chicken stock
1 15 ounce can enchilada sauce
2 teaspoons Caldo de Tomat tomato bouillon 
1 teaspoon dried oregano
1/2 teaspoon ground cumin
Sliced radishes green cabbage, cilantro, limes
Instructions
In a large soup pot, heat a tablespoon of olive oil over medium heat. Add diced onion and cook until beginning to soften. Stir in garlic and cook for 30 seconds, then stir in oregeno, cumin and Caldo de tomat. Cook, stirring often, for one minute.

Add the hominy and the chicken to the pot. Stir to coat and cook for a couple of minutes to flavor the chicken and hominy.

Pour in enchilada sauce and chicken stock. Stir to combine, then turn heat up to medium-high bring to a boil. Cover, reduce heat to low, and simmer for at least 20 minutes or up to 2 hours.

Serve hot with garnishes like sliced radishes, chopped green cabbage, cilantro, lime wedges and tortilla chips.

Store in the refrigerator in a tightly sealed container for up to 3 days, or freeze for 3-4 months. 
Notes
This recipe make A LOT of soup. If you're feeding a lot of people, this is perfect. If not, you can cut the recipe in half, or freeze the leftovers. 
To freeze, cool the soup to room temperature and portion into freezer safe containers or bags. Freeze for up to 3-4 months.
If you don't have Caldo de Tomat on hand, you can add a teaspoon of tomato paste.
Nutrition
Serving: 11/2 cupsCalories: 193kcal