Poached chicken is the best way to cook chicken breast for all your soups, salads, and casseroles. Forget dry, stringy chicken, this meat comes out tender and juicy and puts other cooking methods to shame.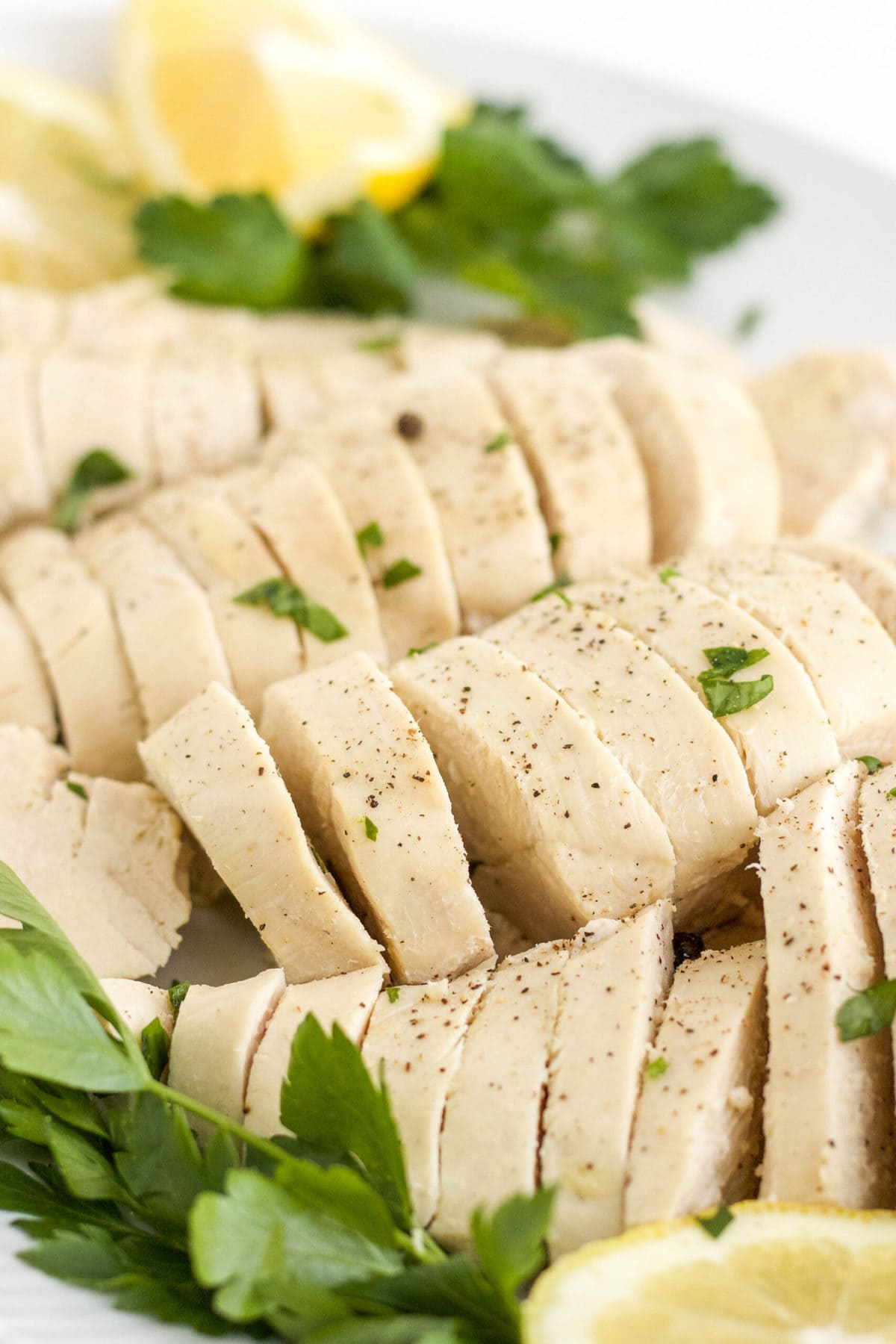 If you want an easy chicken recipe that will be just as good for dinner as it is for lunch the next day, you've got to try this poached chicken. It's got such a great flavor and is perfect for topping Loaded Chicken Nachos or just serving with a simple Garden Salad.
I love cooking chicken this way because it's incredibly easy and it comes out so juicy and tender every time. Poached chicken is high in protein, low carb, and doesn't need any extra fat or oil to cook. Not only is it great to add to salads, but sliced thinly it makes a great substitution for lunch meat on sandwiches.
What does it mean to poach chicken?
This simple process starts with salt and pepper seasoned chicken breasts in a stock pot. We add some herbs, like parsley and bay leaves, but you can add others like thyme and rosemary. There are also lemons, onions, and garlic added to the pot. The actual liquid is just chicken broth and water; just enough to cover the ingredients.
Keeping the heat low allows the poaching liquid to simmer and cook the chicken gently and slowly while infusing it with flavor. It stays moist and tender in its flavorful bath and is prevented from overcooking.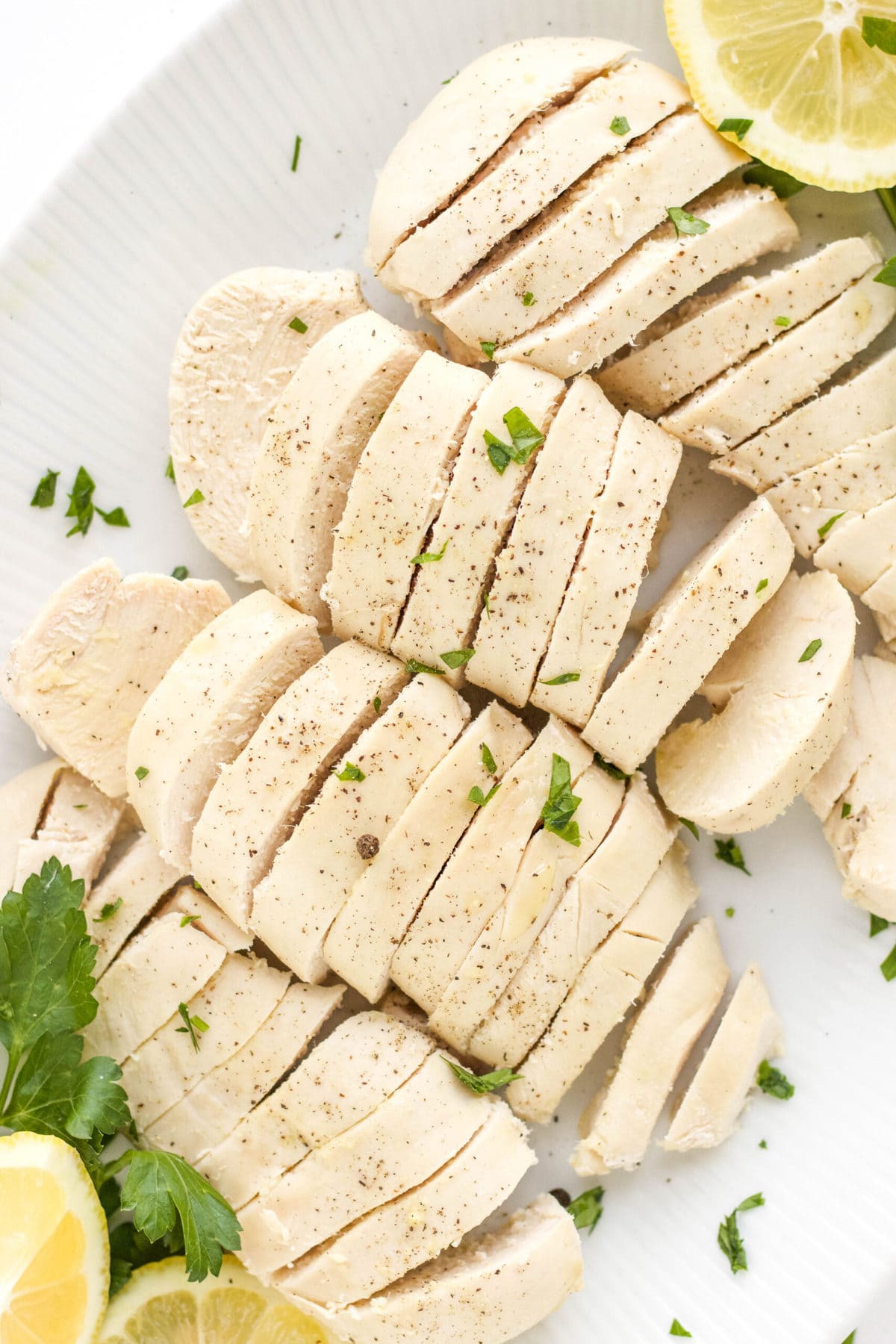 How long should it take to poach chicken breasts?
It usually takes about 10-15 minutes once the water is boiling. Large pieces may take longer.
I like using boneless, skinless chicken breasts for this recipe. You can also use bone-in breasts, thighs, or drumsticks. Keep the skin on or off, your choice, but the chicken will need at least an extra 20-30 minutes to cook. Bone-in chicken will definitely give you a more intense flavor, so you should really consider straining and saving the cooking liquid and using for broth later on.
How to poach chicken
Start with fully thawed chicken breasts. I used to just drop frozen chicken right into the water to boil them, but I quickly learned that while that would cook the chicken, it would almost always come out dry and stringy. Make sure if your chicken is frozen that you've transferred them to the refrigerator to defrost for 24 hours.
Poaching liquid.  Season the chicken breasts with salt and pepper and add them to a stock pot with some bay leaves and parsley, sliced lemons, and onions. Pour in 4 cups of chicken broth, and add enough water to cover the chicken completely.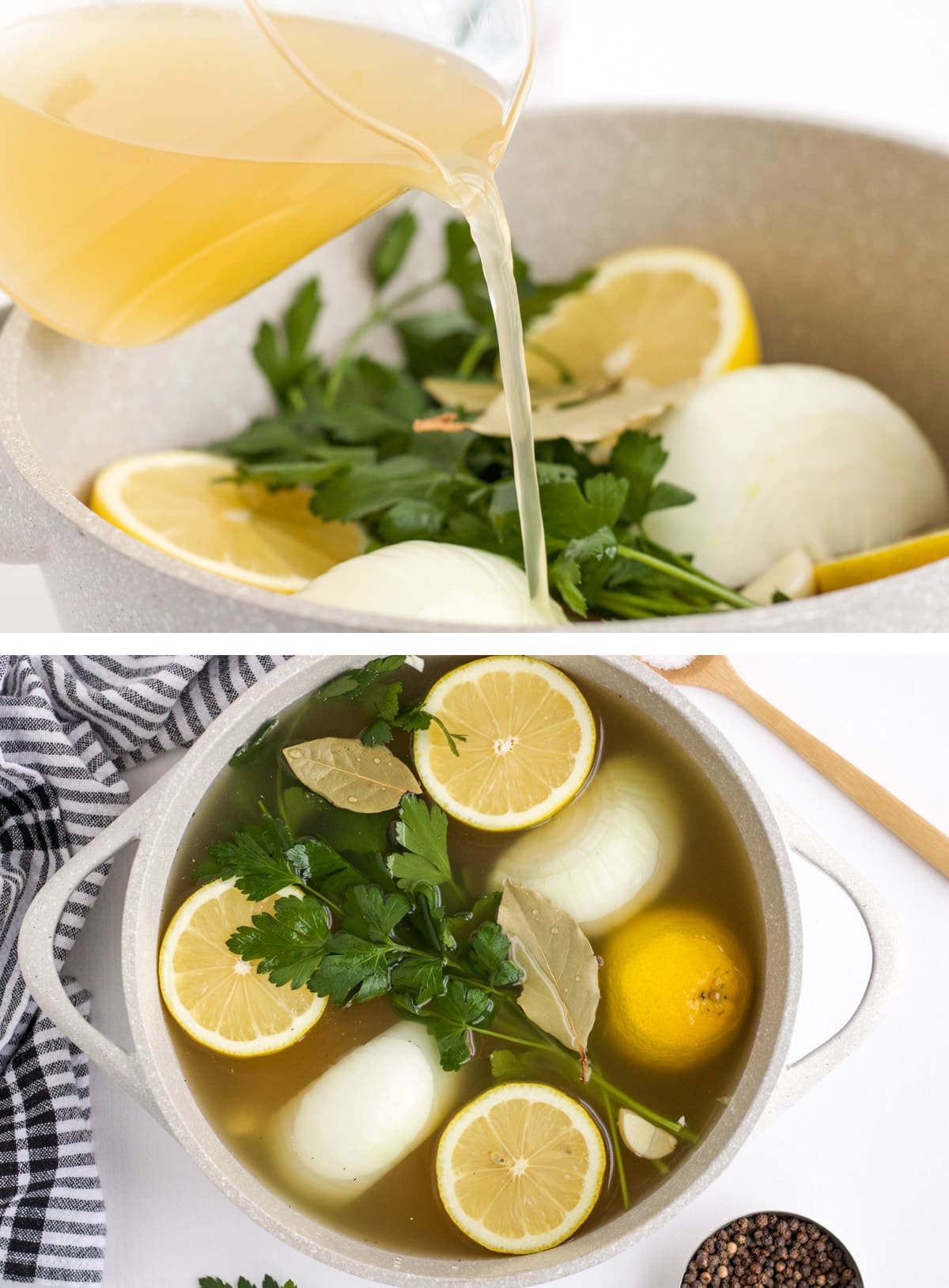 Cook. Bring the poaching liquid to a boil, then reduce, cover and simmer. Check the chicken after about 10 minutes. You want the internal temperature to reach 165 degrees F. If it goes much over that you could wind up with overcooked and dry chicken. As it boils, you may notice some foam coming to the top. If you're planning to use the broth for soup or another use, skim the foam, otherwise, it won't hurt anything to just leave it alone.
What do you use poached chicken for?
Poached chicken is a great way to get the shredded chicken you need for stuffing in chicken tacos or a BBQ Chicken Quesadilla. You can also chill and shred for a Chicken Salad Sandwich or Avocado Chicken Salad or drop it into your favorite Homemade Chicken Soup.
The easiest way to shred chicken is with an electric mixer. Shred 4 whole breasts in less than a minute!
Of course, you can also serve the chicken as is – it's pretty delicious – sliced and topped on a Greek Chicken Salad, or with a simple Simple Spinach Salad.
Make Ahead, Storage and Reheating
Make Ahead: It's never a bad idea to have some cooked chicken in your freezer, so this poached chicken is great for making ahead to have on hand whenever you need it.
Storage: Shred it or keep it whole, and store it in resealable plastic bags or airtight containers in the fridge for up to 4 days or the freezer for up to 6 months.
Reheating: Thaw completely before reusing. Can be heated in the microwave or simply added to soups and salad straight from the fridge.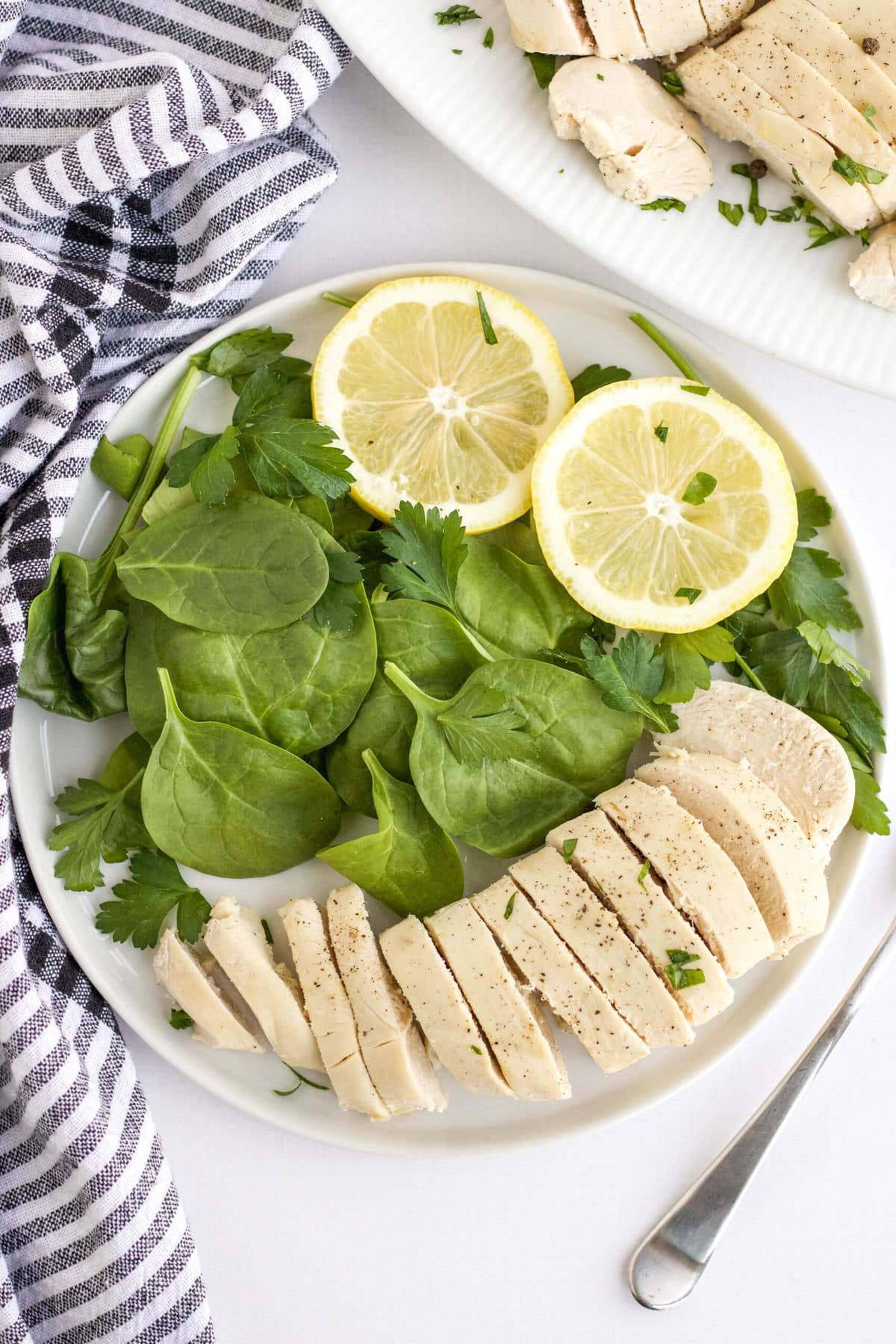 More Great Chicken Recipes to Love
Recipe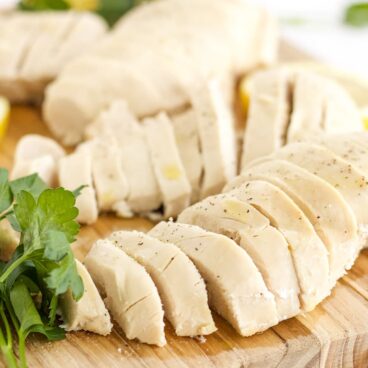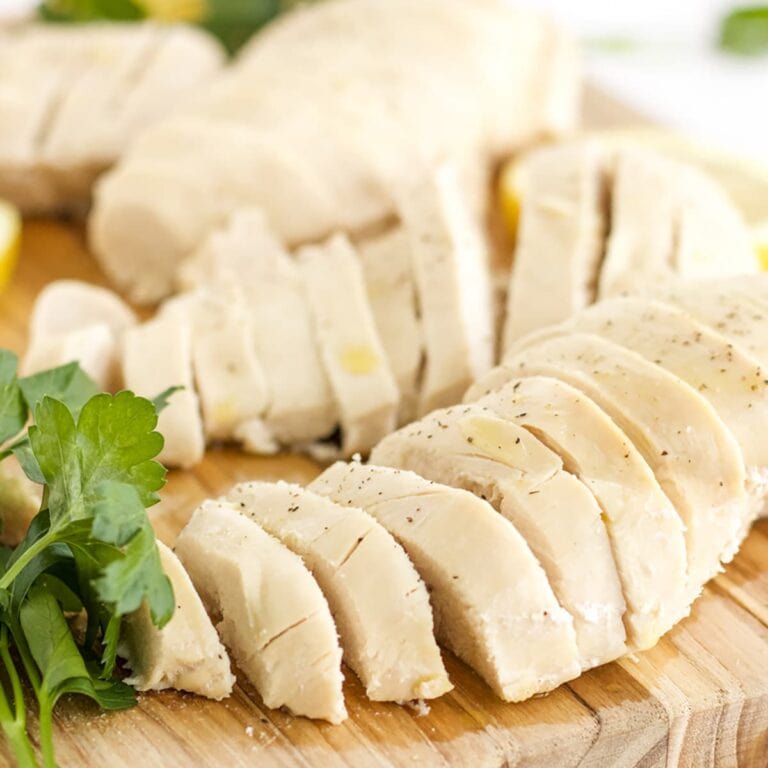 Poached Chicken
Poached chicken is the best way to cook chicken breast for soups, salads and casseroles. The meat comes out tender and juicy every time!
Ingredients
2

pounds

chicken breasts

4-6 medium sized breasts

4

cups

chicken broth

32 ounces

2

cups

water

2

Bay leaves

½

bunch of parsley

tied with twine

2

lemons

sliced in half

1

large onion

peeled and sliced in half

1

teaspoon

kosher salt

½

teaspoon

pepper

4

garlic cloves

peeled and smashed
Instructions
Place chicken breasts in a large stock pot.

Season with salt and pepper, then place herbs, lemons and onions on top of the chicken breasts.

Pour in broth, then add enough water to cover 2 inches above the chicken.

Bring to a boil over medium high heat, then reduce heat to medium low and cover. Allow to simmer for 10-20 minutes or internal temperature of 165 degrees F.

As it boils, you'll notice some foam coming to the top. If you are planning to use the broth for soup or another use, skim the foam off with a spoon. Otherwise you can leave it alone.

Transfer poached chicken to a plate for serving. Garnish with fresh herbs parsley and serve with lemon wedges.
Nutrition
Calories:
194
kcal
Carbohydrates:
5
g
Protein:
33
g
Fat:
4
g
Saturated Fat:
1
g
Trans Fat:
1
g
Cholesterol:
97
mg
Sodium:
1141
mg
Potassium:
745
mg
Fiber:
1
g
Sugar:
1
g
Vitamin A:
60
IU
Vitamin C:
33
mg
Calcium:
34
mg
Iron:
1
mg
Poached chicken is the best way to cook chicken breast for soups, salads and casseroles. The meat comes out tender and juicy every time!