Air Fryer Chicken Breasts
Air Fryer Chicken Breasts will be your new favorite way to cook chicken! The meat is perfectly seasoned with my own versatile spice blend, needs very little oil and takes just minutes to prepare. Faster than baking, your chicken is ready after just 15 minutes in the air fryer!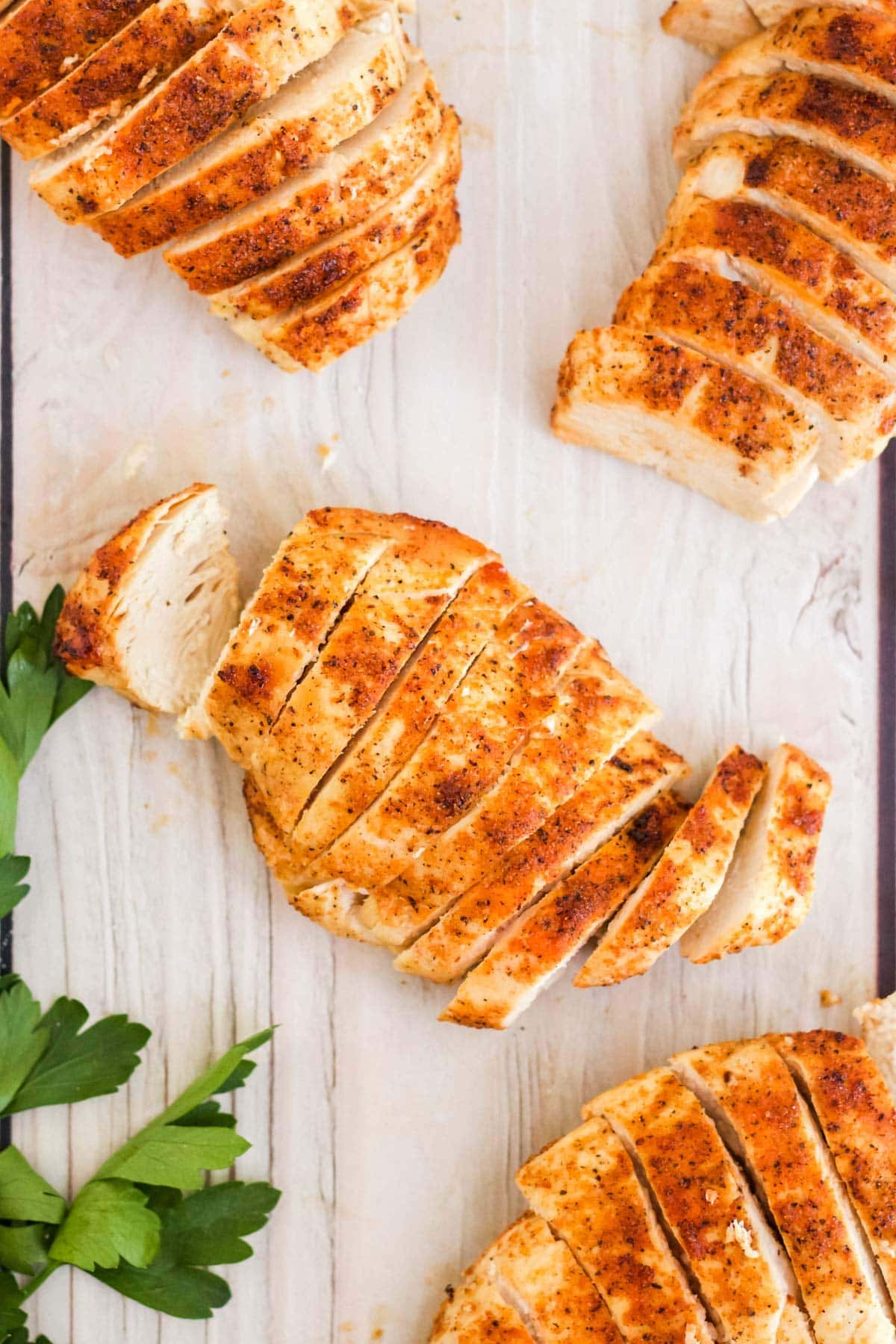 Chicken breast is pretty much a weekly dinner staple in our home, and we like to mix it up using them in Buffalo Chicken Sandwiches, Baked Chicken and Rice, and for making Homemade Chicken Nuggets. I'm pretty well known for my baked chicken breasts, so once I got an air fryer that was the first thing I wanted to try.
Air Fryer Chicken Breasts
I started testing recipes almost immediately once my new air fryer arrived. I was a little late to the party; they've been around a while but I like to wait and see if a new trend has staying power before I jump on the bandwagon and make a big purchase. But I'm so glad I finally took the leap because my air fryer has become my new favorite way to cook chicken, and just about everything else from Air Fryer Tortilla Chips to Air Fryer Salmon!
I am completely obsessed with my pretty new appliance! Air fryer chicken breast recipes are bring tested weekly so I can bring you my favorites. It's just like baking – tender and so juicy with a ton of flavor – but you never have to turn on your oven!
DIY Spice Blend
I decided that what isn't broken doesn't need fixing and used the same spice blend and recipe I use for my baked chicken for this air fryer chicken breast recipe.
Salt
Black Pepper
Paprika (or sub chili powder)
Garlic Powder
Onion Powder
It sounds super simple but it adds so much flavor you'll want to make a big batch and put it on everything! It's pretty excellent on pork chops too.
I also used a little bit of olive oil because it helps the seasoning stick to the chicken and it helps to keep it juicy my locking in moisture.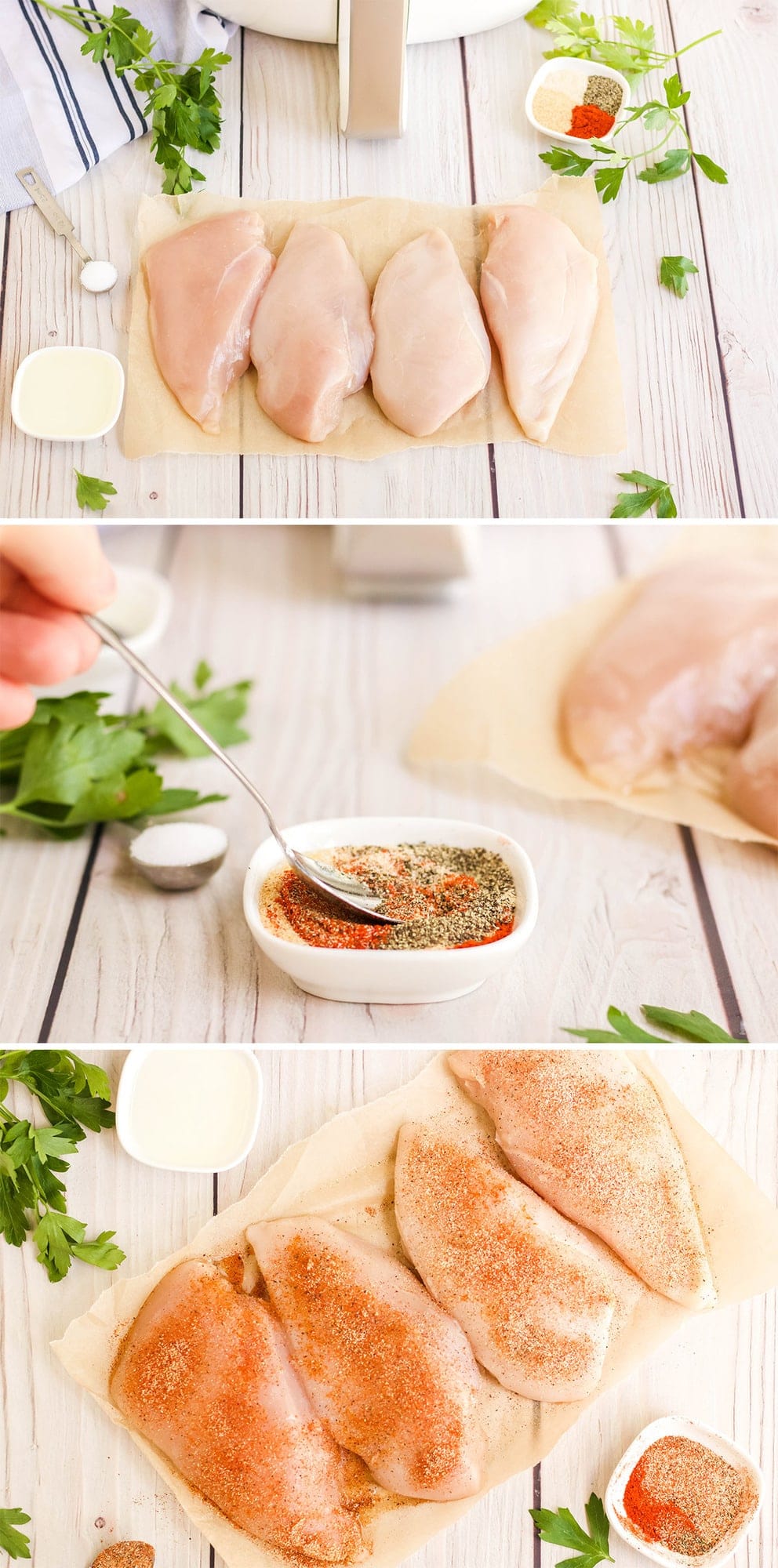 Is Air Fried Chicken Healthy?
Air Fryer Chicken Breasts need only 2 tablespoons of oil, and you could probably use half of that if you really wanted to. Chicken breasts in the air fryer use about 70-80% less oil than traditional fried chicken, making this method a much healthier option.
How to Make Chicken Breast in the Air Fryer
Pat chicken dry with paper towels. Don't worry about washing it – that just spreads bacteria around your sink and really isn't necessary.
While your air fryer is heating to 375 degrees, rub the chicken all over with olive oil and seasonings.
Place the meat in the air fryer basket, and cook for 15 minutes. Flip over after about 10 minutes and finish cooking.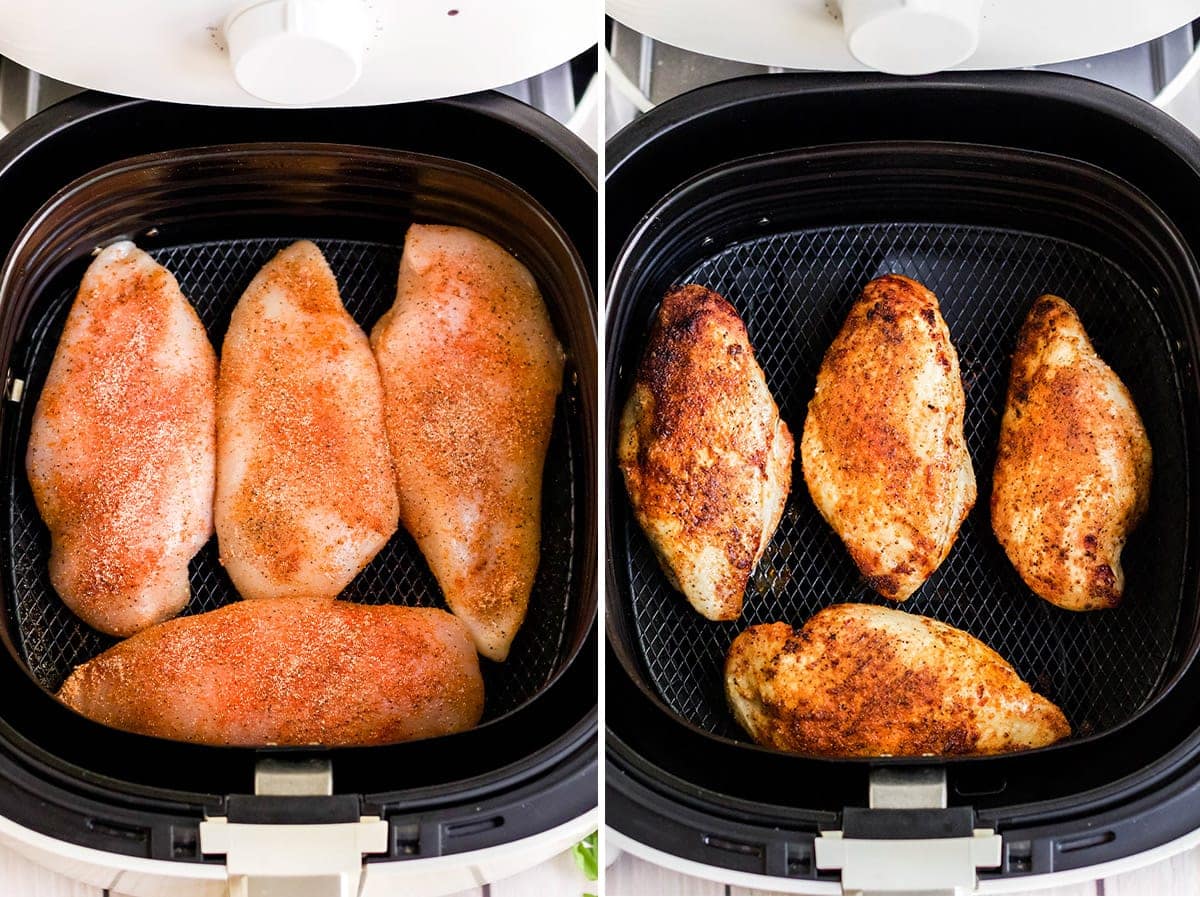 Can you put frozen chicken breasts in the air fryer?
Yes! Follow the recipe and just add about 10 minutes to the cooking time. Cook any cut of chicken to an internal temperature of 165 degrees F. If you don't have a digital instant read meat thermometer, I highly recommend picking one up. They are inexpensive and one of the most useful tools you can have in your kitchen.
Air Fryer Chicken Breast Recipe Notes
Make sure to let your chicken rest after cooking for about 5 minutes. This gives the juices time to redistribute throughout the meat so they won't spill out all over your cutting board.
Note that this recipe uses 4 chicken breasts but makes 6 servings. The recommended serving for chicken is 4 ounces, and the average chicken breast is 6-8 ounces. You can fit about 4 medium sized breasts in your air fryer.
Using up leftover: Keep leftover chicken in an airtight container in the fridge and use it in salads, sandwiches and wraps. Air Fryer chicken breasts are great for healthy meal prep and delicious cold or warm.
Freezing: Wrap chicken in plastic wrap to keep out freezer burn and place in a resealable freezer bag. Freeze for up to three months. Reheat in the microwave for small portions and in the air fryer for larger portions.
Make Ahead: I recommend cooking as soon as possible because you don't want chicken sitting in your fridge for too long. However you could make these several hours in advance of cooking them.
Can I double the recipe? What if I just want to feed 2 people? Double the recipe means cooking twice in the air fryer, but yes you can absolutely do that. You can also cut the recipe in half to feed 2 people, although I'd recommend cooking all 4 pieces and saving some for easy weekday lunches.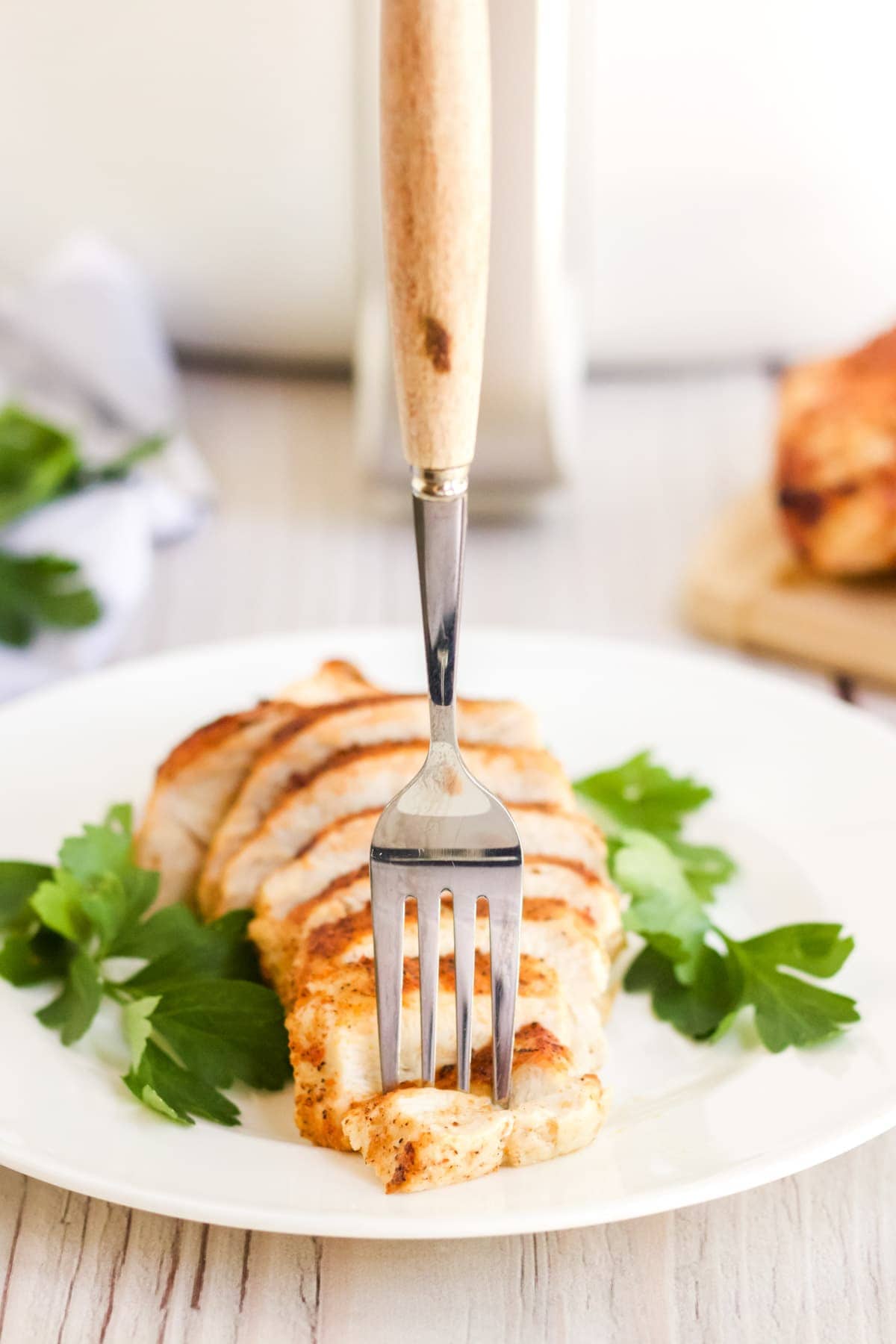 If you've made this recipe, please come back and leave us a star rating or a comment below. Or, tag us on social media @yellowblissroad or #yellowblissroad for a chance to be featured.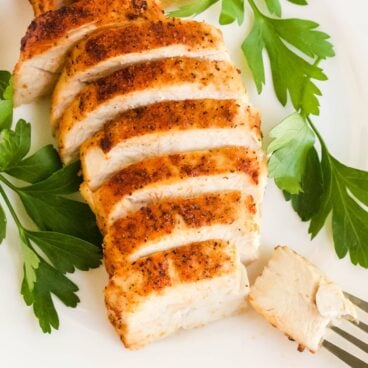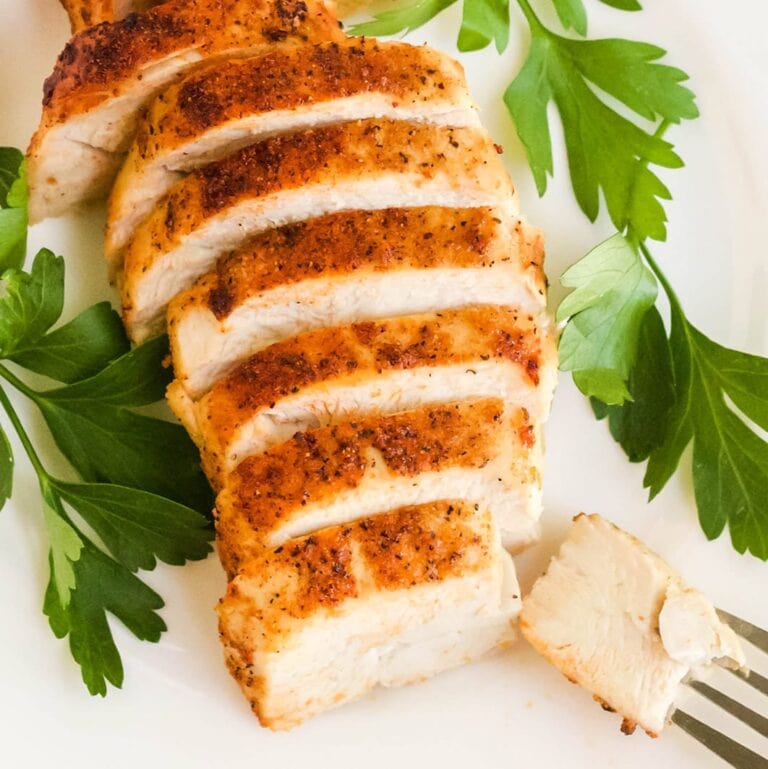 Air Fryer Chicken Breasts
Air Fryer Chicken Breasts are the best way to cook chicken! The meat is perfectly seasoned, needs very little oil and cooks in 15 minutes!
Ingredients
2

pounds

Boneless Skinless Chicken Breasts

4 medium sized breasts

2

tablespoons

Olive Oil

1

teaspoon

kosher salt

1/2

teaspoon

black pepper

1/2

teaspoon

garlic powder

1/2

teaspoon

onion powder

1/2

teaspoon

paprika
Instructions
In a small bowl, whisk together the salt, black pepper, garlic powder, onion powder and paprika. Set aside.

Brush the chicken breasts with olive oil and sprinkle seasoning mix over both sides.

Place the chicken in the basket of the air fryer and cook at 375 degrees for 10 minutes.

Flip the chicken over and cook for an additional 5 minutes or until the outside is golden brown and the inside is cooked through to 160-165 degrees F.

Let the chicken rest 5 minutes before slicing and serving.
Notes
The seasoning blend used in this recipe is my go-to for chicken, pork and even fish. You can switch it up and use any seasoning you like. 
Frozen chicken breasts can be cooked in the air fryer - just add about 10 minutes to the cook time and use a meat thermometer to ensure it's cooked through. 
Nutrition
Calories:
216
kcal
Carbohydrates:
1
g
Protein:
32
g
Fat:
9
g
Saturated Fat:
2
g
Cholesterol:
97
mg
Sodium:
563
mg
Potassium:
559
mg
Fiber:
1
g
Sugar:
1
g
Vitamin A:
127
IU
Vitamin C:
2
mg
Calcium:
8
mg
Iron:
1
mg