Homemade chicken nuggets are tender chunks of chicken coated in seasoned breadcrumbs and baked until crispy. These homemade nuggets are baked instead of fried making them a healthier alternative to drive-thru chicken.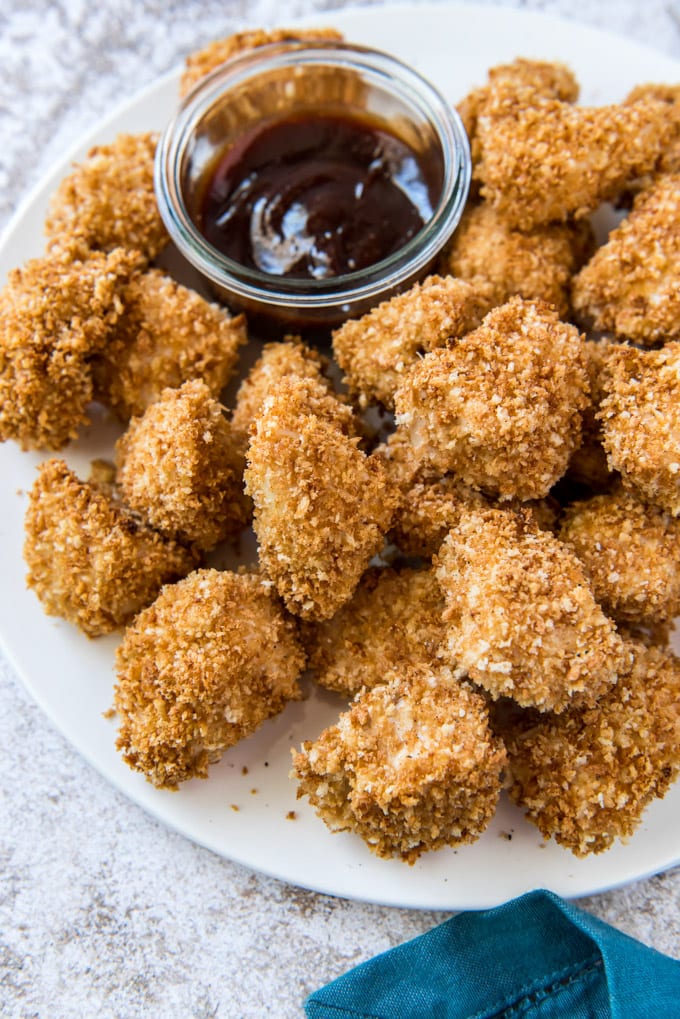 These easy homemade Chicken Nuggets are a delicious favorite for kids and adults alike. Dunk them in your favorite barbecue sauce and serve with Stovetop Macaroni and Cheese and Oven Roasted Broccoli.
Healthy Baked Chicken Nuggets
The first I tested this recipe I was blown away with how good these homemade nuggets are. They are crispy on the outside and tender and juicy on the inside. By toasting the breadcrumbs before coating the chicken, it guarantees a crispy exterior that everyone wants to dunk.
My entire family gobbled these down in minutes so it's a good thing this recipe is easily doubled. I can make a double batch and freeze some for later in the week…or later in the day. No judgement here.
How to make Homemade Chicken Nuggets
The key to making crispy baked chicken nuggets is in the breading. I use Panko breadcrumbs because they are crispier than regular breadcrumbs and then toast them first so they won't get soggy.
Prep. Cut chicken breasts into bite-sized pieces, about 1-2 inches big. Preheat the oven and grab 2 baking sheets, a wire rack, a shallow dish and your ingredients.
Toast the Panko. Spread the breadcrumbs out on a baking sheet and toast in the oven for about 6-7 minutes. Then toss with olive oil and seasonings and bring the breadcrumbs into a mound in the center of the baking sheet. You could also transfer them to a shallow dish, but why make more work for yourself? Time to coat your chicken nuggets!
Bread the chicken nuggets. Whisk eggs in a shallow dish with some salt and pepper. Set the dish next to the pan of breadcrumbs like an assembly line. Place a wire rack over a second baking sheet. Dip several pieces of chicken at a time in the eggs, then coat with the panko mixture. Press the breadcrumbs into the chicken to make sure they are well coated. Arrange chicken nuggets on the wire rack.
Bake. Bake chicken nuggets for 15-19 minutes. The cooking time will vary based on the size and thickness of the chicken. Use a digital meat thermometer to test that the temperature is at least 165. If you don't have one, cut the largest piece in half and make sure there is no pink.
Enjoy! Pour yourself some dipping sauces and rejoice in the fruits of your labor! Homemade chicken nuggets for the win!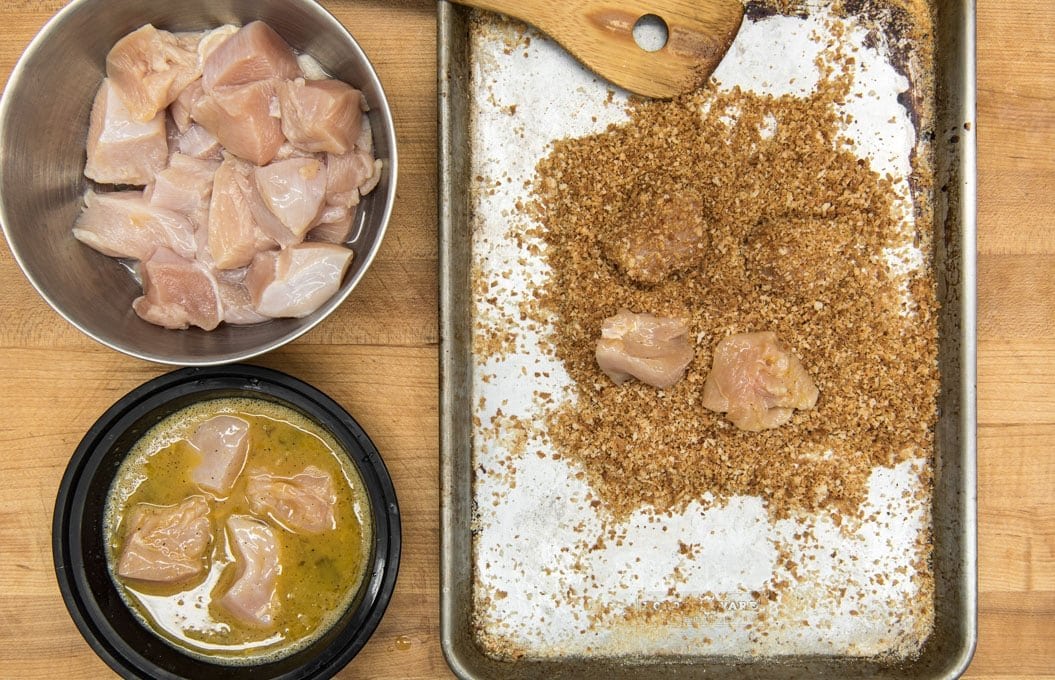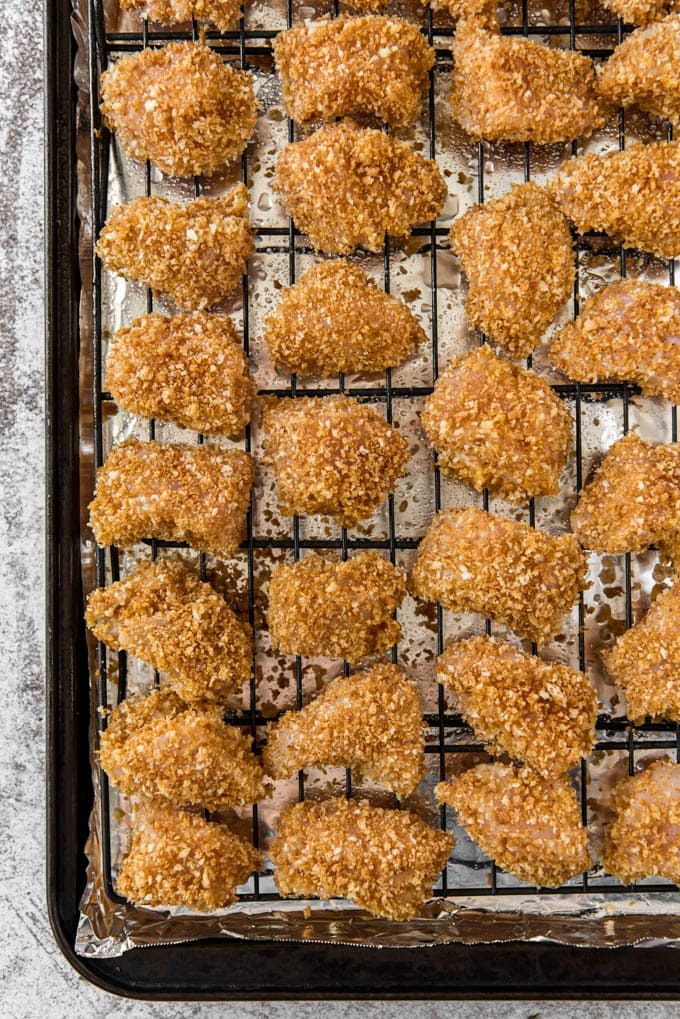 Recipe Tips and FAQs
Can I make homemade chicken nuggets ahead of time? Prepare chicken nuggets up to a day ahead of time but don't bake them. Store in the fridge and when you are ready to cook, take them out of the fridge while the oven is preheating. Bake as directed.
Can I freeze these? Make a double batch and freeze half of them, unbaked. Arrange coated nuggets on a baking sheet and pop into the freezer for 1-2 hours. Once frozen, place nuggets in a resealable freezer bag. Bake frozen chicken nuggets on a wire rack at 400 degrees F for 30-35 minutes.
Will this work with chicken tenders? Absolutely! Coat chicken tenders in the breading and place on the wire rack. Bake for 20-25 minutes or until cooked through.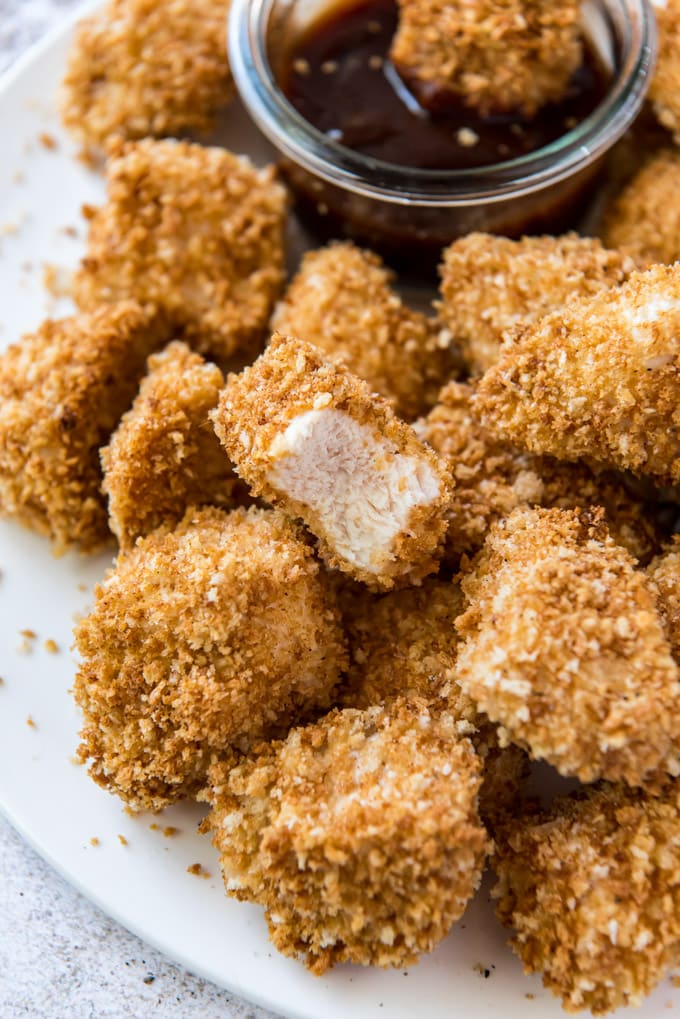 Storing and Reheating Leftovers
Homemade chicken nuggets don't last long at our house, but if you happen to have leftovers, you just need to cool them completely and store them in an airtight container. Baked chicken nuggets will last 3-4 days in the fridge or up to 4 months in the freezer. Reheat in a 400 degree oven until heated through.
What to Serve with Homemade Chicken Nuggets
We love to dip our baked chicken nuggets in bbq sauce, ranch dressing or honey mustard. These baked chicken nuggets are a kid favorite, so how about some kid friendly side dishes to go with them?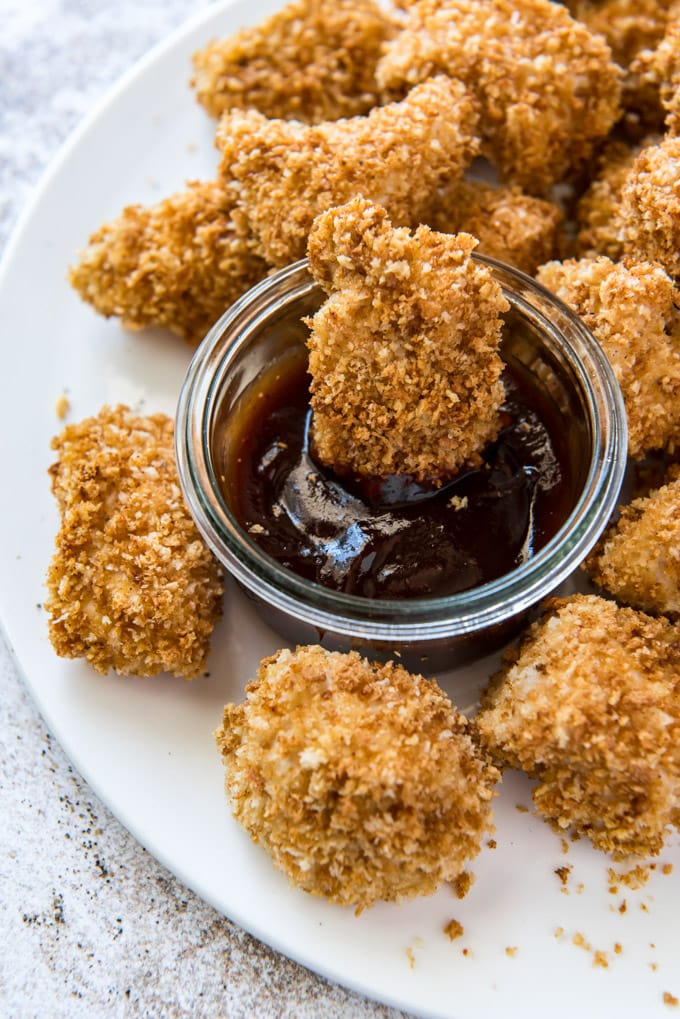 Eat More Chicken!
After you finish off your homemade chicken nuggets, check out our easy Baked Chicken Breasts and get our tops tips for making them moist and juicy – no more dry chicken! Or try these other favorites like Bruschetta Chicken Pasta, Air Fryer Chicken Tenders and Arroz con Pollo.
Recipe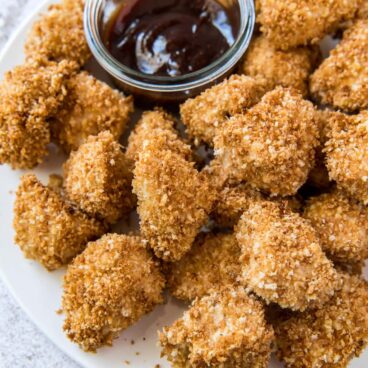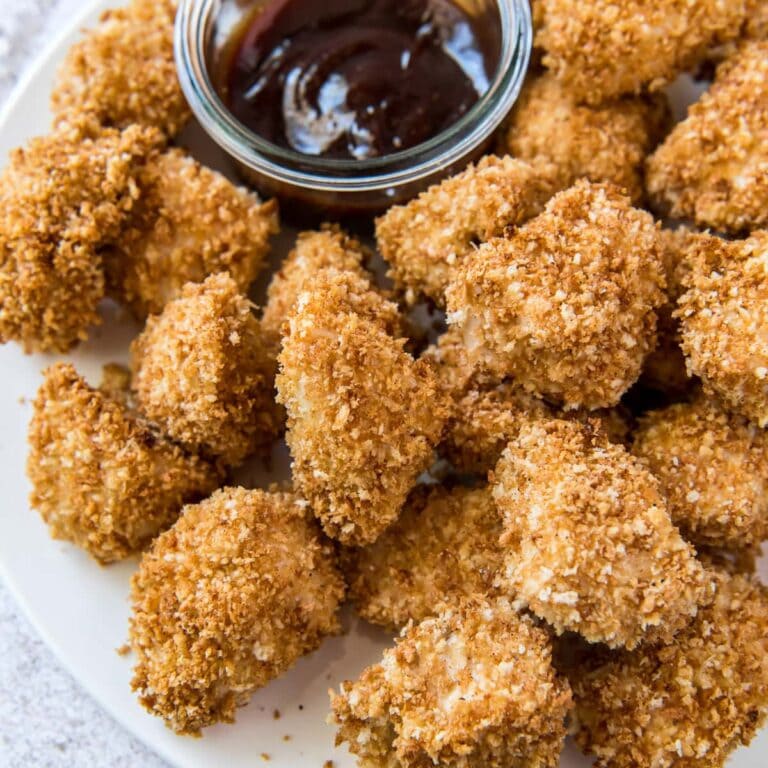 Baked Chicken Nuggets
Homemade chicken nuggets are made with chunks of chicken and seasoned breadcrumbs. These baked nuggets are a healthier alternative to drive-thru chicken. 
Ingredients
2

pounds

boneless skinless chicken breasts

cut into 1-inch cubes

3

cups

panko bread crumbs

2

tablespoons

olive oil

2

teaspoons

paprika

1

teaspoon

garlic powder

Salt

Freshly ground black pepper

3

large eggs
Instructions
Preheat oven to 400 degrees.

Set a large wire rack over a large rimmed baking sheet and spray the rack with non-stick cooking spray. If you don't have a wire rack, line the baking sheet with foil and spray with nonstick cooking spray.

Pour Panko onto a separate baking sheet and toast in the oven for about 6-7 minutes. Drizzle with 2 tablespoons olive oil and toss to moisten the breadcrumbs. Sprinkle paprika, garlic powder, 1 teaspoon salt and ½ teaspoon black pepper over the breadcrumbs. Use a spatula to stir everything together and bring to a mound in the center of the sheet.

In a shallow dish, like a pie plate, whisk together eggs with ¼ teaspoon each salt and pepper.

Place chicken pieces, a handful at a time, into the egg mixture, let any excess drip off before coating with the panko mixture. Press breadcrumbs into the chicken pieces so they will be well coated. Place panko coated chicken nuggets onto the prepared wire rack, about an inch apart. Repeat until all chicken nuggets are coated and on the rack.

Bake in the preheated oven for about 15-19 minutes. Outside should be golden and crispy and the inside of the thickest piece should register 165 degrees on a digital meat thermometer.

Serve immediately with your choice of dipping sauce. We like bbq, ranch or honey mustard.
Notes
You can use regular breadcrumbs if that's what you have on hand, but Panko is recommended for it's crispy texture.
For chicken tenders, bake an extra 5-10 minutes. 
Freeze unbaked nuggets on a baking sheet for 2 hours, then transfer to a freezer bag for up to 2 months. Double the baking time and bake from frozen.
Nutrition
Calories:
367
kcal
Carbohydrates:
22
g
Protein:
39
g
Fat:
12
g
Saturated Fat:
3
g
Cholesterol:
179
mg
Sodium:
427
mg
Potassium:
670
mg
Fiber:
2
g
Sugar:
2
g
Vitamin A:
493
IU
Vitamin C:
2
mg
Calcium:
75
mg
Iron:
3
mg