Learn how to make the best Fried Zucchini in a few simple steps. You can deep fry, air fry or oven fry, and we'll teach you how! Sliced, coated with seasoned flour and breadcrumbs, these zucchini are an indulgent snack, appetizer or even side dish that compliments a variety of meals.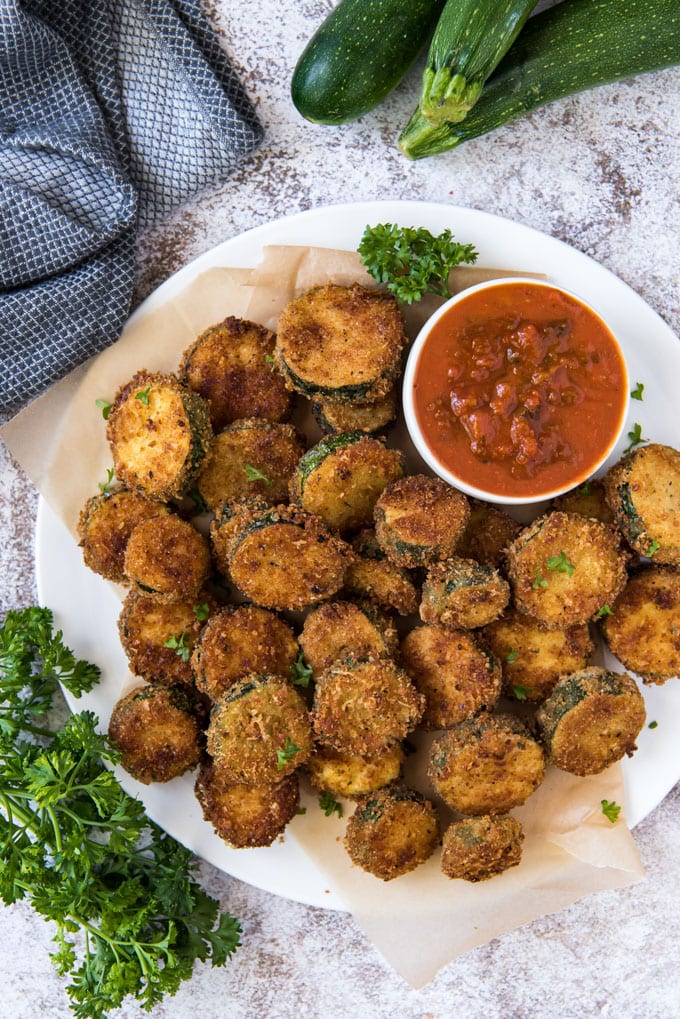 I have been making fried zucchini for as long as I can remember. It was one of the first recipes I learned how to make, watching my grandma in her kitchen. Zucchini was her favorite vegetable, and it became mine too.
She would slice them thick and move down the assembly line – flour, egg, Italian breadcrumbs. Then into the frying pan full of canola oil. My grandma made the best food and I miss it! So I figured it was high time to write down her recipe for safekeeping.
These crispy fried zucchini are tender on the inside and golden and crispy on the outside. I hope you love them as much as my family does!
How to Make Fried Zucchini
The steps for making are simple and move quickly. You can double or triple the recipe, or halve it depending on how much zucchini you have.
Wash and dry zucchini, trim off the ends and slice into half-inch rounds. You can make them a little thinner if you like, but I wouldn't recommend making them any thicker. You can also cut them into sticks like I did for my Baked Zucchini Fries.
Set up your assembly station for coating. Flour, Egg and breadcrumbs in separate shallow dishes or pans.
Dredge slices in flour, then egg, then breadcrumbs.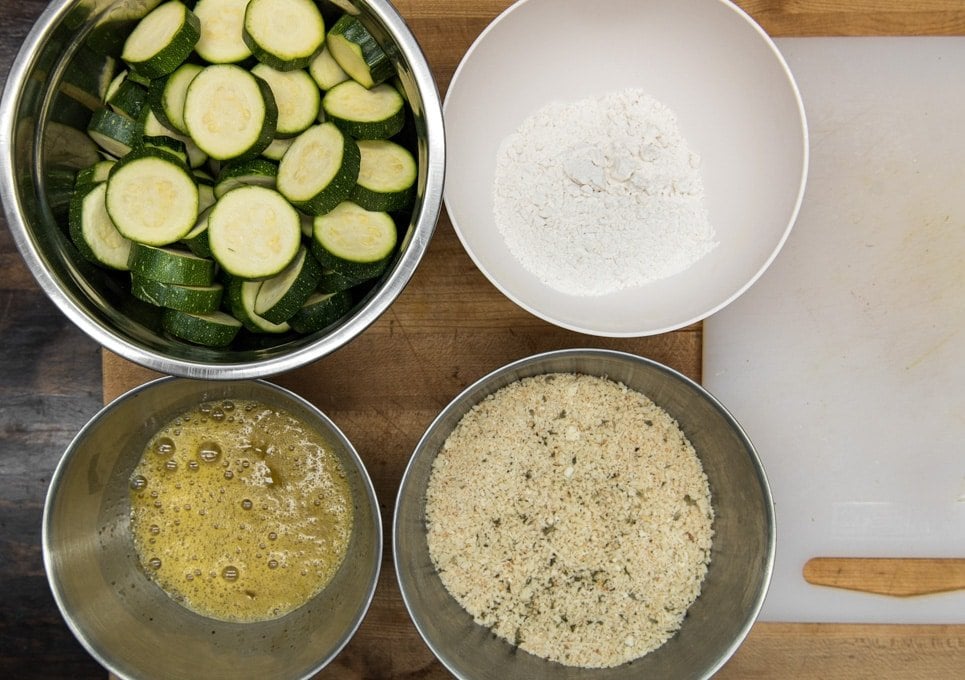 How to Fry Zucchini
Stovetop: Use a heavy bottomed skillet if you have one, like cast iron. A cast iron pot will work as well. Fill it with canola oil (my preference for its flavorless quality) about a half an inch and turn the heat to medium-high. Flick a couple drops of water into the oil; if they sizzle, you're oil is ready. Fry in batches, so the pieces aren't touching, and drain on paper towels or a wire rack.
Oven Fried: Place coated zucchini slices on a wire rack on top of a baking sheet. Bake in a preheated 400 degree oven for 18-20 minutes. For more even browning, spray the tops with nonstick cooking spray.
Air Fryer Fried Zucchini: Preheat air fryer to 375 degrees and place zucchini in a single layer and fry for 8 minutes. Repeat until all fried zucchini are cooked.
Top Tips for Frying Zucchini
I recommend using a large, metal slotted spoon for transferring the zucchini, and placing fried zucchini on paper towel lined plates or on a wire rack with paper towels underneath to soak up excess grease.
I prefer regular breadcrumbs, probably because that's how i always ate them as a kid. You can also use panko and the result will be extra crispy.
Fry the zucchini in batches, taking care to make sure there is space between each piece so they can cook evenly. Since zucchini can be eaten raw, we're not looking for a level on doneness on the inside, just a crispy coating on the outside. Keep in mind that the breading may continue to darken as it sits.
Fried zucchini is best when it's fresh out of the fryer. If you want to make in advance, follow the steps up to just before frying and refrigerate. Fry just before serving.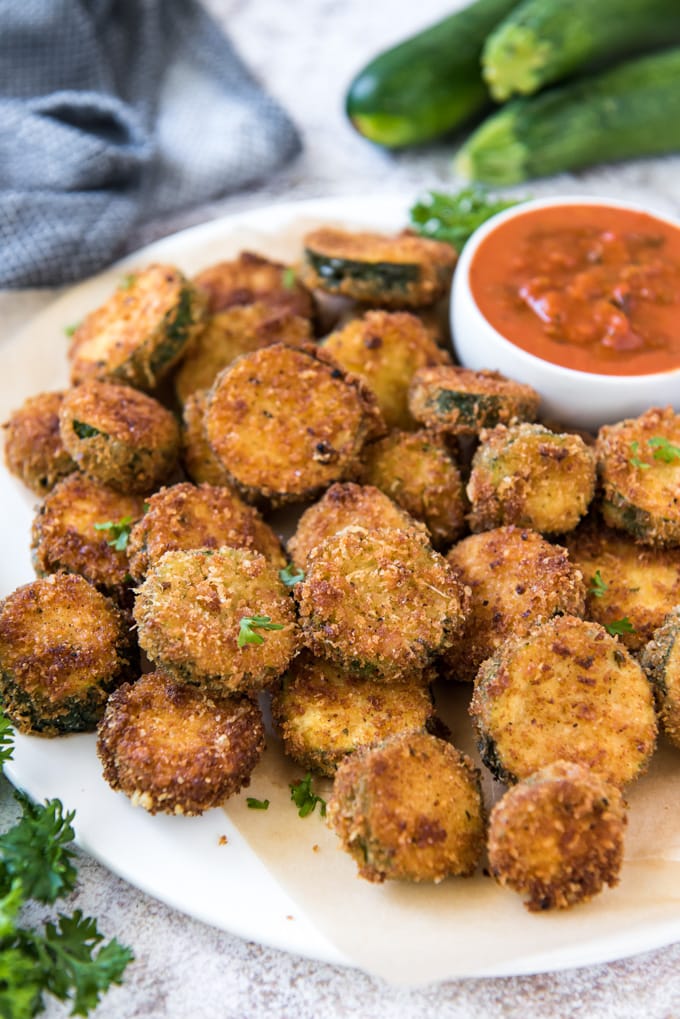 Can You Freeze Fried Zucchini?
Like I mentioned above, fried foods are best when served fresh. I don't recommend freezing already cooked fried zucchini. However, you can freeze before frying.
Blanche sliced zucchini in boiling, salted water for 2-3 minutes.
Let dry completely, then coat the zucchini in the flour/egg/breadcrumbs and arrange on a baking sheet.
Freeze for 1-2 hours, then place the frozen zucchini in an airtight freezer bag and return to the freezer.
To cook, just pop the frozen zucchini in the hot oil. No need to thaw.
Serving Suggestions
We love our fried zucchini served with ranch dressing and marinara sauce for dipping. Serve as a side dish for Grilled Steak, Baked Chicken Breasts or Baked Pork Chops, or as an appetizer alongside other favorites like Fried Ravioli and Crispy Baked Chicken Wings.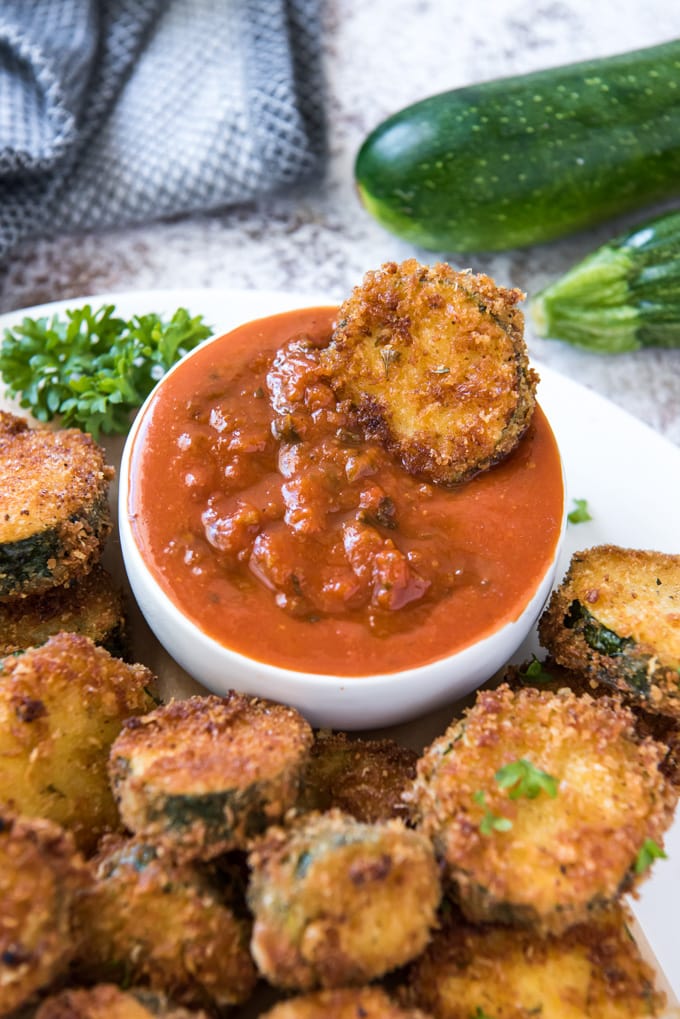 Got More Zucchini?
Use it up in some of our favorite recipes:
Recipe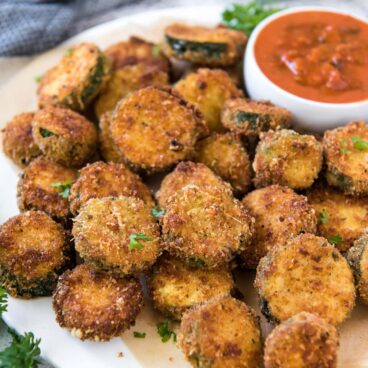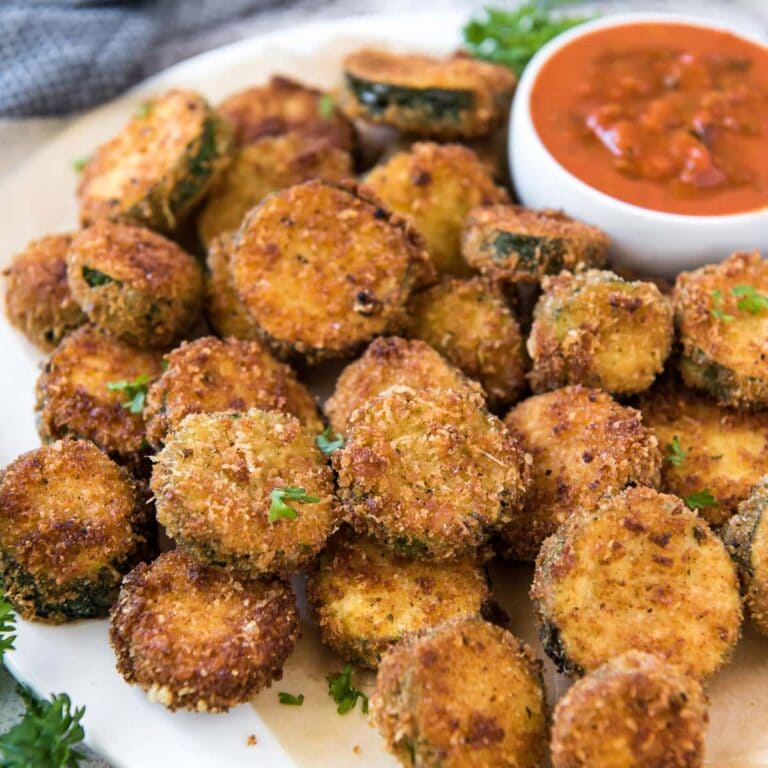 Fried Zucchini
Learn how to make the best Fried Zucchini in a skillet, air fryer or oven! Zucchini slices are dipped in seasoned breadcrumbs then fried until crispy.
Ingredients
2

pounds

zucchini

medium sized, about 6-7

2

large eggs

2

tablespoons

water or milk

salt and pepper

1/2

cup

all-purpose flour

½

cup

Parmesan cheese

2

cups

breadcrumbs

1

teaspoons

garlic powder

2

tablespoons

Italian seasoning

Canola or vegetable oil
Instructions
To a heavy bottomed, deep skillet or dutch oven, add oil to fill about ½ an inch and heat over medium-high heat.

Trim the ends off the zucchini and slice into ½-inch thick slices.

Whisk eggs with the water in a small dish with salt and pepper to taste. In another small dish add the flour. In a third dish mix together breadcrumbs, Parmesan cheese, garlic powder and Italian seasoning.

Coat the zucchini in the flour, then egg (let excess drip off), then breadcrumbs. If you end up not having enough egg, just whisk another in.

Fry zucchini in the oil, several at a time but not touch each other, about 1-2 minutes per side or until golden brown. Transfer to paper towels to drain.

Sprinkle with salt if desired and serve immediately.
Notes
If the fried zucchini begin to turn dark or burn quickly, turn down the heat.
Nutritional information is approximate and is based on the ingredients as listed. Actual serving size may vary, depending on the size of each slice and if you're serving them as an appetizer or side dish.
Nutrition
Calories:
261
kcal
Carbohydrates:
30
g
Protein:
10
g
Fat:
12
g
Saturated Fat:
2
g
Cholesterol:
45
mg
Sodium:
323
mg
Potassium:
398
mg
Fiber:
3
g
Sugar:
5
g
Vitamin A:
356
IU
Vitamin C:
20
mg
Calcium:
168
mg
Iron:
3
mg