Baked Parmesan Zucchini Crisps
Baked Parmesan Zucchini Crisps are a highly addictive healthy snack that is incredibly simple and easy to make with just two ingredients! Serve this Crispy Parmesan Zucchini recipe with a side of homemade ranch dressing for dipping and you'll have a delicious, good for you snack that your whole family will love. 
We love using zucchini in our recipes. It's healthy, adds moisture in place of butter or oil and has a very mild flavor that is great with Italian dishes like Goat Cheese and Marinara Stuffed Zucchini Boats and sweet treats like Double Chocolate Zucchini Muffins and Chocolate Chip Zucchini Oatmeal Cookies.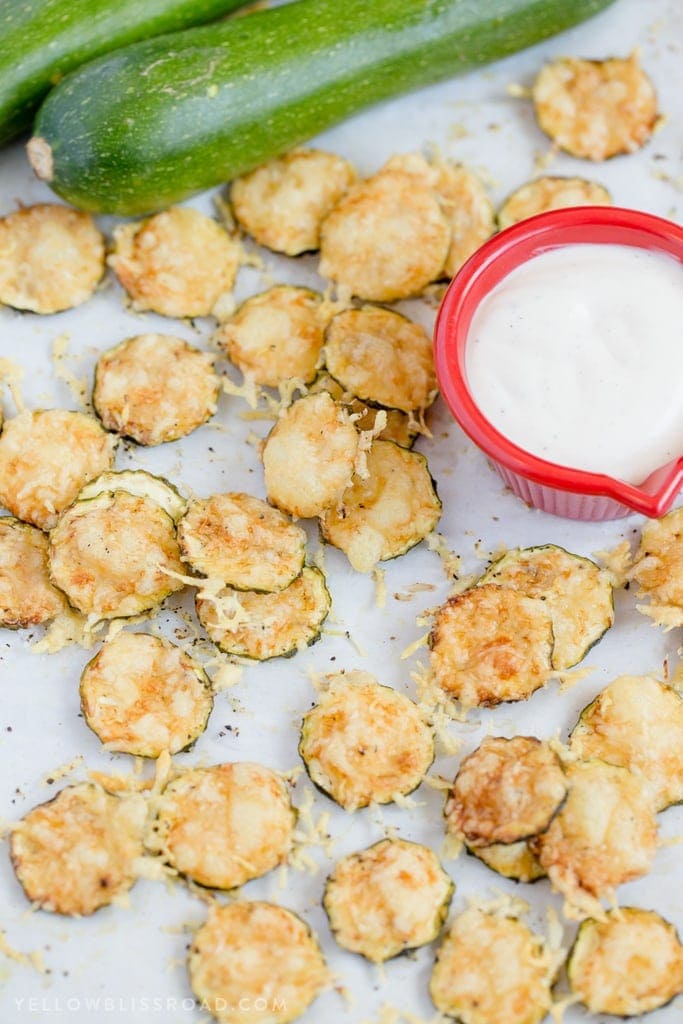 EASY BAKED PARMESAN ZUCCHINI CHIPS RECIPE
Healthy snacking is kind of an oxymoron, isn't it? I mean, when I'm in the mood for snacking, "healthy" isn't exactly on my mind. However, I do love me some zucchini, and coupled with fresh grated Parmesan, I can do the healthy snacking thing all the livelong day.
When I was a young adult I lived with my grandmother. She's the one who actually got me addicted to zucchini. Whether it was in her famous Zucchini Bread or in a delicious saute, zucchini was often the vegetable of choice that graced our dinner table. Fried zucchini was her favorite. Not the healthiest of choices but still pretty darn yummy.
Are parmesan zucchini chips keto?
Yes! If you are living the keto lifestyle or eating low carb or no carb, you're in luck. These chips are a great way to get some flavor in your snacking!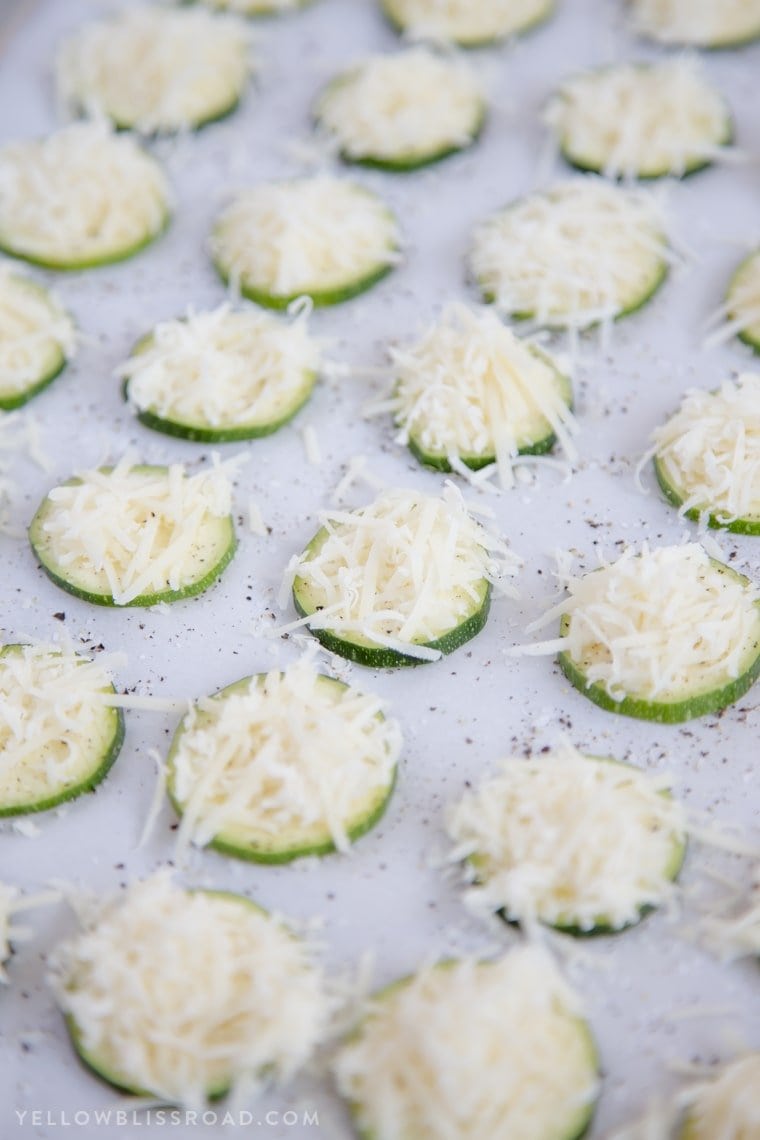 HOW TO MAKE PARMESAN ZUCCHINI CHIPS
Well, guess what folks – these Parmesan Zucchini Crisps taste like fried zucchini without all that pesky frying! Parmesan is a hard cheese, so it has a lot less moisture than softer cheeses. Bake it on its own and it's going to form a crispy little shell, and bake that shell over some zucchini slices, well, all bets are off!
Here's how to make my easy Parmesan Zucchini Chips:
Line a large baking sheet with parchment paper or foil. I'm partial to the parchment for this particular recipe.
Slice zucchini into thin rounds, no more than a ¼ inch thick. Use a mandolin if you have one for even slices. I also recommend laying the zucchini out on a flat surface and pressing them with a paper towel to absorb some of the moisture, resulting in crispier zucchini.
Arrange zucchini in a single layer (not overlapping) onto the lined baking sheet. It's ok if they are touching as they will shrink up a bit while they bake. Season the zucchini with salt and pepper and sprinkle with a good amount of freshly shredded Parmesan cheese.
Bake until golden and crispy, and let the zucchini chips cool for a bit before serving.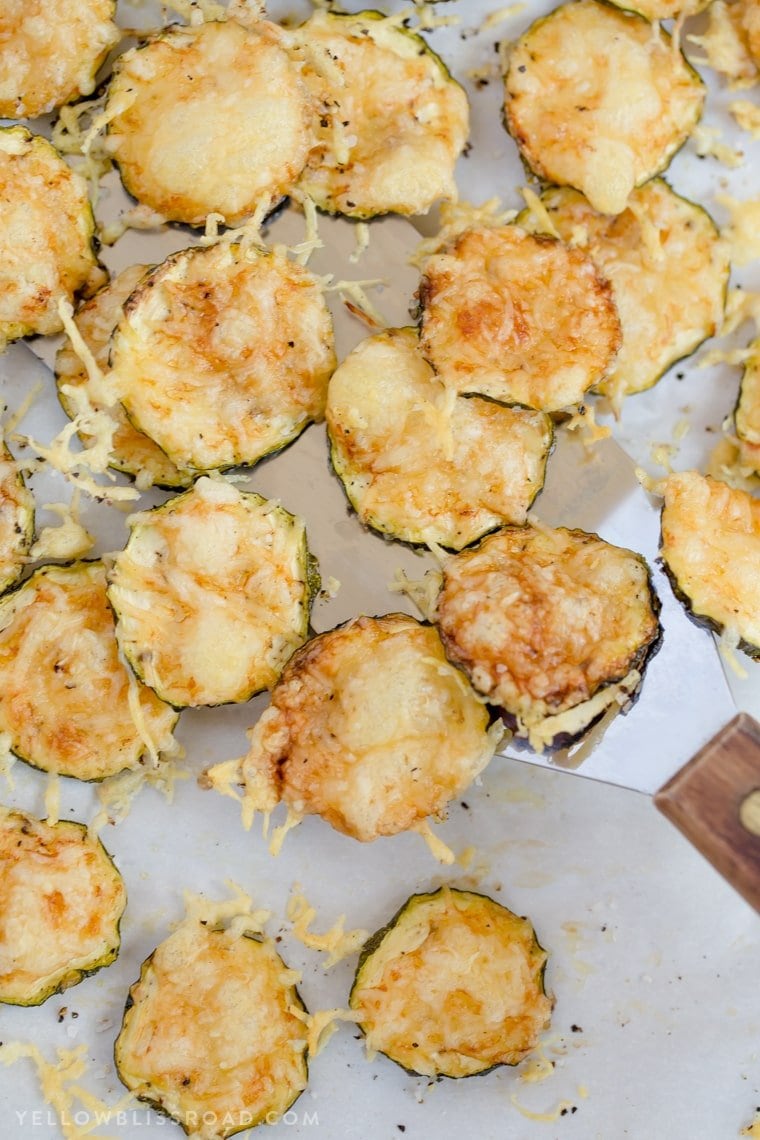 WHAT TO SERVE WITH THIS CRISPY PARMESAN ZUCCHINI RECIPE
Of course with a delicious snack like this, you're going to need something to dip it into. We love using any flavor of Ranch dressing or dip, but blue cheese dressing is also quite delicious. They are super addictive, just like potato chips but way better for you.
Give these Parmesan Zucchini Crisps a try with some yummy Ranch on the side, and be sure to pick up a bunch of zucchini – they are as addictive as potato chips and your family will be begging you to make this snack every day!
What to do with leftovers
Zucchini Chips don't make the best leftovers. You can store them in a plastic zipped bag for a few days in the fridge and reheat them in the oven or on the stovetop in a hot skillet. They are best fresh out of the oven and freezing is not recommended.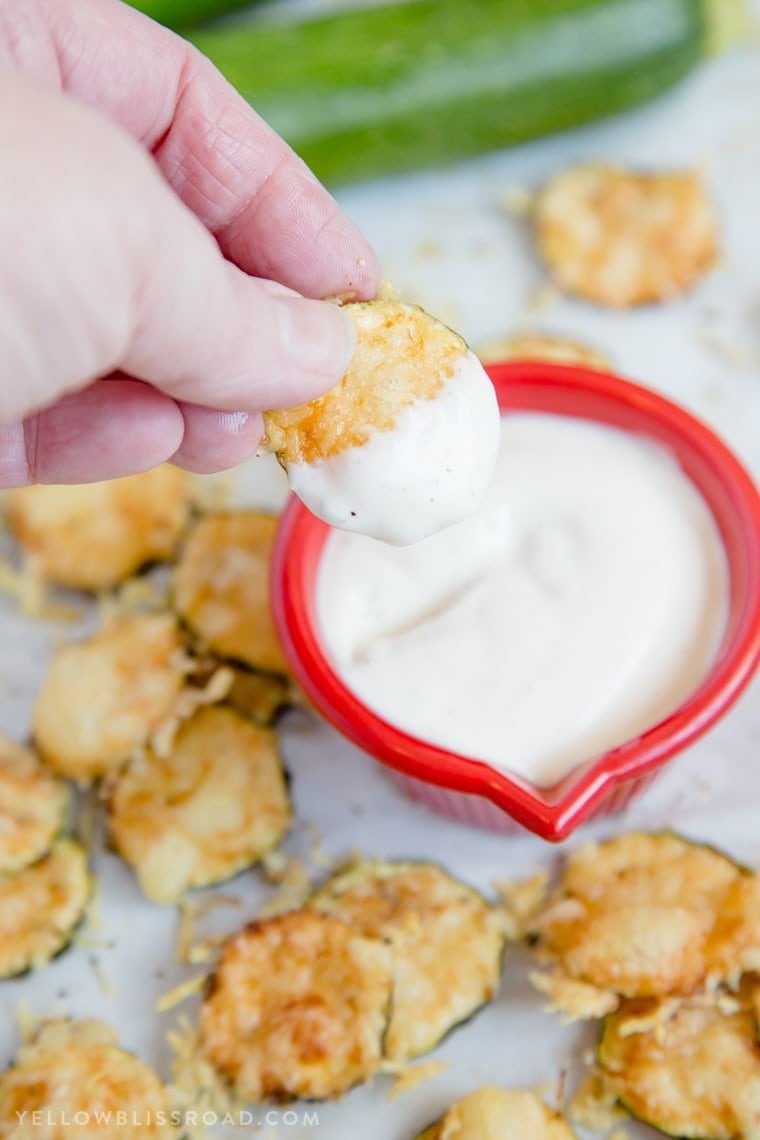 Here are some more zucchini recipes you'll love:
Want more delicious snack ideas with Ranch Dressing? Try these: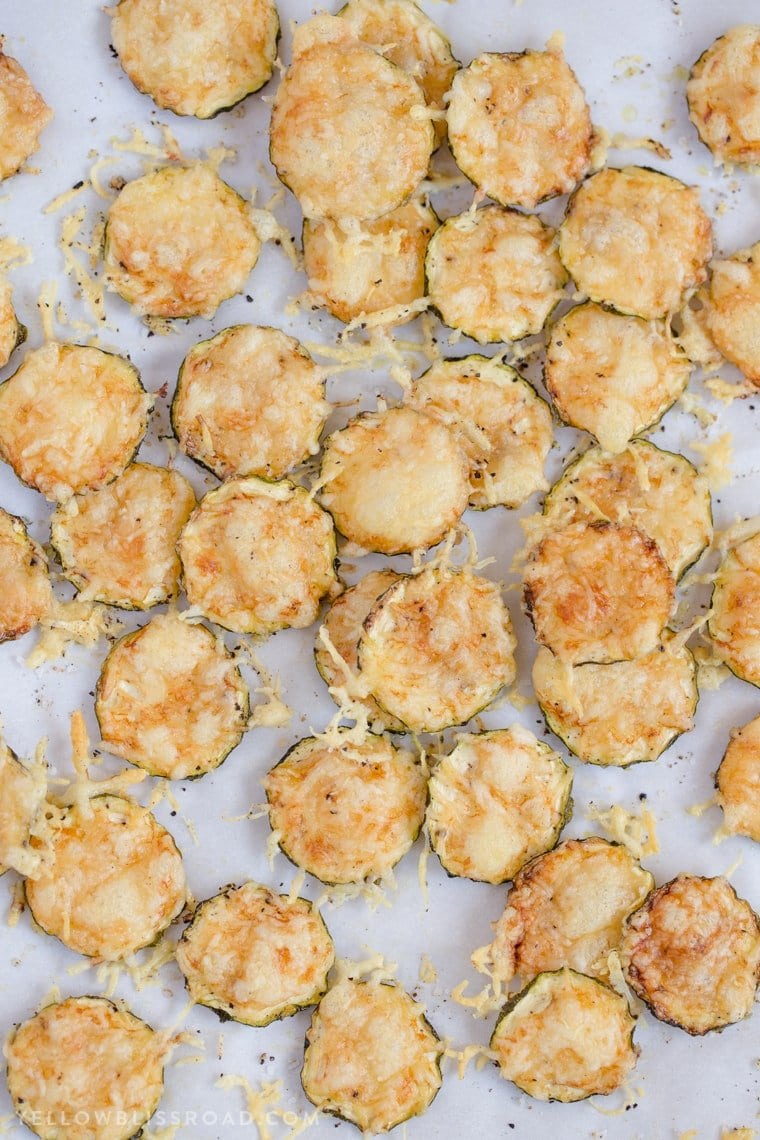 If you've made this recipe, please come back and leave us a star rating or a comment below. Or, tag us on social media @yellowblissroad or #yellowblissroad for a chance to be featured.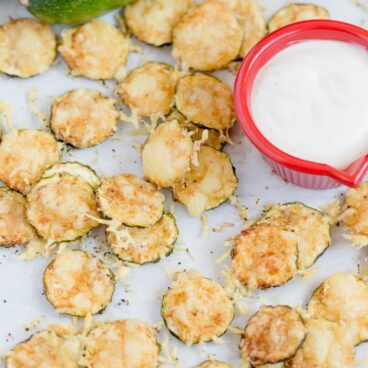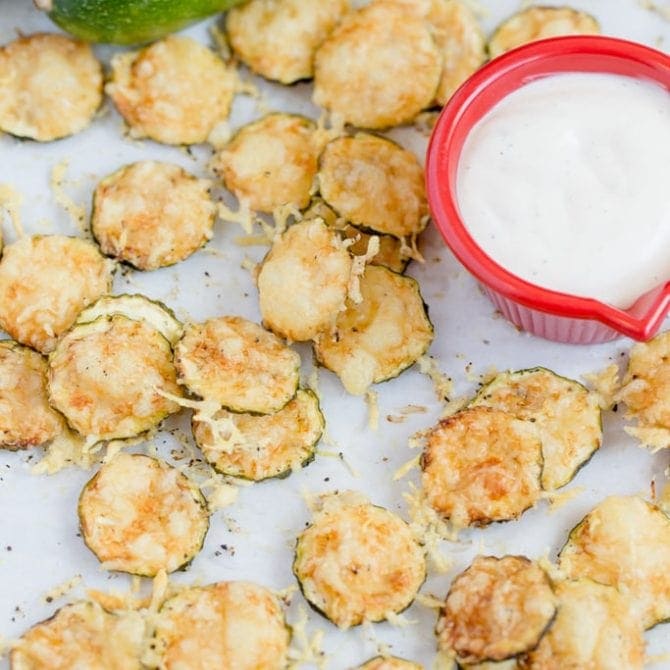 Parmesan Zucchini Crisps
Ingredients
2

medium zucchinis

sliced into ⅛" rounds

Kosher salt and fresh ground black pepper

1 ½

cups

freshly grated Parmesan cheese

Hidden Valley® Simply Ranch

for dipping
Instructions
Preheat oven to 400 degrees F. Line a metal baking sheet with parchment paper or foil (if using foil, spray lightly with nonstick cooking spray). Set aside.

Slice zucchini into thin (about ⅛-¼") slices.

Optional step: Lay out on a paper towel to dry for 20. Place another paper towel on top of the zucchini slices and press lightly. This will help remove some moisture which will help the zucchini crisp up a little more.

Arrange zucchini in a single layer on the prepared baking sheet. It's ok if they are touching as they will shrink during baking. Season with a pinch of salt and pepper. Place about a teaspoon of freshly grated Parmesan cheese on top of each slice.

Bake at 400 degrees for 20-22 minutes or until golden brown on top.

Cool for a few minutes before transferring to a plate.

Serve with Hidden Valley Simply Ranch for dipping.