Crispy Southwest Air Fryer Egg Rolls
Air Fryer Egg Rolls have a flavorful southwest-style filling in a crispy, crunchy wrapper. Dunk them in a zesty dip and you're in for a delicious appetizer!
We are a little obsessed with air fryer recipes around here. Some of our favorites: Air Fryer Cream Cheese Wontons, Air Fryer Tater Tots and Air Fryer Hard Boiled Eggs.
Air Fryer Southwest Egg Rolls Recipe
Have you ever been to a restaurant that has Southwest Egg Rolls on their appetizer menu? Oh my goodness, they're simply delicious. They're usually filled with a mixture of chicken, cheese, corn, beans and a tex mex seasoning blend. They're deep fried until perfectly crisp and served with a smooth and creamy dip. Never had one? You're missing out!
Luckily, I've come up with a healthier version of these egg rolls that you can make from scratch at home!
How to Make Egg Rolls in the Air Fryer
Making egg rolls in the air fryer gives the same appearance and texture as one that was deep-fried, with a whole lot less oil! Plus it's really easy to do:
Make the filling. For this southwest version, you'll need veggies, black beans, shredded cheese, chicken and seasonings. Shredded chicken breast, leftover rotisserie chicken, anything works.
Assemble. Lay out a wrapper and add about ½ cup of filling into the center of the square. Then, you'll brush egg wash around the outer edges of the wrapper. Fold two opposite corners in over the filling, so the points are almost touching. Then fold another corner in so it's covering the filling and roll the egg rolls until they're closed, making sure it's tightly sealed. If necessary, add a little extra egg wash to seal it.
Cook. Place the egg rolls onto a sheet pan lined with waxed or parchment paper. Don't let them touch or they might stick together. Place a few egg rolls in the air fryer basket, making sure they're not touching each other and cook at 375 degrees for 5 minutes. Use tongs to flip each piece and continue to cook for another 3-5 minutes or until they are golden brown and crispy on the outside. Continue to cook in batches until all of the egg rolls are done.
If you don't have an air fryer, you can still make this recipe. Make the egg rolls as instructed, then bake on a sheet pan at 425 degrees for 10-15 minutes. Spray with a little nonstick cooking spray first for a golden color.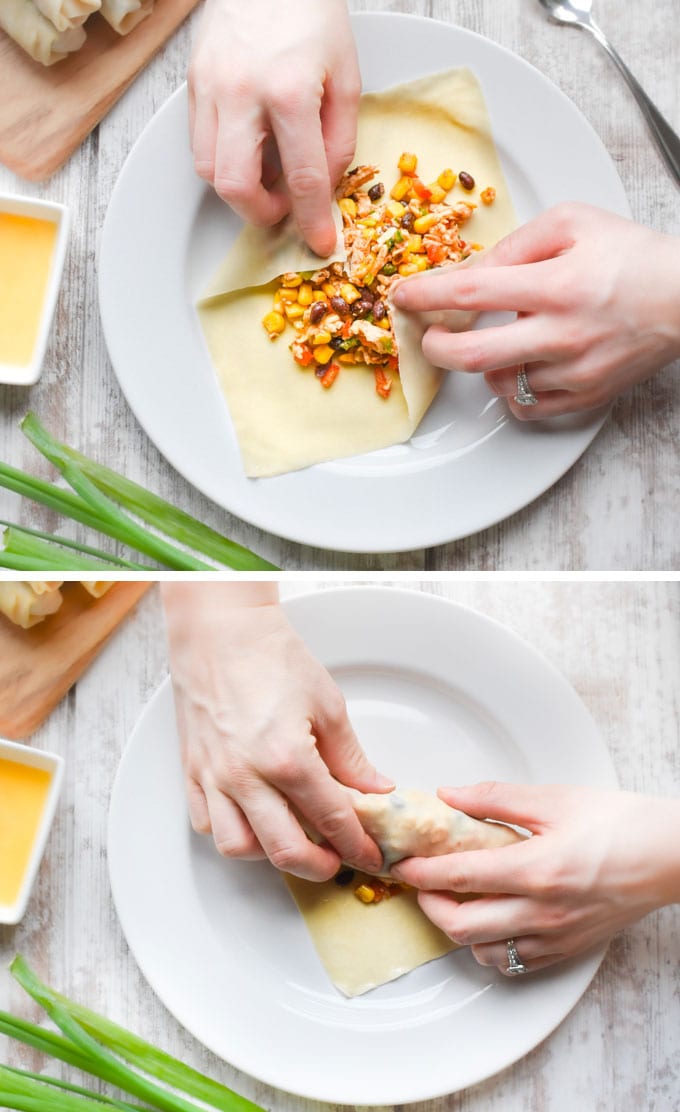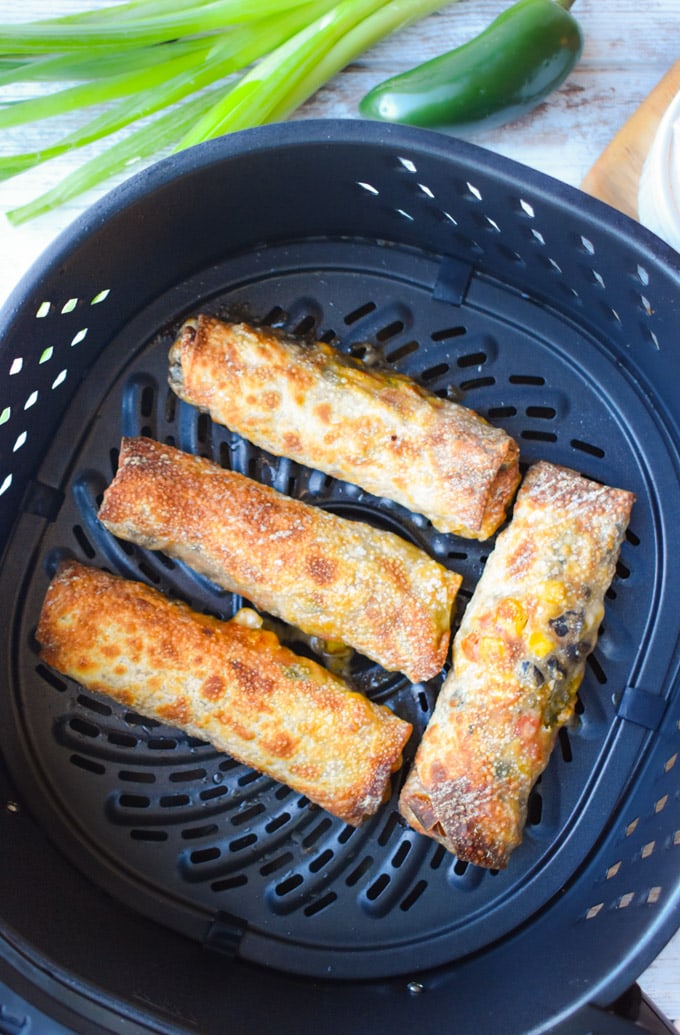 What to do with leftovers
Allow egg rolls to cool completely before storing. Store in an airtight container in the refrigerator for up to 3-4 days or in the freezer for up to 2 months.
To freeze homemade egg rolls: Cool completely, then arrange on a baking sheet. Cover with plastic wrap and place in the freezer until firm; about 3-4 hours. Transfer to a freezer bag or freezer safe container and keep frozen for up to 6 months.
Reheating Instructions
I recommend reheating egg rolls in the air fryer. Whether they're these homemade southwest egg rolls or the ones from your favorite take-out restaurant, using the air fryer is the way to go.
Eggs rolls, or really, anything fried or air-fried, are meant to have a crunchy exterior and a moist interior. Although the microwave will warm them back up, they'll end up with an exterior that has a less-than-ideal texture.
To reheat egg rolls in the air fryer, set the air fryer to 350°F and add 2-4 at a time. Each batch will take around 5 minutes, depending on the size of your air fryer and how many rolls you add to the pan.
I recommend reheating the egg rolls at a lower temperature than when cooking them for the first time. The reason for this is that the interior needs time to warm up and if you have the temperature too hot, the exterior will burn before the filling is warm.
Can you put frozen egg rolls in an air fryer?
Yes! Heat the air fryer to 350 degrees, and air fry for about 4 minutes. Turn up the heat to 400 degrees to crisp the exterior for 2 minutes.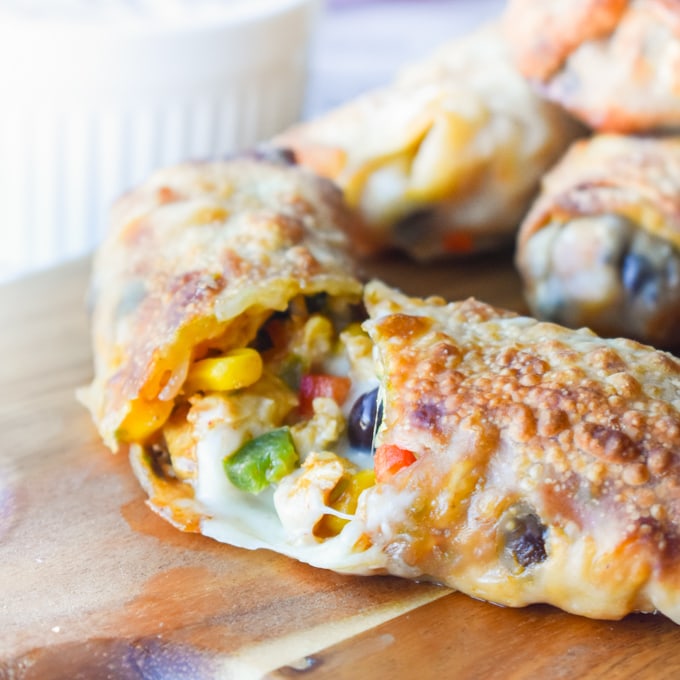 Serving Suggestions
The dip that goes with this recipe is quite simple and adds great flavor and creaminess to the crispy egg rolls. You can also serve with pico de gallo, guacamole, hot sauce and/or cheesy queso dip.
Although these work great as an appetizer, we love to make them into a meal as well. I serve them with a green salad, a bowl of fresh fruit and fried ice cream pie for dessert.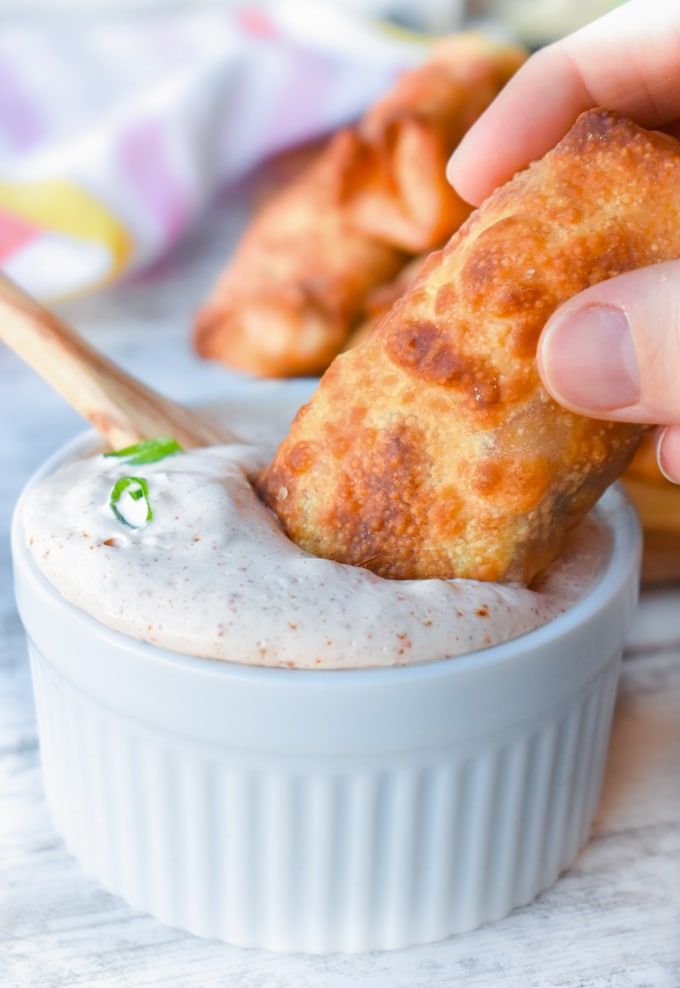 More Delicious Appetizers to Try
If you've made this recipe, please come back and leave us a star rating or a comment below. Or, tag us on social media @yellowblissroad or #yellowblissroad for a chance to be featured.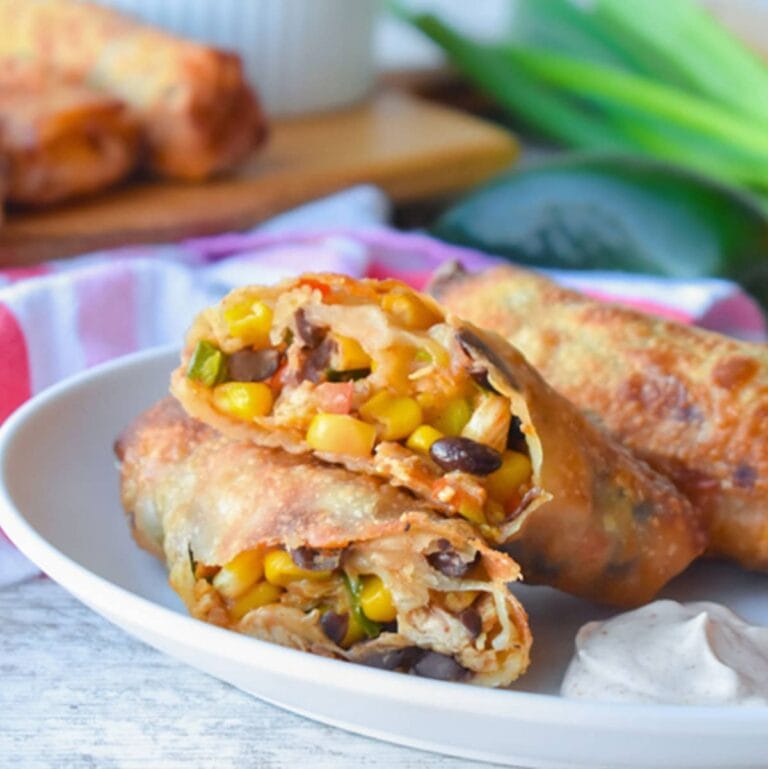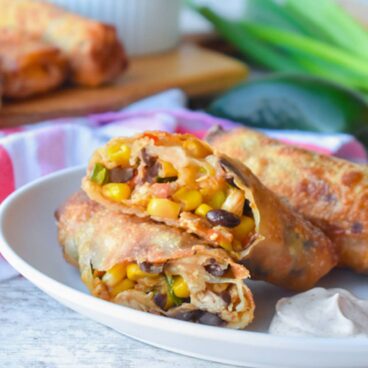 Air Fryer Southwest Egg Rolls
Air Fryer Egg Rolls have a flavorful southwest filling rolled up in a crunchy wrapper. Dunk them in a zesty dip and you're in for a delicious appetizer.
Ingredients
Filling
1

cup

corn kernels

frozen or canned (drained)

1

cup

black beans

rinsed and drained

½

cup

finely diced red bell pepper

¼

cup

finely diced jalapeno pepper

¼

cup

chopped green onions

2

cups

shredded chicken

3

cups

shredded Monterey jack cheese

1

teaspoon

paprika

½

teaspoon

ground cumin

1

teaspoon

mild chili powder

½

teaspoon

salt
Egg Rolls
1

egg

1

tablespoon

water

12

egg roll wrappers

Vegetable oil
Zesty Dip
1

cup

sour cream or plain Greek yogurt

½

cup

buttermilk ranch dressing

or light ranch dressing

1

tablespoon

taco seasoning
Instructions
In a large mixing bowl, combine the corn, black beans, bell pepper, jalapenos, green onions, chicken, cheese and seasonings; set aside.

In a small bowl, use a fork to whisk together the egg and water.

Scoop ½ cup of the chicken mixture onto an egg roll wrapper. Brush the egg wash around the outside of the egg roll. Fold in two sides of the wrapper so the points almost touch. Then fold the top in and tightly roll up the egg roll and place on a sheet pan lined with waxed or parchment paper. Repeat with the remainder of the chicken mixture.

Lightly brush each egg roll with vegetable oil. Place egg rolls in an air fryer and cook at 375°F for 5 minutes. Make sure there is space between each egg roll - cook in batches if needed.

Use a tongs to flip the egg rolls and continue cooking for 3-5 more minutes or until the exterior is golden brown and crispy.  (Cooking times can vary greatly depending on the brand and size of your air fryer. I did four at a time at 375°F and it took between 8-10 minutes total.)

While the egg rolls are in the air fryer, combine the sour cream, ranch dressing and taco seasoning to make the zesty dip.  Refrigerate until ready to serve.
Optional Zesty Dip
In a small bowl, combine sour cream, ranch dressing and taco seasoning for the zesty dip. Cover and refrigerate until ready to serve. Serve the egg rolls warm with zesty dip on the side.
Notes
Nutritional information does not include optional ingredients.
Nutrition
Calories:
221
kcal
Carbohydrates:
14
g
Protein:
16
g
Fat:
11
g
Saturated Fat:
6
g
Cholesterol:
57
mg
Sodium:
391
mg
Potassium:
188
mg
Fiber:
2
g
Sugar:
1
g
Vitamin A:
619
IU
Vitamin C:
9
mg
Calcium:
227
mg
Iron:
2
mg
Kelsey is a busy wife, mother of (soon-to-be) 2, food scientist, and blogger over at
Dance Around the Kitchen
. She grew up on her family's farm in Iowa where she learned to cook and bake from her mom and grandma. She loves being in the kitchen, but also loves fitness and believes that life is all about balance. Her recipes include quick weeknight meals, savory sides, crave-able salads and all the sweets under the sun!