Cream Cheese Wontons are usually fried, and a staple appetizer at many Chinese take-out restaurants. You can make these crispy air fryer wontons at home and enjoy all the flavor and crunch of your favorite take-out without any of the guilt!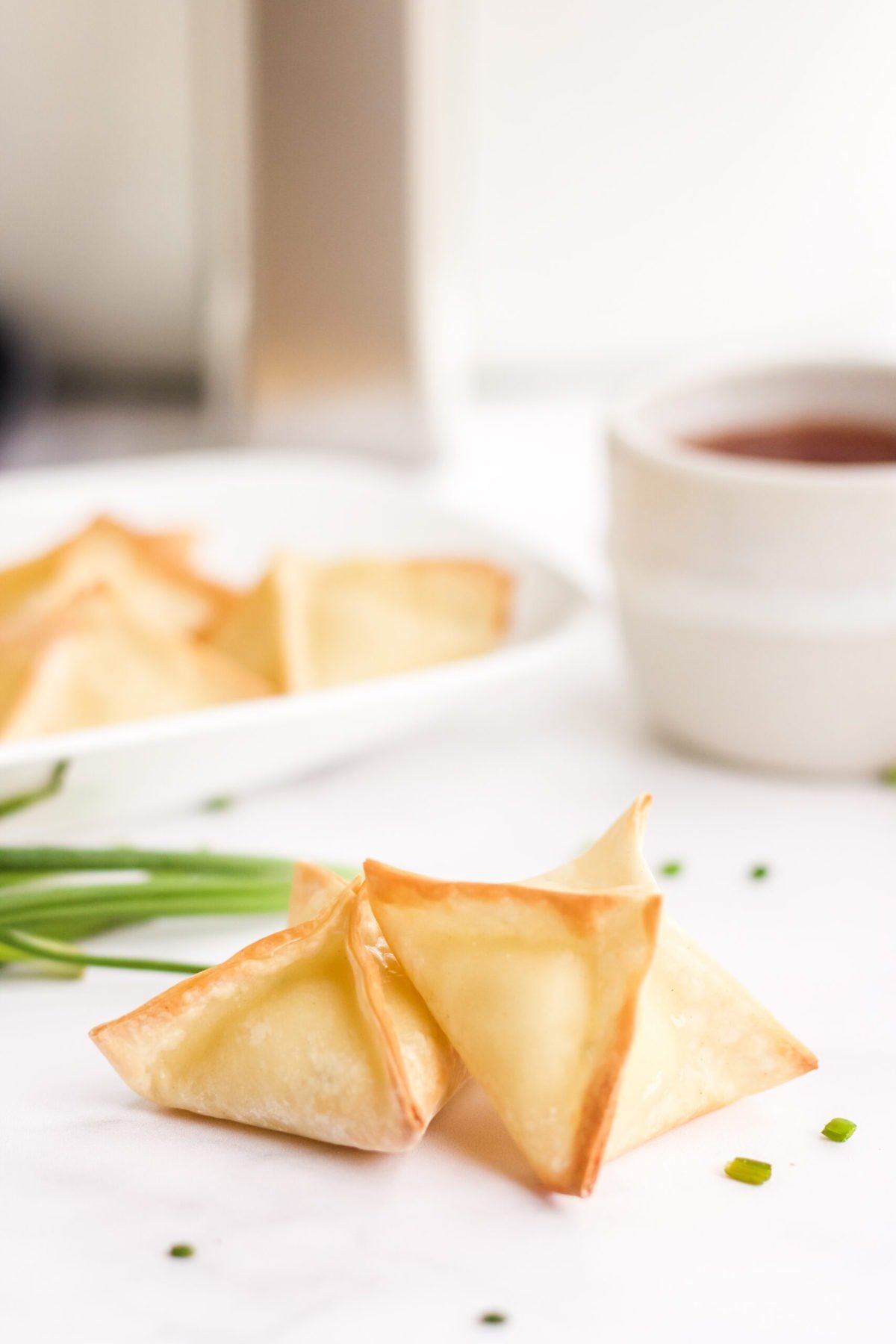 Crispy fried wontons are a great starter for any meal. Serve them with any of our other Asian-inspired favorites, like Kung Pao Chicken, Slow Cooker Mongolian Beef, or Teriyaki Chicken Bowls.
What are Cream Cheese Wontons Made of?
Cream Cheese wontons in the air fryer are a super easy appetizer recipe. There are just 6 ingredients and they are all simple and easy to find.
Wonton wrapper – You can usually find these in the refrigerated section of your grocery store.
Cream cheese – Buy the brick of cream cheese, not the spreadable or whipped. If you have a favorite brand, go ahead and use that. I have tried several and I'm pretty partial to the Philadelphia brand.
Chives – Fresh or dried will work, but fresh definitely offer a better flavor. If you don't have chives, just finely chop the green tops off a few green onions.
Sugar – white, granulated. Just enough to cut the creaminess a little bit.
Garlic powder
Onion powder
Want to try a sweet variation? Omit the chives, garlic and onion, and add a pinch more sugar. After airfrying, dust with powdered sugar. Dip in chocolate sauce, caramel sauce or enjoy on their own!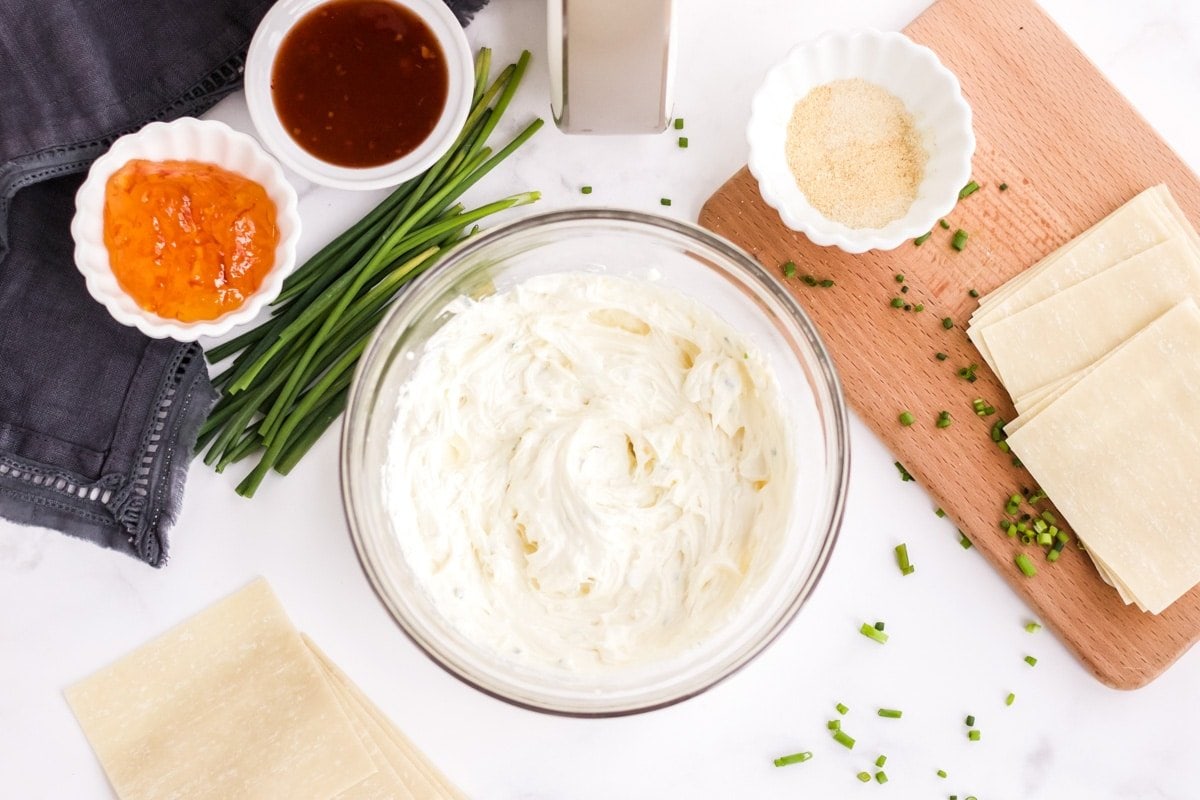 How to Make Air Fryer Wontons
Preheat. Preheat the air fryer to 375 degrees. This may not be necessary depending on your unit, so I recommend reading your manual. I have found that preheating helps the food to cook evenly.
Make the filling. In a medium-sized bowl, mix the cream cheese, garlic and onion powders, sugar, and chives. I recommend using a hand mixer unless you need a good arm workout. Just get it nice and fluffy and fully combined. The sugar is in contrast to the other flavors, but you can omit it if you wish.
Fill the wonton wrappers. Place a small amount of the cream cheese mixture in the center of the wonton wrapper. Fold up the corners and place in the air fryer. Spray with nonstick cooking spray or brush with a tiny bit of olive oil.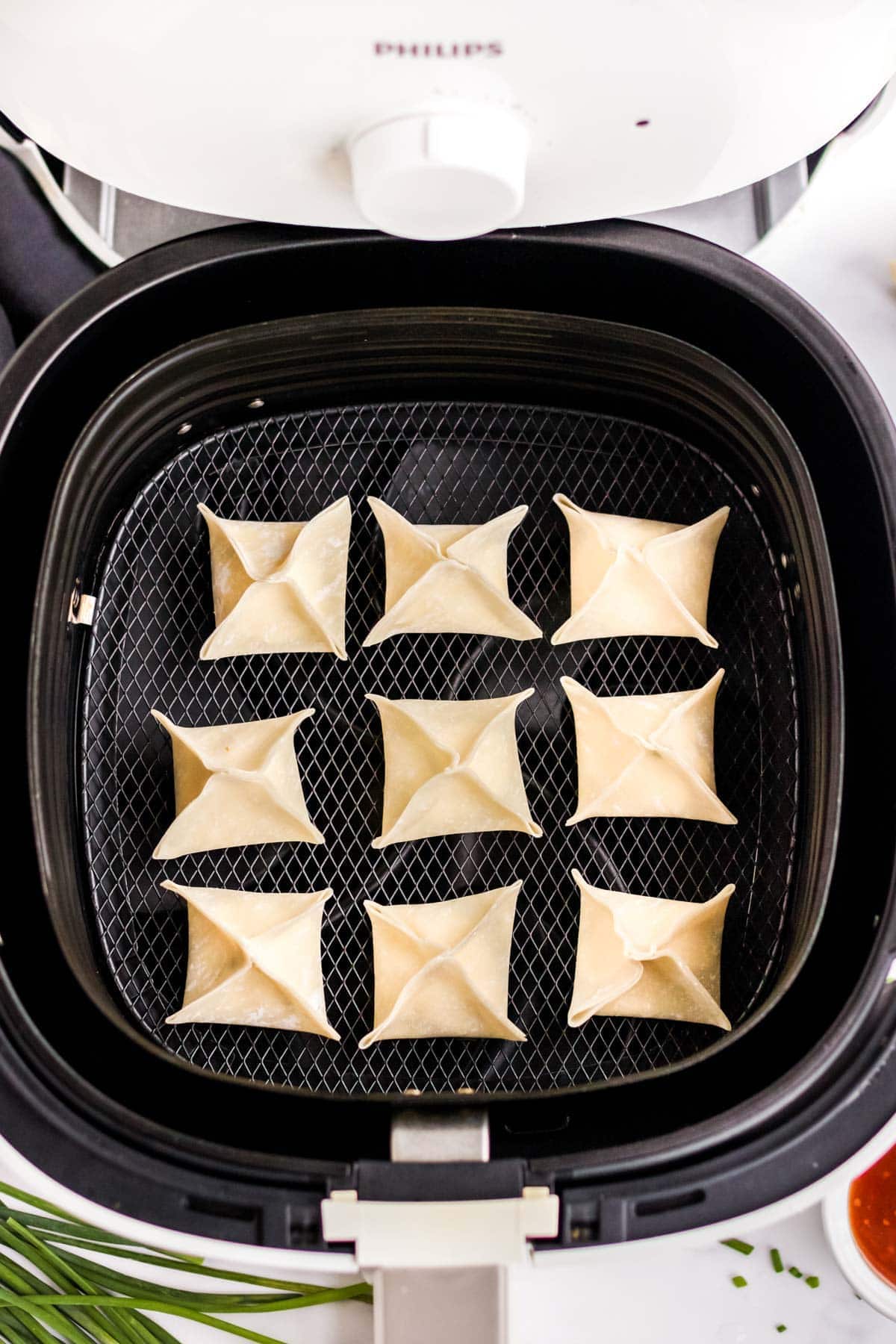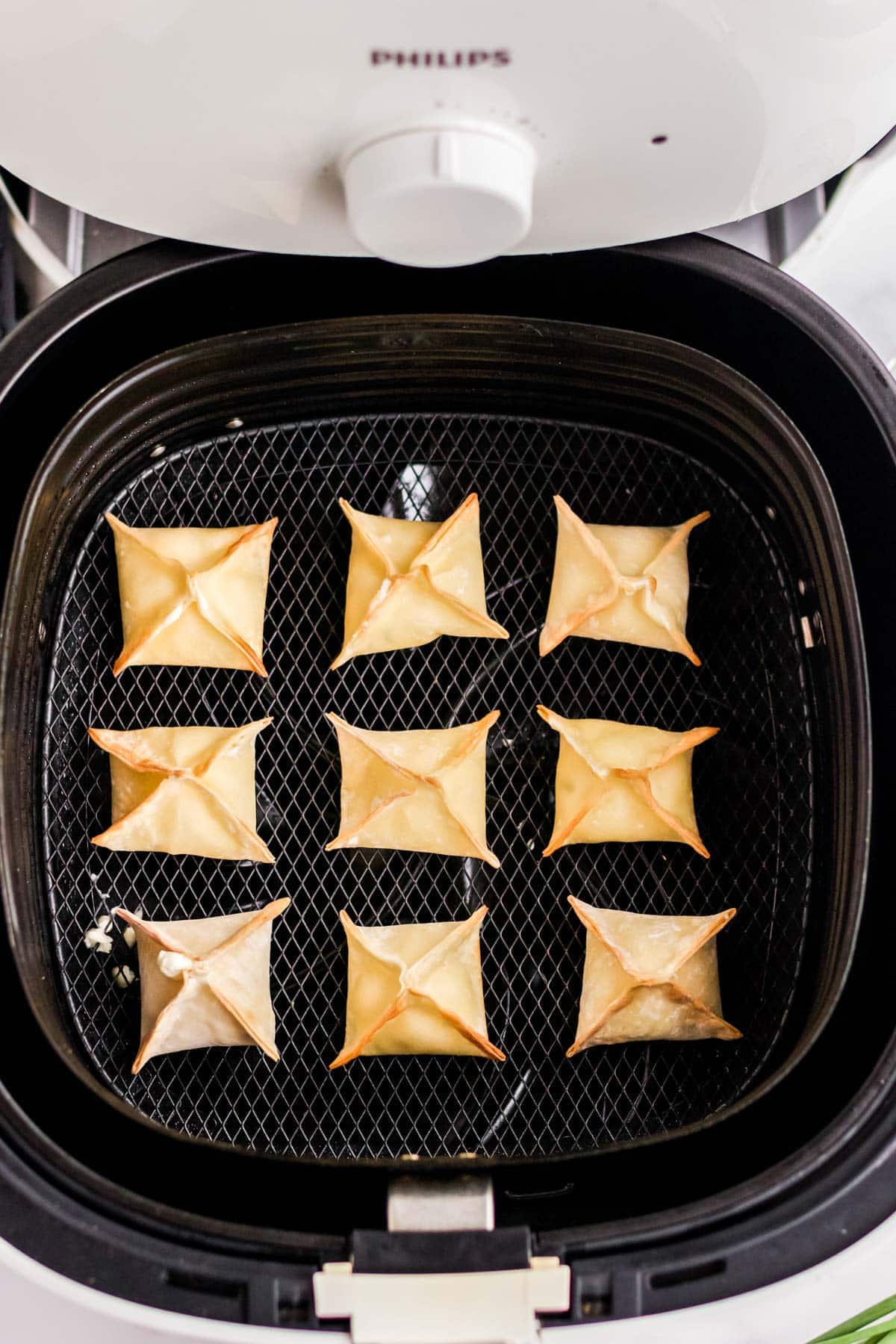 Air Fry Wontons. Cook cream cheese wontons in single layers for about 5-7 minutes or until lightly golden brown. Let them cool for a few minutes before devouring.
How to Fold Wontons
There are lots of different ways to fold wontons. I tried three different techniques before settling on this one.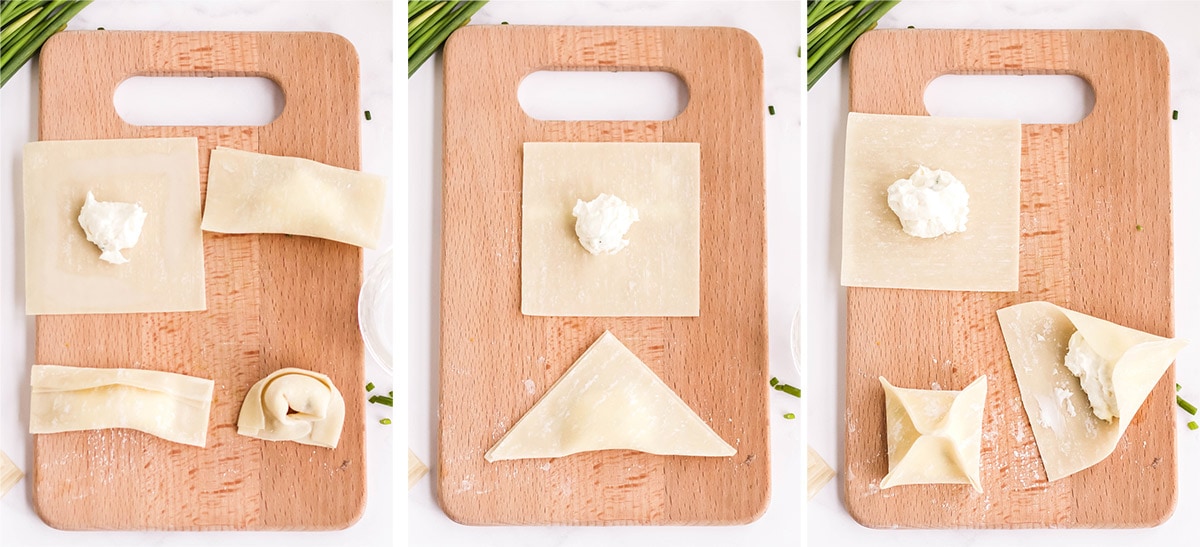 Simply brush the edges of the wonton wrappers lightly with water, then press the edges together to seal. Of the ones I tried, I ended up going with the coin purse style, bringing the four corners up and sealing. I love how the edges get extra golden brown and crispy.
Thai Chili Dipping Sauce
My favorite dipping sauce for cream cheese wontons is a sweet and spicy Thai chili sauce. There are just two ingredients – bottled chili sauce and orange marmalade. Whisk them together and feel free to adjust the amounts to your liking.
If the spicy-sweet is not your thing, you can use anything you like.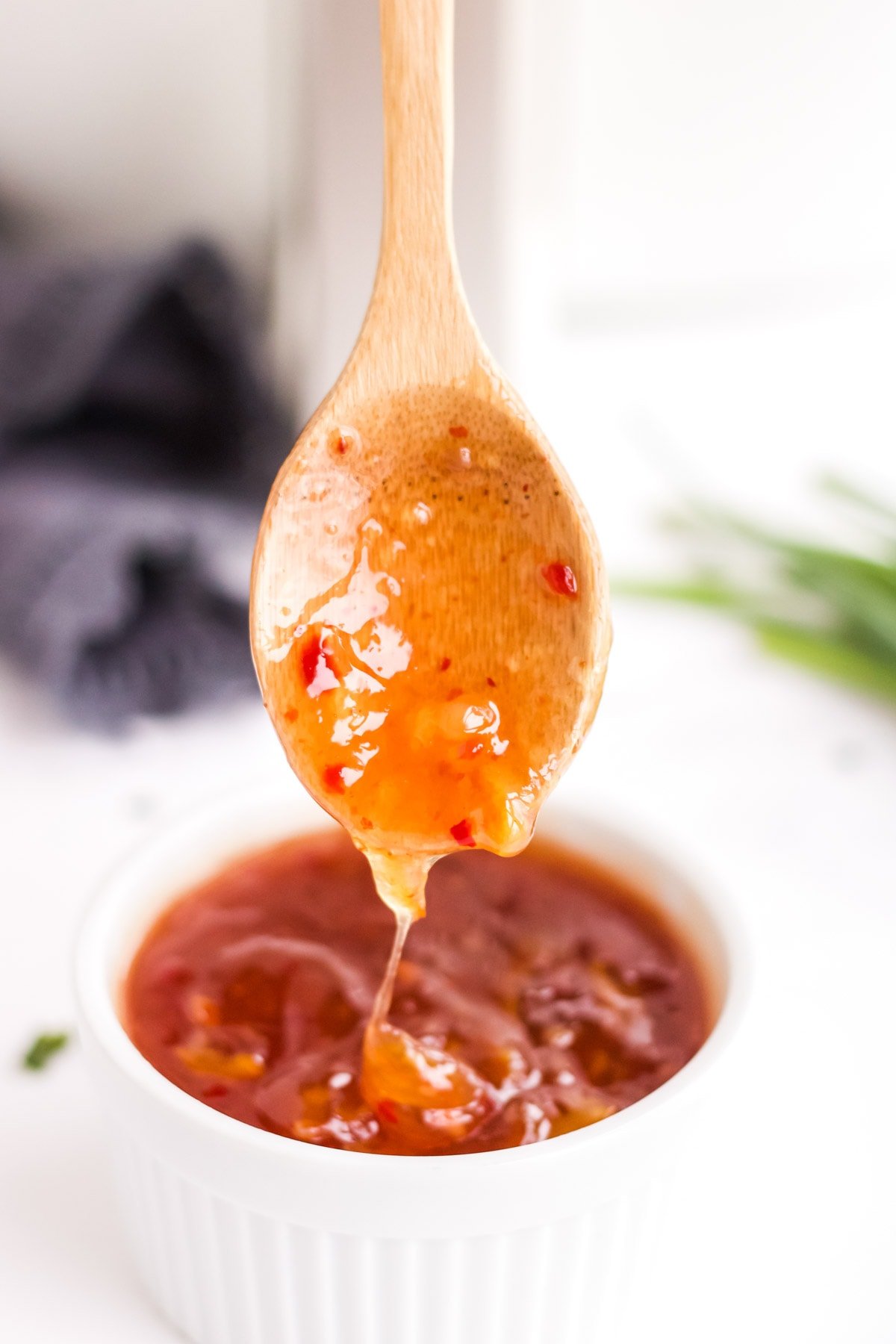 Storage, Freezing and Reheating
Storage: Store cooked wontons in an airtight container for up to 3 days. To make ahead, form wontons and store uncooked in an airtight container with parchment paper between layers for up to 24 hours.
Freezing: Form all of the cream cheese wontons and arrange them on a parchment paper lined baking sheet. Pop into the freezer for at least 30 minutes to an hour. Once frozen, transfer to a freezer safe container or freezer bags and freeze for up to 3 months.
Reheating: To reheat already fried wontons, heat your air fryer to 350 degrees F and cook for 3-4 minutes or until heated through. To air fry frozen wontons, place fully frozen cream cheese wontons into the air fryer basket and spray with nonstick cooking spray on both sides. Cook at 400 degrees F for 8-10 minutes.
Keep in mind that air fryers can vary and some run hotter than others, so check the basket a few times to make sure they don't burn.
Can You Air Fry Frozen Wontons?
To air fry frozen wontons and potstickers, coat them with cooking spray and air fry in a single layer at 400 degrees for 8-20 minutes. If they aren't fully warmed through, flip and continue air frying until they are.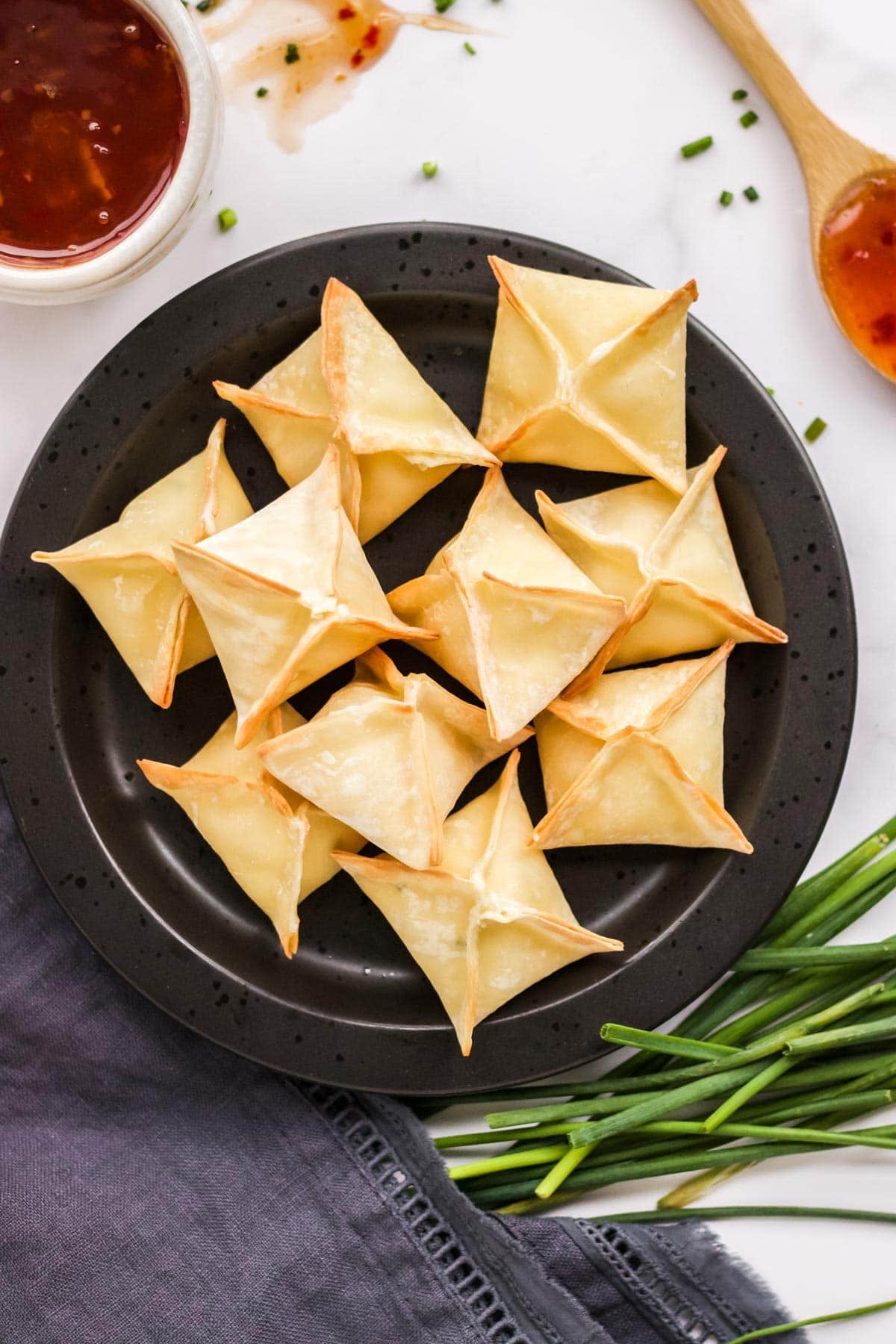 Air Fryer Recipes
If you are as obsessed with Air Fryer Recipes as we are, we have more for you to try! You could make a complete meal with Air Fryer Steak, Air Fryer Tater Tots, and Air Fryer Broccoli. We make Air Fryer Chicken Thighs at least once a month because they're so easy. And did you know that Air Fryer Hard Boiled Eggs are a thing? They totally are and they're so good.
Recipe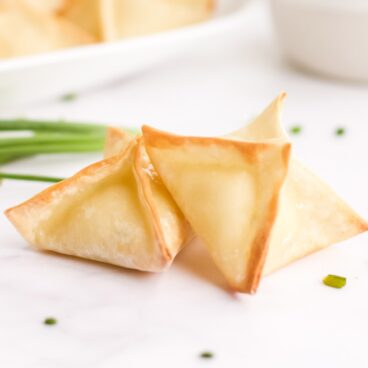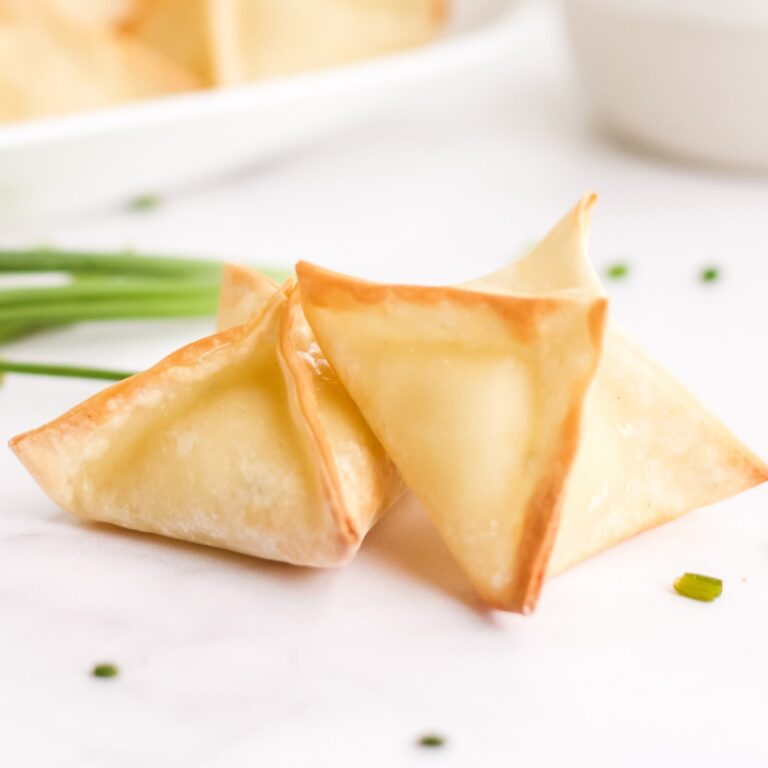 Air Fryer Cream Cheese Wontons
Make these crispy Cream Cheese Wontons at home. Air Fryer Wontons have all the flavor and crunch of your favorite take out without the guilt!
Ingredients
Wontons
24

wonton wrappers

8

ounces

cream cheese

softened

½

teaspoon

granulated white sugar

½

teaspoon

onion powder

½

teaspoon

garlic powder

1

tablespoon

fresh chives

chopped

Water for sealing wontons
Dipping Sauce
½

cup

Thai chili sauce

⅛

cup

orange marmalade
Instructions
Preheat the air fryer to 375 degrees.

In a small bowl, use an electric mixer to combine the cream cheese, sugar, onion powder, garlic powder and chives until fully combined.

Place 2 teaspoons of the cream cheese mixture in the center of each wonton wrapper.

Brush water on the edges of the wonton. Fold each corner into the center and press to seal.

Place the filled wontons in the basket of the preheated air fryer and spray with a light coating of nonstick cooking spray.

Cook for 5-7 minutes or until lightly golden browned.

Meanwhile, prepare the sauce by whisking together the Thai chili sauce and orange marmalade.

Serve immediately with sauce for dipping.
Nutrition
Serving:
4
wontons
Calories:
259
kcal
Carbohydrates:
29
g
Protein:
5
g
Fat:
13
g
Saturated Fat:
7
g
Cholesterol:
44
mg
Sodium:
1266
mg
Potassium:
85
mg
Fiber:
1
g
Sugar:
9
g
Vitamin A:
538
IU
Vitamin C:
1
mg
Calcium:
55
mg
Iron:
1
mg