Get ready for a crispy and tangy delight with this Fried Pickles recipe. Perfectly seasoned and fried to golden perfection, these crunchy dill pickles are a crowd-pleasing snack or appetizer that will leave you craving for more.
Whether you're a pickle lover or looking to try something new, Fried Pickles are the perfect combination of bold flavors and crunchy textures. Serve them with your favorite dipping sauce, like BBQ Sauce, Ranch, or Dill Dip.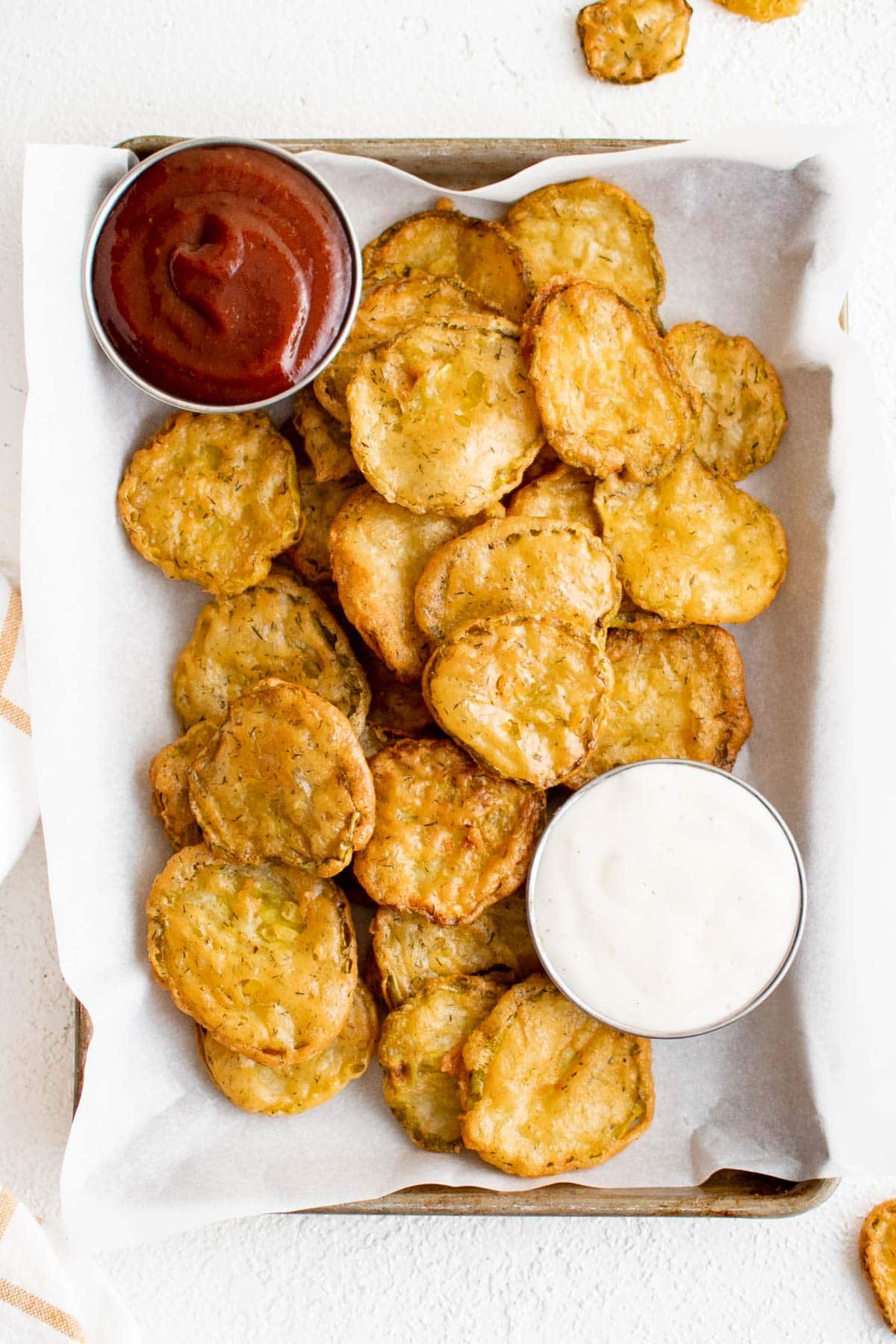 Pin this recipe for later!
Popularity of Fried Pickles
Maybe it's the irresistible crunch of the fried exterior or the juicy, tangy pop of the pickle inside, but fried pickles are truly one of the greatest snacks ever.
Perfect Combo of Bold Flavors and Crunchy Textures – Crispy, crunchy battered goodness on the outside and the perfectly briny tang of a dill pickle on the inside.
They're up for anything! They effortlessly transition from being an appetizer at a party to a delightful treat for a cozy night.
Bite-Sized Fun – Their bite-sized nature makes them easy to pop into your mouth, enhancing the snacking experience.
Undeniable Nostalgia Factor – They evoke memories of state fairs, carnivals, and local diners, where they are often a star attraction. Recreating this classic snack at home brings back the joy and excitement of indulging in a beloved childhood favorite.
I chose to make a super simple BBQ Ranch Dip to serve on the side, but you could totally dip them in whatever sauce strikes your fancy. Regular ranch dressing would also be great, or a jalapeno dill dip.
Ingredients
Dill Pickle Chips – a 16-ounce jar could net about 100 chips (after removing the broken ones. You could also slice whole pickles yourself to get thicker chips, and in turn more "pickle" flavor. Or try larger sandwich slices to top burgers and sandwiches.
Canola Oil – You need enough to fill a large pot or dutch oven about an inch and a half to two inches. Vegetable oil also works well.
Batter – All-purpose flour, milk, baking powder (to help puff up the coating), seasoned salt, and dried dill.
Dipping Sauce (optional) – Equal parts BBQ sauce and Ranch dressing.
How To Deep Fry Pickles
See recipe card below for ingredient quantities and full instructions.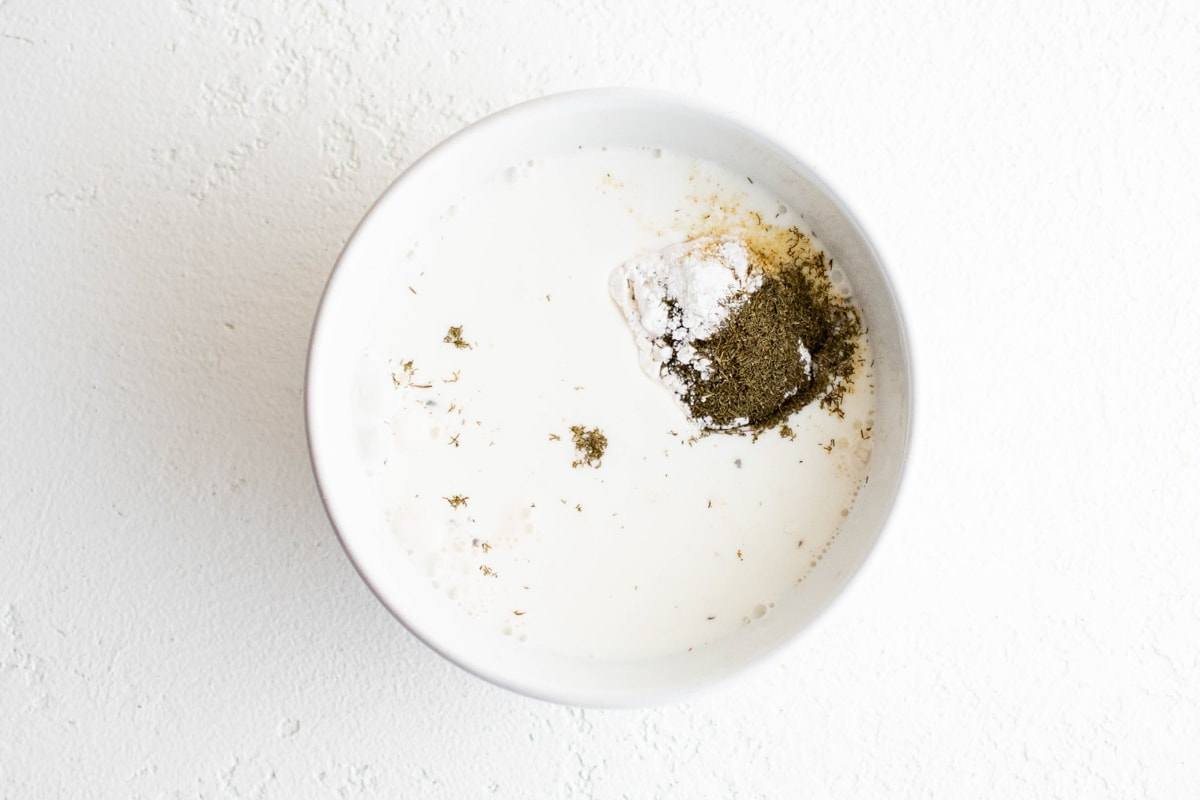 Combine Ingredients. Add ingredients to a medium-sized bowl. Combine the batter and rest for 5 minutes.
Preheat your oil. Oil should be 370℉ on a deep fry/candy thermometer. You can use a deep pot or a cast iron skillet. The deeper the better to avoid any splatter.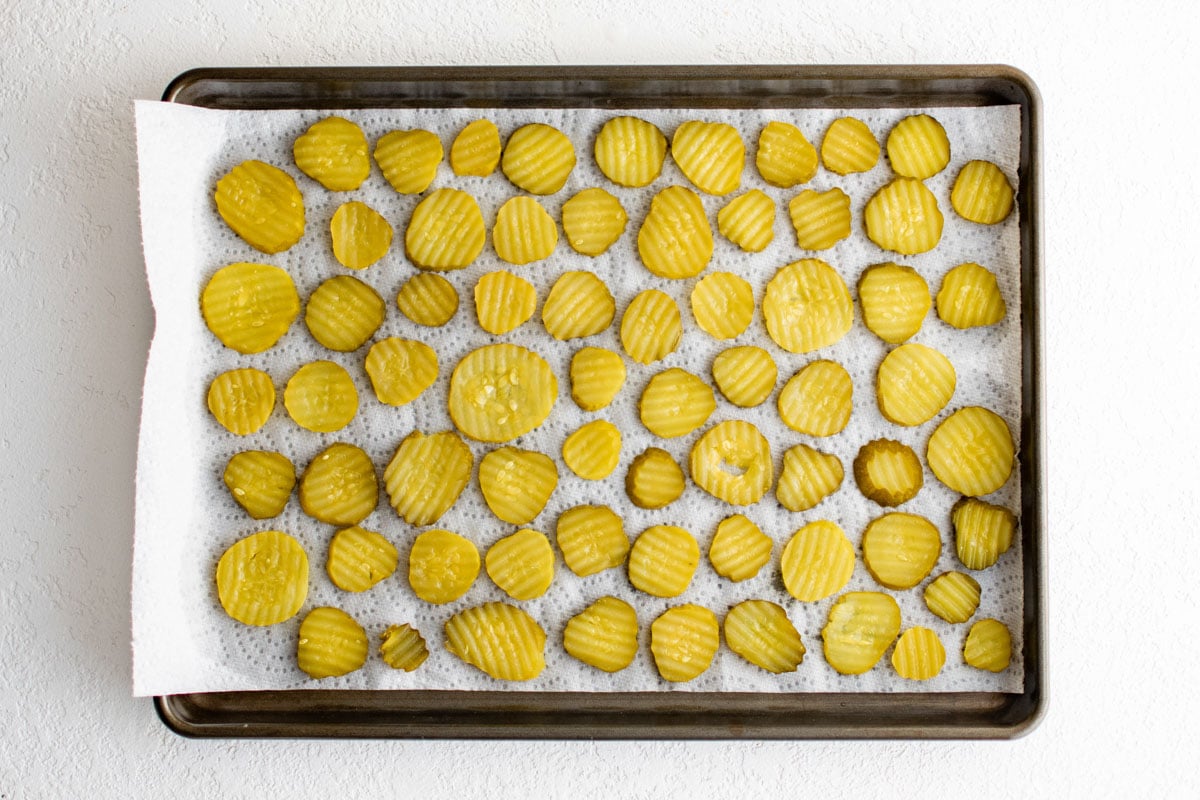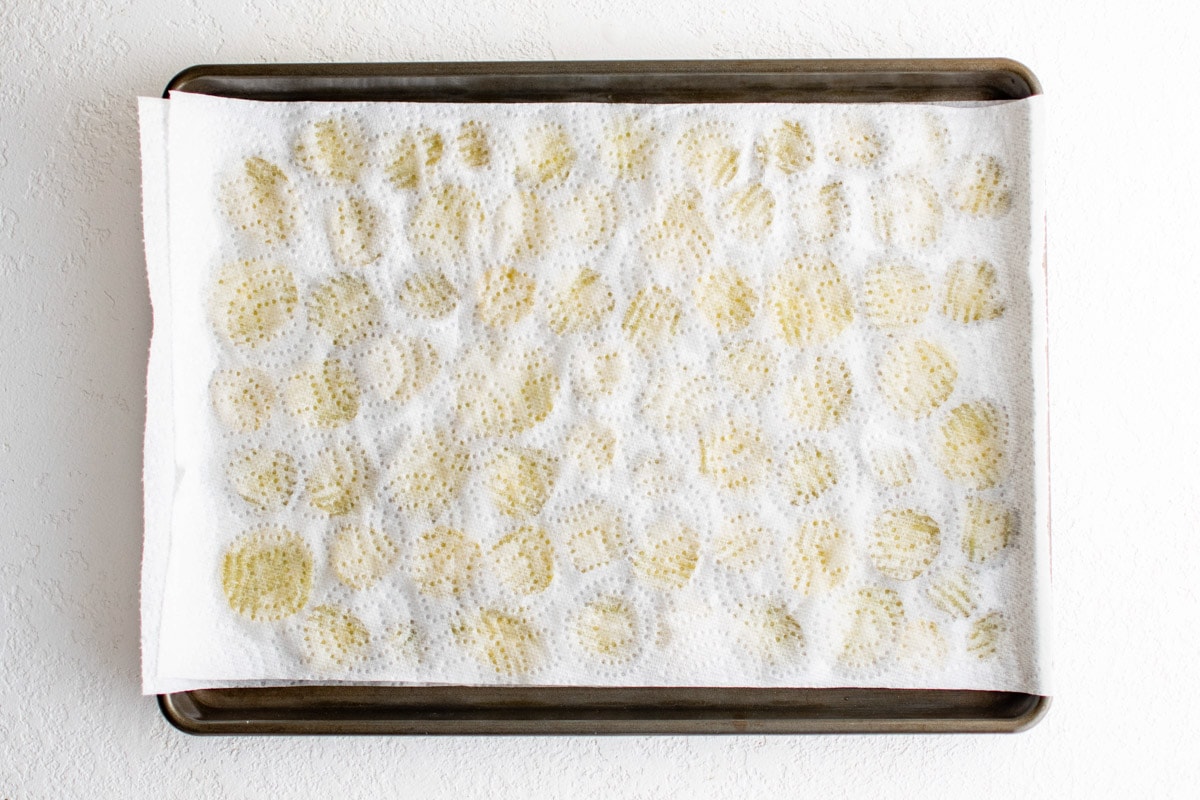 Drain pickle slices on paper towels. It's important for the pickles to be as dry as possible or they will absorb the batter and not get crispy.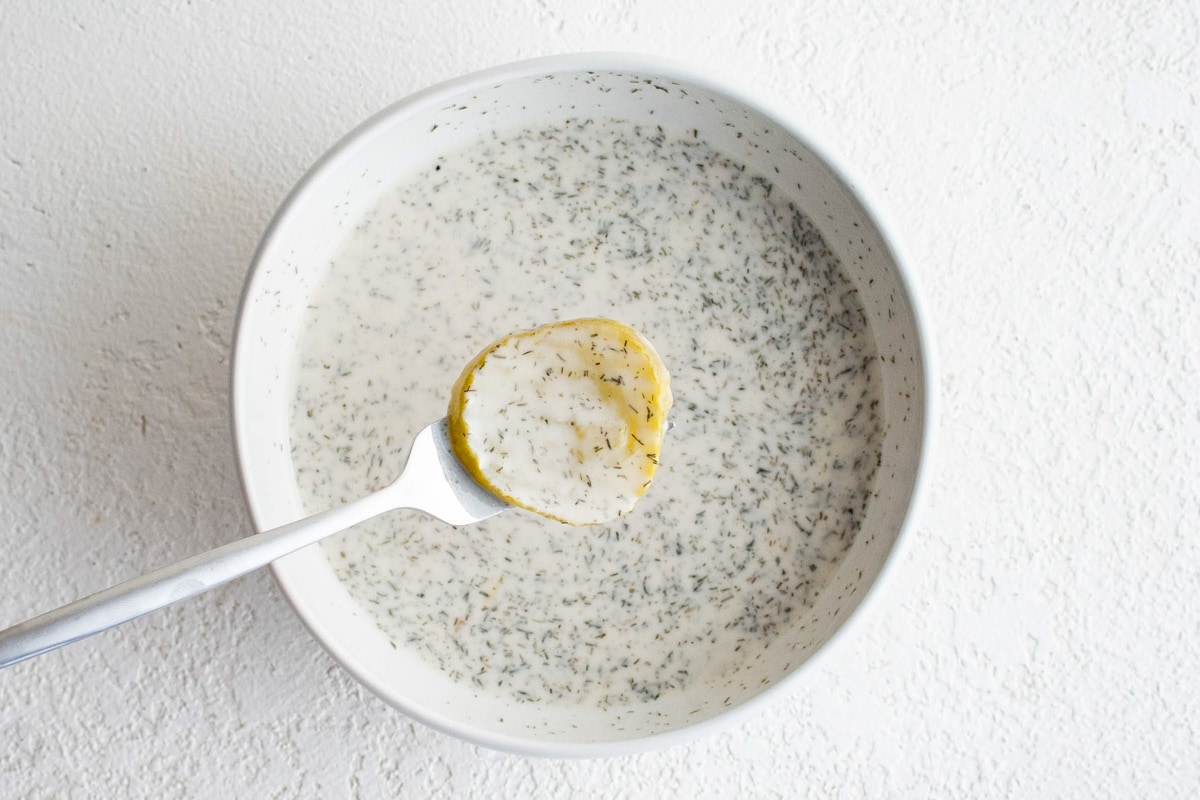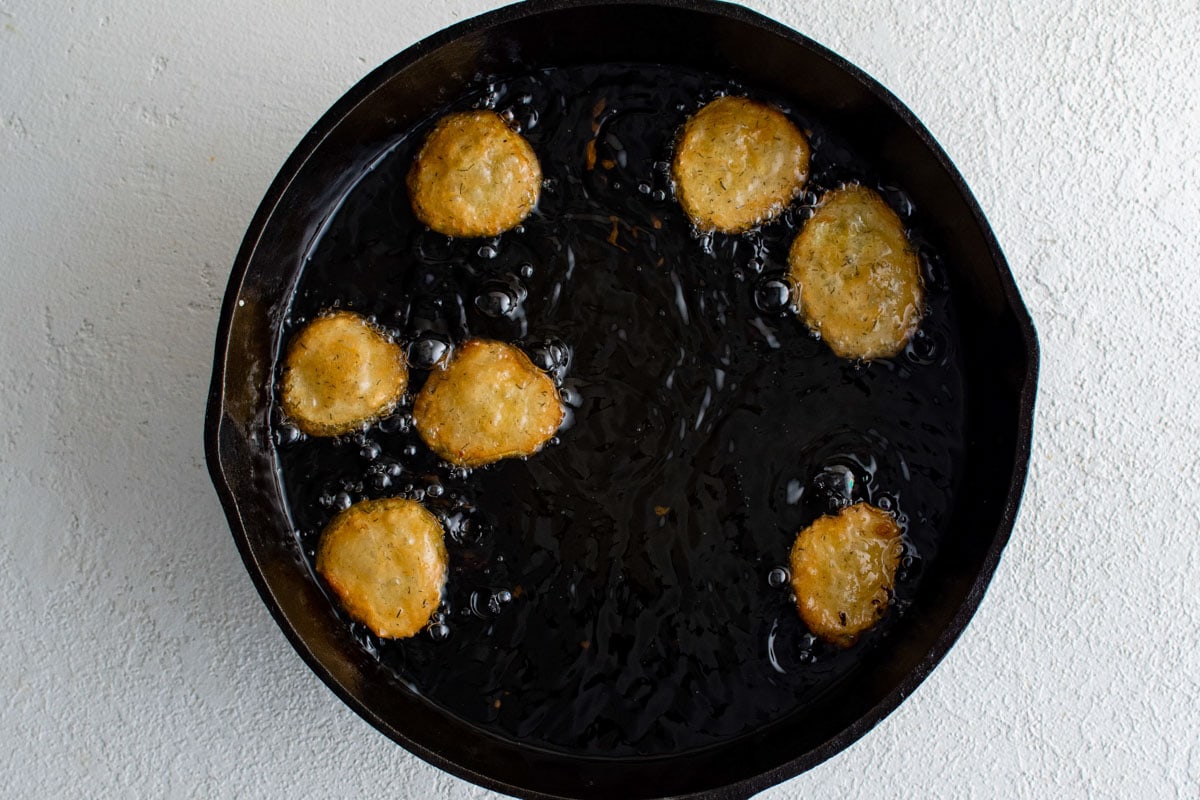 Batter the Pickles. Drop the pickles in the batter, then into the hot oil for frying. Fry until both sides are golden brown and crispy. Cool slightly, then serve with BBQ Ranch dip (recipe below).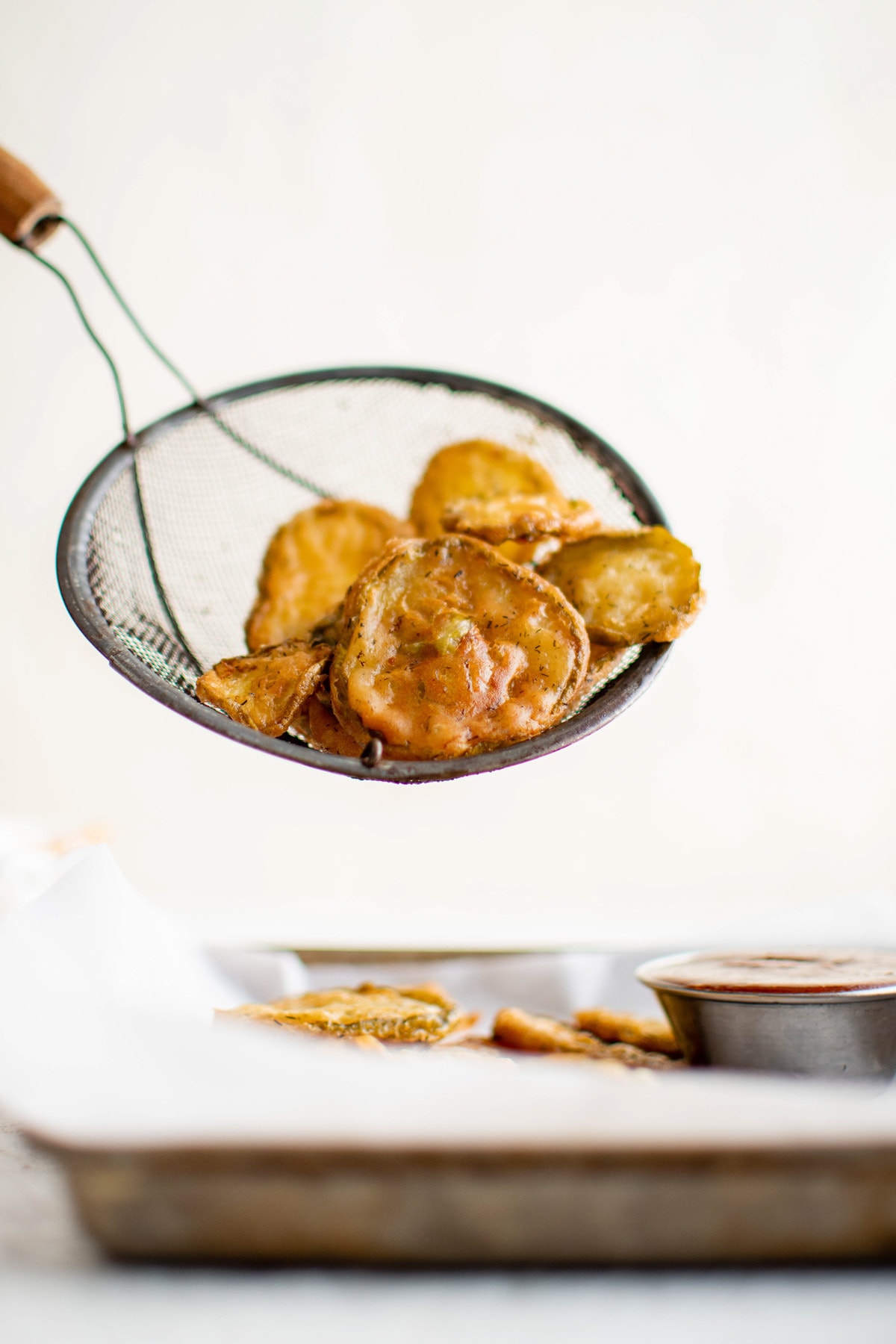 FAQs
What is fried pickle batter made of?
Flour, milk, baking powder, and seasonings. Some recipes also dip them in breadcrumbs after the batter.
How do I make them crispy?
Pat the pickles as dry as possible with paper towels to remove excess moisture. The extra moisture could make the batter soggy and it will slip right off.
Why are my pickles soggy?
If your oil isn't hot enough, you could end up with soggy pickles. Use a deep-fry thermometer to make sure the oil stays consistently between 360-375℉. It's normal for the temperature to fluctuate with you add the pickles; make sure to keep an eye on it.
How long do the pickles stay crispy?
Fried snacks, including pickles are at their best when they are freshly cooked and hot out of the fryer. The crispy texture is one of the highlights of this snack. However, over time, the crispiness may gradually diminish as the pickles cool down and moisture accumulates.

Typically they will stay crunchy for about 15-30 minutes. For this reason, I highly recommend serving them immediately.
How do you reheat them?
The best option for reheating is in an air fryer. Set the temp at about 375℉ and air fry for a few minutes, flipping once, to get the outsides nice and crispy again.
How do you store leftovers?
These are best enjoyed immediately, but you can store them in the fridge for up to 3 days. Reheat in the air fryer or in the oven.
Variations and Additions
One of the great things about making this crispy pickles recipe is the flexibility to use different types of pickles based on your preference. While traditional dill pickles are commonly used, you can certainly experiment with other pickle varieties to add a unique twist to your recipe.
Different types of pickles:
Spicy – If you enjoy a bit of heat, consider using spicy pickles or pickled jalapeños to for a fiery kick. Or simply add a pinch of cayenne pepper to the seasoning.
Sweet – For those who prefer a sweeter flavor profile, bread and butter pickles can be an excellent choice.
Different Shapes and Sizes:
Additionally, you can try using different sizes and shapes of pickles to add visual interest and variety to your crispy pickle chips platter. From whole pickles to spears or even pickle chips, each option will provide a different texture and eating experience.
Serving Suggestions
As with any fried food, these are meant to be enjoyed fresh. After about 30 minutes they begin to lose their crispiness, although they can be somewhat re-crisped in an air fryer.
For serving:
Sprinkle salt or a seasoning blend on the pickles right after frying for extra flavor.
Serve with a dipping sauce like bbq ranch dressing (included in the recipe card below), spicy mayo (aioli), or Jalapeno Dill Dip.
Enjoy while they're still hot for the best texture and taste.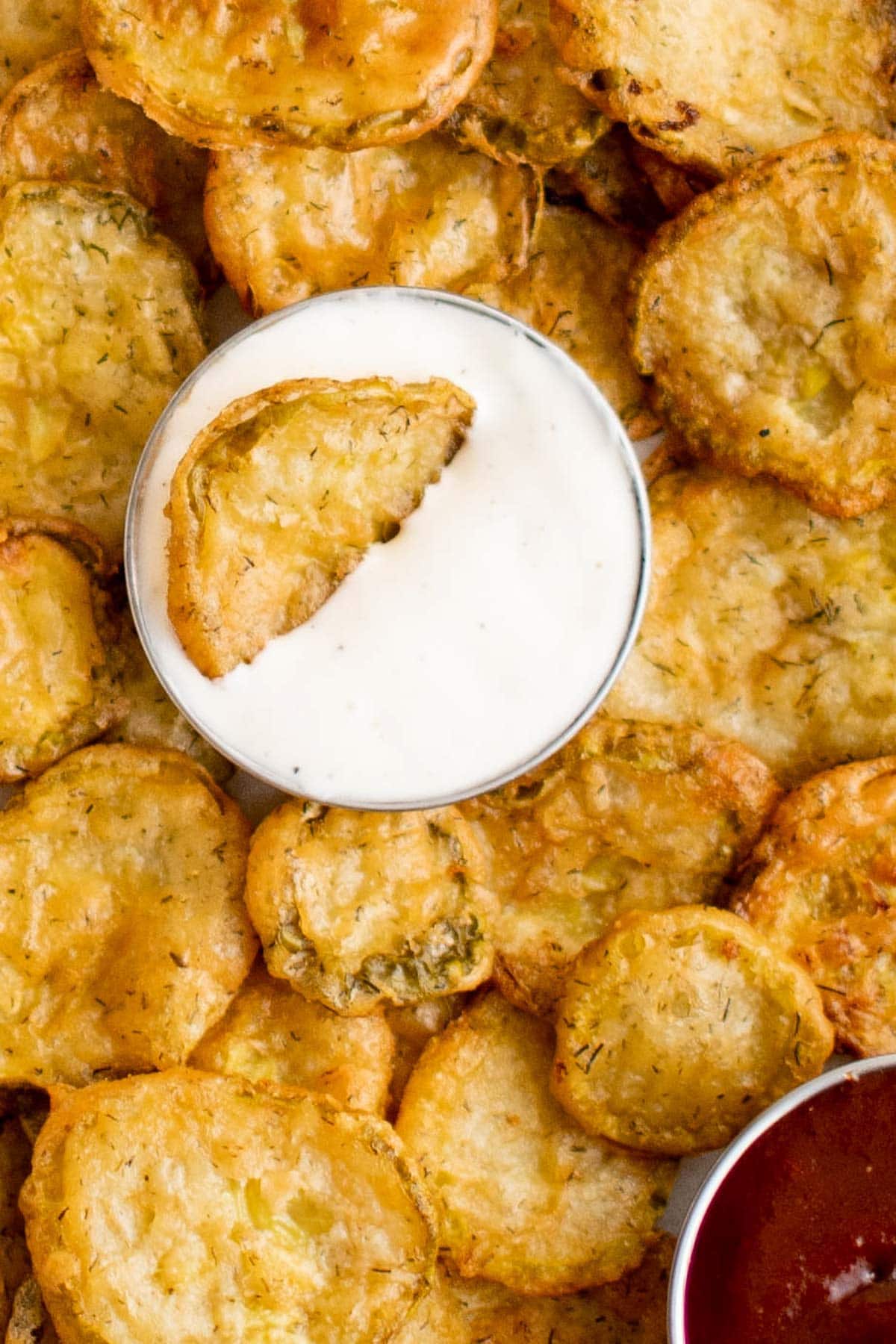 Helpful Tips
Make sure you allow time for the pickles to dry. This will help the batter stick to the pickles better and will reduce splattering.
After they've been fried, lay out pickles on a baking rack sitting above a paper towel lined baking sheet. This will help air flow so they will cool down quicker and be less greasy.
Use dill pickles for a classic flavor or experiment with other pickle varieties.
Let the coated pickles rest briefly before frying to help the batter adhere.
Heat the oil to the right temperature to achieve a crispy exterior and a warm, soft pickle inside. Using a deep fry thermometer is especially helpful here.
Don't overcrowd the frying pan or fryer to ensure even cooking.
Store any leftovers in an airtight container in the refrigerator and reheat them in the oven or air fryer for a few minutes before serving.
More Delicious Fried Snacks
Recipe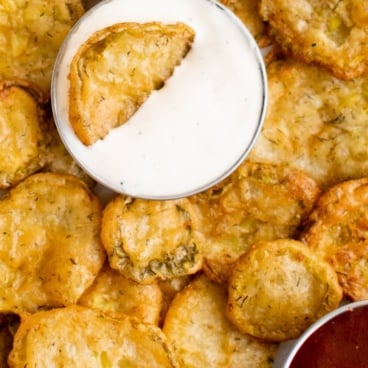 Crispy Fried Pickles Recipe
This Easy Deep Fried Pickles recipe has crispy, crunchy battered goodness on the outside and the perfectly briny tang of dill pickle inside.
Ingredients
16

ounce

jar of dill pickle chips

well drained and broken pieces removed

Canola Oil

enough to fill a deep pot about 2-inches
Batter
3/4

cup

all-purpose flour

3/4

cup

milk

1

teaspoon

baking powder

½

teaspoon

seasoned salt

1

teaspoon

dried dill
Dipping Sauce
½

cup

Your favorite BBQ Sauce

½

cup

Ranch dressing
Instructions
Preheat oil to 370 degrees F.

In a medium sized bowl, combine batter ingredients using a whisk, until well incorporated. Set aside to rest for 5-10 minutes.

Meanwhile, lay out the dill pickles on paper towels to drain them. Dab the tops with paper towels to dry.

Using a slotted spoon or a fork, dip a pickle in the batter then gently drop into the hot oil. Fry in small batches for 3-4 minutes, until golden and crispy, then transfer to paper towel lined plate to drain.

Combine Ranch dressing and BBQ sauce. Serve the fried pickles with the BBQ Ranch dip or with your own choice of sauces.
Notes
While these are best served right away, they do hold up surprisingly well in the fridge once cooled completely and stored in a ziploc bag. Reheat in the oven or an air fryer. Note – they won't be as crispy as they are served fresh.
Nutrition
Calories:
169
kcal
Carbohydrates:
8
g
Protein:
2
g
Fat:
15
g
Saturated Fat:
1
g
Polyunsaturated Fat:
4
g
Monounsaturated Fat:
9
g
Trans Fat:
0.1
g
Cholesterol:
2
mg
Sodium:
663
mg
Potassium:
99
mg
Fiber:
1
g
Sugar:
1
g
Vitamin A:
136
IU
Vitamin C:
1
mg
Calcium:
82
mg
Iron:
1
mg