This Farmer's Market Garden Salad has tons of crunchy veggies and a homemade Ranch dressing. Get your veggies in with this delicious salad that can be served as a hearty side, or topped with your favorite protein for a full meal salad.
A rainbow of crunchy veggies, all of which came from our local farmer's market, make up this wonderfully filling salad, topped with a thick and creamy homemade ranch dressing. Enjoy it on its own, or add some grilled chicken or grilled steak. This is also a great salad to serve alongside our Baked Chicken Breasts or Grilled Chicken Kabobs.
A couple of weeks ago I talked about how much we love the Farmer's Market, and shared some of my best tips for a successful market trip. Well what do you do when you've bought all those amazing vegetables and you haven't used them quite all up? Don't toss them, and don't let them spoil – make this Farmer's Market Salad!
A Rainbow Garden Salad and Homemade Ranch
I was rooting around in my fridge and came across several bags/containers of veggies that we just hadn't quite used up. Normally I'd use leftover veggies for soup, but it's just been too hot here for that, so I thought I'd take my chances on serving my kids a fresh chicken salad with a rainbow of veggies. I called it a "Rainbow Salad" and they GOBBLED it up! My kids love salad anyway, but this was like nothing I'd ever seen before. My daughter, the pickiest princess in the land, had TWO servings.
This week I decided the make the salad again, for myself for lunch, to use up the week's veggie's and to make room for the fresh veggie goodness I knew I'd be picking up over the weekend. I love me some ranch, especially fresh and homemade, but I've never made it myself at home. I have a feeling I won't be buying store bought again after trying this delicious recipe for Homemade Ranch Dressing! It's made with corn oil, sour cream and buttermilk. Add in some dried herbs and spices, a squeeze of lemon juice and some salt and you're good to go. Put it all in a mason jar and give it a good shake to combine everything. Corn oil has a neutral flavor, so it brings out the flavors of the other ingredients without taking over.
This is definitely a healthier and much tastier Ranch dressing than the bottled variety you'll find at the grocery store.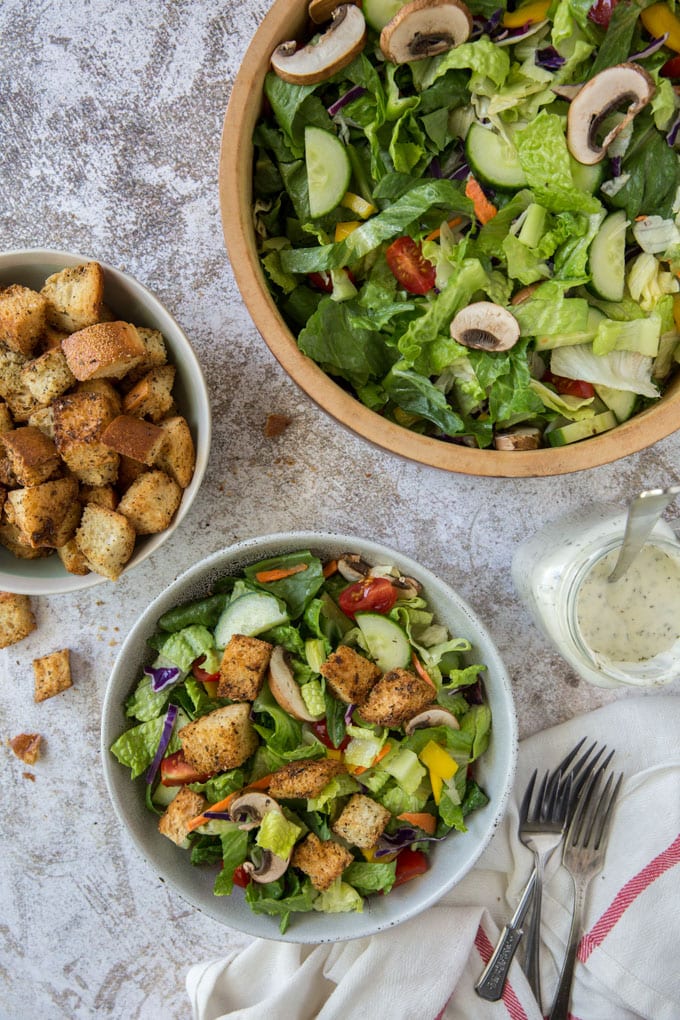 What's in a Garden Salad?
A garden salad is a tossed salad made with lettuce and other vegetables typically grown in a garden. This can be just about any vegetable that you enjoy eating raw, you just want to make sure that you wash all of your veggies, including the lettuce. There are basically 4 components to a homemade garden salad.
Lettuce – We are partial to romaine lettuce, but other great options include red or green leaf lettuce, spinach, and arugula. Iceberg and butter lettuce are both fine to include, but won't have nearly the nutritional value of the heartier lettuces I mentioned.
Veggies – Chop up your veggies into bite sized pieces and you can include just about anything. Some of our favorite garden salad ingredients include carrots, broccoli, mushrooms, bell peppers, red cabbage, tomatoes and cucumbers.
Dressing – I'm partial to this Homemade Ranch Dressing, because it's easier and tastier than bottled. You can also whip up a delicious vinaigrette like Lemon Vinaigrette or Raspberry Vinaigrette.
Croutons – Of course croutons are completely optional. You can buy them pre-made in a bag and they're good, but my favorite is homemade croutons.
How to Make Homemade Ranch Dressing from Scratch
Gather up ingredients. You'll need corn oil (any neutral flavored oil will work), sour cream, buttermilk, lemon juice, herbs and spices. For an authentic Ranch dressing we use dried chives, dried parsley, garlic powder, onion powder and dill. You can use fresh or dried , but fresh are especially tasty in homemade dressings. You'll also need salt & pepper.
Choose a sealable container. I think a mason jar is a perfect way to make and store dressings. You can also use a salad dressing shaker – this one even has a built in pour spout.
Mix your dressing. Place all of the ingredients into the container and shake shake shake until the dressing is well mixed. You can also opt to use a blender or food processor to ensure that the oil is emulsified.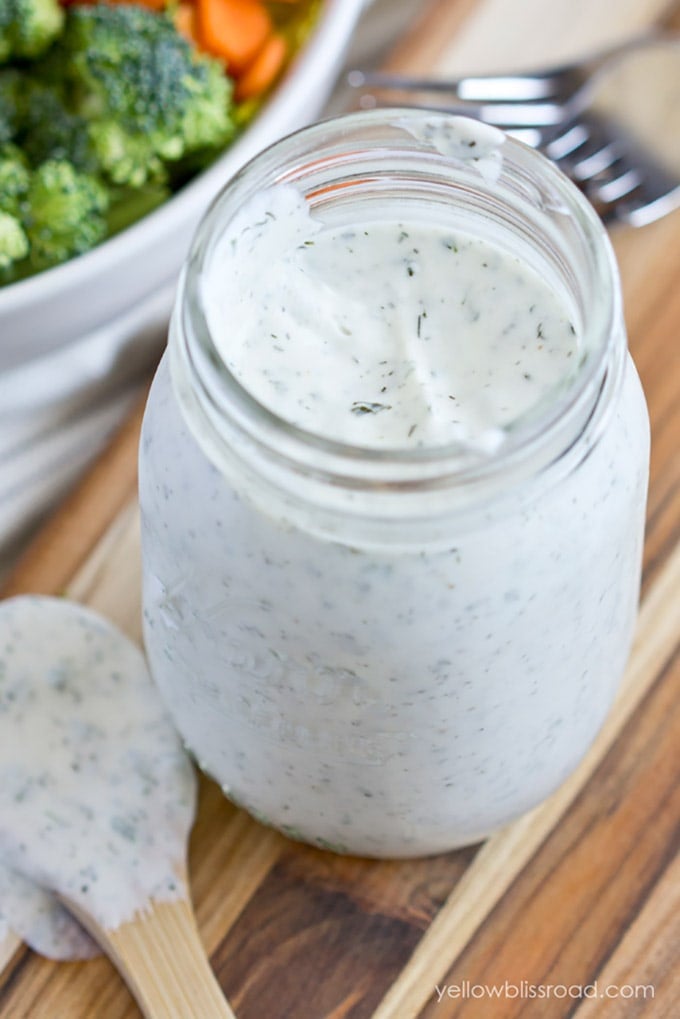 Garden Salad Tips and Tricks
Cut and wash salad, and make sure to dry thoroughly before storing. Store with paper towels to soak any excess moisture and your salad will keep an extra few days.
If you eat a lot of salads, a salad spinner is a great tool to have. I linked to the one I own and love.
Instead of tossing all the ingredients together, create a salad bar with lots of different veggies and lettuce options, and a few homemade dressings. My kids are more likely to eat a salad they made themselves.
Storing Salad and Homemade Ranch Dressing
Store homemade dressing in a resealable container in the fridge, usually for up to 7 days, but it depends on the recipe. Homemade ranch dressing will keep for 7 days, sealed in the fridge.
Salads are a little trickier to keep fresh. Keep cut and washed lettuce in a container or produce bag with a few paper towels to soak up any extra moisture. Store chopped veggies separately from the lettuce, in a sealed container or resealable plastic bag. Keep all salad ingredients in the crisper drawer of your fridge to control temperature and moisture.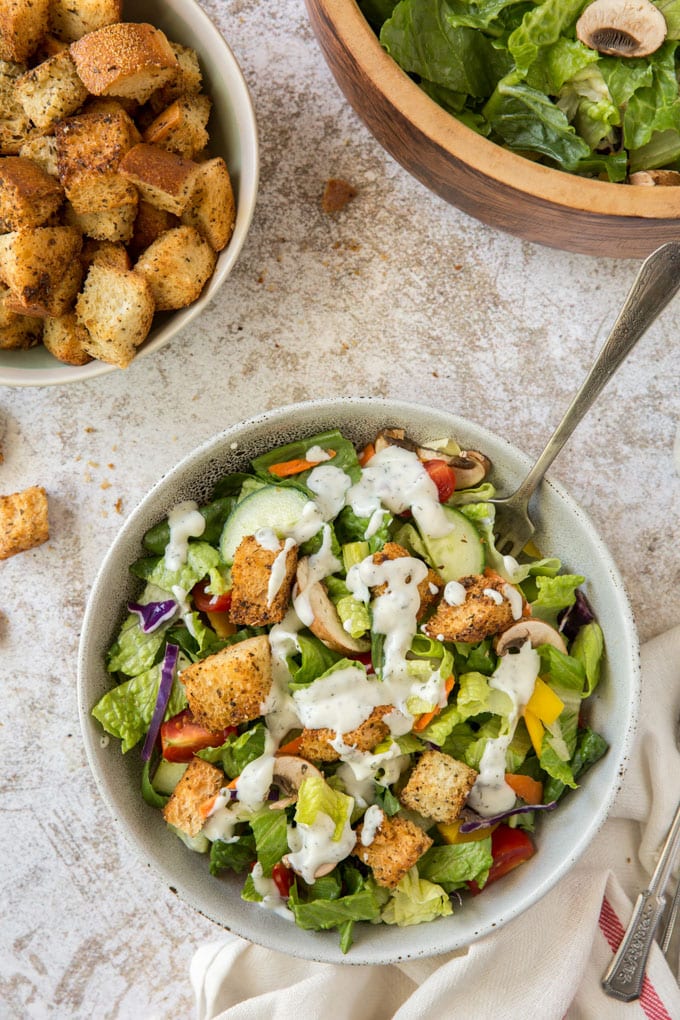 More Delicious Salads and Homemade Dressings
Recipe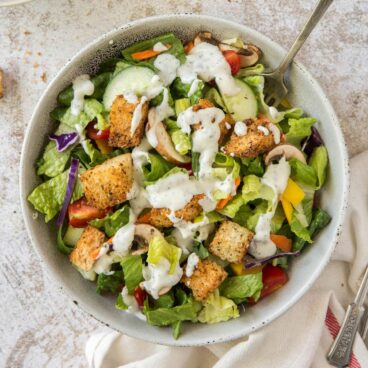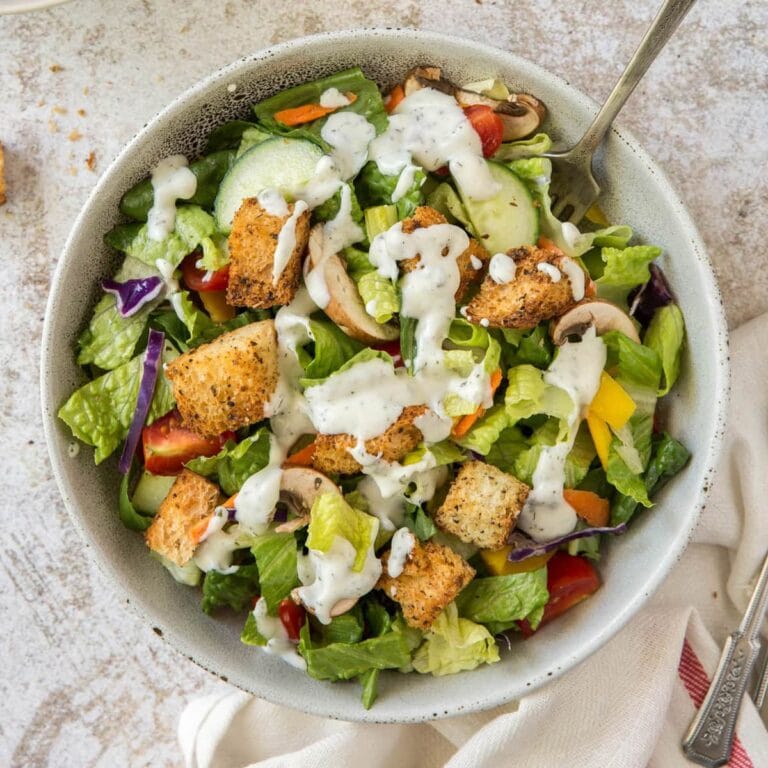 Farmer's Market Salad with Homemade Ranch Dressing
A colorful bowl of veggies makes up this healthy salad and an easy homemade ranch dressing tops it off.
Ingredients
Ranch Dressing
1/3

cup

Olive oil

1

cup

sour cream

1/3

cup

buttermilk

1

tablespoon

fresh squeezed lemon juice

2

teaspoons

dried chives

or 2 tablespoons fresh and finely minced

2

teaspoons

dried parsley

or 2 tablespoons fresh and finely minced

3/4

teaspoon

garlic powder

3/4

teaspoon

onion powder

1/2

teaspoon

dried dill weed

or 2 tablespoons fresh and finely minced

1/4

teaspoon

freshly cracked black pepper

1/4

teaspoon

salt

more or less to taste
Salad
8

cups

Romaine Lettuce (or other favorite lettuce)

washed, dried and torn into bite sized pieces

2

cups

Raw vegetables, like carrots, bell peppers, mushrooms, red cabbage and sliced onion

diced into small, bite-sized pieces

Optional topping: Croutons, nuts or sunflower seeds
Instructions
Ranch Dressing
Combine all ingredients in a 1 quart mason jar. Shake well, until all ingredients are combined. Alternatively, you can puree the ingredients in a blender or with an emulsifier

Taste and adjust seasonings as needed.

Remaining salad dressing should be stored in an airtight container in the fridge and kept in the refrigerator for up to 1 week.
Salad Assembly
Toss lettuce and raw vegetables in a large bowl. Add some of the ranch dressing and toss to coat. Add more dressing if needed. Or, serve undressed with dressings on the side.

Top with homemade croutons, nuts or sunflower seeds if desired.
Notes
Nutritional information approximate and will vary depending on what veggies you use in your salad. 
Dressing recipe makes approximately 1 ½ cups, which is 12 servings.
Add any raw vegetables that you like. 
Try this - create a salad bar with lots of different chopped veggies, different types of lettuces and a variety of dressings. Everyone gets to tailor their own salad to their own taste!
Nutrition
Calories:
123
kcal
Carbohydrates:
7
g
Protein:
2
g
Fat:
10
g
Saturated Fat:
3
g
Cholesterol:
11
mg
Sodium:
89
mg
Potassium:
202
mg
Fiber:
2
g
Sugar:
1
g
Vitamin A:
4961
IU
Vitamin C:
10
mg
Calcium:
53
mg
Iron:
1
mg