A rainbow of crunchy veggies, all of which came from our local farmer's market, make up this wonderfully filling salad, topped with a thick and creamy homemade ranch-style dressing. Thanks to Mazola® Corn Oil for sponsoring today's post. All opinions are 100% my own.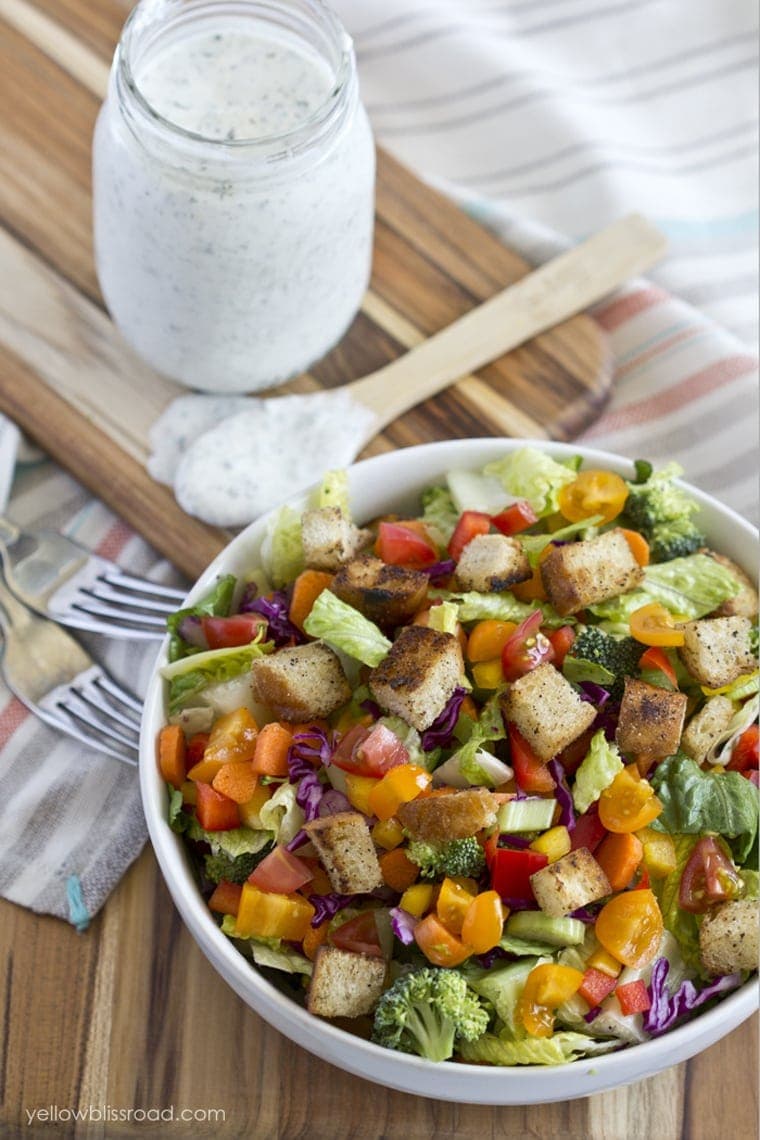 A couple of weeks ago I talked about how much we love the Farmer's Market, and shared some of my best tips for a success market trip. Well what do you do when you've bought all those amazing vegetables and you haven't used them quite all up? Don't toss them, and don't let them spoil – make this Farmer's Market Salad featuring a delicious Mazola® Corn Oil-based dressing. A recent study published in the Journal of Clinical Lipidology found that corn oil helps lower cholesterol more than extra virgin olive oil. Did you know that corn oil has more cholesterol-blocking plant sterols than other cooking oils? Almost four times more than olive oil! (It also has a high smoke point, making it a great all-purpose cooking oil you can use for everything from sautéing, grilling, and even baking).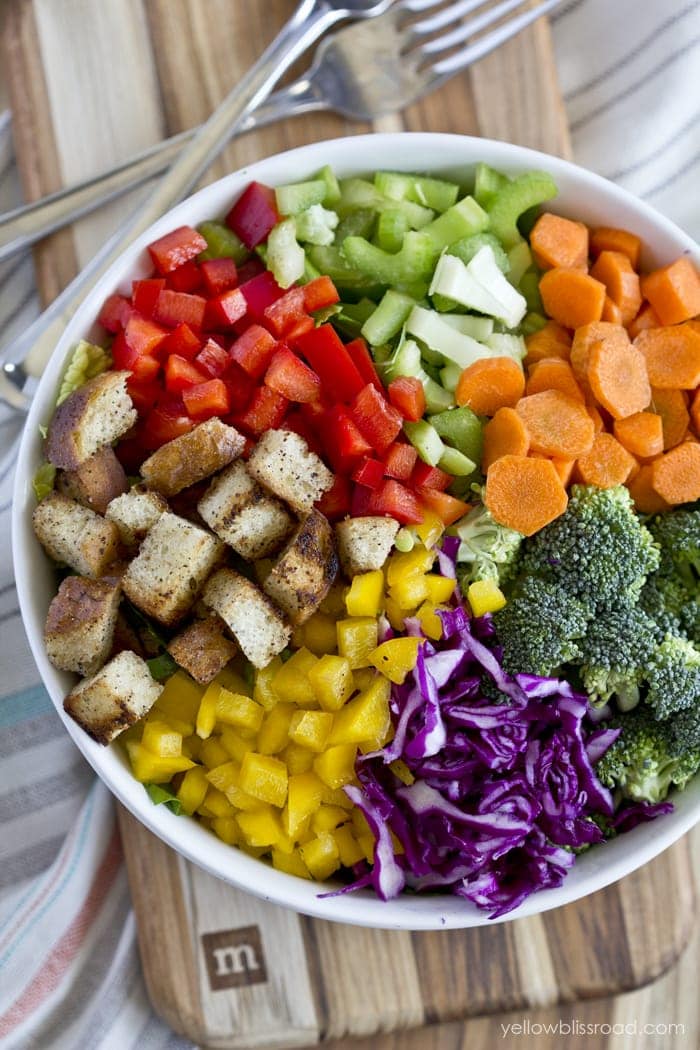 A couple of weeks ago I was rooting around my fridge and came across several bags/containers of veggies that we just hadn't quite used up. Normally I'd use leftover veggies for soup, but it's just been too hot here for that, so I thought I'd take my chances on serving my kids a fresh chicken salad with a rainbow of veggies. I called it a "Rainbow Salad" and they GOBBLED it up! My kids love salad anyway, but this was like nothing I'd ever seen before. My daughter, the pickiest princess in the land, had TWO servings.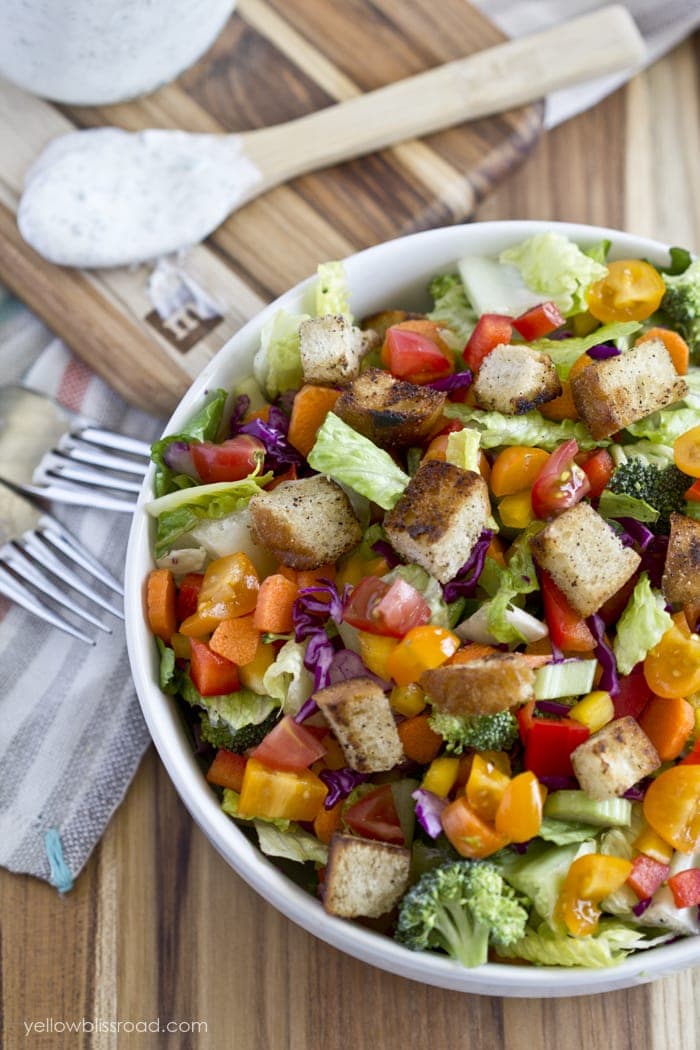 This week I decided the make the salad again, for myself, for lunch to use up the week's veggie's and to make room for the fresh veggie goodness I knew I'd be picking up over the weekend. I love me some ranch, especially fresh and homemade, but I've never made it myself at home. I have a feeling I won't be buying store bought again after trying this delicious recipe from Mazola! It starts with Mazola Corn Oil, sour cream and buttermilk. Add in some dried herbs and spices, a squeeze of lemon juice and some salt and you're good to go. Put it all in a mason jar and give it a good shake to combine everything. Mazola has a neutral flavor, so it brings out the flavors of the other ingredients without taking over.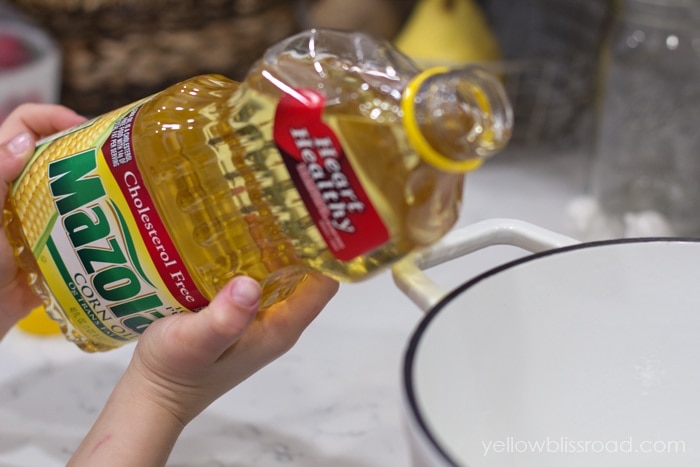 I'm not a nutritionist, but it definitely seems like a healthier version to me! The only thing I didn't include from the recipe was the chicken bouillon, only because I didn't have any, so I'll include it in the recipe below. If you opt not to use the bouillon, you'll need to increase the salt.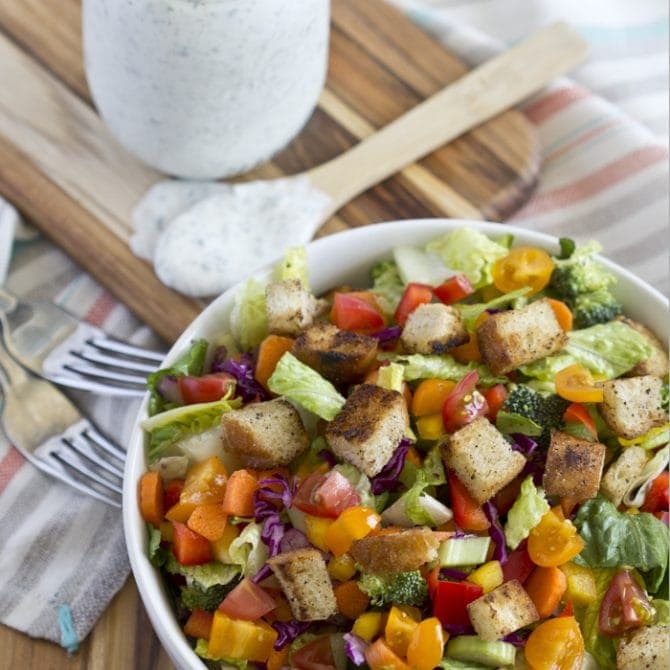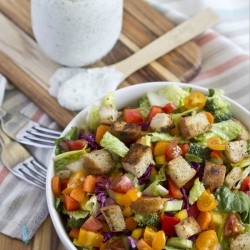 Farmer's Market Salad with Homemade Ranch Dressing
A colorful bowl of veggies makes up this healthy salad and an easy homemade ranch dressing tops it off.
Ingredients
Ranch Dressing
1/3 cup Olive oil
1 cup sour cream
1/3 cup buttermilk
1 tablespoon fresh squeezed lemon juice OR white vinegar
2 teaspoons dried chives
2 teaspoons dried parsley
3/4 teaspoon garlic powder
3/4 teaspoon onion powder
1/2 teaspoon dill weed
1/4 teaspoon freshly cracked black pepper
1/4 teaspoon salt more or less to taste
Salad
Lettuce torn into bite sized pieces
Raw vegetables, like carrots, bell peppers, mushrooms, red cabbage and sliced onion diced into small, bite-sized pieces
Homemade croutons optional
Instructions
Ranch Dressing
Combine all ingredients in a 1 quart mason jar. Shake well, until all ingredients are combined. Alternatively, you can puree the ingredients in a blender or with an emulsifier

Taste and adjust seasonings as needed.

Remaining salad dressing should be stored in an airtight container in the fridge and kept in the refrigerator for up to 1 week.
Salad Assembly
Toss lettuce and raw vegetables in a large bowl. Add some of the ranch dressing and toss to coat. Add more dressing if needed.

Top with homemade croutons if desired.
Notes
Nutritional information is for homemade ranch dressing only. It doesn not include salad ingredients since those are tailored to your liking.  Dressing recipe will make approximately 1 1/2 cups, which is 24 1-tablespoon servings.
Nutrition
Serving: 1tablespoonCalories: 49kcalCarbohydrates: 1gProtein: 1gFat: 5gSaturated Fat: 2gCholesterol: 5mgSodium: 36mgPotassium: 30mgFiber: 1gSugar: 1gVitamin A: 346IUVitamin C: 3mgCalcium: 18mgIron: 1mg
This salad goes great with homemade croutons, or topped with my stovetop grilled chicken! To find out more about the benefits of cooking with corn oil, visit Mazola.com.
For more delicious salads, try these: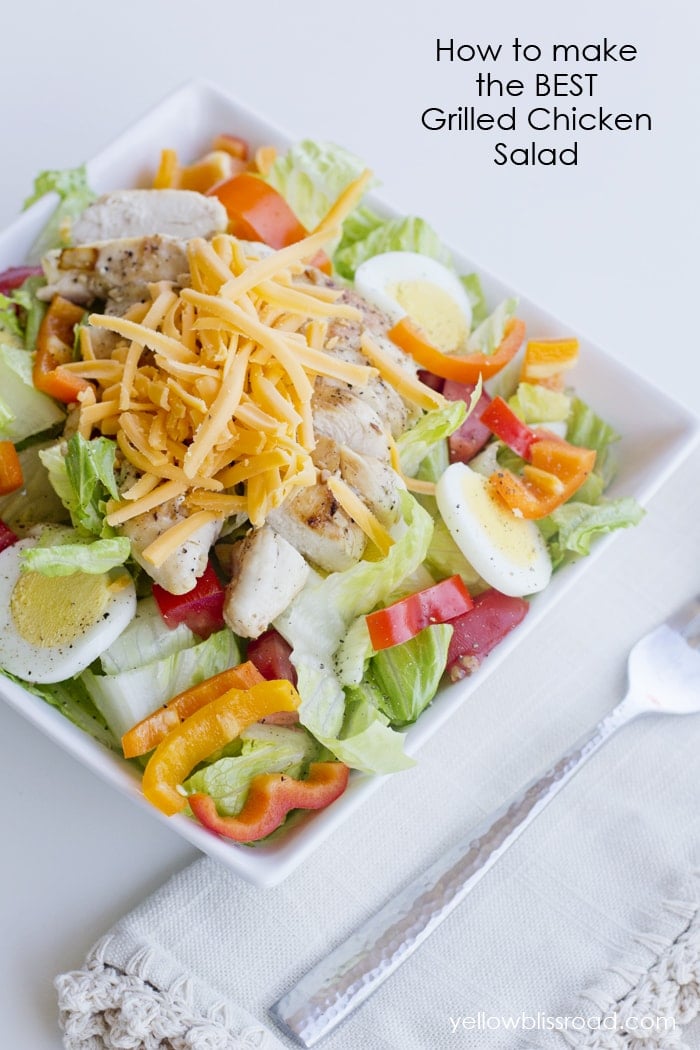 The BEST Stovetop Grilled Chicken Salad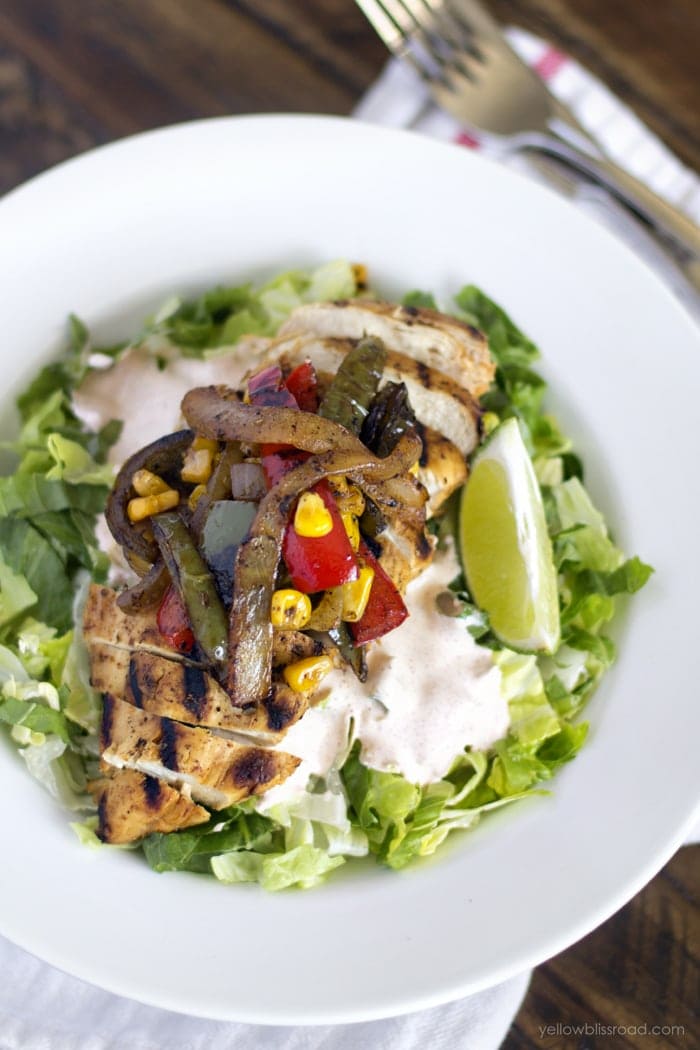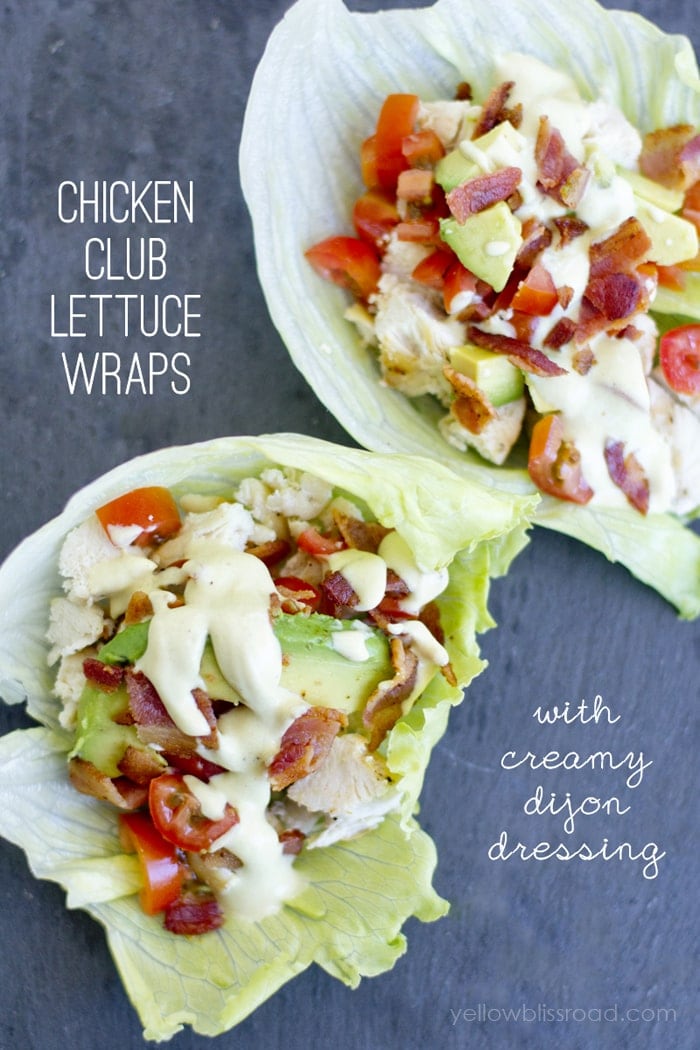 For all salads, go HERE and for all recipes, go HERE.