Discover a delightful and tangy Raspberry Vinaigrette recipe that will elevate your salads. Learn how to make this flavorful dressing at home in a few simple steps.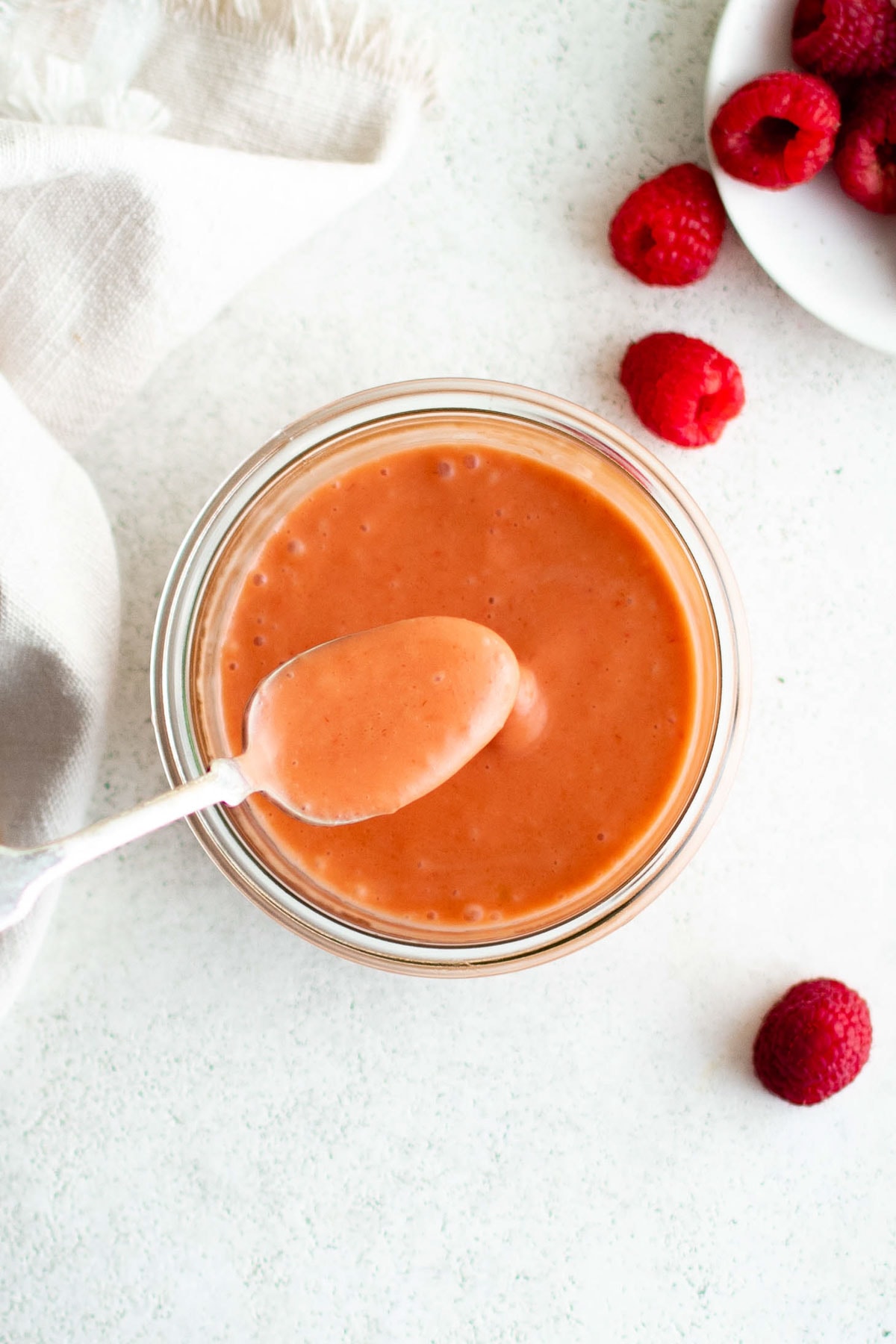 Pin this recipe for later!
About This Recipe
Raspberry Vinaigrette is a tangy and flavorful salad dressing that combines the sweetness of raspberries with the acidity of vinegar and the richness of olive oil. It is a versatile dressing that adds a burst of fruity freshness to salads.
The vibrant pink color and the delightful combination of sweet and tangy flavors make this easy homemade dressing a popular choice for salads, particularly those featuring fresh greens, fruits, and nuts.
It can be made from scratch using fresh raspberries, vinegar (such as red wine and balsamic vinegar), olive oil, and seasonings. This Raspberry Dressing adds a refreshing twist to salads and is a delicious way to elevate your culinary creations.
Ingredients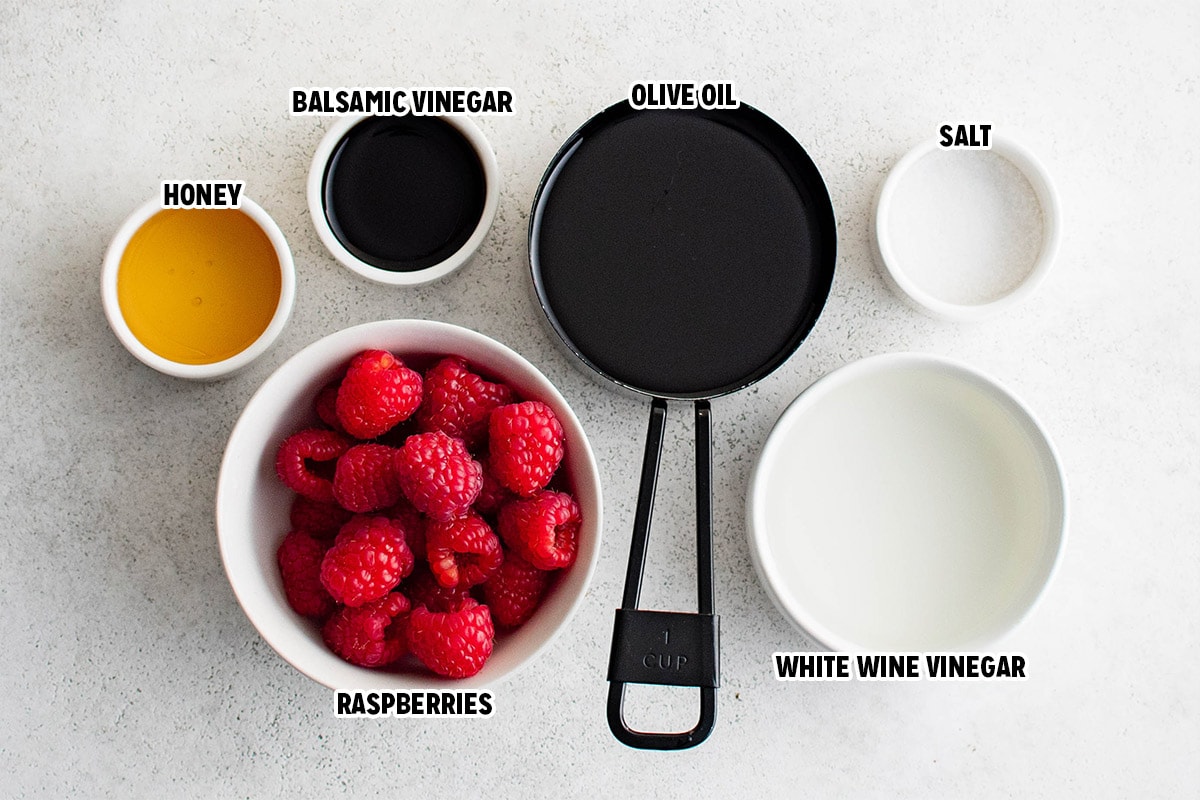 The ingredient amount in the recipe below are given merely as a guideline. You can make this dressing to suit your own taste by adjust flavors as you see fit.
Fresh raspberries – If you have a local farmer's market, this is where you can find the freshest berries. Your grocery store is a close second. Be sure to check the packaging for spoiled berries.
Olive oil – Use a high-quality oil for best results.
White wine vinegar – A red wine or champagne vinegar would make a fine substitute if needed.
Balsamic Vinegar
Honey to taste – To balance the acidity of the vinegar and elevate the sweetness of the raspberries, I highly recommend adding little bit of honey or agave.
How To Make Raspberry Vinaigrette
See recipe card below for ingredient quantities and full instructions.
Combine ingredients in a food processor or blender, adding a tablespoon of honey and a pinch of salt and pepper.
Pulse until the raspberries are completely broken down and the dressing is smooth.
Taste test. Grab a clean spoon and dip it in the dressing to give it a taste. Add more honey, vinegar, salt, or pepper. Remember that you can always add more, but you can't remove, so be thoughtful when adding additional ingredients.
Strain the dressing through a fine mesh colander to remove the raspberry seeds.
Pour the dressing into a jar and seal tightly. It will remain fresh in the refrigerator for up to one week.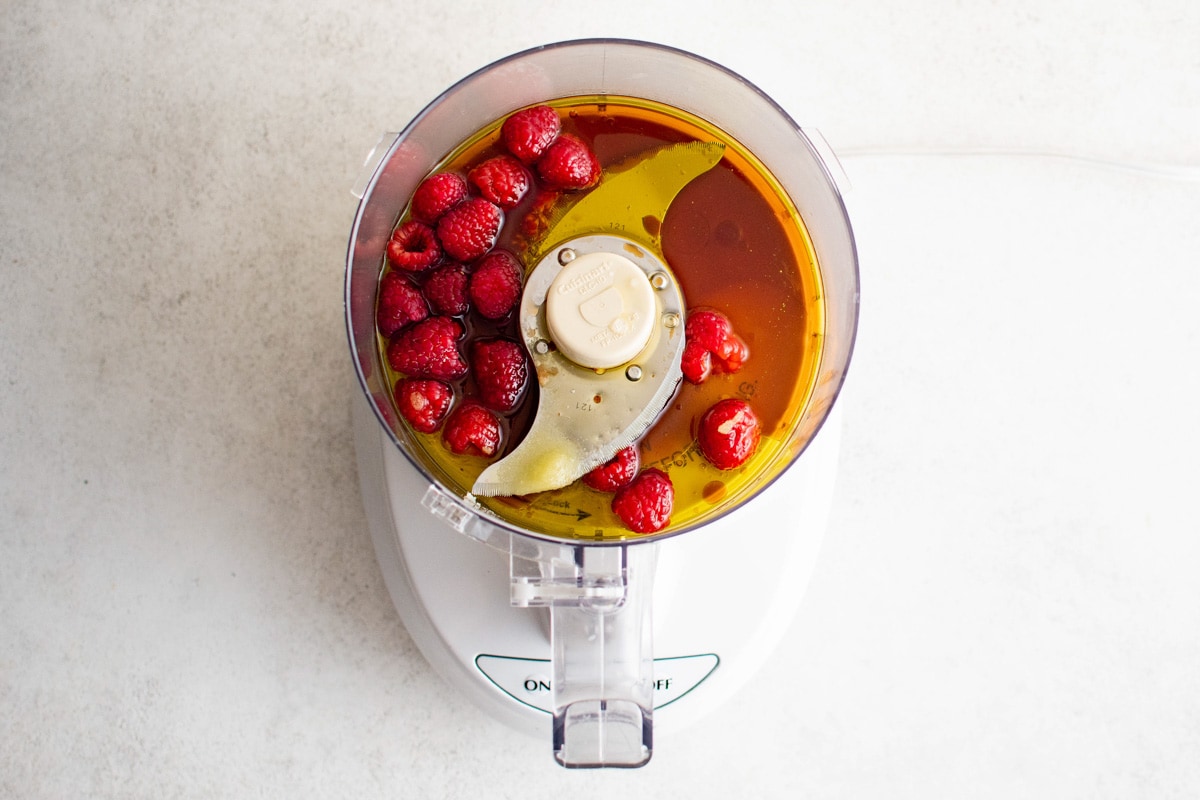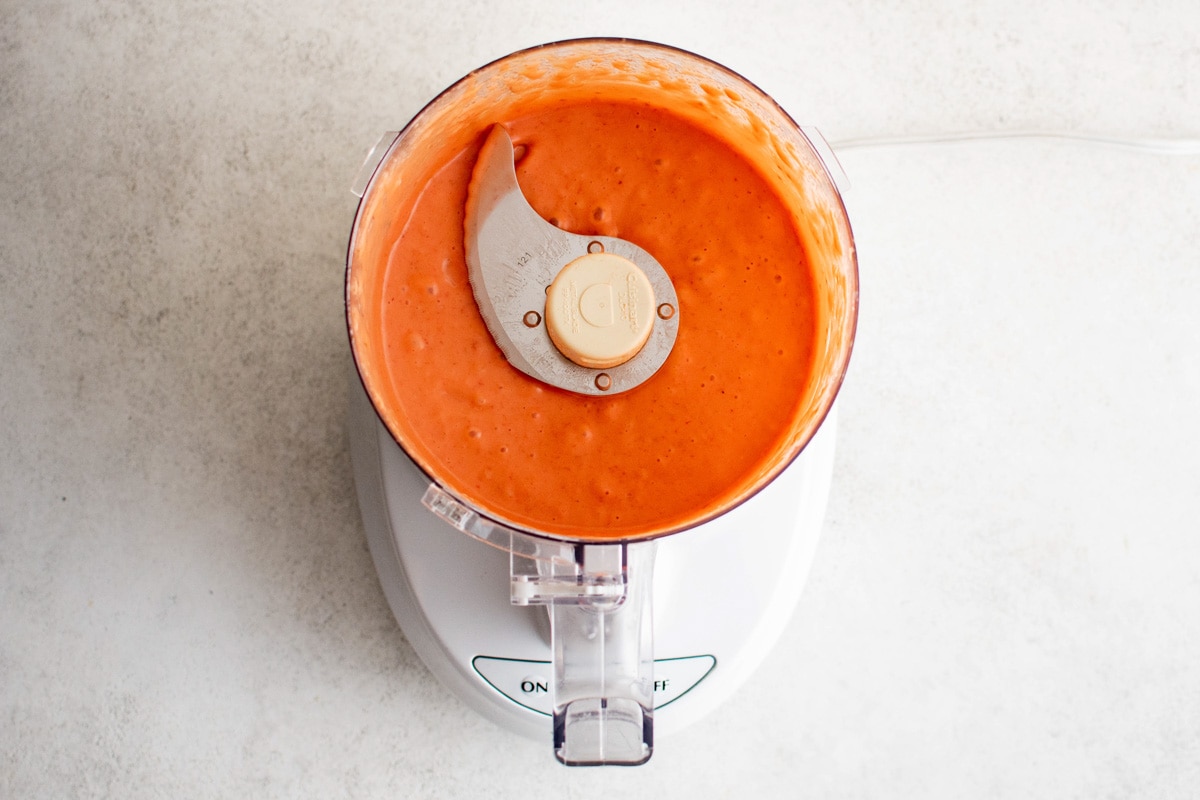 FAQs
Are there any health benefits to using raspberries in dressing?
Raspberries are packed with essential vitamins, minerals, and antioxidants. They are a good source of vitamin C, manganese, and dietary fiber. They contain powerful antioxidants, which help protect the body against oxidative stress and reduce the risk of chronic diseases

The antioxidants in raspberries may help improve heart health by reducing inflammation and supporting healthy blood vessels. They also contain polyphenols that may help lower blood pressure, and have a low glycemic index which is suitable for those managing diabetes.
How should I store Raspberry Vinaigrette?
Opt for a glass container with a tight-sealing lid. Glass helps preserve the flavors and prevents any unwanted reactions with the dressing. If you didn't prepare the dressing in the jar, transfer it, seal and refrigerate as soon as possible. Keep refrigerated – it will remain fresh for at least a week.
Can I use frozen raspberries for the vinaigrette?
Yes. While fresh berries do often have a superior flavor, you can use frozen berries. Make sure to thaw them completely before adding to the blender.
How To Serve
Raspberry vinaigrette is best served as a dressing for salads. Here are a few ways to enjoy it:
Green salads: Drizzle raspberry dressing over a bed of mixed greens, lettuce, or spinach for a vibrant and flavorful salad. It goes really nicely in salads with fruits, nuts, and cheeses.
Fruit salads: Use as a dressing for fruit salads to enhance the natural sweetness of the fruits. It pairs particularly well with berries, melons, and citrus fruits.
Grain salads: Toss cooked grains like quinoa, bulgur, or couscous with vegetables and herbs, and then drizzle the vinaigrette for added flavor.
Cheese plates: Use as a dipping sauce or drizzle it over cheese plates to add a tangy and fruity element.
Remember to shake or whisk the vinaigrette before using it to ensure that the ingredients are well combined. Adjust the amount according to your taste preferences and enjoy the vibrant flavors.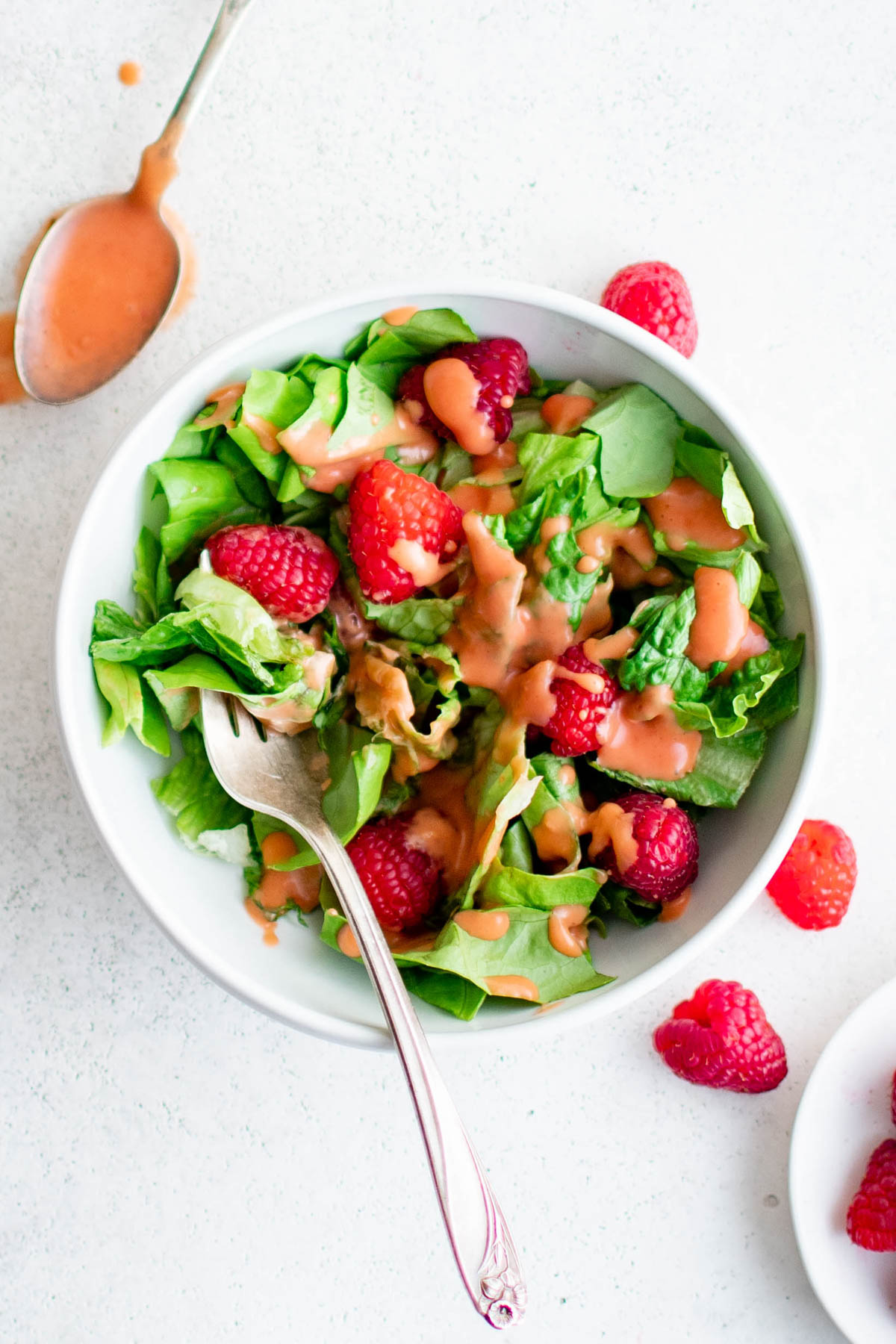 Helpful Tips
Use fresh raspberries for the best flavor.
Adjust the sweetness and tanginess by adding honey or lemon juice.
Blend the ingredients thoroughly for a smooth consistency.
Let the vinaigrette sit for a while to allow the flavors to meld.
Experiment with different vinegars for unique taste variations.
Enhance the dressing with additional herbs or spices, like minced garlic or dried basil.
Use a high-quality olive oil for richness.
More Salad Dressings
Recipe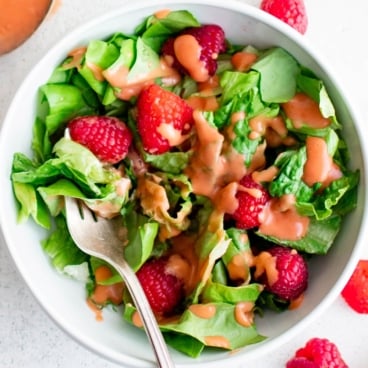 Homemade Raspberry Vinaigrette Recipe
This sweet and tangy Raspberry Vinaigrette recipe will elevate your salads. Make this flavorful dressing at home in a few simple steps.
Ingredients
1/2

cup

fresh raspberries

3

tablespoons

white wine vinegar

1

tablespoons

Balsamic Vinegar

Honey to taste

1/2

cup

olive oil

Salt to taste
Instructions
Raspberry Vinaigrette
In a blender or food processor, combine raspberries, vinegars, olive oil and a tablespoon or so of honey. Pulse in the blender until smooth. Add salt and pepper as desired.

Strain the seeds from the dressing with a fine mesh colander.

Store in a tightly sealed glass jar or container for up to one week in the refrigerator.
Notes
Save leftover Raspberry Vinaigrette in a tightly sealed jar and refrigerate for up to a week.
Fresh raspberries are best, but frozen can be used. Be sure to thaw them completely first.
Nutrition
Calories:
184
kcal
Carbohydrates:
7
g
Protein:
2
g
Fat:
17
g
Saturated Fat:
3
g
Polyunsaturated Fat:
2
g
Monounsaturated Fat:
11
g
Cholesterol:
3
mg
Sodium:
35
mg
Potassium:
142
mg
Fiber:
3
g
Sugar:
4
g
Vitamin A:
1813
IU
Vitamin C:
9
mg
Calcium:
31
mg
Iron:
1
mg