This rich and tangy honey balsamic dressing is the easiest balsamic vinaigrette you'll ever make. With a gentle-yet-deep flavor, this vinaigrette will taste wonderful on just about any salad!
Nothing elevates a simple salad quite like a homemade salad dressing, and my classic balsamic dressing recipe is the best of the best!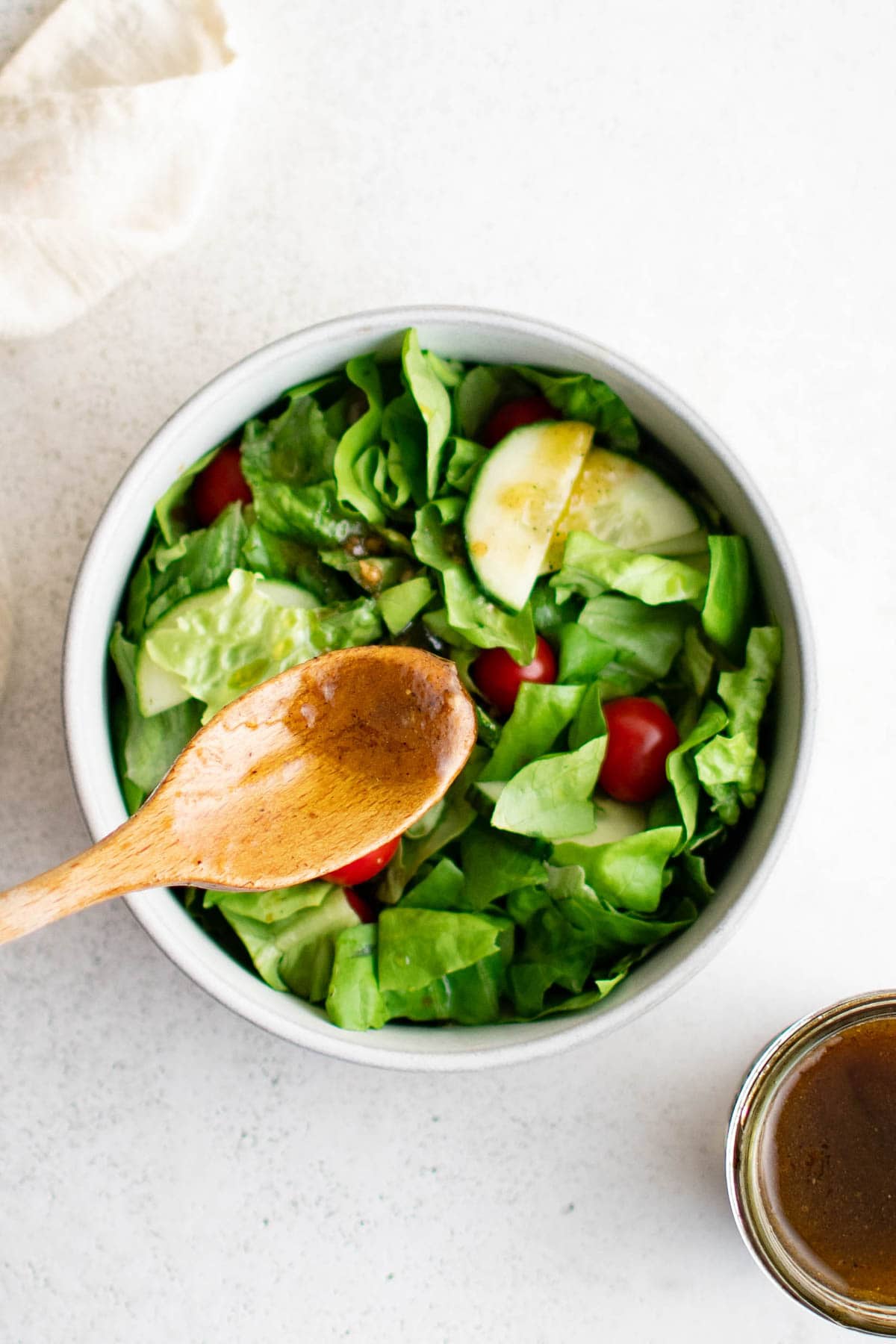 Pin this recipe for later!
About This Balsamic Dressing Recipe
This 5-ingredient honey balsamic dressing is so delicious and easy to make—you simply can't go wrong! Use it as a veggie dip or drizzle it on grilled meats, toasted bread, sandwiches, or of course, salads. Your guests will have a hard time believing that a salad dressing this versatile and tasty is homemade!
Healthier Than Store Bought – Many store bought vinaigrettes have refined sugars, thickeners, and preservatives in them. My quick and easy homemade recipe, on the other hand, is made with just five wholesome, clean ingredients.
Made with Pantry Staples – I bet you have everything you need to make this delicious vinaigrette in your pantry right now!
Quick, Easy, and Versatile – This rich and tangy balsamic salad dressing comes together in just a matter of minutes and can be used in a variety of different ways. Try drizzling it on soups, sandwiches, fresh veggies, and even grilled meats!
How To Make Balsamic Vinaigrette
Get a detailed list of ingredients & instructions in the recipe card below.
Did you know that there are three quick and easy methods that you can use to make a homemade vinaigrette? Although you can use any one of the following methods, I recommend first whisking, then shaking the dressing; this will give your vinaigrette the smoothest texture.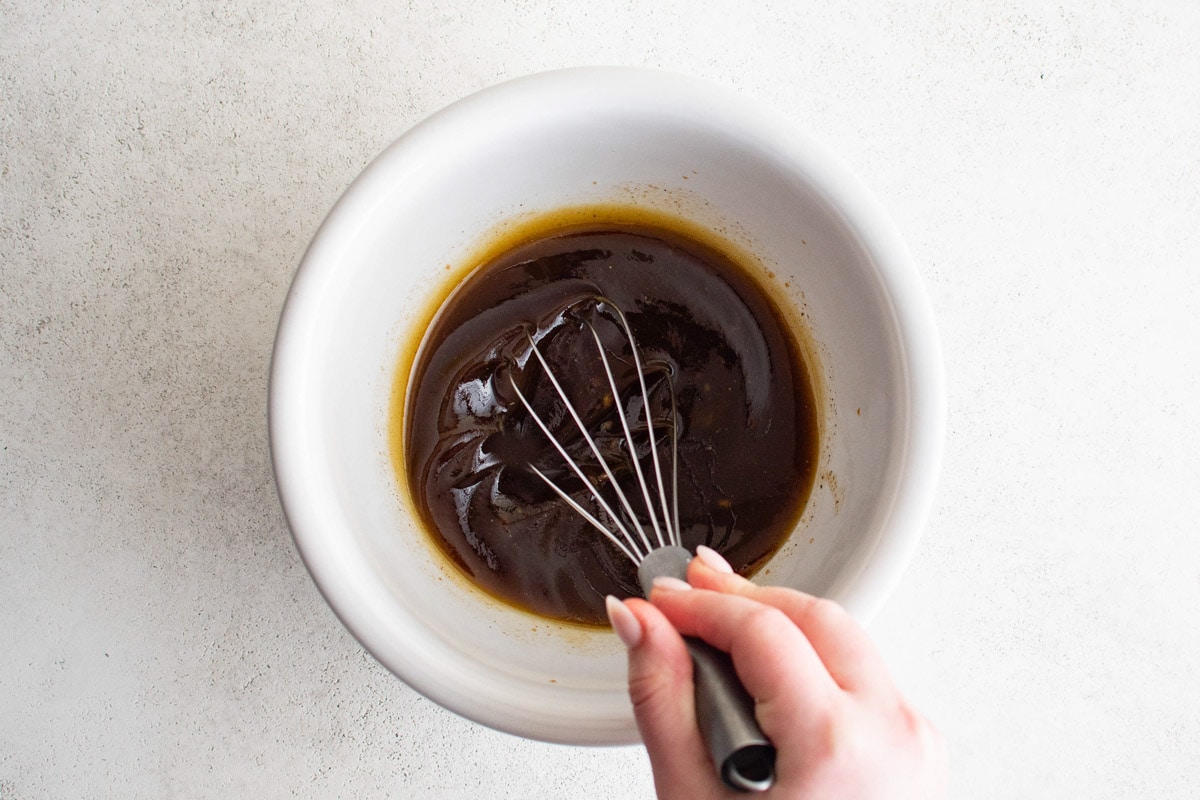 With a Hand Whisk: The most labor-intensive method, this version requires you to quickly whisk together the balsamic vinegar, olive oil, minced garlic, honey, salt, and pepper together in a large mixing bowl. Once emulsified, transfer the dressing to an airtight container and chill.
With a Blender: Add the balsamic vinegar, olive oil, minced garlic, honey, salt, and pepper to a blender and pulse until smooth. Transfer to an airtight container and chill. This method is the quickest and easiest but will result in a vinaigrette that separates easily.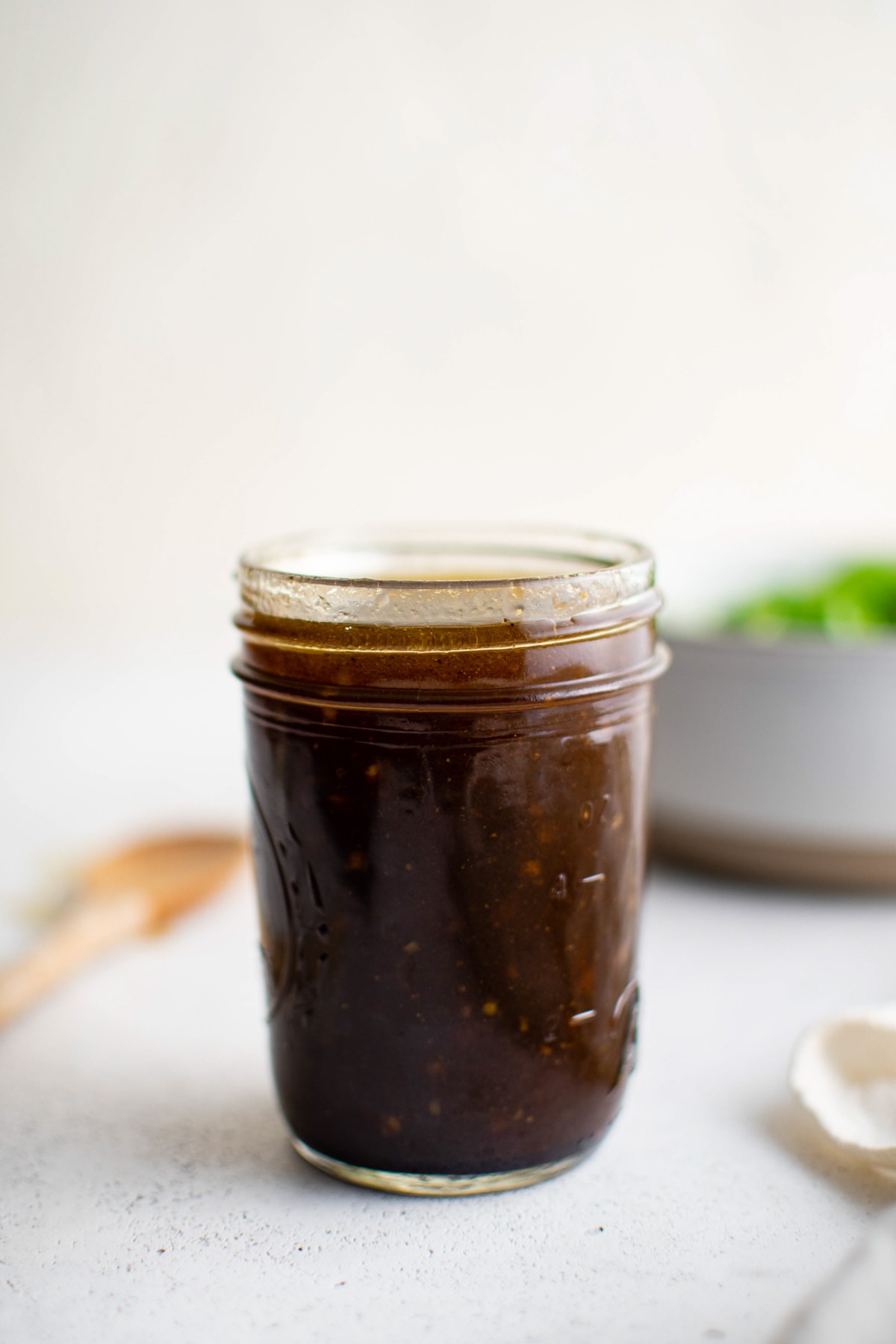 In a Mason Jar: In a large mason jar, combine the balsamic vinegar, olive oil, minced garlic, honey, salt, and pepper. Tightly secure the lid before shaking the jar vigorously. Once the dressing is emulsified, chill it in the fridge.
Recipe FAQs
Is this balsamic vinaigrette vegan?
Yes and no. Some vegans choose to abstain from consuming honey—a key ingredient in this recipe. If you're avoiding honey, you can still enjoy this dressing by swapping out this bee product for maple syrup, agave, or the sweetener of your choice. I always try to use a natural sweetener to keep this homemade salad dressing as clean as possible!
How do I keep my vinaigrette from tasting bitter?
A good vinaigrette should be a little bitter! However, if you're sensitive to bitter flavors, you can always choose to swap out half of the olive oil for avocado oil or another mild-tasting oil. This should greatly reduce the bitter notes. We also recommend pairing this vinaigrette with sweeter greens such as swiss chard.
How should I pair balsamic vinegar based dressings with salads?
Because balsamic vinegar has a fruitier, tangier taste than many other vinegar-based dressings, it is excellent to drizzle over salads with fruit in it. We especially recommend salads with strawberries, raspberries, peaches, or even figs!
What can I use a balsamic vinaigrette for besides salads?
Balsamic vinegar dressing can be used as a versatile dressing for various dishes. It can be drizzled over grilled vegetables, roasted meats, or used as a marinade. It also pairs well with cheeses, fruits, and even ice cream.
Can I use any type of oil in a vinaigrette?
Yes, you can use various types of oil in balsamic vinaigrette based on your preference. Olive oil is a popular choice due to its mild flavor, but you can experiment with other oils like avocado oil, walnut oil, or even sesame oil to add different flavors to your dressing.
How To Store
Any leftover dressing can be stored in a mason jar or other airtight container in the fridge for up to 2 weeks. The longer this dressing sits, the more the flavors will meld together and become even more tasty!
How To Serve
One of my favorite ways to serve this vinaigrette is as a dip alongside raw veggies or toasted bread. Mix it with sour cream for a creamy veggie dip. You can also use it to marinate fish, beef, or pork. And of course, you can drizzle this light and tangy dressing over just about any bed of leafy greens!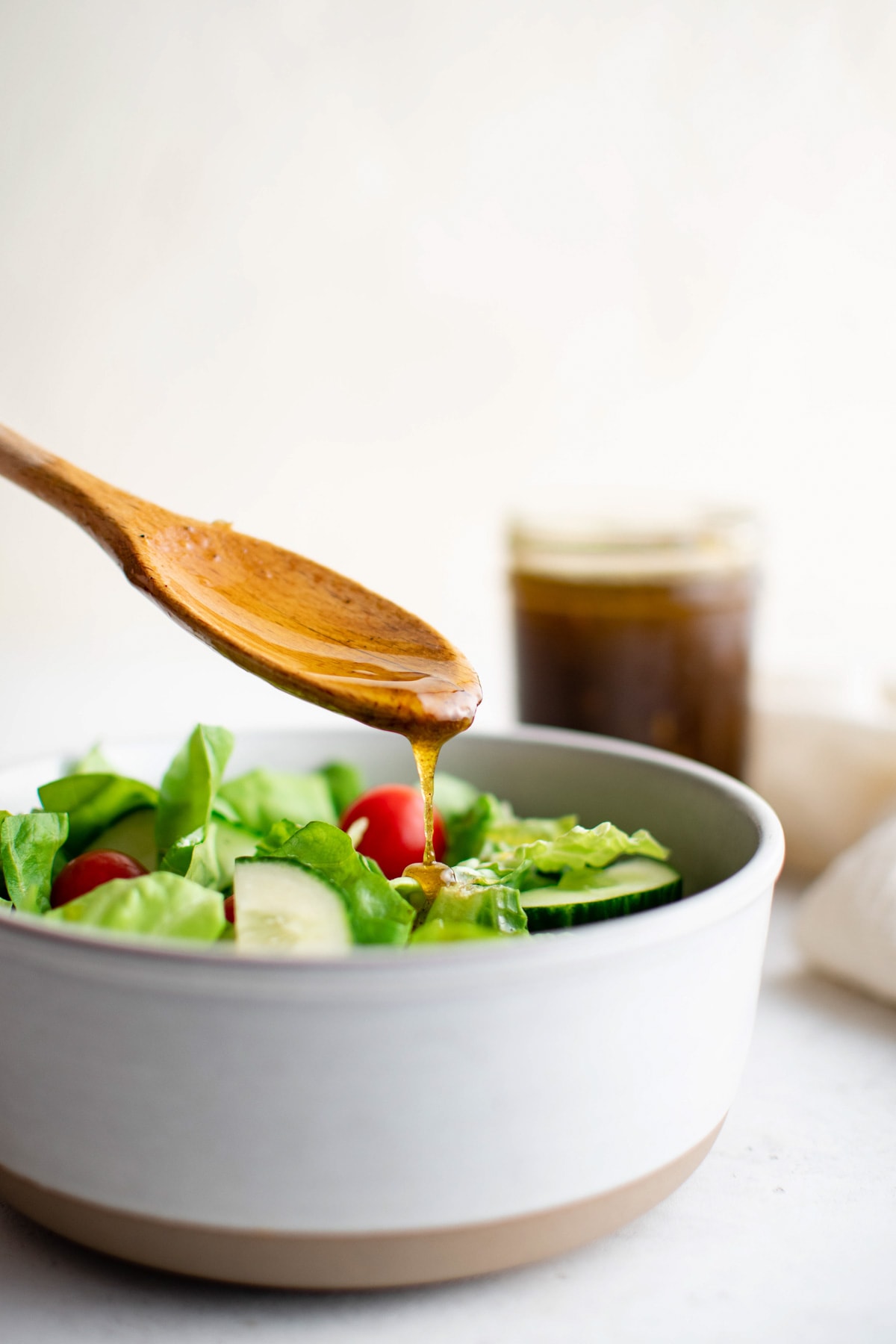 Helpful Tips
Best Olive Oil – We always recommend making this vinaigrette with extra virgin, single-source olive oil. Although a bit more expensive than other olive oils, this cleaner version will have a milder, richer flavor.
Not sure how to pick out a good balsamic vinegar? Check the ingredients! A quality balsamic vinegar will list ingredients as "Grape must, tradizionale" indicating that it has undergone a minimum aging period of 12 years. As a result, the vinegar will possess a delightful thickness and a naturally sweet taste.
Room Temperature Dressing – Let your chilled dressing sit out on the counter for 5 minutes before serving. Homemade vinaigrettes will be thick when it's cold and thin out as it comes to room temperature.
For more in-depth tips and tricks on making the best-ever homemade salad dressing, check out my post all about how to make vinaigrette salad dressing!
More Vinaigrette Recipes
Recipe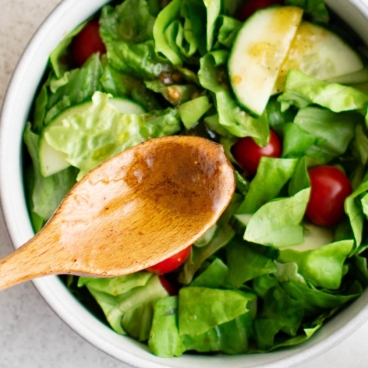 Balsamic Vinaigrette
Tangy honey balsamic dressing is the easiest balsamic vinaigrette ever. With its rich flavor, it's perfect on salads, as a marinade or dip.
Ingredients
1/4

cup

balsamic vinegar

3/4

cup

olive oil

1/2

teaspoon

kosher salt

1/2

teaspoon

fresh cracked black pepper

2

tablespoons

honey

1

garlic clove

minced