Oven Roasted Broccoli is one of the easiest and most delicious veggie side dishes you can make! Crunchy broccoli tossed in olive oil and light seasoning provides a nice, light side dish that goes with pretty much anything!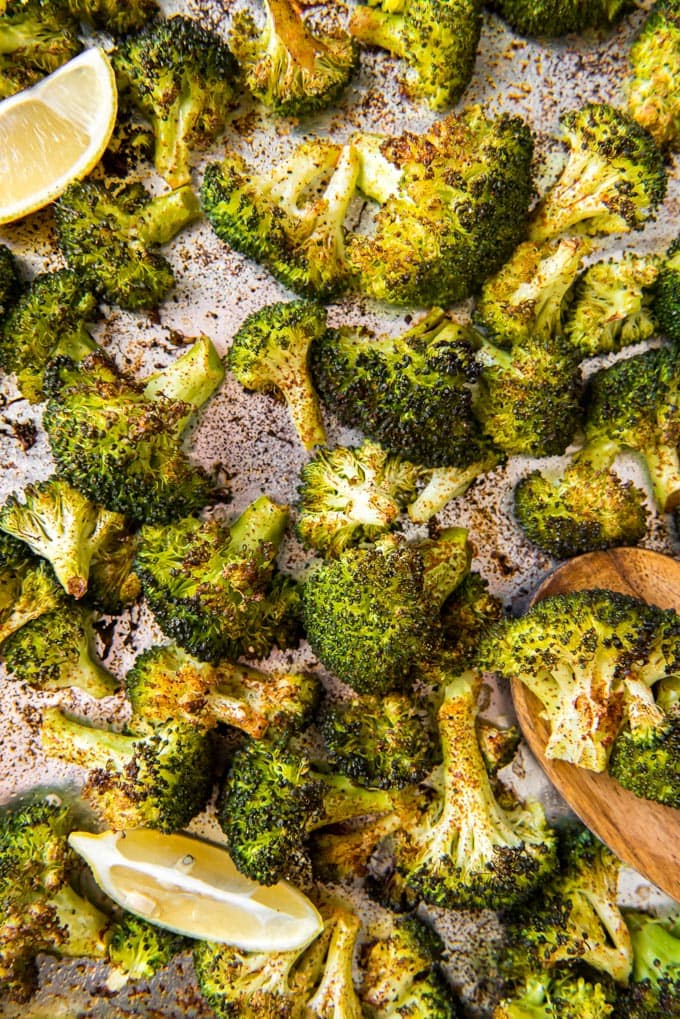 The Best Oven Roasted Broccoli Recipe
I remember trying to convince my kids that those little, fluffy stalks of green were actually magic trees. I guess I'm not alone in that. But my kids didn't believe me for a second. Thankfully they finally came around and now they are true believers in the power of oven roasted broccoli!
It's taken quite a number of years but my kids love broccoli now almost as much as I do. Some of their favorites broccoli recipes include Cheesy Broccoli Casserole, Beef and Broccoli and Broccoli Salad.
This is definitely my go-to veggie recipe on many busy weeknights because it only takes a few minutes to prepare, and a short time to cook. That's a winner in my book any night of the week.
Broccoli is really healthy for you – it's rich in lots of vitamins and minerals, like vitamin C, K and A, folate, calcium and iron and more. As if that weren't enough of a reason to add a second helping to your plate, it's also very low in calories and carbs and high in fiber. Any time you cook vegetables, they can lose some nutrients, but roasted broccoli is a great way to preserve as much as possible.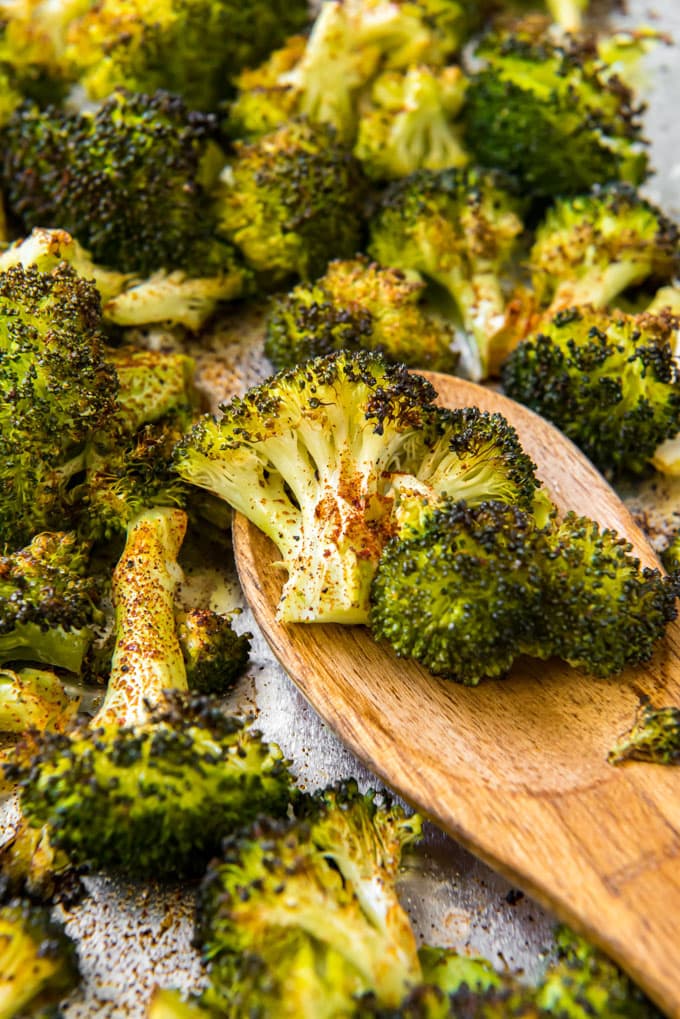 How to Make Roasted Broccoli in the Oven
Roasting and baking are both dry heat cooking methods that use hot air to conduct heat, therefore cooking the food. Roasting in the oven requires a temperature of 400 degrees F or above to create that delicious browned crust on the food being cooked. Foods that are roasted typically have more structure, like meat and vegetables. Baking occurs at a lower temperature and usually in a softer form, like casseroles and cookies.
Cut broccoli into small pieces. I usually will cut them a little larger than bite-sized unless I need them to cook faster. Larger pieces tend to cook a little more evenly and can easily be cut with a knife to eat.
Toss the broccoli with some olive oil and seasonings. On any given day I can switch up the seasoning to go along with whatever I'm cooking. For instance if baked chicken breasts is on the menu, I just mix up double the seasoning and add half to the broccoli. Be sure to salt the veggies well.
Arrange on a baking sheet (cover it with foil first) and roast in a 425 degree oven until the broccoli is starting to brown around the edges. The largest piece should be easily pierced with a fork.
Be ready to serve shorty after roasted broccoli comes out of the oven because it cools pretty quickly.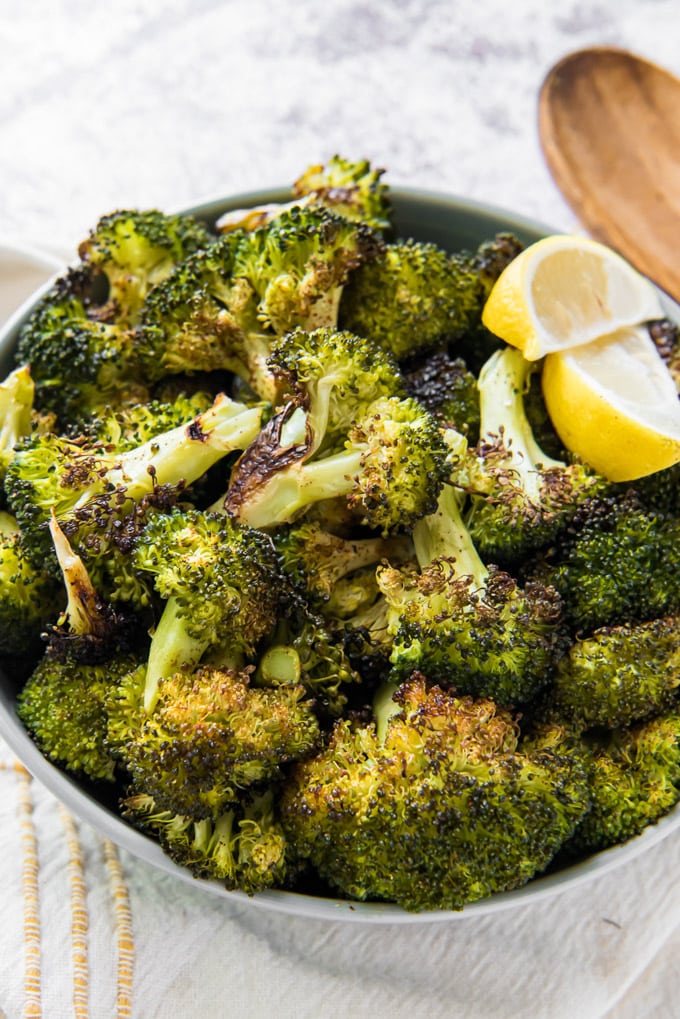 Serving Suggestions
Roasted broccoli can be served as is, or you can use some of the following suggestions to heighten the flavor profile even more.
Before Roasting: Add a squeeze of lemon juice over the broccoli on the baking sheet, mix in some fresh minced garlic, or toss with some dry ranch mix.
Serving: Grate fresh Parmesan cheese over the top, serve with a lemon based dressing for dipping, or top pizzas, toss in salads or add to sandwich wraps.
Top Tips and FAQs
Leftovers: Oven Roasted Broccoli is delicious served warm or cold, so save your leftovers to add to salads or for meal planning. Store veggies in a sealed container in the fridge and use within 4-5 days.
Can frozen broccoli be roasted? If you don't have access to fresh broccoli, you can use frozen; you don't even need to thaw it! Toss frozen broccoli with the olive oil and seasonings and follow the recipe as written.
Can roasted broccoli be frozen? Absolutely! Freezing is an excellent way to preserve roasted vegetables so they won't go bad. It's simple and they taste just as good as good as fresh. Let the broccoli cool and place in a freezer bag or other freezer container and store for up to 6 months. Reheat from frozen in the oven on a sheet pan at 350 degrees for 10-15 minutes or until warmed through.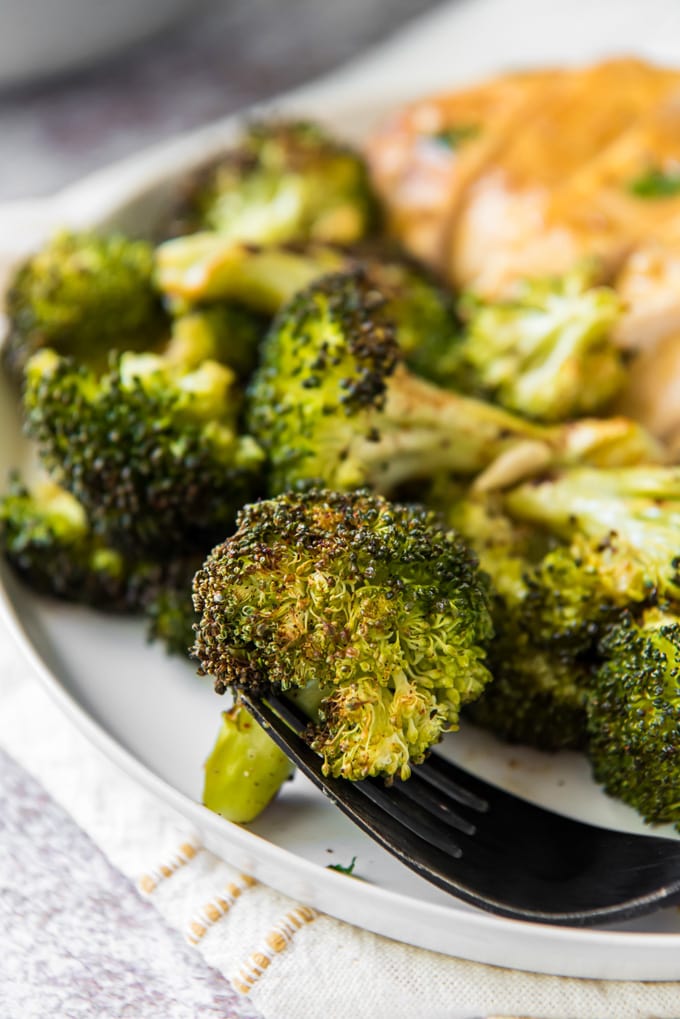 More amazing vegetable side dishes to try:
Recipe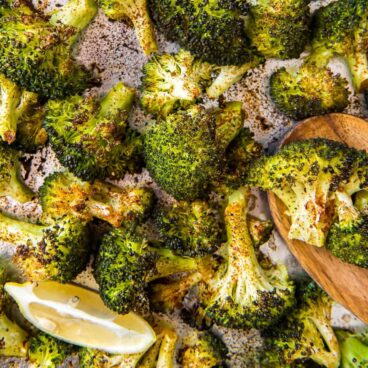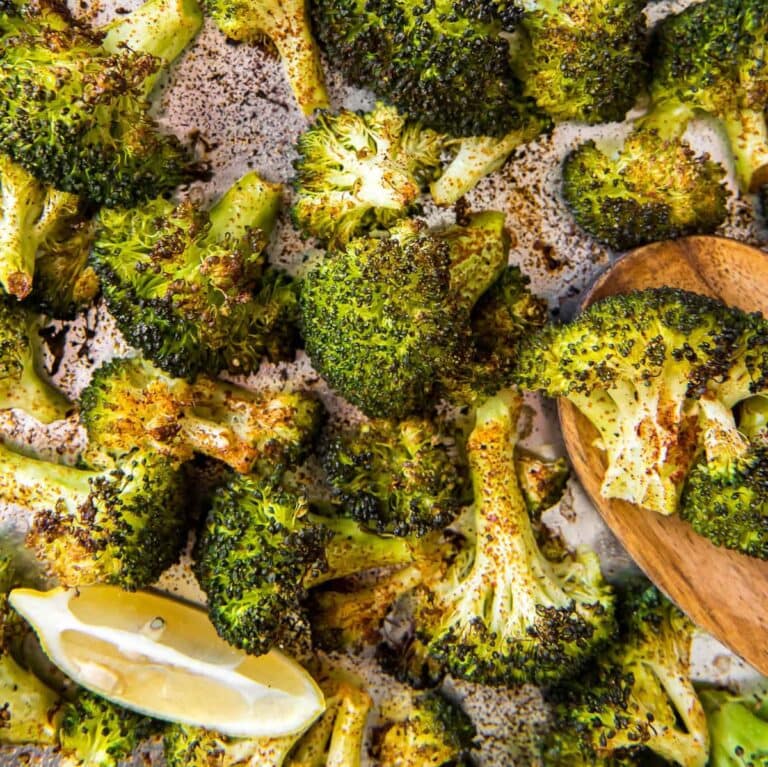 Roasted Broccoli
Roasted Broccoli is a simple, light side dish that's tossed with olive oil, salt and paprika then roasted in the oven for a delicious, nutty flavor.
Ingredients
1 ½

pounds

broccoli florets

cut into even sized pieces

2

tablespoons

olive oil

1

teaspoon

paprika

1

teaspoon

salt

½

teaspoon

black pepper
Instructions
Preheat oven to 450 degrees F and line a large, rimmed baking sheet with parchment paper.

In a large bowl, toss broccoli with olive oil, paprika, salt and pepper. Arrange on the prepared baking sheet.

Roast in the preheated oven for 15-20 minutes, or until edges are lightly browned and broccoli is crisp tender (can easily be pierced with a fork but still has a bite to it).
Notes
How to heighten the flavor:
Add a squeeze of lemon juice before roasting.
Mix in some fresh minced garlic.
Grate fresh Parmesan cheese over the top before serving.
Nutrition
Calories:
81
kcal
Carbohydrates:
8
g
Protein:
3
g
Fat:
5
g
Saturated Fat:
1
g
Sodium:
425
mg
Potassium:
366
mg
Fiber:
3
g
Sugar:
2
g
Vitamin A:
871
IU
Vitamin C:
101
mg
Calcium:
53
mg
Iron:
1
mg