Need a new side dish that will be welcome year round? This Broccoli Slaw with Apples and Dried Cherries definitely fits the bill! It's creamy and crunchy and a little bit sweet, making it the best side dish for summertime barbecues to Thanksgiving dinner.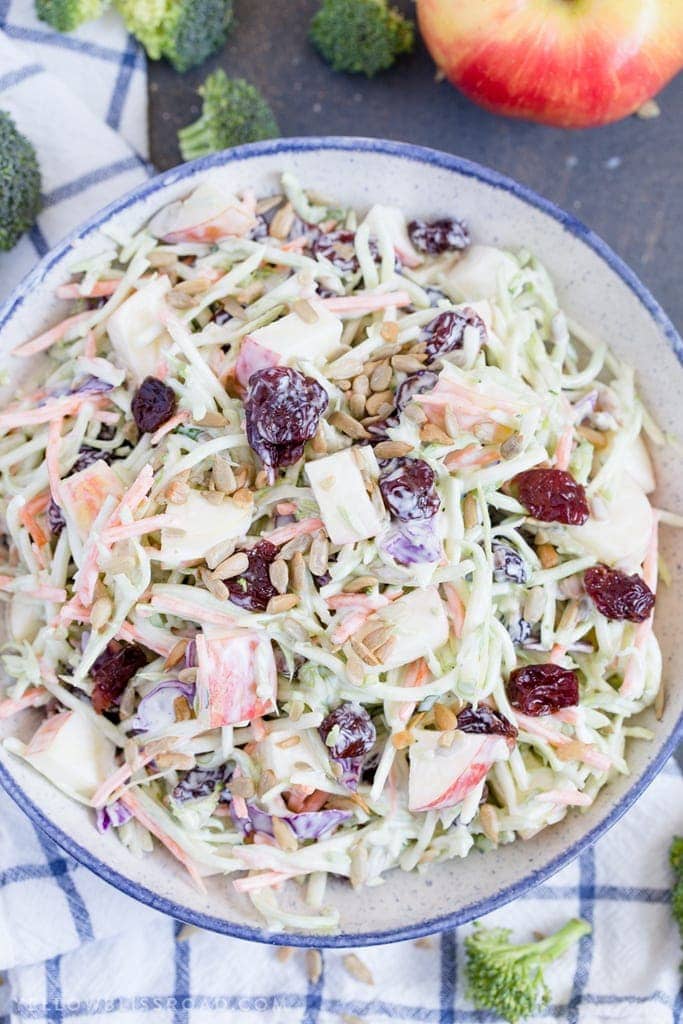 We love our fresh veggies but my kids were starting to get tired of the same old broccoli. At 8 and 9, they are well past the "but they're magic trees" stage. I happen to love broccoli, plus it's considered a "superfood" with tons of vitamin C, antioxidants and even calcium.
Broccoli Slaw is made of broccoli,which is shaved into thin strips, carrots and cabbage. It's similar to a coleslaw but I love that it can hold up to creamy dressings much better and doesn't get all soggy when sitting in the fridge.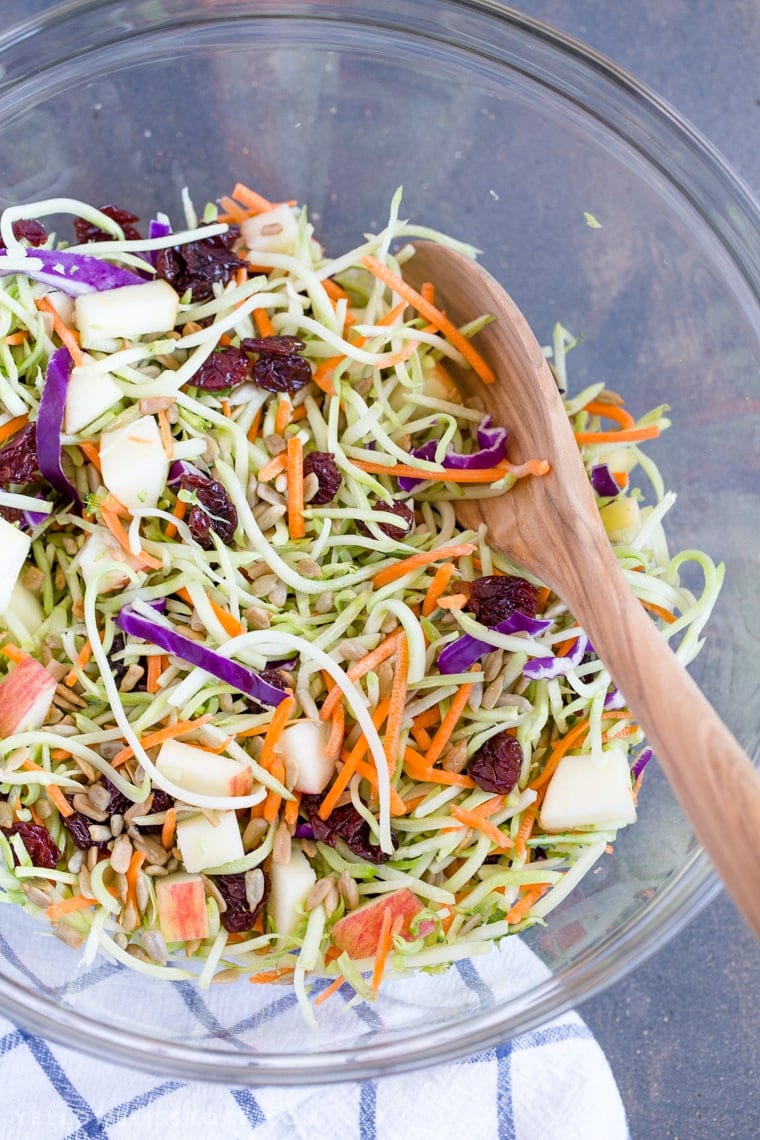 Broccoli Slaw with Apples and Dried Cherries couldn't be easier to make and the dressing is super simple. Mix up some Greek yogurt, mayo, vinegar and honey. Stir together with the broccoli slaw with a chopped apple (we love our honeycrisp but any crunchy apple will do) and dried cherries. I added sunflower seeds at the very end when I was ready to serve because I didn't want them to get soggy, which they tend to do if left sitting in the dressing.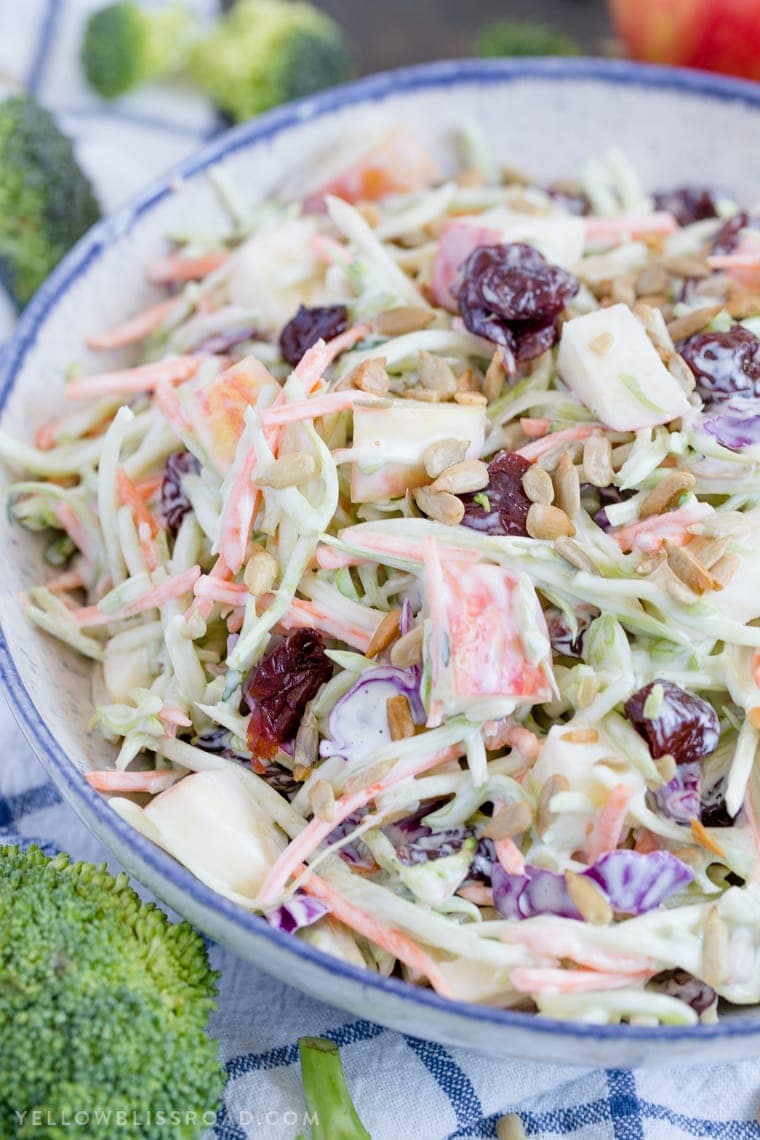 That's seriously all there is to this super easy broccoli slaw with apples and dried cherries. It's incredibly versatile, fitting in just fine next to a juicy steak or your mom's roasted Thanksgiving turkey!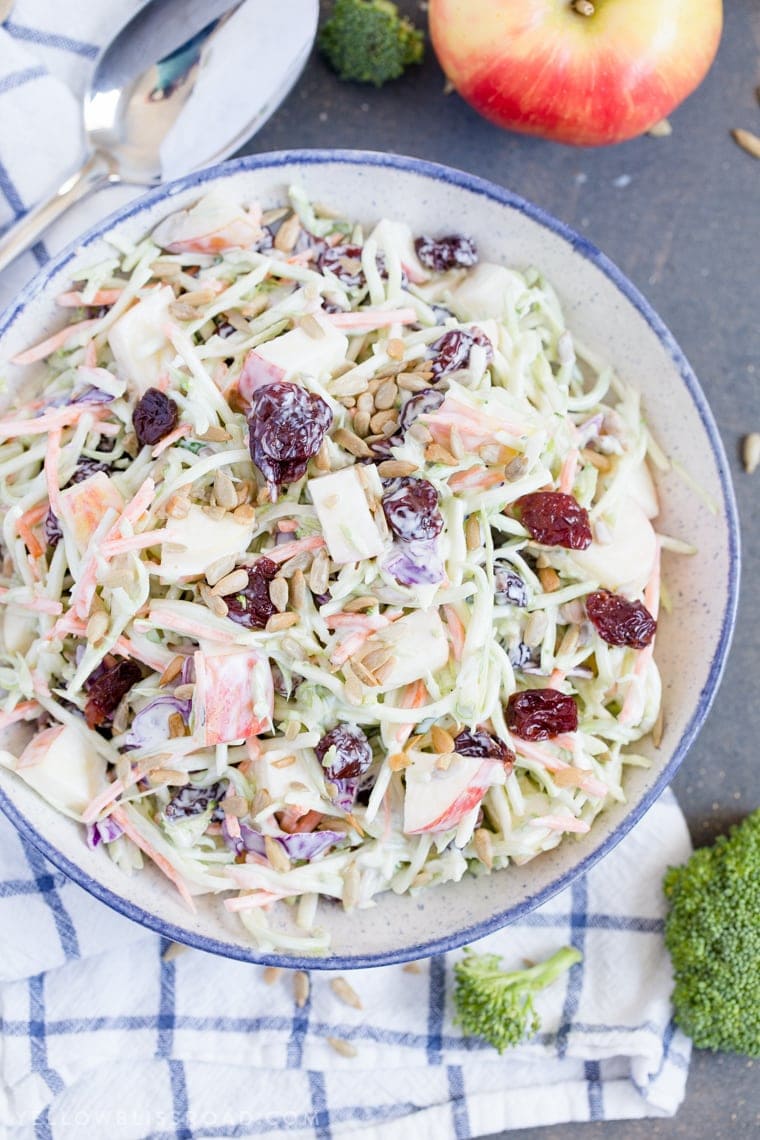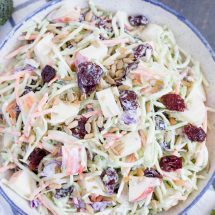 Ingredients
Salad
1 package 12 ounces broccoli slaw
1 honeycrisp apple diced into small, bite-sized pieces
1 cup dried cherries
¼ cup sunflower seeds
Dressing
6 ounces plain Greek yogurt
⅓ cup mayonnaise
2 tablespoons honey
2 tablespoons apple cider vinegar
Kosher salt
Instructions
In a large bowl, whisk together Greek yogurt, mayonnaise, honey and apple cider vinegar. Taste and season with a pinch of salt.

Add broccoli slaw, apples and dried cherries to the bowl and stir gently to coat completely.

Chill until ready to serve.

Just before serving, stir in sunflower seeds, or garnish individual servings.
Love this Broccoli Slaw with Apples & Dried Cherries? Try these other delicious side dishes:
Lightened Up Broccoli Pasta Salad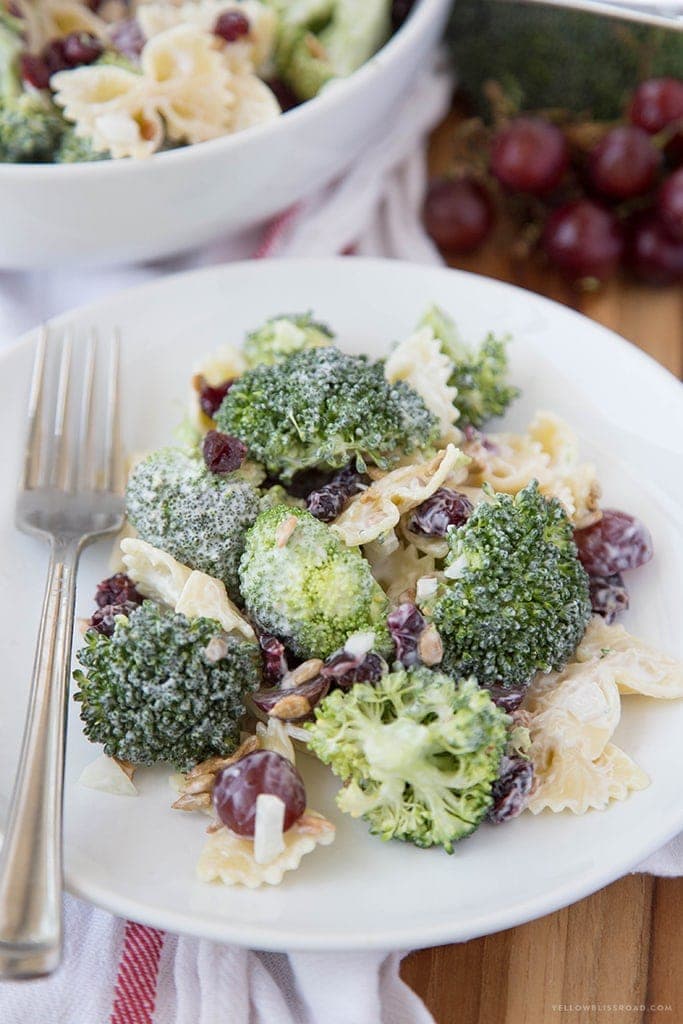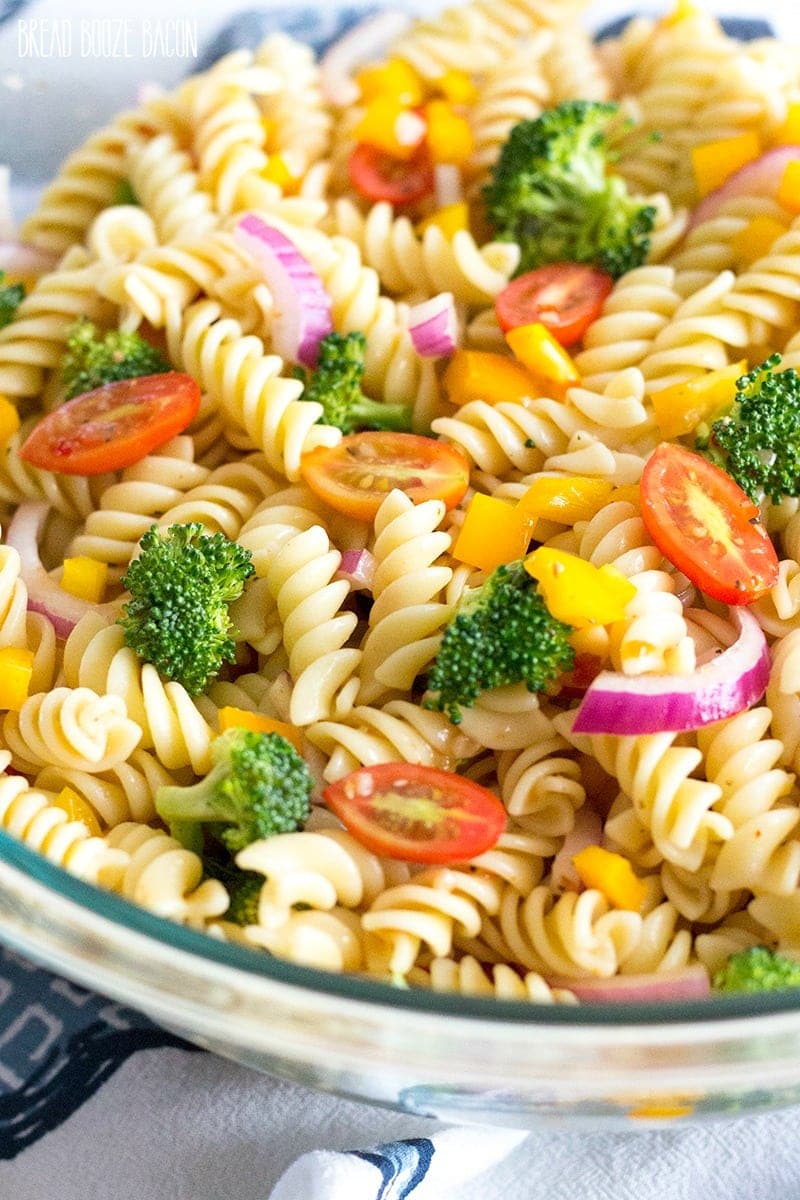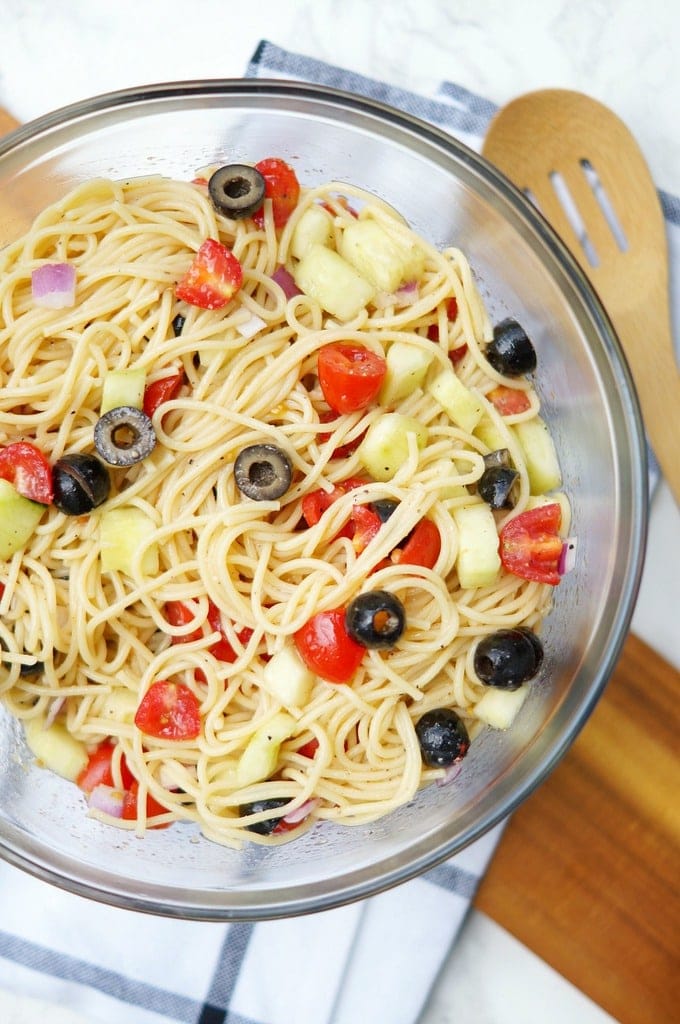 5-Minute Parmesan Ranch Broccoli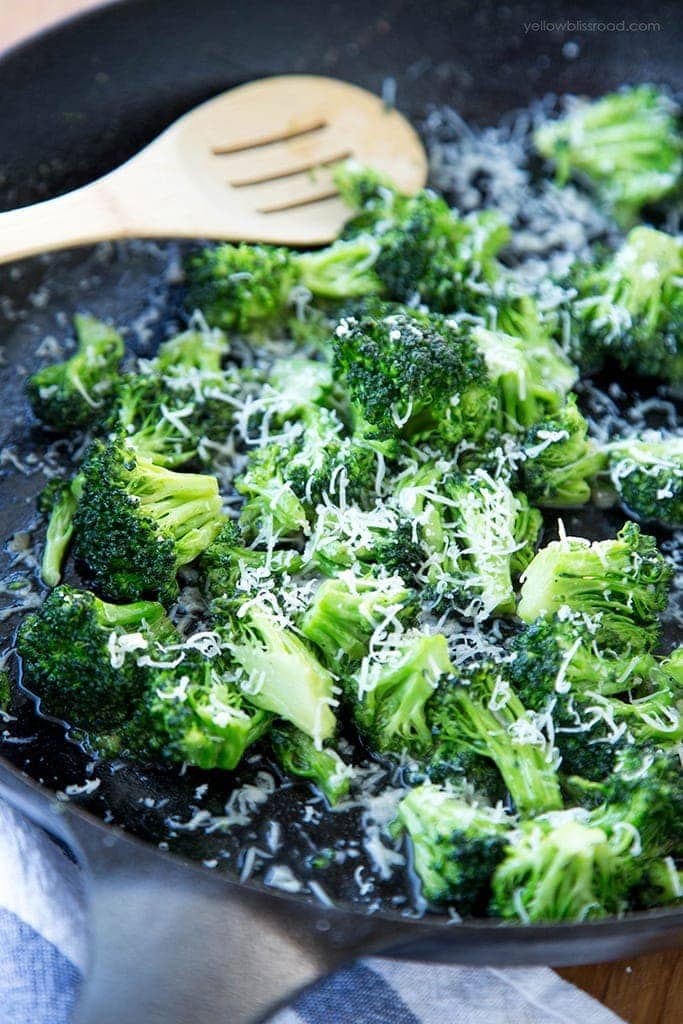 For all salads go HERE, for all side dishes go HERE and for the Recipe Index go HERE.