Hamburgers are easy to make and perfect for backyard grilling. Learn how to make the juiciest grilled burgers ever with just a few simple tricks!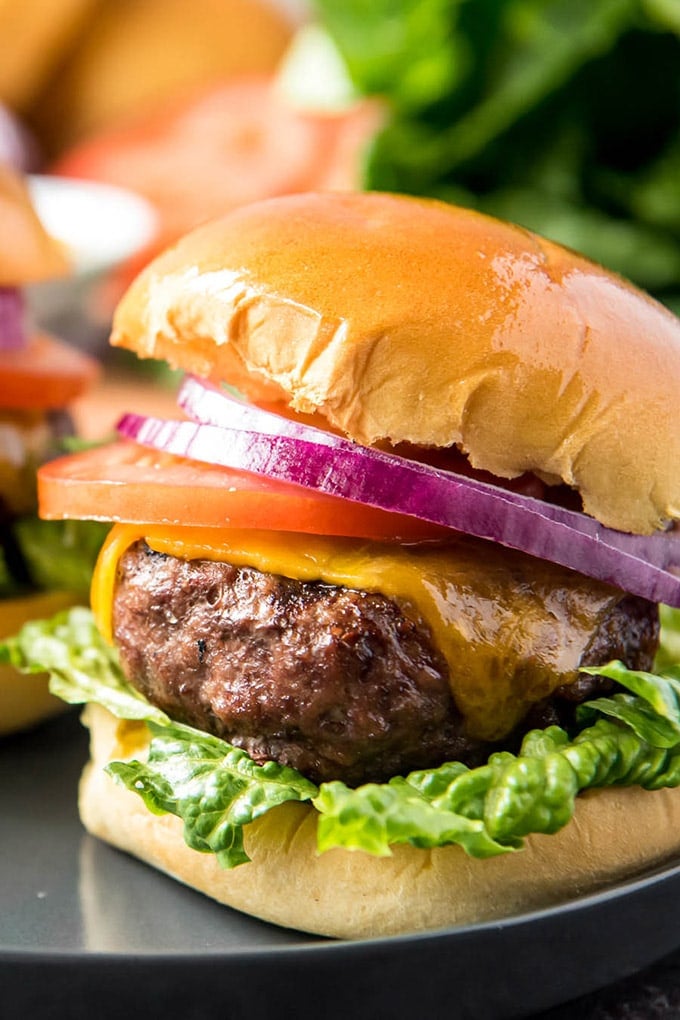 I am not usually one to order a hamburger when we dine out. But throw a burger on the backyard grill and I am all over that. Tender, so juicy, and charred to perfection and sitting next to a big helping of Cheddar & Dill Pickle Pasta Salad, Slow Cooker Baked Beans or Bacon Ranch Red Potato Salad – now that's my kind of barbecue!
Several years ago I attended a cookout demonstration given by Weber Grills where they taught us how to make the perfect burger. Since then I've perfected this recipe on my own backyard grill and I'm going to share all my my best tips and tricks. Things like how to perfectly season your burger, why you want that indent in the center and how to cook hamburgers without a grill.
How to Make Hamburger Patties
The best hamburgers start with quality ground beef and just a little bit of salt and pepper. You can use ground chuck (80/20) but I prefer a little leaner so I use an 85/15 ratio. To make my burgers extra juicy, I add a little bit of olive oil!
Using clean hands, mix the ground beef, salt, pepper and olive oil (if using) in a large bowl. Use your hands to mix because it helps to keep you from over-mixing which results in a tough patty. Yes this means touching raw meat, so be sure to wash your hands before and after mixing.
Divide the meat into equal portions. I use a kitchen scale so I can get the patties nice and even and no one is complaining that their hamburger is smaller than their sister's! Lay a piece of parchment paper down before placing the meat on the scale to keep it clean.
Shape the portioned meat into flat, round patties. I keep my patties about 6 ounces each and then form a patty that's about 5-inches in diameter and less than an inch thick. Press your thumb gently into the center of the patty about halfway down. This little trick helps the patty to hold its shape while cooking and prevents shrinking.
You can cook your hamburgers right away or refrigerate or freeze for later. If refrigerating, be sure to cook hamburgers within 24 hours. To freeze, wrap the patties individually using plastic wrap or parchment paper then place in a freezer bag and freeze for up to 6 months.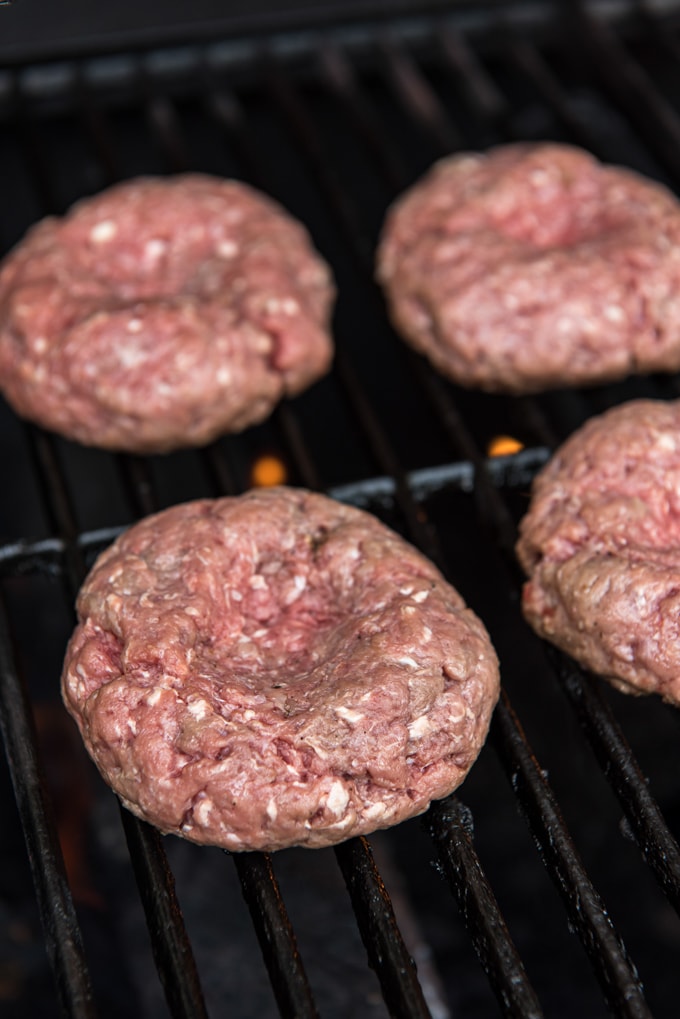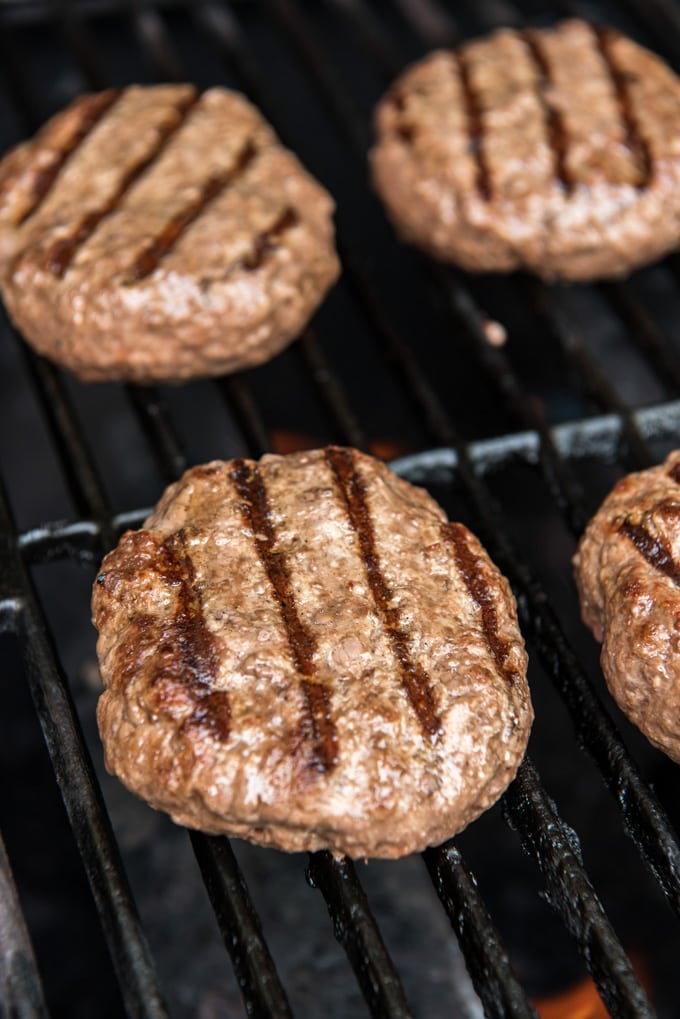 How to Cook Hamburgers
There are three different ways to cook your hamburger patties. Each method will result in a juicy burger, but I definitely recommend cooking on the grill if you can.
Hamburgers on the Grill
Preheat an outdoor grill to medium-high heat (400-450 degrees F) and clean the grates using a grill brush.
Place hamburger patties on the grill, indent side up and close the lid. Resist the urger to press down your burger or move it too soon. Cook for about 4 minutes; when the meat easily releases from the grates, you're ready to flip.
Carefully and using a long handled grill spatula; flip the patties over and close the lid. Again resist the urge to press down on the patties to avoid losing valuable juices. Cook another 4 minutes.
Test for doneness using a digital meat thermometer; 160 degrees F is medium. Add sliced cheese if using, and close the lid for 1 minute to melt. Transfer hamburgers to a clean plate and cover with foil to keep warm before serving.
How Long to Grill Hamburgers
The length of time for cooking burgers depends on the heat of your grill and the thickness of the patties. But it will take approximately 4-5 minutes per side. Let them rest at least 5 minutes before serving.
How to Tell When it's Cooked
Hamburgers should be cooked to at least 160 degrees F. Use tongs to lift up the patty and insert an instant read digital meat thermometer into the center of the burger.
On the Stove Top
It's super easy to cook your burgers on the stove if the grill isn't an option.
Use a heavy bottomed skillet, like cast iron over medium heat.
Fry hamburgers for about 5-6 minutes per side.
Test for doneness with an instant read digital meat thermometer and transfer to a plate to rest.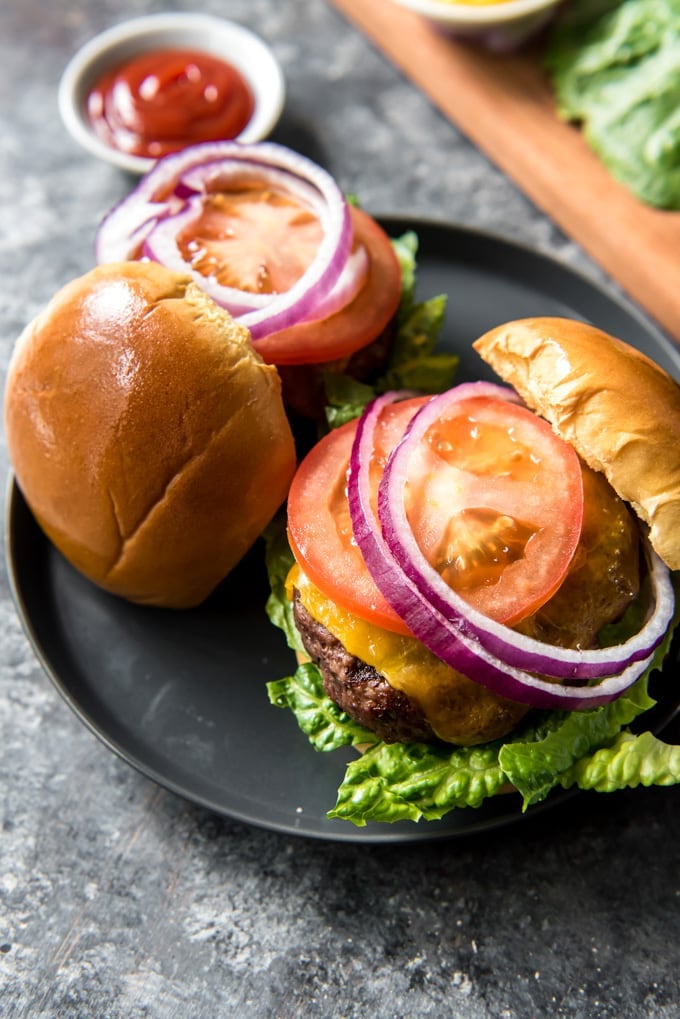 How to Top Your Hamburger
The Basics: Lettuce, tomato, onion, pickles and cheese are typically offer
Condiments: Ketchup, mustard and mayonnaise are the most common.
Make it Extra: Top your burger with just about anything you love! Avocado, BBQ sauce, pineapple, onion rings, guacamole, chili, fried egg, sautéed mushrooms. The possibilities are practically endless!
Like the meat, having a good quality bun is essential to the perfect hamburger, so splurge a little and get the good ones!
Top Tips and Questions
Can hamburgers be pink in the center? Yes. A hamburger that's a little pink in the middle can be safe to eat as long as it has reached 160 degrees F, the recommended internal temperature for hamburgers.
Are hamburgers healthy? To make your burgers a little healthier you can use lean ground beef (90/10) and add a couple teaspoons of olive oil. Your burgers will have a third less fat and calories and are just as juicy.
Why did my hamburgers fall apart on the grill? There are a few possible reasons your meat won't stay together, but the most common are too much liquid (which is why I only season with salt and pepper) or pressing the meat too tightly together.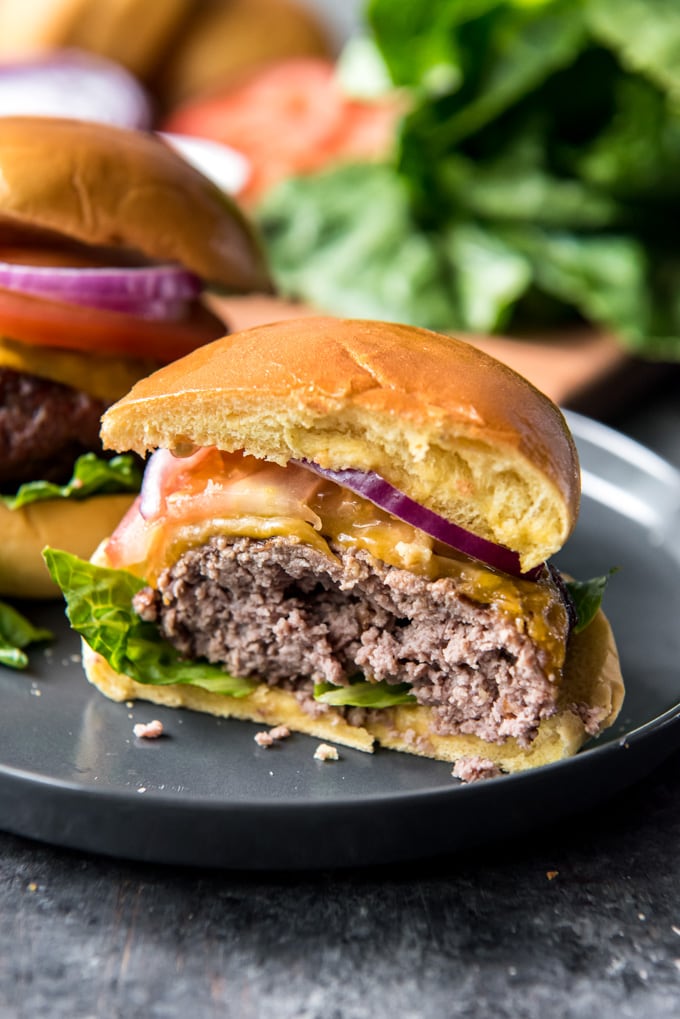 What to Serve with Hamburgers
If you've made this recipe, please come back and leave us a star rating or a comment below. Or, tag us on social media @yellowblissroad or #yellowblissroad for a chance to be featured.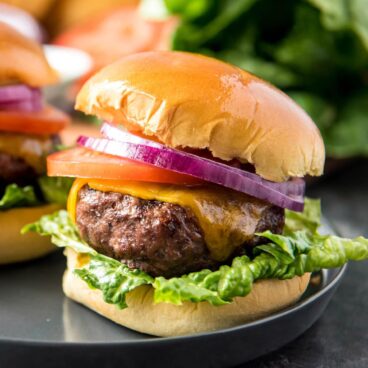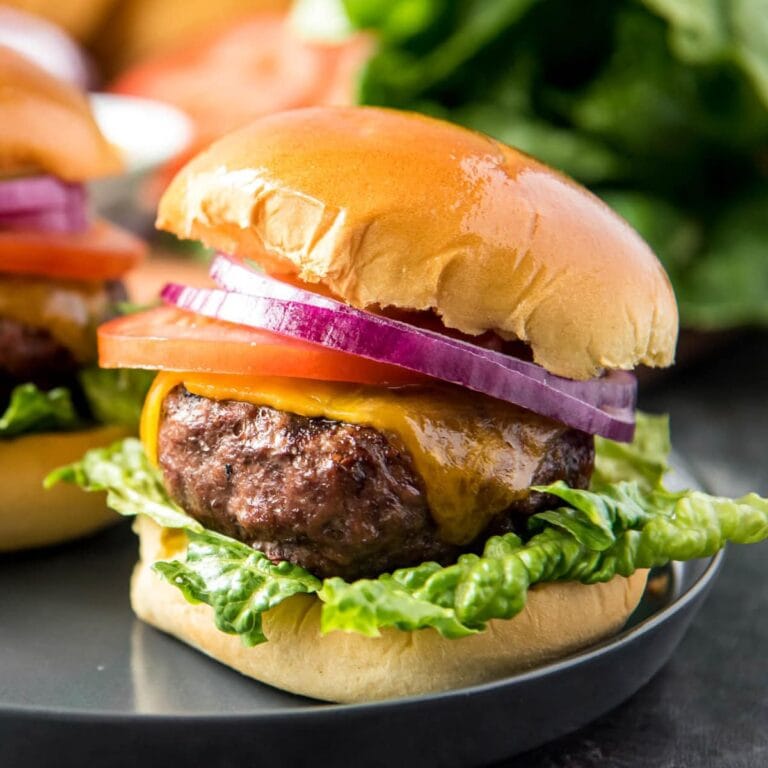 Grilled Hamburgers
Hamburgers are easy to make and perfect for backyard grilling. Learn how to make the juiciest grilled burgers ever with just a few simple tricks!
Ingredients
1.5

pounds

ground beef

1/2

teaspoon

salt

1/2

teaspoon

black pepper

2

teaspoons

olive oil
Burger Assembly
Hamburger buns

Optional Hamburger toppings: Lettuce, Sliced tomato, Sliced red onions, Sliced American or cheddar cheese, Pickles, Ketchup, mustard
Instructions
Preheat an outdoor grill to medium-high heat (about 450 degrees).

Place the ground beef in a large bowl and sprinkle on the salt, pepper and olive oil. Mash the meat with clean hands several times until combined.

Again using your hands, form 4 equal sized patties from the ground beef. They will shrink up quite a bit on the grill, so you want to make them fairly large, about 4" across and less than an inch thick. Use your thumb to make an indentation in the center of the patty.

Place patties directly over the heat, indent side up. Close the lid and grill for about 4 minutes per side. The actual cooking time will vary depending on the size and thickness of your burgers, and the heat of the grill. The internal temperature of the meat should be at least 160 degrees F. Top burger with cheese during the last 1-2 minutes if desired.

Transfer hamburgers to a clean plate and cover with foil (optional) to rest for at least 5 minutes before serving.
Notes
I use a kitchen scale to make sure that I have patties of equal size and weight. Using the amounts in this recipes, you'll have burger patties of 6 ounces in weight.
Nutritional information is approximate and includes only the hamburger patties. No optional ingredients are included.
You can use a higher fat ground beef if you like. I prefer to keep the meat lean and add olive oil as the fat to keep the calories and fat down.
Nutrition
Calories:
393
kcal
Carbohydrates:
1
g
Protein:
32
g
Fat:
29
g
Saturated Fat:
10
g
Cholesterol:
116
mg
Sodium:
403
mg
Potassium:
502
mg
Fiber:
1
g
Sugar:
1
g
Calcium:
26
mg
Iron:
4
mg