These Grilled Vegetables are coated with a balsamic vinegar reduction and grilled until tender and slightly charred. This is the ultimate summer side dish!
Want to make a complete meal on the grill? Be sure to add our Grilled Chicken Marinade Recipe and Grilled Potatoes to your menu!
Too chilly to grill outside? Try our oven roasted vegetables!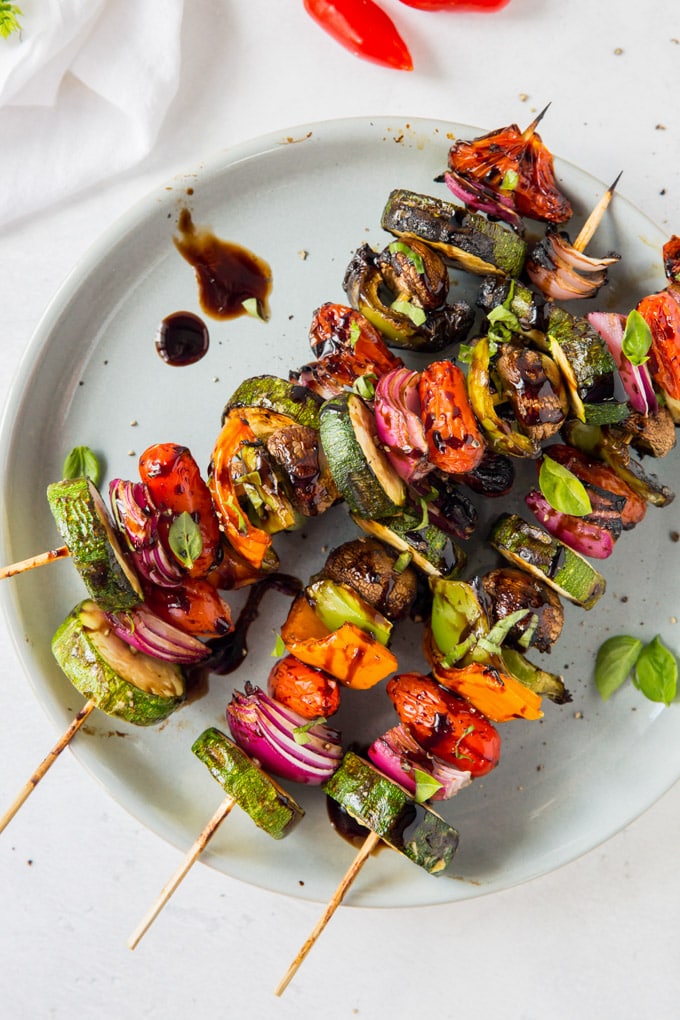 Balsamic Grilled Vegetables Recipe
Today we are sharing super versatile and completely delicious recipe for Balsamic Grilled Vegetables. This is one of my favorite ways to include vegetables on the menu during grilling season. They can be served alongside grilled chicken breast, burgers or even as the main course over a creamy pasta dish.
What are the best vegetables for grilling?
Since we are making kebabs, you have a lot more options for what vegetables are the best for grilling. Small pieces fall through the grates or tend to stick if you put them directly on the grates, but threading them on a skewer keeps them in place. Here are a few of our favorite veggies to grill:
Sweet bell peppers (red, yellow or green)
Mushrooms
Zucchini
Summer squash
Cherry tomatoes
Eggplant
Red onion
Potatoes (parboiled)
Artichoke hearts

How to make grilled vegetables
First you'll want to make the balsamic vinegar reduction. Bring a vinegar to a boil over medium heat, them reduce the heat and simmer for about 10 minutes. The vinegar should be significantly reduced to a thick syrup.
Stir in a little bit of brown sugar to sweeten the vinegar, and add a pinch of salt.
Thread your cut up vegetables onto skewers and brush with the vinegar glaze. I recommend purchasing a set of stainless steel skewers so you always have them ready. But if you want to use wooden, make sure to soak them in water for 30 minutes first to keep them from burning.
Heat your outdoor to medium heat (about 350-400 degrees F). Grill vegetable skewers until desired tenderness is reached, turning to char evenly; about 15 minutes.
Can I use a grill basket instead?
Absolutely! If you would prefer to make your grilled vegetables without the extra step of adding the skewers, you can place them in a grill basket and cook for the same 15 minutes.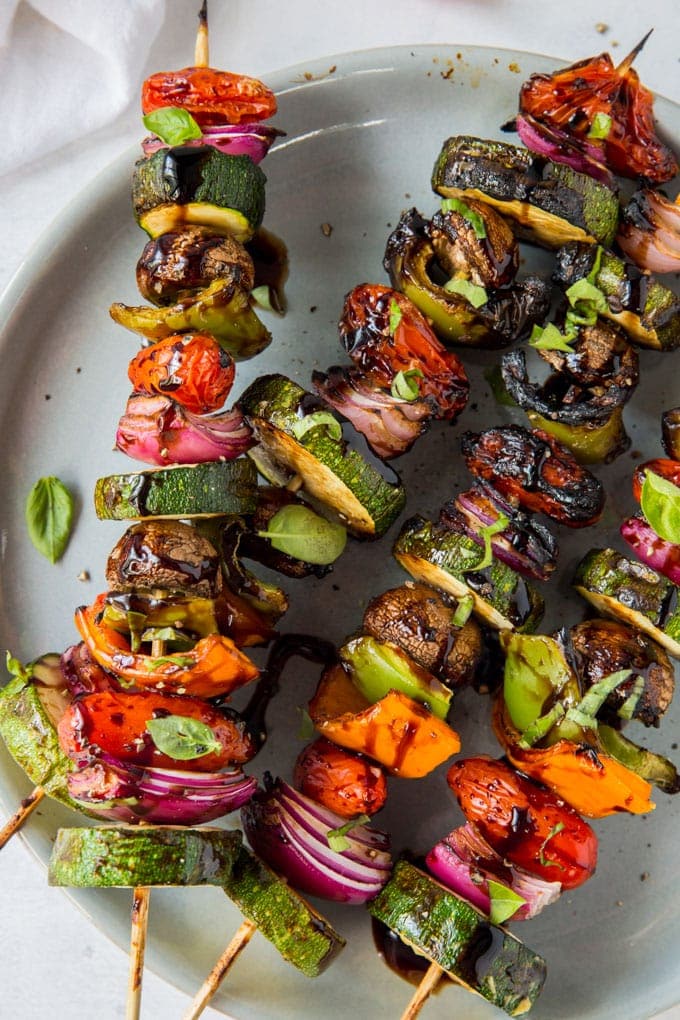 Serving Suggestions
Grilled vegetables go with just about anything since you can totally customize the veggies you use.
What to do with leftovers
Leftover grilled vegetables should be kept in a sealed container in the fridge and eaten within 2-3 days.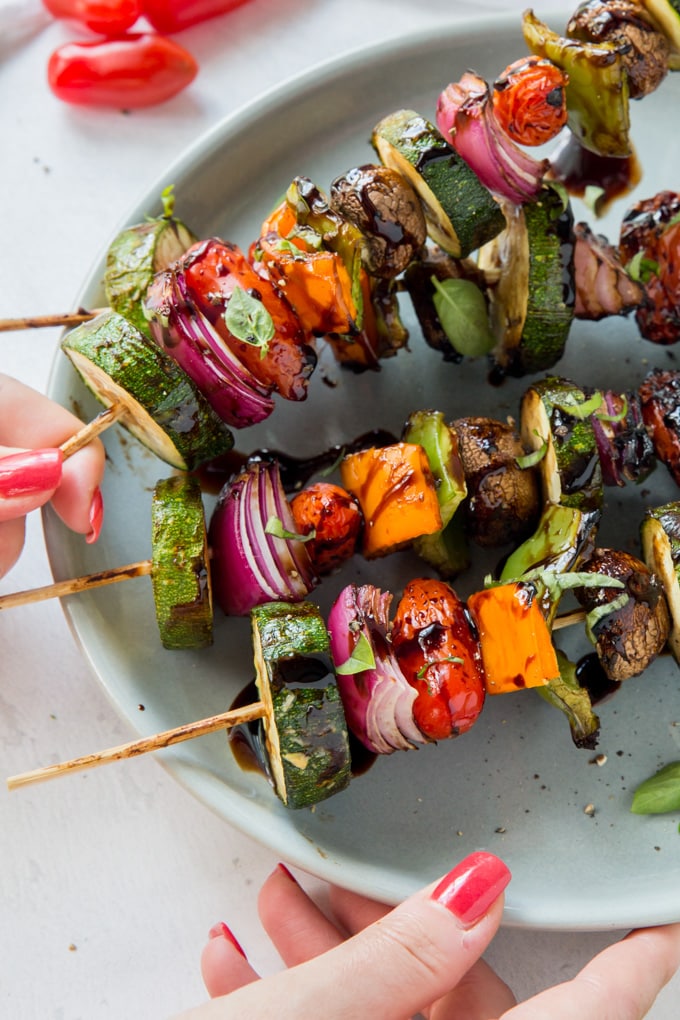 More grilled recipes you'll love:
Recipe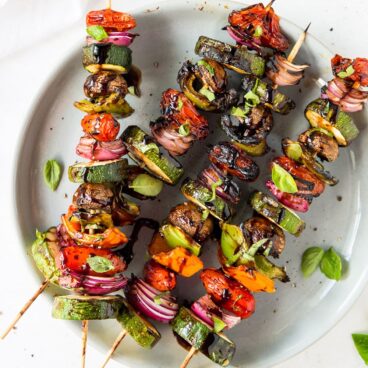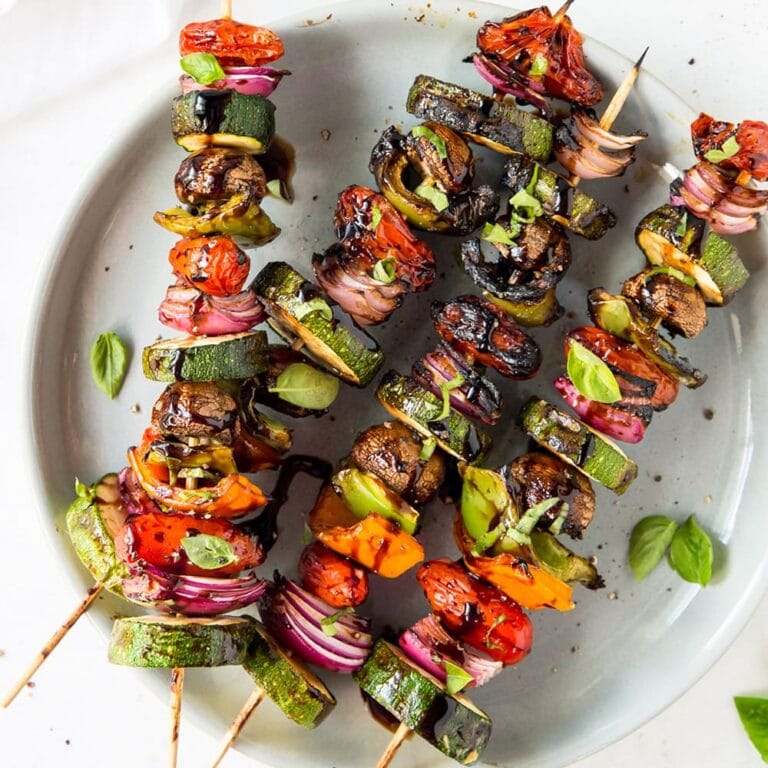 Balsamic Grilled Vegetables
These Grilled Vegetables are coated with a balsamic vinegar reduction and grilled until tender and slightly charred. This is the ultimate summer side dish!
Ingredients
6 

cups 

of assorted vegetables chopped into large pieces

2 

cups 

balsamic vinegar

1 

teaspoon 

brown sugar

salt and pepper to taste
Instructions
Add vinegar to a medium saucepan and bring to a boil over medium high heat. Reduce heat to medium and simmer for 10-15 minutes or until vinegar is significantly reduced. It will be thick and syrupy.

Remove from heat and stir in 1 teaspoon of brown sugar until dissolved. Add a pinch of salt and stir well.

Meanwhile, thread veggies onto skewers. If you're using wooden ones, they should be soaked for 20-30 minutes prior. Using a pastry brush, brush balsamic reduction onto vegetables.

Heat your outdoor grill to medium heat (350-400 degrees F) and cook vegetables over medium heat with the lid closed until vegetables are cooked to desired tenderness; about 15 minutes. Watch closely as the temperature of your grill may vary.
Notes
Keep in mind that the nutritional information will vary depending on the vegetables you use. The amounts given are an average.
Nutrition
Calories:
125
kcal
Carbohydrates:
22
g
Protein:
8
g
Fat:
1
g
Saturated Fat:
1
g
Sodium:
30
mg
Potassium:
841
mg
Fiber:
2
g
Sugar:
17
g
Vitamin C:
5
mg
Calcium:
28
mg
Iron:
1.7
mg