Do you love grilling season? I'm pretty much bursting with excitement right now. We decided to make a pretty big purchase that will make this summer oh so delicious! I decided it was time to purchase a REAL grill for our family grill master! These Garlic and Lime Chicken Kabobs are the first of many grilled masterpieces to come!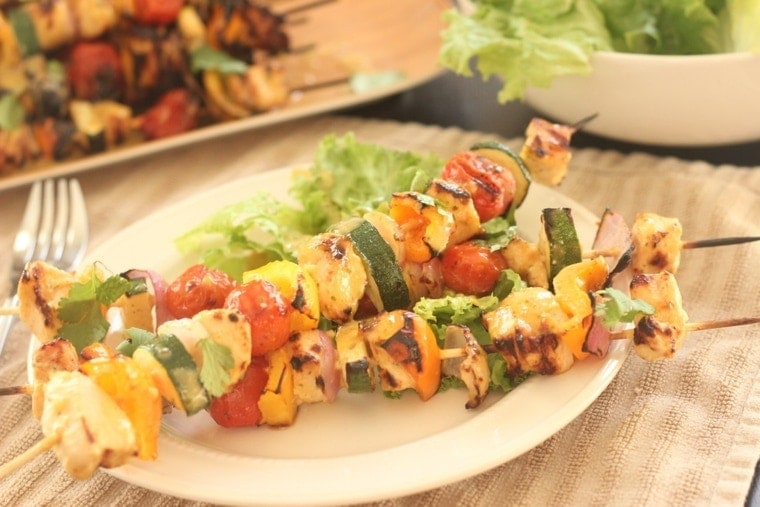 Kabobs are easy to put together and grill and they are fun to eat! I love that its something unique that you can present in a different way… not just your normal chicken with a side of veggies.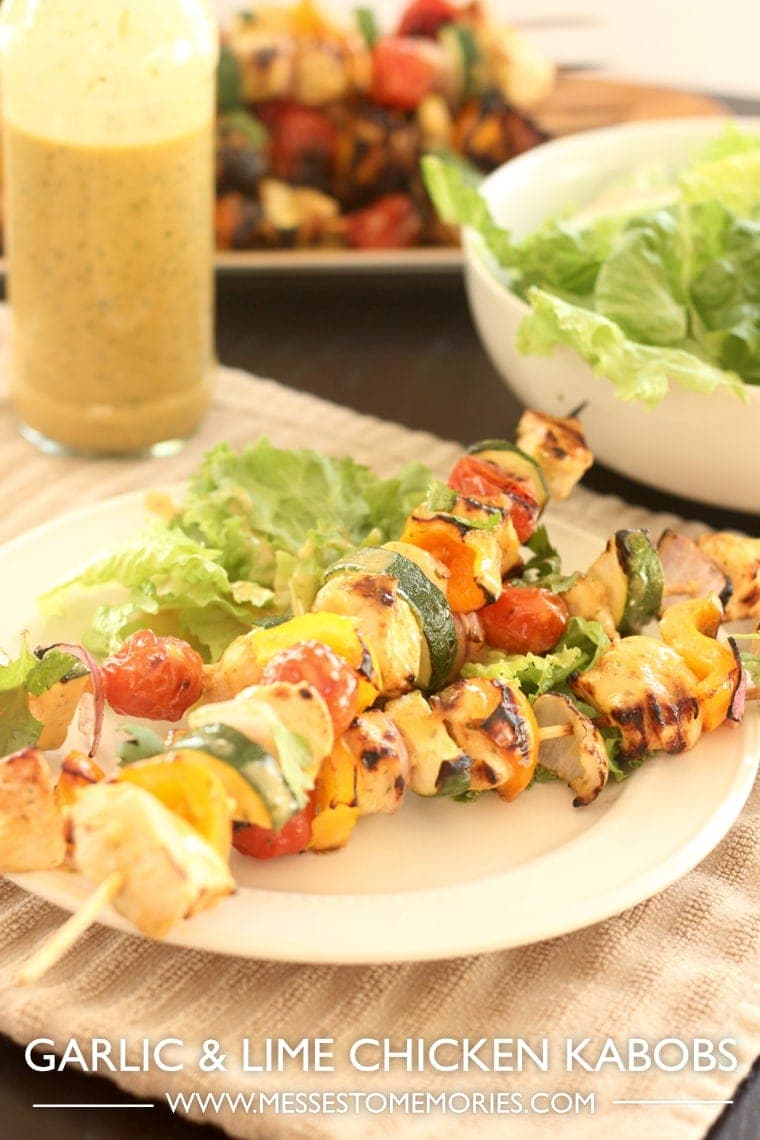 Sometimes my kids like to have little competitions to see who can eat the most Garlic and Lime Chicken Kabobs! Which is totally cool with me because each kabob has a healthy dose of veggies… Yummy and healthy too!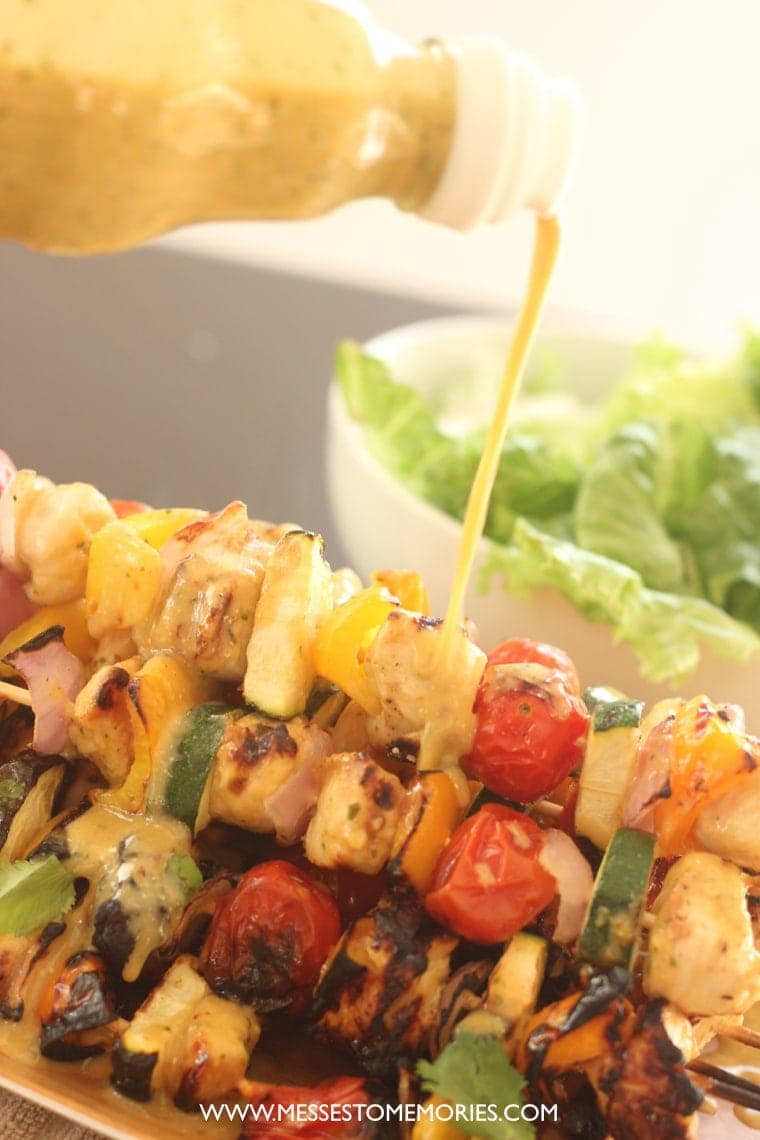 I paired my kabobs with some lettuce to make a delicious salad. I just smothered some more Garlic and Lime dressing over the top! But I can only imagine how delicious this meal would be with some grilled garlic toast… Oh yum! Next time I'm definitely doing that (when I'm no longer trying to win a health challenge).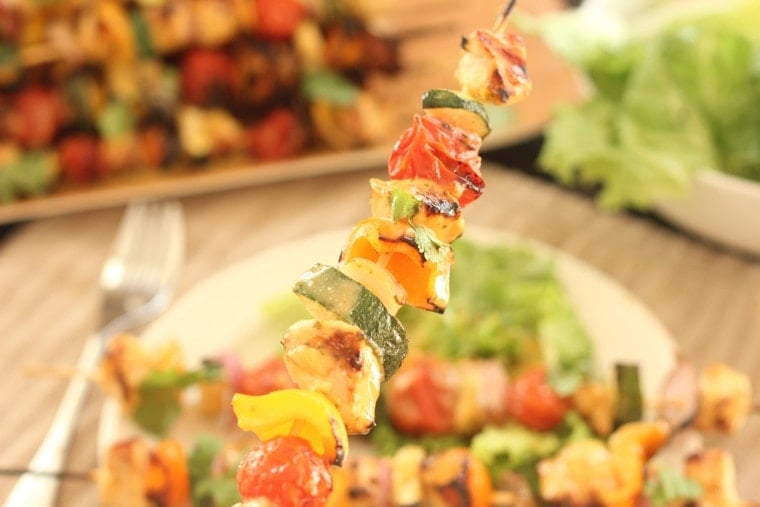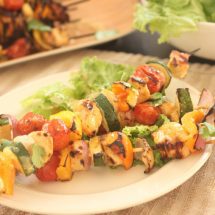 Garlic and Lime Chicken Kabobs
A little tangy dressing with lime and garlic smother these chicken kabobs with delicious flavor! It's almost like you can taste summer with these Garlic and Lime Chicken Kabobs!
Print
Pin
Rate
Servings: 4
Ingredients
2 cups chicken diced into 1 inch cubes
4 bowls of veggies we chose zucchini, cherry tomatoes, onion, bell pepper
1/4 cup red wine vinegar
1/4 cup lime juice
1 tsp salt
1/2 tsp seasoning salt
1/2 tsp chili powder
2 tbsp green onion
1 1/2 tsp garlic
3 oz cream cheese
2 tbsp cilantro
1 cup canola oil
Instructions
Combine red wine vinegar, lime juice, salt, seasoning salt, chili powder, green onion, garlic and cream cheese in a blender. Slowly add oil. Once mixed, pulse to combine cilantro.

Coat the chicken with 1/2 cup of the dressing and begin skewering the chicken and veggies to prep for grilling. Once you have a few prepped get them started on the grill. Rotate so that all the sides get cooked evenly. We really love that nice grill line! Mmmm.

When you're ready to eat, drizzle a little more dressing on your kabobs. Serve with lettuce as a salad or in a sandwich or wrap!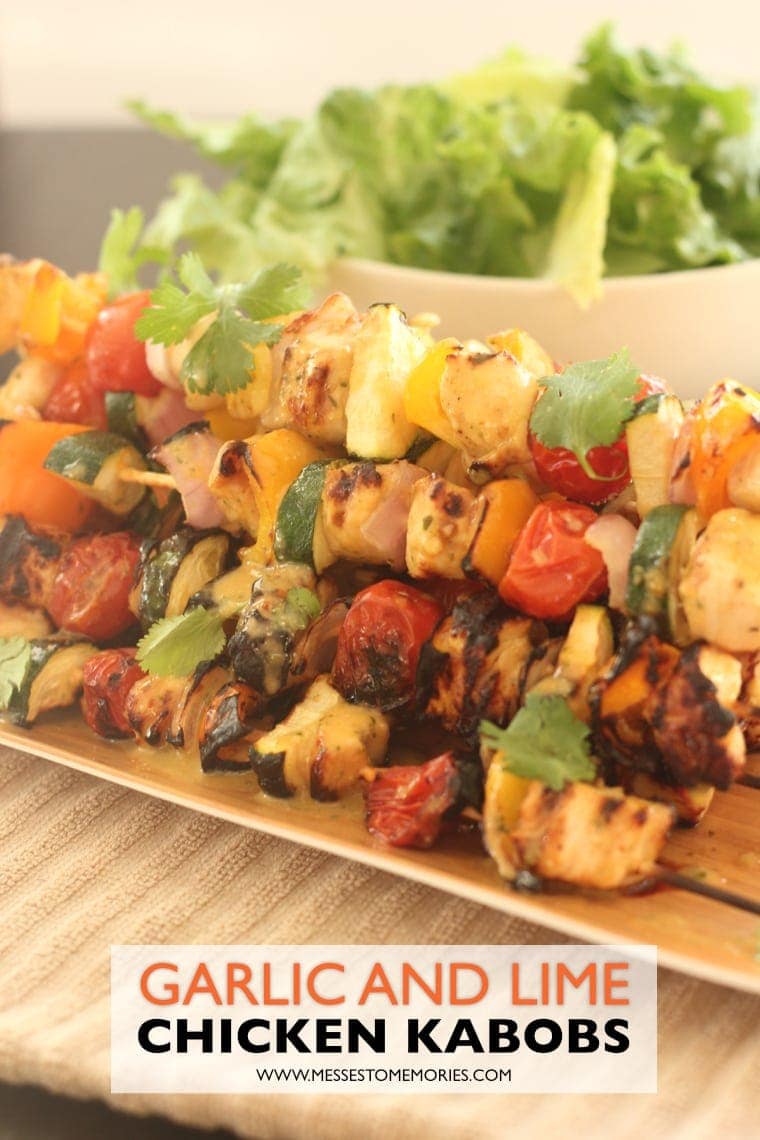 We love yummy and healthy dinners around here. Check out a few more of our summer favorites: Grilled Chicken Pesto Pasta – sounds yum, right?, Creamy Avocado Pasta is a delicious dish that can be prepped in 15 minutes with hardly any prep at all and is great with paired with grilled chicken and our long-time favorite Grilled Lemon Chicken and Zucchini Pasta!
Feel free to come check out all of our fun ideas on Messes to Memories!
For more dinner ideas, go HERE and for all recipes, go HERE.