Grilled Zucchini, marinated in lemon juice and olive oil, is a healthy summer side dish that everyone loves! It's become a staple in our house and the only vegetable my kids actually beg for!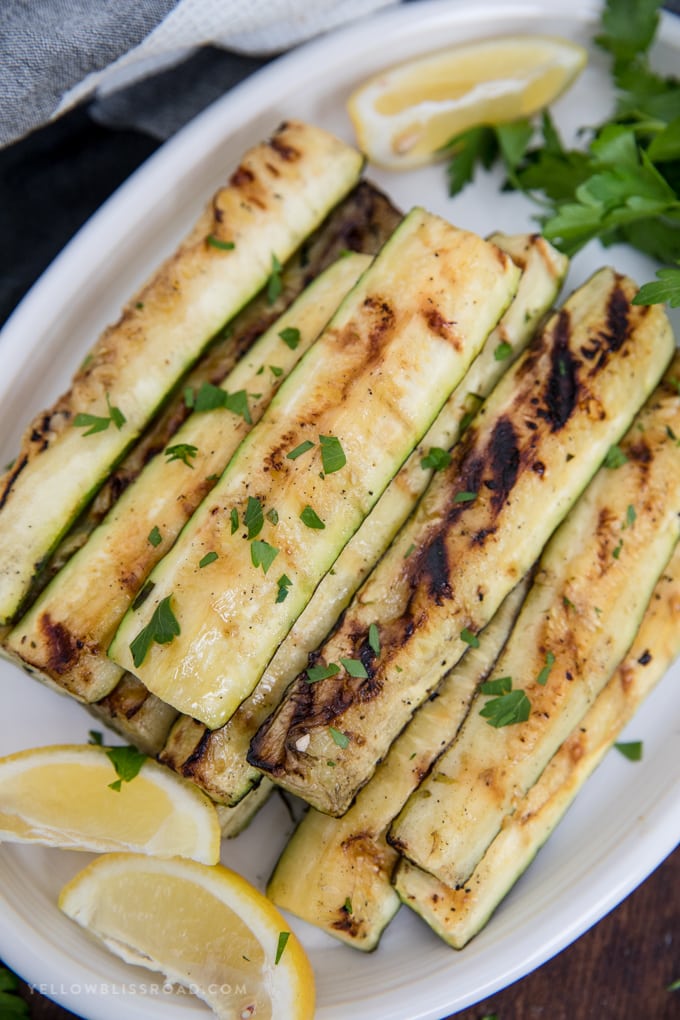 Grilled Zucchini Recipe
Grilling out is the only way to eat during the summer months. We love this zucchini with some Grilled Potatoes and Grilled Steak Marinade.
Zucchini has been my favorite vegetable for many, many years. While  in my younger days it was the fried variety, these days I tend to lean towards healthier options. Grilled is the best way to enjoy this summer squash in my opinion, so I make it for my family every chance I get.
If you've never tried grilled zucchini, you're in for a real treat. Grilling just bring out so much flavor in the food, and adds that smokiness that you just can't get indoors. Because of the high water content in zucchini, it's incredibly juicy when cooked. Marinating it in lemon juice and olive oil just amps that juiciness up to 11.
My recipe for Grilled Zucchini is so simple and it's a great side dish for anything else you may be grilling, like some tasty grilled chicken thighs or smoky spice rubbed tri-tip.
How to Make Grilled Zucchini
There are just a few steps in this recipe and all you need is a large, sharp knife and a cutting board. You can slice it in different ways, whichever you prefer. I like to quarter them.
Trim the ends, then cut the squash lengthwise in half, then into quarters. You'll end up with long, triangular strips. You could also just slice them in half, or even into half-inch thick rounds.
Toss the zucchs in some olive oil and lemon juice, then sprinkle with salt. Let them marinate in a sealed bag for about 30 minutes.
Grill 'em up! You'll want to have some long handled grilling tongs to be able to grab the zucchini to flip them. If you are cutting them into rounds, you'll want to use a grilling mat or vegetable basket for ease in flipping.
Yes, that's it. I told you it was simple!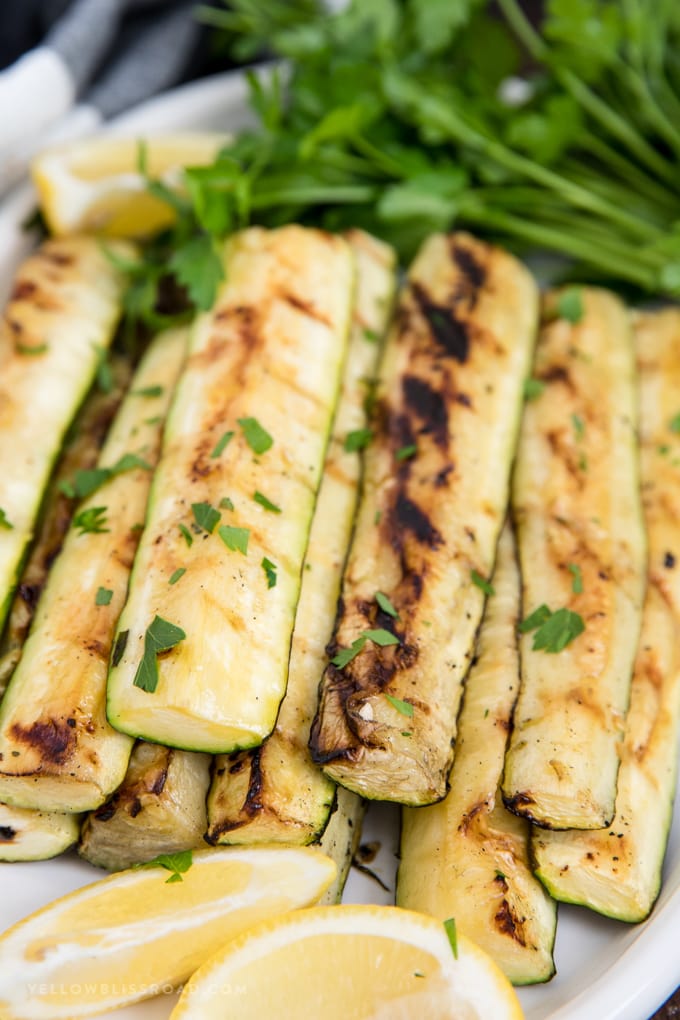 Top Tips and FAQs
How Long Do I Grill Zucchini? These babies are super tender already, so they do not take long to grill – just about 10 minutes total. You could throw them on the grill and forget about it for 10 minutes if you wanted, or you can flip them a few times to get those tasty grill marks all over these beauties. They cook pretty quickly, so flipping them is best to ensure that they are evenly tender all around.
Do You Grill Zucchini with the Skins on? Yes! There is no need to peel the skin unless you really want to. For larger zucchini, you may want to peel them because the skin can be bitter. Also if there is a waxiness to the skin (sometimes grocery stores do this to extend the shelf life), you may want to peel them.
How Many Calories are in a Grilled Zucchini? A whole grilled zucchini, using this recipe, will only have about 90 calories! Two strips, or half of the vegetable equal a serving, so that means there are just 45 calories in one serving.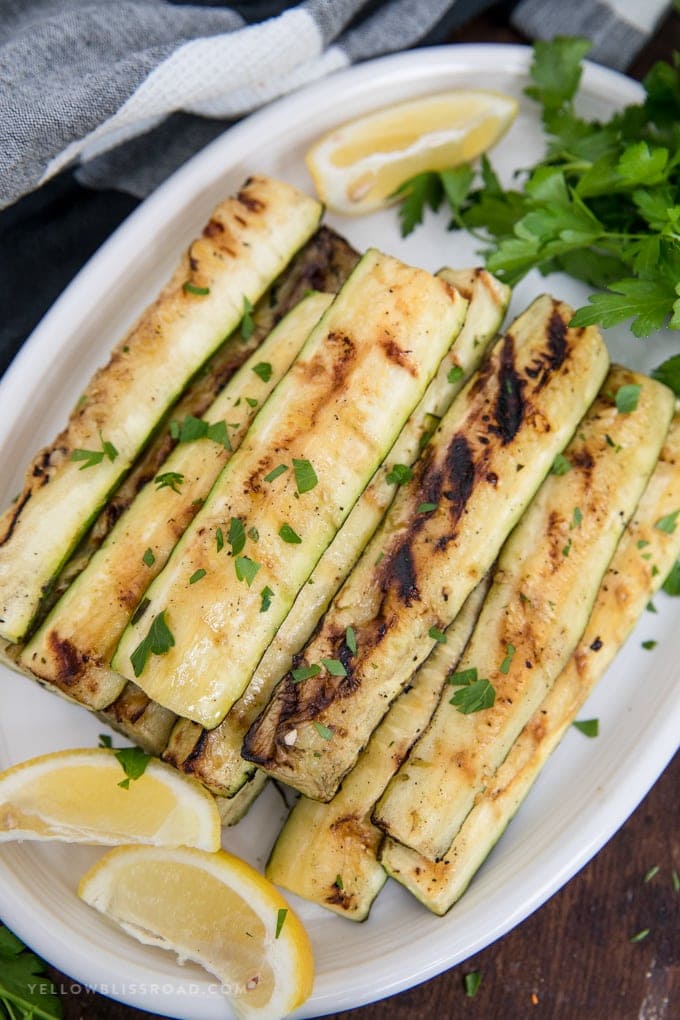 Here are some more delicious zucchini recipes to try: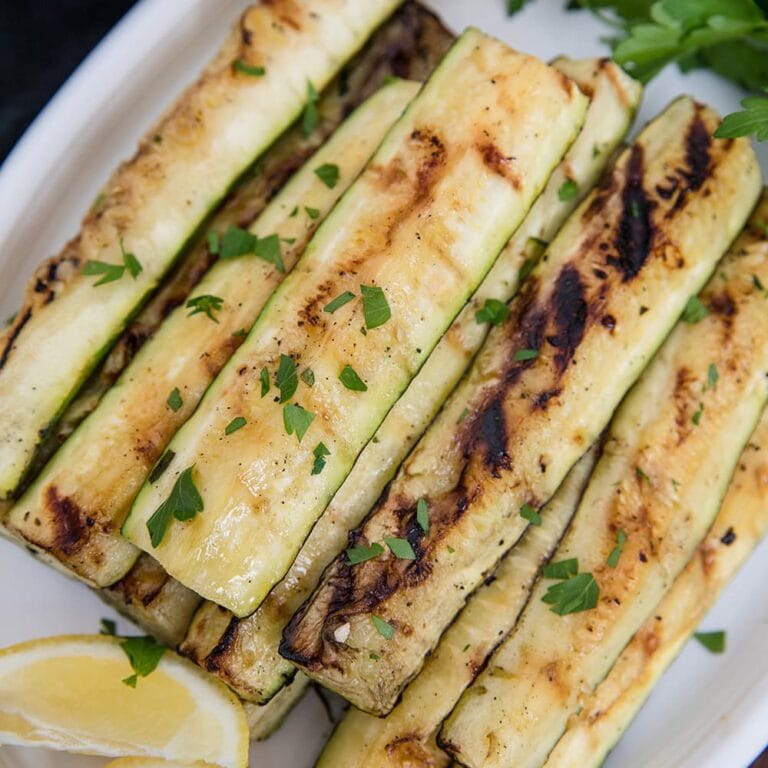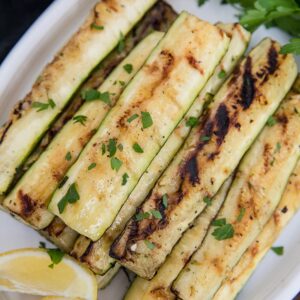 Grilled Zucchini
Grilled Zucchini, marinated in lemon juice and olive oil, is a healthy summer side dish that everyone loves! It's become a staple in our house and the only vegetable my kids actually beg for!
Ingredients
1.5-2 pounds zucchini about 3-4 medium zucchini
Olive oil
1 lemon
Salt
Instructions
Trim the ends from the zucchini and slice into quarters, lengthwise.

Place zucchini into a large zip-top bag and add a few tablespoons of olive oil, zest and juice from half a lemon. Marinate in the bag for 30 minutes. You could also do this in a large, shallow dish.

Preheat an outdoor grill to medium heat (350-375 degrees F). Place zucchini directly over the heat and close the lid. Cook the zucchini for 10-12 minutes, or until tender, flipping every 3-4 minutes to char all sides.

Transfer to a plate and tent with foil until ready to serve.

Garnish with fresh chopped parsley and serve with lemon wedges. Also delicious with shreded Parmesan cheese.
Nutrition
Calories: 24kcalCarbohydrates: 5gProtein: 2gFat: 1gSaturated Fat: 1gSodium: 9mgPotassium: 321mgFiber: 2gSugar: 3gVitamin A: 227IUVitamin C: 30mgCalcium: 23mgIron: 1mg