Zucchini Fritters are crispy on the outside and tender on the inside, full of flavor and low in calories. Served as an appetizer, side dish or even a snack, these fritters are a perfect way to sneak in some veggies!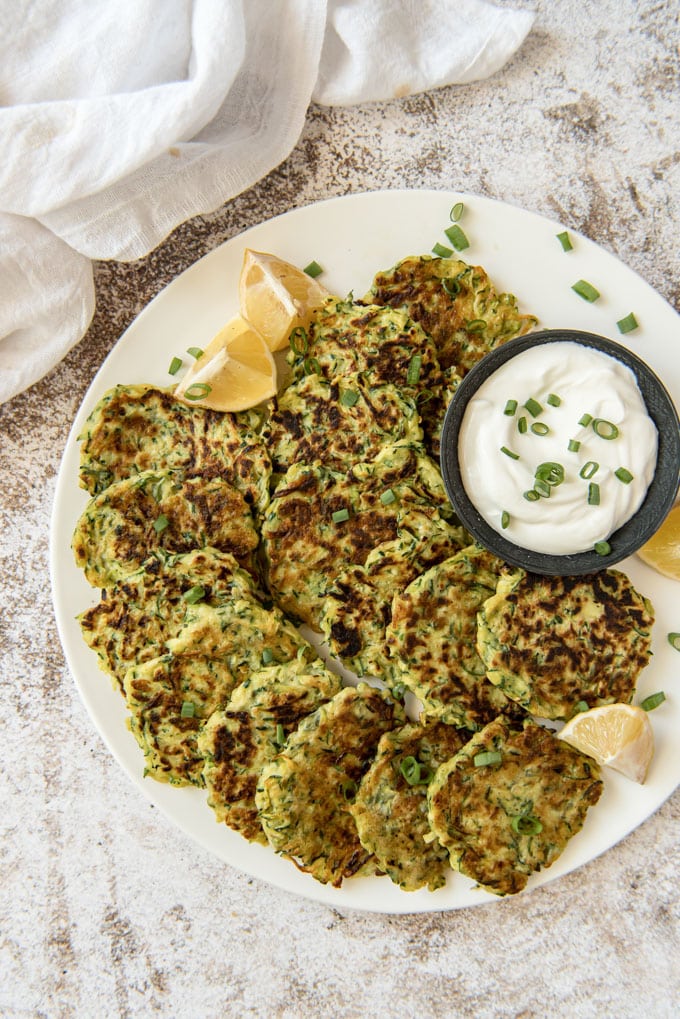 If you're looking for a new recipe to try that uses up all that fresh summer zucchini, you have to try these zucchini fritters! You might also like to try Baked Parmesan Zucchini Crisps, Fried Zucchini my grandma's famous Zucchini Bread.
My family loves these fritters, too. The exterior has deliciously crisp edges and the inside is tender and flavorful. We love dipping them in a little ranch dressing or topping them with sour cream or plain yogurt. They are also quite tasty just on their own. I love how simple they are to make, just like pancakes!
They are kid friendly – my kids love the crispy texture and of course they'll eat almost anything if they can dip it in ranch. Fritters are fun – try our Loaded Corn Fritters, too!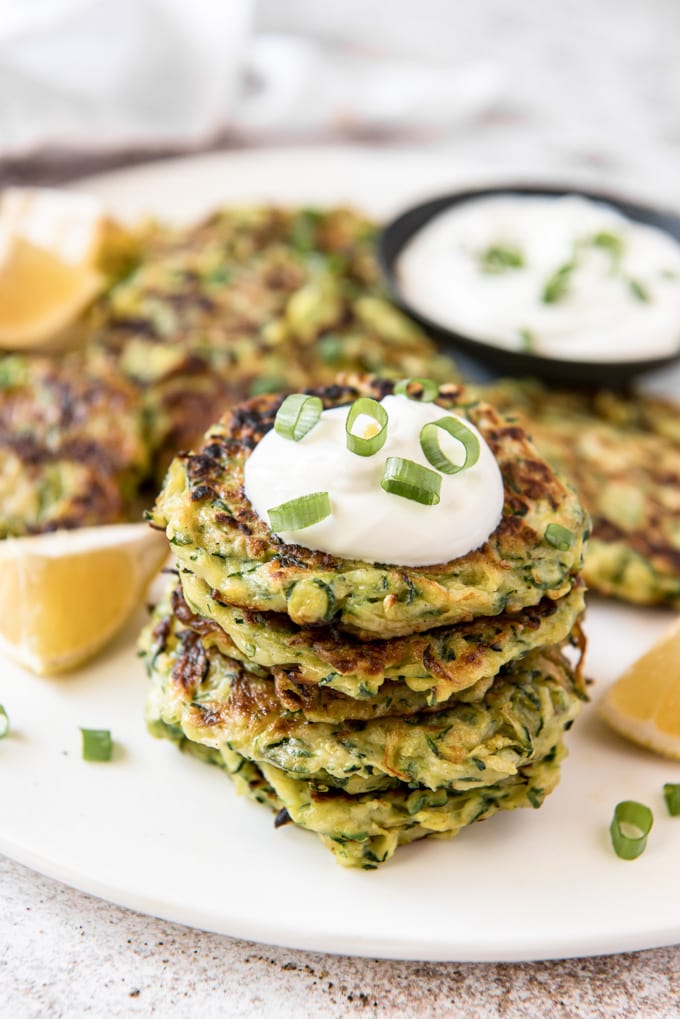 Why Are My Zucchini Fritters Soggy?
The trick to getting that crispy exterior is to make sure you squeeze out as much water as possible. It's a simple, two step process.
Salt. Place the shredded zucchini in a large bowl or colander and toss with salt, then let it sit for 10-15 minutes. The salt helps to draw out the liquid from the zucchini, making it much more dry and easy to work with.
Squeeze. I recommend using a cheesecloth or clean dish towel for this step, but you can also use your hands. Squeeze as much water from the zucchini as possible.
How to Make Zucchini Fritters
Mix. Combine the wet ingredients and the dry ingredients together in separate bowls, then mix together until well combined. The mixture will be similar to a thick batter.
Cook. Heat some oil in a skillet and scoop out portions of batter. I recommend using a ¼ cup measuring cup or an ice cream scoop to get even portions. Pour batter into the heated skillet, not touching, and flatten slightly with the back of a flat spatula. this process is similar to making pancakes. Once the fritters are crispy and golden on both sides (2-3 minutes per side), transfer to a plate and let cool for a few minutes before serving.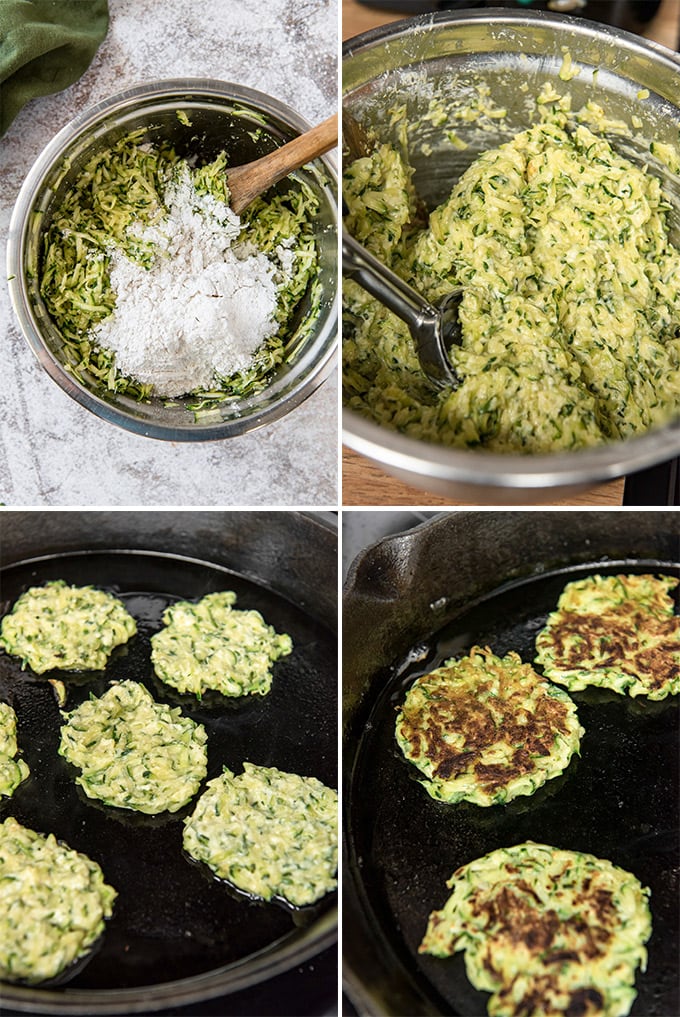 Top Tips for Making Zucchini Fritters
Can I bake zucchini fritters instead of frying? Yes! I you want to avoid frying, you can arrange the fritters on a parchment paper lined baking sheet and bake in a 400 degree oven for 10-12 minutes per side.
Best way to shred zucchini? Use a food processor if you have one! My daughter loves doing this herself! Use the grater blade and quickly shred 2 pounds of zucchini in less than 5 minutes! If you don't have a food processor, a hand held cheese grater will work, too.
Don't Overcrowd the Pan. It might be tempting to get as many fritters in the pan as possible, but it's best to leave some space between each one so they cook evenly. Fry zucchini fritters in batches of 4-6, depending on the size of your pan.
Keep the pan oiled. If your fritters begin to stick or you notice the pan looks dry, add another 1-2 tablespoons of oil. Make sure you let it get hot before adding the batter.
What to Do With Leftovers
Zucchini Fritters should be store in an airtight container in the refrigerator for up to 4-5 days. Reheat in a 375 degree oven on a sheet pan for 10-15 minutes.
Can you freeze Zucchini Fritters? Absolutely! Allow fritters to cool completely, then store in a freezer bag or airtight freezer safe container for up to 4 months. To reheat, place frozen fritters on a parchment lined baking sheet and bake in a 400 degree oven for 10-15 minutes or until crispy and warmed through.
Serving Suggestions
As mentioned above, my kids love dipping their zucchini fritters in ranch dressing. They are also delicious with plain yogurt or sour cream. Zest it up with some lemon, garlic and black pepper like the zesty yogurt dip we use for our Lemon Pepper Wings.
Zucchini Fritters make a great snack for after school – just halve the batch! Or serve them as a side dish to go with Baked Chicken Breasts, Baked Pork Chops or even Steak!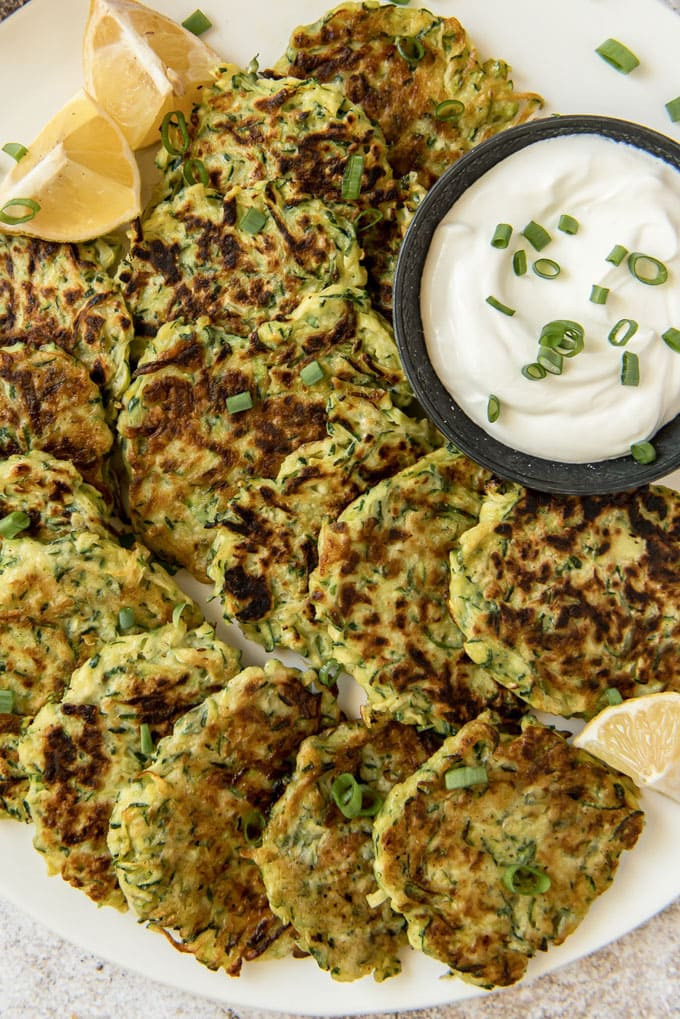 More Zucchini Recipes
Recipe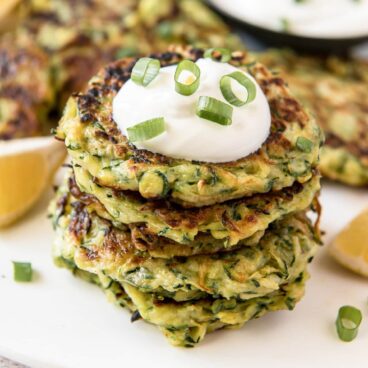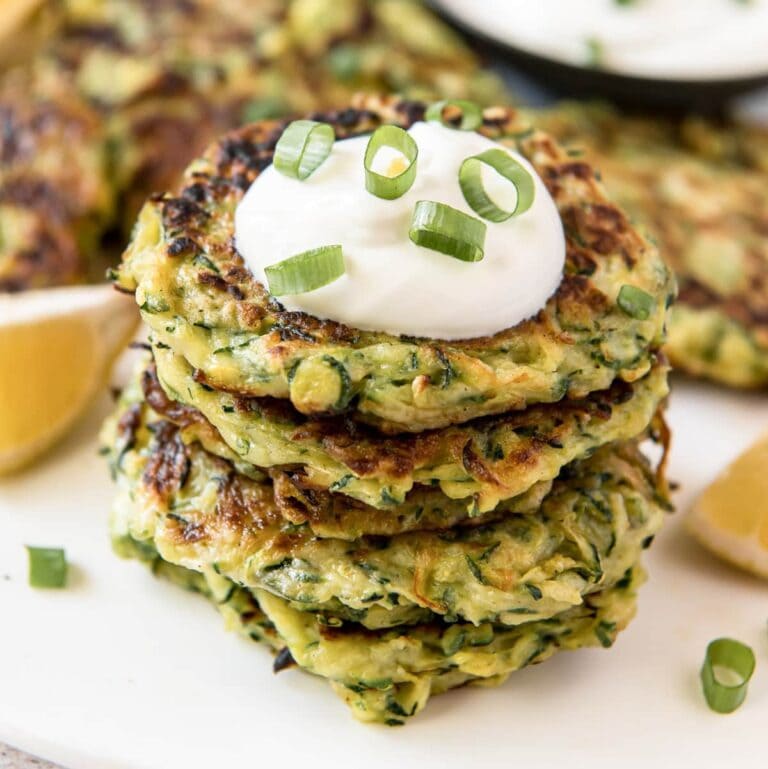 Zucchini Fritters
Zucchini Fritters are crispy on the outside and tender on the inside, full of flavor and low in calories. Sneak in some veggies as a side dish or snack!
Ingredients
2

pounds

Zucchini

shredded

1 1/2

teaspoons

salt

divided

2

large eggs

lightly beaten

1/4

cup

grated Parmesan cheese

Zest of one lemon

about 2 teaspoons

1

tablespoon

sliced chives

1

cup

all-purpose flour

1

teaspoon

baking powder

1/2

teaspoon

garlic powder

1/4

teaspoon

black pepper

2

tablespoons

canola oil

Sour cream and chives for garnish
Instructions
Place zucchini in a large bowl and toss with 1 teaspoon salt. Let sit for 10-15 minutes. Then using your clean hands, a clean dish towel or cheesecloth, squeeze handfuls of zucchini over the sink to remove as much liquid as possible. You should end up with about 4 cups of shredded zucchini.

Transfer shredded zucchini to a large mixing bowl and stir in eggs, chives, lemon zest and parmesan cheese.

In a small bowl, whisk together flour, baking powder, garlic powder, ½ teaspoon salt and black pepper. Stir into the zucchini mixture until completely combined.

Heat 2 tablespoons of oil over medium-high heat in a large, heavy bottomed cast iron or nonstick skillet. Scoop tablespoons of batter into the skillet, flattening into a pancake shape with a spatula. Cook until the bottom is nicely golden brown, about 2-3 minutes, then flip and cook the other side for 1-2 minutes more. If they seem to brown too quickly, turn down the heat. Transfer to a plate and repeat until all of the batter is cooked. Repeat, adding more oil if needed.

Serve immediately with sour cream and lemon wedges for garnish.
Notes
This recipe is easily halved or doubled. 
Store leftovers in the refrigerator for up to 4-5 days. Reheat in a 375 degree oven for 10-15 minutes.
Freeze for up to 4 months; reheat from frozen in a 400 degree oven for 10-15 minutes.
Nutrition
Calories:
44
kcal
Carbohydrates:
5
g
Protein:
2
g
Fat:
2
g
Saturated Fat:
1
g
Cholesterol:
14
mg
Sodium:
163
mg
Potassium:
121
mg
Fiber:
1
g
Sugar:
1
g
Vitamin A:
105
IU
Vitamin C:
7
mg
Calcium:
27
mg
Iron:
1
mg