My Easy Baked Pork Chops are so tender and juicy, and the brown sugar spice rub gives them a ton of flavor! 
Pork is often overlooked as one of the tastiest and most versatile meats. Some of my favorite recipes in my recipe box are my easy Crock Pot Pork Roast and my mom's famous Oven Braised French Onion Pork Chops. I also love a good pork tenderloin! But these pork chops? These baked pork chops are where it's at!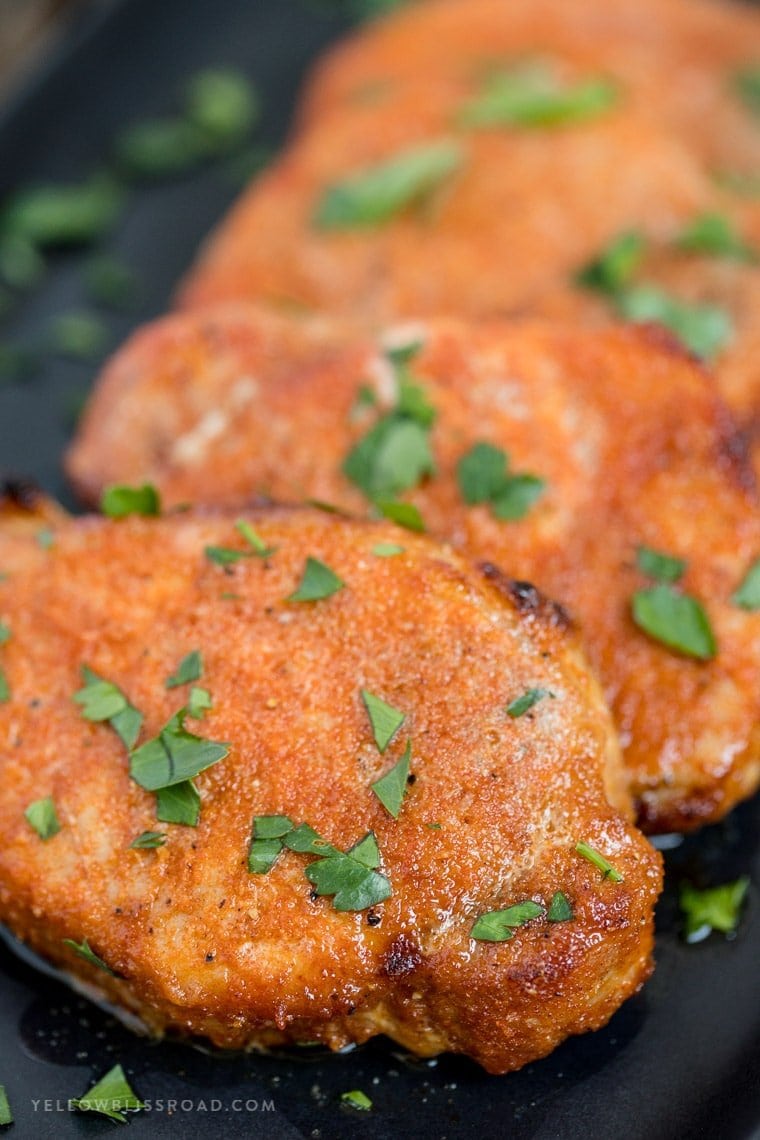 No More Tough, Dry Pork Chops!
I'll be the first to admit, I've never really been a fan of boneless pork chops. They always seem like a good idea, but they come out of the oven dry and tough. But you know what I figured out? It wasn't the pork's fault! It was mine. I finally figured out that I was cooking the poor pork chops to death, and it was slow and painful.
Top tips and tricks
Here are a few tips I've learned about keeping this type of meat super tender and juicy without drying it out:
Oil and season. Rub the pork chops with a little bit of olive oil before adding the seasoning. This will not only help the seasoning stick to the pork, but it adds a little flavor and keep the pork moist.
Don't overcook it. People tend to think that pork takes a long time to cook, but with boneless pork chops this rule just doesn't apply. A good rule of thumb for making baked pork chops is 7-8 minutes per half inch of meat in a 400 degree oven. Pork roasts and bone-in pork is a different story and will take much longer.
Let it rest. This is true for any meat that you're cooking, from chicken to steaks to pork. I cannot stress this enough! When meat cooks, and of the juices inside rush to the center. Resting allows those juices to redistribute throughout the meat resulting in a tender and juicy pork chop.
Resist the urge to cut. Do not cut these baked pork chops before serving. Keep them in tact and slicing before serving lets all of those juices out and the meat becomes dry very quickly.
Sear the chops first to lock in that sweet and spice. This will also give the pork a nice golden crust. Or, you could flip on the broiler during the last few minutes to caramelize the top.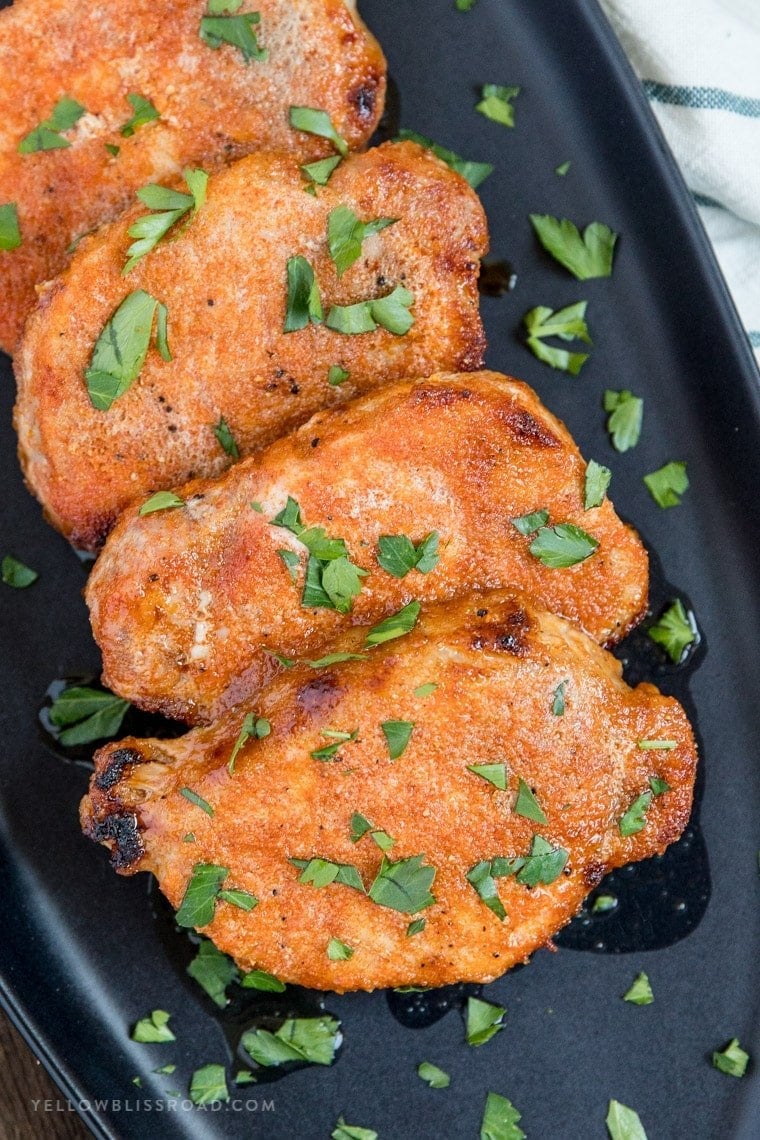 How to Make Baked Pork Chops
I like to use a nice, thick boneless pork chop for this recipe – about 1-inch thick is perfect. Pat the pork dry with paper towels. Place the pork chops in a large baking dish and rub with a little bit of olive oil.
For the brown sugar spice blend, I took notes from my easy baked chicken breast recipe and basically just added some brown sugar. Pork stands up well to a sweet flavor profile (and I just prefer it).
Bake the pork chops in a 400 degree oven for about 15 minutes. If you have a meat thermometer, it will come in handy here. You want the pork to register about 145 degrees for medium rare.
Now, it's tempting to cut into the baked pork chops to see if they're done – resist! Cutting right away will let all of those juices out, negating all of your hard work. Cover the chops with foil and let them rest.
Why is my pork tough?
Pork chops are a lean meat and it is so easy to overcook them. You want to cook them to just a tad under because they retain heat and will continue cooking even after you remove them from the oven or skillet.
What internal temperature should pork be cooked to?
Pork is safe to eat once it reaches 145 degrees Fahrenheit. I recommend cooking it just shy of that if you can since pork chops do continue cooking a tad after you remove them from the heat.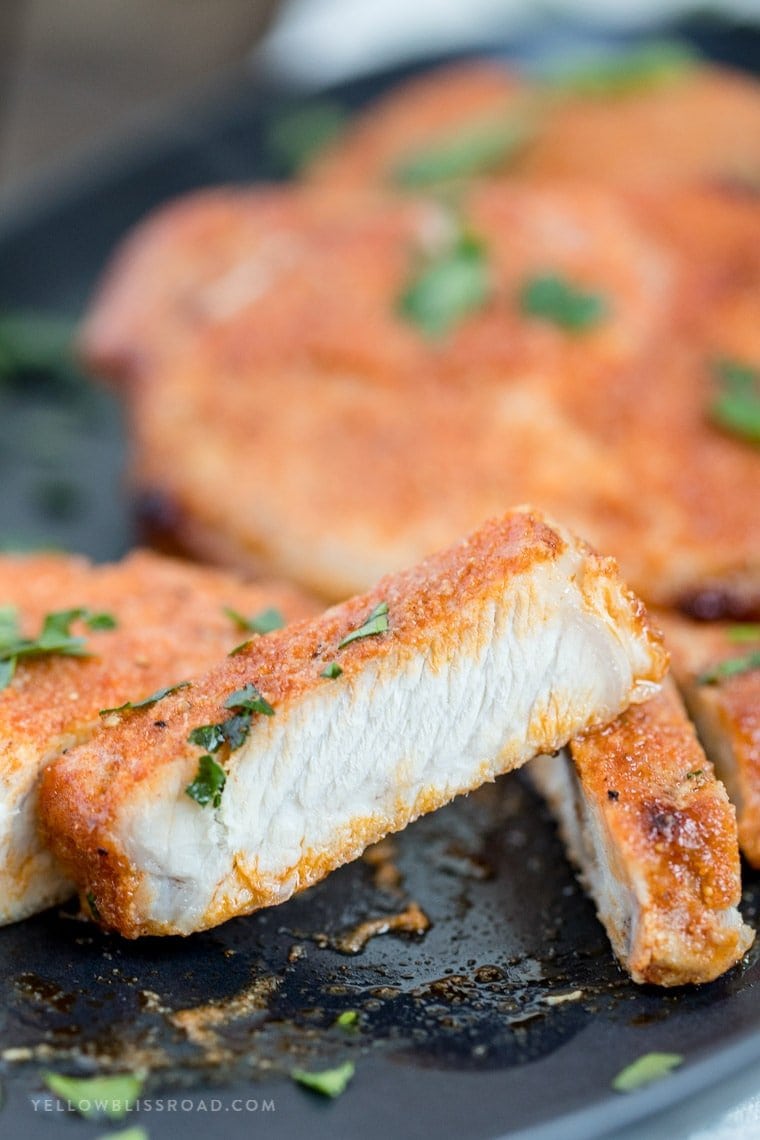 Serving Suggestions
What goes best with pork chops? Pork pairs well with sweet sides like Honey Roasted Carrots and of course pork chops and (Slow Cooker) Applesauce is a classic. We love to serve this pork chops recipe with Easy Baked Potato Wedges, Mashed Potatoes or some simple Garlic Bread and a Garden Salad.
What to do with leftovers
Pork can be finicky when reheating, so I'll sometimes eat it cold. One great way to re-use leftover pork in to add it to my Egg Fried Rice which is something I do often. Make sure to dice the pork up into small, bite-sized pieces and saute them in a little butter to heat them before adding them to the rice.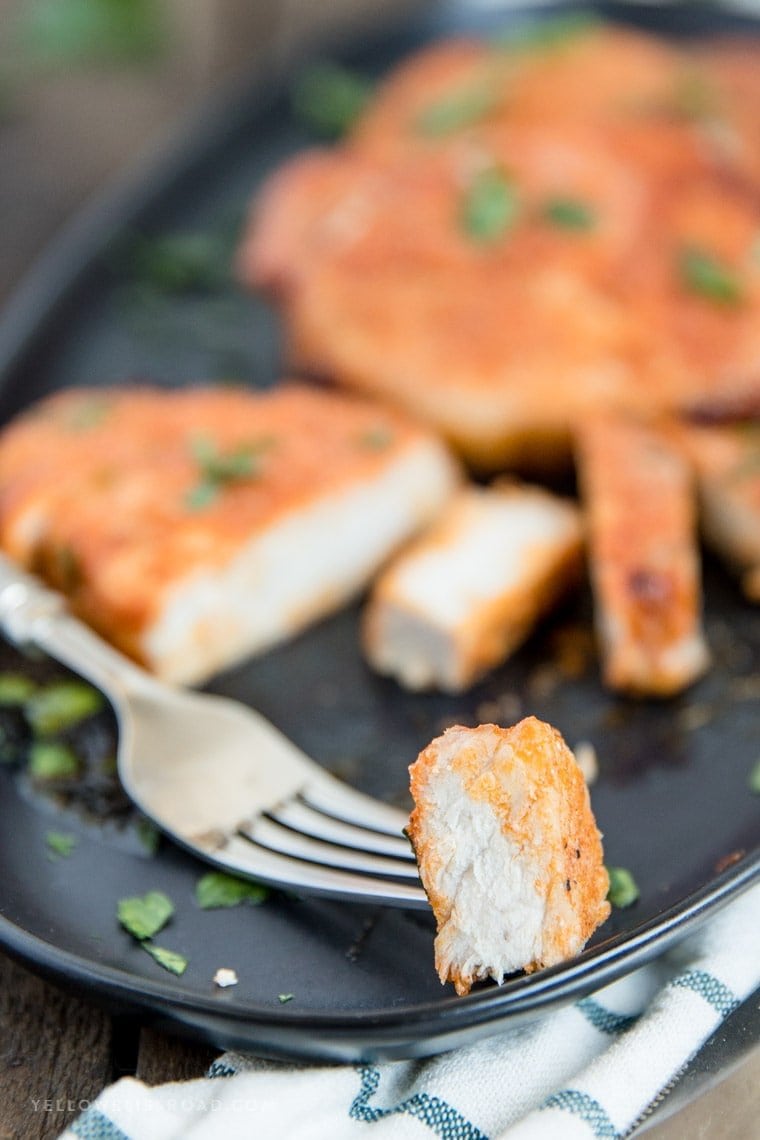 Here are some more delicious pork recipes to try:
If you've made this recipe, please come back and leave us a star rating or a comment below. Or, tag us on social media @yellowblissroad or #yellowblissroad for a chance to be featured.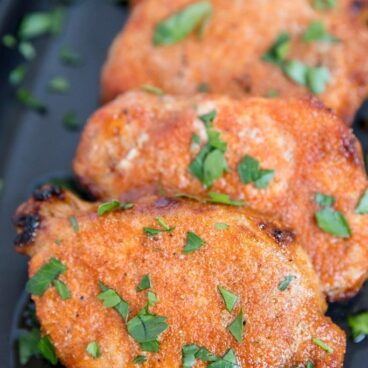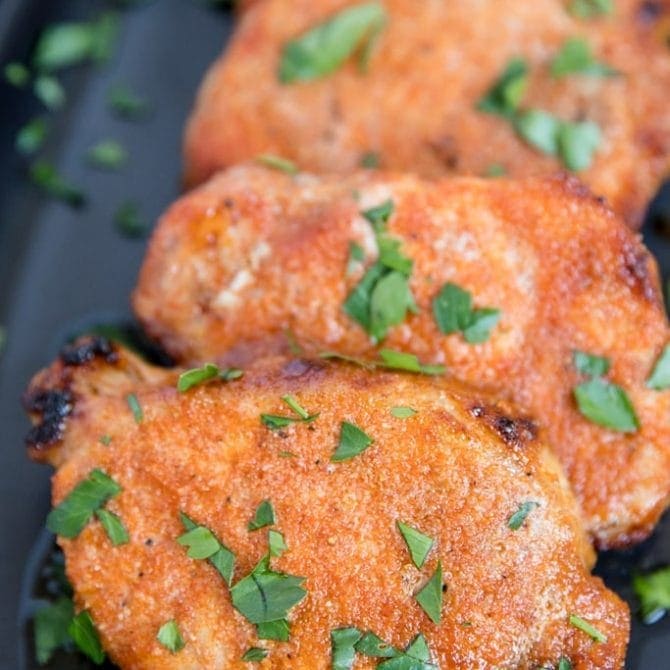 Easy Baked Pork Chops
My Easy Baked Pork Chops are so tender and juicy, and the brown sugar spice rub gives this boneless pork chops a ton of flavor!
Ingredients
4

boneless pork loin chops

about 1-inch thick

3

tablespoons

Extra Virgin Olive Oil

1

teaspoon

kosher salt

1/4

teaspoon

black pepper

1/2

teaspoon

garlic powder

1/4

teaspoon

onion powder

1/2

teaspoon

chili powder

2

tablespoons

brown sugar
Instructions
Preheat oven to 400 degrees F. Spray a large, 13x9-inch baking dish with nonstick cooking spray.

In a small bowl combine the salt, pepper, garlic powder, onion powder, chili powder and brown sugar.

Lay pork chops in the prepared baking dish, side by side but not touching. Coat both sides of each chop with the olive oil.

Sprinkle half of the seasoning blend over the tops of the pork chops and rub into the meat with your hands. Repeat on the flip side of the meat.

Slide the dish into the preheated oven and bake for 15-20 minutes, or until pork registers 145 degrees F on a meat thermometer.

Tent with foil and let stand for 5-10 minutes before serving.
Notes
If you're not getting that golden color you're looking for, broil the chops during the last several minutes.
Or, you could opt to sear the chops in a cast iron or stainless steel skillet with a little melted butter or olive oil. This will seal in the flavor and give you a nice golden crust. You will probably want to take several minutes off of the cooking time to account for the pre-cook.
Nutrition
Calories:
326
kcal
Carbohydrates:
6
g
Protein:
29
g
Fat:
20
g
Saturated Fat:
5
g
Cholesterol:
90
mg
Sodium:
652
mg
Potassium:
500
mg
Fiber:
1
g
Sugar:
6
g
Vitamin A:
74
IU
Calcium:
14
mg
Iron:
1
mg
Updated March 2020