Easy Oven Braised French Onion Pork Chops
These Easy Oven-Braised French Onion Pork Chops are an easy weeknight dinner with minimal ingredients and hardly any prep required. They are definitely a dish your family will be begging for because it's one of the easiest pork chop recipes ever!
I'm always on the hunt for easy dinner recipes, and especially pork chop recipes that yield tender, juicy results. These 3-ingredient French Onion Pork Chops are the perfect chop to serve with some sauteed broccoli and mashed potatoes or rice.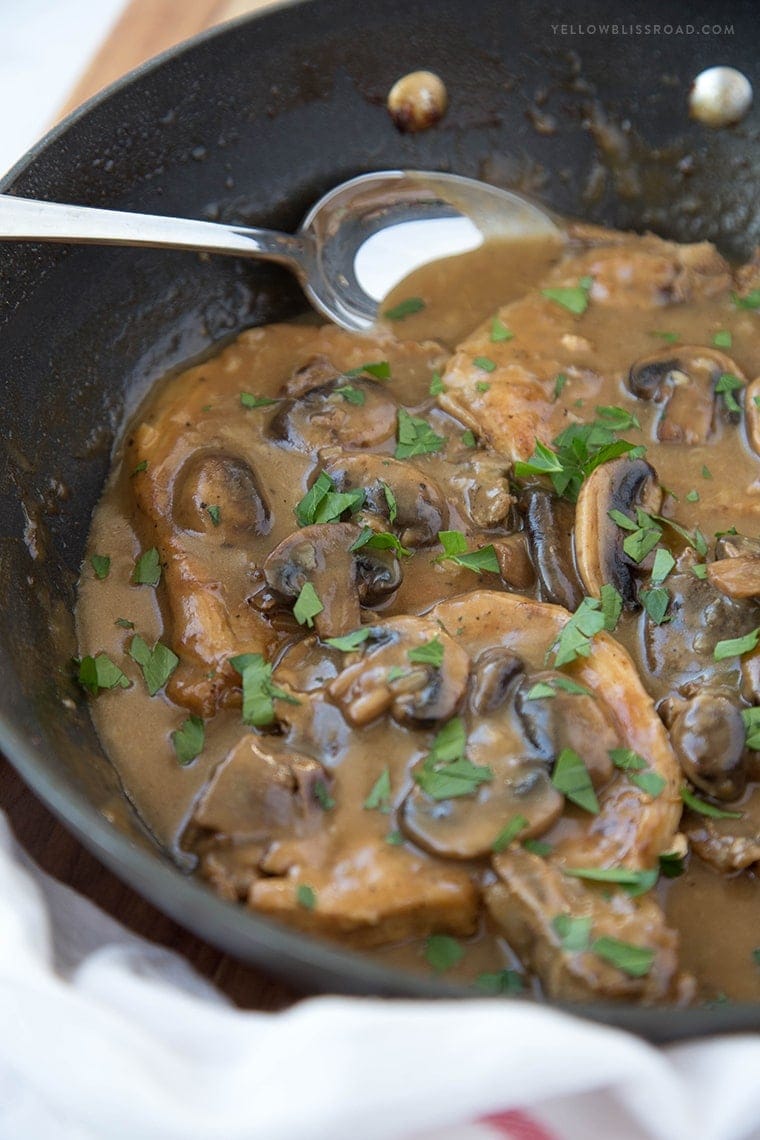 While I dealt with some health issues a while back, my mom was helping out quite a bit with my kids. She would make dinner, some times even recipes off of this site, but there was one dish that she made that had us gobbling up the meal like it was going out of style, which was these Oven-Braised Pork Chops.
HOW TO COOK PORK CHOPS: BRAISED PORK CHOPS RECIPE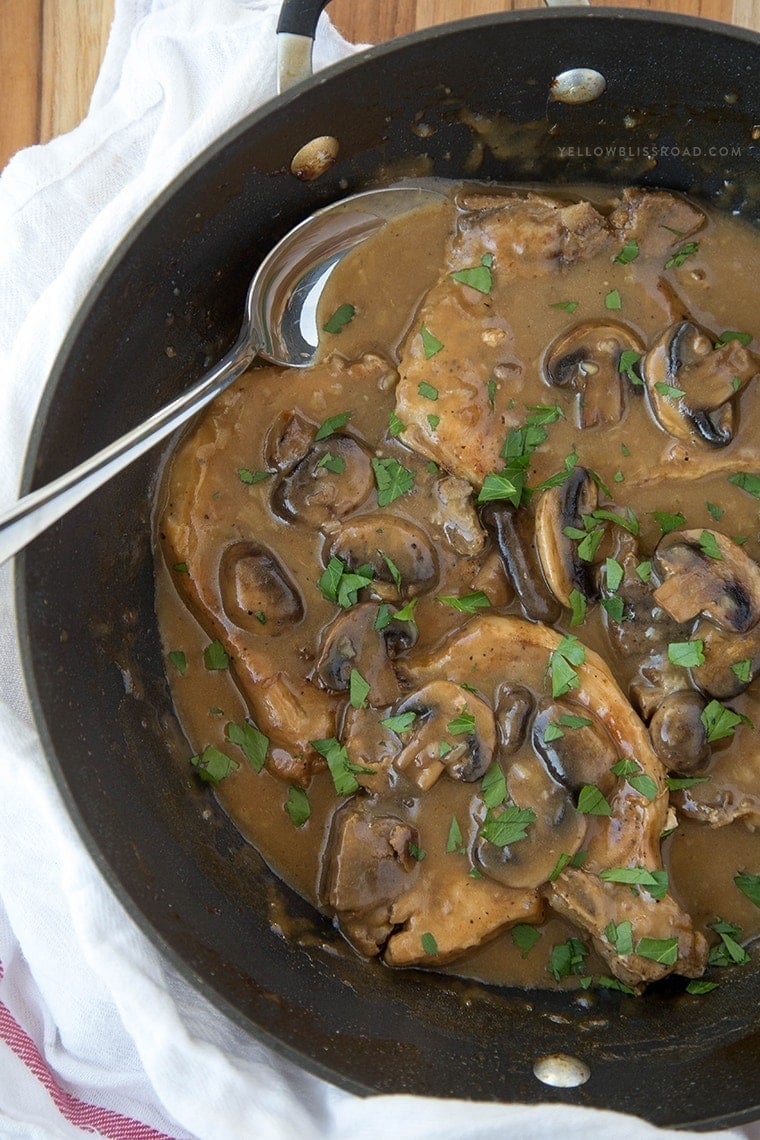 You don't see a lot of pork chop recipes on the site because I have never had good luck with them. Pork Tenderloin? CHECK. Pork Loin? CHECK. Pork Roast? CHECK CHECK. But pork chop recipes? Nope. They always seemed to come out dry. I mean dry to the point where you're wondering if you have a knife sharp enough to cut them. So why did my pork chops never turn out? I wasn't using the right method, or the right sauce…I mean gravy…because everything's better with gravy, right?
I absolutely expected these pork chops to be difficult to make, until she wrote out the recipe for me. Pork chops, onion soup mix, water. You were expecting more too, right? But that's it, just 3 ingredients. Of course there are optional add ins, like more fresh onions or mushrooms, but that's totally up to you.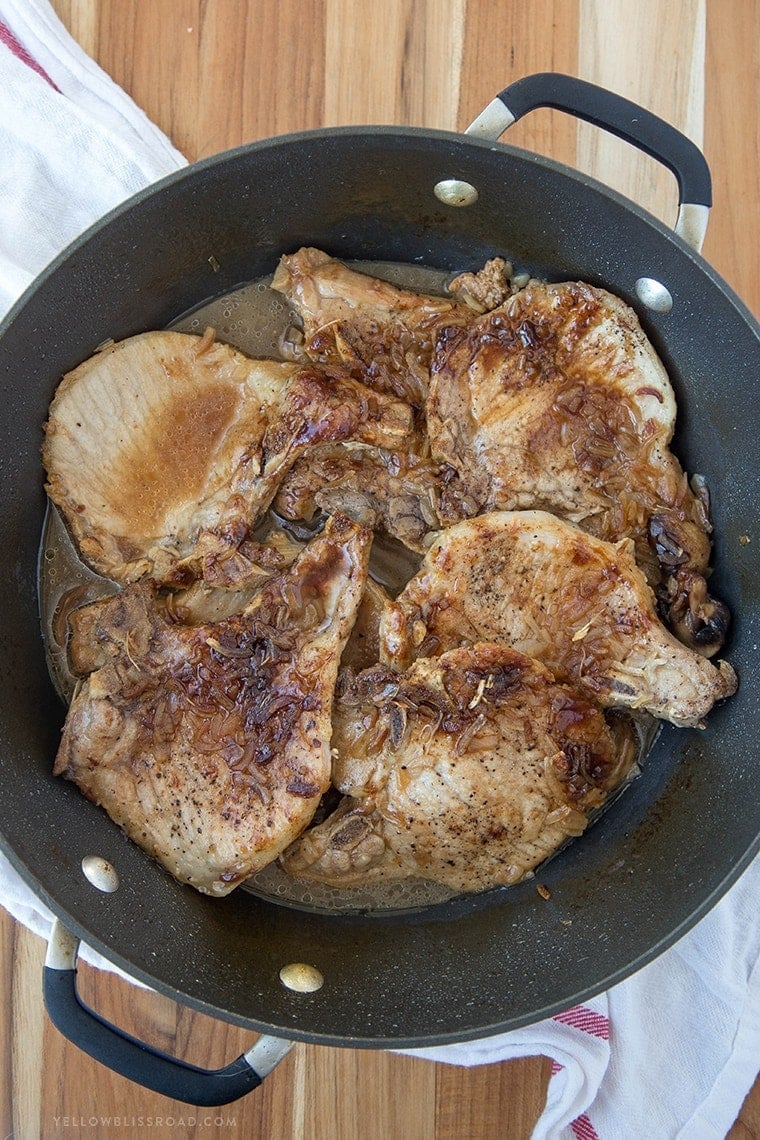 HOW TO MAKE FRENCH ONION PORK CHOPS
My mom's pork chop recipe is super easy, and requires just a few ingredients.
You will need a heavy bottomed, oven safe skillet, like a cast iron or this one.
The pork chops start on the stove to get a nice sear, then are covered with the onion soup mix and water and cooked in the oven for 20-30 minutes. The longer you can leave them in there, the more tender they will become.
You can serve them just right out of the oven if you like, or you can make a yummy gravy with mushrooms, like we do.
We've had these pork chops (the mother of all pork chop recipes) once a month at least for the past 6 months, that's how good they are. Kid tested. Mother approved.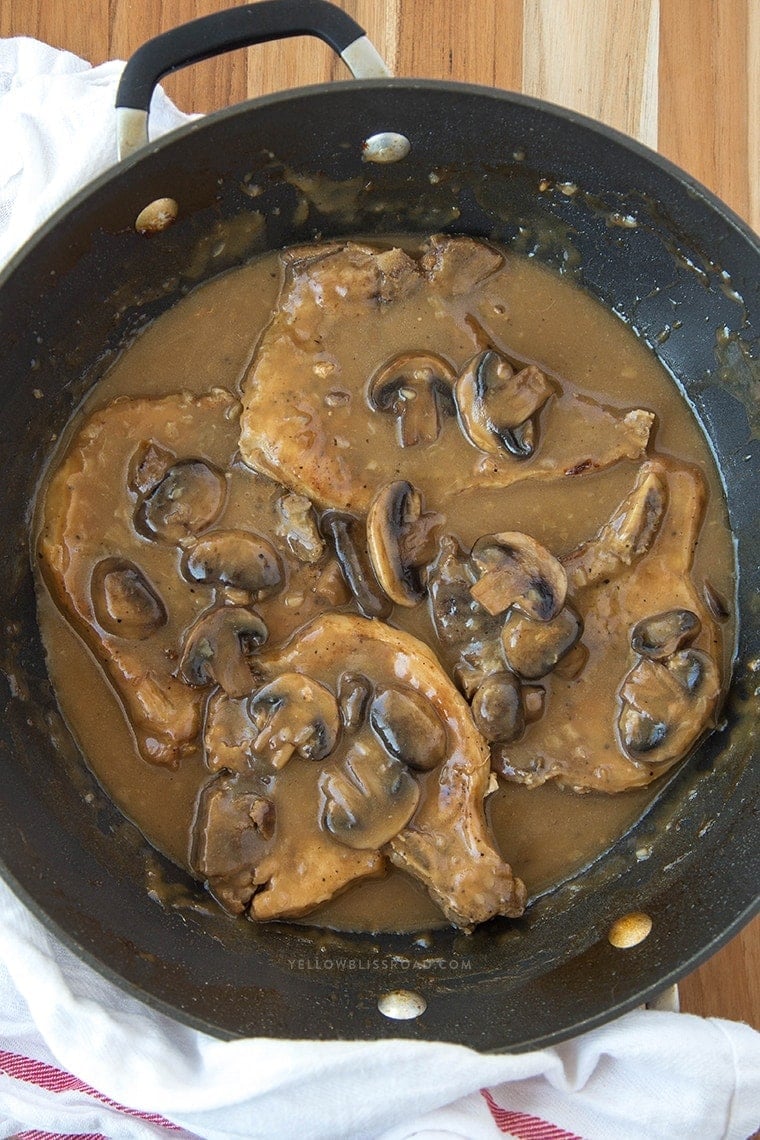 WHAT TEMPERATURE SHOULD PORK CHOPS BE COOKED TO?
The FDA recently recommended that pork chops can be cooked to a minimum of 145 degrees, or medium rare, and up to 165 degrees for well done. Braising like with this pork chop recipe will typically yield more on the well done side but will still be nice and tender.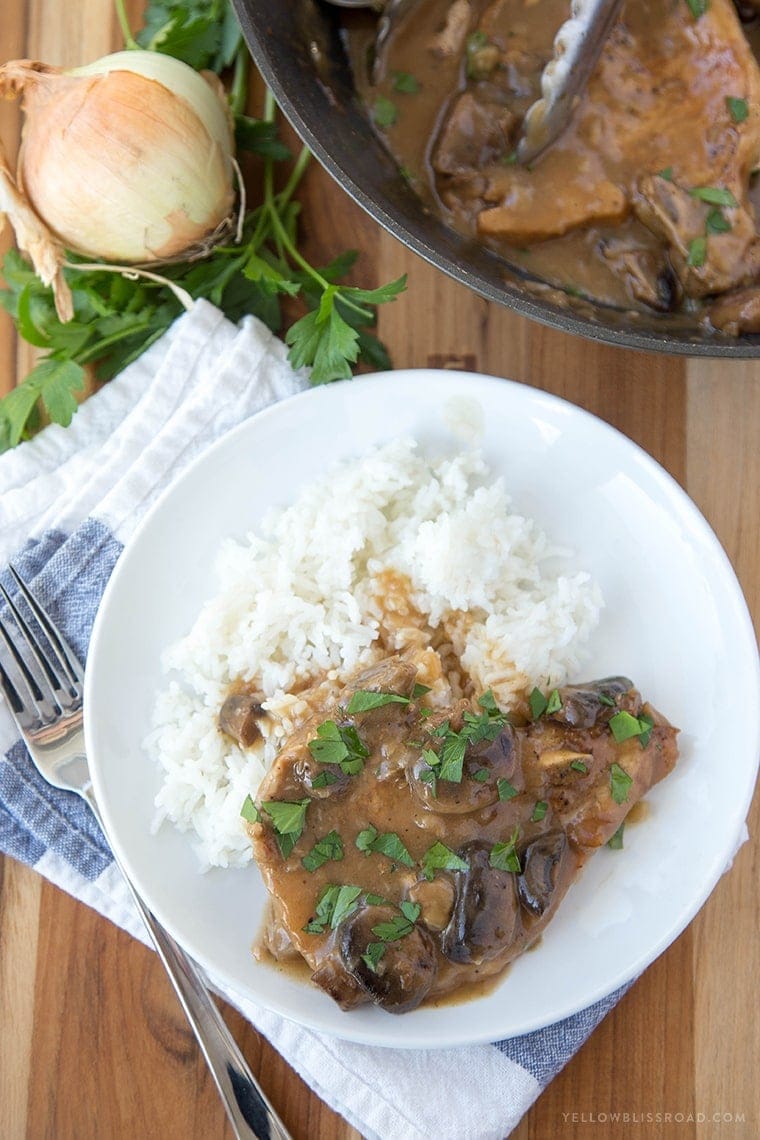 For more pork and pork chop recipes, try these delicious dishes:
For more easy dinners like this pork chops recipe, these will definitely fit the bill:
If you've made this recipe, please come back and leave us a star rating or a comment below. Or, tag us on social media @yellowblissroad or #yellowblissroad for a chance to be featured.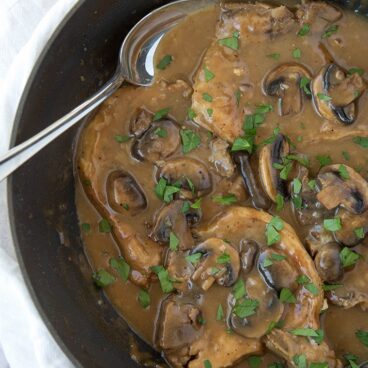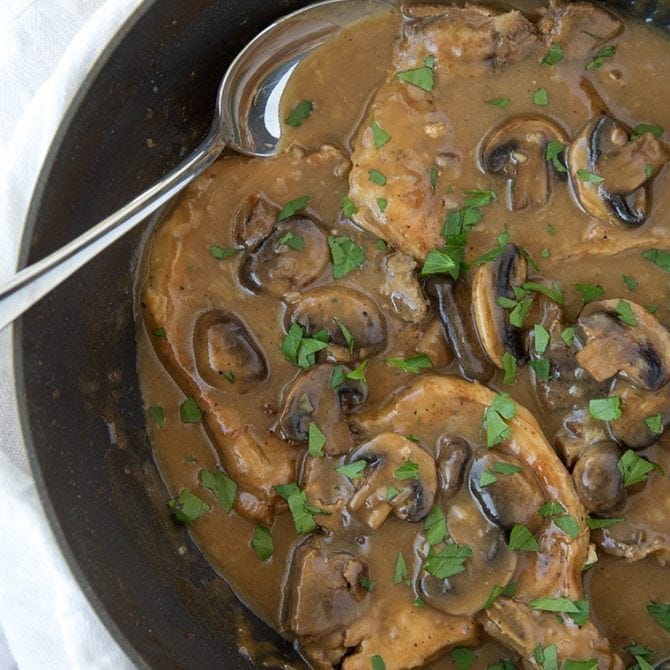 Easy Oven Braised French Onion Pork Chops
Ingredients
1

tablespoon

olive oil

1

pound

bone-in pork chops

1

package dry onion soup mix

1

cup

water

1/2

cup

sliced mushrooms

optional

Chopped parsley

for garnish - optional

Chicken broth (if needed to thin out gravy)
Instructions
Preheat oven to 350 degrees F.

Heat oil in a large, oven safe, heavy-bottomed skillet over medium-high heat. Season pork chops with pepper, if desired, and brown on all sides, 2 to 3 minutes per side.

Sprinkle onion soup mix over the pork chops. Pour in water.

Transfer to 350 degree oven for 20-30 minutes, until fork-tender. Remove pork chops to a plate reserving the drippings in the pan.

Meanwhile, in a separate small skillet, melt ¼ cup butter over medium-low heat. Stir in ¼ cup flour to make a roux. Cook for a few minutes, until mixture is a light golden color. Pour into the skillet with the pork chop drippings and whisk briskly as the mixture thickens. Add the pork chops back in and serve with gravy.

Optional: Add sliced mushrooms to the skillet as you brown the pork chops and cook until soft and starting to caramelize.

Sprinkle with chopped parsley for garnish, and serve immediately.
Notes
If your gravy is to thick, you may not have had enough pan drippings from the pork chops. Whisk in a little chicken broth (recommended) or milk until you are happy with the consistency. 
For all dinner recipes go HERE and for all recipes go HERE.