These Monte Cristo Sliders are everything you love about the classic monte cristo sandwich, in "mini" form. Perfect for parties and gatherings, or just when you want something delicious and a little different from the norm.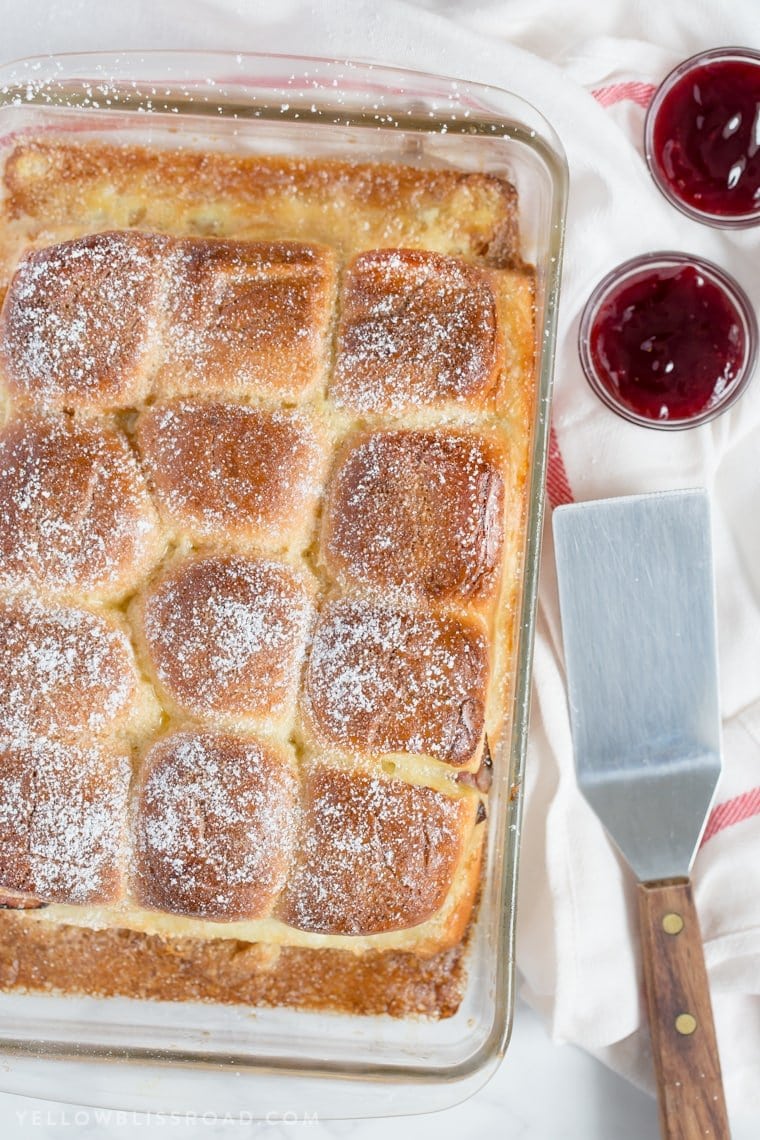 My dad had a sweet tooth. Actually, he had sweet teeth. Like, all of them craved sweets like nobody's business. So it's no wonder that one of his favorite sandwiches is the Monte Cristo.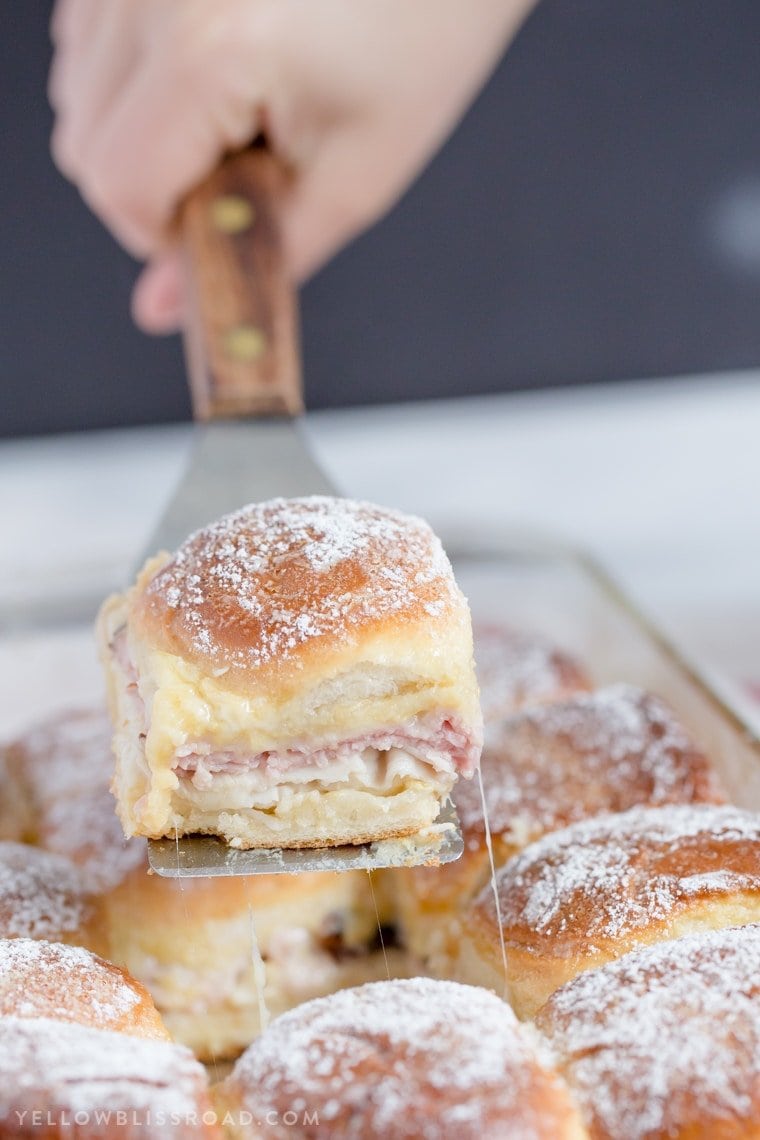 HOW DO YOU MAKE A MONTE CRISTO SANDWICH?
The traditional sandwich is basically ham and cheese sandwiched between two slices of french toast, covered in powdered sugar and dipped in jam. The sandwich is a variation on the French grilled cheese, also known as Croque Monsieur. It's popularity grew in the 1930s and onward, becoming a staple at Disneyland's New Orleans Square restaurants in the 1960s.
It's traditionally made with Swiss cheese, like I've done in the recipe below, but I think it would also be delicious with a white cheddar or Havarti, or anything that pairs well with sweeter fruits and flavors.
To make the Monte Cristo Sandwich sliders, I used a loaf of King's Hawaiian Rolls, slicing them in half across the middle to form two slabs. I spread them with dijon mustard then layered on turkey, ham and baby swiss. Finally I replaced the top slap and coated the rolls in a, egg and butter wash to represent the dipped french toast part of the traditional Monte Cristo.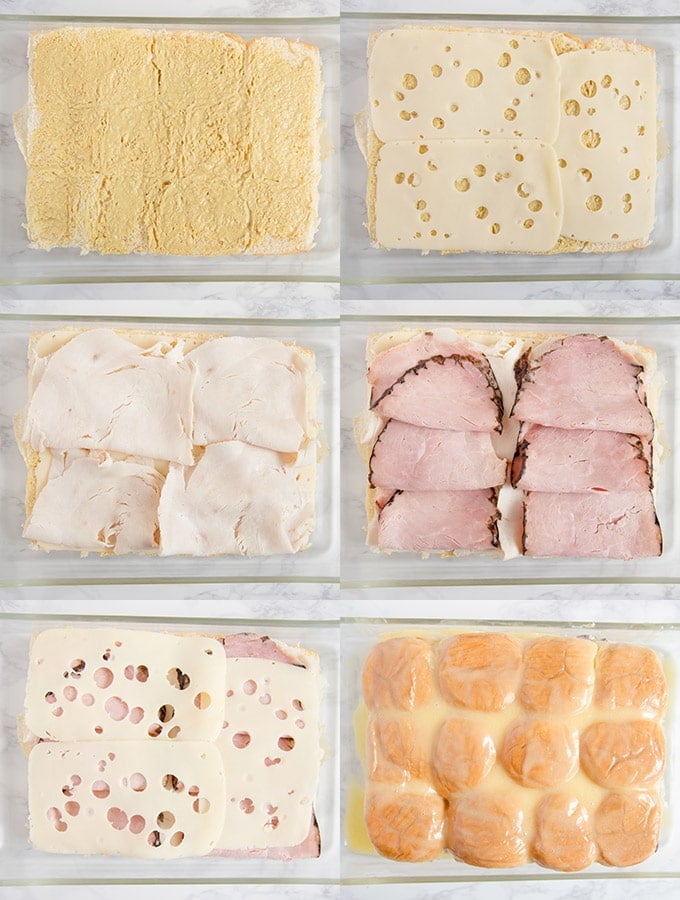 The sandwiches are baked mostly with a cover of foil, but the foil is removed during the last ten minutes to help get a crispy crust on the top of the rolls. The final touch is a generous sprinkling of powdered sugar and of course, a dish of strawberry jam for dipping.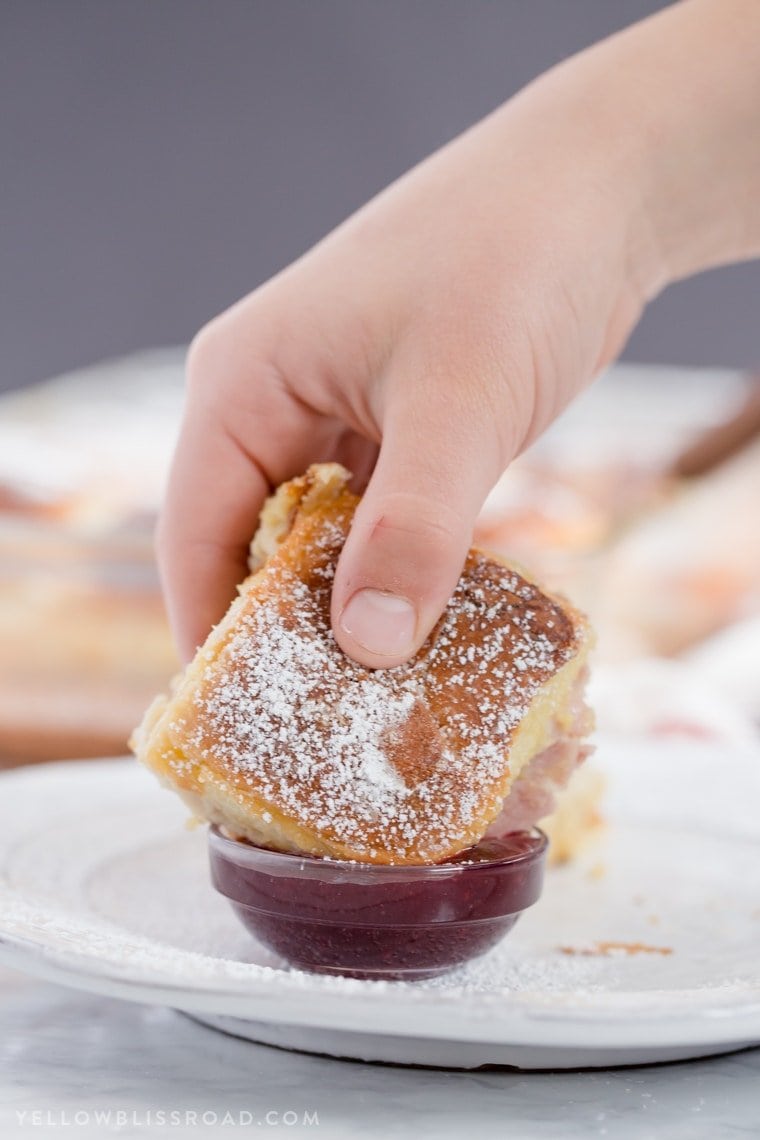 This sandwich is definitely an indulgence. If you're looking for a calorie conscience sandwich, this isn't it. It is however, one of the funnest sandwiches you'll ever get your two little paws on.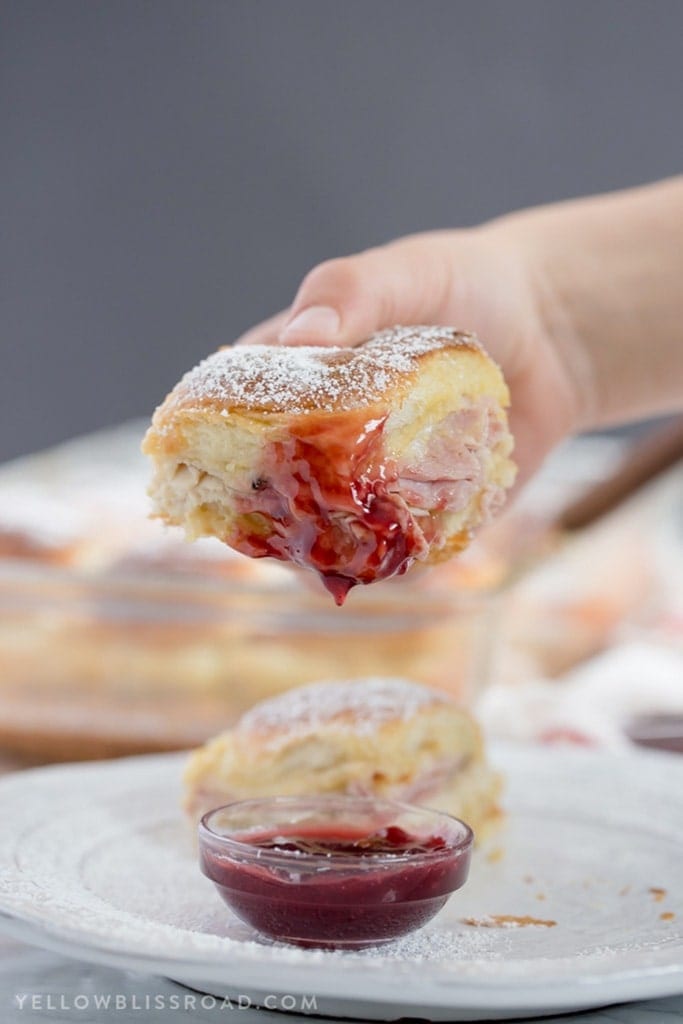 For more delicious sandwiches and sliders, try these:
Instant Pot Buffalo Chicken Sliders
Watch the video below to learn how to make these fun Monte Cristo Sandwich Sliders!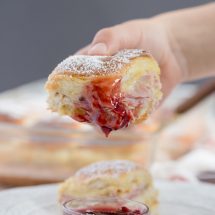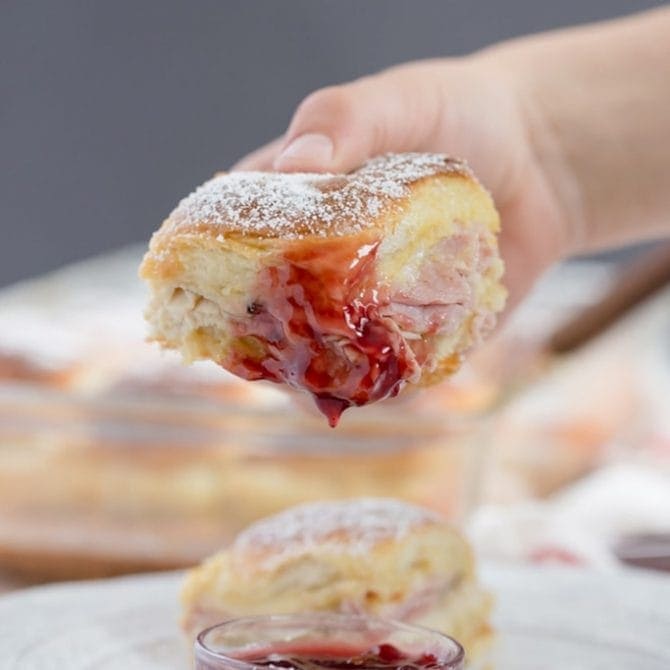 Monte Cristo Sliders
Print
Pin
Rate
Prep Time: 15 minutes
Cook Time: 25 minutes
Total Time: 40 minutes
Servings: 12 sliders
Ingredients
1 12- count package Hawaiian Rolls
12 slices deli ham
12 slices deli turkey
6 slices Baby Swiss cheese
Dijon mustard
1 egg
¼ cup butter melted
Powdered sugar
Strawberry or blackberry preserves for serving
Instructions
Preheat oven to 350 degrees F. Spray an 11-inch rectangular baking dish with nonstick cooking spray.

Using a large serrated knife, slice the rolls in half so you have a "slab" of tops and a "slab" of bottoms; don't pull the rolls apart and slice individually because you want to keep them connected. Spread dijon mustard on each slab.

Layer the sliders as follows: half of the sliced cheese, then sliced ham, sliced turkey, and remaining cheese.

Replace the top half of the rolls.

In a small bowl, combine the melted butter with the egg and brush on top of the rolls.

Cover with loosely with foil (careful not to let it touch the tops of the bread to avoid sticking - use toothpicks if necessary to "life" the foil).

Bake in a preheated 350 degree oven for 15 minutes. Remove foil and continue to bake for another 10 minutes or until tops are nice and golden brown.

Cool slightly, then cut the sliders apart with with a sharp knife. Sprinkle powdered sugar over the top, if desired, and serve hot with berry preserves on the side.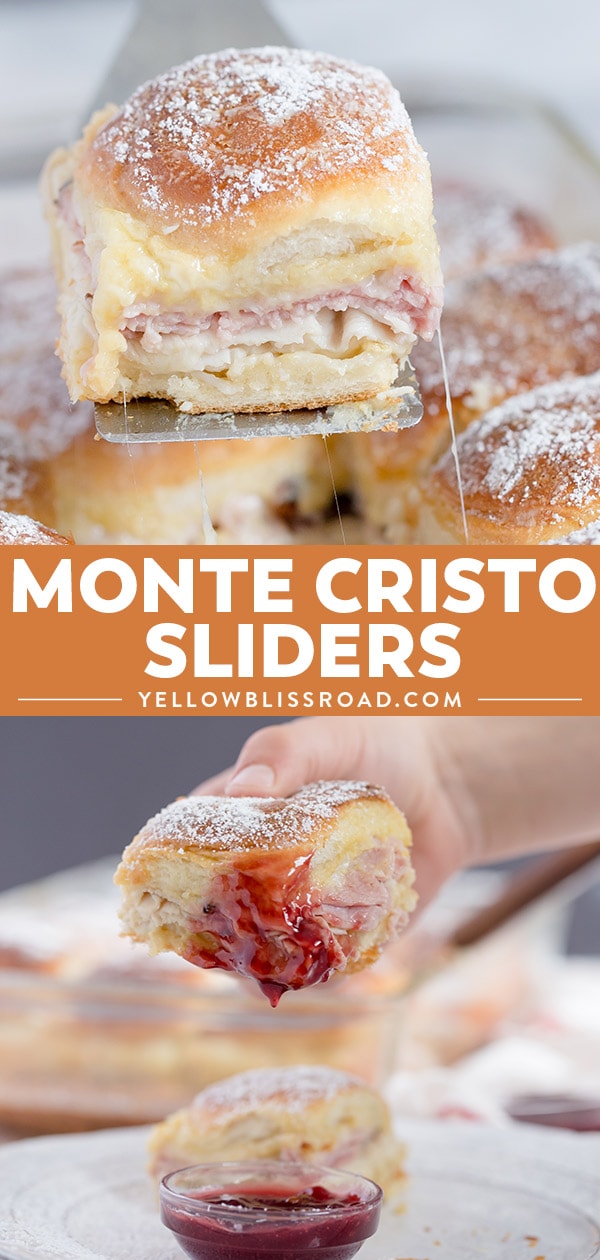 Recipe adapted from Jennifer Cooks.