Reuben Slider Sandwiches are perfect for Saint Patrick's Day, but are so delicious, you will be craving them all year round!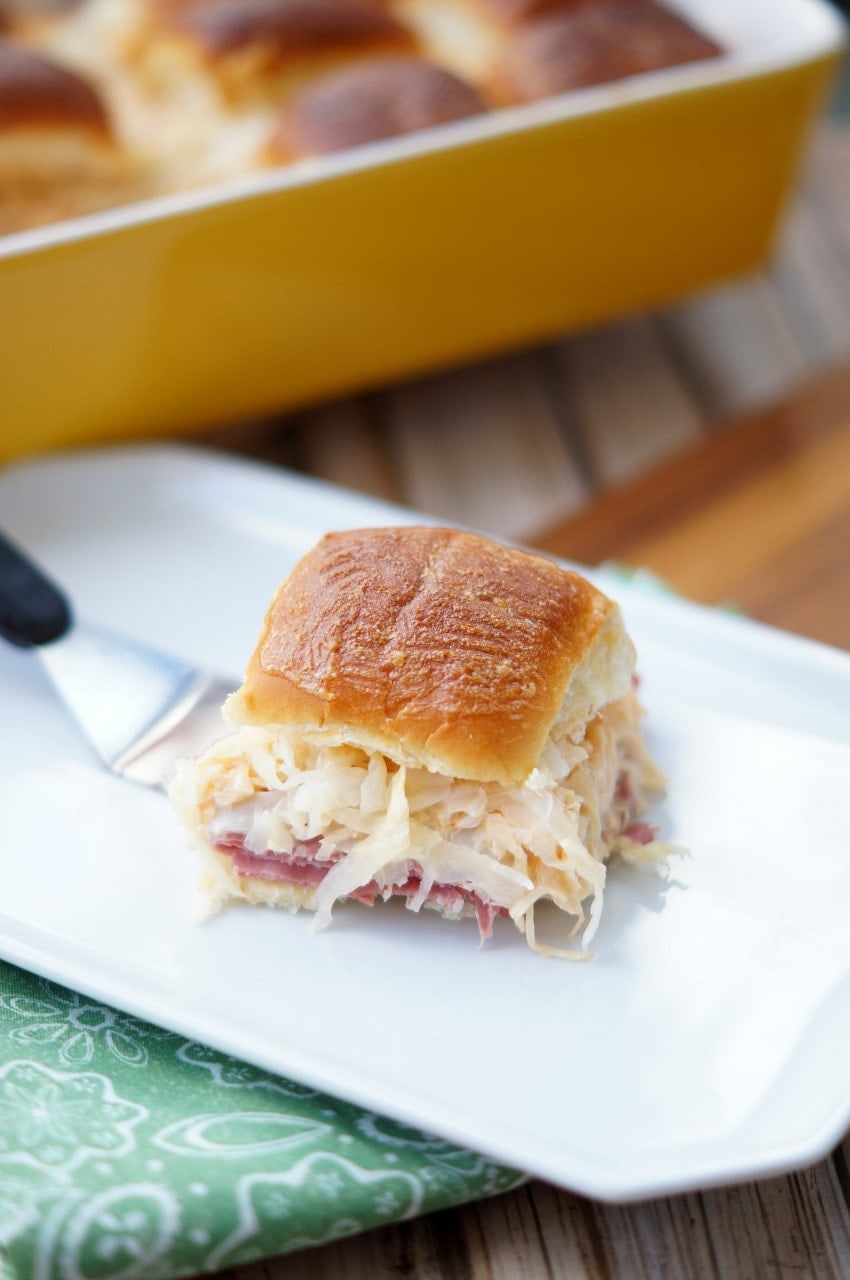 Hi everyone! Amanda back from Old House to New Home, sharing a fantastic sandwich recipe that my family can't get enough of. Are you a fan of reubens? It seems like one of those foods that you either love or hate. I honestly don't know what's not to like though! Salty corned beef, tangy sauerkraut, swiss cheese, and creamy thousand island dressing…it is a winning combination!
I love messing around with sandwich combinations and have even turned our favorite philly cheesesteaks into macaroni and cheese! I love making sandwiches for parties and entertaining because they are always a hit with kids and adults! I recently rounded up our favorite sandwich recipes and I can't wait to add these Reuben Sliders to our favorites list!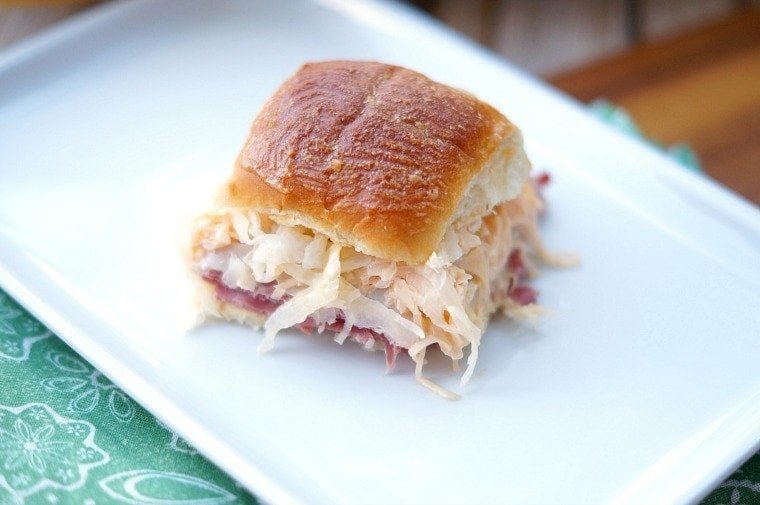 I took our favorite reuben sandwich and made it into mini slider form. This makes it so much easier for parties or when you want to serve a crowd. You can even assemble these ahead of time and bake right before serving! Reubens can also get a little messy, so this smaller slider size is easier to eat but still has so much flavor packed in!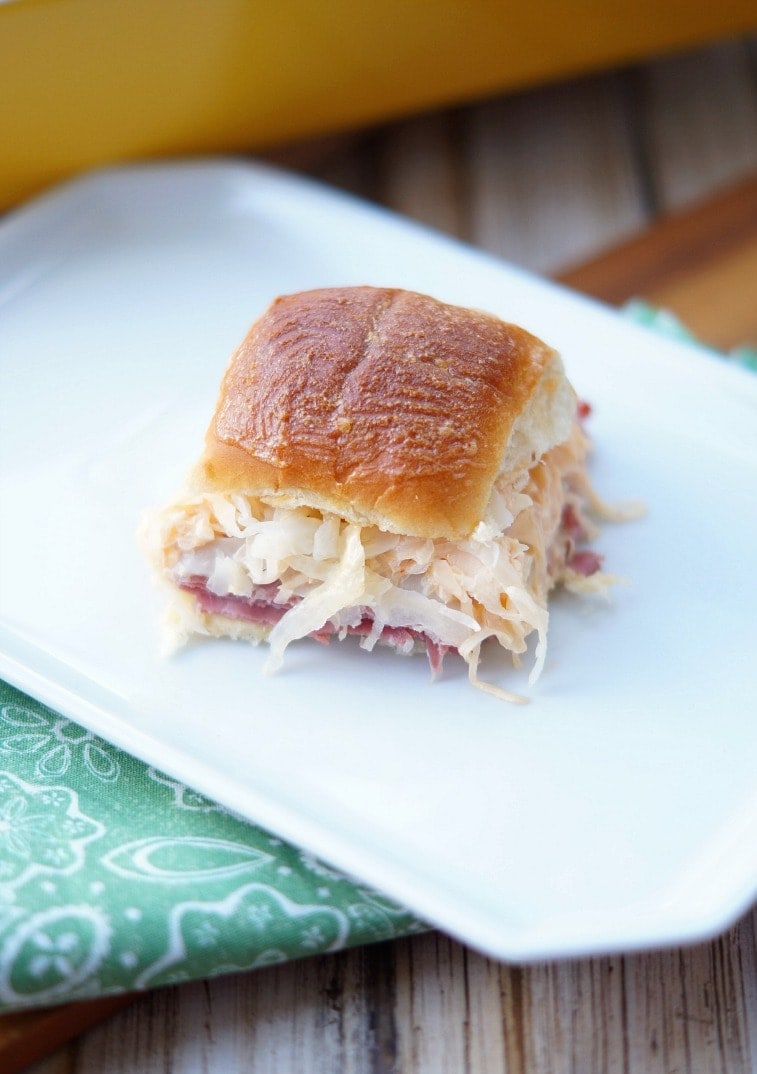 You can definitely switch these up if you'd like and sub the corned beef with pastrami or turkey. I also love to use sweet Hawaiian rolls for my sliders but you can sub for any slider roll you would like! If you could find rye buns, that would be delicious! You make this almost like a layered casserole. Everything gets stacked together in a casserole dish and then you can cut them into squares for easy serving.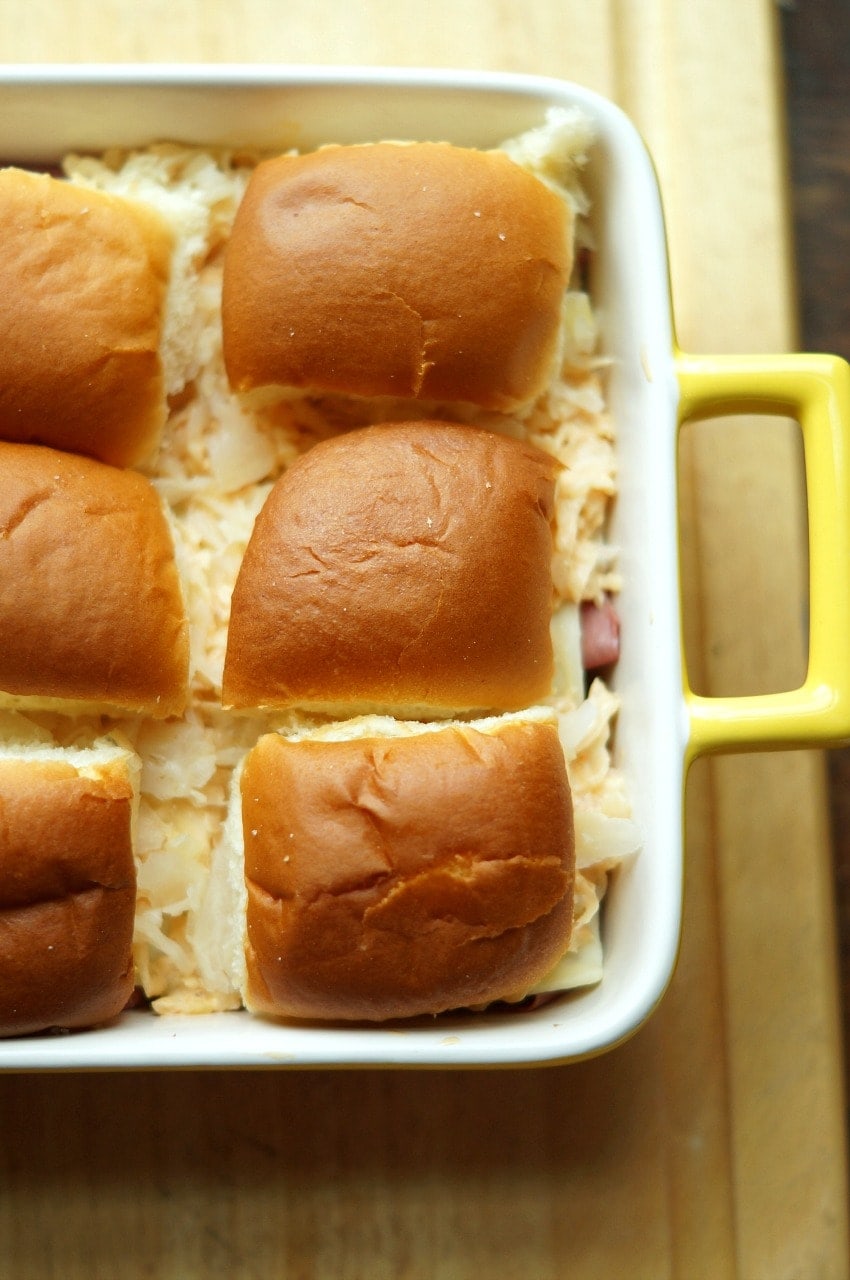 The part of this recipe that really makes these Reuben Slider Sandwiches special is the topping. Right before baking, you pour this delicious tangy blend over the top and it cooks into the rolls. It takes these sandwiches from good to great and you will not want to skip it! I like to slather a little inside of each bun too for even more flavor!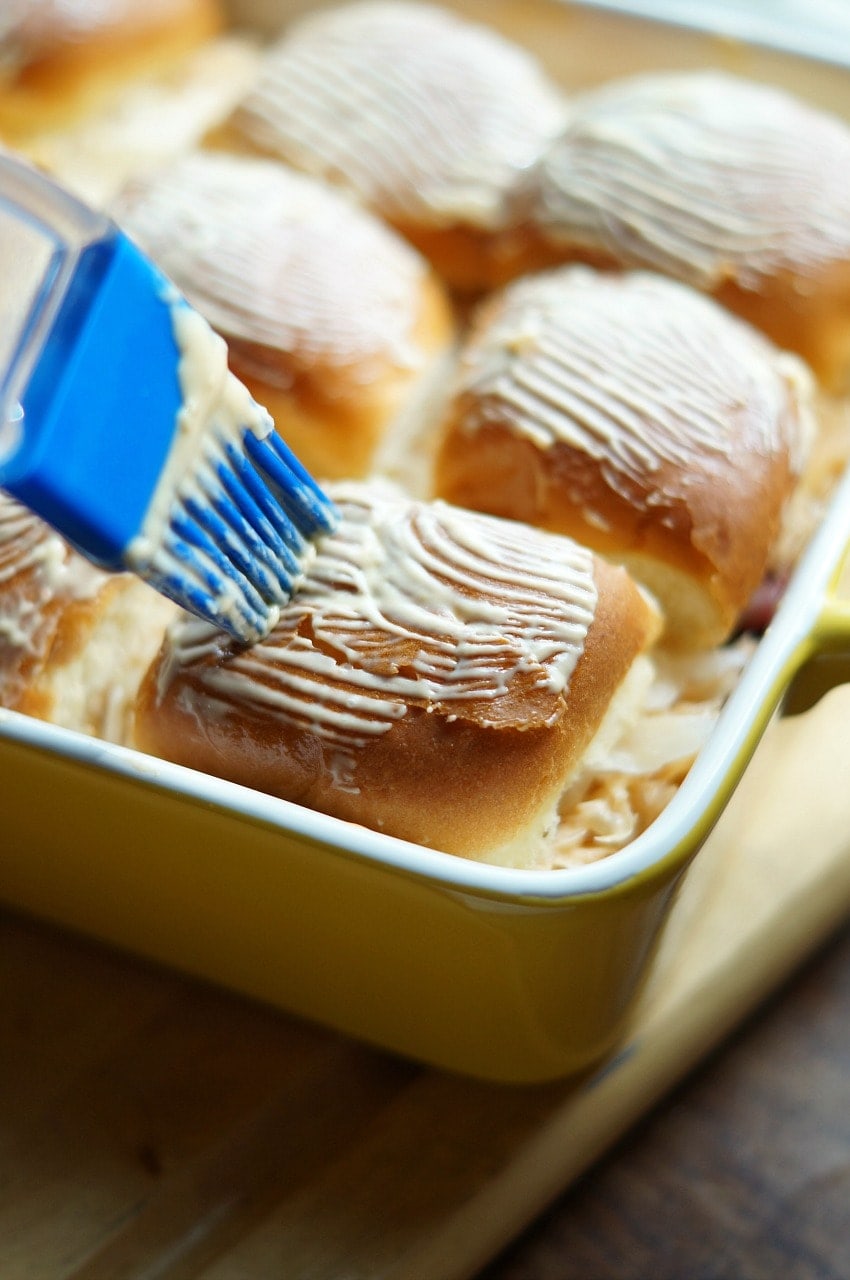 I am not the most enthusiastic Saint Patrick's Day celebrator, but you can bet that we will be enjoying these Reuben Slider Sandwiches that day and I hope you will be too!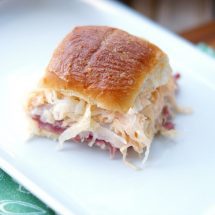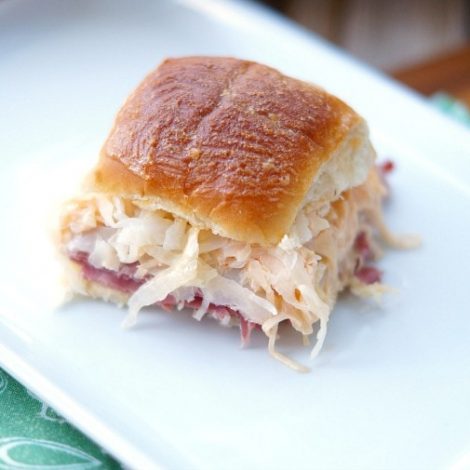 Ingredients
12 slider rolls I prefer sweet Hawaiian
3/4 lb corned beef pastrami, or turkey
8 slices Swiss cheese
1 cup sauerkraut drained well
1/2 cup Thousand Island dressing
For the topping:
3 tbsp. melted butter
2 tsp. dijon mustard
1 heaping tsp.. mayonnaise
1 heaping tsp. thousand island dressing
Instructions
Preheat oven to 375 degrees.

Split rolls and lay all of the bottom pieces in a casserole dish. Layer each slider bottom with 1 1/2 slices of corned beef, folded into a square.

Top corned beef layer with swiss cheese.

In a small mixing bowl, mix together 1/2 cup Thousand Island and the sauerkraut. Layer the mixture overtop of the cheese.

In a small bowl, mix together topping ingredients. Spread a thin layer on the underside of the top of each bun. Spread the remaining topping onto the top of each roll. Lay roll tops onto the sauerkraut layer.

Bake in the preheated oven for 12-15 minutes, or until tops are golden brown.
Looking for more easy bite size recipes?
Mini Macaroni and Cheese Bites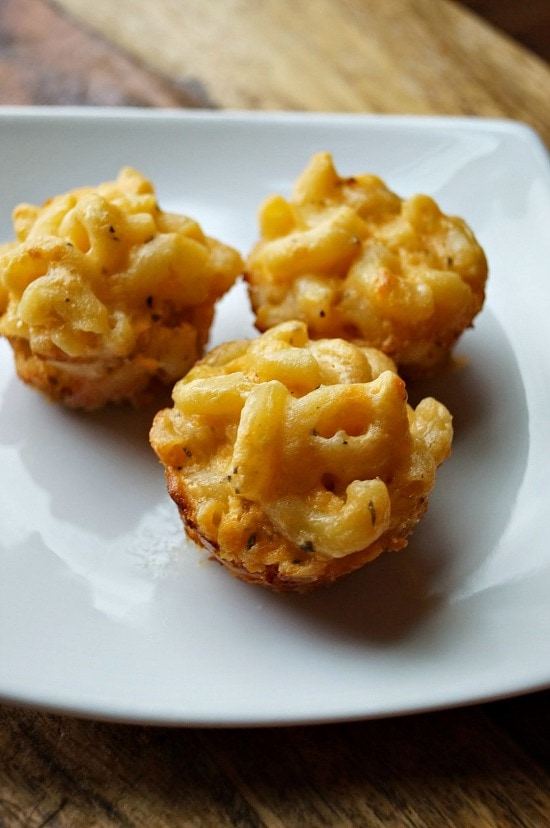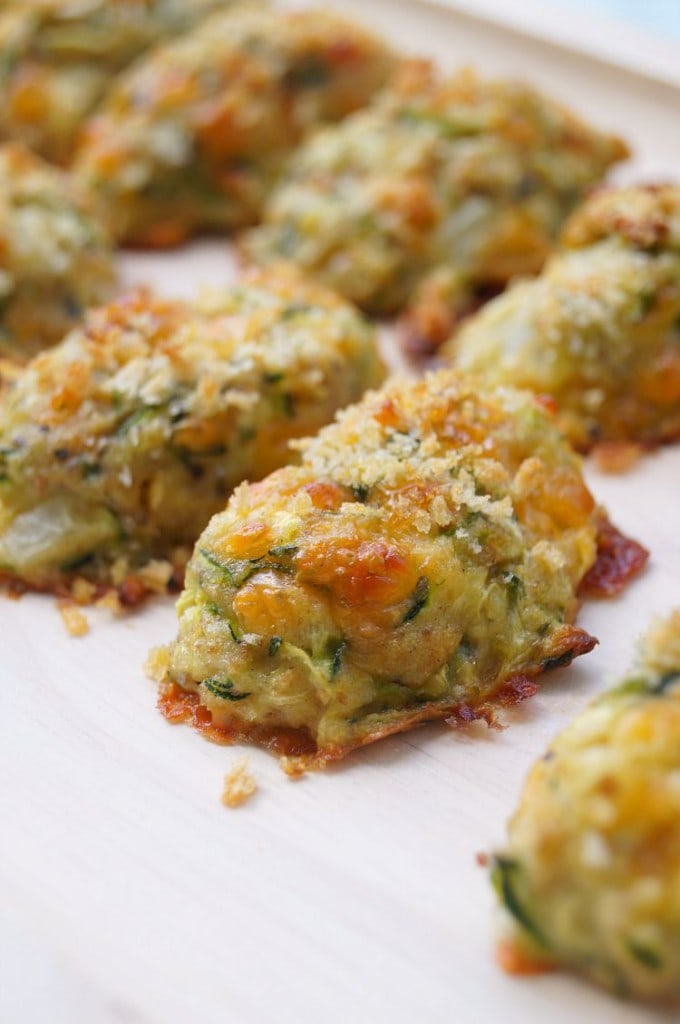 For more delicious recipes, try these:
Colcannon (Irish Mashed Potatoes)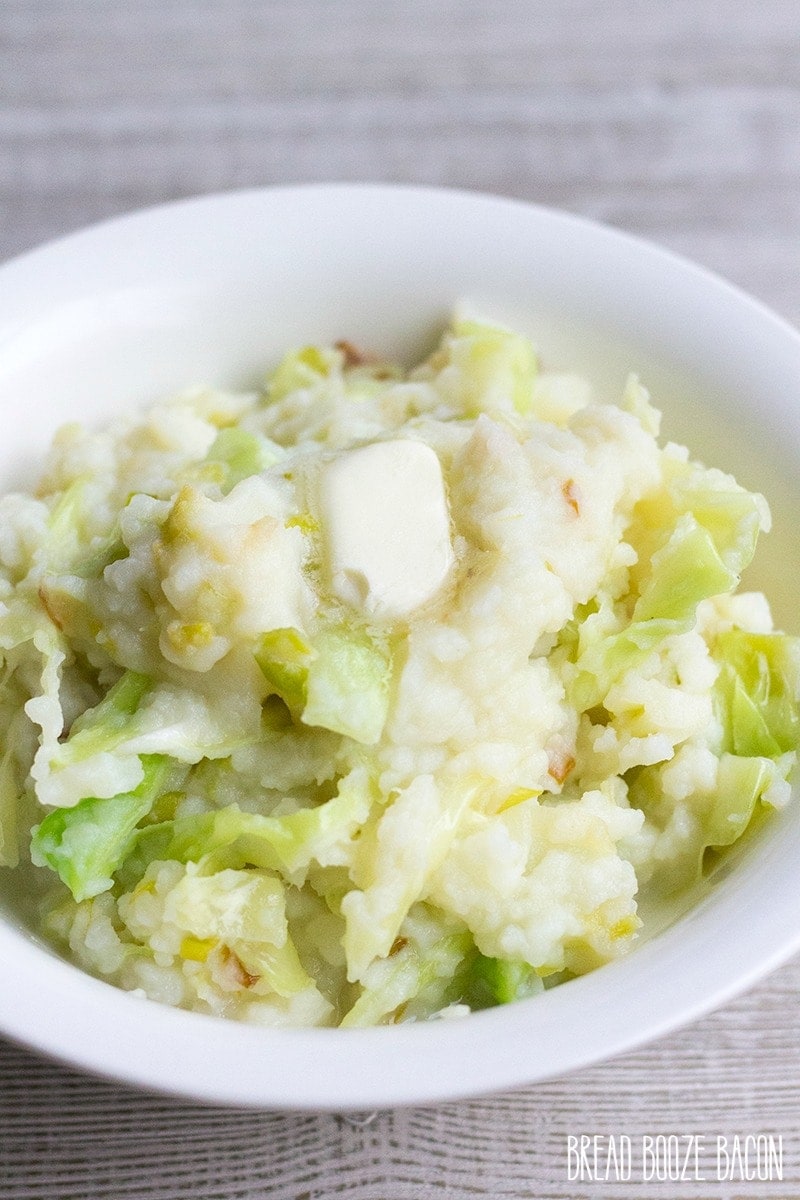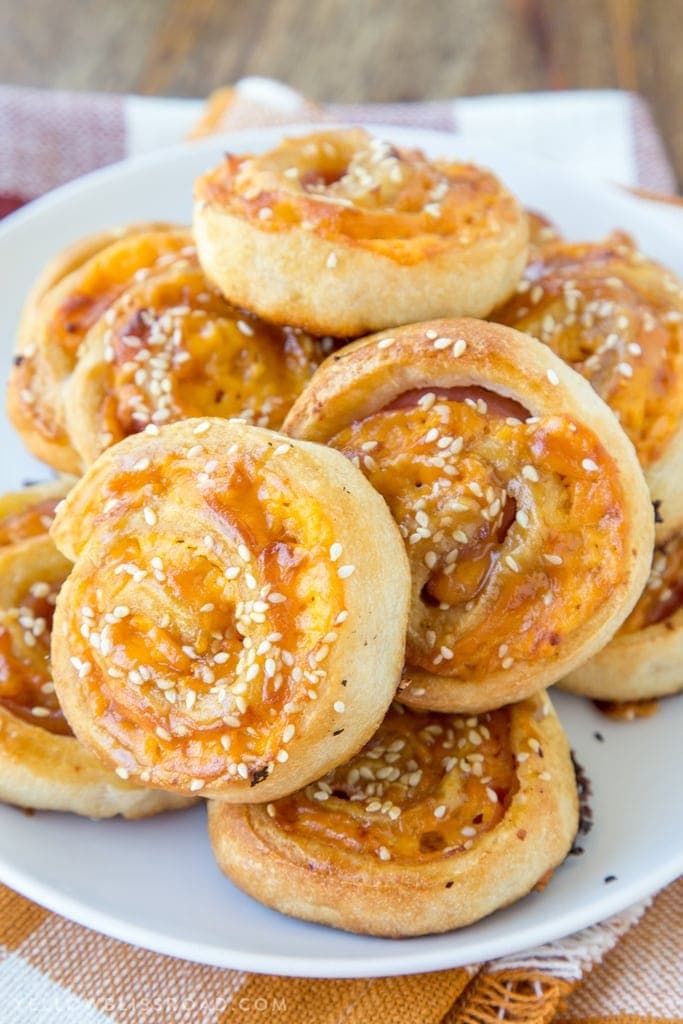 Buffalo Ranch Chicken French Bread Pizza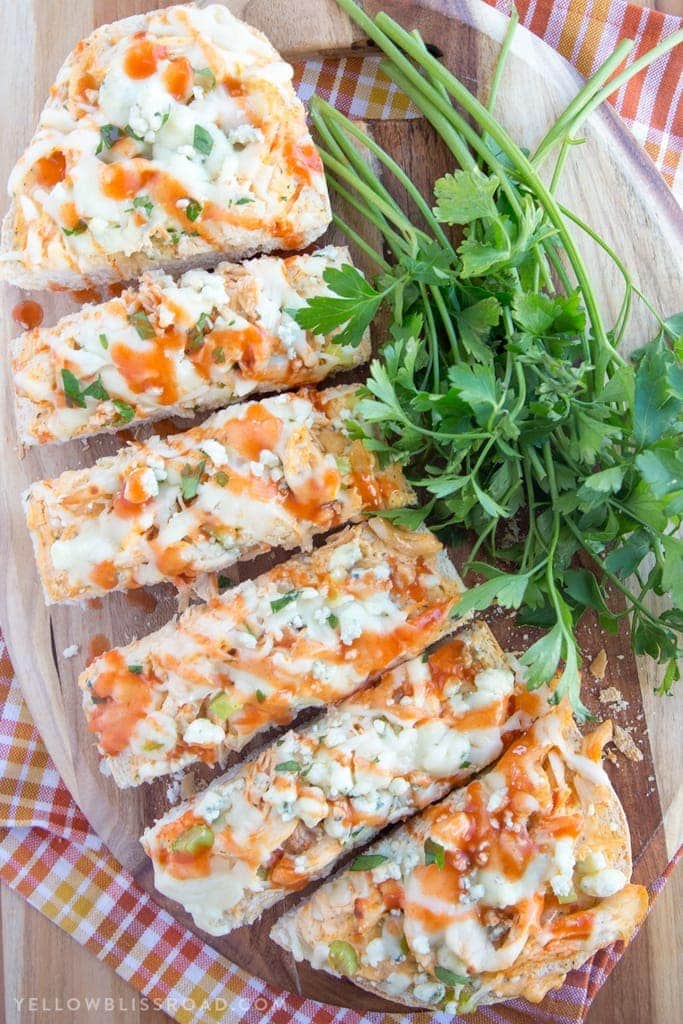 For all sandwiches go HERE, for all entrees go HERE and for the Recipe Index go HERE.