There's nothing I love better on St. Patrick's Day than a big platter filled with my favorite Corned Beef and Cabbage Recipe! It's the perfect meal to celebrate with friends and family.
This recipe is a delicious, complete meal for St. Paddy's Day. Don't forget the Irish Soda Bread and the green desserts, like my St. Patrick's Day Cupcake Cake or Pistachio Salad.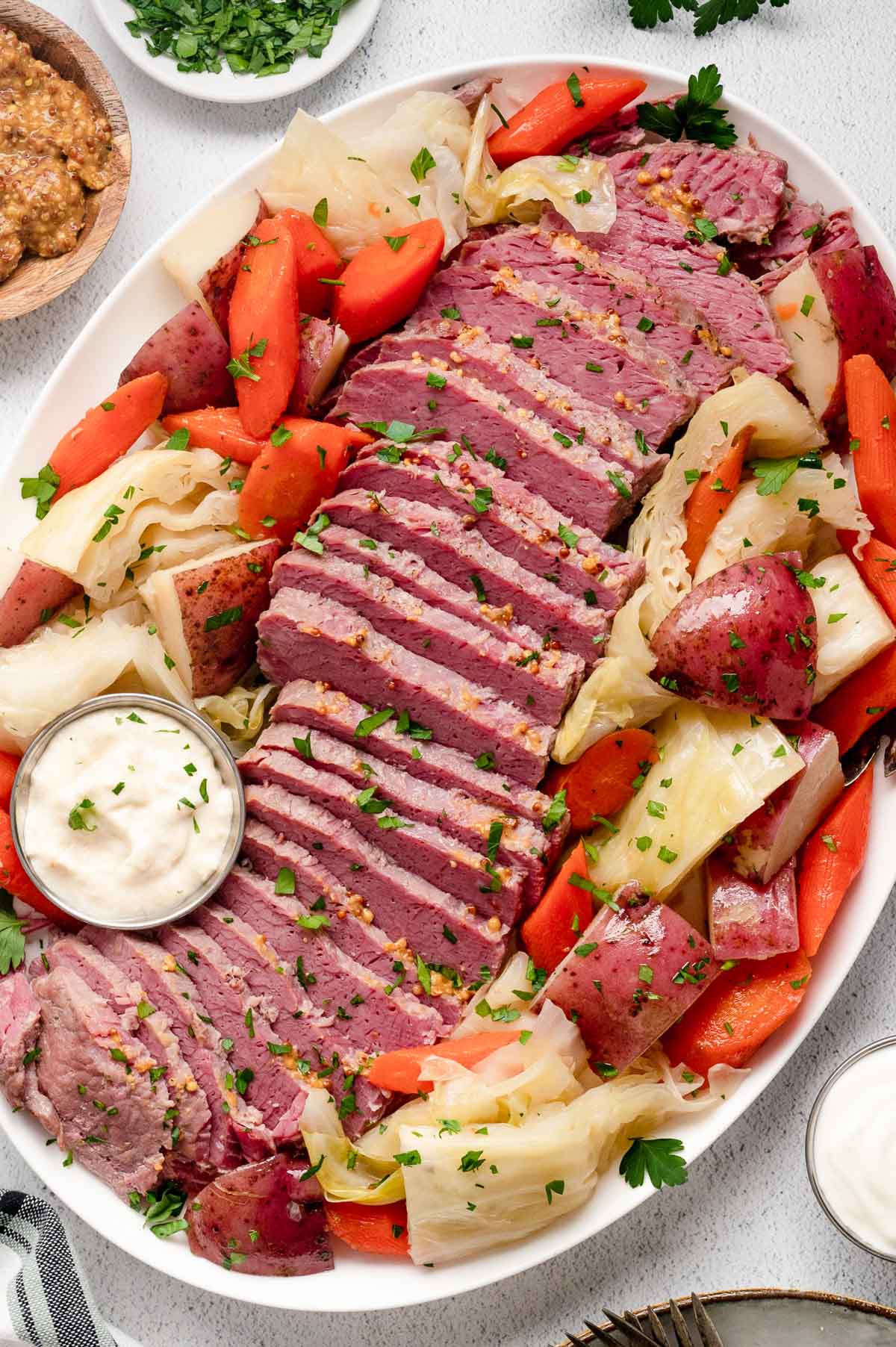 Pin this recipe for later!
Why I Love This Corned Beef and Cabbage Recipe
St. Patrick's Day is one of my favorite holidays to spend with friends. We start the morning at the local pub, come home in the afternoon, and then I make a big meal. It's pretty much always Beef Stew or this Corned Beef and Cabbage recipe.
Both are great for serving a crowd and just as good the next day. I especially like having leftovers to make Corned Beef Hash.
I love that this Corned Beef and Cabbage recipe is practically a fool-proof recipe. The hardest part is chopping up the veggies and slicing the brisket when it's done cooking. Otherwise, it's a set it and (almost) forget it meal. All the flavors marry together for a crazy good meal.
Ingredients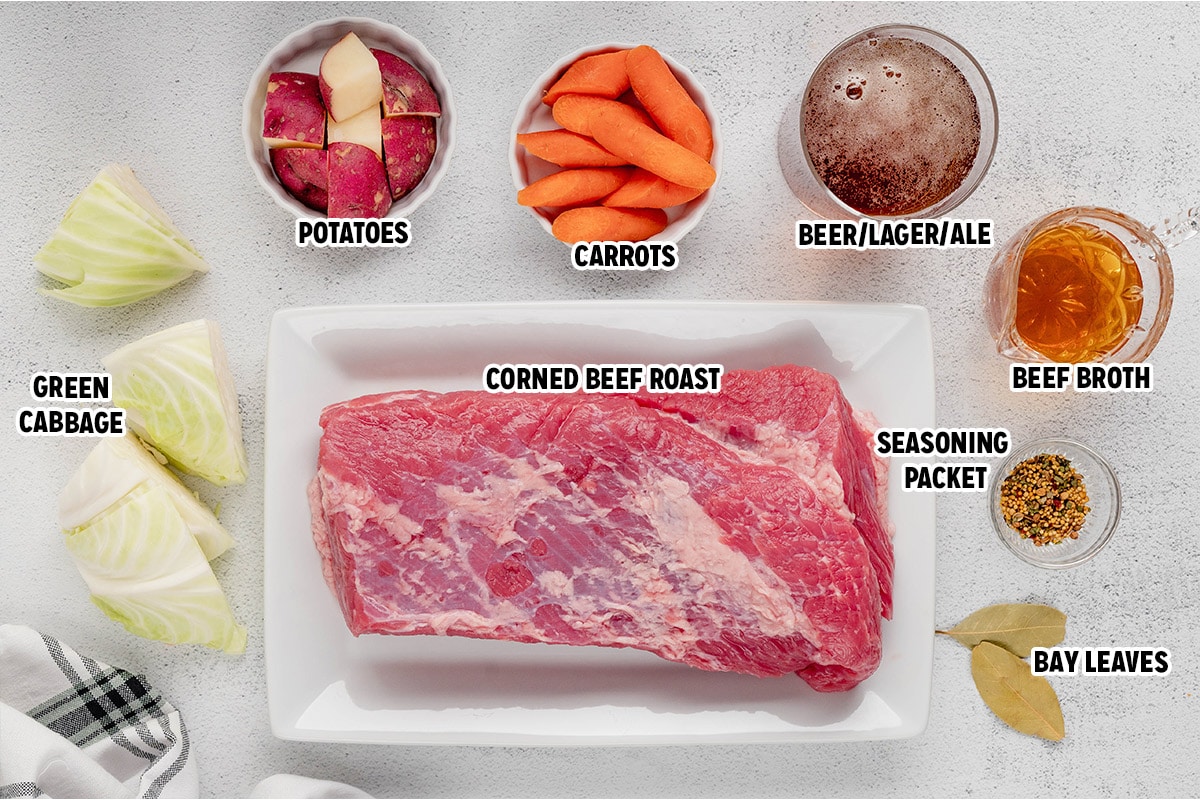 Corned Beef – I use the flat cut, and make sure to save the spice packet that comes with it.
Beer – An Amber Ale or Lager. You only need one bottle so you get a 6-pack of one that you love or most stores carry individual bottles.
Bay Leaves – An herb that is added to lots of different soups and sauces. Just a couple of leaves add a ton of flavor. Just make sure to remove them after cooking.
Red Potatoes – No need to peel, just wash, scrub off any dirt and chop into large chunks.
Carrots – These you do want to peel, then cut into a few pieces.
Green Cabbage – Use one head of cabbage and cut it into quarters then cut those in half.
How To Make Corned Beef and Cabbage
See recipe card below for ingredient quantities and full instructions.
This recipe is crazy easy, you just need to give it some time to let the brisket do its thing.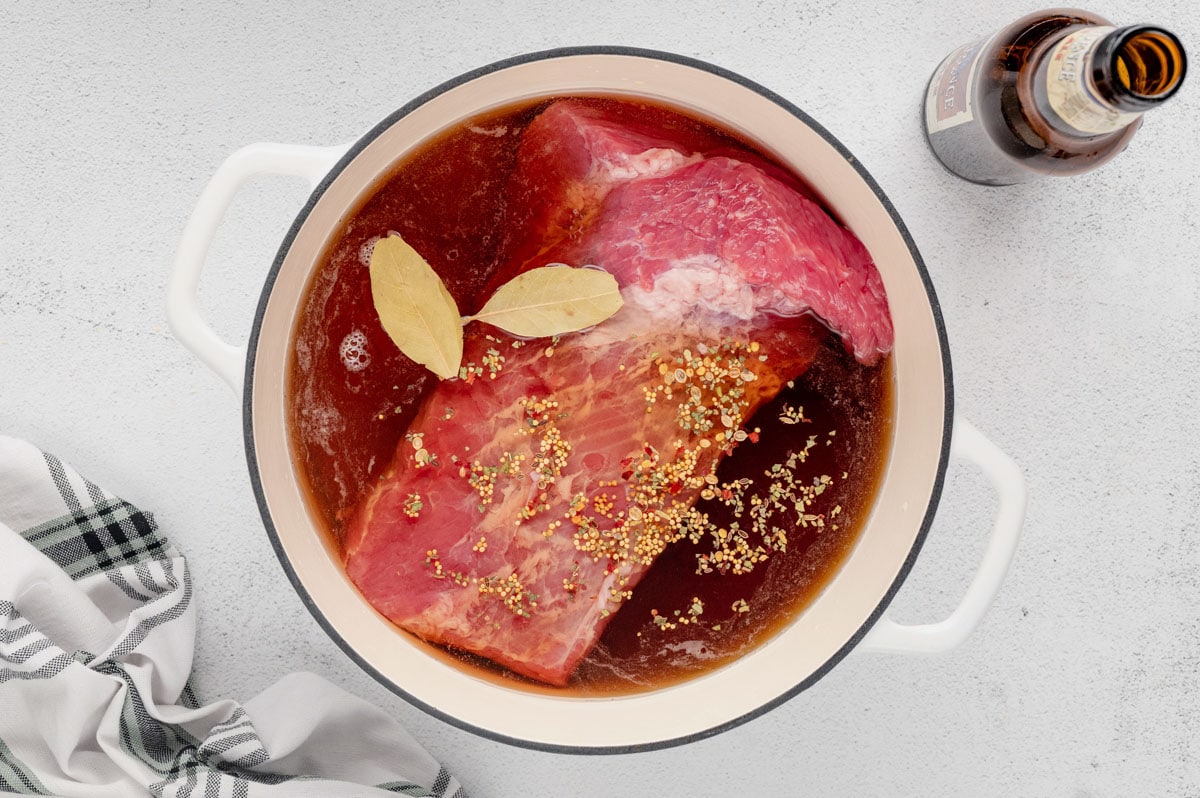 1. Place corned beef in a large pot and fill with water. Add spice packet that came with beef and bay leaves. Bring to a boil and then simmer for 2 hours.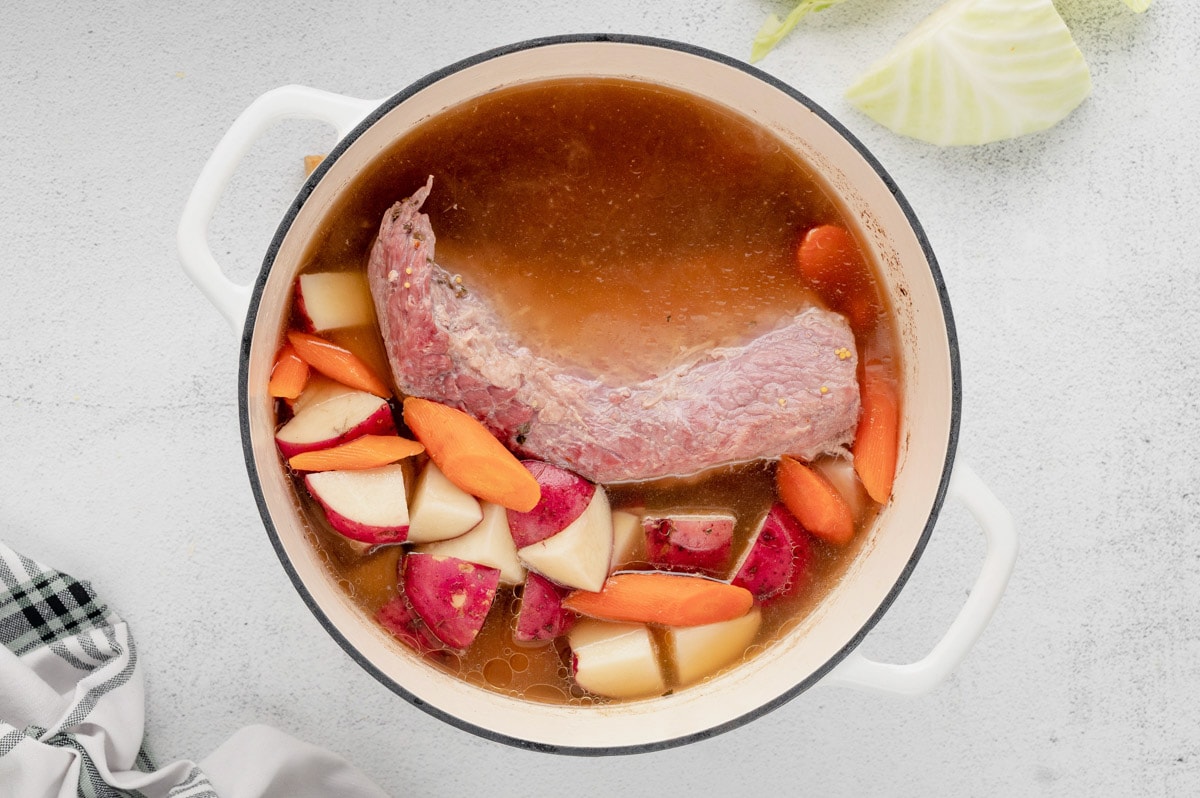 2. Add potato and carrots and simmer for 30 minutes.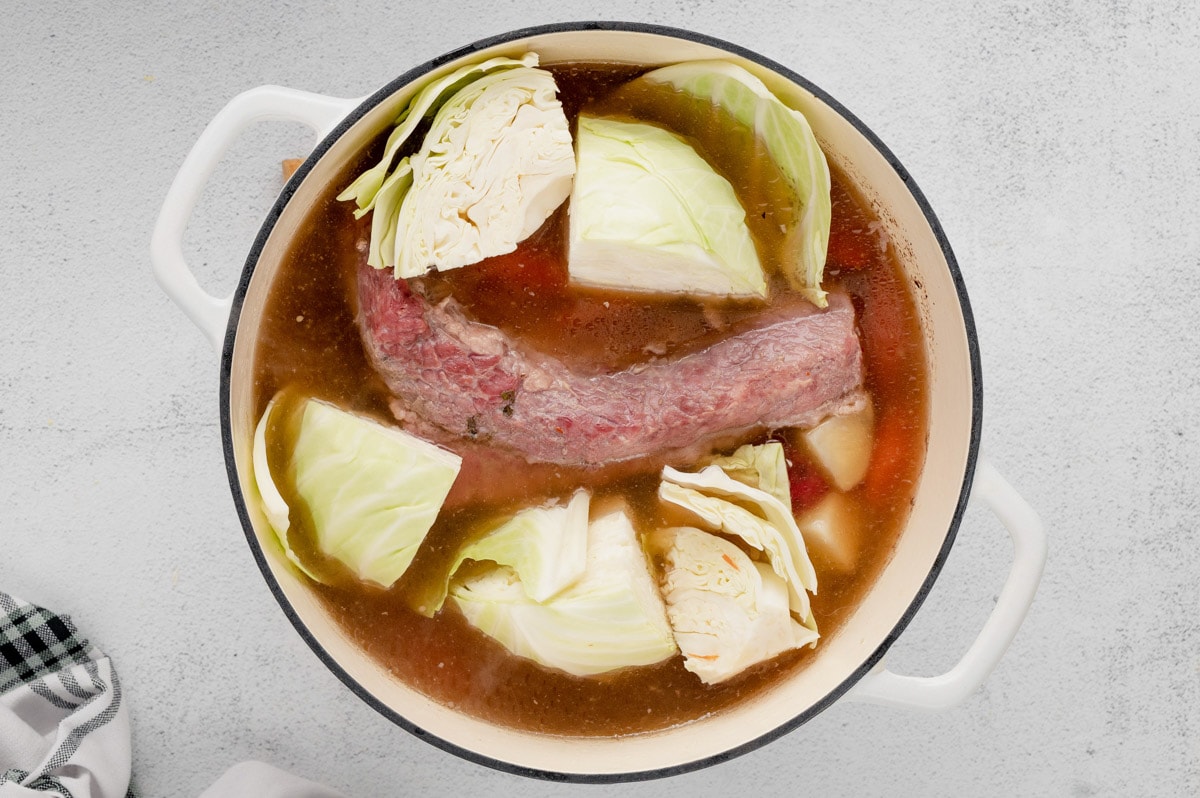 3. Add cabbage and simmer for 15 minutes.
4. Remove everything from the pot. Slice the corned beef and arrange on a serving platter with the veggies. Serve hot.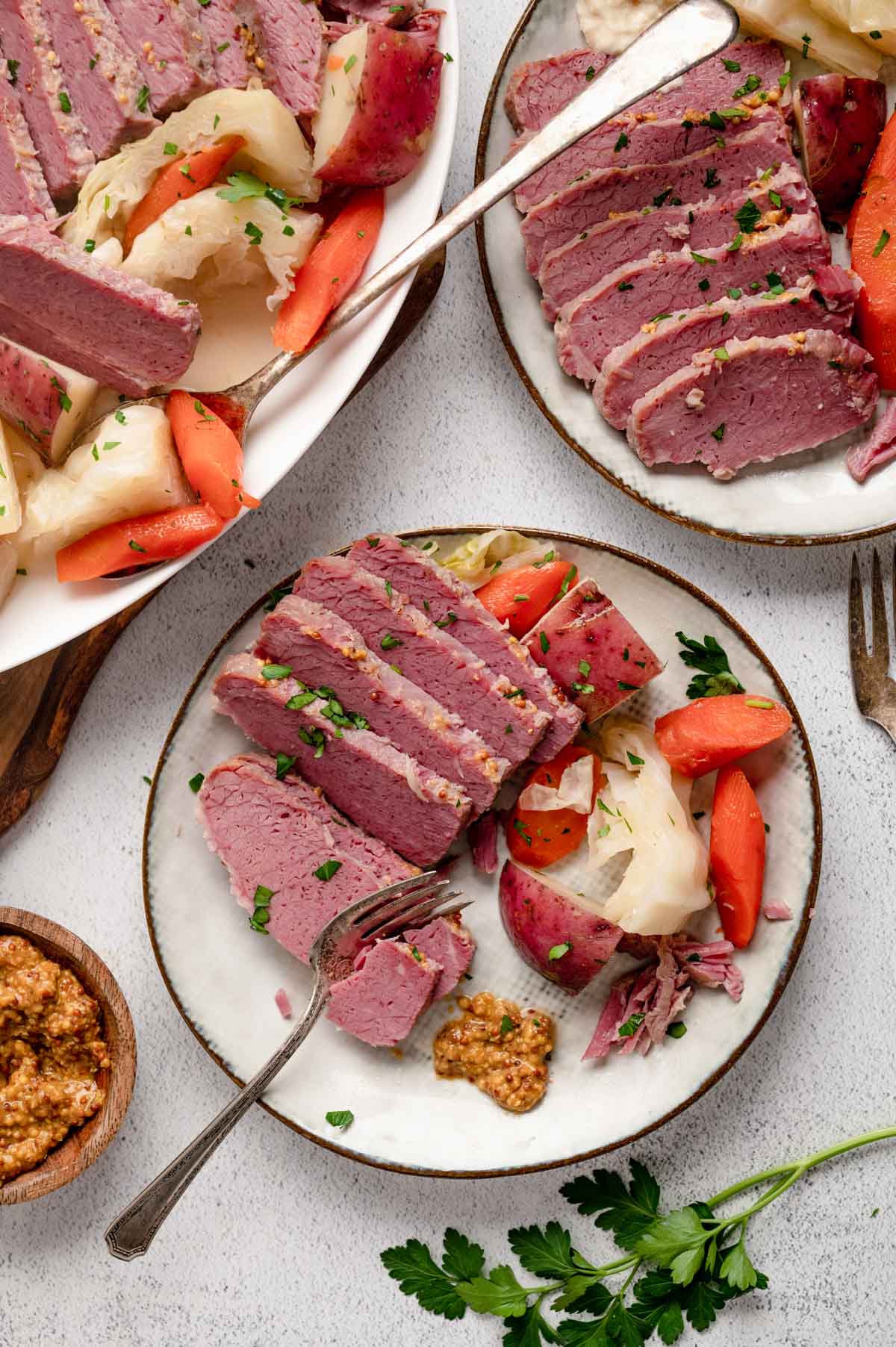 FAQs
Is Corned Beef really Irish?
Corned beef is technically Irish. It's associated with St. Patrick's Day here in the states and comes from the Irish-American culture. It was originally used as a substitute for bacon by immigrants in the late 19th century.
Why is it called Corned Beef?
"Corned" comes from the treatment of the meat with large-grained rock salt – also called "corns" of salt. Corned beef is a salt-cured brisket. There are two cuts – the flat and the point. The point tends to have more fat, but either will work great for this recipe.
What is Corned Beef seasoning made of?
Corned beef is usually sold with a spice packet that is sort of like pickling spices. It typically includes spices like coriander, mustard seed, peppercorns, cinnamon, allspice, dill, fennel, and ginger.
Tips For A Tender Corned Beef
Corned beef is made from brisket, which is a tough cut of meat. So in order to end up with a tender roast, there are a few things you can do.
Braising – This means to cook something in simmering liquid over low heat and in a covered pot, like a dutch oven. The meat is submerged in liquid, like water or broth, and cooked slowly so it becomes tender. If the meat is tough, it likely needs more time.
Slow Cooker Corned Beef – Cooking in a crockpot is similar to braising as there is a lot of liquid covering the roast. A crockpot, or braising it, will break down the connective tissue and tenderize the meat. Place the meat and seasoning in a 6-quart crockpot and add liquid. Cook on low for 8-10 hours. Add the potatoes and carrots about halfway through and the cabbage about 2 hours before serving.
Use beer – A good Lager or Ale will dramatically increase the flavor of your corned, and help tenderize it.
Cut against the grain – Brisket has long fibrous strands so it's really important to slice against, or across, the grain. Let the meat rest 5-10 minutes before slicing.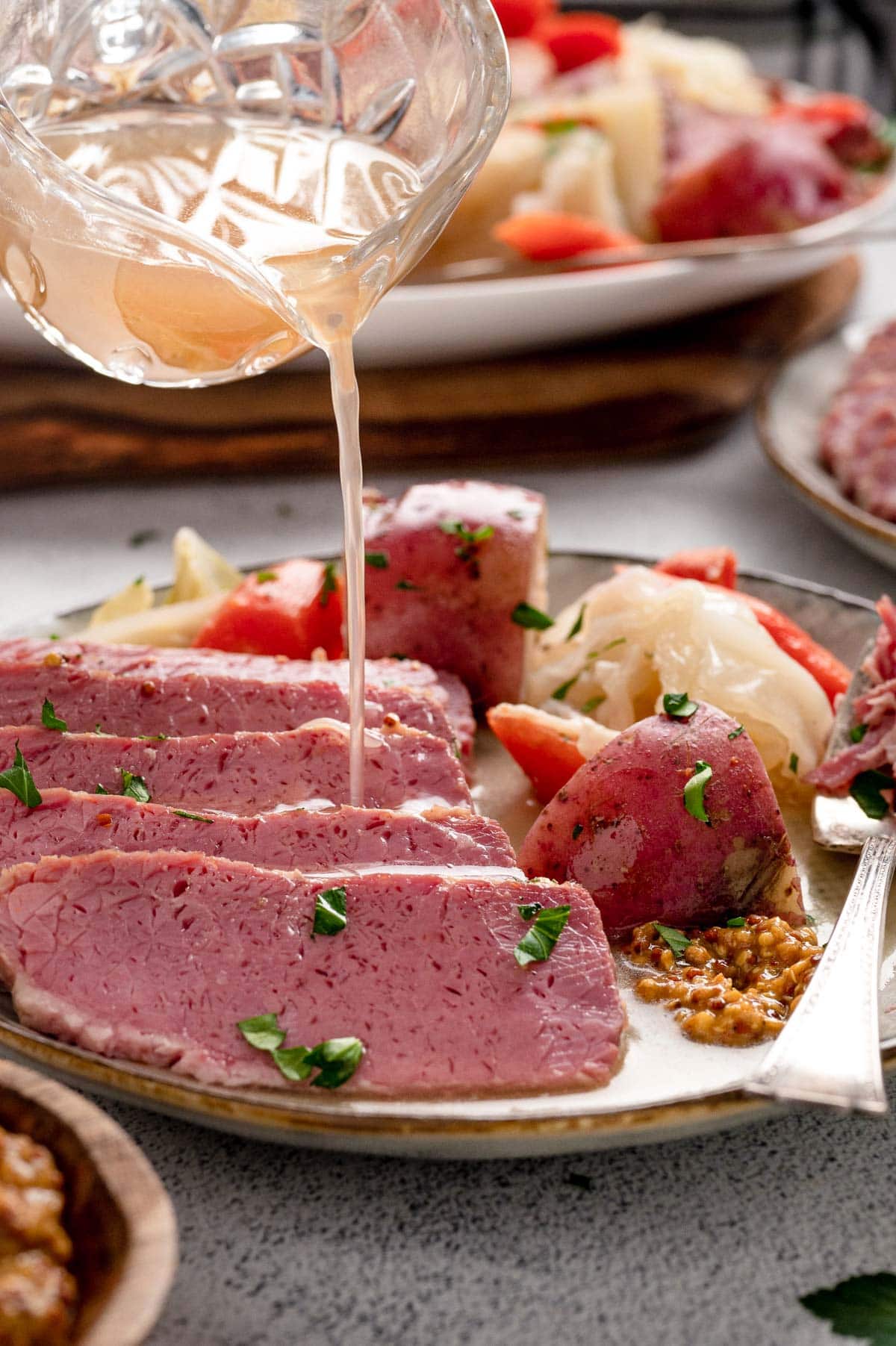 Helpful Tips
Cooking liquid – You can absolutely use water only and this recipe will still come out great. I like to boost things a bit though, so I pour in a bottle of beer (usually an Amber Ale or a Lager) and use beef broth.
Instead of beer – If you don't want to use beer, you can replace with 12 ounces of low sodium beef broth or water.
Save the liquid for serving – Keep the juices from cooking the beef so you can serve with the meat at dinnertime.
St. Patrick's Day Recipes
Recipe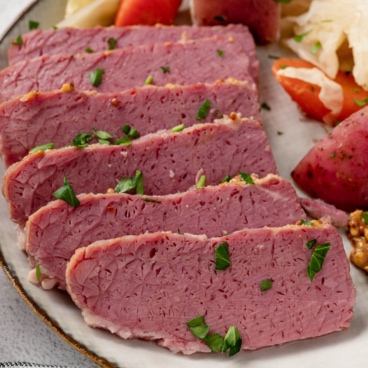 Corned Beef and Cabbage Recipe
This Corned Beef and Cabbage Recipe is the perfect meal to enjoy on St. Patrick's Day. Tender brisket slow simmered with beer or beef broth.
Cook Time
2

hours
45

minutes
Ingredients
3 to 4

pounds

corned beef

flat cut with spice packet

12

ounces

beer

(amber ale or lager)

2

bay leaves

6

red potatoes

chopped into large pieces

6

carrots

peeled and chopped into large pieces

1

head

green cabbage

cut into wedges
Instructions
Remove corned beef brisket from the package and set aside spice packet. Place corned beef in a 6-quart dutch oven. Add beer and enough water to cover the corned beef completely. Sprinkle spice packet over top and add bay leaves.

Cover and bring to a boil over high heat. Reduce heat to medium-low and simmer for 2 hours. (I flipped my corned beef about halfway through.)


Add potatoes and carrots to the pot, cover, and simmer for 30 minutes.

Add cabbage, cover pot, and simmer for another 15 minutes.

Remove corned beef to a cutting board to rest for 10 minutes. Remove vegetables from pot and transfer to a serving platter or bowl. Discard bay leaves.

Slice corned beef and plate with vegetables or on its own. Spoon a little of the cooking liquid over the top of the corned beef. Serve immediately.
Nutrition
Calories:
685
kcal
Carbohydrates:
50
g
Protein:
40
g
Fat:
34
g
Saturated Fat:
10
g
Cholesterol:
122
mg
Sodium:
2870
mg
Potassium:
2110
mg
Fiber:
9
g
Sugar:
10
g
Vitamin A:
10355
IU
Vitamin C:
138.5
mg
Calcium:
120
mg
Iron:
6.3
mg