This Classic Pistachio Fluff Salad is a family favorite, classic dessert recipe that will take you back to your childhood.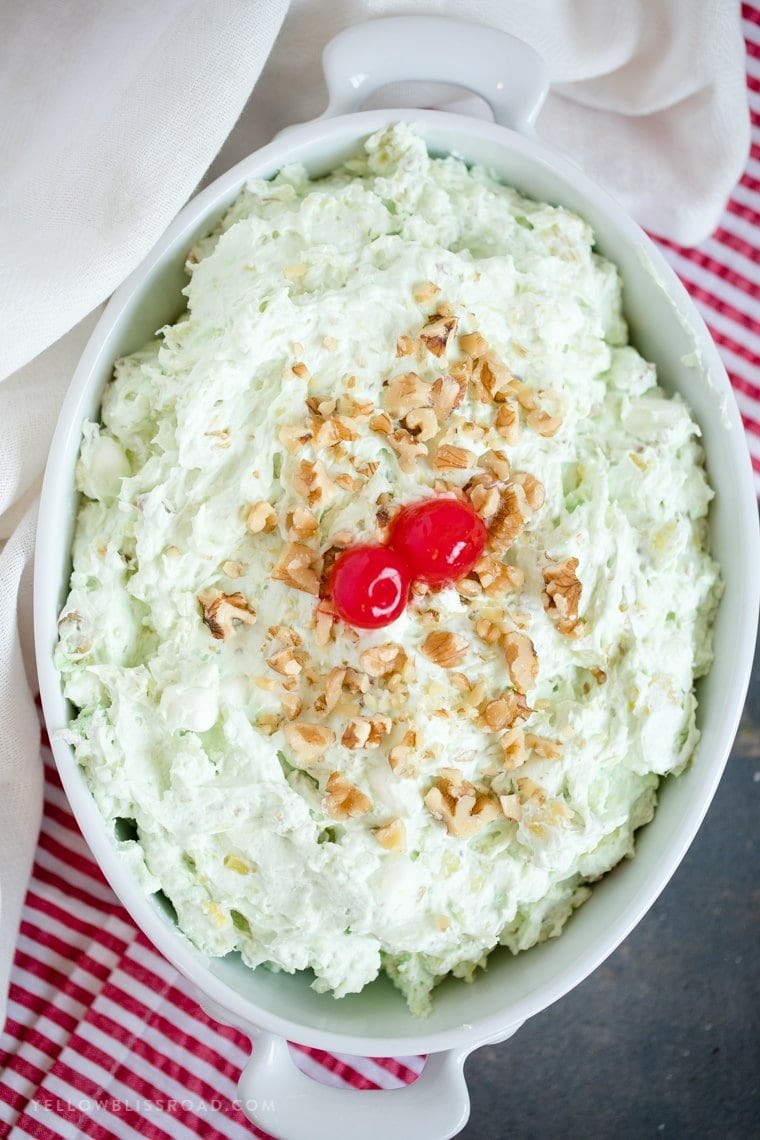 When I was a kid, we had a lot of family gatherings that included my aunt, my grandmas and cousins. Being a (sort of) only child with much older siblings, I always looked forward to these family events. Each family member had their part to play when it came to the food. My aunt was famous (if only in my eyes) for her Pistachio Salad.
Imagine my surprise when I discovered that it wasn't her creation but really it was a classic potluck side dish from the 70s. Pistachio Salad is known by many names, like "Watergate Salad," "Pistachio Delight," or even "Green Stuff." The original recipe came from General Foods (now known as Kraft).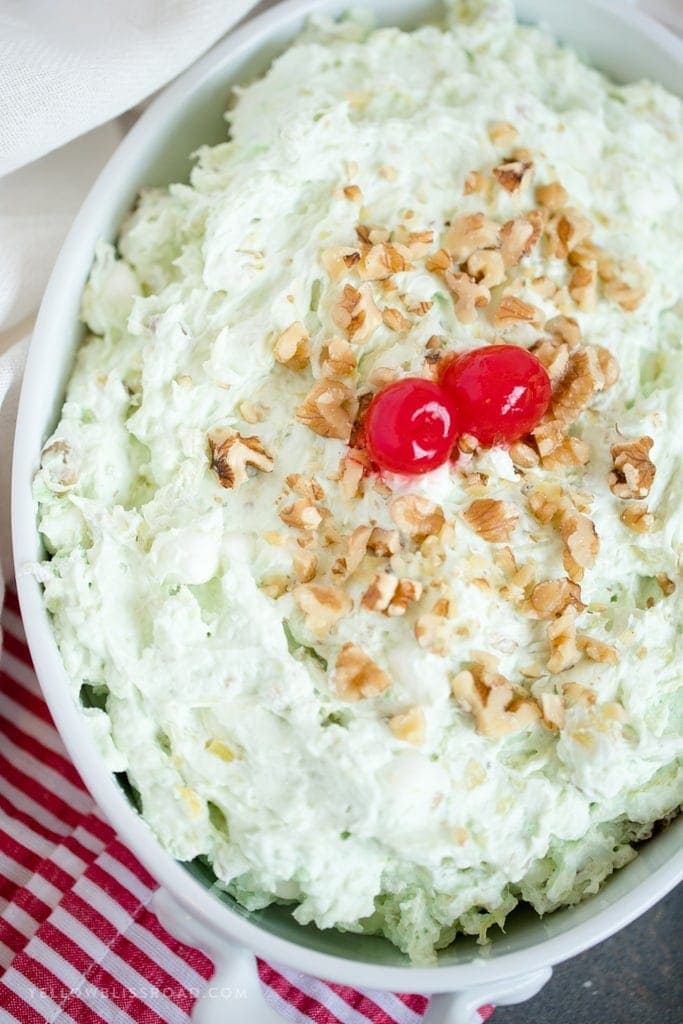 It doesn't matter to me where the recipe originated, I just know it's delicious. It's one of those classic midwestern recipes that you always find at church and family potlucks. It's easy, using just 5 ingredients, and it's yummy. What more can you ask for?
How to Make Classic Pistachio Fluff Salad
Ingredients you need:
Cool Whip (or Tru Whip)
Mini marshmallows
Crushed pineapple
Chopped walnuts
The directions are super simple and literally are just to mix the ingredients together, chill and serve. I like to add some maraschino cherries to mine, and a few drops of green food coloring but those two items are completely optional. You definitely want to chill the salad for a couple of hours to let everything set and get all the flavors to combine and play nicely together.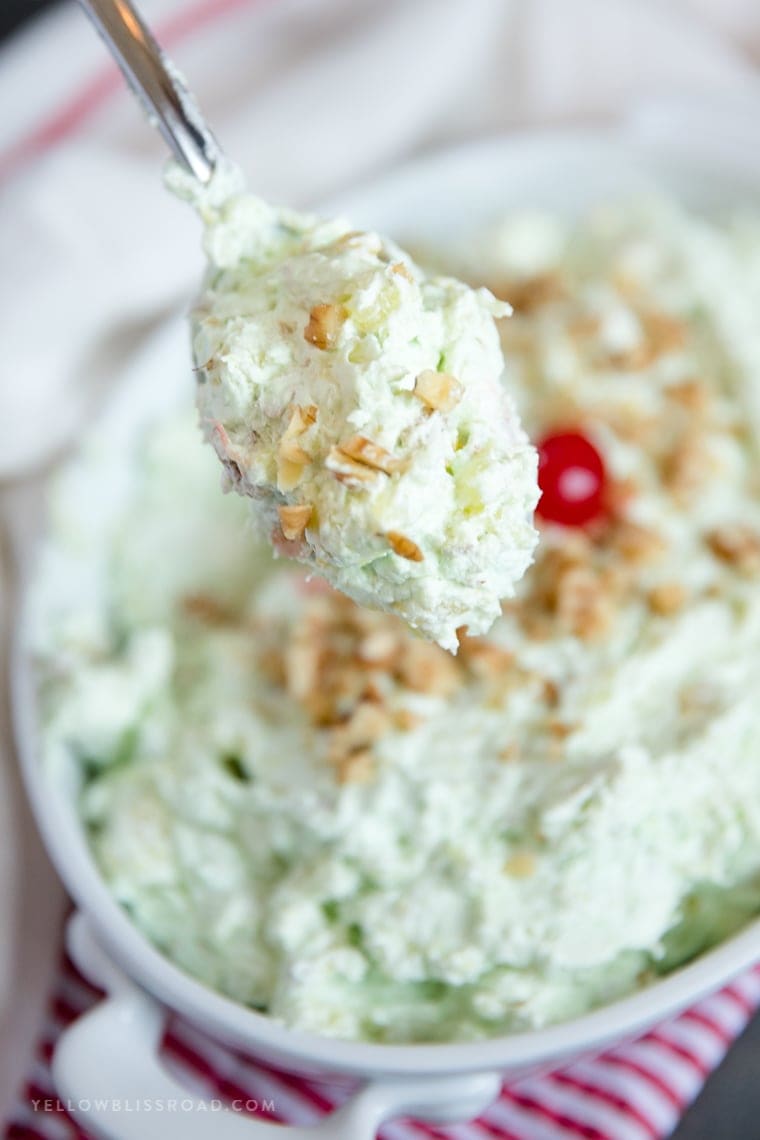 Is this Pistachio Salad really a salad?
I get comments from time to time about dessert salads like my Twix Apple Fluff Salad or my Sour Cream Salad and I'm sure I'll get the same about this Pistachio Fluff Salad. So, let's look at the definition of a salad. A salad is any of various dishes consisting of foods, such as meat, seafood, eggs, pasta, or fruit, prepared singly or combined, usually cut up, mixed with a dressing, and served cold. So a "dessert salad" is a fitting description, right?
Either way you look at it this delicious Pistachio Fluff Salad is a classic staple that everyone at your Thanksgiving Feast will love!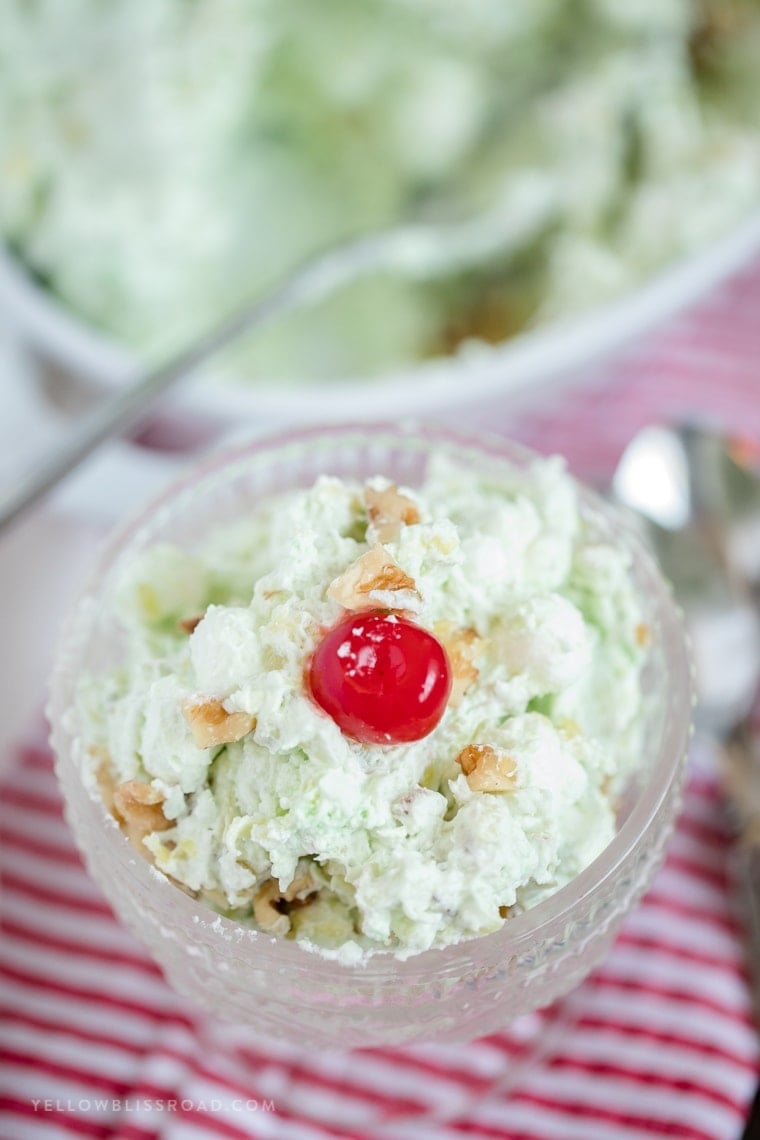 HOW TO SERVE AND STORE PISTACHIO SALAD
We serve pistachio salad as a side dish for family potlucks and holidays. It can also be served as a dessert. Store in a tightly sealed container in the refrigerator for 3-4 days.
And for more classic desserts, try these: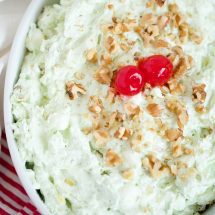 Ingredients
1 10- ounce container non-dairy whipped topping softened
1 3.4 - ounce package pistachio pudding mix
1 20- ounce can crushed pineapple
3 cups mini marshmallows
1/2 cup chopped walnuts
1/2 cup maraschino cherries slice in half
Green food coloring optional
Instructions
Stir ingredients together in a large bowl until well combined.

Chill for 2-3 hours before serving.

Garnish with maraschino cherries or chopped walnuts.
Here's another delicious dessert salad that we love: