Chocolate Lasagna with layers of chocolate cookie crust, cream cheese, chocolate ganache, pudding, and whipped cream. It's so easy to make and will be a hit every time. It's like biting into a soft, fluffy chocolate cloud on top of a cookie crust.
I have a real weakness for chocolate desserts. If you're a choc-o-holic like me, you definitely need to try our Chocolate No Bake Cookies and Chocolate Coconut Cake!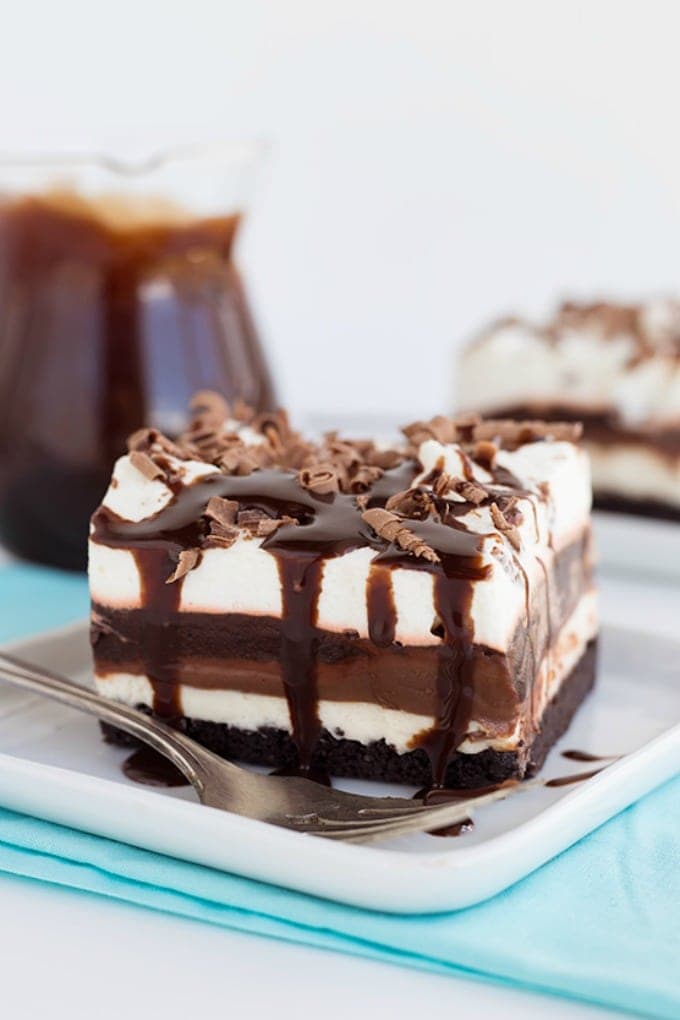 Chocolate Lasagna Recipe
During the warm summer months, no one wants to start up an oven, right? Right! This dessert is no-bake including the chocolate cookie crust. The crust firms up from the butter while it's sitting in the fridge. Talk about the perfect summer dessert!
This chocolate lasagna has a little extra chocolate added to it. I really wanted to go overboard with making every layer chocolate, but quickly realized that the layers probably wouldn't be noticeable which sort of makes the "lasagna" part void.
I'm the kind of lady that likes to add a little extra cheese to an already cheesy dish, a little extra sugar to a sweetened iced tea, and chocolate to a chocolaty dessert. I can't help myself. I'm a little extra.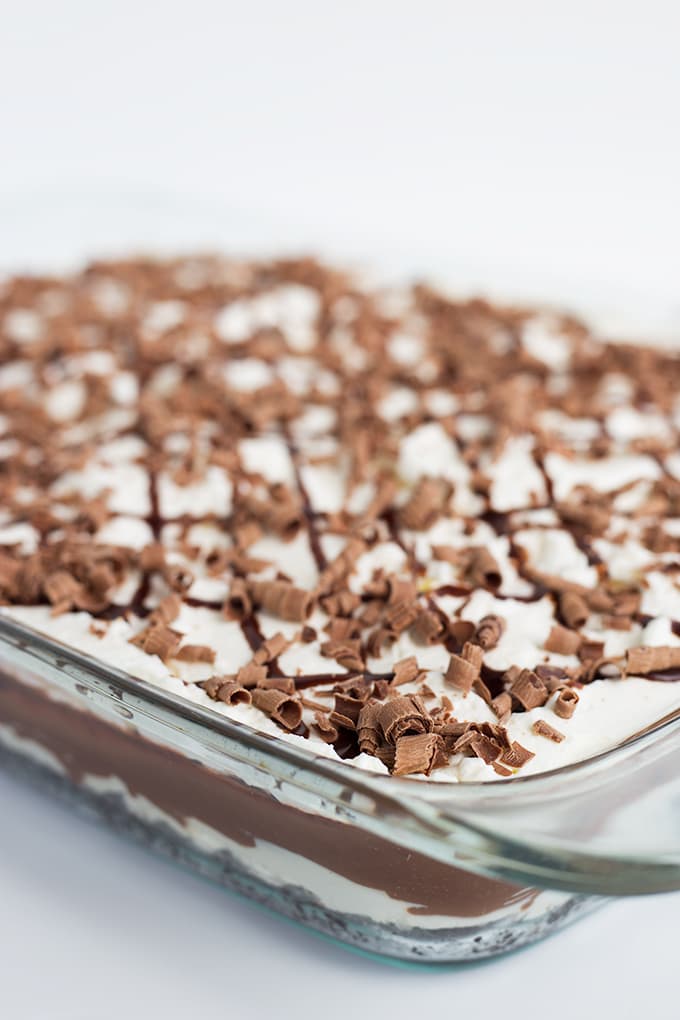 How to make chocolate lasagna
Begin by grabbing a 9-inch x 13-inch pan. You definitely want to use a clear glass pan here, so all of the layers are visible right off the bat.
Crush cookies and add melted butter and sugar. Mix and then press firmly into the pan. You can crush the cookies in a bag with a rolling pin, but I recommend using a food processor if you have one. When you use the rolling pin method to crush Oreos, the filling can quish out and stick to the cookies instead of blending into the mixture.
Make the ganache and set it aside. This step is just microwaving chocolate chips and heavy cream together to form a thick chocolate sauce. It goes in the freezer for a few minutes while you work on the other layers.
Mix cream cheese layer. A hand mixer will guarantee a nice, smooth filling and no lumps in the cream cheese. Then you'll beat in sugar, vanilla and softened butter, again beating until smooth. In a separate bowl you'll beat some heavy whipping cream until it's light and fluffy, and then fold it into the cream cheese mixture.
Mix the instant chocolate pudding and refrigerate until ready to assemble.
Chocolate Lasagna Assembly
The beauty of this chocolate lasagna really comes from the contrasting layers of white cream cheese filling and the darker chocolate layers of the pudding and ganache.
Cookie Crust – Crushed cookies pressed into the bottom of the pan.
Cream cheese filling – Spread the cream cheese filling evenly over the cookie crust, then drizzle with chocolate syrup.
Chocolate layers – Pour on chocolate ganache and spread it evenly, then whisk up the chocolate pudding and do the same.
Whipped cream – Beat heavy cream until thick and fluffy, then add sugar. Spread whipped cream evenly over chocolate.
Garnish – Drizzles of chocolate sauce and chunks of chocolate curls finish of the chocolate lasagna presentation.
Serving Suggestions and Short-cuts
You'll want to chill the chocolate lasagna for at least a couple of hours to let the layers set. Overnight even if you have the time.
Use a very sharp knife to cut.
If you don't want to make the whipped cream layer, you can substitute Cool Whip.
Instead of the chocolate curls, use mini chocolate chips.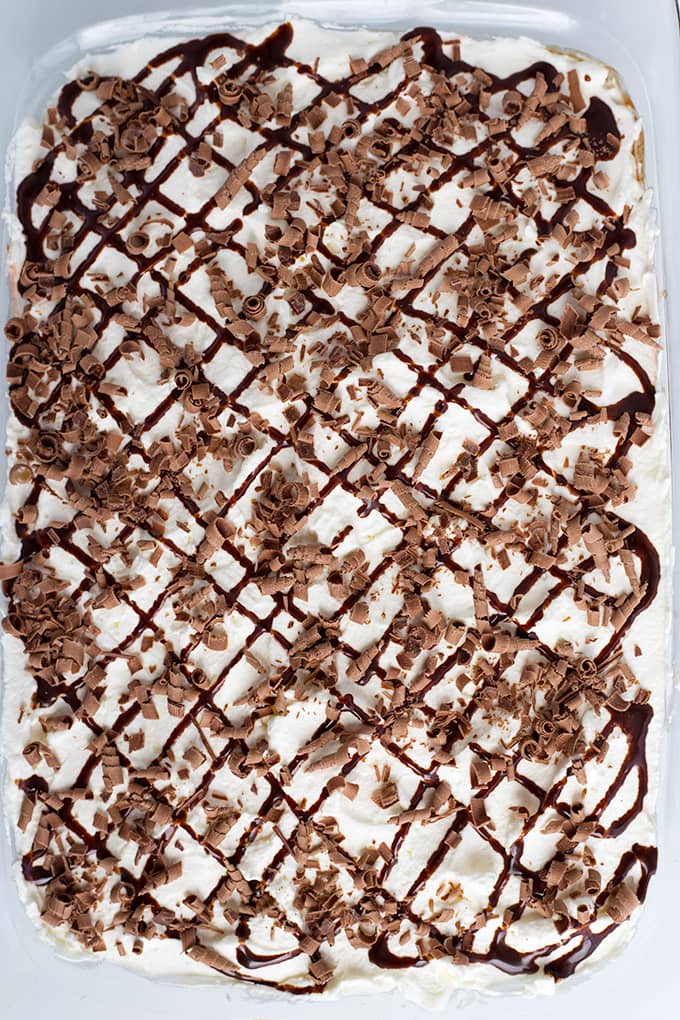 If you love this chocolate lasagna recipe, here are some layered desserts to try: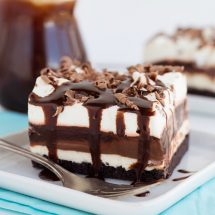 Chocolate Lasagna
Chocolate Lasagna with layers of chocolate cookie crust, cream cheese, chocolate ganache, pudding, and whipped cream. So easy to make and always a hit!
Print
Pin
Rate
Prep Time: 35 minutes
Chill: 3 hours
Total Time: 3 hours 35 minutes
Servings: 15 servings
Calories: 578kcal
Ingredients
Crust
3 cups about 32 cookies chocolate sandwich cookie crumbs
2 tablespoons granulated sugar
1/2 cup butter melted
Ganache
3/4 cup milk chocolate chips
1/2 cup heavy cream
Cream Cheese
8 ounces cream cheese softened
1/4 cup granulated sugar
2 teaspoons vanilla extract
1 tablespoon butter softened
1 cup heavy cream whipped to stiff peaks
1 tablespoon powdered sugar
1 - 2 tablespoons chocolate syrup
Chocolate Pudding
2 3.56 ounce boxes chocolate pudding
3 cups cold milk
Whipped cream
2 cups heavy cream
1/4 cup powdered sugar
1 tsp. vanilla extract
1 1/2 tablespoons chocolate syrup
Garnish
chocolate curls
chocolate sauce
Instructions
Crust
Add the cookies into the food processor. Pulse until the cookies are all a fine crumb. If you don't have a food processor, add them into a storage bag and crush them with a rolling pin into a fine crumb. 

Add in the sugar and melted butter and stir until the crumbs are coated with butter. 

Press the crumbs firmly into a 9x13 glass pan. Place in the fridge to chill while working on the next layers.
Ganache
In a microwave-safe bowl, add in the milk chocolate chips and heavy cream. Microwave in 30-second intervals and stirring after each interval until the ganache is smooth. Place into the freezer for 10 - 15 minutes while making the cream cheese layer.
Cream Cheese
In a medium mixing bowl, add the cream cheese. Using a hand mixer, beat until creamy. 

Add the sugar, vanilla, and butter. Beat on medium until incorporated. Scrape down the sides and beat in any remaining bits. Set aside.

In a separate bowl, add in the heavy cream. Beat on medium speed until soft peaks form.

Add in the powdered sugar and beat until stiff peaks form.

Fold the whipped cream into the cream cheese mixture until combined.
Assembly
Add dollops of the cream cheese all over the crust. Using an off-set spatula, spread the cream cheese out evenly and to the edges. 

Drizzle the chocolate syrup on top of the cream cheese. Using a toothpick, make swirls into the cream cheese being careful not to disturb the crust. I didn't mix all of the chocolate syrup in, a lot of it sat on top. 

Pour the chilled ganache on top of the cream cheese and spread it to the edges. 

In the bowl you used for the cream cheese mixture, add in the pudding mix and milk, Whisk until thickened, about 2 minutes. 

Pour the pudding on top of the ganache. Try to pour close to the sides of the pan to help prevent the ganache from being pushed to the side. Spread the pudding out evenly and to the edges. 

In the bowl you used previously for heavy cream, add in the 2 cups of heavy cream. Beat until soft peaks form. 

Add the powdered sugar and vanilla extract. Beat until stiff peaks form. 

Add dollops of whipped cream on top of the pudding. Spread it out evenly. 

Add the chocolate syrup in a sandwich bag. Cut out a very small hole in one of the corners. Draw a criss-cross pattern on the top of the whipped cream. Sprinkle chocolate curls on top.

Place in the fridge and chill until the pudding has time to firm up. (I let mine chill overnight.) Cut into 15 pieces and serve.
Nutrition
Calories: 578kcal | Carbohydrates: 45g | Protein: 6g | Fat: 43g | Saturated Fat: 24g | Cholesterol: 117mg | Sodium: 311mg | Potassium: 209mg | Fiber: 1g | Sugar: 32g | Vitamin A: 1331IU | Vitamin C: 1mg | Calcium: 125mg | Iron: 3mg