This indulgent frozen dessert has a creamy lemon filling in a graham cracker crust. It's perfect for summer and will please even our toughest critics!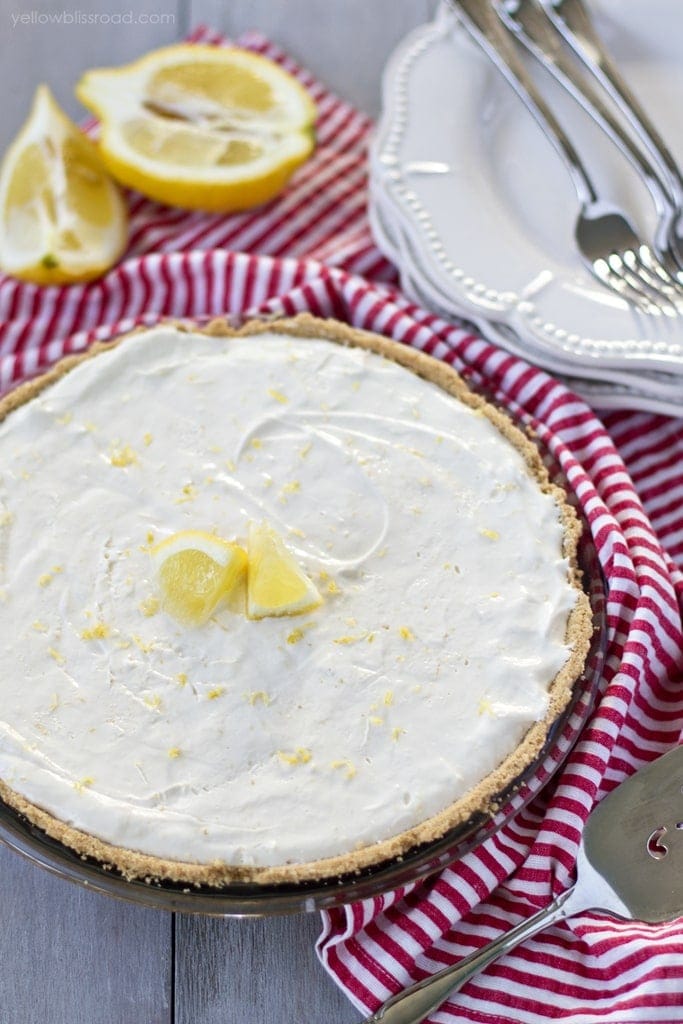 I have always been a sucker for lemon, and with a huge lemon tree in our backyard, I always have them on hand. I especially love lemon in desserts, like this Frozen Lemon Cheesecake. It's so simple to make and the filling has just 4 ingredients – cream cheese, frozen non-dairy whipped cream (I use TruWhip – it's all natural and tasted so much better than Cool Whip), lemon and powdered sugar. Whip it all up in your KitchenAid Stand Mixer and pour into a graham cracker pie crust.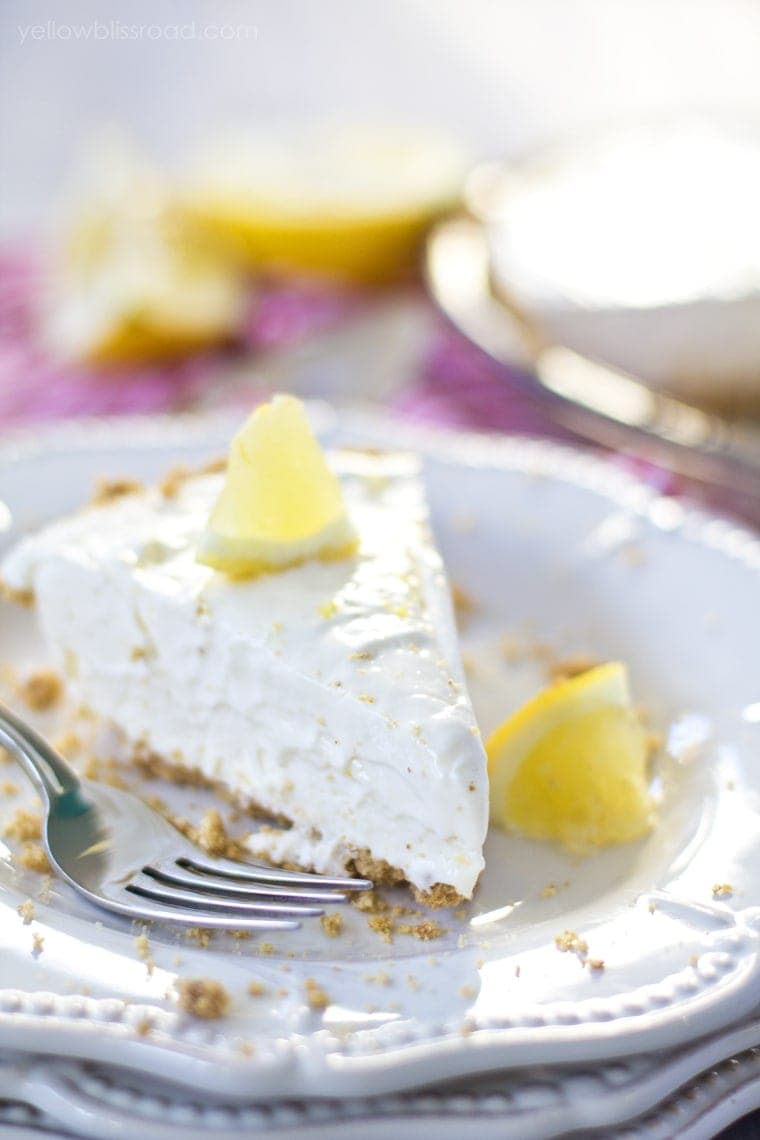 I have been obsessed with this frozen cheesecake recipe for a while now. I first used it in my Frozen Cheesecake Sandwiches and then in the next five batches of cheesecake sandwiches…we may have gone a little overboard.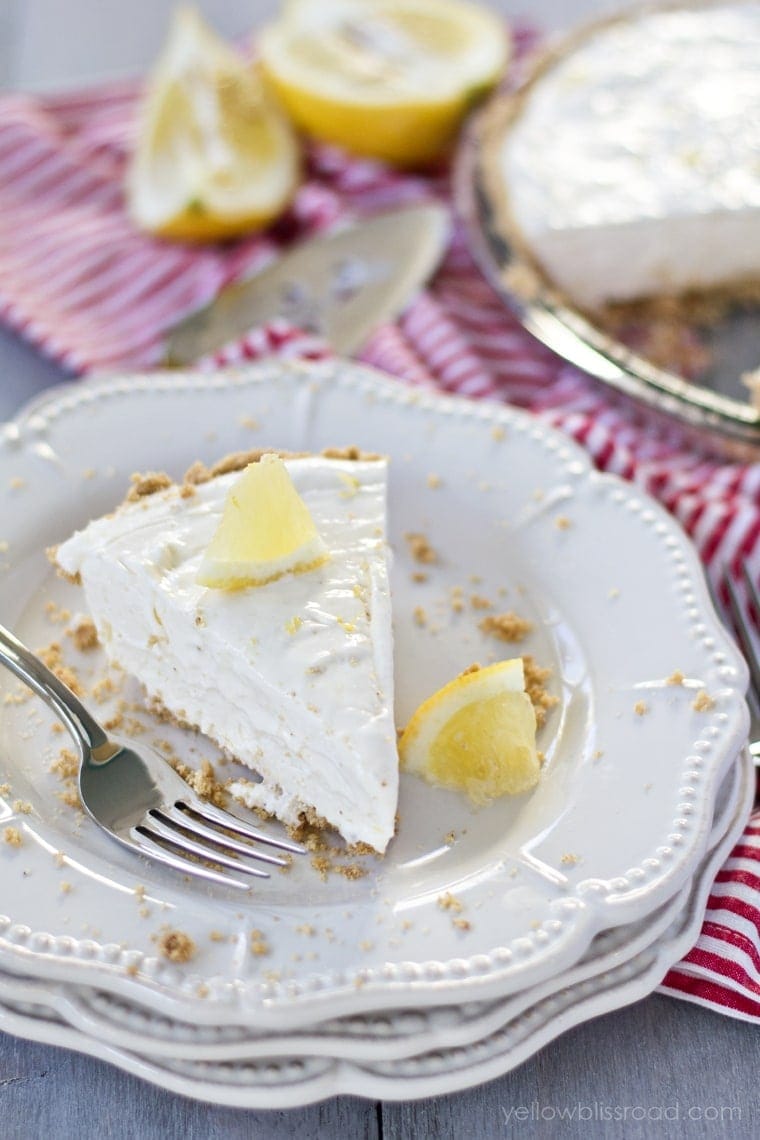 For the Lemon Cheesecake version I doubled the recipe and added a little more powdered sugar to balance the tartness of the lemon. Folks, lemme tell ya – it is SOOOO good!!!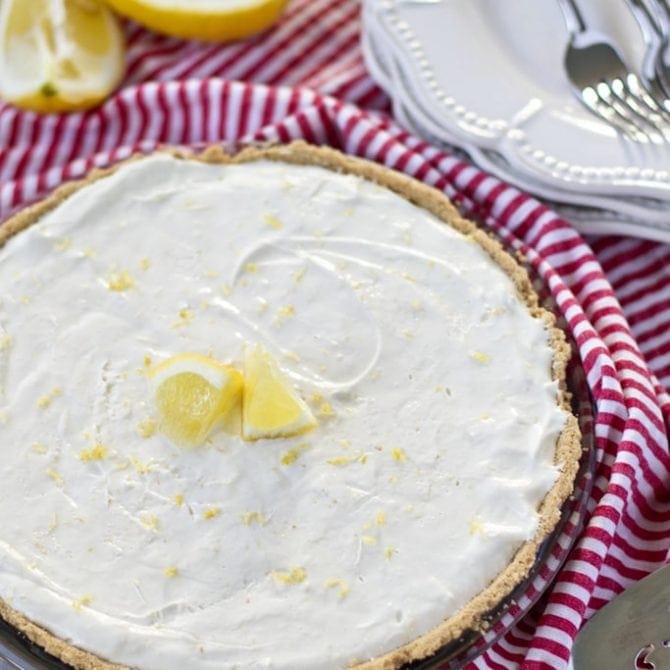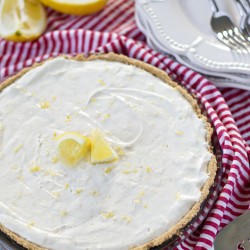 Frozen Lemon Cheesecake
Ingredients
Graham Cracker Crust
1 1/2 cups graham crackers about 10 full sheets
1/3 cup granulated sugar
5 tablespooms butter melted
Cheesecake filling
16 ounces cream cheese 3 bricks, softened
10 ounces Non-dairy whipped topping Cool Whip
1 1/4 cups powdered sugar sifted
1/4 cup lemon juice
Zest of one lemon
Instructions
Graham Cracker Crust
Place graham crackers in a food processor and pulse into crumbs. Add melted butter and granulated sugar and pulse until combined.

Pour graham cracker mixture into a 9" pie plate. Using clean hands or a flat bottomed measuring cup, form the crust. Press crumbs evenly into the side and bottom of the plate.
Lemon Cheesecake Filling
In the bowl of a stand mixer, whip cream cheese until light and fluffy, about 1 minute. Beat in the powdered sugar, lemon juice and zest until well combined. Stir in whipped topping just until combined.

Pour cream cheese mixture into prepared graham cracker pie crust and smooth the top.

Cover with plastic wrap or foil and refrigerate for at least 4 or hours.

Cut and serve immediately.

Chill for two hours before adding the filling.
For more frozen treats, try these:
For all desserts go HERE and for all recipes go HERE.