Mini Cinnamon Rolls are such a fun breakfast recipe and easy to make using store bought crescent roll dough. Top crescent dough with cinnamon brown sugar and let your air fryer do the work!
Using crescent dough lets you quickly and easily make a flaky and delicious breakfast treat. It takes only 15 minutes to make these – start to finish! Serve these delicious breakfast treats with a side of Bacon, scrambled eggs and a Fruit Salad.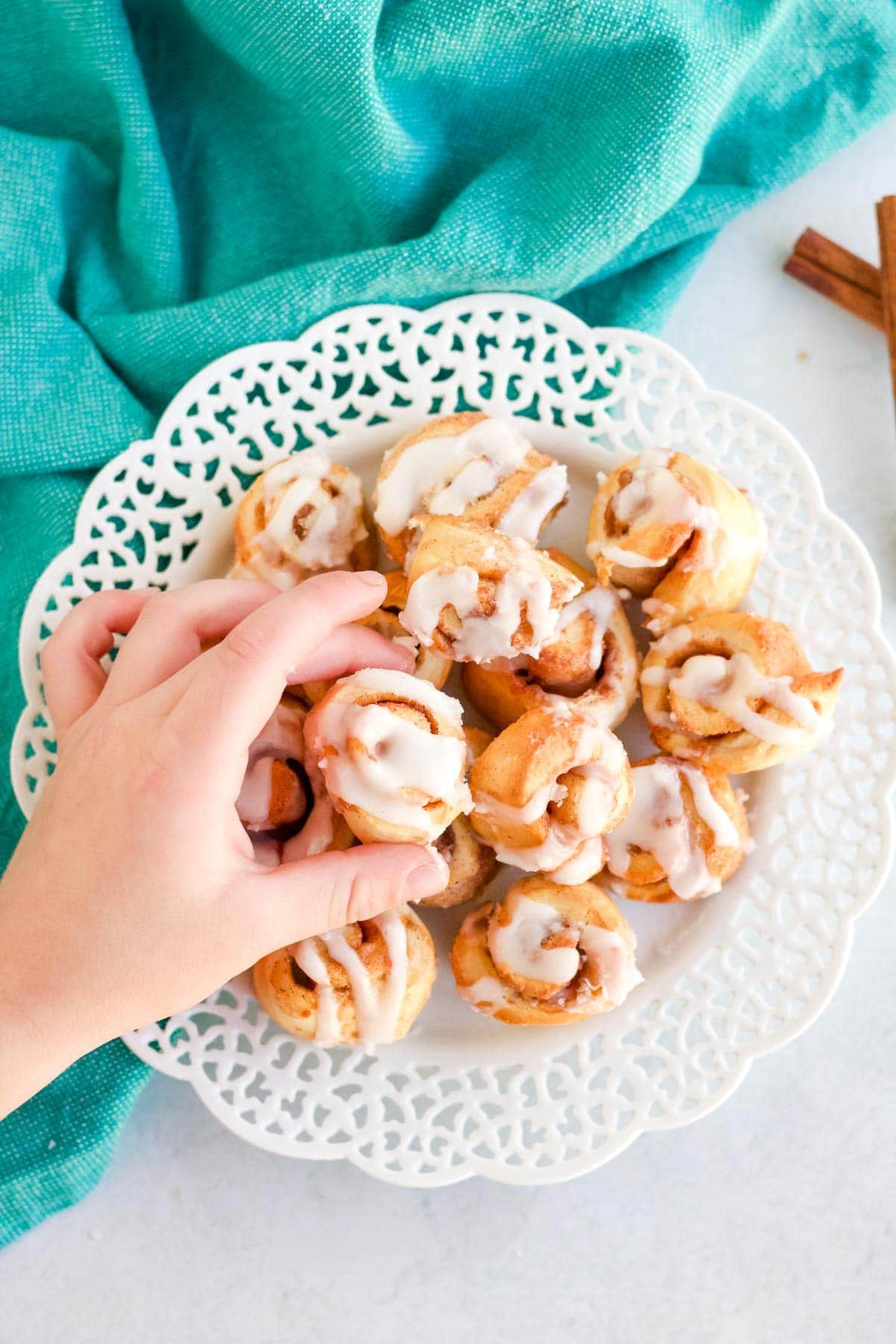 These air fryer cinnamon rolls are also great to get the kids involved. Have them help spread the cinnamon filling and roll up the logs. A fun weekend morning family activity.
How To Make Air Fryer Cinnamon Rolls
Making cinnamon rolls in the air fryer takes just a few minutes to prep and about 5 minutes to cook. Not to mention only a few simple ingredients.
Prep: Mix the cinnamon and brown sugar together.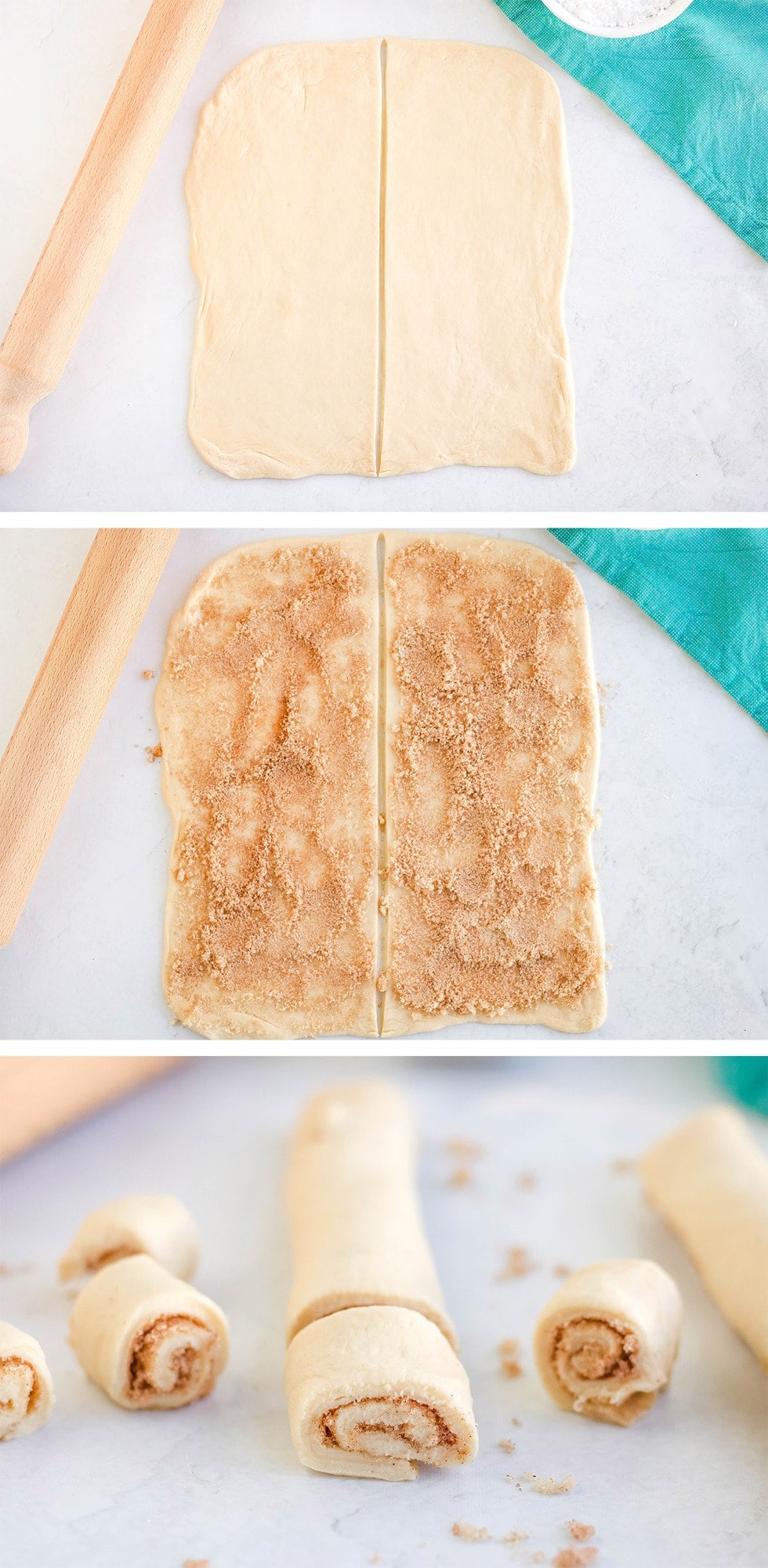 Shape the Mini Cinnamon Rolls: Roll the crescent dough into a rectangle (pinch and seal the perforated cuts) and cut the rectangle in half. Spread the cinnamon filling on both halves and tightly roll each into a log. Cut each log into 12 cinnamon rolls using a sharp, serrated knife.
Air Fry: Add the parchment paper to the air fryer basket and add the cinnamon rolls (seam side up). Be sure to leave a little space in between each one – working in batches if needed. Air fry until the crust is golden brown.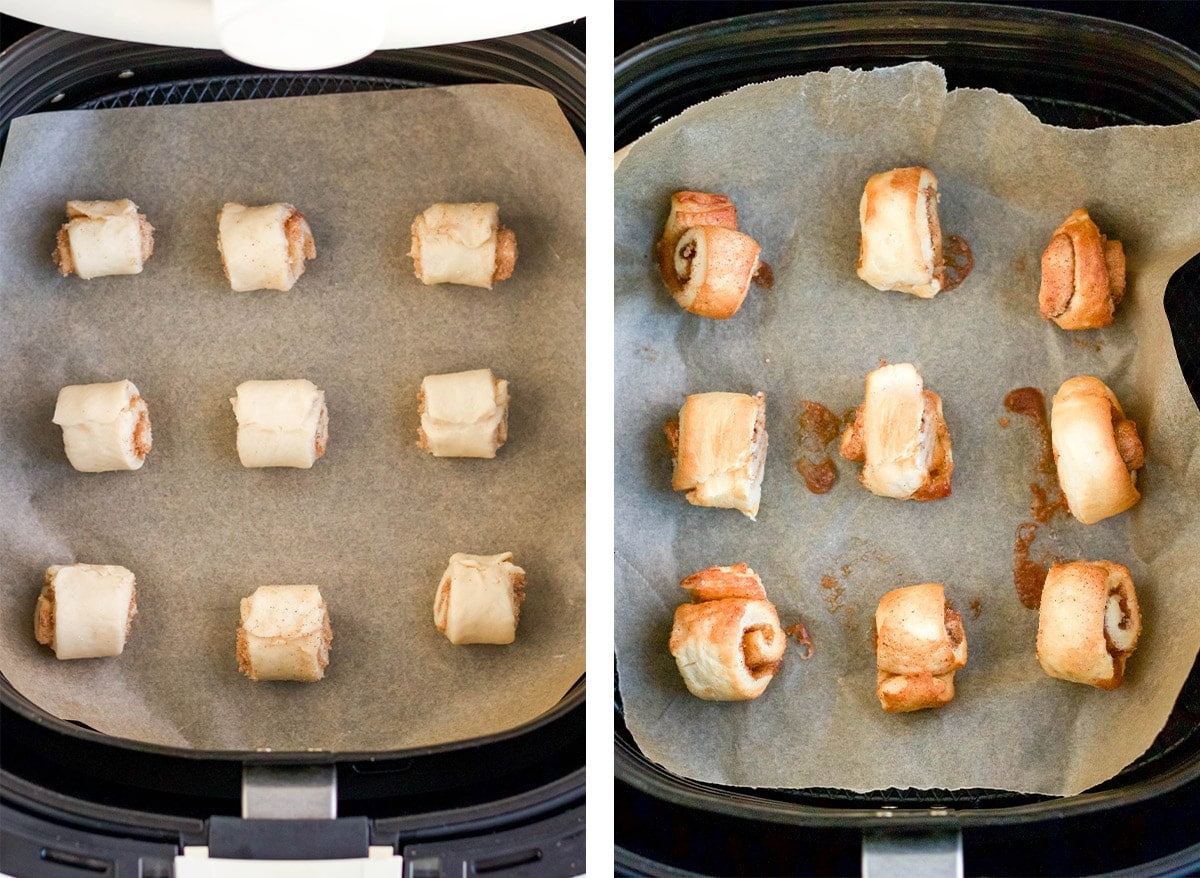 Top with Icing: Mix together the melted butter, milk, and powdered sugar to make the icing. Drizzle over the cinnamon rolls and enjoy! Feel free to adjust the amount of milk and/or sugar to your desired level of sweetness and thickness.
Leftovers, Storage, and Reheating Instructions
Leftovers and Storage: Leftover cinnamon rolls can be stored in an airtight container in the fridge for 3 days.
Reheating: The mini cinnamon rolls can be reheated in the microwave, but for best results I recommend reheating in the air fryer. Air fry at 300°F for 2-3 minutes, or until warmed.
Recipe Notes/Tips
Make sure to leave space in between the cinnamon rolls in the air fryer. They will puff up slightly as they cook and you don't want them to stick together.
Don't overcrowd your air fryer – you may need to cook in batches, depending on the size of your basket.
Make sure you place the cinnamon rolls seam side up so the cinnamon filling doesn't ooze out.
Want a fun twist? Try using orange juice instead of milk for the icing to make orange-glazed cinnamon rolls.
Keep an eye on your cinnamon rolls while they're cooking. Every air fryer is different, so your cook time may slightly vary.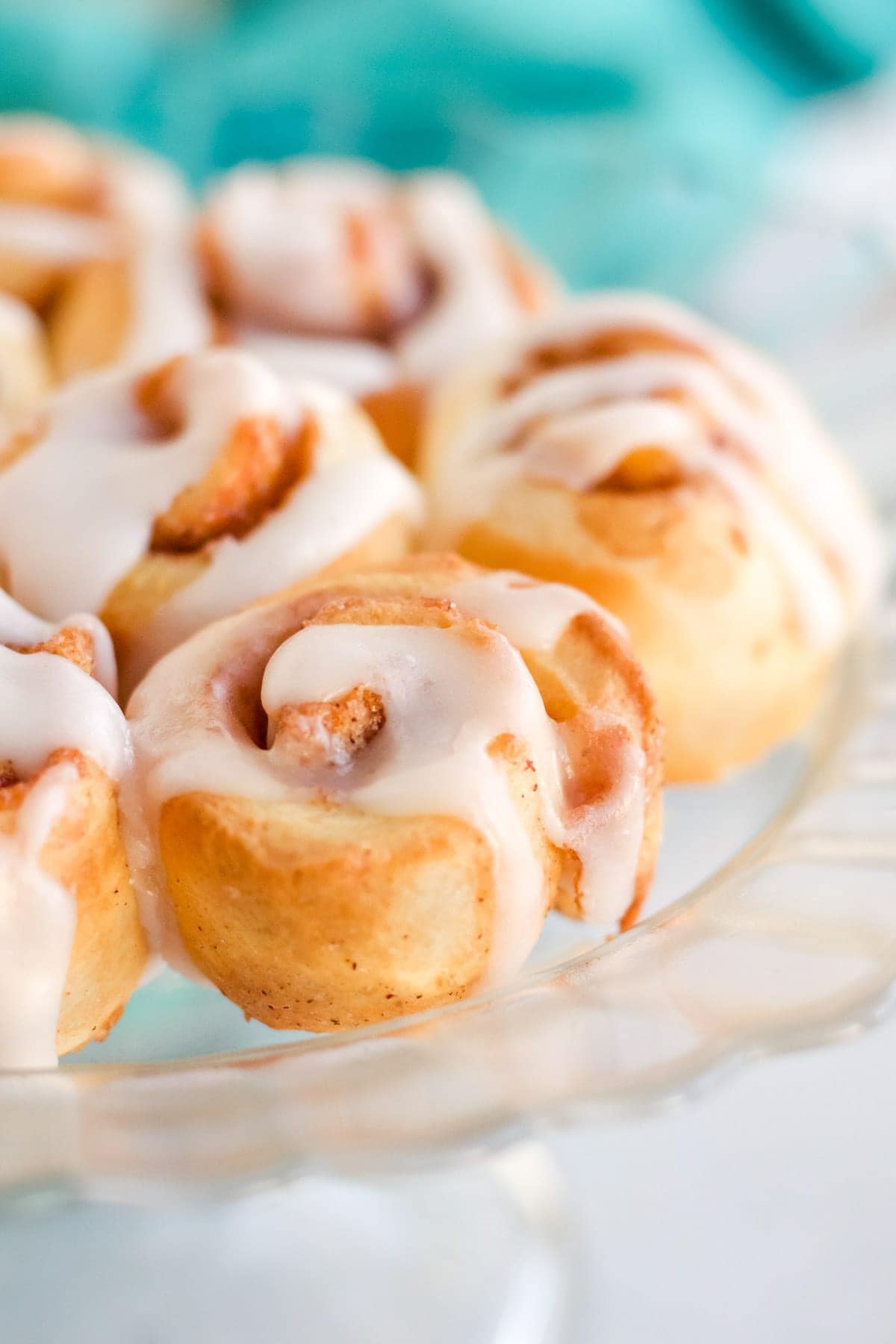 Serving Suggestions
Air Fryer Cinnamon Rolls are such a fun treat for a weekend breakfast or even holiday brunch!
Try pairing them with an egg dish for a complete and filling meal. Like this Ham and Cheese Quiche or Smoked Sausage Breakfast Casserole. Or keep with the finger food theme and make these easy and customizable Baked Egg Muffins.
Of course, breakfast needs bacon! I love cooking bacon in the oven. Less mess and no splatter on the stove. And it takes 15 minutes to cook, so pop the bacon in the oven then make the cinnamon rolls in the air fryer.
Can these be made in the oven?
If you don't have an air fryer, you can also bake these crescent cinnamon rolls in the oven. Roll and slice the cinnamon rolls like normal then place on a parchment-lined baking sheet. Bake in a preheated 350°F oven for about 10 minutes – until golden brown.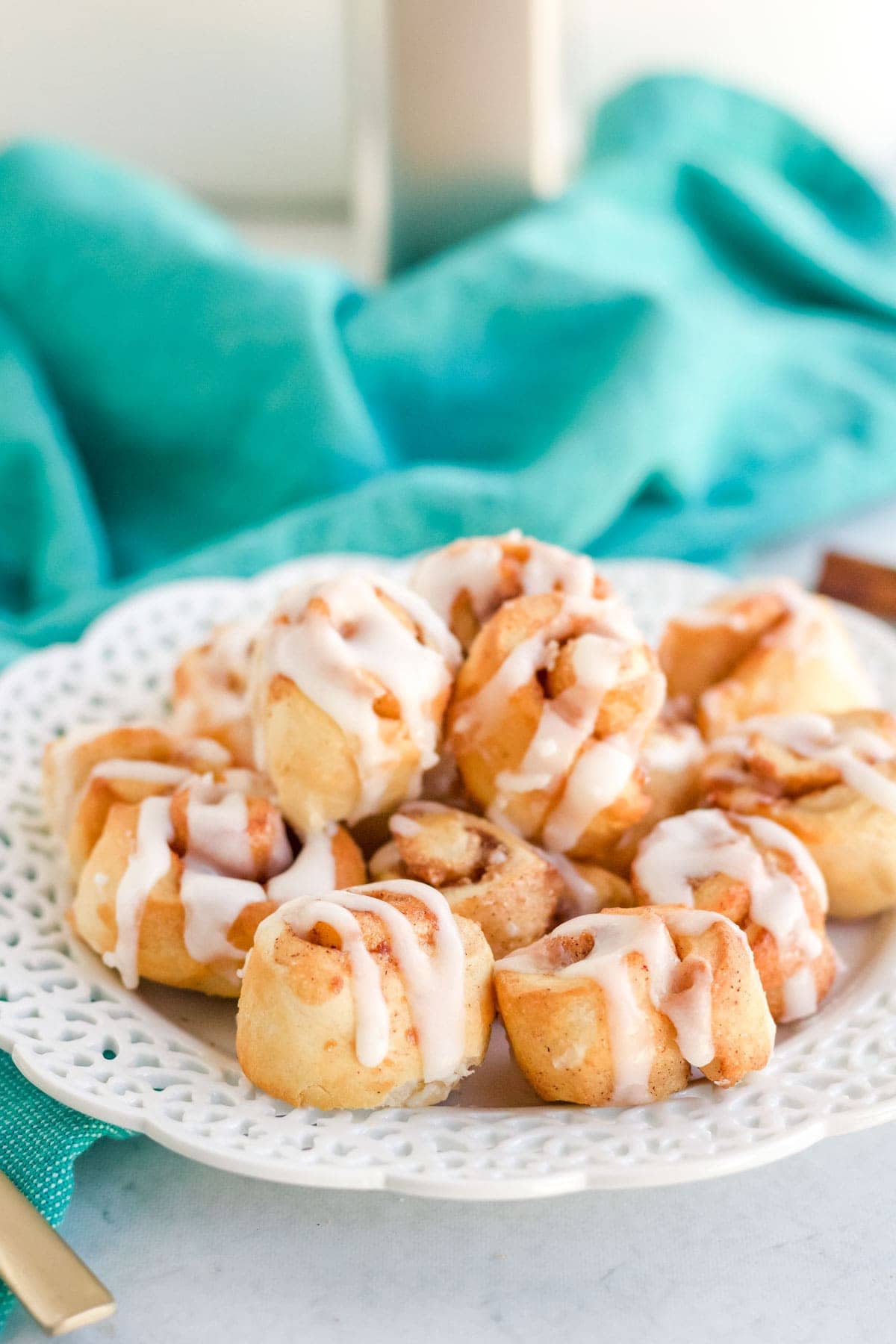 Can you cook Cinnamon Rolls in the Air Fryer?
You can cook store-bought canned cinnamon rolls in the air fryer as well! Add the cinnamon rolls to your air fryer (with space in between) and air fry at 325°F for about 10 minutes until golden brown. Then remove and top with the icing. Obviously since these are full size, you can't make quite as many at a time and you kind of lose the cuteness of the mini rolls, but hey, you do you.
More Sweet Breakfast Recipes
Recipe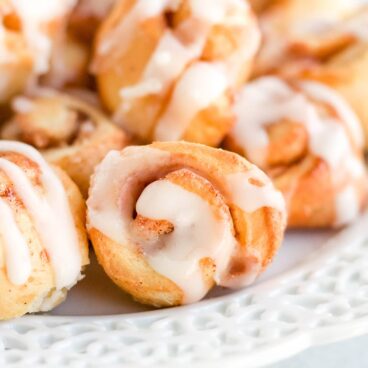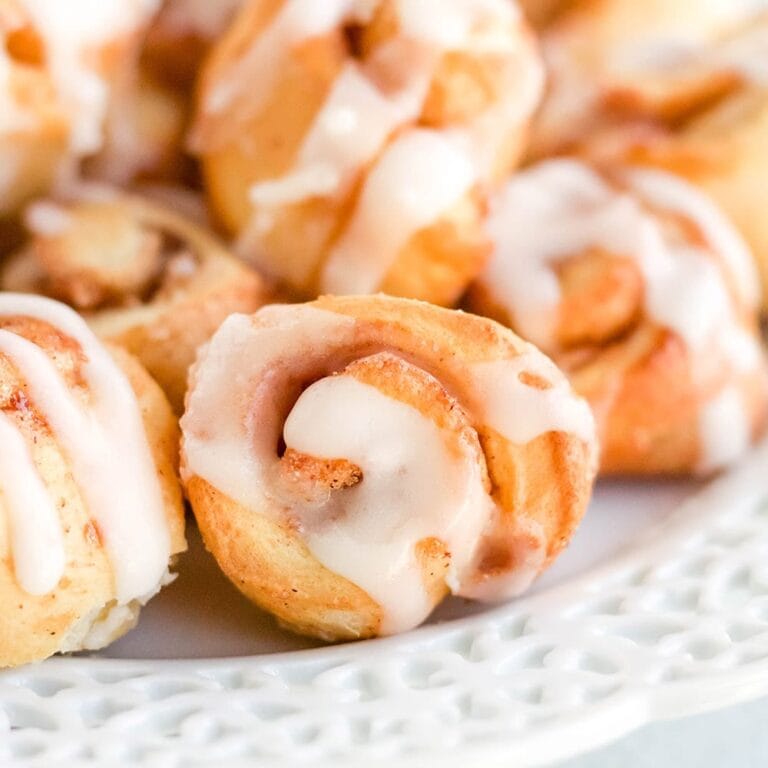 Mini Air Fryer Cinnamon Rolls
Air Fryer Mini Cinnamon Rolls are a fun breakfast recipe. Make them in minutes with refrigerated crescent roll dough and your air fryer!
Ingredients
3

Tablespoons

packed brown sugar

1

teaspoon

ground cinnamon

8

ounce

package refrigerated crescent roll dough

1

Tablespoon

melted butter

½

cup

powdered sugar

2

Tablespoons

milk
Instructions
In a small bowl, combine the brown sugar and cinnamon until well combined. Set aside.

On a floured surface, roll crescent roll dough out into a large rectangle being sure to seal the perforated cuts.

Cut the rectangle in half and spread the brown sugar and cinnamon blend evenly on both halves.

Roll the sugared crescent dough into two long logs. Roll tightly, being sure to seal the ends. Cut each roll into 12 slices.

Place parchment paper into the basket of the air fryer. Place cinnamon rolls inside the basket with the seam side up, leaving space between each one.

Set your air fryer to 325 degrees. Preheat if your machine suggests it. Cook for 5-7 minutes or until golden brown.

Meanwhile, combine the melted butter, powdered sugar and milk in a small bowl and drizzle over the cinnamon rolls before serving.
Nutrition
Serving:
2
g
Calories:
107
kcal
Carbohydrates:
16
g
Protein:
1
g
Fat:
5
g
Saturated Fat:
2
g
Trans Fat:
1
g
Cholesterol:
3
mg
Sodium:
159
mg
Potassium:
8
mg
Fiber:
1
g
Sugar:
10
g
Vitamin A:
34
IU
Vitamin C:
1
mg
Calcium:
7
mg
Iron:
1
mg