These light and fluffy buttermilk homemade waffles are the perfect brunch recipe. Learn all the secrets to making waffles with tender centers and golden edges.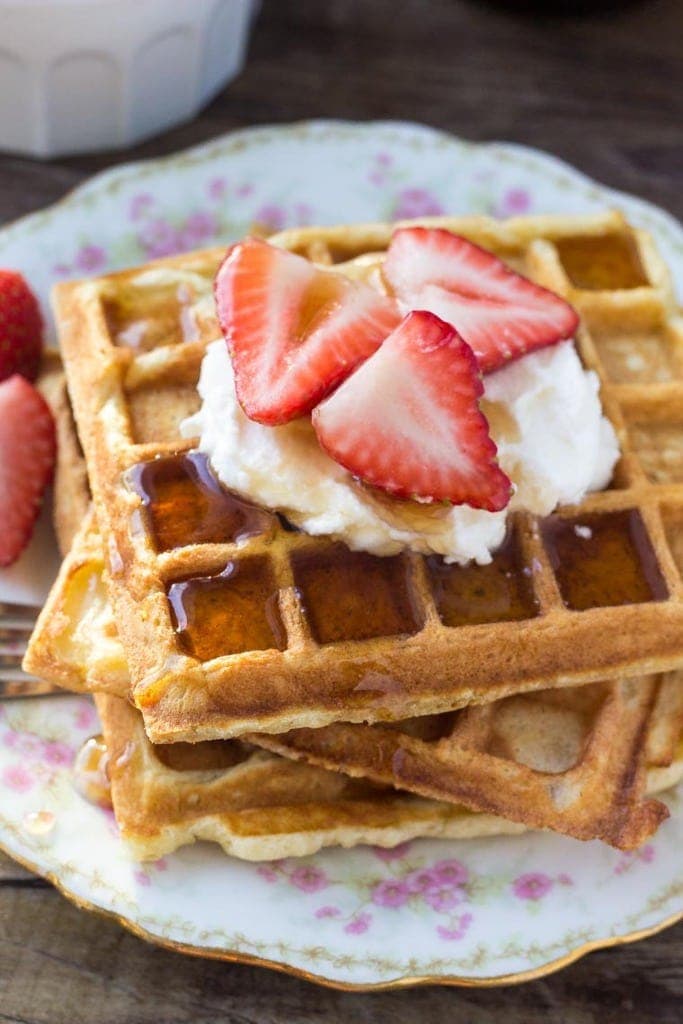 Hi there! My name's Fiona and today I'm stopping in at Yellow Bliss Road to share these fluffy buttermilk waffles. I blog over at Just So Tasty and I absolutely love dessert and comfort food. So waffles are right up my alley.
Making brunch is such a great way to start off the weekend, and I think waffles are just a little bit more special than pancakes or french toast. Plus – the ridges are perfect for holding lots of maple syrup. So I wanted to find the perfect recipe for buttermilk waffles.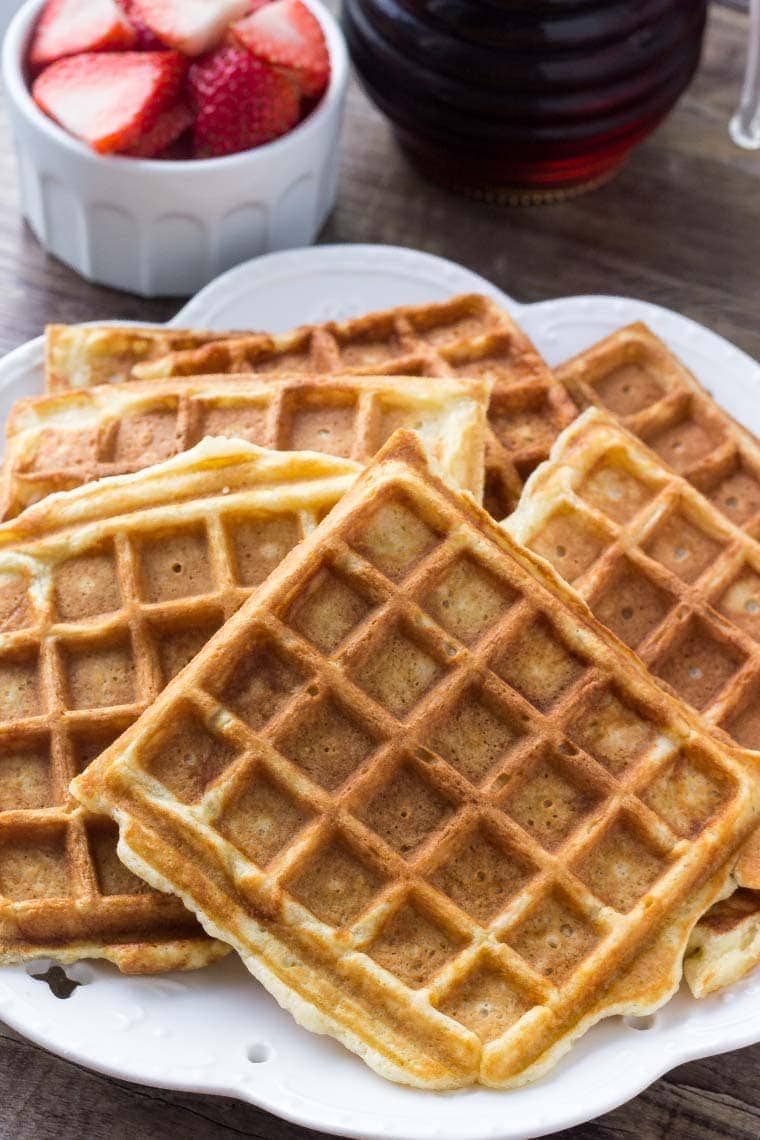 You'll love these buttermilk waffles because they're perfectly fluffy with a little crispiness to the edges. Buttermilk gives a slight tanginess to the batter and makes waffles that are soft and fluffy. I recommend using buttermilk for the best texture, but if you're in a pinch you can create your own using lemon juice and 1% or 2% milk. I've included the details in the recipe notes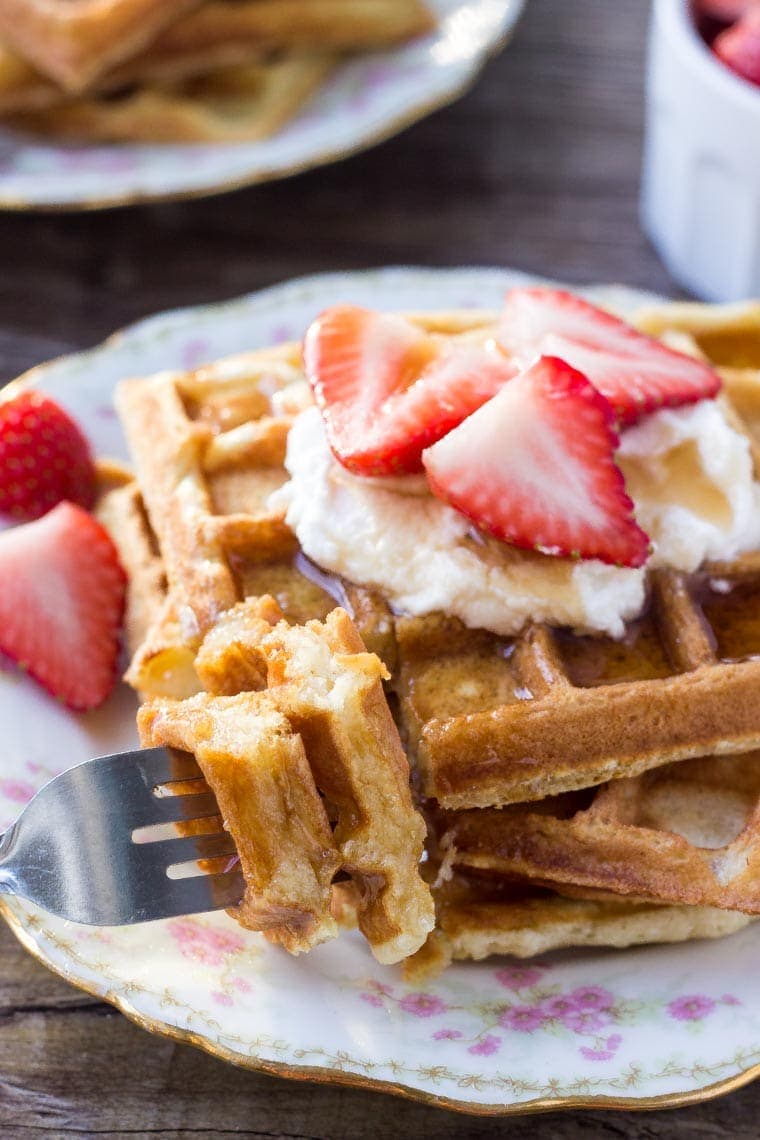 How to make Homemade Waffles:
This recipe for homemade waffles isn't too complicated. However, I wanted to point out a few key ingredients & steps to ensure your waffles turn out absolutely perfect.
Make sure your ingredients are room temperature before getting started – this helps everything mix together evenly.
Adding a little sugar to the batter creates golden edges.
Real buttermilk for a soft texture and slightly tangy flavor.
Separate the eggs and whisk the egg whites until peaks form. Then at the very end we'll gently fold in the egg whites. While this does add an extra step in the process, it makes the waffles so fluffy.
Then for crispier edges, cook the waffles a little longer.
These buttermilk waffles are delicious for brunch served with maple syrup, fresh fruit and whipped cream. Or you can enjoy them for dessert with a scoop of ice cream and chocolate sauce. Either way – these buttermilk waffles will definitely be a new favorite.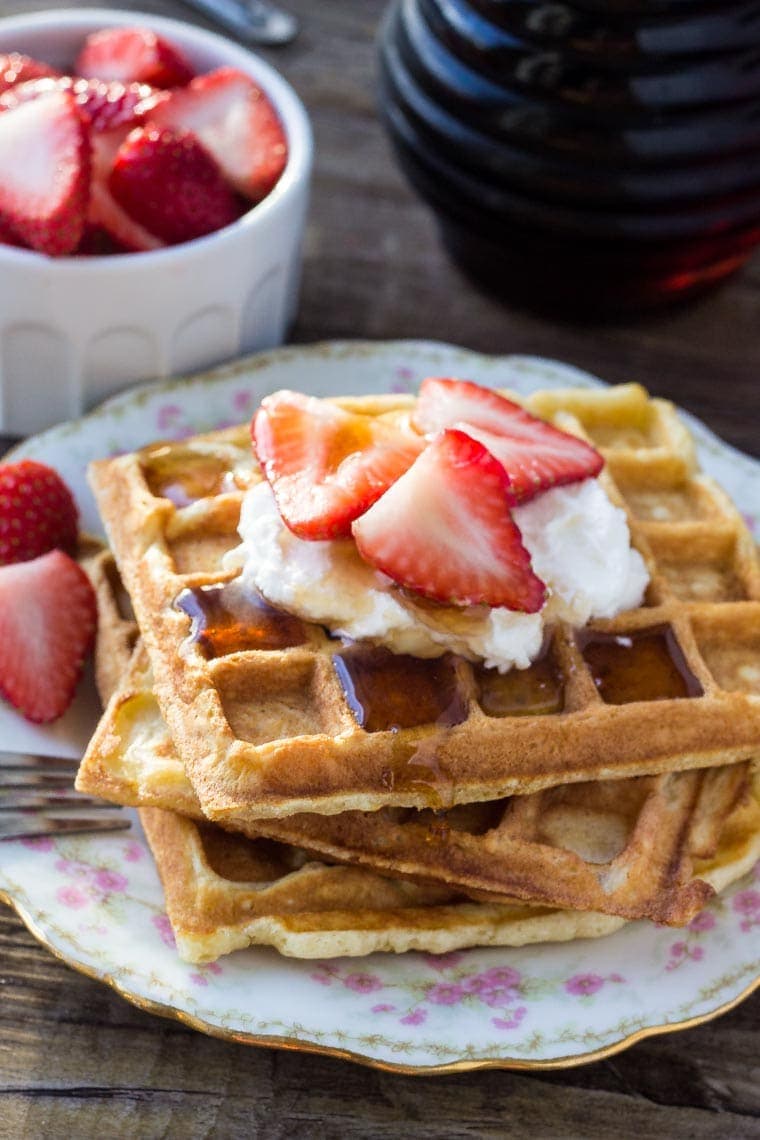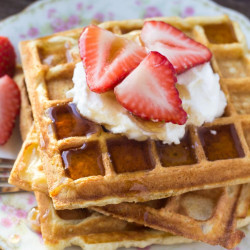 Homemade Waffles
These fluffy homemade waffles are the perfect brunch recipe. Learn all the secrets to making waffles with tender centers and golden edges.
Ingredients
2 1/4 cups all-purpose flour
1 1/2 teaspoon baking powder
3/4 teaspoon baking soda
1/4 teaspoon salt
3 large eggs separated
1/3 cup granulated sugar
1/2 cup unsalted butter melted and cooled
1 teaspoon vanilla extract
1 3/4 cups buttermilk*
whipping cream fresh berries & maple syrup for serving
Instructions
Preheat the waffle iron to medium high heat according to manufacturer's instructions.

In a large bowl whisk together the flour, baking powder, baking soda and salt. 

In a medium bowl beat the egg whites until peaks form. I use an electric mixer for this.

In a separate medium bowl or large liquid measuring cup whisk together the egg yolks, sugar, melted butter, vanilla extract and buttermilk.

Gently fold the liquid ingredients into the dry ingredients using a large rubber spatula.

Then gently fold in the egg whites.

Lightly spray the waffle iron with non-stick cooking spray. Pour 1/4 to 1/3 cup of batter into each 1/4 section of the waffle iron. Close the lid and cook for 4-6 minutes until golden. This may vary depending on your waffle maker. 

Transfer cooked waffles to a wire rack, and repeat the process with the rest of the batter. 
Notes
*If you don't have buttermilk, add 1 tbsp lemon juice to a large liquid measuring cup. Then fill to the 1 and 3/4 cup line with 1% or 2% milk. Allow to sour for 5 minutes before adding to the batter. 
Love this homemade waffle recipe? How about some Homemade Pancakes!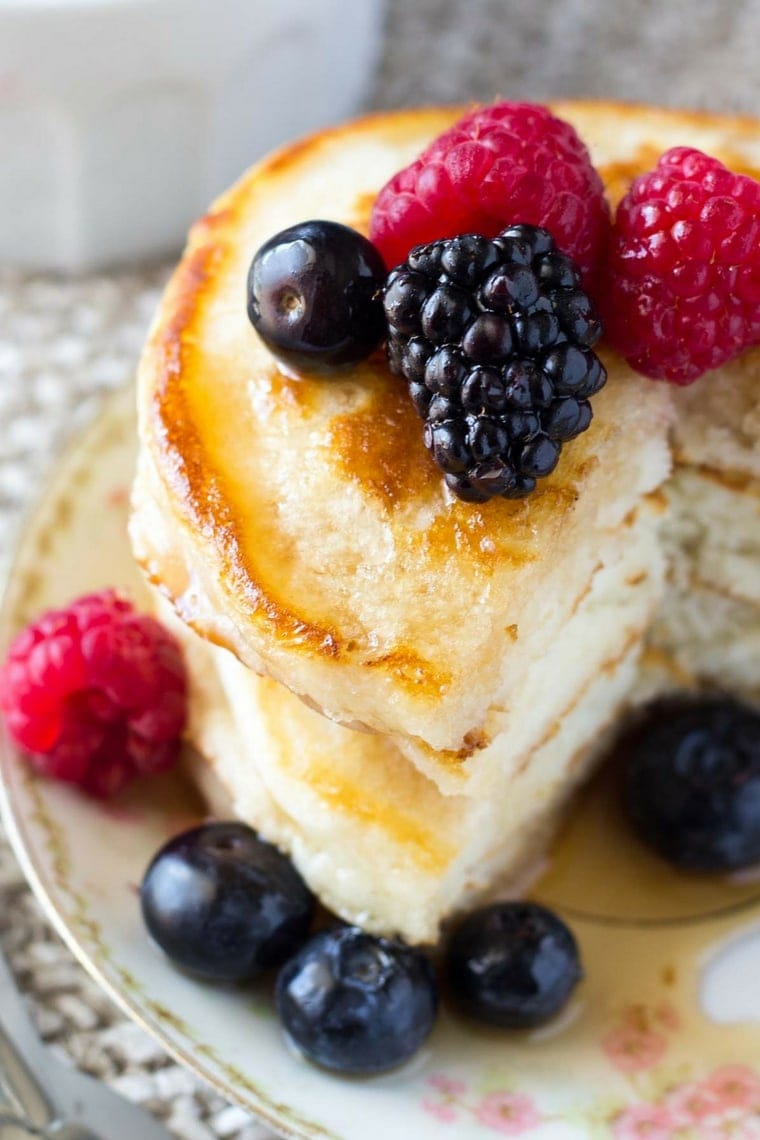 And here are a few more delicious homemade waffle recipes to try: